If you have an air fryer, you have endless possibilities for making crisp, delicious foods without deep-frying! This air fryer calamari was dipped in a buttermilk batter and air fried to crispy perfection. Make this when you are craving the fried seafood at your local seaside fish shack but want a healthier version. I've added a side of garlic-dill fries and broccoli to make it a full meal.
Have I mentioned yet that I was gifted an air fryer for Christmas? I am so happy about it because it means that I get to start sharing air fryer recipes here!
Air fryers are awesome if you want to lighten dishes because you can make foods that taste fried without the added oils. Added oils are extremely energy-dense, at around 120 calories per tablespoon. If you are trying to maintain a calorie deficit for weight loss, limiting added oils may make it easier.
My husband got a great Black Friday deal on the 10-Quart Kalorik Digital Air Fryer Oven. It comes with two air-frying racks, a drip tray that doubles as a baking tray, and a rotisserie spit.
It's big enough to make a whole rotisserie chicken! (I promise I'll share the recipe here soon.)
The downside is that there are no instructions on how to make most of the foods that I want to make. A cookbook was included, but it doesn't cover how to cook chicken on the spit. It also doesn't give instructions for crispy calamari.
Thankfully, after a few tries that were not quite right, I think I perfected this air fryer calamari recipe. The third time ended up being the charm in this case.
Should you try to make the fries and the calamari in the air fryer at the same time?
As mentioned above, the air fryer I own has a fairly large capacity. However, trying to cook the fries and the calamari all at once led to overcrowding.
Cooking the calamari and fries together meant that I had to use both racks and the baking tray for cooking. The items on the baking tray did not crisp properly because the air could not circulate through the solid tray. For this reason, I recommend making the calamari in the fryer and baking the fries in the oven.
An alternative would be to make the calamari in one batch and then do the fries in a second batch. I'm going to give air fryer directions for the fries if you'd like to try this. Keep in mind that your calamari may get cold while you are waiting for the fries to finish, though.
Different brands and sizes of air fryers may give different results. If it is your first time making a recipe with your fryer, I recommend keeping an eye on the food. That way, you'll be able to prevent the food from burning if the cooking time ends up being shorter than anticipated.
If you end up loving these fries, I have another way to incorporate them into a meal on Wednesday. Instead of enjoying them as fries, I'm serving them as chopped, roasted potatoes in an entrée inspired by Polish cuisine. I think it is my favorite meal prep to date, so you'll want to stay tuned for it!
My local supermarkets sell packages of large squid rings and small squid rings. I've air-fried both, and my family prefers the small rings. They turn out a bit like crispy fried clams and would be great with your favorite seafood dipping sauce.
And now for the disclaimer…
All recipes on this website may or may not be appropriate for you, depending on your medical needs and personal preferences. Consult with a registered dietitian or your physician if you need help determining the dietary pattern that may be best for you.
The calorie information is an estimate provided as a courtesy. It will differ depending on the specific brands and ingredients that you use. Calorie information on food labels may be wildly inaccurate, so please don't sweat the numbers too much.
For more information on how the three recipe levels may help with a weight management goal, refer to this post. Let's get cooking!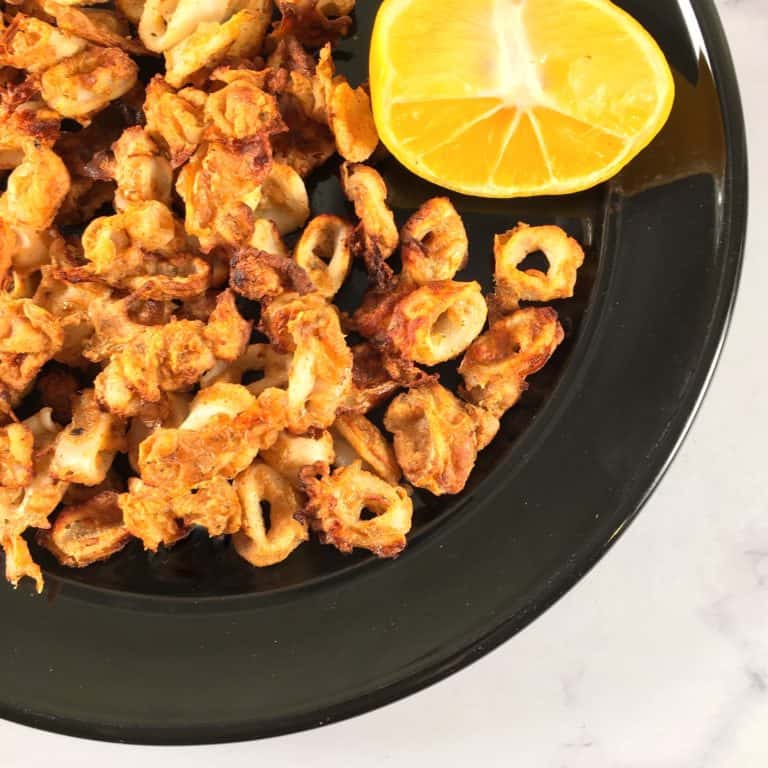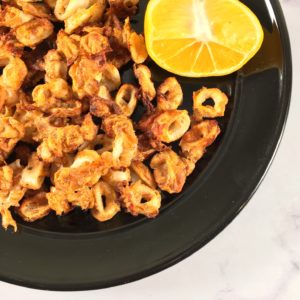 Air Fryer Calamari – Crispy Squid Rings Recipe
This air fryer calamari was dipped in a buttermilk batter and air fried to crispy perfection. Consider this better-for-you version when you crave fried seafood!
Equipment
Ingredients
For the calamari:
10.3

ounces

small frozen calamari rings, thawed, drained well

(My store sells 10.3-ounce packages of calamari rings, feel free to use a 12-ounce package if that is what is available to you.)

¼

cup

spelt flour

¼

cup

buttermilk

½

tablespoon

Old Bay seasoning
cooking oil spray

½

lemon, cut into 2 pieces
seafood dipping sauce (optional)
For the garlic-dill fries:
2-3

Yukon gold potatoes, scrubbed and sliced into fries

(about 11.5 ounces)

1

tablespoon

olive oil

½

teaspoon

dried dill weed

¼

teaspoon

dried parsley

¼

teaspoon

garlic powder

⅛

teaspoon

onion powder
salt and pepper, to taste
For the broccoli:
8

ounces

broccoli, chopped

(fresh or frozen)

2

teaspoon

sesame oil
Instructions
To make the garlic-dill fries:
You can bake them in the air fryer or the oven. Keep in mind they are best cooked in a separate batch from the calamari if you use the air fryer.

To bake them in the oven: Stir all ingredients together in a medium mixing bowl. Preheat the oven to 400°F. Spread the fries out in a single layer on an oil-misted baking tray. Bake for 40-50 minutes, flipping halfway through baking time.

To cook them in the air fryer: Soak the cut potatoes for 20-30 minutes in cool water and pat dry (this helps them to crisp up better). Stir all garlic-dill fries ingredients together in a medium mixing bowl. Spread the fries out in a single layer on your oil-misted air fryer rack(s). Bake for 25 minutes at 390°F, flipping the fries and switching the position of the trays in the fryer halfway through cooking time.
To make the calamari:
Mix the buttermilk, spelt flour, and Old Bay together to form a batter. Add the drained and thawed calamari rings to the bowl and stir well to coat.

Mist your air fryer racks with oil and put them on top of paper towels to catch drips. Spread the calamari mixture in a single layer on the racks. The mixture is liquidy at this point (and not distinct calamari pieces).

Make sure the drip tray is in place in your air fryer oven. Put the racks in the oven and bake at 390°F for 10 minutes.

Flip the calamari and switch the position of the trays in the oven. Bake an additional 8 minutes.

Flip the calamari again and break any rings that are sticking together into individual pieces. Bake for 3 more minutes to finish crisping them up.

We served them with a squeeze of lemon but you could also add your favorite seafood dipping sauce if desired.
To make the broccoli:
Cook the broccoli on the stove top with the sesame oil until heated (if previously frozen) or tender-crisp (if using fresh broccoli). Plate and serve!
Notes
This is a level 1 recipe (may help support fat loss). Typically, I bump recipes containing flour to level 3. However, the squid are a low-calorie and filling lean protein, and there's only a little flour here. Additionally, air frying has removed the need for the added oils used for typical fried calamari.
I think this is a great choice if you have a fried calamari craving but want a lighter dish. Cocktail sauce is far lower in calories than tartar sauce if you are choosing to add the optional dip.
(Note: either of these condiments may contain added sugar. Making your own is best if you want sugar-free.)
Nutrition
Do you have an air fryer? What are some of your favorite foods to air fry? Feel free to share links to your favorite air fryer recipes in the comments below!