If you are short on time, try this recipe for air fryer fish sticks! It takes less than 15 minutes to air fry fish sticks, perfect for a fast weeknight dinner. Store-bought frozen fish sticks often have an ingredient list that is 10 miles long, with additives you may not want. Making homemade fish sticks is easy, and kids love them!
Have I mentioned yet that I love Amish and Mennonite recipes? I truly do.
These fish sticks are based on my favorite breaded and baked fish recipe, from The Best of Amish & Mennonite Cooking. This is a sizeable spiral-bound cookbook that I picked up when we were traveling through Amish country in Pennsylvania many years ago.
The book appears to have been put together as part of a school fundraiser. I couldn't find an ISBN number on it, and I couldn't find it on Amazon.
That said, if you love delicious and simple home cooking, this cookbook is fabulous. If you're ever in Lancaster County, keep an eye out for it! (And yes, bakers and dessert lovers, there are plenty of Amish pie recipes in there for you.)
But back to the seafood. There's a breaded fish recipe in there that I have made approximately one million times through the years. It has a cornmeal and flour crust that sticks well and comes out perfectly crispy every time.
Since I've been all about air fryer recipes lately, it got me thinking. Would my favorite breaded fish fillets work as crispy fish sticks? And second, could I put the fish sticks in the air fryer instead of heating up the house with the oven?
I'm happy to report that the answer to both of these questions turned out to be a resounding YES.
Jump to:
Making the BEST Air Fried Fish Sticks
This air fryer recipe is not complicated, but there are a few things to know to help ensure success. First of all, consider making the homemade 2-ingredient tartar sauce. It just adds a little something extra to the meal and is worth the tiny bit of additional effort.
Second, I know if you are here for weight loss recipes that you are going to want to skip the butter drizzle. You might be tempted to spritz the fish sticks with an oil mister instead. I don't recommend doing this.
Aside from adding flavor, the butter helps the breading stick to the fish. I cut back on the amount of butter compared to the original breaded fish recipe, but I think a little is necessary here. If you insist on skipping the butter entirely, it's at your own risk!
Third, because I really dislike food waste, I am giving you precisely the amount of breading to cover 12 fish sticks. In other words, if you have 1-lb. (3 fillets) of cod, and cut each fillet into 4 sticks, you should have adequate breading. I've tested this recipe several times to get the amount of breading just right.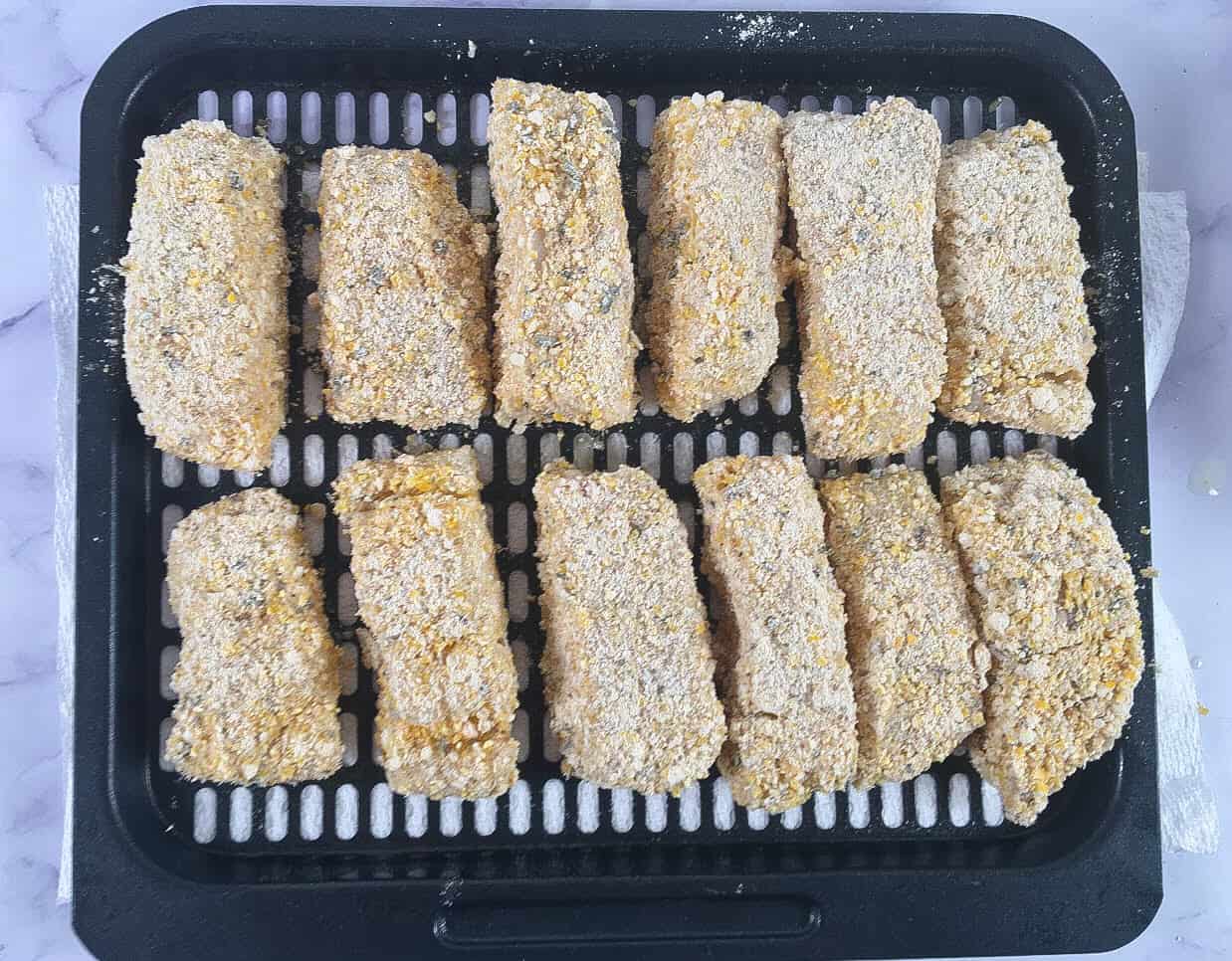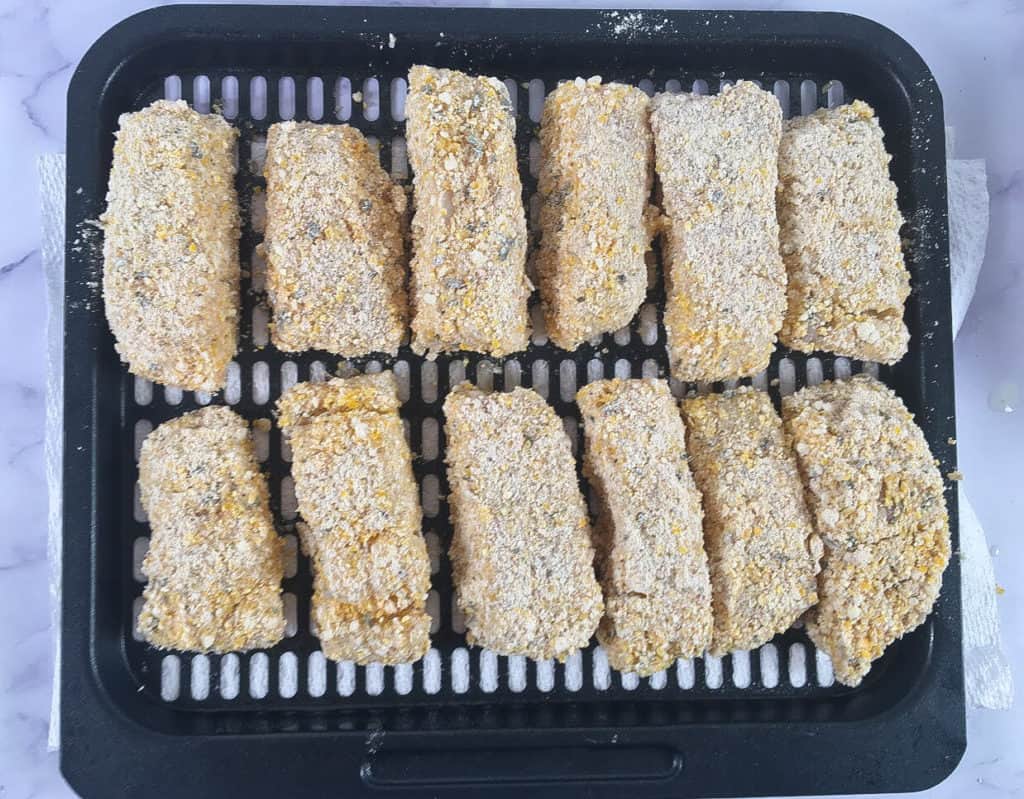 But what if you cut your fish into larger or smaller pieces, use a different type of fish, or a different weight of fish? Well, you might have too much or too little breading! You can easily double the breading recipe if you need more.
Another thing to keep in mind that cutting your fish to a different size may alter the cooking time. Air fryers tend to vary a bit in cooking times anyway, so don't be afraid to adjust the cooking time as needed. (FYI, I have a 10-Quart Kalorik Digital Air Fryer Oven.)
Serving Your Air Fried Fish Sticks
Fish sticks and tartar sauce isn't a complete meal, so I'd definitely add some veggies on the side. I made a yummy and super easy marinated vegetable salad with tomatoes and green peppers. I am going to share the recipe for it along with the fish stick recipe below.
The salad came about the way many of my side dish recipes do. I threw together some things I happened to have on hand! You can do the same using what you have.
For example, you can swap the green pepper in this salad recipe for fresh cucumber. I've done that, and it still turns out great. Ume plum vinegar is a somewhat esoteric ingredient; feel free to use red wine vinegar or balsamic vinegar instead.
You could also switch around the herbs, depending on what you feel like and/or have on hand. Use oregano in the fish sticks instead of basil or use basil in the salad instead of oregano! Alternatively, try your own favorite herb combinations.
As I mentioned above, the fish sticks don't take long to cook. If you choose a fast side, like a fresh veggie salad, everything will be done at the same time.
I made a video so you can see how quickly this air fryer fish stick recipe comes together. You can check it out below! One note, though, you might want to use a spatula!
I flipped the fish sticks with my fingers because they had cooled down enough to do so. Please don't try this at home if you've just pulled them out of the oven. It's not worth risking burning your fingers!
OK, I think that's everything you need to know about this one. How about we get to the recipe?
And now for the disclaimer…
All recipes on this website may or may not be appropriate for you, depending on your medical needs and personal preferences. Consult with a registered dietitian or your physician if you need help determining the dietary pattern that may be best for you.
The nutrition information is an estimate provided as a courtesy. It will differ depending on the specific brands and ingredients that you use. Calorie information on food labels may be wildly inaccurate, so please don't sweat the numbers too much.
For more information on how the three recipe levels may help with a weight management goal, refer to this post. Let's get cooking!
📖 Recipe
Air Fryer Fish Sticks (Cooks in Under 15 Minutes!)
If you are short on time, try this recipe for air fryer fish sticks! Air fry in under 15 minutes for the perfect fast weeknight dinner!
Equipment
Ingredients
1

lb.

cod fillets

(approximately 3 fillets)

¼

cup

coarse-ground cornmeal

2

tablespoons

spelt flour

1

tablespoon

grated Parmesan cheese

½

teaspoon

dried basil

⅛

teaspoon

garlic powder

⅛

teaspoon

onion powder
black pepper, to taste

⅓

cup

milk, 2%

2

tablespoons

melted butter
cooking oil spray of choice
lemon wedges

(optional)
For the tartar sauce:
6

tablespoons

mayonnaise

3

tablespoons

finely chopped pickles
For the marinated vegetable salad:
3

Roma tomatoes, chopped

2

medium

green peppers, chopped

1

small

red onion, chopped

1

teaspoon

dried oregano

4

tablespoons

ume plum vinegar

2

tablespoons

olive oil
salt and pepper, to taste
Instructions
Mist an air fryer tray with the cooking spray.

Cut your cod fillets into 12 even pieces. I started with 3 fillets, and cut them width-wise into 4 pieces each. (Note: if you cut your fish differently than I did, you may need more or less breading than I am providing in this recipe.)

Mix the cornmeal, spelt flour, Parm, basil, garlic powder, onion powder, and pepper in a medium-sized bowl. Put the milk in a second bowl. (Did you check out the recipe video?)

Bread your fish sticks by dipping them first in the milk and then in the cornmeal breading mixture. Place breaded fish sticks in a single layer on the air fryer tray. You should have just enough breading to completely cover the fish sticks.

Drizzle the melted butter over the fish sticks.

Put the tray with the fish sticks on the top rack in your air fryer oven. Air fry for 7 minutes at 400°F. Then carefully flip the fish sticks, put the baking tray back on the top rack, and air fry for an additional 7 minutes at 400°F. Work on other parts of the recipe while they bake.
To make the tartar sauce:
Mix the mayonnaise and chopped pickles together. Refrigerate.
To make the marinated vegetable salad:
Stir the tomatoes, peppers, onion, oregano, vinegar, olive oil, salt, and pepper together. I like to make this ahead to give the veggies time to marinate in the dressing. The ume plum vinegar is very salty, so I generally don't add additional salt to this.
To serve:
Divide the fish sticks, tartar sauce, and vegetable salad between three plates. Add a squeeze of lemon to the fish sticks, if desired.
Save this Recipe
Saved!
Video
Notes
This is a level 3 recipe (weight maintenance and active lifestyles). As always, recipes with flour get the bump to level 3. If you have a fat loss goal, my general recommendation is to skip breading foods, even if they're air fried. You'll save a lot of calories when you enjoy fish with herbs and a squeeze of citrus versus breading. If lighter recipes are what you're looking for, may I recommend steaming cod instead?
That said, this fish stick recipe is a cut above the frozen fish sticks you can get at the grocery store. We're using whole food ingredients to bread the fish, and the fish sticks still taste great! If you have kids who are seafood-resistant, this recipe might be something to try.
Nutrition information is for one serving of the recipe.
Nutrition
Calories:
590
kcal
Carbohydrates:
25.8
g
Protein:
23.5
g
Fat:
47.1
g
Saturated Fat:
9.4
g
Fiber:
5.1
g
Vitamin A:
32.5
% DV
Vitamin C:
127.6
% DV
Calcium:
12.3
% DV
Iron:
12
% DV
Have you ever tried cooking fish sticks in an air fryer? Did you air fry frozen fish sticks, or did you make homemade fish sticks to air fry?
One night when we had these, I served my air fryer jicama fries on the side in addition to a veggie salad. Apparently, I was really on an air fryer cooking kick that evening! I also think these air fry fish sticks would be super with a side of kale apple slaw.
Alrighty, that's about it for now. Thanks for dropping in, and don't forget to leave a rating if you try these air fryer fish sticks! Your feedback helps others to find my recipes.