Enjoy a delicious fusion of flavors with these air fryer tofu bowls with ginger-lime aioli. After bathing in a sesame soy marinade, we're air frying tofu to gloriously crisp perfection. This firm tofu is crispy on the outside but tender on the inside. Next, our air fried tofu is paired with a rainbow of phytonutrient-rich vegetables. Finally, everything gets a generous drizzle of ginger-lime aioli for a vegetarian dinner that's difficult to resist.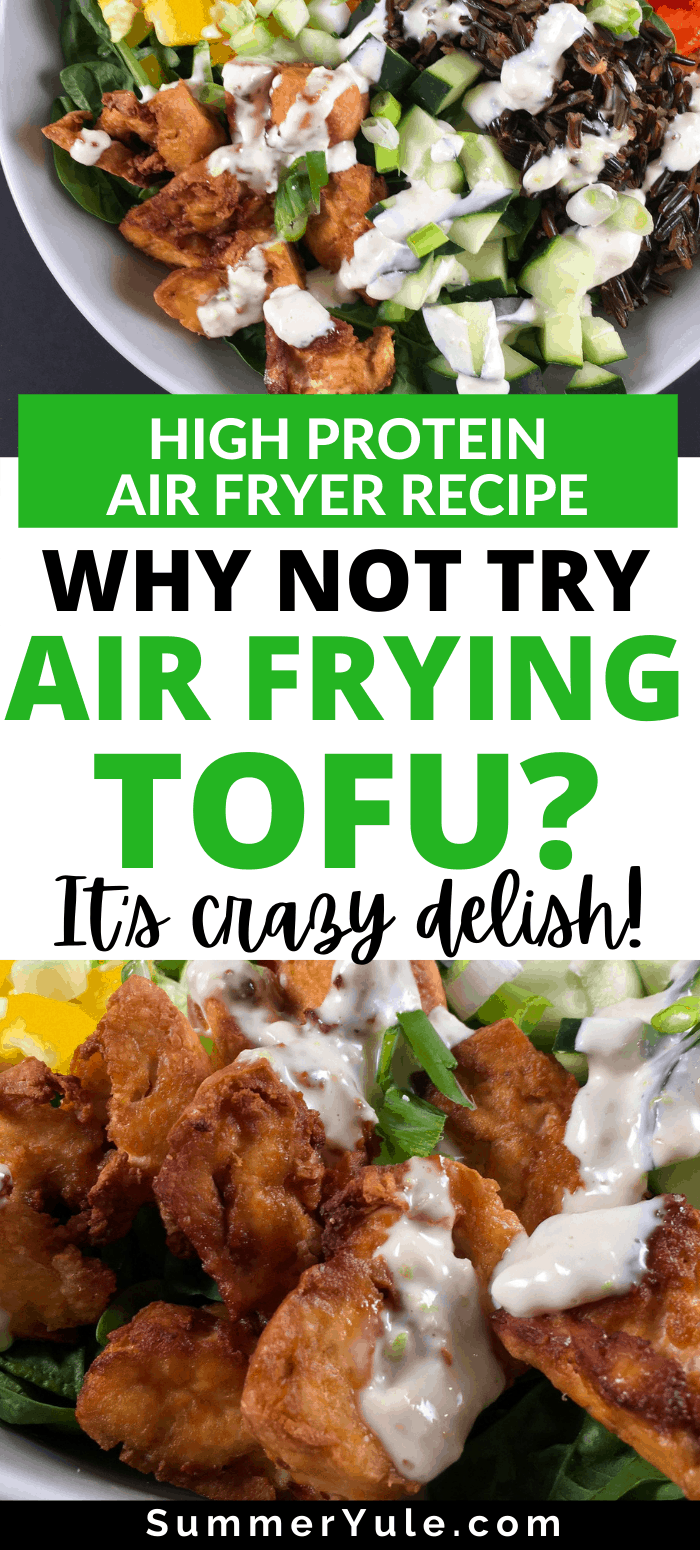 We're on day 6 of my week of air fryer recipe awesomeness! Let me tell you, this recipe for air fried firm tofu is one you don't want to miss. It's fantastic, and I think one reason for that is the type of tofu that I used.
Do you see in these pictures how this tofu has a lot more nooks and crannies than the tofu used in the smoked tofu recipe? The tofu here isn't cut into neat blocks like my smoked tofu was.
The reason for that is because the extra-firm tofu I planned to air fry was substituted in my grocery order. Instead, they sent a package of The Bridge firm tofu.
The Bridge tofu reminds me of the tofu we used to buy back when we were vegans a couple of decades ago. It needed more pressing than the extra-firm tofu.
Also, it lacks the structural integrity that some of the more popular tofu brands have. As you can see in the recipe video below, I couldn't cut it into neat cubes. Instead, I had to cut it into large, uneven pieces.
Though this tofu isn't picture-perfect, all of the exposed surface area meant the marinade was easily absorbed all over each piece. What it lacked in aesthetics, it gained in flavor!
Tips for the Best Air Fryer Tofu Ever
So, my first tip, in case this was not obvious, is to get your hands on some The Bridge firm tofu. That's one of the best ways to ensure you get the great results that I did.
Second, even though some reviews say you do not need to press this tofu, you definitely should press your tofu! I have a red cheese press that I picked up on Amazon that works well for tofu. The old-school method of pressing your tofu between two weighted plates works too.
Pressing tofu pushes the water out so that more flavorful marinade can be absorbed. I found this firm tofu to be quite watery out of the package. Maximize the flavor of this dish by pressing the tofu the morning you plan to air fry it.
After pressing, you're going to want to let the tofu sit in the marinade for a few hours. It should absorb all of the marinade if you've pressed it well.
If it's a weekday, press the tofu in the morning while you shower. Then let it marinate in the fridge all day while you're away at work. When you get home, all you'll have to do is pop your tofu in an air fryer, chop veggies, and whisk together the aioli.
Once you marinate the tofu, everything comes together quickly. The whole family enjoyed this satisfying, health-promoting meal that's easy enough for a weeknight. I hope this air fry tofu dish changes any negative feelings you might have had about tofu, and that you love it too!
And now for the disclaimer…
All recipes on this website may or may not be appropriate for you, depending on your medical needs and personal preferences. Consult with a registered dietitian or your physician if you need help determining the dietary pattern that may be best for you.
The nutrition information is an estimate provided as a courtesy. It will differ depending on the specific brands and ingredients that you use. Calorie information on food labels may be wildly inaccurate, so please don't sweat the numbers too much.
For more information on how the three recipe levels may help with a weight management goal, refer to this post. Let's get cooking!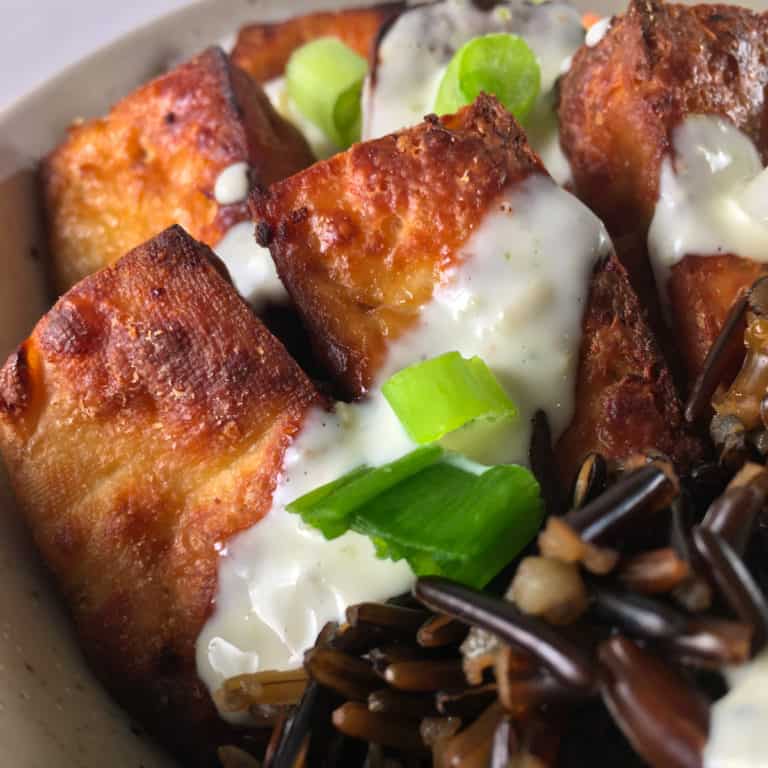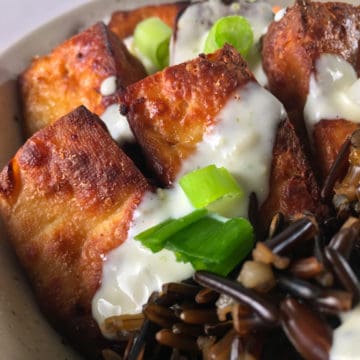 Crispy Tofu (Air Fryer Recipe)
What's the best way to prepare firm tofu so it's crispy and doesn't stick to the pan? Try this crispy tofu air fryer recipe! Vegan and keto!
Equipment
Ingredients
16

ounces

firm tofu

(425 grams, extra firm or super firm tofu may also be used)

2

tablespoons

reduced-sodium soy sauce

1

tablespoon

rice vinegar

1

clove

garlic, finely chopped

½

teaspoon

grated fresh ginger

1

tablespoon

toasted sesame oil
cooking oil spray

(non-aerosol)
Instructions
Press the tofu to remove excess water. You can place it between two plates that are weighted on top (takes 30 minutes), or you can use a tofu press (takes 15-20 minutes).

Cut the pressed tofu into 16 uniformly-sized pieces.

Mix the soy sauce, rice vinegar, garlic, ginger, and sesame oil together. Pour the marinade over the tofu. Put the tofu in a food-safe container and pour the marinade over it. Let the tofu marinate in the fridge for 4-5 hours (or more). It should absorb nearly all the marinade.

Mist your air fryer basket or tray with cooking spray. I was able to fit all of the tofu on one tray in a single layer.

Air fry for 10 minutes at 400°F (200°C). (Use the top rack position for air fryer ovens.) After the 10 minutes, gently flip the tofu and air fry for an additional 10 minutes. Enjoy!
Notes
This is a level 1 recipe (may help support fat loss).
Tofu counts as a lean protein, it's versatile, and it's low carb friendly. Is there anything this plant-based super food can't do?
The only way I'd consider possibly lightening this vegan main dish is omitting the sesame oil. I'd do this for two reasons. One, added oils are extremely energy dense, typically adding 120 calories per tablespoon.
Second, toasted sesame oil is really more of a flavoring oil, not a cooking oil. It's not really supposed to go in the air fryer (but I'm a cooking rebel). If you're concerned about the oxidative stability of sesame oil, use avocado oil or experiment with using no oil in the marinade.
The downside of ditching the sesame oil is that it provides a lot of rich flavor. I'd consider air frying the tofu until crispy and drizzling the sesame oil after. Unfortunately, when you make crispy tofu in the air fryer with no oil, there's a risk it will become unpleasantly dry.
(If you do try it without the oil, drop me a comment below! I'd love to hear how it turned out.)
🥗
How to Make Air Fryer Tofu Bowls
1 finished recipe

crispy air fryer tofu
For the ginger-lime aioli:
2 cloves

garlic, finely chopped

1 teaspoon

lime zest

2 teaspoons

grated fresh ginger

6 tablespoons

mayonnaise

2 teaspoons

lime juice
For assembling the air fryer tofu bowls:
½ cup

dry wild rice

(cooked in 1 cup of vegetable broth)

5 ounces

baby spinach

(142 grams)

4 ounces

broccoli slaw mix

(113 grams)

½ medium

cucumber, diced

(7 ounces/198 grams)

1 small

red pepper, diced

½ small

yellow pepper, diced

3

scallions, sliced
Make the aioli by whisking the garlic, lime zest, ginger, mayo, and lime juice together. Cover and refrigerate until serving time.
Cook the rice in the vegetable broth on the stovetop (following cooking directions on the rice package). It will take around 45 minutes.
Dice the cucumber and bell peppers into ½-¾ inch (1.27-1.9 cm) pieces.
To assemble the meal, divide the spinach evenly between three bowls. Top each bowl with equal amounts of tofu, wild rice, broccoli slaw mix, cucumber, red pepper, and yellow pepper.
Drizzle the bowls with the ginger-lime aioli. Garnish with the scallions.
This tofu bowl recipe is just a smidge over 500 calories. To cut it back to level 1, I'd reduce the amount of aioli per serving. I was initially going to use half of the aioli I'm using here (but OMG it's so good, I could not resist doubling it haha).
Nutrition information is for one serving of crispy air fryer tofu only. This nutrition information includes the tofu marinade (since the marinade is almost completely absorbed).

The tofu bowls provide 515 calories, 27 grams net carbs, and 22.2 grams of protein per serving.
Nutrition
Calories:
173
kcal
Carbohydrates:
4.6
g
Protein:
15
g
Fat:
10.9
g
Saturated Fat:
0.5
g
Sodium:
429.3
mg
Fiber:
1.8
g
Vitamin A:
0.1
% DV
Vitamin C:
0.7
% DV
Calcium:
18.1
% DV
Iron:
10.7
% DV
Do you dig plant-based recipes? If so, my vegan burrito bowls with citrus smoked tofu might be right up your alley. It's a delicious and high-energy dish with plenty of plant-based protein.
Another favorite plant-forward recipe of mine is cold gazpacho soup. Put those seasonal tomatoes and cucumbers to good use with this easy vegetarian dinner idea! Why use the oven in the heat of the summer if you don't have to?
Have you ever tried air frying tofu? I'd love to hear about it if you try these air fryer tofu bowls with ginger-lime aioli. You can drop me a line in the comments below!