When you want to eat a ton of food without a ton of calories, you need this cabbage soup in your life. This is the best cabbage soup diet recipe, based on the original Cabbage Soup Diet soup. I modified the dish and made it better, adding some protein with the additions of lean beef and bone broth. It's delicious, under 500 calories, and SO FILLING!
Have you heard of the Cabbage Soup Diet? (This one's an old one.)
On this diet, a person mostly eats a special cabbage soup recipe to aid in weight loss. This is meant to be a temporary eating plan, not a strategy for long-term weight loss.
I've seen several versions of the "original" Cabbage Soup Diet recipe online. Something that they all share in common is that they are packed with non-starchy veggies and not much else. They are kind of like the soup version of a dressing-free, minimal protein salad.
And just like if you were eating a dry salad, the soup is lacking in certain essential nutrients and is (IMHO) pretty boring. Eating the original cabbage soup is about as close as you can get to consuming no calories while still consuming food. (Remember that though foods like celery are very low-calorie, they are not zero calorie foods.)
With St. Patrick's Day approaching soon, I may have cabbage on the brain. In my search for cabbage recipes, I came across this Food.com version of the "original" cabbage soup.
Instead of practically living on that soup as a temporary diet, likely resulting in temporary weight loss, why not try my recipe revamp below? The changes I made turns the original into a full meal. Your family won't know this one started as a "diet soup" recipe.
Why this is the best Cabbage Soup Diet recipe
One of the most significant changes I made to the original cabbage soup is that I added more protein! The bone broth here and lean beef add flavor as well as protein to help you feel satiated. This cabbage soup just got an upgrade from a side dish or snack to a full entrée.
Using some flavorful bone broth allowed me to nix the ultra-processed foods in the original recipe. The balsamic vinegar also adds deliciousness to the soup's broth. So goodbye, powdered onion soup mix and chicken bouillon cubes, there is no need for you here.
There is also no need to purchase special Cabbage Soup Diet spice blends like you'll find for sale on the web. Regular dried herbs will work just fine.
Another change I made was to adjust the vegetables to improve the flavor. I love onions, but six seemed like a lot to put in a soup (other than a French onion soup).
Then again, this recipe makes quite a lot of soup! I quickly learned that my sizeable Dutch oven was not going to be sufficient to hold all of this veggie goodness. Here's a photo I took before I switched pots and finished adding the rest of the cabbage in:
This recipe requires a large stockpot. I have one that I pretty much only use for the occasional crab boil. The pot has finally found an additional purpose here.
I told you that you are getting a ton of food with this recipe, and I was not kidding!
One more very important thing…
There is no reason to solely stick to this soup if you are trying to lose weight.
If you dig soups, check out my other low-calorie soup recipes, such as the Fat Flush soup recipe. Mixing things up can help you keep your healthy diet from feeling boring!
Broth-based soups can be a fantastic option for weight loss, but many other foods are great as well. I have a whole section of low-calorie, tasty, and satisfying recipes over in my Recipe Finder that may interest you. If you prefer to focus on reducing carbs rather than calories, I have a low-carb section as well.
Even if your goal isn't weight loss, this is an excellent recipe to help increase your intake of whole veggies. There are soooo many vegetables here. So many that even my Dutch oven could not contain them. Haha
And now for the disclaimer…
All recipes on this website may or may not be appropriate for you, depending on your medical needs and personal preferences. Consult with a registered dietitian or your physician if you need help determining the dietary pattern that may be best for you.
The calorie information is an estimate provided as a courtesy. It will differ depending on the specific brands and ingredients that you use. Calorie information on food labels may be wildly inaccurate, so please don't sweat the numbers too much.
For more information on how the three recipe levels may help with a weight management goal, refer to this post. Let's get cooking!
Like this recipe?
Leave a rating by clicking the ⭐ below!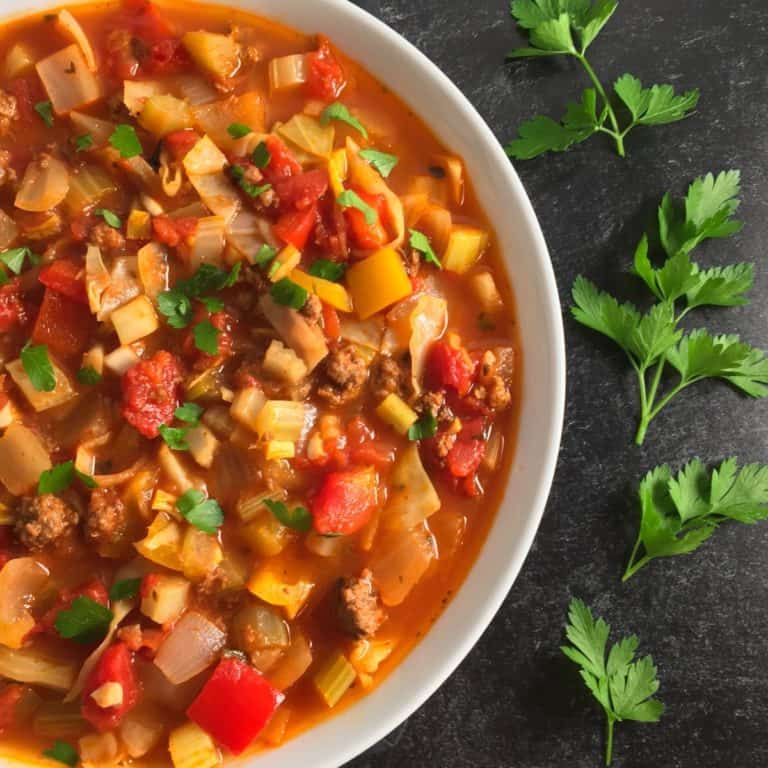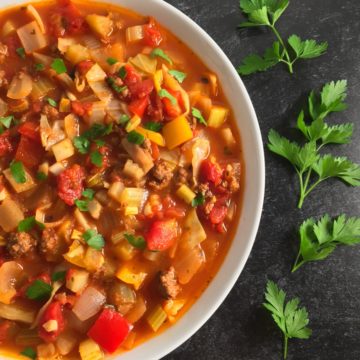 Cabbage Soup Diet Recipe with Protein Added
You'll love this cabbage soup diet recipe with protein added from lean beef and bone broth. Delicious, under 500 calories, and SO FILLING!
Equipment
Ingredients
1

lb.

ground beef, lean

(454 grams; 93/7 beef)

25

ounces

shredded cabbage

(709 grams; about ½ small head)

1

lb.

onions

(454 grams; about 2-3 medium onions)

1

lb.

bell peppers

(454 grams; 2 medium peppers of any color)

1½

lbs.

celery

(680 grams; about 1 bunch)

6

scallions, sliced

6½

cups

beef bone broth

¼

cup

balsamic vinegar

2

28 ounce cans

chopped tomatoes

(794 grams per can; do not drain)

6

cloves

garlic, chopped finely

1

tablespoon

fresh lemon juice

1

tablespoon

dried thyme

1

tablespoon

dried basil

3

tablespoons

tomato paste

(double-concentrated)

¼

cup

cilantro or parsley, chopped

(optional, for garnish)
Instructions
Roughly chop the cabbage into small slices or shreds about ¼-inch (0.6 cm) thick. Cut the onions, bell peppers, and celery into ½-inch dice (1.27 cm). Slice the scallions and mince the garlic.

Brown the ground beef over medium heat on the stovetop, breaking it into crumbles with a spatula as it cooks. It will take about 10 minutes. (You can use a skillet or stockpot for this step.)

Put the beef and all of the rest of the ingredients (except the parsley or cilantro) into a large stockpot. My Dutch oven was not big enough for this job. Give everything a good stir.

Let the ingredients in the stockpot come to a simmer over medium heat. Let the soup simmer for one hour with the lid off, stirring occasionally. Turn the heat down to medium-low for the last 30 minutes of cooking.

Garnish with the cilantro or parsley. Makes five (or more!) servings of tasty soup!
Notes
This is a level 1 recipe (may help support fat loss).
This recipe makes five HUGE servings at approximately 400 calories each. Though this may seem counterintuitive, if you need a higher energy meal, I'd consider cutting back on the serving size here because it is tough to eat more. Replace some of this filling soup with some energy-dense bread, crackers, and/or cheese to add more calories.
If you are using the cabbage soup diet to lose weight, remember that q
uick fixes don't lead to long term results.
There is no reason to solely stick to this soup if you are trying to lose weight. Any combination of foods that result in the maintenance of a calorie deficit can lead to weight loss.
That said, you don't want to starve yourself in the name of weight loss. The cabbage soup diet plan (outlined above) could be too low calorie for your needs. Depending on how much you eat, the boring nature of the diet could lead to undereating (under 1000 calories per day).
You should consult with your physician or dietitian if you want to try a very low-calorie diet. There is a higher risk of nutrient deficiencies if you cut your calories too low. Your doctor or RD can help make sure you are losing weight in a safe way, rather than "detox dieting."
A few quick notes about this soup:
stick with small servings at first if you typically eat a low fiber diet. This soup may cause some GI disturbance if your body isn't accustomed to all the fiber.
Also, this is a cabbage soup that's heavy on the cabbage. The cabbage may be overpowering for some people, so skip this one unless you enjoy this cruciferous veggie.
Nutrition information is for one serving.
Nutrition
Calories:
401
kcal
Carbohydrates:
50.6
g
Protein:
32.5
g
Fat:
7.7
g
Saturated Fat:
3
g
Potassium:
1359.8
mg
Fiber:
13.3
g
Vitamin A:
173.5
% DV
Vitamin C:
353.4
% DV
Iron:
48.4
% DV
If you enjoyed this best cabbage soup diet recipe, be sure to drop me a comment below and leave a rating! Also, don't forget to follow me on Pinterest. I post recipes from this site as well as other goodies that I've found around the web daily!