What's the best canned food for emergencies? Learn about the best canned food for survival and get a canned emergency food list. Whether you're prepping for a natural disaster or another emergency, having a stockpile of cheap foods with a long shelf life will help. If you don't know the importance of canned foods in the emergency kit, you will after reading this!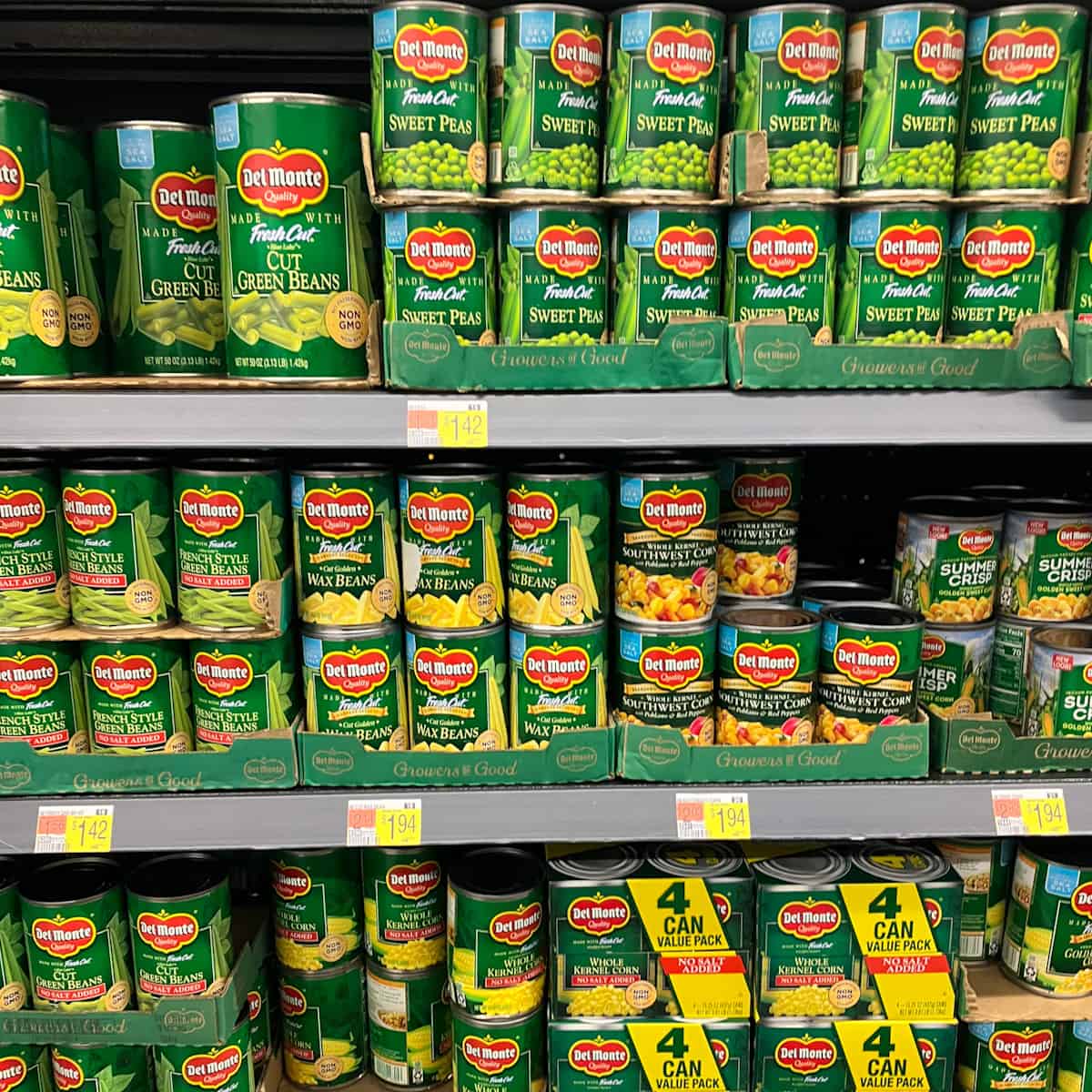 What's the best canned food for survival? The best canned survival food for short and long-term emergencies is nourishing, easy to prepare, and has a long shelf life. Many canned foods tick all the boxes, and are a must for your emergency food supply.
When we're talking about what makes canned goods nourishing, we want them to have a variety of nutrients to keep us healthy over the long haul. Your nonperishable foods list items should include all of the following:
Enough calories for you and your family members to prevent unintentional weight loss
Adequate protein
Fat
Carbohydrates (even low carb foods have some)
All of the essential vitamins in adequate amounts
All of the essential minerals in adequate amounts
Fiber
A supply of water
It's also important that emergency canned food is easy to prepare. You may not have electricity for cooking in an emergency, so foods that are ready to eat are helpful. If there's no water, having items in your food stockpile that aren't dehydrated are needed.
Canned foods are great in areas prone to flooding, because they won't get immediately damaged in water like foods in boxes. The long shelf life of canned foods allows you to stay in longer during a pandemic (or zombie apocalypse or whatever life throws at you). You may also want canned food for your earthquake kit or in preparation for winter storms.
Jump to:
🥫 Best Canned Food for Emergencies
What are the best canned goods to store for emergency? Here is an emergency food list:
Canned vegetables
Canned fruits
Dried fruits
Juice
Canned meat
Canned fish
Chicken
Bread
Cereal and Granola
Pancake mix
Eggs
Canned milk
Peanut butter
Tomato sauce
Oil for cooking
Soup, stew, chili
Canned beans
Comfort foods
Nuts and seeds
Dehydrated meals
Pasta, oats, rice (i.e., some not canned foods)
Spices and seasonings
Baby formula (ready to feed)
Pet food
Medical food
You'll often see specialty non perishable foods in best canned foods for preppers lists. For example, you can get large cans of Mountain House freeze dried meals, like this rice and chicken meal. However, you can use regular grocery store canned food for emergency storage as well.
Here are more details on the best canned foods for prepping. Info on the approximate expiration date of these foods comes from the FoodKeeper App.
Canned Vegetables
Low-acid canned foods, such as many canned veggies, last 2-5 years if left unopened in a cool, dry pantry. That said, many canned items are fine past the "use by" or "best by" date. Just make sure the can has no swelling, dents, or rust before eating.
Canned Fruits
Canned fruit is a shelf-stable high acid food, and lasts 12-18 months if left unopened in a cool, dry pantry. This is the general guideline for the best quality. You can safely eat canned fruit past the expiration dates if the can is undamaged with no bulging.
Dried Fruits
Freeze-dried fruit and regular dried fruit in cans are some of the best food to stockpile. They're much lighter than regular canned fruits, perfect for camping or hiking. Regular dried fruit lasts in the pantry at least 6 months or longer without declining in quality.
Juice
Juice is one of the cheapest foods to stockpile, and it can help ensure picky eaters get enough calories. Some juices have vitamin C added, a nutrient that's typically lacking in canned foods due to heat processing. Another disadvantage of most juices vs fresh whole fruit is that the fiber has been stripped out.
Canned Meat
When thinking about the best foods to store for long term survival, don't forget to include sources of high-quality protein. Beef, pork, seafood, and poultry are all readily available in cans at most major supermarkets in the US. Meats are considered low acid canned foods, and will last in the pantry 2-5 years.
Canned Fish
Canned fish is one of the best foods to stockpile, IMHO. It's cheap, ready to eat, and fatty fish is packed with omega-3 fatty acids that support brain health. (You don't need a nutrition degree to realize you definitely need a healthy brain to effectively deal with emergency situations.)
Canned Chicken
A lot of folks don't eat beef and pork, but no worries. You can still get plenty of high-quality protein from poultry, fish, and dairy foods. Like the meats, canned poultry is considered low-acid and will maintain quality in the pantry for 2-5 years.
Bread
You may not have access to your oven for baking during a crisis. Luckily, you can purchase ready-to-eat bread and crackers in a can. You can also buy long-lasting bread mixes if you do have a way of cooking.
Cereal and Granola
Having a supply of grains on hand is a smart move for a cheap source of energy during emergency situations. Many cereals in the US are heavily fortified with assorted essential vitamins and minerals. This can help you prevent deficiencies over the long haul.
Pancake Mix
Foods made with white flour, like pancakes, are typically fortified with iron and certain B vitamins. These mixes have an extended shelf life, up to 10 years. All you need to make them is water, a pan, and a source of heat.
Eggs
Eggs are another way to add high-quality protein to your emergency food stockpile, and they're perfect for vegetarians. You can get egg powder for baking, or scrambled eggs that just need water and heat. Look for ready-to-eat canned eggs in stores that specialize in East Asian foods.
Canned Milk
Canned milk and other dairy products are a great way to add calcium to your survival foods list. Keep in mind that coconut milk, soy milk, and almond milk may not have the protein and calcium you find in dairy foods. If you're vegan, be sure to read food labels to make sure you're keeping some calcium-rich foods on hand.
Peanut Butter
Add peanut butter to your emergency foods list because it has a long shelf life and packs a lot of calories into a small portion. You can get canned peanut butter powder that lasts up to 5 years. Alternatively, if your family goes through a lot of nut butter, get a peanut butter bucket that lasts 6-24 months.
Tomato Sauce
Often grouped with the vegetables, but botanically a fruit, tomatoes and tomato sauce add a lot of flavor to dishes. They're also rich in lycopene, a nonessential but potentially beneficial phytochemical. Tomatoes are great to tie ingredients like pasta, rice, and beef into a full meal.
Oil for Cooking
If you'd really like to prepare for a long-term crisis, make sure you have fats and oils for cooking. Butter is normally perishable, but you can get canned and freeze dried butter that lasts for years.
Soup, Stew, Chili
Canned soups, stews, and chilis always make it on lists of foods for earthquake and hurricane preparedness. Try to choose low sodium options; many canned items are quite high in added salt.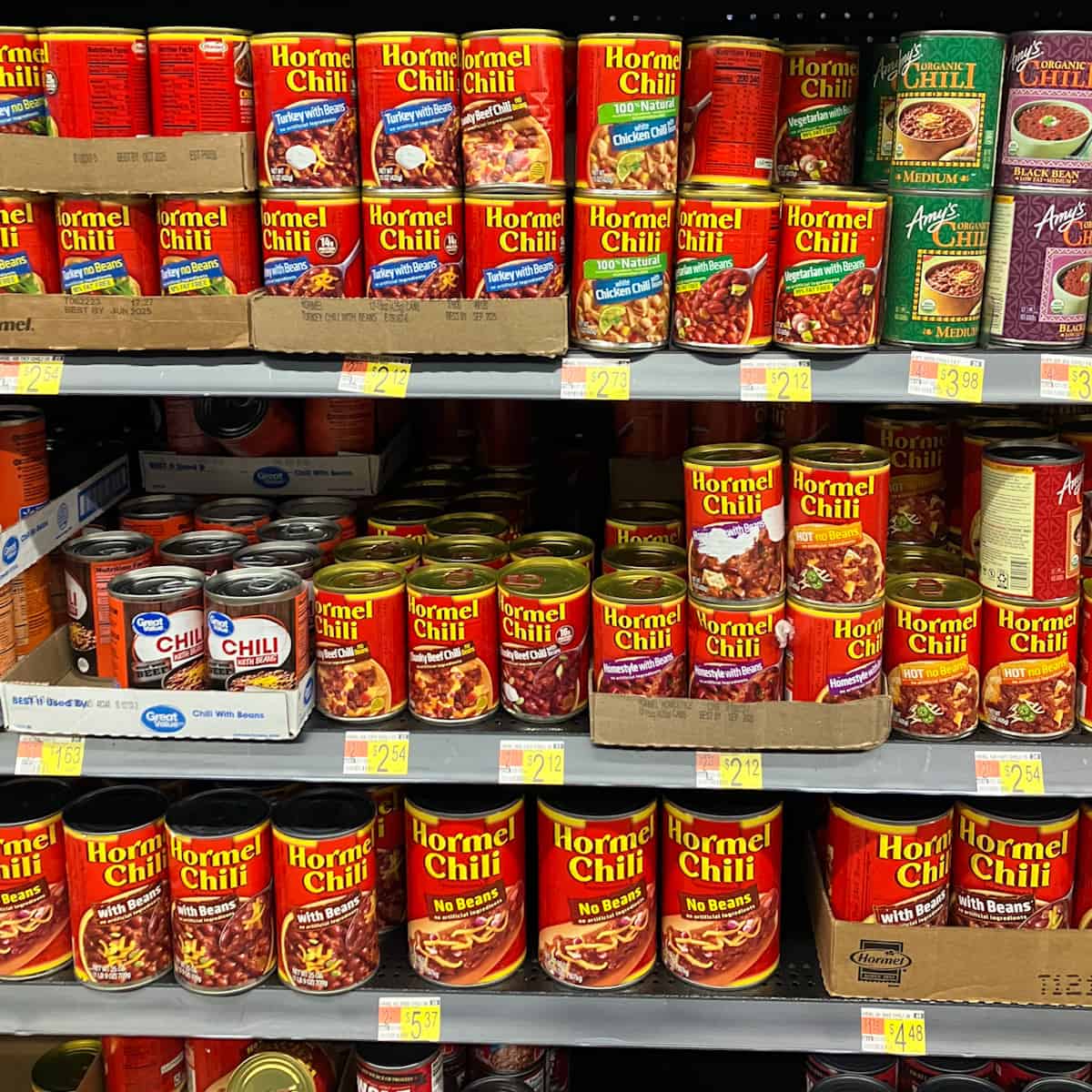 Canned Beans
Beans and certain other legumes are a great source of fiber and an important source of plant-based protein in vegan and vegetarian diets. Purchase beans with no added salt if you're on a low sodium diet. Canned beans can be better than dried beans in an emergency, because they're ready to eat.
Comfort Foods
Our diets aren't all about survival, they are about enjoyment too. To prepare for a long-term crisis, you'll want to have some of your favorite comfort foods around. This will hopefully make your meals more enjoyable, helping you to engage in a little self-care in an otherwise stressful situation.
Nuts and Seeds
Nuts and seeds make the cut for best non perishable food for emergency because they are high calorie and take little storage space. They're also rich in healthy fats and provide a little protein as well.
Dehydrated Meals
Dehydrated and freeze-dried meals are one of the most popular items on survival food lists. You can get meals in packets at Walmart that are light for hiking, or canned meals with lots of servings.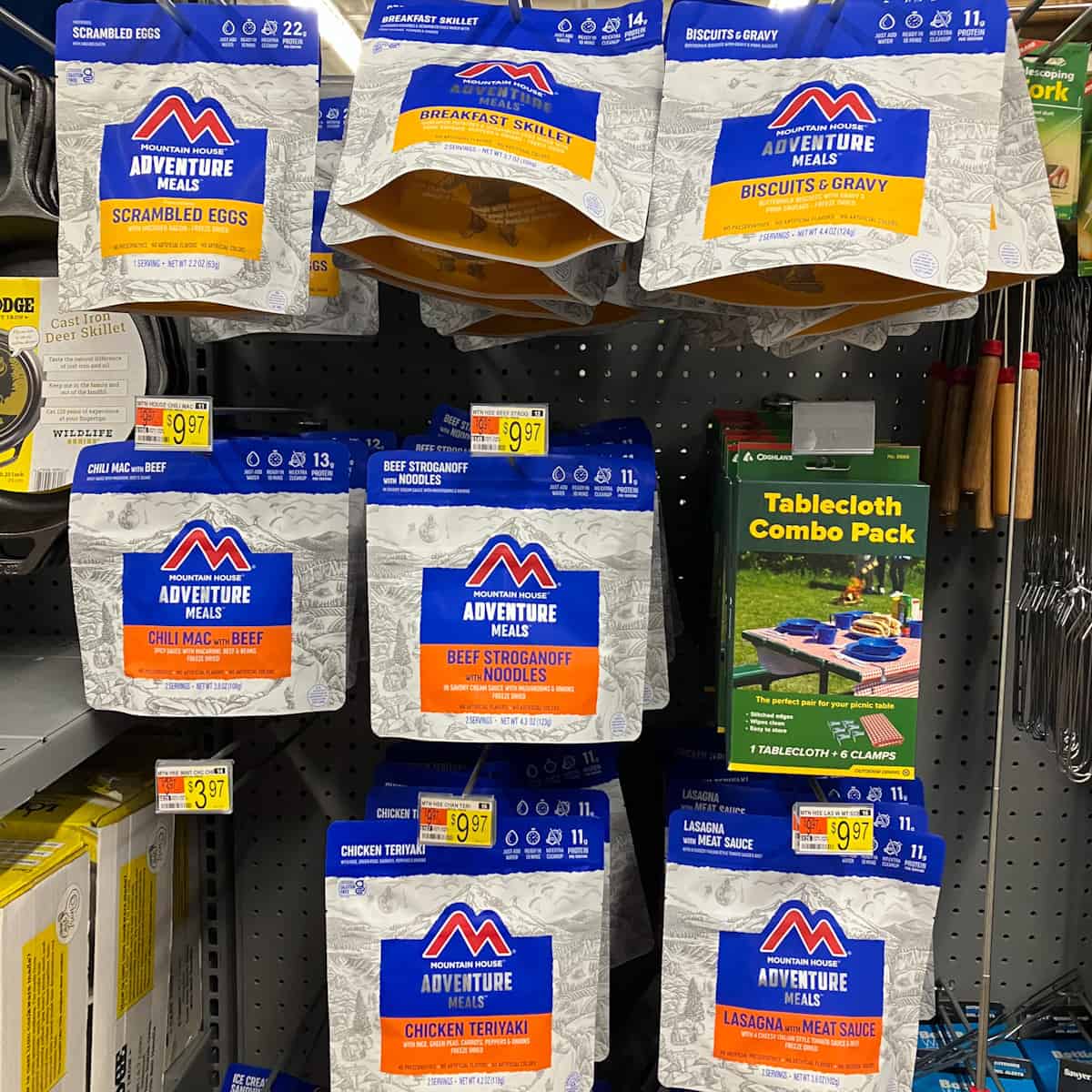 I keep a can of Mountain House chicken and rice in a can in case we lose power. The #10 can contains 9 servings, and lasts up to 30 years! Here are some other canned survival meals you can buy on Amazon: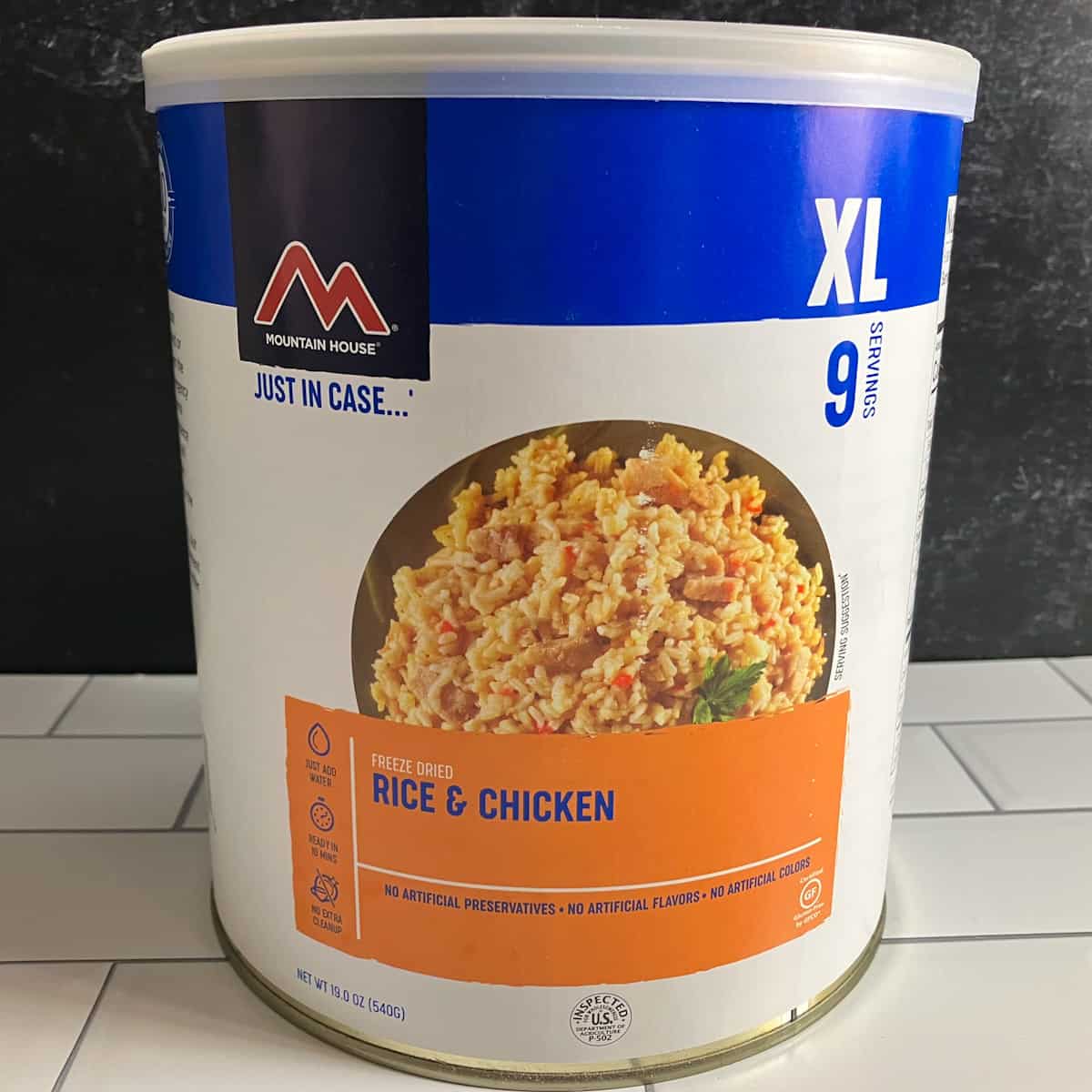 Pasta, Oats, Rice
The best emergency stockpile will contain some foods that are not in cans as well. This will help you achieve a well-rounded selection of foods to help prevent nutrient deficiencies. I like to store dried foods in five gallon food-safe buckets to keep bugs and dust out.
Spices and Seasonings
You probably already have some dried spices and seasonings in your house, and you can use these to jazz up emergency foods. Here are my top five that work with a wide variety of canned and dried goods:
Baby Formula
If you have an infant dependent on formula at home, you should add the baby's formula to your emergency foods stockpile. If possible, get some ready to feed formula that does not require a source of water.
Pet Food
Pet foods rarely make the list of best canned food to stockpile, and in some cases, pets can eat the same food as their humans. However, keeping up the pet's routine by feeding them the same food as usual may help reduce their stress in a crisis. It's a small thing we can do to help keep our dog or cat (or bird, fish, etc.) as comfortable as possible.
Medical Food
I never see medical foods make emergency food lists, but if you have a medical condition that requires them, they're critical. Talk to your dietitian or physician about storing extra PKU formula or other medically necessary foods in case of emergency. Even if you're highly dependent on something simple like Ensure, you're going to want to make sure you have extra on hand.
🏆 Best Canned Foods for Survival Plan
Now that you know the best canned food options for emergencies, you can make a plan. Remember these stockpiling tips:
Choose foods that nourish you nutritionally and that you'd like to eat.
Include all members of the family and pets in your plan.
Don't forget a can opener!
Rotate the canned foods first in, first out.
Have a water supply and a way to cook without electricity.
Ready.gov recommends having "at least a several day supply of non-perishable food." Commercially canned foods can be eaten without heating the food.
If you want to cook food during a power outage, they recommend candle warmers, fondue pots, or using the fireplace indoors. Use camp stoves and charcoal grills outside only. We have this small and inexpensive propane camping stove to use in case of emergencies.
If in the midst of a food shortage or other crisis, consider indoor gardening for some easy to grow plants. Sprouting broccoli seeds, growing popcorn greens, scallions, and lettuce are all fast and easy. Another idea is to experiment with foraging (and maybe try this dandelion vinegar).
One final element to add to your plan is to use food waste as much as possible. For example, use all parts of the carrot by making carrot greens pesto. Turn beef bones or chicken carcasses into a nourishing bone broth.
What foods are best to stock in case of an emergency- canned or dry MRE types?
MREs aren't really meant for civilians and are more expensive and harder to find than canned goods. That said, canned goods are heavier and may rust if left in damp conditions for too long. I recommend a mix of canned foods and inexpensive Humanitarian Daily Rations (HDRs), which are basically MREs for civilians.
🔎 What canned foods are good cold?
Canned foods in liquid have been heated during processing and are ready to eat. Canned chicken, tuna, beans, fruits, and veggies are all great straight out of the can. Fatty foods like Spam and canned corned beef hash are gelatinous served cold; they're best cooked until crispy IMO.
⛺ What's the best canned food for camping?
IMO, freeze dried canned foods are best for camping because they're lightest to carry. If you have access to water and a heat source for cooking, preparing freeze dried camping meals is easy.
🥔 What 2 foods can you survive on?
There was an interesting article by the BBC a while back about how you could meet most of your nutrient needs with just milk and potatoes (especially if you include a little oatmeal too). That said, you'd have to eat A LOT of both foods daily, and it certainly wouldn't be an ideal diet.
FAQs
Is there a single food that you can survive on forever?
What is the ultimate survival food? The single best survival food would be one formulated to contain all the fluid, calories, macros, and micronutrients we need to survive. There are complete nutritional formulas (including enteral feeding formulas) that meet these criteria, but they tend not to taste very good.
What is the longest lasting canned food?
What canned food has the longest shelf life? The best canned food for long term storage are the ones you find from Moutain House and other companies serving preppers. These canned foods have an extended shelf life (10-30 years or more), much more than supermarket canned foods.
What are the best canned goods to donate?
The best canned foods for donations are the ones your local donation center needs. Call your donation center to find out what they need in your area.
How to prepare for food shortages in 2024?
The best way to protect your family from food shortages is to keep a supply of a variety of different foods. Don't stockpile one item the media predicts will run out. You'll waste money and be unprepared for the real shortages if the predictions prove incorrect.
What foods will be in short supply in 2024?
It can be difficult to predict food shortages ahead, and doing so can exacerbate the problem due to people stockpiling.
What 5 foods can you survive on?
There are actually many combinations of five foods you could survive on. One shortcut to finding five foods that may provide all the nutrients you need is to choose a food from each food group. Choosing one fruit, vegetable, protein, grain, and dairy food will likely get you a more complete diet than one that includes only 1-2 food groups.
👨‍🍳 Survival Canned Food Recipes
Now that you know some foods to stock up on, here are some easy recipes for canned foods:
📖 Recipe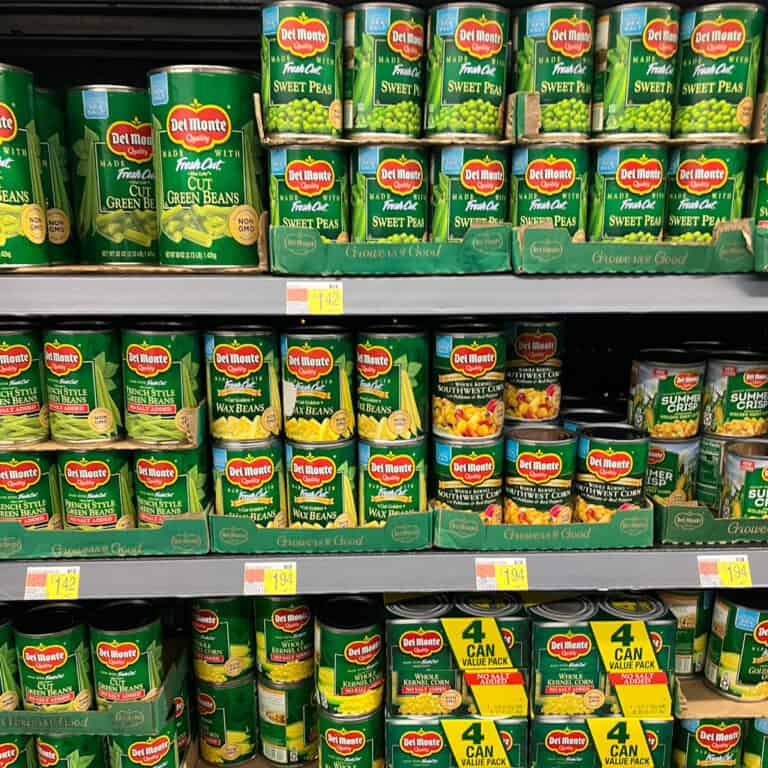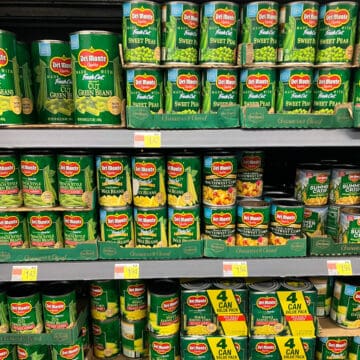 Best Canned Food for Emergencies (Best Canned Survival Foods)
What's the best canned food for emergencies? Find out here!
Ingredients
1

can

Vegetables

1

can

Fruits

1

can

Dried fruits

1

can

Juice

1

can

Meat

1

can

Fish

1

can

Chicken

1

can

Bread

1

can

Cereal or Granola

1

can

Pancake mix

1

can

Eggs

1

can

Canned milk

1

can

Peanut butter

1

can

Tomato sauce

1

can

Oil for cooking

1

can

Soup, stew, chili

1

can

Canned beans

1

can

Comfort foods

1

can

Nuts and seeds

1

can

Dehydrated meals

1

package

Pasta, oats, rice

(i.e., some not canned foods)

1

can

Spices and seasonings

1

can

Baby formula

if needed (ready to feed formula)

1

can

Pet food

if needed

1

can

Medical food

if needed
Don't be a stranger! 😊
If you love this recipe, please come back and leave a rating. This helps readers and I'd love to hear from you. Thank you ❤️
Instructions
Choose and purchase a variety of foods from this emergency foods list to be prepared for unexpected events.
Notes
Nutrition information provided is for one serving of Mountain House Rice & Chicken. Exact nutrition info will depend on products you choose and your portion size.
nutrition info disclaimer

All recipes on this website may or may not be appropriate for you, depending on your medical needs and personal preferences. Consult with a registered dietitian or your physician if you need help determining the dietary pattern that may be best for you.

The nutrition information is an estimate provided as a courtesy. It will differ depending on the specific brands and ingredients that you use. Calorie information on food labels may be inaccurate, so please don't sweat the numbers too much.
Nutrition
Calories:
250
kcal
Carbohydrates:
46
g
Protein:
7
g
Fat:
4
g
Saturated Fat:
1
g
Sodium:
730
mg
Potassium:
206
mg
Fiber:
1
g
Added Sugar:
1
g
Calcium:
2
% DV
Iron:
6
% DV
Did I miss any of your favorite canned foods for food storage? Drop me a comment and tell me about it!
Join our community! Subscribe for all of the latest and greatest recipes, and follow me on Facebook, Pinterest, Instagram, and YouTube!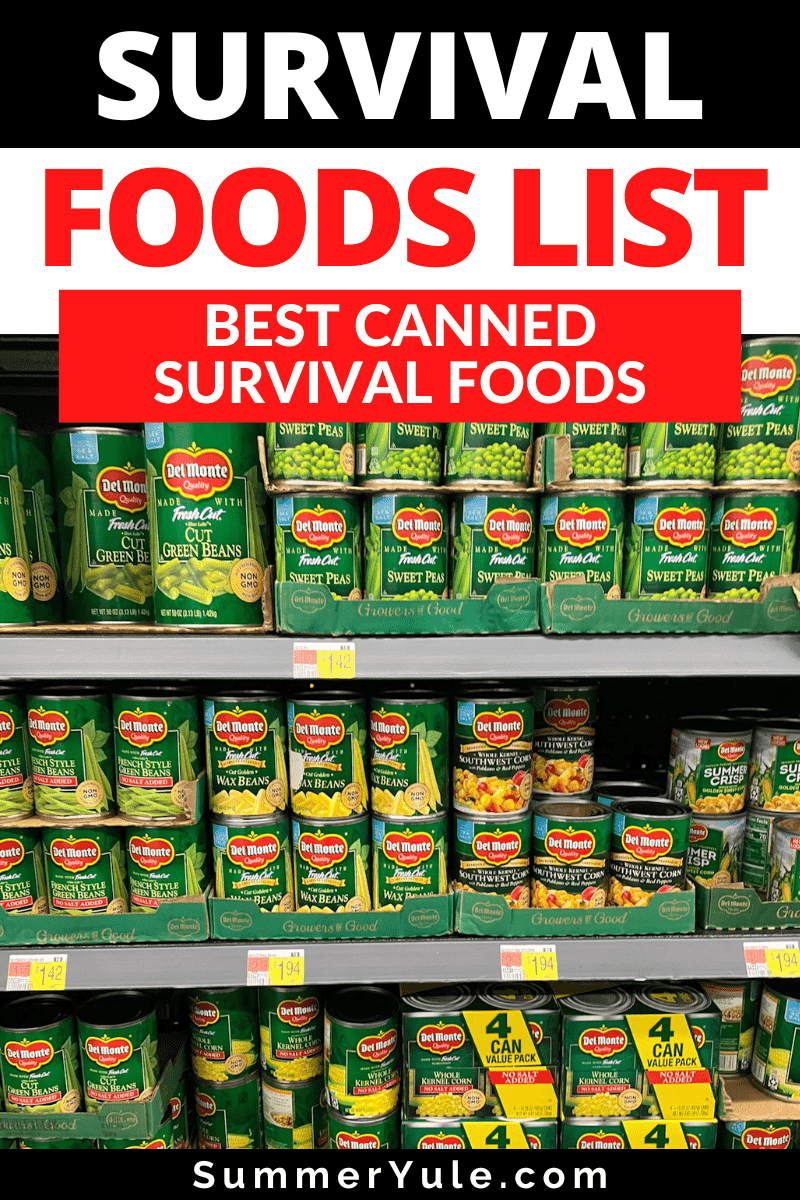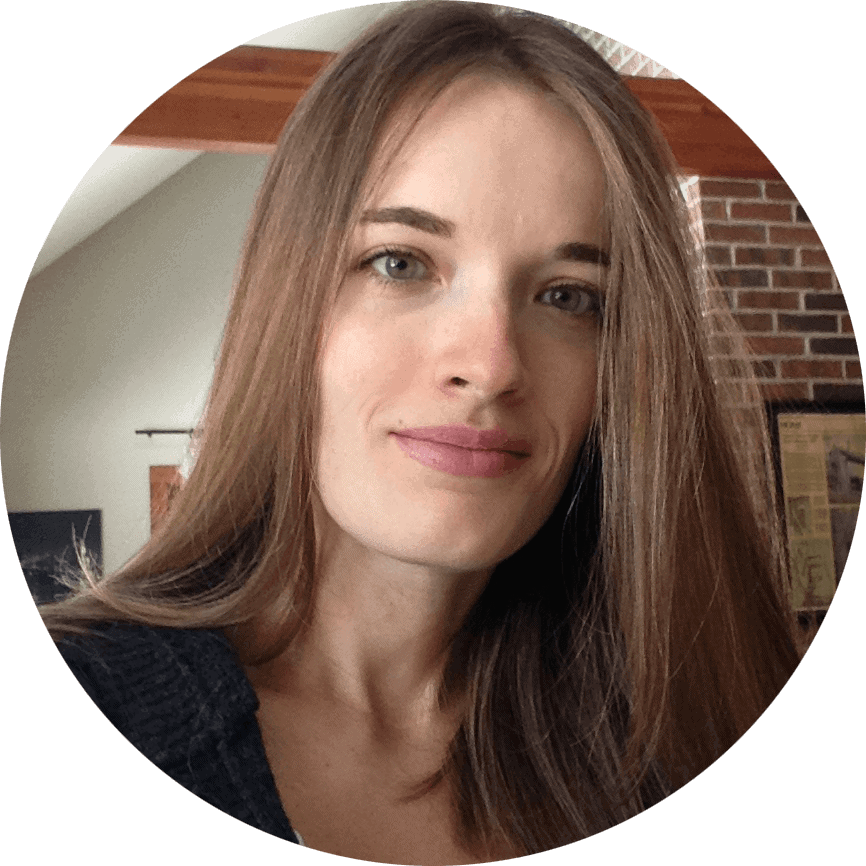 Hello! I'm Summer, a registered dietitian and home chef who loves to cook, eat, and create high quality content for you! Every recipe on this site has been tested by me to help ensure your success in the kitchen. All eaters are welcome here 🙂