IMHO, Cobb salads are pretty much the most satisfying salads on the planet! This veggie-filled best Cobb salad offers the richness of eggs, blue cheese, and a crumble of bacon along with protein-packed chicken. If you find a plate of eggs and bacon to be a satiating dish, wait until you try this tasty meal prep. It's under 500 calories with 43 grams of protein and 10 net carbs!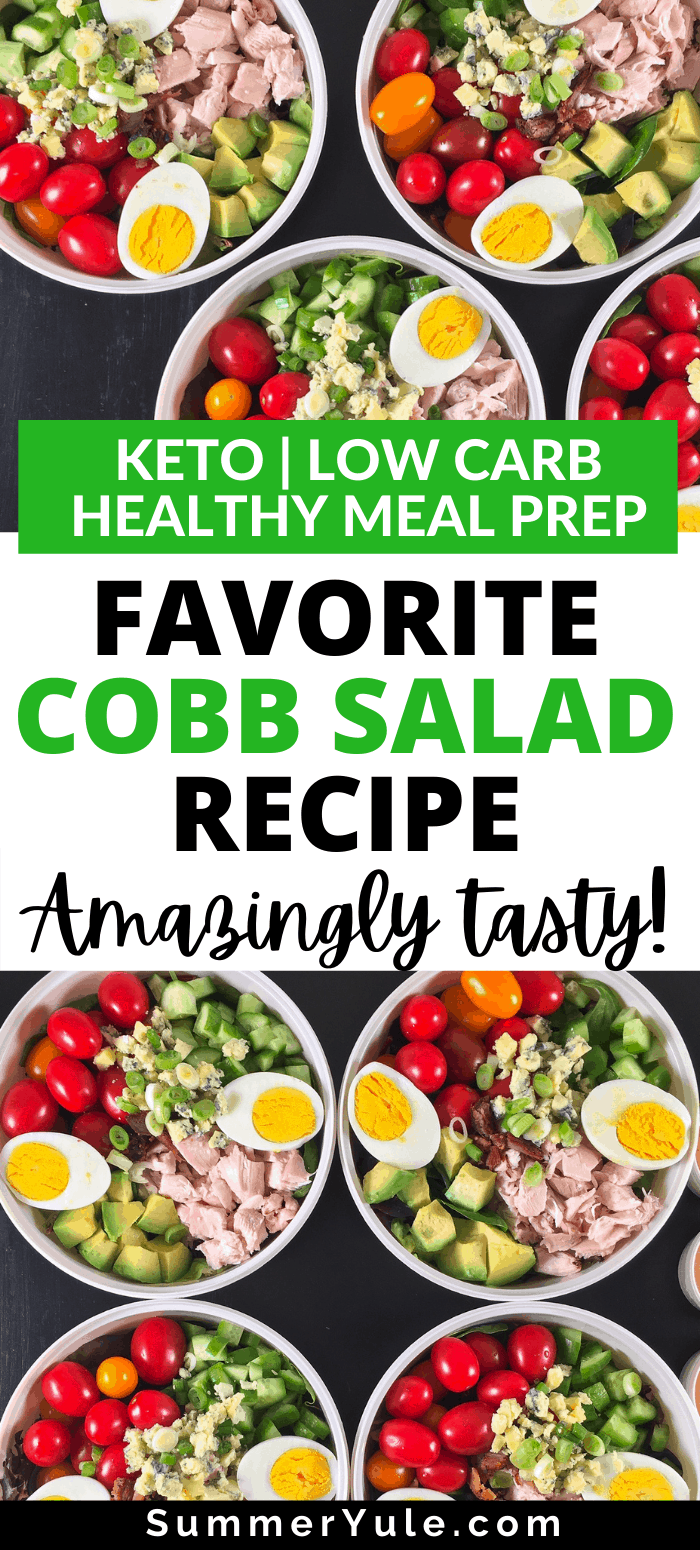 Whether you currently have a weight loss goal or are just seeking culinary deliciousness, you are going to love what I have for you today. Cobb salad was one of my favorite meals to prep during my weight loss journey. It's tasty, colorful, satisfying… I think it has earned its "best" title.
I posted a slightly different version of a Cobb salad a few years ago over on Simple Weekday Food, an old site of mine. I've since moved further away from my use of ultra-processed foods, but using store-bought dressing as I did there can save time.
(P.S. I no longer update that site. Also, I would not recommend prepping salads six days in advance as I did in that recipe. I wrote that in 2017, before becoming a dietitian and learning more about food safety.)
If you've made the roasted chicken I posted a few weeks back, this Cobb salad is a great way to use the leftover chicken. And if you haven't made it yet, I highly recommend it! It's such a warm and comforting dish to enjoy during frosty winters.
Did you know that February is Cancer Prevention Month?
As a breast cancer survivor, I feel I should give a little shoutout to Cancer Prevention Month. Getting diagnosed with stage 2 breast cancer back in 2009 (at age 29) had a profound impact on my life. I may never have made my health a top priority or become a dietitian if I did not have this health scare.
According to the American Institute for Cancer Research, these are the most important things that you can do to reduce your cancer risk:
Do not smoke
Maintain a healthy weight
"Reduce your cancer risk" is a key term here. Even if you do all the "right things," there is no guarantee that you will prevent cancer.
I did not smoke or drink alcohol prior to my diagnosis. Unfortunately, I was borderline overweight throughout my 20s (and gained a lot more once my cancer treatments were complete).
I know it is not politically correct to say, but maintaining a healthy weight is one of the best health moves you can make. In terms of reducing cancer risk, it is far more important than whether you eat the occasional slice of bacon. Especially if including some bacon here and there helps you to enjoy and include more veggies in the diet.
A lot of people aren't making the factors that can have the largest positive impact on health a priority. There is a lot of noise to distract the public from the basic nutrition and fitness advice that would be most helpful.
Though weight loss itself isn't a behavior, the lifestyle behaviors that promote weight loss can be targeted. One first step might be to reconfigure your meals to feel more satisfying (often high in protein, fiber, and water volume). This may help you to maintain the calorie deficit needed for weight loss.
I'm not afraid to talk about weight loss and calories, but some dietitians prefer not to
There are multiple health-promoting paths that a person can take on their weight loss journey. That is a good thing because we don't currently have an approach that works well for all. In general, those following low-carb approaches don't need to focus on calories (particularly if they are prioritizing protein).
However, I see some dietitians actively discouraging discussing both weight loss and calories. (Sometimes this co-occurs with encouraging veganism, very low-protein meals, and ultra-processed foods- yikes). Though some of this may be helpful to the population with eating disorders, I disagree with this as general public health messaging.
I suspect that some dietitians prioritize the health of the population with eating disorders over the general population due to their own history. Dietitians have a higher rate of eating disorders than the general population. And eating disorders are associated with higher rates of dichotomous thinking (i.e., black-and-white thinking).
Black-and-white thinking may not be the best trait to have when your position requires giving individualized health recommendations. The practitioner could take the position that "everyone was born an intuitive eater" or "the non-diet approach is best for all." They may discourage everyone from trying to lose weight, calorie tracking, or special diets because these things hurt them.
I would love to see more inclusivity in nutrition messaging this year. I think a greater recognition that we all have unique needs could be beneficial to all.
OK, I'm ready to eat. How about you?
Other Meal Prep Recipes
And now for the disclaimer…
All recipes on this website may or may not be appropriate for you, depending on your medical needs and personal preferences. Consult with a registered dietitian or your physician if you need help determining the dietary pattern that may be best for you.
The calorie information is an estimate provided as a courtesy. It will differ depending on the specific brands and ingredients that you use. Calorie information on food labels may be wildly inaccurate, so please don't sweat the numbers too much.
For more information on how the three recipe levels may help with a weight management goal, refer to this post. Let's get cooking!
Like this recipe?
Leave a rating by clicking the ⭐ below!
Best Cobb Salad – Meal Prep Recipe!
This Cobb salad (with bacon and egg) is even more satisfying to me than a plate of bacon and eggs. Only 458 calories and 10 net carbs with 43g of protein!
Ingredients
8

cups

leafy greens

(I used Trader Joe's spring mix)

4

large

eggs, hard-boiled, peeled, sliced in half

4

slices

cooked bacon, crumbled

12

ounces

chicken breast, cooked and chopped

(340 grams)

1

avocado, chopped

½

lime, juiced

2

ounces

blue stilton cheese, crumbled

(57 grams)

1

lb

grape tomatoes

(454 grams)

2

tablespoons

chives, chopped

4

Persian cucumbers, chopped

1

scallion, chopped

4

tablespoons

red wine vinegar

1

tablespoon

Dijon mustard

2

tablespoons

olive oil

1

clove

garlic, chopped finely
Instructions
You need four salad containers and four dressing cups for this meal prep (I use these).

Sprinkle the lime juice on the avocado to help keep it from browning.

Divide the leafy greens between the four containers. Add ¼ of the eggs, bacon, chicken, avocado, cheese, tomatoes, chives, and cucumbers to each of the containers.

Garnish the salads with the scallion.

Put the vinegar, mustard, olive oil, and garlic in a small canning jar. Put the lid on the jar and give it a good shake. Divide the dressing evenly between the four dressing cups.
Notes
This is a level 1 recipe (may help support fat loss). This salad gives you 43 grams of protein and about 10 net carbs for under 500 calories. Whether you are focusing specifically on lowering calories or carbs for weight loss, this one is a great choice. Additionally, it is packed with a rainbow of phytochemical-rich vegetables, something that makes dietitians happy.
Nutrition
What type of salad do you consider to be the most satisfying salad on the planet? Even if your answer isn't Cobb, I hope you feel like this is the best Cobb salad you've ever made!