What are the best frozen foods to cook in an air fryer? The air fryer is my favorite way to cook a variety of frozen foods, including appetizers, side dishes, and entrees. Whether you're using a Ninja Foodi, Cuisinart, Philips, Power Air Fryer, Pampered Chef Air Fryer, Actifry, Cosori, Nuwave, Instant Vortex, or Kalorik Air Fryer, you're going to love the airfryer frozen food recipes in today's roundup!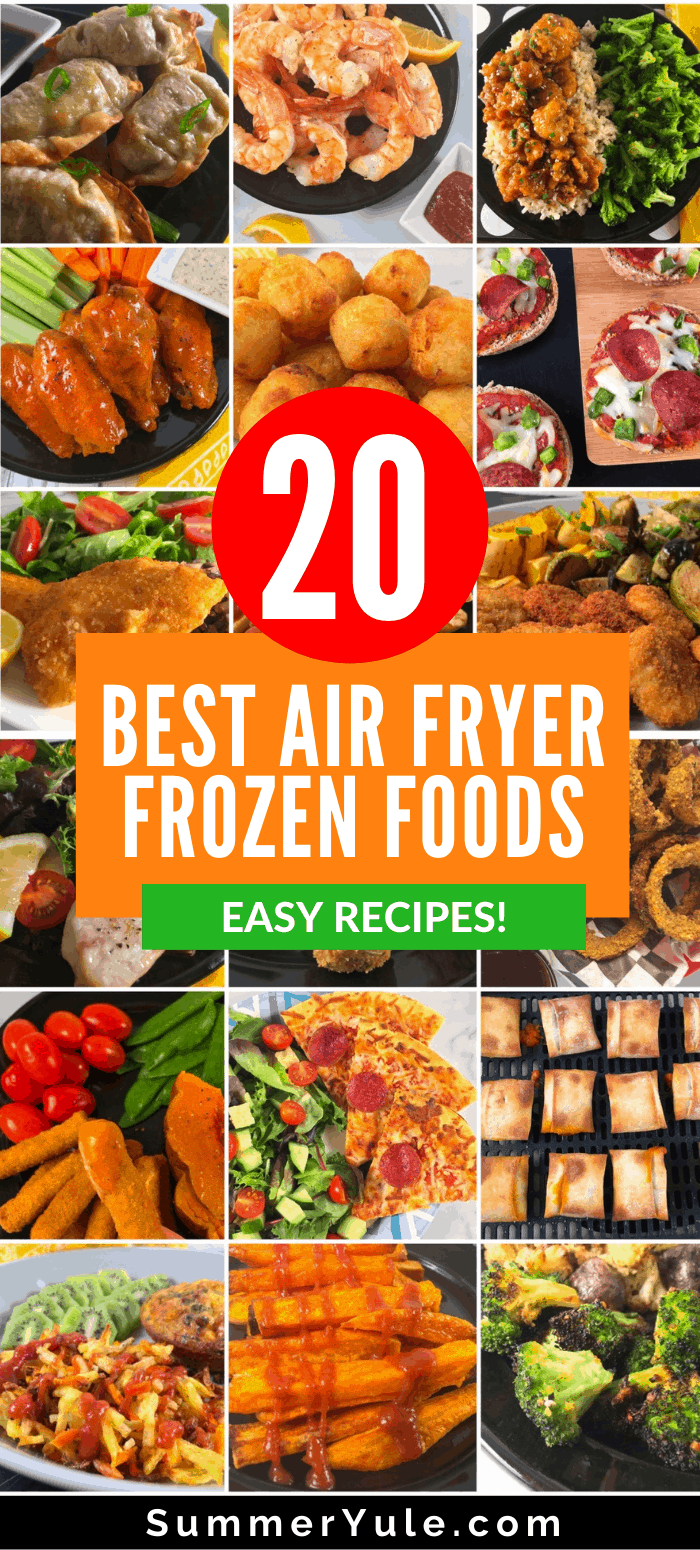 With today's busy lifestyles, cooking frozen foods in an air fryer is something everyone can enjoy. In the time it takes to preheat the oven, an airfryer can often finish cooking the frozen food you want to eat!
Those following, keto, low carb, vegan, gluten free, and plant based diets can all appreciate the health benefits of owning an air fryer. With air frying, you can skip the messy clean up (and gobs of added oil) that comes with deep frying.
However, you still get the crispy texture of all of your favorite snacks and bar foods. That includes wings, poppers, breaded mozzarella sticks, fries, and so on.
Are all of the below foods healthier with air frying? Nope! In some cases, the only benefit of the air fryer is that it makes cooking time a little shorter. (Which, in turn, may make life a little easier- not a bad thing!)
Saving time by not having to thaw the frozen foods we want to eat is a big advantage in my book. The dry circulating air in the air fryer does an amazing job removing moisture and crisping up frozen foods. In some cases, the texture of frozen foods improves immensely with air frying versus microwaving or other cooking methods.
So, what are the best frozen foods to air fry? Here's my list!
Jump to:
🥟 Appetizers
Have company coming over soon? You can air fry just about any appetizer that you'd typically bake or pan fry. Throw one of these frozen appetizers in the air fryer and be ready to feed a crowd on the fly.
I don't think that a lot of people realize the large range of frozen foods you can put in an air fryer. Air frying is so easy, takes up very little counter space, and doesn't heat the house like an oven does. I can see why it's such a popular cooking method!
I use my air fryer almost every day. It's one of my most-used kitchen appliances.
If you get some last-minute guests, or want to focus on the party (not the food) let these air fryer frozen appetizer recipes come to the rescue! Everyone will wonder how you managed to get these tasty snacks ready so fast!
🍗 Chicken
Winner, winner, chicken dinner! My life has changed for the better since I figured out I can air fry frozen chicken. No more needing to figure out something else for dinner when I haven't thawed the chicken in time!
If you have kids, don't miss the recipe on air frying frozen chicken nuggets. I'm providing tips on choosing the healthiest chicken nuggets in the grocery store along with the recipe!
I've also got directions for air frying one of Trader Joe's most popular items, their frozen Mandarin orange chicken. I like how it turns out even better than when I make it in the oven. As an added benefit, it takes much less time to air fry vs oven bake!
Chicken is a rich source of high-quality protein, as well as essential nutrients including vitamin B12 and niacin. With these frozen chicken air fryer recipes in your culinary toolbox, you can get your dinner entrée on the table fast!
🍤 Seafood
We're supposed to get two servings of seafood per week, according to general nutrition recommendations. Unfortunately, very few of us in the U.S. are eating that much fish or shellfish. Putting your frozen seafood in the air fryer can make increasing your seafood intake easier.
Thawed raw fish isn't supposed to sit in the refrigerator for more than a day or two. It's really easy to forget to thaw it in time when you want fish for dinner.
With the air fryer, you no longer need to worry about thawing frozen shrimp and fish. You can air fry thin frozen fish fillets, such as tilapia, in about the time it takes to preheat the oven. Once you try air frying frozen seafood, you might wonder why you ever cooked it any other way!
I'm always amazed at how good air fryer frozen foods are. Breaded fish comes out perfectly crisp, without lots of added fat and oil. Frozen shrimp with no breading also turns out well, ready to dip in cocktail sauce. Yum!
🍕 Pizza
Craving Italian food? You can air fry frozen pizza in less time than it would take to order take out! These air fried recipes are great for college kids or anyone who wants a quick and easy meal.
Well... perhaps the pizza isn't quite an entire meal by itself. I usually like to grab a bag of salad mix to get some more veggies on my plate. There are also some side dish recipes in the next section that could work well with pizza.
Whether you like a full pizza, hand-held English muffin pizza, or bite-sized pizza rolls, you'll find a recipe here that appeals to you. Whatever your frozen pizza preference, you can have it ready fast with the air fryer!
Air fryers are also great for reheating leftover pizza. The cheese will get melty and the crust will crisp back up. The air fryer is a wonderful kitchen tool that can help prevent food waste.
🍟 Side Dishes
Side dishes are another category of frozen foods to make in the air fryer. When you're putting together a meal, do you ever feel like managing separate recipes for the main dish and sides is a bit much?
Making one pot meals is one solution, and another is to go the low-effort route with your side dishes. Just grab a bag of frozen veggies from the freezer and pop them in the air fryer. With a little oil and seasoning, you've got a healthy side dish without having to think much about it.
One of the most popular vegetables (at least in the U.S.) is the humble potato. That's why I have a bunch of different air fryer frozen potato recipes for you here. Frozen hash browns, frozen fries, frozen tater tots... if you have frozen potatoes, we can air fry them!
And if you aren't looking for a carb fix, I've got some sides for you too. Learn to air fry keto frozen onion rings and air fryer frozen veggies such as broccoli. It's amazing just how delicious frozen foods in the air fryer can be!
📖 Recipe
In your opinion, what are some of the best frozen foods to air fry? Drop me a comment below and let me know!
Join our community! Subscribe to the Weekly Newsletter to be kept up-to-date on all of the latest and greatest recipes! You can also follow me on Pinterest, Twitter, and Instagram!