Ready for the weekend? If you are looking for some nutrition-related reading to kick back and relax with, I have a great book to tell you about, "Real Food for Pregnancy: The Science and Wisdom of Optimal Prenatal Nutrition" by Lily Nichols, RDN, CDE. Even if you are not pregnant or planning to become pregnant, you may want to check this one out; keep reading to learn why.
In this week's issue:
Not pregnant? Here's why you may want to read this book anyway
What is covered in "Real Food for Pregnancy"?
Feeding babies: breastfeeding, formula, rice cereal
A few minor criticisms about the book (but don't let these stop you from reading it!)
Not pregnant? Here's why you may want to read this book anyway
I'm only going to be reviewing books that I feel positively about and would encourage others to read, so I hope that my review today piques your interest. I have been looking for a book on the low-carb way of eating that I would recommend to clients, and to be frank, I have been disappointed in many of the books promoting low-carb that I have read to date. "Real Food for Pregnancy" is the best book covering diets that are lower in carbohydrates that I have read so far. The author is a dietitian who appears to have a love for researching prenatal nutrition and presenting evidence-based information; this book cites hundreds of references.
If you are pregnant or planning to become pregnant, this book is a must-read. If you are a vegan or vegetarian, you may want to read this book whether you are pregnant or not; this book does an excellent job outlining the arguments regarding the nutritional importance of including more animal-based foods in the diet. Often folks will only read the books that fully agree with their particular beliefs regarding diet. I highly recommend reading some evidence-based books on nutrition that do not necessarily align with how you choose to eat. The authors of these books may present information and ideas that your favorite nutrition professional has not covered. Finally, if you are interested in a moderately low-carb way of eating for yourself, you will very likely enjoy this book.
What is covered in "Real Food for Pregnancy"?
One of the first topics covered in "Real Food for Pregnancy" is a nutrient comparison of a sample meal plan created by the author versus a pregnancy meal plan provided by the Academy of Nutrition and Dietetics (AND). The major differences are that the author uses full-fat dairy products, fewer servings of grains, and fattier meats while skipping PUFA-heavy cooking oils and ingredients like light mayo. The results is a meal plan that contains only about half the carbohydrates of the AND plan, but more of nearly every essential vitamin and mineral, more protein, and more omega-3 fats, all without resorting to supplements.
Nichols also covers key nutrients during pregnancy and breastfeeding, such as iron and vitamin B12. Did you know that there is some evidence that the optimal RDA for vitamin B12 during pregnancy may be considerably higher than the current recommendation? She also talks about optimizing your intake of omega-6 to omega-3 fats to help decrease the risk of developmental delays in the baby. The AND prenatal vegan meal plan has an unfavorable ratio of over 10:1, while her omnivorous plan offers an excellent ratio of 3:1. General information on prenatal supplements are covered, as well as foods that are rich sources of fiber beyond grains. Gestational diabetes is lightly touched upon here, but she has written a separate book devoted entirely to this topic if you need to delve more deeply.
Need simple snack ideas or recipes? This book has you covered for both. Some of the recipes include small amounts of liver to create more nutrient-density in the meal. A word of warning to those who are not acquainted with organ meats; they tend to have a robust taste that may take some getting used to. While I plan on using some of these yummy-sounding recipes with my own family, we've never been able to adapt our taste buds to the strong taste of liver, even when only a minimal amount is added to meals such as meatloaf. If you'd like to add more organ meats to your meals, I recommend starting with very small amounts (1-2 T) and increasing the amount as your palate acclimates. Good luck!
Beyond nutrition, this book also has some simple exercises and suggestions for reducing exposure to potentially harmful chemicals like BPA and glyphosate. She recommends pasture-fed meats, dairy, and eggs, and organic grains and legumes. If you cannot afford these things, listen to this old mama who survived a pregnancy spent almost entirely on artificial nutrition and had a healthy baby: do not sweat it. Aim for a nutrient-rich and varied diet that fits your budget, whether those foods are organic/pasture-fed or not. If you think this particular chapter might stress you out, it is entirely OK to skip it. It is also fine to pick and choose which tips might work well for you, instead of trying to do them all. Some tips (like that chlorella may decrease mercury in the body) are linked to mouse studies, and we don't have conclusive evidence that humans will see the same benefit anyway.
Feeding babies: breastfeeding, formula, rice cereal
If you choose to breastfeed, "Real Food for Pregnancy" gives very helpful information on the nutrients in breastmilk that are impacted by changes in your diet, as well as those that are not:
There are many published cases of infants that have been harmed by vitamin B12 deficiency, so that is a particularly important nutrient to pay attention to.
When I was in school, we were taught to advise parents who were not breastfeeding to choose cow's milk-based baby formula. If the baby was having difficulty digesting cow's milk proteins, we were taught to recommend hydrolyzed cow's milk formulas and to only resort to soy-based baby formulas for a limited number of specific medical conditions or at the parent's request. As you'll learn more about if you read this book, soy-based formulas have a much higher aluminum content than breastmilk. A quick search on the AAP website uncovered that while breastmilk tends to have 4-65 ng/mL aluminum, soy protein formulas average 600-1300 ng/mL. While the AAP retired their statement on aluminum toxicity regarding these formulas for healthy term infants, they note that the use of soy formula in preterm infants and those with renal failure may increase the risk of decreased bone density and/or aluminum toxicity. Aluminum is not an essential dietary component, so I see no reason to expose an infant to excessive amounts of it unnecessarily.
Since we are on the topic of feeding, I want to diverge from the book review for just a moment. Iron-fortified rice cereal is an early solid food for many babies. According to the FDA, because of its unique growing conditions, rice tends to absorb arsenic more easily than other crops. The main risk is to people who have limited diets that are primarily composed of rice, such as infants started on iron-fortified rice cereal. The AAP suggests that parents use a wide variety of iron-fortified grain cereals, not just rice. Something I've been seeing parents doing is starting infants on other iron-rich foods early (such as puréed beef or lamb) so that there is less reliance on these cereals as a major food source of iron. As an added bonus, the heme iron in beef is more easily absorbed than the type of iron in these fortified cereals. It makes sense if you think about it because somehow humans managed to survive long before we started spraying vitamins and minerals on grains. Once again, a well-balanced diet of a variety of foods wins.
Back to the book review…
A few minor criticisms about the book (but don't let these stop you from reading it!)
The big argument against including more animal fat in the diet is the link between higher saturated fat intake and cardiovascular disease (CVD). Since the author does go against conventional dietary guidelines in advising that people consume poultry with the skin, cook with animal fat, and opt for full-fat dairy, I would have liked to see even more on the topic of CVD risk. She did discuss how the CLA from ruminant-based foods does not appear to act the same way in the body as the manufactured form of trans fats in regards to CVD risk. She also mentioned how excess methionine (from consuming lean meats without utilizing the skin or bones) is linked to high homocysteine (a marker of inflammation). Nichols advises consuming bone broth and poultry skin to get more glycine, an amino acid that may be conditionally essential during pregnancy, and which helps to balance the methionine provided by muscle meats in the diet.
She has a list of foods that are high in refined carbohydrates, and while I agree with most foods on this list, I would argue that popcorn and quick oats do count as whole grains, and are not high in refined carbohydrates unless they are sweetened. Both popcorn and oats contain their bran, germ, and endosperm, components of whole grains.
The comment was made in the book that "mindful eating has been shown to be a more effective-and "less arduous"-way to lose weight postpartum when compared to programs that require you to strictly weigh, measure, and record every morsel of food you eat." The article cited with this statement "proposed" mindful eating to be more effective, but this study did not actually compare mindful eating to the tracking methods mentioned. However, this study did mention a small pilot study which compared intuitive eating for weight loss to traditional caloric restriction and found that the caloric restriction group lost significantly more weight. It is great if mindful eating helps you to lose weight, but many need to take other avenues to help them achieve this goal.
There is one more thing I feel I should mention. The book states that young infants "appear to stay in ketosis during at least the first month of life." What the article cited actually found is that 4-day-old infants averaged 240.4μmol/L 3-OHBA (0.2404 mmol/L), while 30-day-old infants averaged 366.7μmol/L 3-OHBA (0.3667 mmol/L). A ketone body level above 0.5 mmol/L indicates a light nutritional ketosis, so these infants were not actually in ketosis. Other literature confirms that very few healthy term infants are in ketosis by day 4: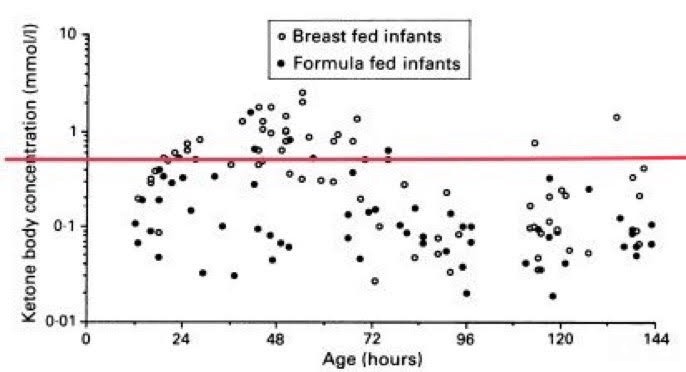 That's all I have for you today. I hope you found this information helpful, whether you know someone who is expecting, are expecting yourself, or were just curious as to whether newborns are mini keto dieters in hiding.
Have you read "Real Food for Pregnancy"? If you've read it, I'd love to hear your thoughts on the book, as well as any questions you have about prenatal nutrition. Drop me a comment!