Is Butcher Box worth it? Yes! Butcherbox may save you money if you regularly buy grass finished beef and free-range organic chicken. In this unpaid 2023 Butcher Box review, learn how much is Butcher Box a month, get info on Butcherbox meat quality, read honest Butcher Box negative reviews and more. If you decide it's right for you, get my special Butcher Box promo code for readers!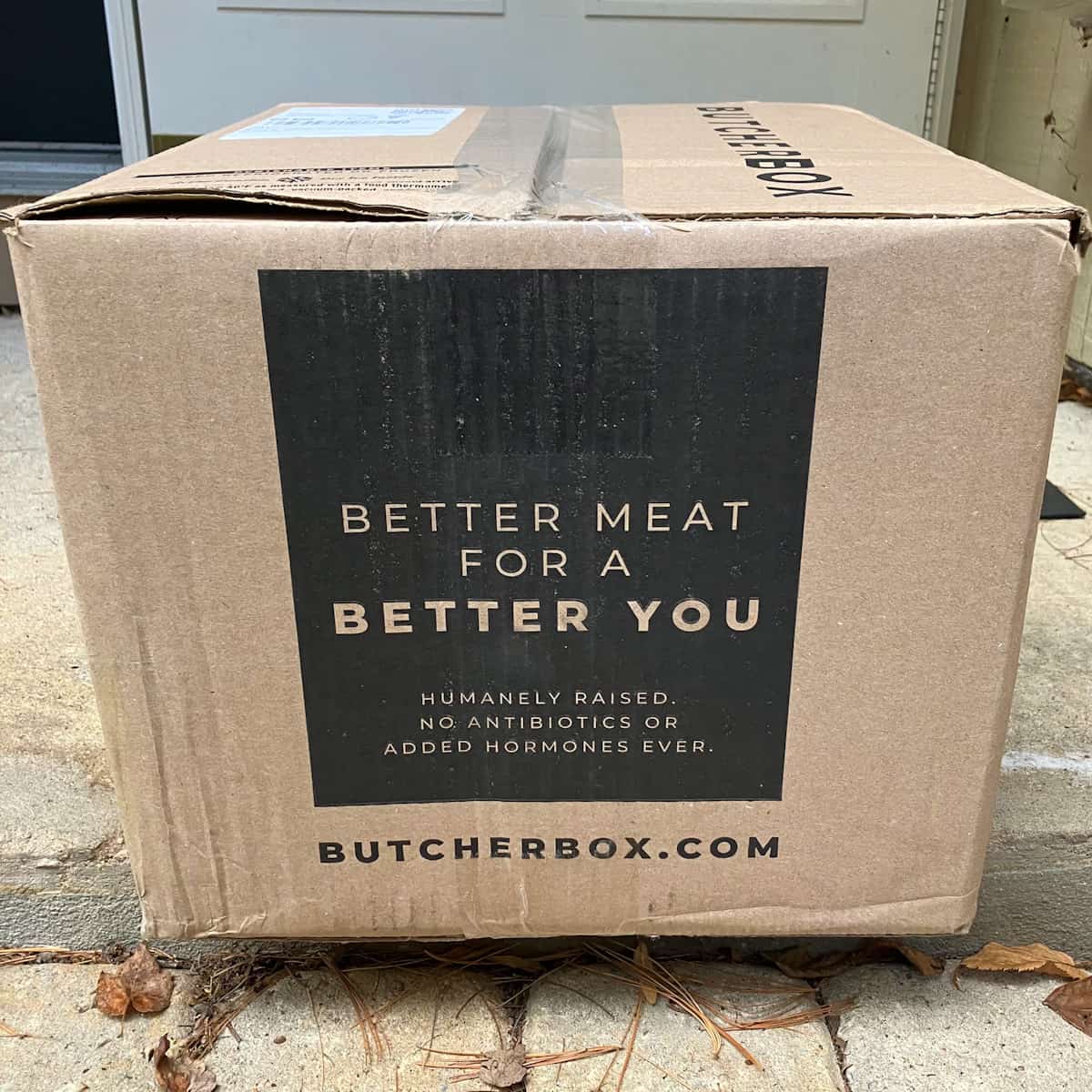 Jump to:
Butcher Box Discount Code
Butcher Box is always running member deals and first-time order specials. Two popular offers include the Butcher Box free ground beef for life and Butcher Box free bacon. You can get the most current Butcher Box offer by clicking here, no Butcher Box coupon code needed!
Butcher Box offered free two ribeyes in the box when I placed my order. The Butcher Box freebies change frequently. The best way to find out what you'll get is to check my special link for readers.
Butcher Box Review
What is Butcher Box? Butcher Box is a meat subscription program where you can order custom or curated meat boxes online. They provide high quality meat, poultry, and seafood similar to what you'd find at a local farmer's market or Whole Foods.
I ordered a meat delivery from Butcherbox with my own money because I wanted to try them out. Here are some benefits of using Butcher Box as your online butcher:
Saves time: You can order a Butcher Box much faster than you can drive to the store and shop. If you hate menu planning, Butcher Box sends curated boxes so you don't even need to order individual items.
Saves money: Unlike Thrive Market, Butcher Box offers free shipping on their frozen boxes. Aside from saving on shipping fees, Butcher Box may save you money on groceries compared to health food stores with their member special deals.
Makes shopping for diets easy: If you are following a special diet (e.g., low carb or keto), Butcher Box meats help make grocery shopping easy. You can fill your freezer with easy and delicious Butcher Box keto items to make it easier to stick to your diet. Butcherbox.com offers many healthy low sugar, keto, Paleo, and Whole30 options (and more!).
Is Butcher Box chicken good? Yes, we enjoyed the Butcher Box chicken breasts we received in our order. They cooked up tender and juicy.
Does Butcher Box sell ribeye? Yes, Butcher Box sells AMAZING grass-fed rib eye steaks. We received two free ribeyes with our order, and an additional two ribeyes as part of our curated box.
Does ButcherBox come frozen?
Yes, Butcher Box orders arrive frozen. I placed my order in a cold weather month, and each item arrived frozen, with no thawing. Everything was insulated and well-packed.
How does ButcherBox stay cold?
ButcherBox uses dry ice to package their products and special insulated packaging. The box can be recycled, while the dry ice should be allowed to evaporate in a well-ventilated area.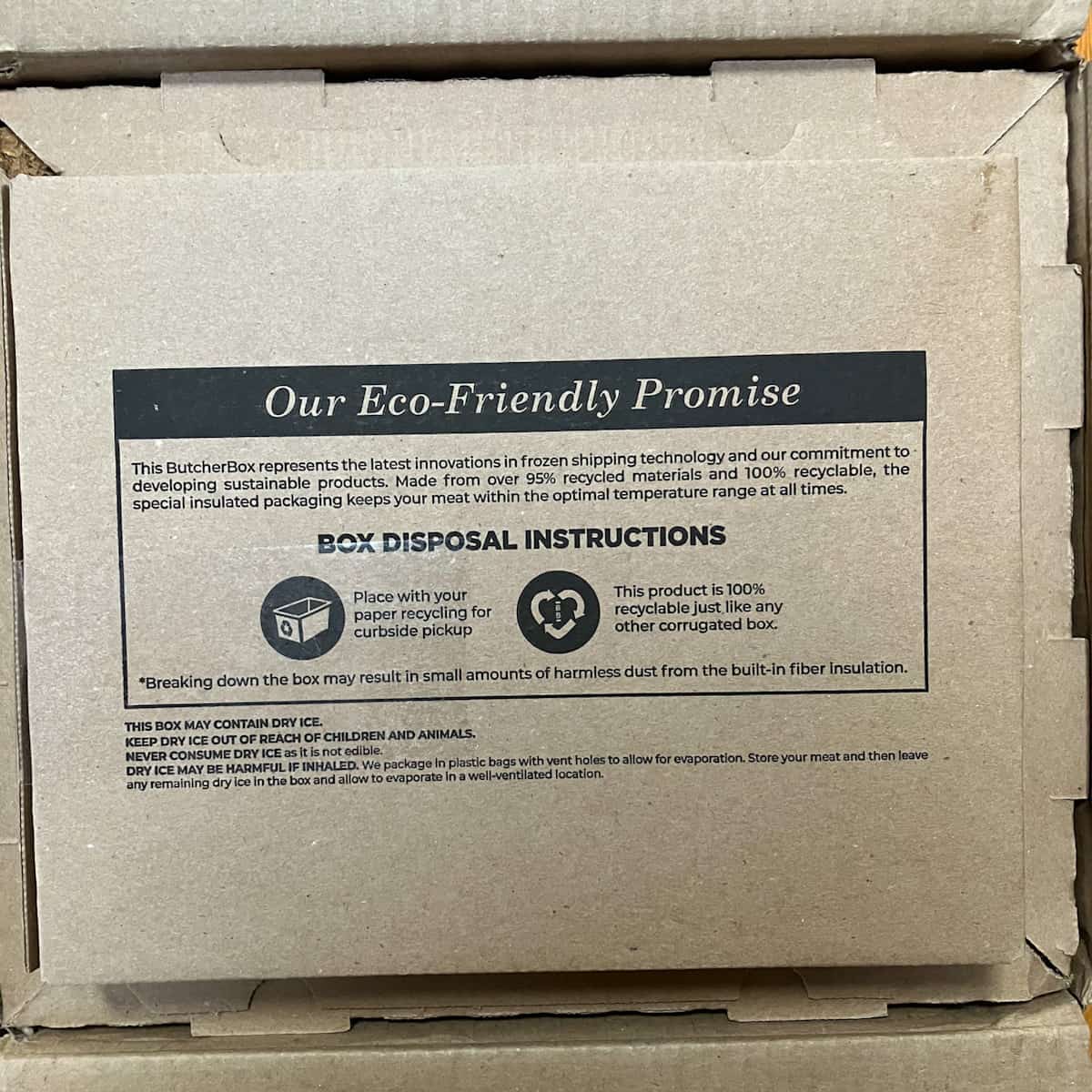 Butcher Box includes a warning in the package about the risk of burns from dry ice. I recommend wearing disposable gloves while removing the foods from the box, and keeping dry ice away from children and pets.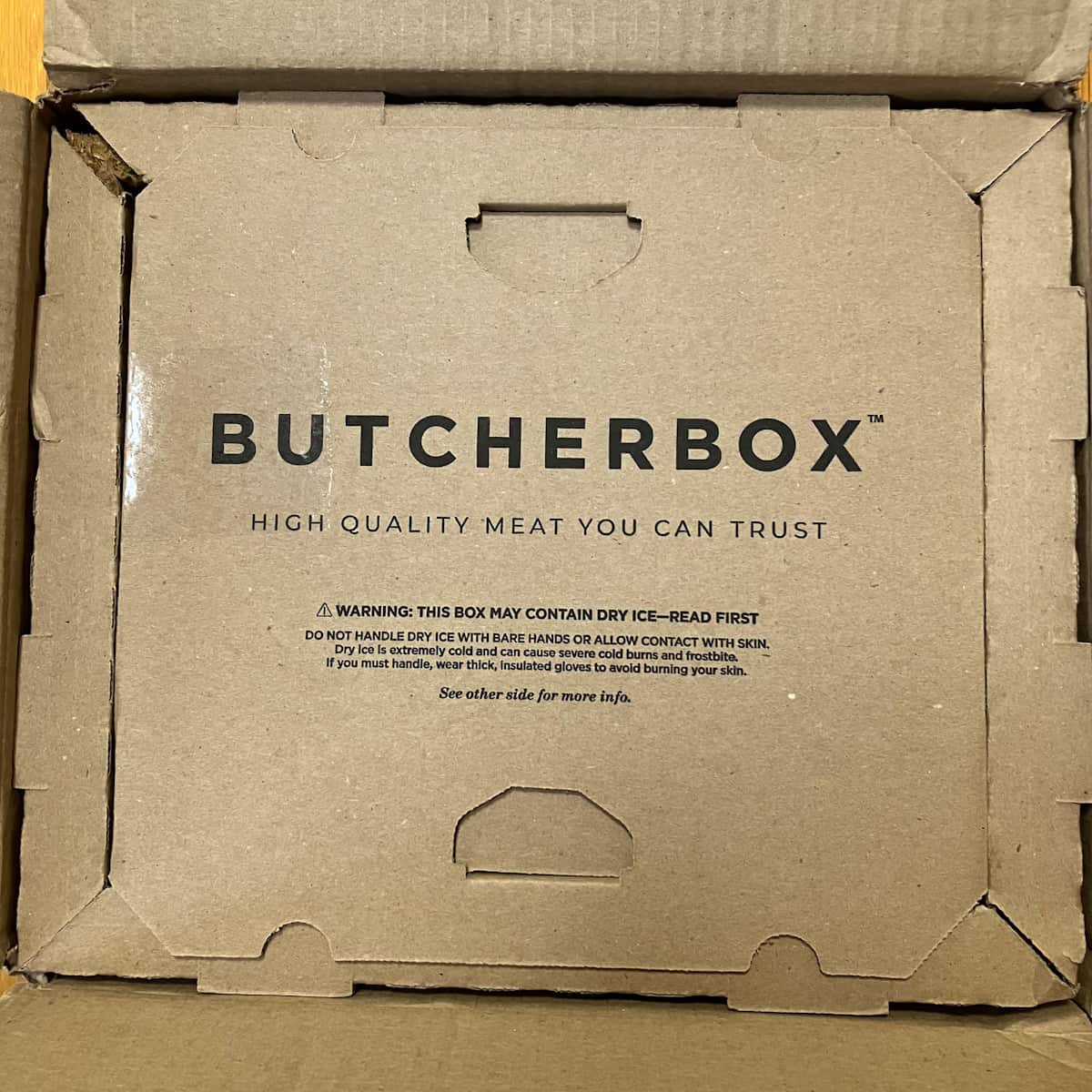 After removing the meat from the box, Butcher Box recommends checking the temp of the foods with a meat thermometer. If arrives above 40F, Butcher Box asks that you notify them at 727-897-8960. They ask that you do not taste any perishable items that didn't arrive cold.
Butcher Box Plans
Here are the details of the Butcher Box subscription plans:
You can choose from 25+ cuts of their available meats and seafood with the custom plan. Custom plan boxes are offered in two sizes, each with 20% more meat than curated plan boxes. Here's what you get:
9-14 lbs. meat
Free shipping
Choose types of meat and cuts of meat
Can include seafood
With the Butcher Box curated plan, you choose the meat types and ButcherBox picks the specific cuts. This is the plan I chose, and it's great if you like surprises. The curated box is also offered in two sizes. Here's what you get:
8.5-11 lbs. meat
Free shipping
Choose types of meat but not specific cuts
No seafood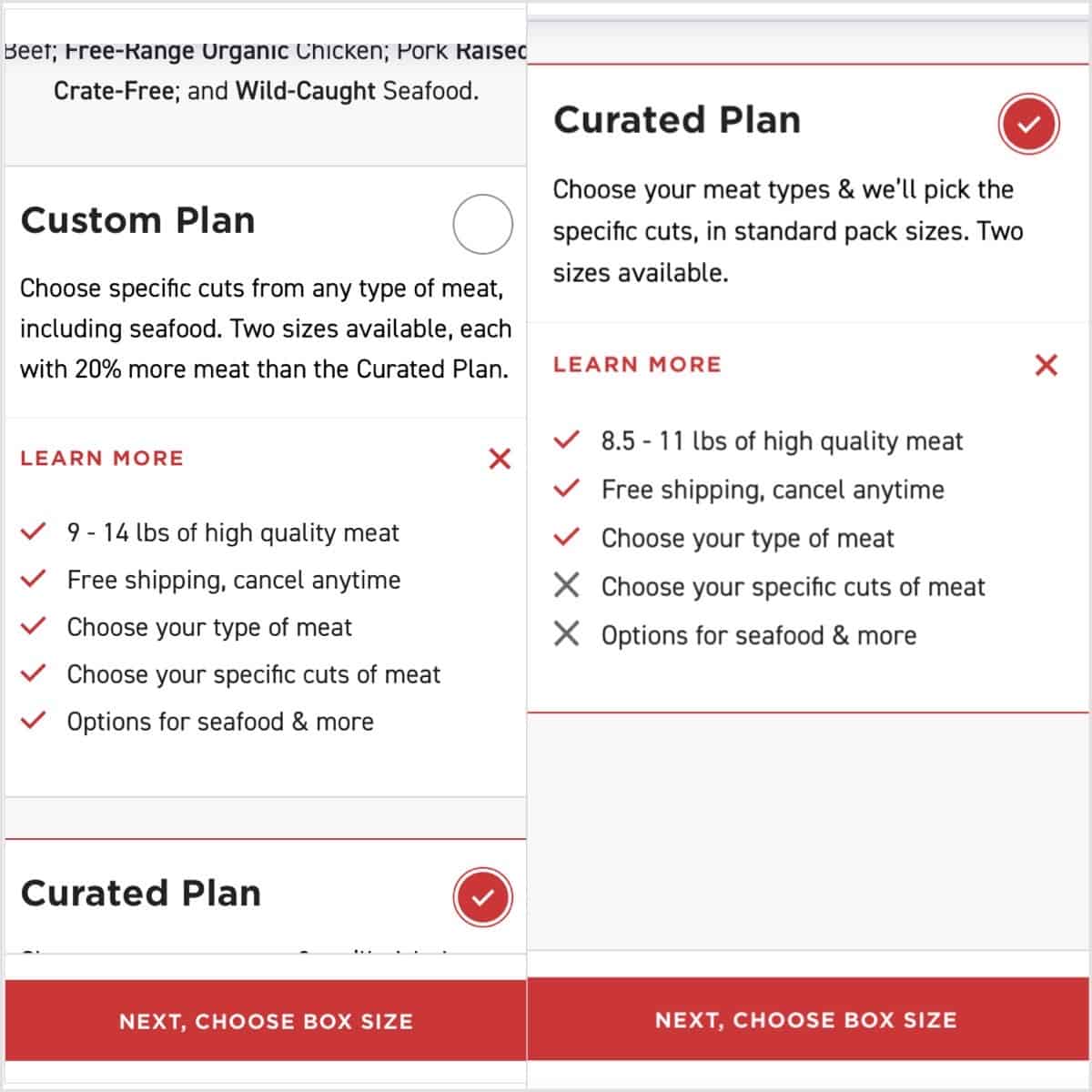 Choose the Butcherbox gift box if you'd like to try Butcher Box without a subscription. Please note though that the gift boxes are not customizable, and there are currently no promotions offered on one-time boxes. IMVHO, it's better to order a custom or curated box and cancel after one order to get the promo deals.
How much meat do you get in a ButcherBox?
Here are your box size options:
Curated Box:
Classic Box has 8-11 lbs. meat
Big Box has 16-22 lbs. meat
Custom Box:
Classic Box has 9-14 lbs meat
Big Box has 18-26 lbs meat
I ordered a classic size curated box (a mixed box with chicken, pork, and beef). Here is what I received:
3.63 lbs organic chicken breast (skinless, boneless)
2 lbs boneless pork loin chops (4 pieces)
2.5 lbs grass-fed, grass-finished ribeye steaks (4 steaks)
1.5 lbs grass-fed, grass-finished flat iron steaks (2 steaks)
2 lbs grass fed, grass finished lean ground beef (85/15)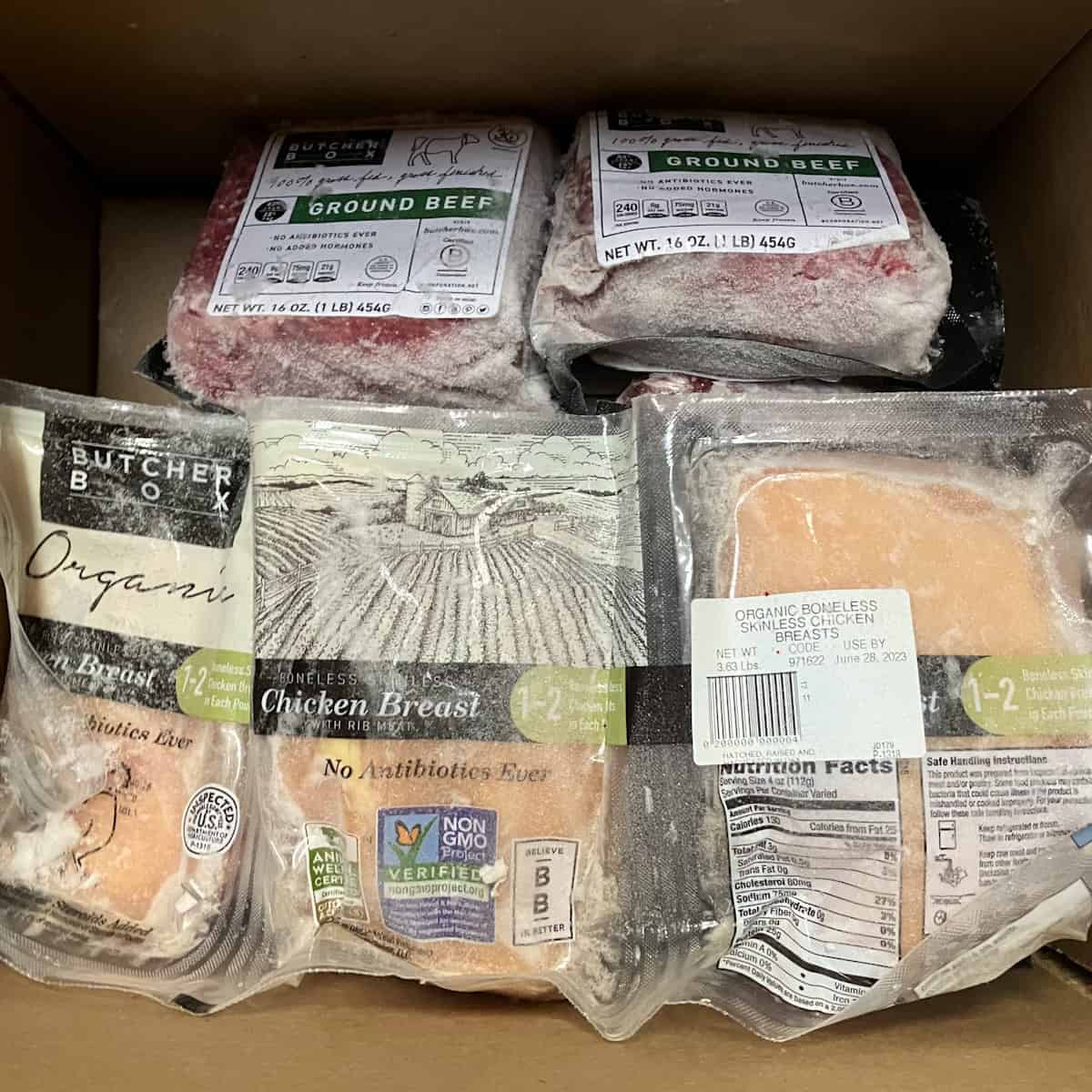 The contents of your curated box will likely not be identical to mine, and vary from order to order. You can order different foods in your custom box with each order as well. Here are some other options I saw on the Butcher Box site:
Bone-in chicken thighs
Chicken drumstick
Pork butt
Pork tenderloin
Halibut
Cod
Scallops
Top sirloin steaks
NY strip steaks
Steak tips
Chuck roast
Even lobster!
Does Butcher Box have liver?
No, Butcher Box does not have liver and other organ meats. If you'd like to order organ meats online, I highly recommend US Wellness Meats.
Does Butcherbox have lamb?
Butcherbox offers cuts of lamb seasonally. If you want to ensure you get lamb in your box, order the Butcherbox custom box.
Does Butcher Box have turkey?
Butcher Box offers turkey seasonally. Order the custom box to ensure you get the cuts of poultry you want. I've seen whole turkey and ground turkey available.
Does Butcher Box have shrimp?
Yes, Butcher Box has shrimp, but not in the curated boxes. To get Butcher Box shrimp, either order a custom box or the seafood gift box.
Is Butcher Box organic?
Is ButcherBox really organic? Yes, Butcher Box offers some organic meat options. Here is how Butcher Box describes their selection:
Free-range organic chicken
100% grass-fed and grass-finished beef
Wild-caught seafood
Certified humanely raised pork (i.e., pork raised crate-free with no hormones or antibiotics)
In addition, Butcher Box says that many of their pork products are sourced from heritage breed pork.
Is ButcherBox beef pasture raised?
Yes, according to Butcher Box, they use pasture-raised beef, i.e., 100% grass fed and grass finished (source).
Is ButcherBox bacon grass fed?
Bacon usually comes from pork (pigs), and unlike cows, pigs generally thrive on a diet that includes more than grass. Butcher Box says their pork is fed an all-vegetarian diet (includes milk proteins). The pigs are raised crate-free on nearly all solid floors (as opposed to the slotted floors used in conventional farming.)
Is ButcherBox ethically sourced?
What counts as ethical sourcing in meat production can be a bit subjective. That said, I do think ButcherBox aims to source its meat ethically. You can learn more about their sourcing here.
Is ButcherBox USDA graded?
I noticed that my Butcher Box meat packages say they're USDA inspected. However, Butcher Box seems less transparent about USDA meat quality grading.
Butcher Box used to have an article titled, "What different grades of meat mean, and why meat grades don't matter for grass-fed beef." However, it appears the subject of the article has been changed (source).
USDA meat grading looks at things like marbling where grass-fed and finished meat is likely to be at a disadvantage. Grass-fed and finished meat tends to be leaner and tougher, with less fatty marbling. That's the price we pay for letting the animals run and graze free in the fields.
It's unlikely that Butcherbox cuts of beef are USDA prime. Some speculate that they're USDA choice, or possibly even select cuts. (I still found the meat quite tasty, so this wouldn't change my desire to order.)
Butcherbox Pricing
How much does ButcherBox cost? Here is the Butcher Box pricing:
| Butcher Box Type | Butcher Box Size | Butcher Box Price |
| --- | --- | --- |
| Curated Box | Classic Box | $146 |
| Curated Box | Big Box | $269 |
| Custom Box | Classic Box | $169 |
| Custom Box | Big Box | $306 |
Please note that these prices are correct at the time of writing. Butcher Box cost is subject to change; check their website for the most accurate pricing info.
So, are meat subscriptions cheaper? Honestly, I can't answer is Butcher Box a good deal without knowing how you currently shop.
If you normally buy the cheapest meats at Walmart and Costco, no, Butcher Box probably won't save you money. On the other hand, if you buy only organic and grass-fed meats from health food stores, Butcher Box may be a bargain. This is especially true if you live in a high cost of living area.
Of course, the savings aren't the only advantage of Butcher Box. Part of the benefits of Butcher Box is the convenience of getting food delivered to your house. Ideally, Butcher Box may help you save on gas from additional trips to the store.
How often do you pay for ButcherBox?
How often you pay for Butcherbox depends on how often you request a box delivery. Butcherbox states that many of their customers choose to receive a box every four weeks. You can also choose to receive boxes at 6- or 8-week intervals.
Does ButcherBox charge for shipping?
No, Butcher Box does not charge for shipping. Butcher Box currently offers free shipping on their boxes.
Does Butcher Box accept EBT?
Butcherbox does not accept EBT or Food Stamps at this time. (Side note: this dietitian thinks it's perfectly fine to buy conventional meat from the grocery store, especially if you're on a tight budget. With grocery prices rising as they are, my family often buys conventionally farmed meat to save money.)
How much is ButcherBox a month?
The Butcherbox cost per month depends on your box type, size, and frequency of delivery. If you order one box per month on your subscription, your Butcherbox cost will be $146-306.
Does ButcherBox last a month?
Your Butcher Box may or may not last a month depending on how much meat your family eats. For a family of four, a box will provide anywhere from 6-15 meals, enough meat for dinner for 1-2 weeks. It's expected that the Butcherbox will be supplemented with other foods, restaurant meals, etc.
How many pounds of meat per person per month? The American Heart Association recommends that adults limit to 5.5 ounces of meat per day (about 10.5 lbs per month). Other (perhaps more realistic) sources suggest 8 ounces of meat or more per day for omnivorous adults.
How many meals are in a ButcherBox?
Here are the number of meals per Butcher Box. These figures come from Butcher Box, and allot 4-6 ounces of meat per person per meal.
| Butcher Box Type | Butcher Box Size | Butcher Box Meals |
| --- | --- | --- |
| Curated Box | Classic Box | 24 |
| Curated Box | Big Box | 48 |
| Custom Box | Classic Box | 30 |
| Custom Box | Big Box | 60 |
What is the average cost of ButcherBox?
The average cost of a custom or curated Butcher Box is $222.50. To get this number, I simply added the price of their four subscription boxes, and divided by four. You will pay more or less than this figure depending on the box you choose.
How to Order ButcherBox
Ordering Butcher Box is pretty intuitive. However, here are step-by step directions for how to order Butcher Box if you need it:
Time needed: 5 minutes.
How to Order Butcher Box
Visit the Butcher Box site here.

Submit your email to get the latest free offer from Butcher Box. When I ordered, they offered free ribeyes for one year plus $20 off my first box.

Select your plan.

You can choose a meat box that's curated by Butcher Box or customize your box with specific items. (See specifics on Butcher Box plan choices below.)

Choose your Butcher Box size and delivery frequency.

Butcher Box offers a classic box with 8-11 lbs of meat, or big box with 16-22 lbs of meat. Next, choose whether you want the box shipped every 4, 6, or 8 weeks. (You can pause or cancel delivery at any time.)

Select types of meat.

If you have dietary restrictions and only eat certain types of meat, no problem. Even with the curated boxes, you can choose the types of meat in your box. All the curated boxes include beef, but you can skip the chicken or pork if you wish. (Choose a custom box if you want no beef or all beef.)

Select member deals.

Butcher Box offers special member deals only offered for a limited time, if you want them. When I ordered, they had a deal on fully cooked chicken strips and bacon.

Choose add ons.

You can choose to add additional food to your box, if you wish. These items get free shipping with the rest of your order.

Submit shipping and payment info.

Next, give Butcher Box your shipping address and payment information. Hit submit, and your Butcher Box order will be on its way. So easy!
How long does it take ButcherBox to deliver?
Butcher Box states that boxes are delivered within 8 business days from the first-time order date or recurring bill date. I placed my order on Friday, and received the box three days later, on Monday. I was impressed with how fast the shipping was, considering it's free shipping.
Butcherbox Negative Reviews
Is ButcherBox trustworthy? Is ButcherBox a good company? This wouldn't be an honest review of ButcherBox if I didn't share the negative aspects. Here are the cons of ButcherBox (IMHO):
You need adequate freezer space available for your order.
The meat is probably not sourced locally. Butcher Box gets its chicken and fish from the US and Canada. Their beef, however, comes from Australia.
The meat isn't cheaper than conventional meat from the grocery store. With grocery costs rising, Butcher Box is better for those looking for convenience versus cost savings.
Grass-fed and grass-finished beef is typically tougher than conventional beef. Not everyone will enjoy that (but on the plus side, it may be a bit leaner too).
You will still need to travel to the store for fruits, vegetables, dairy products, and other foods.
Butcher Box gets 1.7/ 5.0 stars on Trustpilot, but only has 186 reviews. A quick scan of the negative reviews indicates many of the issues relate to delivery issues. Though I had no delivery issues, Butcher Box uses many companies for shipping, and some may be better than others.
In contrast, Butcher Box gets a Better Business Bureau rating of A+. The Butcher Box reviews on BBB are also generally positive, with a 4.64/ 5.0 star rating. Looking at the reviews on BBB, it appears that they handle complaints in a timely manner.
Want to read more positive and negative reviews on Butcher Box before making a decision? Check out Influenster and the Butcher Box reviews on Reddit.
Is ButcherBox hard to cancel?
Cancelling Butcher Box is easy, and there's no need to talk to customer service to do it. Here's how to cancel Butcher Box:
After entering your Butcher Box login, go to "Box Settings" in your account. (Note: it's easiest to cancel on a laptop. I had to shrink the text on the screen to close out a pop up to cancel on my phone.)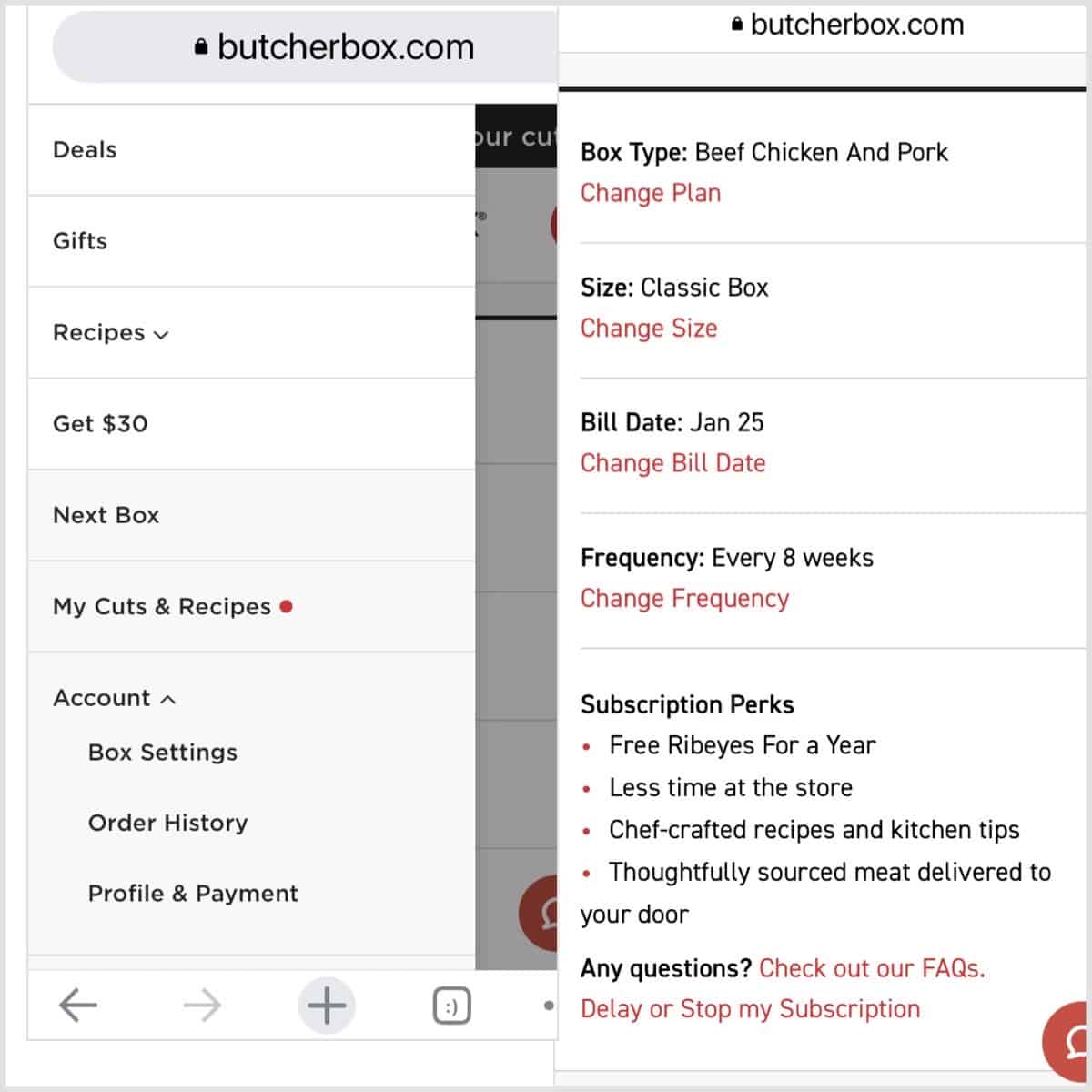 Click on "Delay or Stop my Subscription." Then click on "I don't want a subscription."
Give the reason for cancelling your Butcher Box subscription. (I chose "I wanted to try it once.")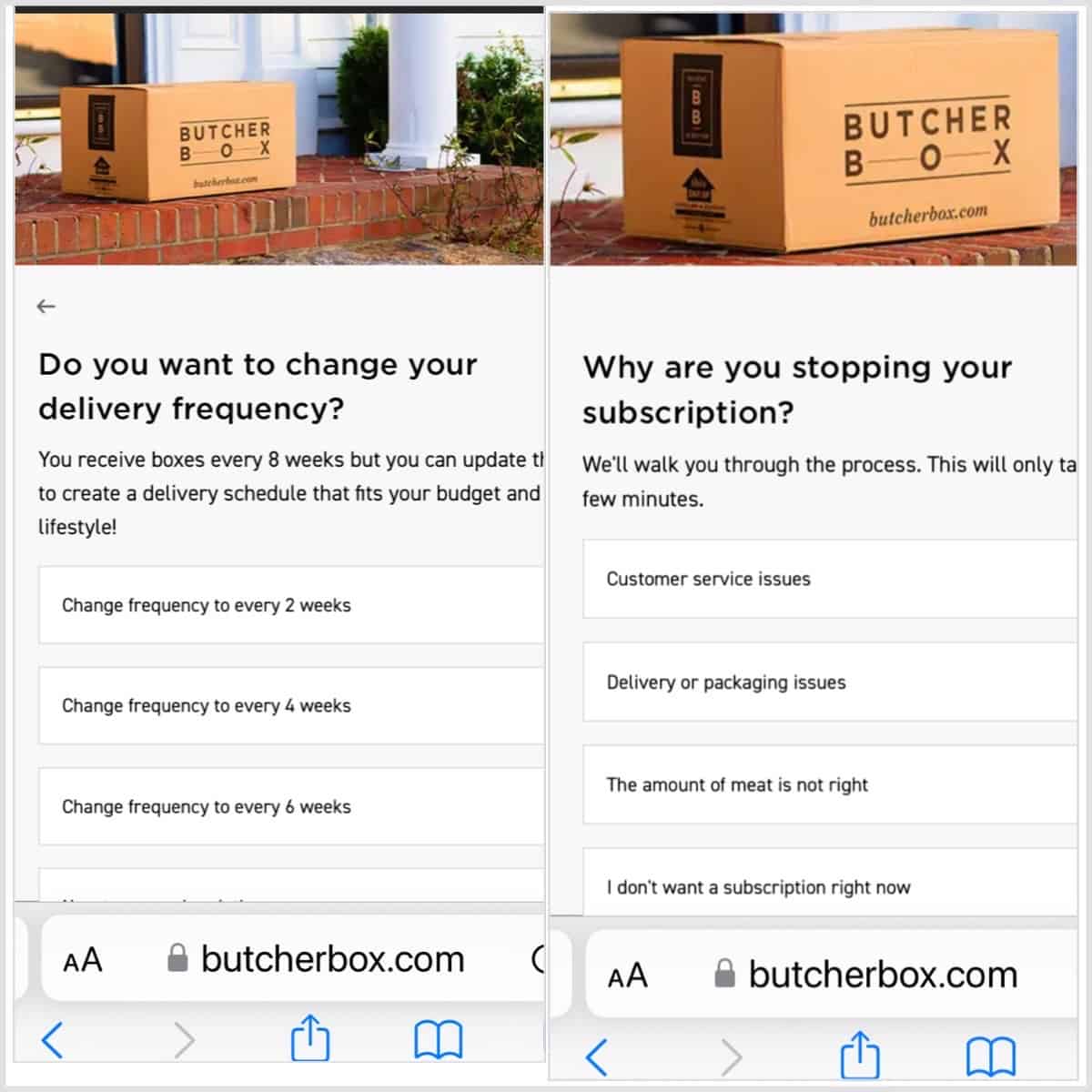 They'll remind you of the perks of membership. If you're certain you want to stop Butcher Box, click on "No, stop subscription." That's it!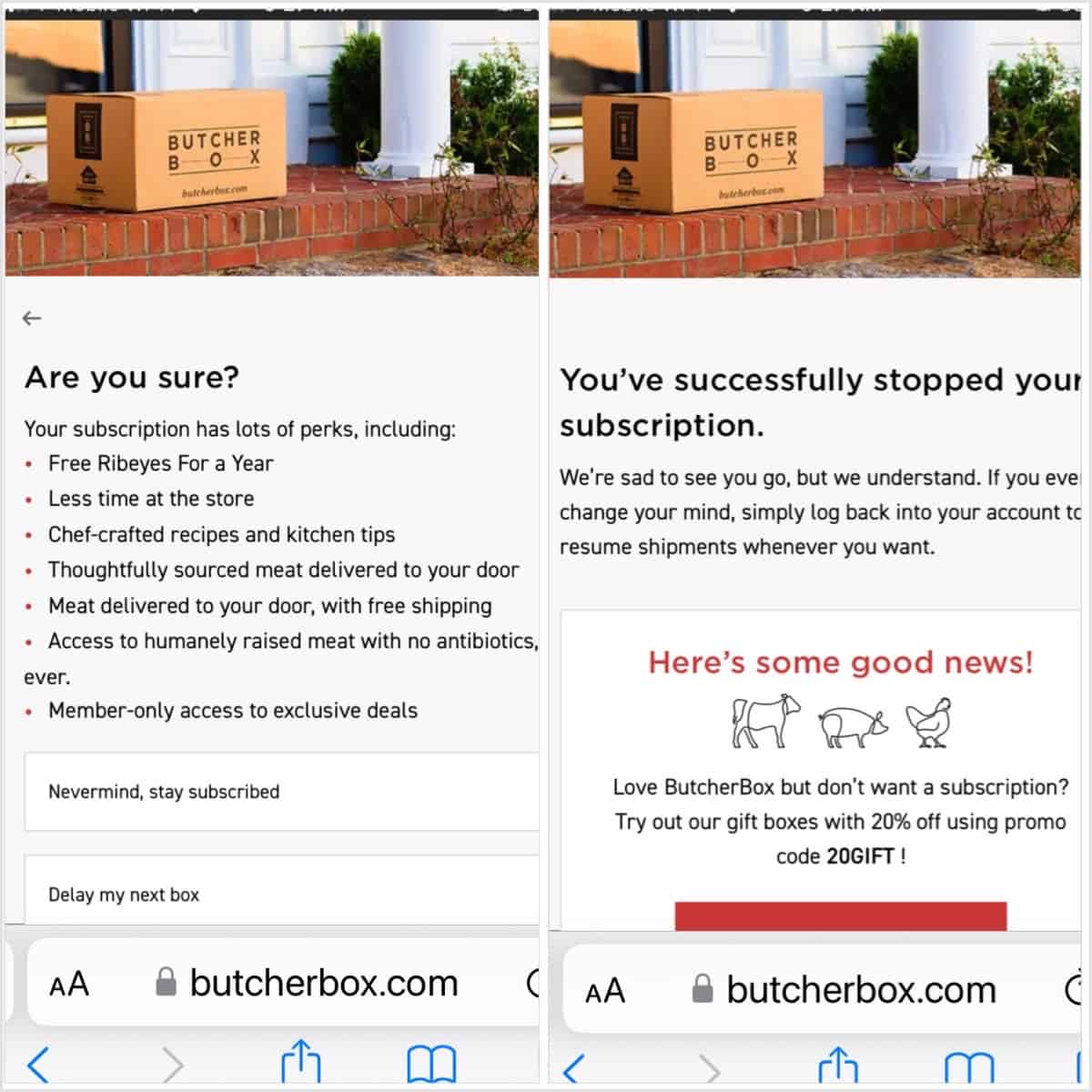 Is there a fee to cancel ButcherBox?
There are no fees to cancel Butcher Box before your next billing date.
Can you skip a month with Butcher Box?
Yes, you can delay deliveries to skip a month with Butcher Box. Go to "Box Settings" in your account and click "Delay Next Delivery." You'll need to answer a few quick questions, and your delay will be all set.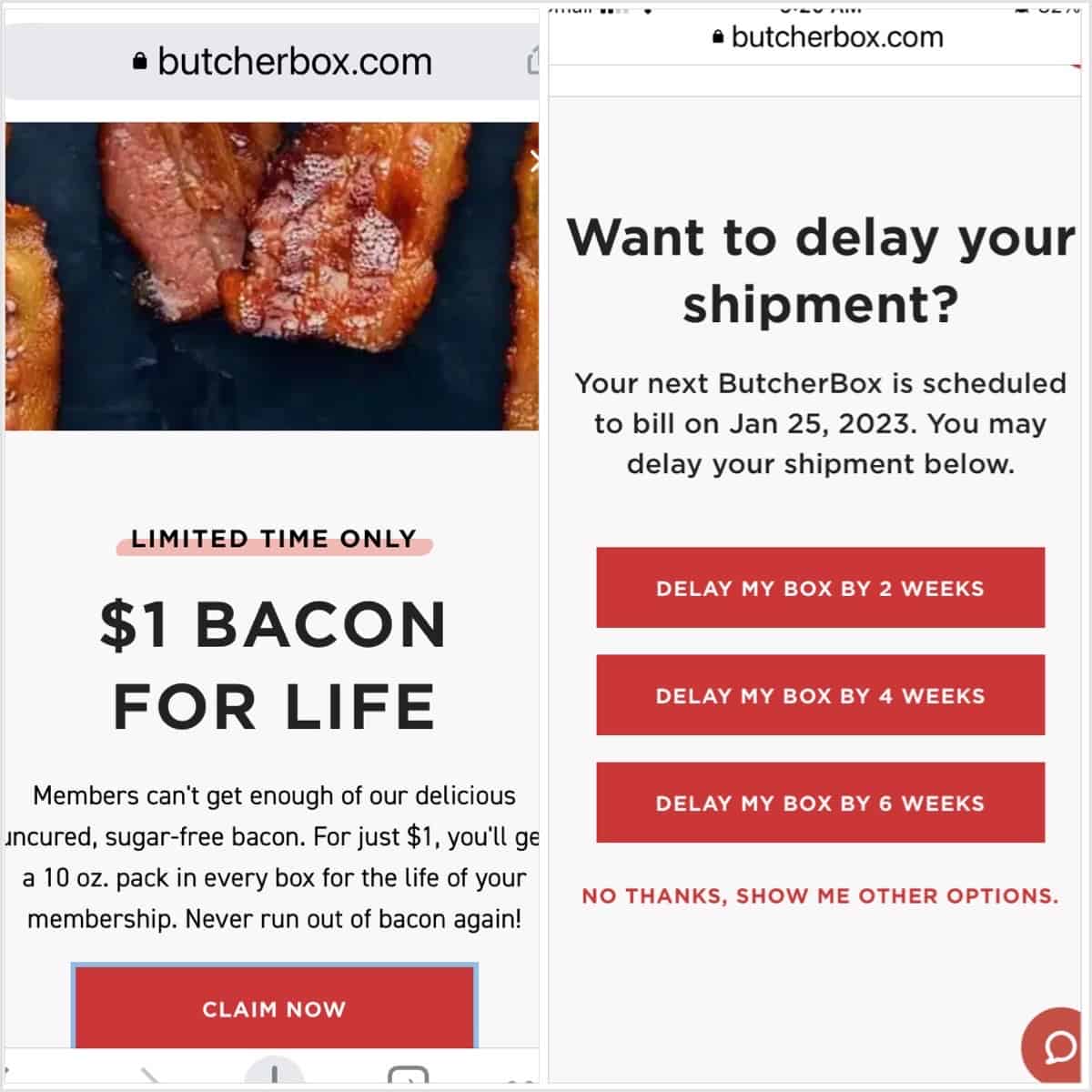 How long does ButcherBox last in fridge?
The general rule of thumb is that raw meat lasts up to 3-4 days in the fridge. Seafood lasts 1-2 days. Seafood must be taken out of its vacuum-sealed packaging before defrosting to decrease the risk of botulism.
How long will vacuum sealed meat last in the fridge? Butcherbox has a helpful guide for storing meats in the refrigerator that you can access here. Some meats, like bacon, can last for a week in the fridge if kept wrapped.
How long does ButcherBox meat last in the freezer?
Here is a guide for how long you can freeze meat and maintain its quality (USDA):
Ground Beef: 3-4 months
Beef Steak: 4-12 months
Boneless Chicken Breast: 9 months
Boneless Pork Loin Chops: 4-12 months
Salmon: 2-3 months
Good Chop vs Butcher Box
Good Chop is another meat box subscription service similar to Butcher Box. Unlike Butcher Box, Good Chop meat is all sourced in the US. However, they don't appear to offer all grass-finished beef like Butcher Box does.
Grass-fed, grain-finished beef is easier to source in the US. It seems Good Chop has chosen more local sourcing, with a limited amount of 100% grass-fed beef. Good Chop beef that is grain-finished is USDA graded for marbling.
Unlike Butcher Box, Good Chop doesn't offer free shipping without a coupon code, but they also ship to the lower 48 states. Good Chop offers a medium box for $149 (36 portions) and a large box for $269 (72 portions). All of the Good Chop boxes are customizable, and you may include seafood in your order.
Butcher Box vs Costco
Both Butcher Box and Costco offer bulk meats, but Costco mainly sells conventionally farmed meats. Here is a price comparison of my $146 classic curated Butcher Box to Costco and Whole Foods prices:
| Item | Weight | Costco Price | Whole Foods Price |
| --- | --- | --- | --- |
| Organic Boneless Skinless Chicken Breast | 3.63 lbs | $13.87* | Get Price |
| Boneless Pork Loin Chops | 2 lbs | $5.44* | Get Price |
| Grass Finished Ribeyes | 2.5 lbs | $54.63** | Get Price** |
| Grass Finished Flat Iron Steaks | 1.5 lbs | $14.75*** | Get Price |
| Ground Beef (Grass Finished, 85/15) | 2 lbs | $10.87** | Get Price** |
| Total | | $99.56 | $148.43 |
*Not organic
**Not grass-finished
***Not grass-finished, substituted with another steak since no flat iron steak available
As you can see, I would pay a little more at Whole Foods vs Butcher Box, and most of the beef isn't grass-finished, only grass-fed. (So we're kind of comparing apples to oranges here...) Additionally, if I wanted the Whole Foods items delivered to my home, that would cost extra.
The prices at Costco vs Butcher Box are cheaper, but Costco mostly carries grain-fed beef. None of the beef is grass-fed or grass-finished. (I think my case is made here that you'll save big bucks buying conventional meat if you're on a limited budget.)
Butcher Box vs Omaha Steaks
Omaha Steaks offers a more limited variety of grass-fed beef than Butcher Box, and they aren't necessarily grass finished. Additionally, Omaha Steaks is (in general) higher priced for similar cuts.
For example, Omaha Steaks currently has four grass-fed rib eyes on sale for $149.99. This is about the price of my entire Butcher Box (which included 4 ribeyes along with many other meats).
Moink vs Butcher Box
Moink is a meat delivery service very similar to Butcher Box. They offer grass-fed beef, pastured chicken and pork, and wild-caught salmon. Their standard box (similar in size to the Butcher Box classic box) costs $159 with free shipping.
It appears that Moink offers fewer meat and especially seafood choices. However, unlike Butcher Box, it appears that Moink does deliver to Alaska and Hawaii.
US Wellness Meats vs Butcher Box
US Wellness Meats sells organ meats and a much wider variety of types of meat in general than Butcher Box. US Wellness Meats is great for unusual cuts you can't find locally. Butcher Box tends to offer bigger member deals (such as free bacon for life).
Does Butcher Box have an app?
No, Butcher Box US does not have an app at this time. There is a "Butcher Box app" in the app store, but this is for a company in Zimbabwe. I found the Butcher Box site to be easier to navigate on my laptop vs my phone.
Butcher Box Customer Service
Reach ButcherBox customer service using the help chatbot in the lower right corner of the ButcherBox site. Alternatively, send an email to [email protected] or call 855-981-8568 and select option 2 daily from 8AM-11PM EST.
Who owns Butcher Box?
According to an article in TechCrunch, Mike Salguero is the CEO and co-founder of ButcherBox. The company was started with a Kickstarter campaign in 2015.
FAQs
Where does ButcherBox ship from?
Where is Butcher Box based? Butcher Box is based in Massachusetts, but the boxes ship from all over the US. My ButcherBox order was shipped from Delaware.
Who does ButcherBox use for shipping?
What shipping company does ButcherBox use? Butcher Box uses FedEx, LaserShip, OnTrac, United Delivery Service, and Lone Star Overnight to ship boxes (source). I received my order from LaserShip.
Does Butcher Box deliver to Canada?
The US company Butcher Box does not ship to Canada. However, there is a separate company called Butcherbox Canada that sells similar products. You can visit them here.
Does Butcher Box deliver to Hawaii?
Unfortunately, Butcher Box does not deliver to Hawaii or Alaska (source). They only deliver to the lower 48 states in the US.
Are Butcher Box meats gluten free?
Butcher Box sells single ingredient meats, free-range chicken, and fish that are naturally gluten free. According to Butcher Box, their bacon is also gluten free (source), as well as their breakfast sausage. Get the ingredients for Butcher Box specialty foods here.
Does Butcher Box save money?
Butcher Box is a bargain if you're looking for good prices on grass-finished beef (not just grass fed). While it's not cheaper than conventional meat from Walmart, it may save you money compared to Whole Foods.
Butcher Box Recipes
Butcher Box has lots of delicious recipe ideas on their website. Here are some other recipes for Butcher Box products you may enjoy as well: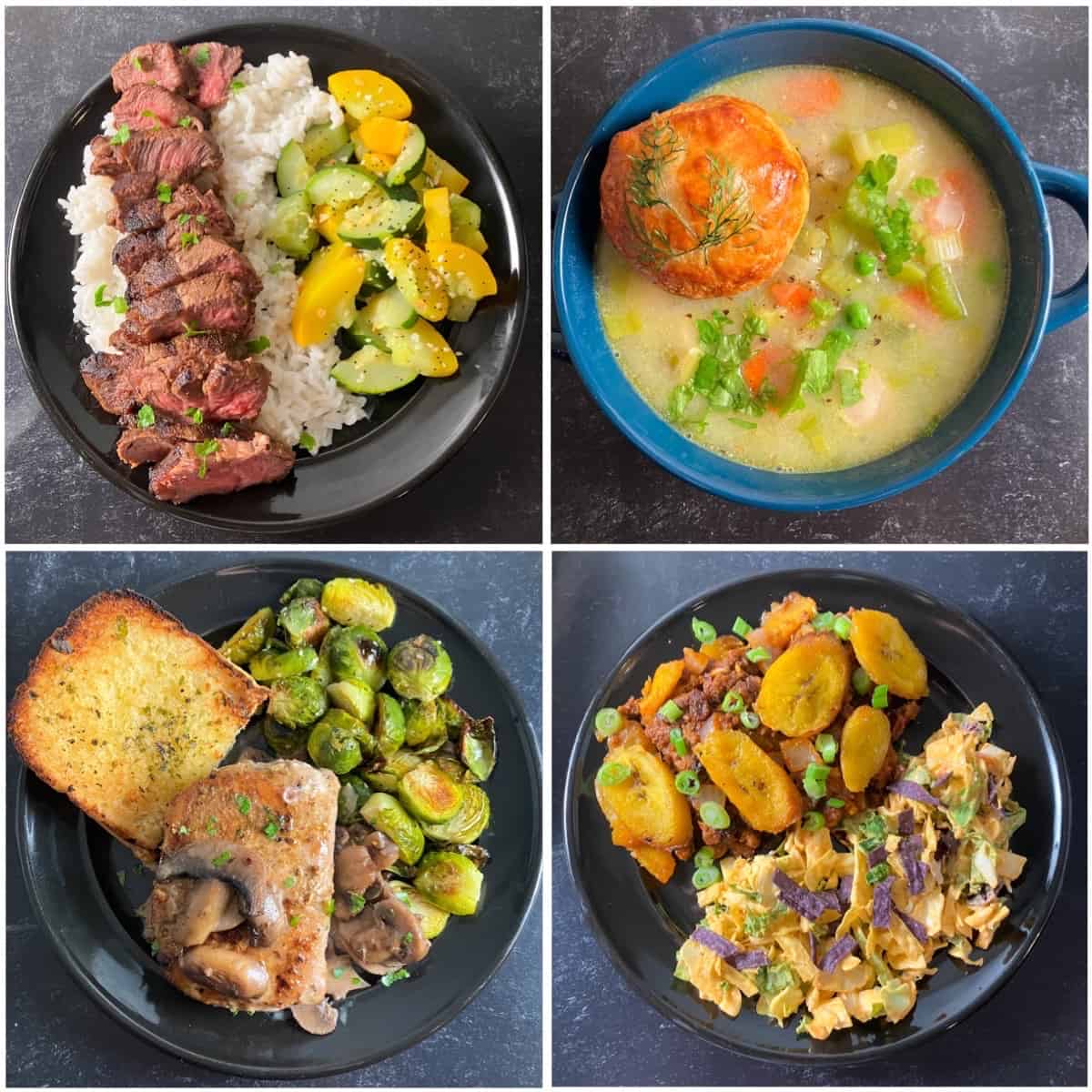 Other Reviews
Join our community! Subscribe to be kept up-to-date on all of the latest and greatest recipes! You can also follow me on Pinterest, Twitter, Instagram, and YouTube!
Butcher Box Video