Did you know that the green tops of carrots are edible? It's true! If you get a bunch of carrots with their greens still attached, don't throw the greens in the trash! Save those fresh carrot tops and try this carrot leaves recipe for a delicious pesto. You'll save money, help prevent food waste, and have something tasty to show for your efforts!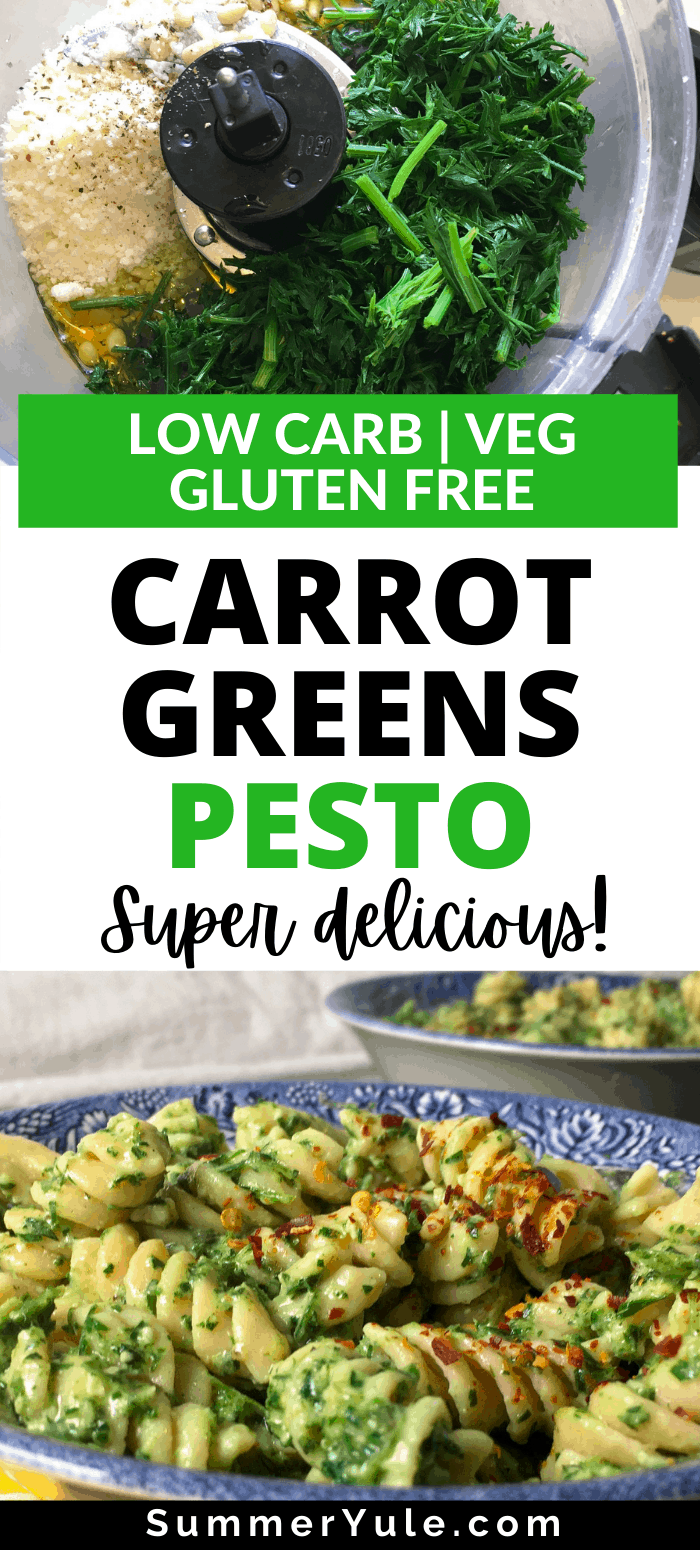 I've been on an extremely tight budget during certain periods of my life but have always managed to live well. One of the simplest ways I've found to reduce my grocery bill is to make use of everything that I have.
That means using any produce we buy before it spoils with good meal planning. I also make sure to squeeze as many meals as possible out of food that comes into the house.
For example, when I roast a whole chicken, I make sure to make bone broth before I throw the carcass away. When I have pears that are under-ripe or overly bruised I make them into a delicious applesauce substitute. And when I get my hands on fresh carrot greens, I eat them rather than throw them in the trash.
That's right, carrot greens are edible. They are fairly bitter but if you blanch them first, they integrate well into many dishes. (P.S. Radish tops can be treated the same way!)
Here I'm offering up a tasty carrot leaves recipe for pesto. This pesto freezes well so you can use it in an assortment of dishes. Aside from using it on pasta, you can add it to roasted veggies, use it to dress salads, or spread it on grilled cheese.
You're going to be so glad to have this pesto on hand as a flavor enhancer. It is delicious!
Speaking of preventing food waste, have you heard of Misfits Market?
(Apologies to my email subscribers, I know I've already talked about Misfits in the newsletter. It's been such a great experience for us I wanted to discuss it here too!)
In my efforts to reduce trips to the store, I recently signed up for a weekly organic home produce delivery from Misfits Market. Misfits rescues imperfect-looking produce that would typically be discarded, helping to prevent food waste. They send the food to Misfits members, who get to enjoy this abundance at a bargain.
As you can see from our box below, the produce is fresh and really doesn't look weird (at least to my eyes). Joining Misfits has encouraged me to try produce items that I don't typically buy, such as cherry bomb peppers.
I actually don't typically purchase carrots with their tops attached. I only had them available for this recipe because they were in our shipment. I'm glad I was given the opportunity to experiment with this fun and tasty ingredient!
In addition, Misfits gives you the option of including other fun foods in your box for a little extra. If you've ever wanted to try lion's mane mushrooms, purple broccolini, or hen-of-the-woods mushrooms, Misfits will send them!
Misfits Market ships boxes to many areas of the eastern United States for a flat $4.50 delivery fee. They have boxes of varying sizes to fit the needs of different families. My family of three went for the big box (the "Madness box") because we loooove our fresh produce here!
If you want to try Misfits, you can use my code COOKWME-BS6FSP when you sign up for the waitlist. We'll each get 25% off a box, and you can cancel deliveries at any time if you don't like it. (I bet you'll love it!)
And now for the disclaimer…
All recipes on this website may or may not be appropriate for you, depending on your medical needs and personal preferences. Consult with a registered dietitian or your physician if you need help determining the dietary pattern that may be best for you.
The calorie information is an estimate provided as a courtesy. It will differ depending on the specific brands and ingredients that you use. Calorie information on food labels may be wildly inaccurate, so please don't sweat the numbers too much.
For more information on how the three recipe levels may help with a weight management goal, refer to this post. Let's get cooking!
Like this recipe?
Leave a rating by clicking the ⭐ below!
Carrot Leaves Recipe (Super Yummy Pesto!)
Save those fresh carrot tops and try this carrot leaves recipe for delicious pesto. You'll save money, help prevent food waste, and have something tasty to show for your efforts!
Equipment
Ingredients
2

cups

carrot leaves, chopped small

(remove thickest stems; this is approximately the amount from one bunch of carrots)

2

cloves

garlic, finely chopped

¼

cup

pine nuts

½

cup

olive oil

¼

cup

grated Parmesan cheese
black pepper, to taste
Instructions
Set a pot of water to boil. Once boiling, add the carrot leaves and let cook for 1-2 minutes.

After the time is up, quickly drain the carrot leaves and plunge them into ice-cold water to stop the cooking process. Drain the carrot greens again and put the greens into a food processor. (This blanching process helps to remove some of the bitterness from the greens.)

Add the rest of the ingredients to the food processor. Blend until the pesto achieves the desired texture. You may need to stop the processor and scrape down the sides with a spatula if food is sticking to the sides.

Enjoy! We were surprised at how much this tastes like basil pesto!
Notes
This is a level 3 recipe (weight maintenance and active lifestyles). This recipe makes seven servings that are approximately 2 tablespoons each. Leftovers can be frozen in individual servings in an ice cube tray and then stored in freezer bags in the freezer.
Pesto is a high-calorie condiment that has a lot of added oil in the form of olive oil. Because of this, I don't consider it one of the best ways to flavor your food if you have a weight loss goal. It's typically added to lower-protein dishes such as pasta, where it may not promote satiety. (Tip: try it on a legume-based pasta for additional protein.)
That said, pesto is packed with heart-healthy ingredients that are mainstays in the Mediterranean diet. Just because a food is high-calorie does necessarily mean it is less healthy! Adding this pesto to meals can be a great way to give your meal an energy boost if you need it.
Nutrition
Have you ever eaten carrot tops? If so, what are some of your favorite ways to use them? Whether this is an old or new idea for you, I hope you love this carrot leaves recipe for pesto!