Try this chicken salad with lemon ginger dressing when you want a low-carb and low-calorie lunch option. With only 367 calories and 22 grams of net carbs per serving, this high-volume entrée may help you with your weight loss goals. Celebrate National Chicken Month and increase your vegetable intake with this easy, healthy meal prep. You'll have your weekday lunches ready to go!
You learned last week that September is Whole Grains Month, but did you know that it is also National Chicken Month? Today's post will honor this niacin-rich food that is packed with high-quality protein with an easy salad prep recipe. If you purchase grilled chicken or use chopped rotisserie chicken breast, you won't even have to do any cooking.
It is not necessary to eat salads if you really dislike them; there are so many other ways that you can get your vegetables. However, salads are one of my favorite lunch options. They offer so many benefits:
Much higher volume for (typically) lower calories than a sandwich
No need to reheat, as you would for homemade soup
Easy way to get a daily serving of leafy greens, along with an assortment of other vegetables
Simple to make ahead so that lunches will be ready for the week
If you are preparing this recipe ahead of time, remember to keep the dressing separate. Having leak-proof dressing cups on hand helps to make your salads more easily portable. Keeping your salad fixings as dry as possible is key to preventing the dreaded soggy salad.
And now for the disclaimer…
All recipes on this website may or may not be appropriate for you, depending on your medical needs and personal preferences. Consult with a registered dietitian or your physician if you need help determining the dietary pattern that may be best for you.
The calorie information is an estimate provided as a courtesy. It will differ depending on the specific brands and ingredients that you use. Calorie information on food labels may be wildly inaccurate, so please don't sweat the numbers too much.
For more information on how the three recipe levels may help with a weight management goal, refer to this post. Let's get cooking!
Like this recipe?
Leave a rating by clicking the ⭐ below!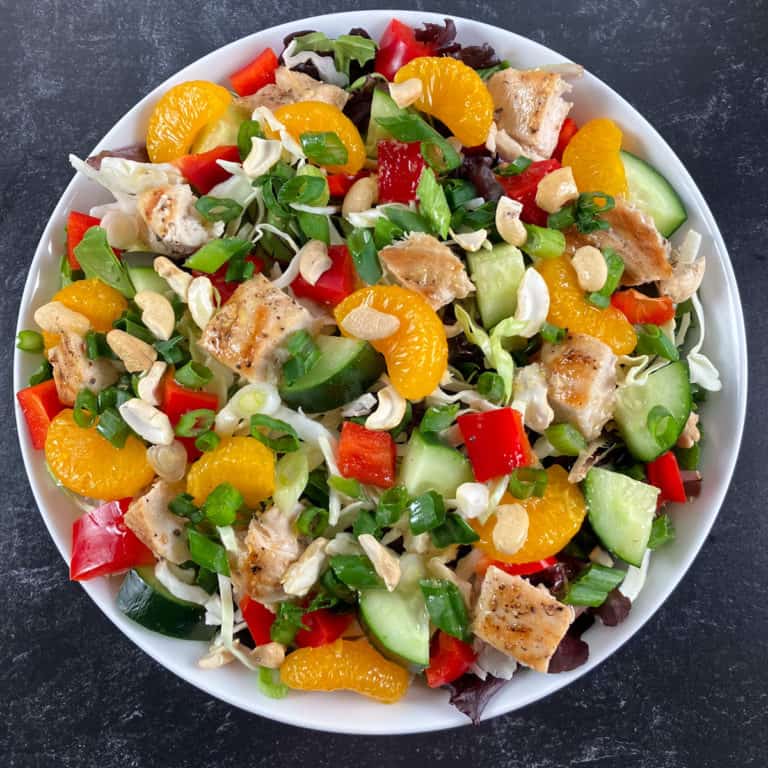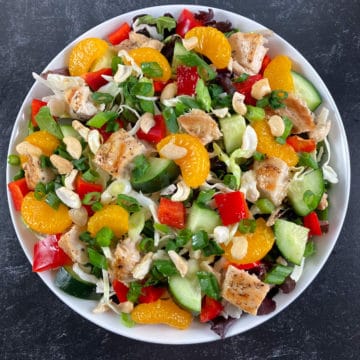 High Volume Low Calorie Meals (High Volume Eating Salad Recipes)
With only 371 calories and 25 grams of net carbs per serving, this high-volume salad meal prep may help you with your weight loss goals.
Equipment
Ingredients
For the lemon-ginger dressing:
½

teaspoon

lemon zest

½

cup

lemon juice, fresh squeezed

1

teaspoon

grated ginger, fresh

2

tablespoons

avocado oil

2

tablespoons

maple syrup

(optional; can use regular or sugar-free syrup)

salt and pepper, to taste
For the chicken salads:
8

cups

mixed salad greens

6

ounces

cabbage, shredded

(170 grams)

1

medium

cucumber, chopped

(½-inch dice, 1.27 cm)

1

medium

red pepper, chopped

(½-inch dice, 1.27 cm)

1

cup

mandarin orange segments, drained

12

ounces

grilled chicken, chopped

(340 grams; can substitute chopped rotisserie chicken breast)

4

scallions, sliced

2

ounces

chopped cashews

(57 grams; approximately ½ cup)
Instructions
To make the lemon-ginger dressing:
Place the zest, juice, ginger, oil, syrup, salt, and pepper in a one-cup canning jar. Put the lid on the jar and shake to combine the ingredients.

Set the dressing aside while you assemble the salads.
To make the chicken salads:
Shred cabbage, chop cucumber and bell pepper, and slice the scallions. Chop the grilled chicken breast into bite-sized pieces.

Distribute the mixed greens and cabbage evenly between four salad containers.

Top the greens with the cucumber, pepper, mandarin oranges, and chicken. Try to distribute these ingredients evenly between the four containers.

Garnish the salads with sliced scallions and cashews. Add the dressing right before serving.

You're all ready for lunch for the next four days!
Notes
This is a level 1 recipe (may help support fat loss).
You need to maintain a calorie deficit relative to your needs to lose weight. High volume low calorie high protein meals give you more food for fewer calories. This may help you feel full while maintaining a caloric deficit if you are a volume eater.
Volume eating recipes are generally low fat but high in fiber and fluid volume. Fluid volume from water is zero calories, while fat provides 9 calories per gram. Carbs and protein are far less calorie dense than fat, providing only 4 calories per gram.
It's easy to make volume eating salad that's good for weight loss. Just keep it low fat and make it a high volume salad with lots of fruits and veggies. I also recommend adding an adequate amount of the most filling macronutrient, protein.
If you have higher energy needs, add more cashews to your salads, and consider including a side of whole grain crackers. Including a carton of milk with your lunch is another way to increase calories and you'll have an additional food group covered.
As with all of the salad recipes, don't be afraid to substitute ingredients to fit your taste preferences. Fresh snow peas are another veggie option that would work well here.
Nutrition information is for one serving and includes the optional maple syrup in the dressing.
Nutrition
Calories:
371
kcal
Carbohydrates:
29.7
g
Protein:
29.3
g
Fat:
14.5
g
Saturated Fat:
2.2
g
Potassium:
541.1
mg
Fiber:
4.4
g
Vitamin A:
109.5
% DV
Vitamin C:
168
% DV
Calcium:
12.9
% DV
Iron:
32.3
% DV
What are some of your go-to lunch options? Do you prep your weekday lunches ahead of time? If you try this chicken salad with lemon ginger dressing, I'd love to hear how you liked it in the comments!