You get all of your favorite flavors from a banana split with this chocolate strawberry banana smoothie! The rich chocolate flavor and sweet strawberries make this healthy treat feel more like a decadent dessert. Meanwhile, the frozen bananas provide creaminess and sweetness to this wholesome shake with no added sugar. Best of all, it only takes 4 ingredients and 5 minutes to make!
The final day of Smoothie Madness Week is upon us, and you can bet that I did not forget about chocolate! Here's a roundup of the no sugar added smoothies I've featured so far:
As you can see, I am most definitely overdue for a smoothie recipe that includes cocoa. This chocolate strawberry banana smoothie fits the bill. You get to satisfy your chocolate cravings AND get a healthy snack with no refined sugar.
Sweet! (That can be taken literally, as the overripe banana does make this drink pretty sweet. Haha)
We've had so much fun creating (and drinking!) healthy smoothies this week. If you've liked these smoothie recipes over the past week, know that we have a few more up our sleeves before the summer ends.
My freezer full of frozen fruits, along with the hot weather, really set the stage for endless creative smoothie combinations. My family continued to suggest fruit combos long after I had the seven recipes I wanted to post this week. There's no sense letting a good smoothie recipe go to waste, so you'll be seeing them here in the future.
A few tips for making sweet smoothies with no added sugar
We've tried *a lot* of smoothies over the past week, and none had added sugar. I thought I'd wrap up Smoothie Madness Week by sharing some simple tips on making smoothies sweet and added sugar-free.
Listed are some of the ingredients that were frequent players in my smoothie recipes to provide sweetness. All of these are sources of natural sugar, with no added sugars (added sugars i.e., white sugar, honey, maple syrup, etc.):
Overripe frozen bananas
Pureed Medjool dates
Watermelon
Overripe mango
Unsweetened applesauce
Ripe pineapple
Dairy milk (milk will add more sweetness to your smoothies compared to unsweetened plain yogurt)
The other fruits used in your smoothies will contribute to the overall sweetness of your drink as well. However, sometimes the combination of fruits you use may not provide enough sweetness for your liking. This may be especially true when you use underripe fruit, or you use low-sugar fruits (such as in the keto smoothie recipes).
In my keto smoothies, I dealt with this issue by using stevia extract. Stevia leaf extract is a zero-calorie, natural sugar substitute that is appropriate for low-carb and keto diets. You could also use stevia extract in any of the other smoothie recipes that you felt wasn't quite sweet enough.
The benefit of using stevia versus overripe fruit to sweeten smoothies is that the stevia does not add flavor. When you add bananas, watermelon, etc. to a smoothie, you can taste it. Sometimes that is a good thing, but other times it might not be.
The fruit option that I would consider the most neutral of those listed above are the dates. I tend to add Medjool date puree to recipes when I want to add sweetness without a lot of additional flavor.
But enough talk. Let's make smoothies!
And now for the disclaimer…
All recipes on this website may or may not be appropriate for you, depending on your medical needs and personal preferences. Consult with a registered dietitian or your physician if you need help determining the dietary pattern that may be best for you.
The nutrition information is an estimate provided as a courtesy. It will differ depending on the specific brands and ingredients that you use. Calorie information on food labels may be wildly inaccurate, so please don't sweat the numbers too much.
For more information on how the three recipe levels may help with a weight management goal, refer to this post. Let's get cooking!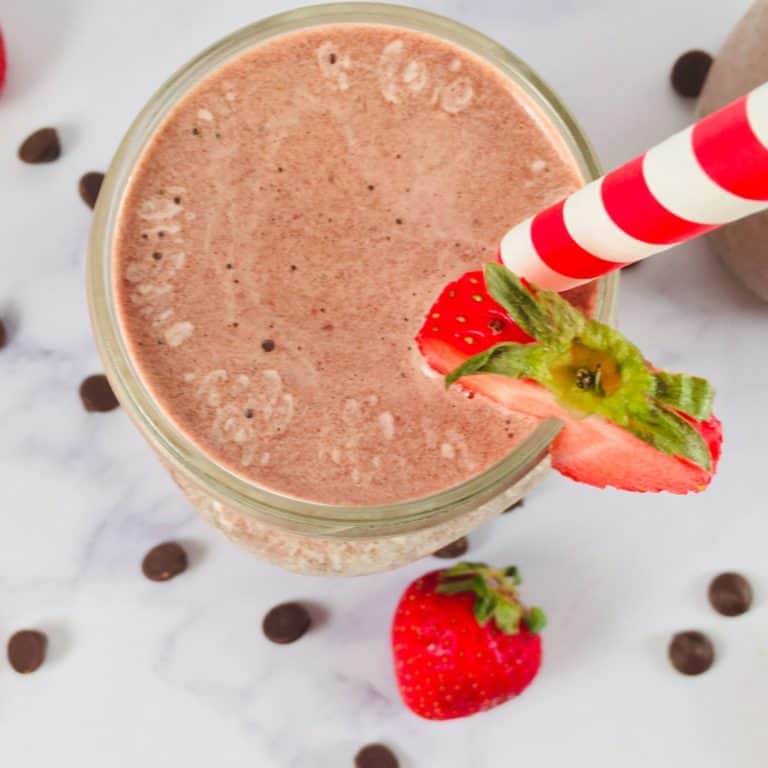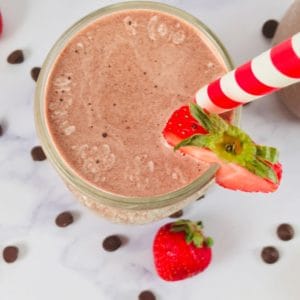 Chocolate Strawberry Banana Smoothie (No Added Sugar!)
You get all of your favorite flavors from a banana split with this chocolate strawberry banana smoothie! Just 4 ingredients and 5 minutes to make it!
Equipment
Ingredients
1

frozen banana, broken into chunks

2

tablespoons

dark cocoa powder

1

cup

chopped frozen strawberries

1½

cups

milk, 2%
Instructions
Place all ingredients into a high-powered blender or food processor.

Blend until completely smooth. It's really that simple!
Notes
This is a level 2 recipe (transition or weight maintenance). One of the easiest ways to modify the energy level of this recipe is to change the milk used. Use skim milk for a lighter recipe or whole milk for a higher calorie smoothie. If you have leftovers, freeze them in popsicle molds to enjoy later.
(By the way, did you watch the video and see how easy this is to make? You might have the ingredients on hand to whip this one up right now!)
Nutrition information is for one serving of the recipe.
Nutrition
Calories:
178
kcal
Carbohydrates:
31.2
g
Protein:
7.6
g
Fat:
4.4
g
Saturated Fat:
2.7
g
Sodium:
90.6
mg
Potassium:
603.7
mg
Fiber:
5
g
Vitamin A:
9.3
% DV
Vitamin C:
51.6
% DV
Calcium:
26.5
% DV
Iron:
4.2
% DV
I hope that you've had half as much fun with Smoothie Madness Week as I have! I tried to provide a little something for everyone. We had low carb and keto-friendly smoothies, some high-volume and low-calorie smoothies, as well as a vegan smoothie.
Unfortunately, I couldn't quite fit everything I wanted to into the past seven days. For example, I have a super high-calorie smoothie that is made entirely of whole foods that I'll be posting soon. It's an excellent option for people who are underweight or otherwise have trouble eating enough.
In the meantime, I hope you enjoy this chocolate strawberry banana smoothie recipe. If you try it, don't be shy! Drop me a comment below!