Cod and other white fish are the perfect summer staples to keep in your freezer. They are a rich source of lean protein, cook quickly, and can be incorporated into a wide variety of dishes. In this cod recipe, I'm topping the fish with a mouthwatering strawberry kiwi mango salsa. Be sure to grab this taste of summer while fresh strawberries are still in season!
I dreamed up the idea for a strawberry kiwi mango salsa when I was on my fruit salsa kick last autumn. By the way, if you've never tried topping your chicken, pork, or fish with fruit salsa, I highly recommend it. The combinations that you can create are out of this world!
If you missed out on all of the deliciousness, here are a few of my favorite fruit salsa posts:
By the time I posted the pear cranberry salsa, local berries were no longer in season. I knew it would be better to wait until the following summer to try a strawberry kiwi mango salsa.
This was going to be a simple recipe where each ingredient would get a chance to shine. Obtaining the freshest strawberries possible would be important to get the best (i.e., most delicious) results.
I made a note to myself to give the strawberry kiwi mango salsa a whirl in June. Well, we're finally here, and let me tell you that this is worth the wait.
Don't settle for those winter strawberries that are completely white in the middle. They are not what you want to use here. You need ripe, juicy strawberries that were grown locally to you for this one. Trust me!
Nope, it's not really a fruit salad!
When I served this cod recipe up, one of my family members remarked that this looks like a fruit salad. I agree that it does, but the jalapeno adds some heat to the sweet fruits. If you are expecting an entirely sweet condiment, the hot pepper and squeeze of tart citrus will provide a surprise!
This recipe makes an extremely generous portion of fruit salsa per serving. That's a good thing though because it is excellent on both the cod and on the brown rice.
If you are a novice cook, this cod recipe is a great one for you. If your fish breaks apart in the pan, it doesn't matter because it will be covered with salsa when plated.
(I may only be mentioning this because my fish fillets broke into pieces while cooking. Haha)
Since the fruit salsa (obviously) provides fruit, adding a glass of milk will mean all of your food groups are covered. Like many people, I often skip fruit at dinner because it doesn't fit well into the meal. This cod recipe makes it easy to get some fruit in there!
That said, you don't necessarily need to try and fit all five food groups into each and every meal. I often have fruit and yogurt for snacks. This helps fill some of the gaps in my diet that may not be covered by my meals.
I have one more thing to mention before I get to the recipe. If you don't care for the combination of strawberry, kiwi, and mango, use the fruits that you like instead! Just about any fruit can be made into a delicious salsa that can be a fabulous enhancement to your meals.
And now for the disclaimer…
All recipes on this website may or may not be appropriate for you, depending on your medical needs and personal preferences. Consult with a registered dietitian or your physician if you need help determining the dietary pattern that may be best for you.
The calorie information is an estimate provided as a courtesy. It will differ depending on the specific brands and ingredients that you use. Calorie information on food labels may be wildly inaccurate, so please don't sweat the numbers too much.
For more information on how the three recipe levels may help with a weight management goal, refer to this post. Let's get cooking!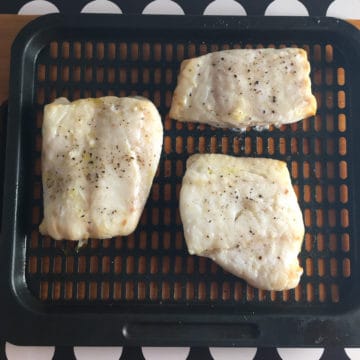 Frozen Cod in Air Fryer
Can you cook frozen cod in air fryer? Yes! You don't need to defrost frozen cod when you make this air fryer cod fish (no breading).
Ingredients
1

lb

frozen cod

454 grams; three ½-inch (1.27 cm) thick fillets

1

tablespoon

olive oil

(divided)

salt and pepper, to taste

1

recipe

cod topping

(optional but HIGHLY recommended, see recipe notes)
Instructions
Place the frozen cod pieces in a single layer on your air fryer tray or in the air fryer basket.

Air fry the cod for 4 minutes at 350°F (175°C). (Use the top rack position if you have an air fryer oven.) Then flip the cod, and brush the tops of the fillets with ½ tablespoon of oil. Air fry for 7 minutes at 375°F (190°C).

Flip the cod once more, and brush the tops with the rest of the oil (½ tablespoon). Air fry for 7-8 more minutes at 375°F (190°C).

Check the cod with a meat thermometer to ensure it reached a minimum safe internal temperature of 145°F (63°C). Add cooking time if needed. Sprinkle the fish with some salt and pepper, if you wish. Serve with the optional topping (recipe below).

Note: Using ½-inch (1.27 cm) thick cod pieces is very important for this recipe! Your cod may not cook properly if it is too thick.
Notes
This is a level 1 recipe (may help support fat loss).
Cod fish topped with fruit salsa is a healthy, low calorie, protein-packed entrée. It's a great start for a high-volume and filling meal that can support a healthy weight. Adding lots of low-oil non-starchy veggies to your plate gives you a substantial portion of food for very few calories.
I served my cod meal with pesto-roasted zucchini and brown rice. If you add a glass of milk, you're getting all five food groups with this meal. (P.S. I don't tend to be this nutritionally "perfect" and cover any dietary gaps with healthful snacks.)
If chopping a bunch of fruit is too much work right now, serve the cod with fruit salsa from the store. Most grocery stores have an abundance of ready-made salsas that would go well with fish. (That said, you get a lot more options for fruit combos when you make your own!)
Cod Topping Recipe
1 cup diced strawberries
½ medium peeled and chopped Champagne mango (about 4 ounces/113 grams)
1 medium kiwi, peeled and diced
¼-½ jalapeno, seeded and chopped
1 tablespoon orange juice, freshly squeezed
½ teaspoon orange zest
Dice the strawberries, mango, and kiwi into ¼-½ inch (0.64-1.27 cm) pieces. Dice the jalapeno into ⅛-¼ inch (0.3-0.64 cm) pieces.
Stir all of the topping ingredients together in a medium-sized bowl and refrigerate until serving time. Serve your delicious strawberry kiwi mango salsa over cooked cod.
Nutrition information is for one serving of the air fryer cod only. The fruit salsa fish topping adds 58 calories, 11.9 grams net carbs, and 1.4 grams protein to your meal.
Nutrition
Calories:
160
kcal
Protein:
26.7
g
Fat:
6
g
Saturated Fat:
0.7
g
Iron:
2.7
% DV
If you are looking for sustainable seafood options when shopping, don't miss the Monterey Bay Aquarium's Seafood Watch List. They are a great resource if you'd like to learn more about environmentally-friendly seafood choices.
***
Do you like fruit salsa? If so, what are some of your favorite fruit combinations to use?
As always, please drop me a comment and rating if you try this cod recipe! I'd love to hear how it went.