Does Costco have ready made sandwiches? Yes! You can buy Costco sandwiches in big Costco party platters or small family-size sandwich trays. You can find lots of sandwiches at Costco in the Costco deli (AKA the Costco prepared foods section). Get scoop on Costco platters calories, nutrition information, price, and more in this Costco sandwich review. You'll love using the Costco catering menu sandwiches for parties, and the small Costco sandwich platters for quick weeknight meals.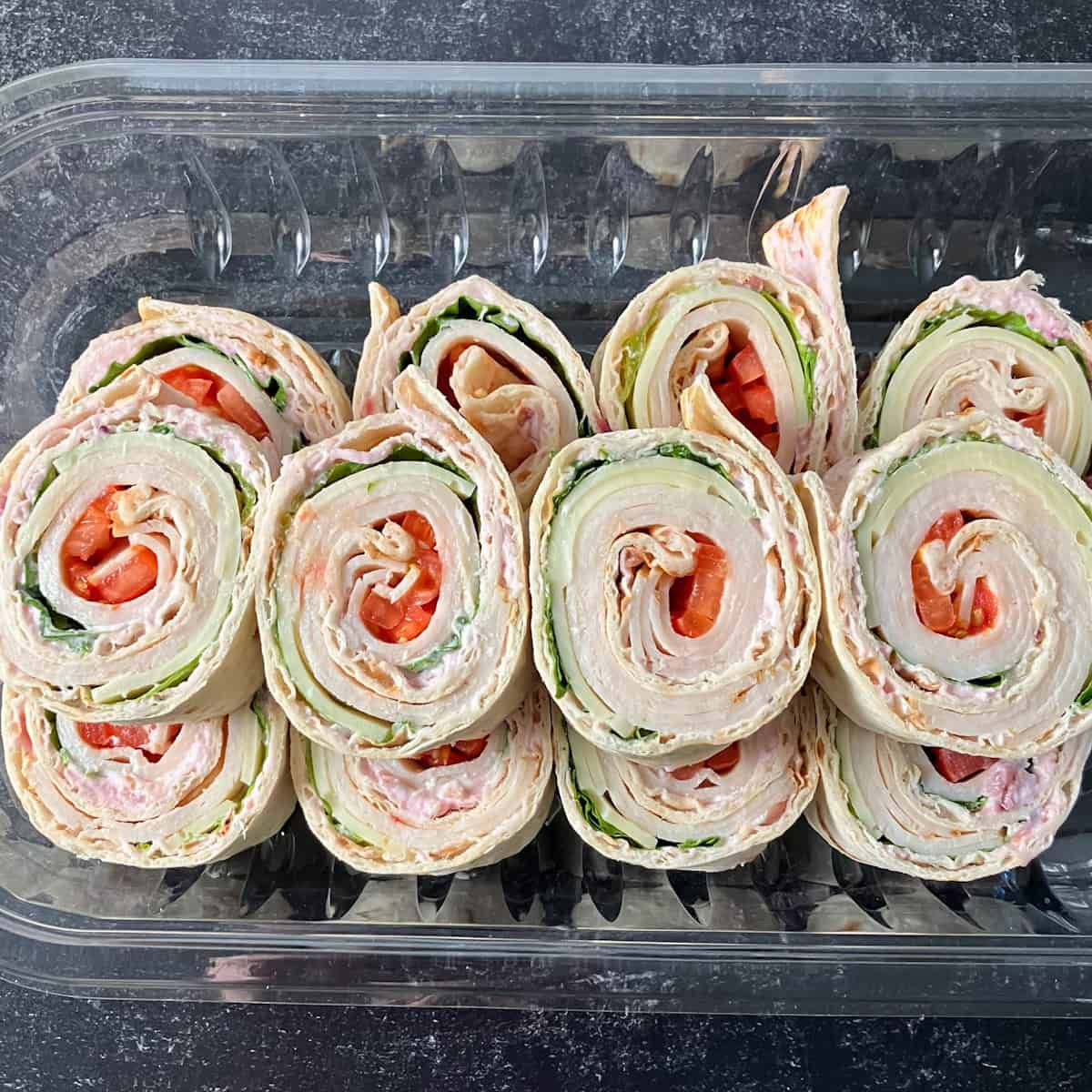 Have you been wondering, "What does the Costco deli have?" I've been a Costco member for years, and have only recently become acquainted with the Costco sandwich platter.
The family-size Costco trays of sandwiches can be found with the prepared foods and deli items. However, if you want Costco sandwiches for parties, you will need to order ahead.
The information for the largest Costco sandwich platters through Costco catering services can be easy to miss. In my store, there's a stand with a sign showing the options, along with the party platter order form. On the stand, there's nutrition information for all the Costco deli items.
If you've never noticed these things, no worries. Today you'll learn what you need to know to make the most of your Costco membership. You can use the bulk buy savings to save money on feeding guests for a wedding, baby showers, or another event.
Jump to:
➕ Costco Sandwich Trays
What are the 2022 Costco party trays? The Costco catering menu changes from time to time. Here are the most recent Costco sandwich platter menu items:
Costco Party Platter
Number of Servings
Price
Costco Sandwich Fillings
(or what's included)
Costco Croissant
Sandwich Platter
16-20
$32.99
Roasted chicken, ham,
roast beef
Costco Chicken and Swiss
Rollers (Pinwheel
Sandwiches)
20-24
$32.99
Roasted chicken,
tomatoes, cranberry cream
cheese, green leaf lettuce
Costco Shrimp Platter
20-24
$39.99
Shrimp with cocktail sauce
and lemon wedges
Costco Meat and Cheese
Platter
16-20
$26.99
Roasted chicken, ham,
roast beef, cheddar,
provolone, and Swiss
cheese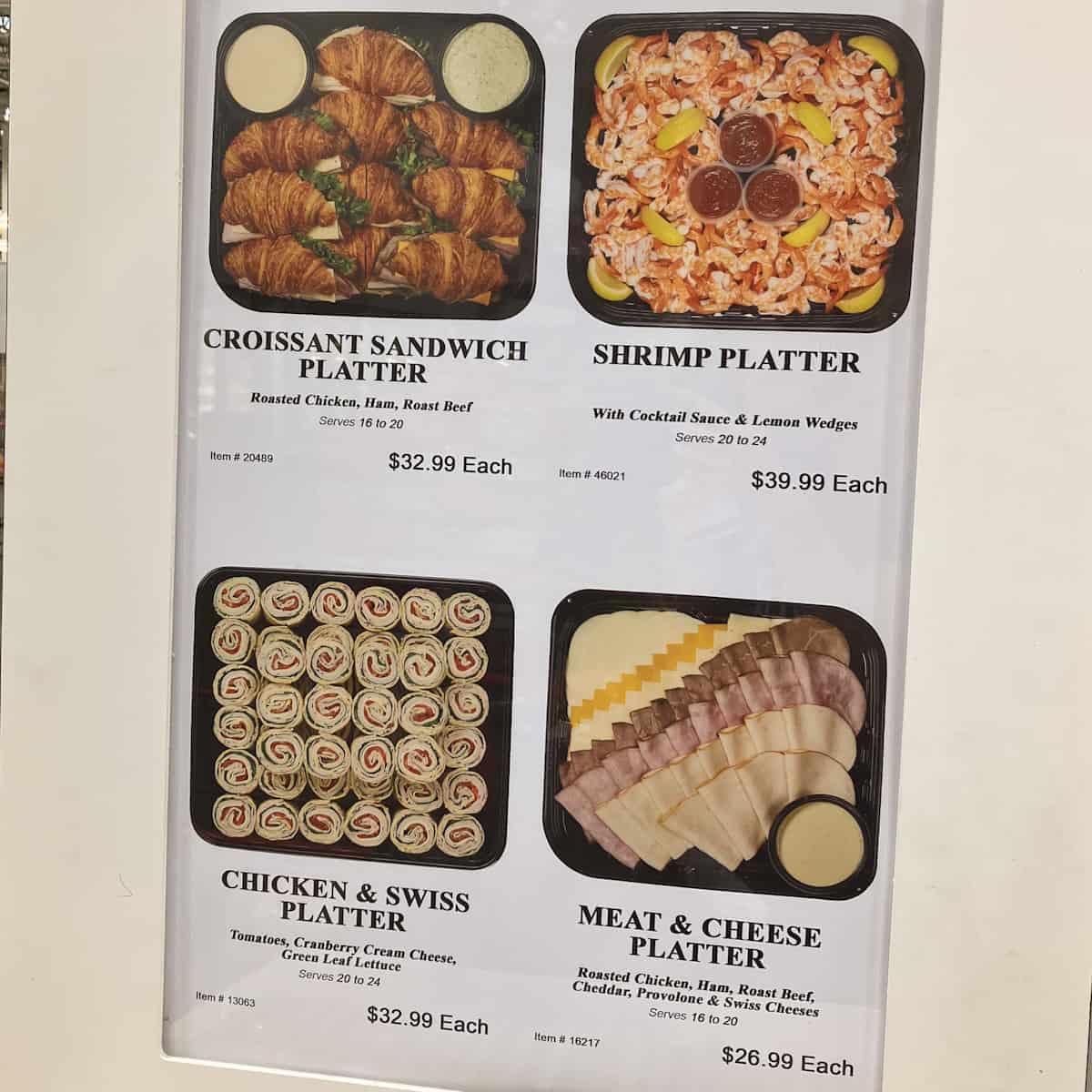 I haven't seen the sushi platter, wings platter, or 6-foot sub at my local Costco. Some items may vary by location. If you pick up sides and desserts at Costco, you can feed a large crowd on the cheap.
Does Costco have a chicken sandwich?
Yes! You can find three different Costco chicken sandwich options that are ready to buy in the deli. Here are the Costco sandwiches and wraps that don't need to be ordered ahead:
Costco Roasted Chicken & Swiss Roller (serves 6)
Roasted Chicken Sandwich with Caesar Salad (serves 2)
Asian Wrap (serves 4)
Sometimes you can also find small deli platters of the Costco croissant sandwiches. (Tip: if you can't find the sandwich you want, it's pretty easy to make a Costco sandwich recipe copycat using the ingredients list.)
The Costco frozen foods section may have additional sandwich options not found in the deli. For example, some Costcos offer Sandwich Bros Chicken Melts (with crispy chicken), and you may be able to find the Eggwich breakfast sandwiches at Costco as well.
How many sandwiches come in a Costco tray?
The number of Costco sandwiches in the tray depends on which one you choose. You get:
10 sandwiches in the croissant tray
48 pinwheels in the large chicken & Swiss platter
12 pinwheels in the small chicken & Swiss platter
4 wraps in the Asian wrap with rotisserie chicken and dressing tray
What happened to Costco turkey provolone sandwich?
The Costco hot turkey & provolone cheese sandwich was a Costco food court menu item that was discontinued during the pandemic. Costco also discontinued their BBQ beef brisket sandwich and Italian sausage sandwich. These items may not return to the food court at Costco, but other items have taken their place.
📋 ‍How much is a Costco sandwich platter?
The Costco sandwich price depends on the sandwich you order and the size of the platter. Here is a current price list for Costco platters (US location menu prices):
| Costco Platter | Price per pound | Total Price |
| --- | --- | --- |
| Chicken and Swiss Roller (12-ct) | $6.99 | $13.50-$15 |
| Chicken and Swiss Roller (48-ct) | - | $32.99 |
| Asian Wrap | $6.49 | $14-15 |
| Roasted Chicken Sandwich with Caesar Salad | $5.49 | $9.50-11 |
| Croissant Sandwich Platter | - | $32.99 |
| Shrimp Platter | - | $39.99 |
| Meat and Cheese Platter | - | $26.99 |
Please note that this is the 2022 Costco croissants price (and other sandwich prices). Prices are subject to change and may vary by Costco location.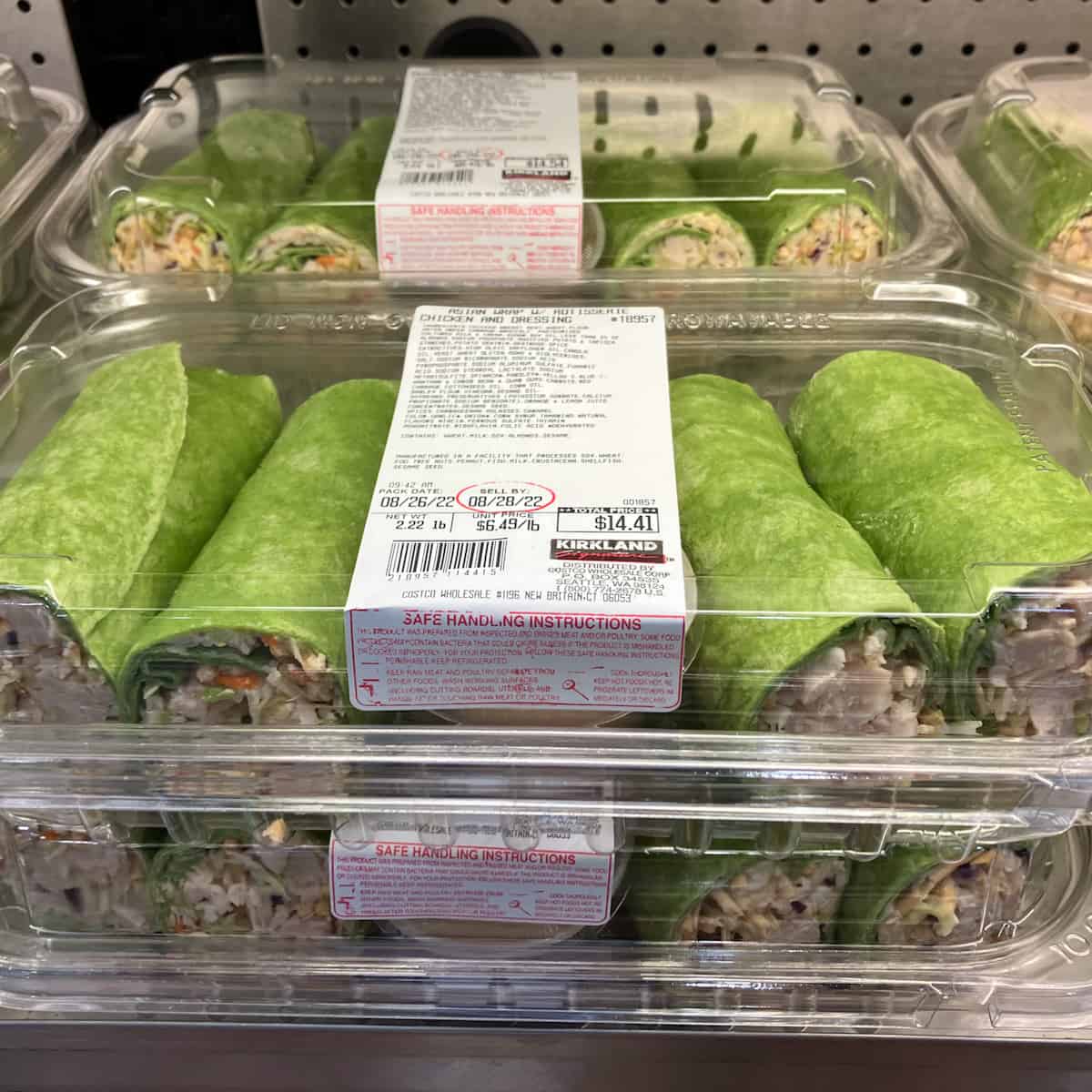 ⭐ How do I order a Costco sandwich platter?
Here are the step-by-step instructions for ordering a Costco sandwich platter:
How to Order Costco Sandwich Platter
Locate the party planner order form at Costco. At my Costco location, they are located on a stand in the prepared foods section.
Fill out the form, including which platter you want, your name, phone number, pickup date, and pickup time. Costco appreciates a 24-hour notice for party platter orders, so plan ahead.
Hand the form to an associate in the deli to place your order. You may also be able to call your order in if you don't want to make an extra trip to Costco.
Pick up your order. Enjoy!
I've heard that Costco won't make modifications or substitutions to their party platters. Ask a prepared foods associate if you need a modification, as the rules may vary between locations.
Does Costco Catering deliver?
No, you can't get Costco catering platters delivered. However, you may be able to get home delivery of some small Costco prepared foods items through Instacart. You can also order the frozen Costco sandwiches available for delivery.
Can you order Costco sandwiches online?
You can place Costco online orders for sandwiches through Instacart for home delivery. The Costco sandwich selection varies. At the time of writing, the Kirkland Signature Roasted Chicken and Swiss Roller Tray and the Asian Wraps are available through Instacart.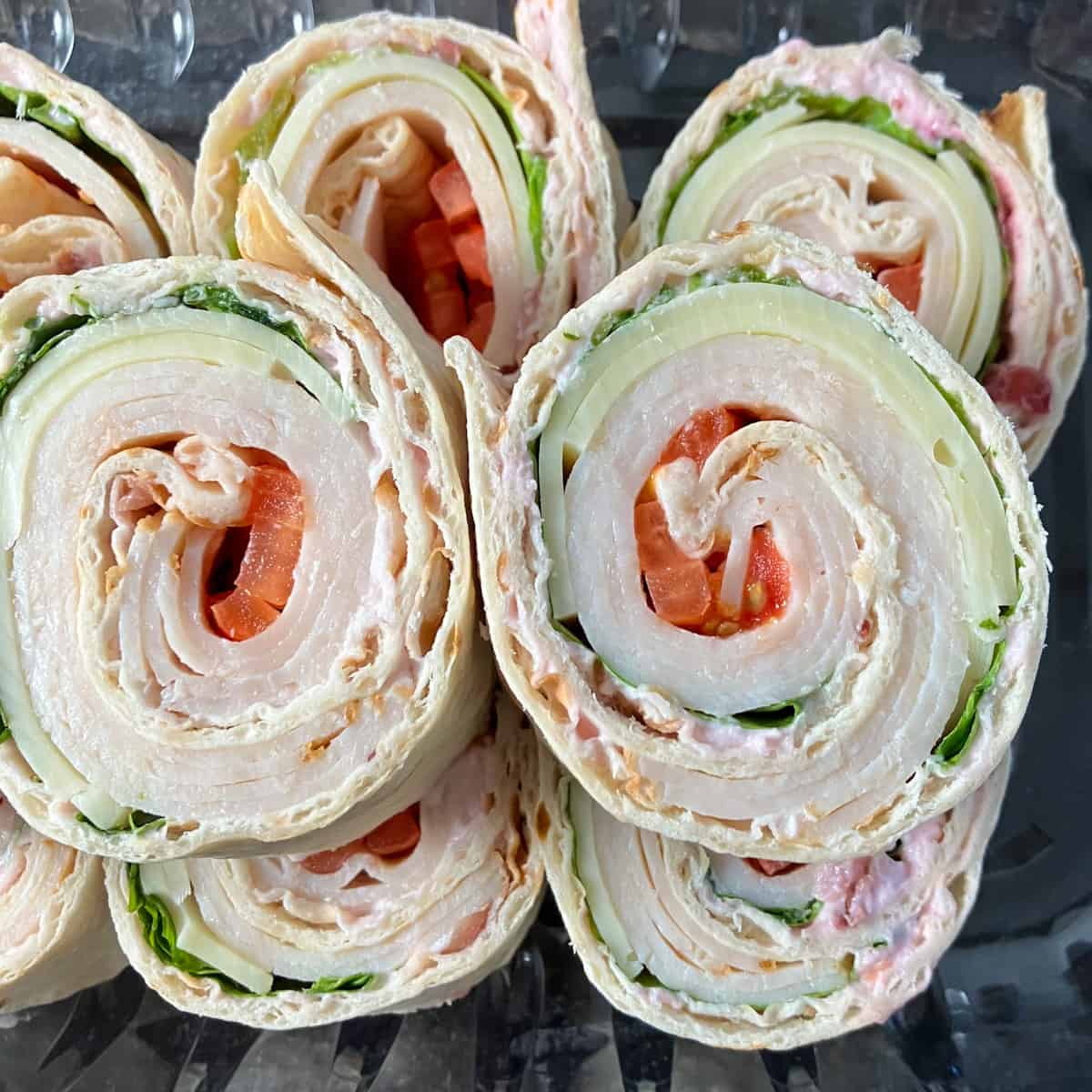 ❓ Costco Sandwiches Calories
How many calories are in a Costco chicken pinwheel? How many carbs are in a Costco roasted chicken Swiss roller tray? Here is a chart of calories, carbohydrates, and protein for the current Costco sandwich options (per serving):
Costco
Sandwich Types
Calories
Total Carbs (g)
Net Carbs (g)
Protein (g)
Fat (g)
Chicken and
Swiss Roller
290
25
24
17
13
Roasted Chicken
Sandwich
w/Caesar Salad
880
40
38
38
64
Asian Wrap
210
52
49
24
23
Croissant
Sandwich Tray
850
43
41
42
56

This nutrition information is straight from the nutrition sheets in the Costco prepared foods section. I noticed that the macros in some cases do not add up to the calories, and I'm skeptical about their accuracy. (For example, (52*4 carbs) + (24*4 protein) + (23*9 fat) does not equal the 210 calories in the Asian wraps.)
Calories in Costco turkey provolone sandwich and other discontinued Costco sandwiches are not provided. Please note that the Costco croissant sandwich calories and other nutrition information assumes any toppings or dressings are divided evenly between the portions.
🌡 How long do Costco sandwiches last?
How long are Costco sandwiches good for? Costco sandwiches have a "sell-by" date, but this is not the date you must use the sandwiches by. Technically, you can safely store the sandwiches for up to 3-4 days in the fridge.
However, for optimal freshness, I would try to use the sandwiches within one day. After that, the bread may begin to get stale and the sandwich may get soggy.
🥶 Can you freeze Costco sandwiches?
No, you cannot freeze Costco sandwiches. The lettuce in the sandwiches becomes soggy when defrosted.
🤔 Costco Sandwich Nutrition Facts
The Costco sandwich nutrition is not provided on the packaging. However, you can find nutrition information on printed sheets in the prepared foods section (or ask an associate). Here is the Costco croissant sandwich platter nutrition (for one half of a sandwich):
Calories: 850
Total Carbohydrates: 43g
Fiber: 2g
Net Carbs: 41g
Total Fat: 56g
Saturated Fat: 22g
Protein: 42g
Sodium: 2050mg
Cholesterol: 165mg
Calcium: 35% DV
Iron: 20% DV
This nutrition information assumes the spreads are divided evenly amongst the sandwiches. Please note that this nutrition info is subject to change. Contact your local store's deli for nutrition facts that are current.
🥗 How to Serve Costco Sandwiches
You can eat Costco wraps and sandwiches by themselves, but a Costco sandwich with salad is a great choice as well. Here are some side dishes for Costco sandwiches:
FAQs
Are Costco sandwiches halal?
Costco sells some halal certified meat and some that is not. I highly recommend asking your local Costco deli whether the sandwiches are halal. Recipes for prepared foods can change, so the best way to get the most accurate information is to ask locally.
Does Costco sell ice cream sandwiches?
At the time of writing, my Costco sells ice cream sandwiches in a big pack with frozen ice cream cones. Check the freezer case of your local Costco to see the offerings near you.
👩🏻‍🍳 More Costco Reviews
Make the most of your membership to Costco! Don't miss these other Costco food reviews for high quality easy meals:
You may also enjoy this Microwave Grilled Cheese Recipe. The Reheat Pizza Slices in Air Fryer instructions are useful if you buy Costco pizzas.
Join our community! Subscribe and be kept up-to-date on all of the latest and greatest recipes! You can also follow me on Pinterest, Twitter, Instagram, and YouTube!
Save it for later!