You may be making lemonade when life gives you lemons, but are you making dandelion vinegar when life gives you dandelions? Though many consider dandelions to be nothing more than a pesky lawn weed, dandelion leaves and blossoms are edible! The leaves are best when young and tender, while the flowers are still buds. Once you see the yellow flowers, try this recipe for infused vinegar!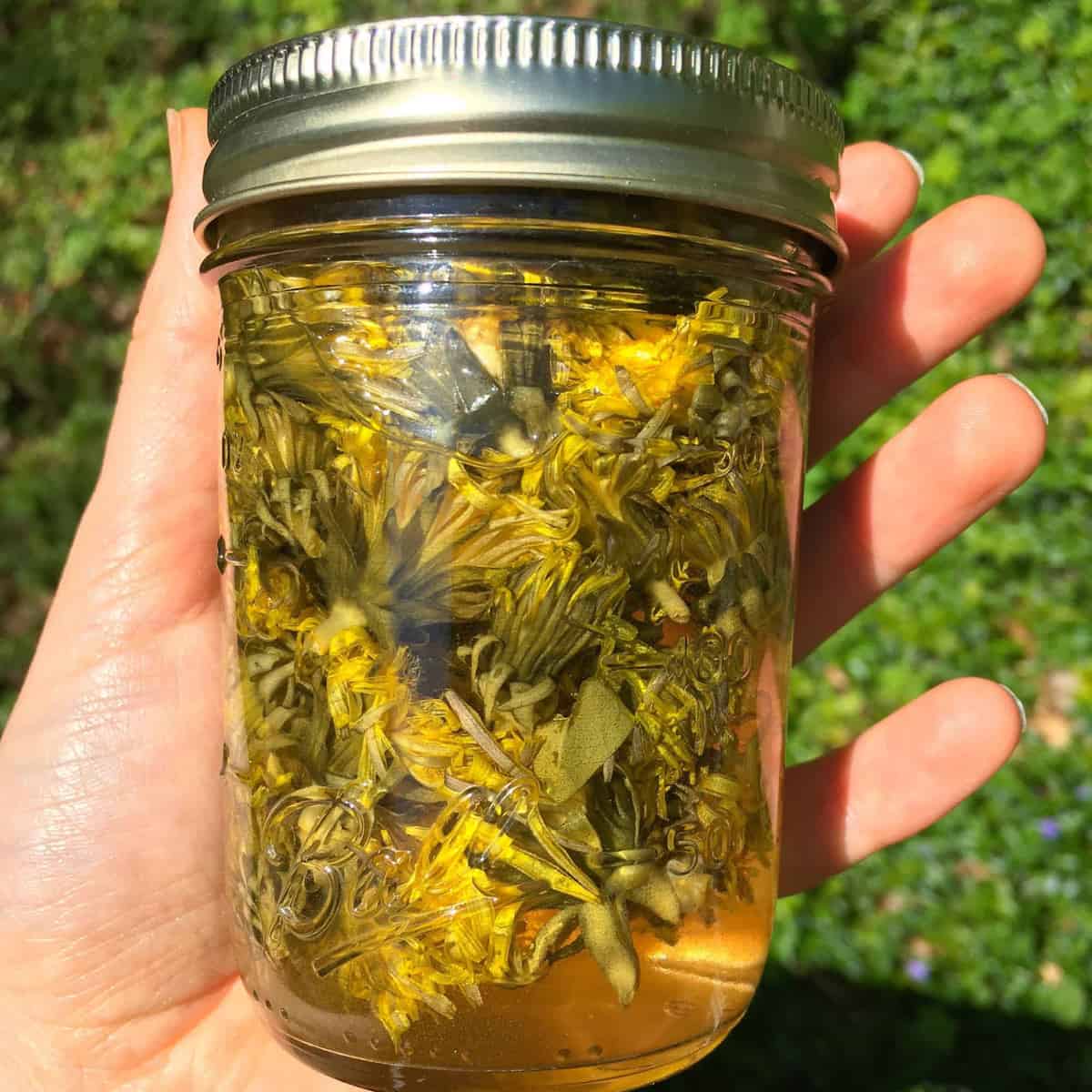 A salad dressing of infused olive oils and vinegar is one of the easiest ways to dress a salad. However, there are endless variations to this duo once you learn to create infused vinegars.
It could not be easier to infuse vinegar; the technique barely requires a recipe. In its simplest form, you take your herbs, spices, fruits, or other ingredients and let them sit in vinegar.
That's pretty much all there is to it. After a few weeks, you'll have a novel flavor of vinegar to use however your heart desires.
I went with a dandelion-infused vinegar because dandelions are both free and ubiquitous in the early summer around here. I decided to use the sunny yellow blossoms rather than buying another ingredient.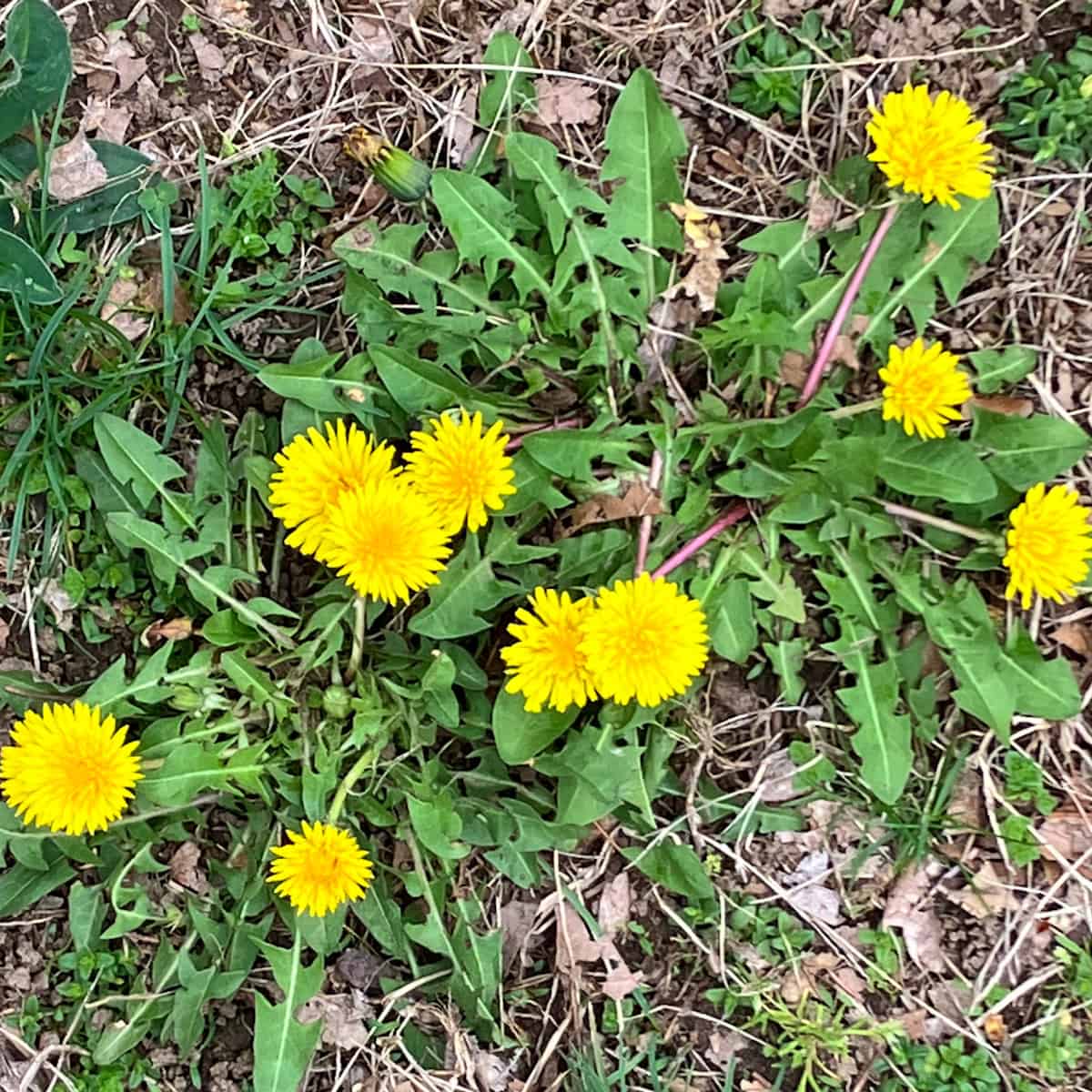 Picking the dandelions gives a nice excuse to take a leisurely walk outside (not that one is needed). Make sure you're picking in an area that is not near a road and that is unsprayed. If you aren't picking on your own property, it's important to get permission to pick at the site.
I know it's just dandelions, but you never know. The person who owns the property might have plans to make dandelion wine ,delicious fried dandelions, or this dandelion flower vinegar.
Dandelion Vinegar Recipe
I recommend using a mild and light-colored vinegar as the base for this recipe. I went with a white wine vinegar because I wanted to see the color change in the vinegar after infusing. It should turn pale yellow in a couple of weeks.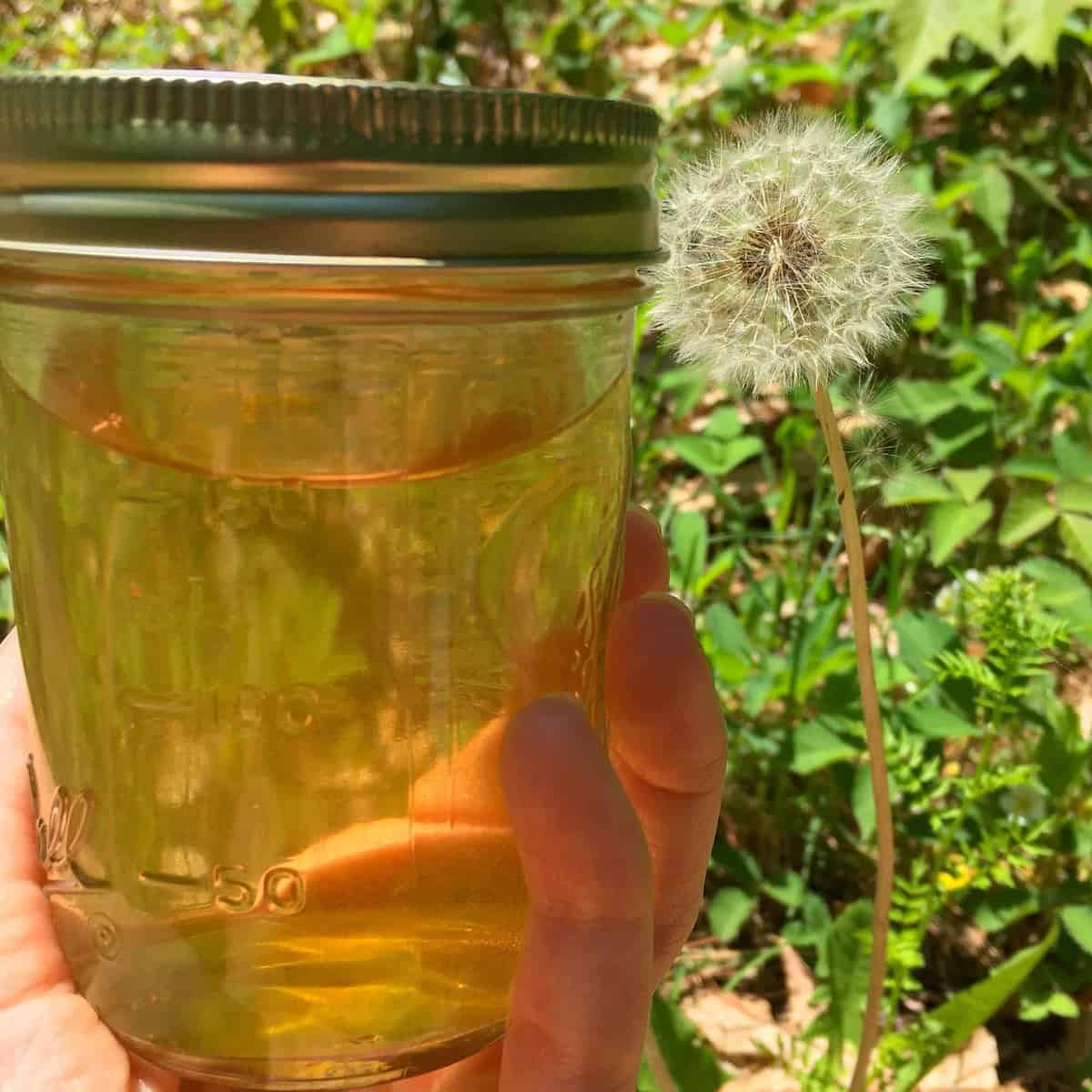 Regular white vinegar would likely overpower the delicate flavor from the dandelions. Apple cider vinegar or white balsamic vinegar may be other good options.
I've seen recipes for dandelion jelly floating around the web, and commenters often remark that it is reminiscent of honey. Dandelion blossoms have none of the astringency of dandelion leaves. They lend some of their sweetness to the vinegar here, with the flowers balancing some of the vinegar's sharpness.
Recipes for dandelion jelly will typically have you remove all of the yellow petals from the green base of the blossom (the calyx). While you want to remove the stems for this recipe, I didn't get fussy about removing calyces. I didn't feel like the extra work is worth it to make dandelion vinegar.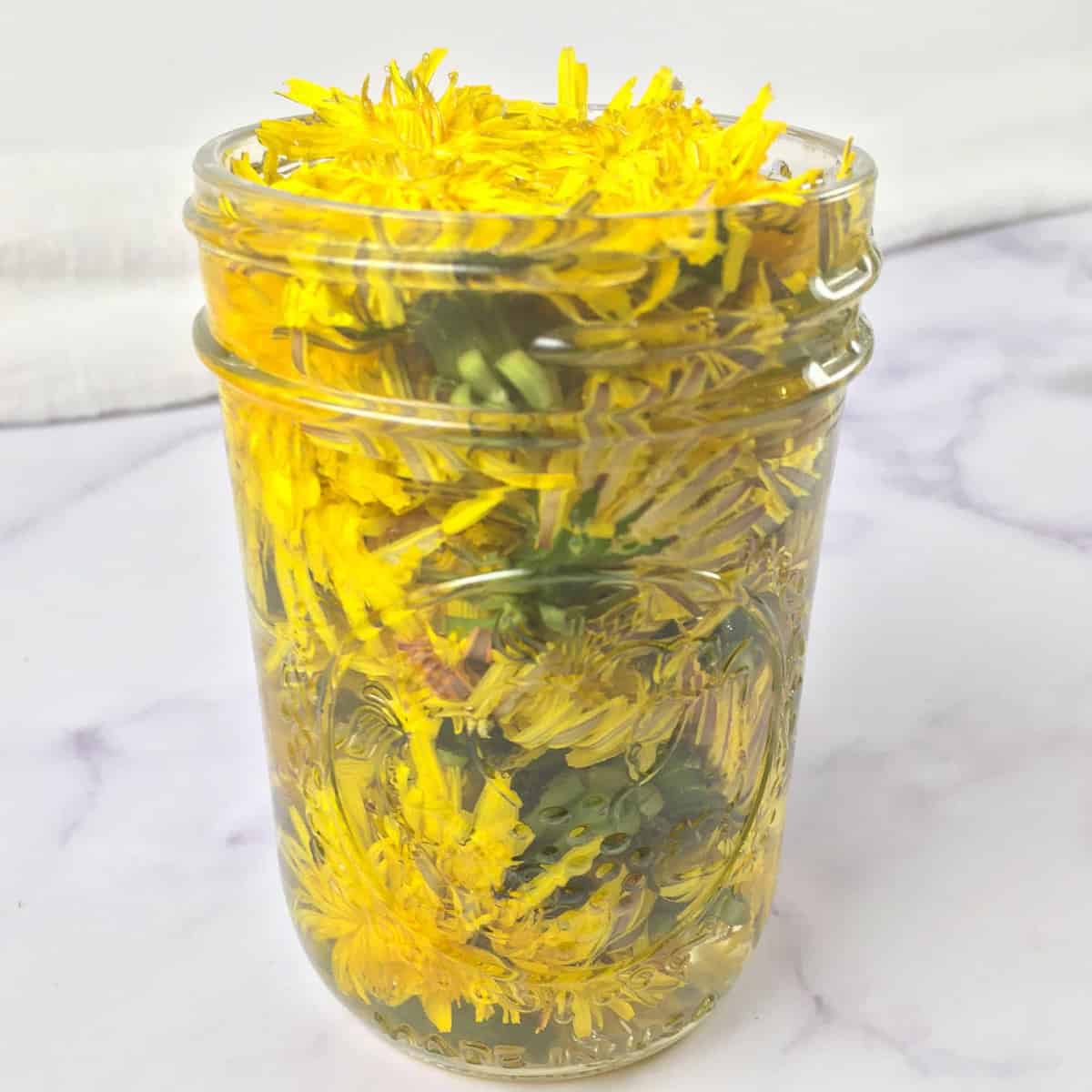 Straining the vinegar through cheesecloth will help catch small flower pieces that may be missed with a strainer. I use this Olicity Cheesecloth, which can be washed and reused over and over. It's saved me a lot of money compared to the grocery store cheesecloth that cannot be reused.
As with all my slow food recipes, making infused vinegar takes time. I chose to infuse the vinegar for two weeks, but feel free to go for three weeks instead if you wish. More prolonged infusions will impart a deeper flavor.
So how about we grab a clean glass canning jar and go dandelion picking? Some tasty dandelion vinegar will be the reward for your efforts!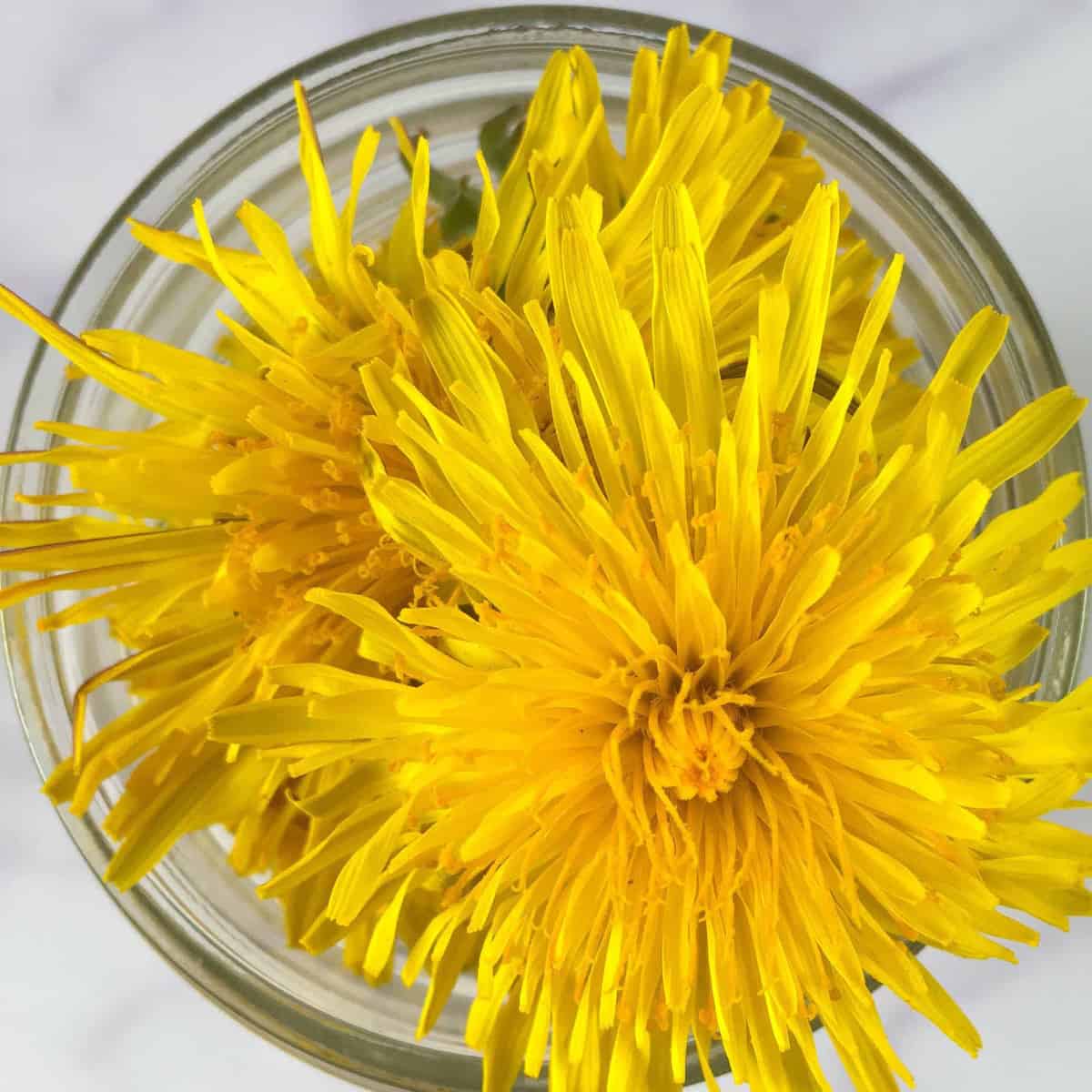 📖 Recipe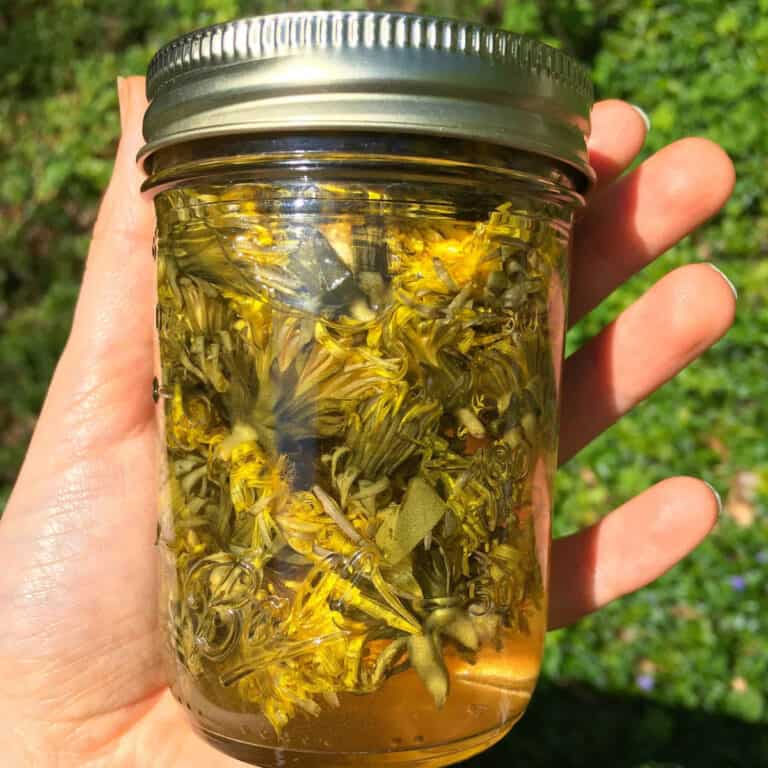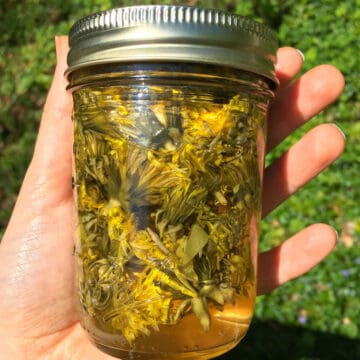 Dandelion Vinegar Recipe (How to Make Dandelion Vinegar)
You may be making lemonade when life gives you lemons, but are you making dandelion vinegar when life gives you dandelions? Why not try it today?
Ingredients
1

cup

yellow dandelion blossoms

1

cup

white wine vinegar
Don't be a stranger! 😊
If you love this recipe, please come back and leave a rating. This helps readers and I'd love to hear from you. Thank you ❤️
Instructions
Pack a 1-cup glass canning jar with yellow dandelion blossoms. It is fine to leave the green base of the blossom (the calyx) attached but be sure to pinch off the stems and leaves. I recommend picking on your own property if possible, avoiding roadsides and sprayed areas.

After you have enough dandelions, wash them under cool water and pack them back into the clean 1-cup jar. Fill the jar to the top with the white wine vinegar (you will not need the full cup of vinegar).

Put the lid on the jar and let it sit at room temperature for approximately two weeks.

After the infusion period, strain the vinegar through cheesecloth and discard the dandelion pieces. Your vinegar should have taken on a yellow hue. Store the strained vinegar in a jar in the fridge, where it will be ready to add to a salad whenever you need it!
Notes
This is a level 1 recipe (may help support fat loss). This infused vinegar, like most unsweetened vinegar, contains a negligible amount of calories. If you are on a weight loss journey, I recommend tipping the balance of your salad dressings to include more vinegar and less added oil.
Unsweetened vinegars contain almost zero calories, while oils (including heart-healthy olive oil) are around 120 calories per tablespoon. It is extremely easy to pour hundreds of calories of dressing on a salad when you use an oil-heavy dressing. (Trust me, I've done it!) Infused vinegars, like this dandelion vinegar, are a great option to have if you want to make lower-calorie dressings.
nutrition info disclaimer

All recipes on this website may or may not be appropriate for you, depending on your medical needs and personal preferences. Consult with a registered dietitian or your physician if you need help determining the dietary pattern that may be best for you.

The nutrition information is an estimate provided as a courtesy. It will differ depending on the specific brands and ingredients that you use. Calorie information on food labels may be inaccurate, so please don't sweat the numbers too much.
Nutrition
FAQs
What are some dandelion vinegar benefits?
According to the NCCIH, "there's no compelling scientific evidence supporting the use of dandelion for any health condition." So, take all of the purported dandelion cures and health benefits you find online for detox, belly fat, as a liver tonic, etc. with a grain of salt.
What are some dandelion vinegar uses?
Use dandelion infused vinegar in vinaigrette and other salad dressings. You can also use it to make hollandaise sauce, in brines, or add it to braises.
How to make dandelion apple cider vinegar?
To make dandelion vinegar with apple cider vinegar (ACV), simply replace the white wine vinegar in this recipe with cider vinegar in a 1:1 ratio.
Does vinegar kill dandelions?
No, according to the OSU Extension Service, household vinegar isn't strong enough to kill dandelions. (Instead of thinking of them as weeds, why not make dandelion vinegar or some of the recipes using dandelions below?)
👨‍🍳 Dandelion Flower Recipes
Here are a few more ways to use fresh dandelions flowers in recipes:
Dandelion Oil Recipe: To make dandelion oil, fill a jar with dandelion flowers and cover them with oil. Let the mixture sit for a few weeks, then strain out the flowers and use the oil as needed. Dandelion oil is for moisturizing dry skin, not for eating.
Dandelion Flower Tincture: Dandelion flower tincture is a great way to add some flavor to your vodka. To make it, fill a jar with dandelion flowers and cover them with vodka. Let the mixture sit for a few weeks, then strain out the flowers and use the vodka as desired.
Dandelion Tea: To make dandelion tea, steep dandelion leaves in hot water for a few minutes. Add honey or lemon to taste.
Dandelion Lemonade: To make refreshing dandelion lemonade, mix chilled dandelion tea with lemon juice and honey to taste. Serve over ice.
Dandelion Chips: Dandelion chips are a healthy and delicious snack. To make them, toss dandelion leaves with olive oil and salt, then bake in the oven until crispy.
Dandelion Burger Recipe: To make vegetarian dandelion burgers, mix cooked dandelion greens with mashed beans, breadcrumbs, and spices. Form into patties and grill or bake.
Do you eat dandelions? What are some of your favorite ways to use the leaves or the blossoms? I'd love to hear about how you are preparing this plant, so don't be afraid to drop me a comment below!
Join our community! Subscribe for all of the latest and greatest recipes, and follow me on Facebook, Pinterest, Instagram, and YouTube!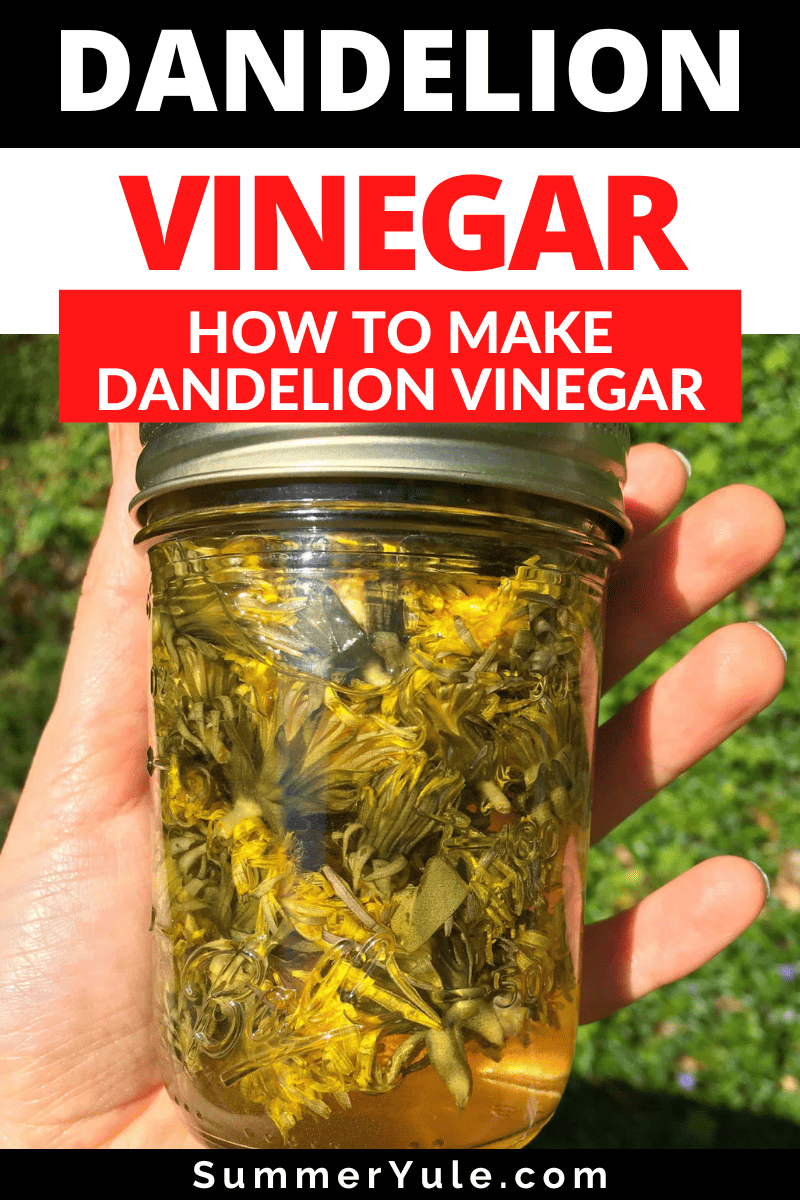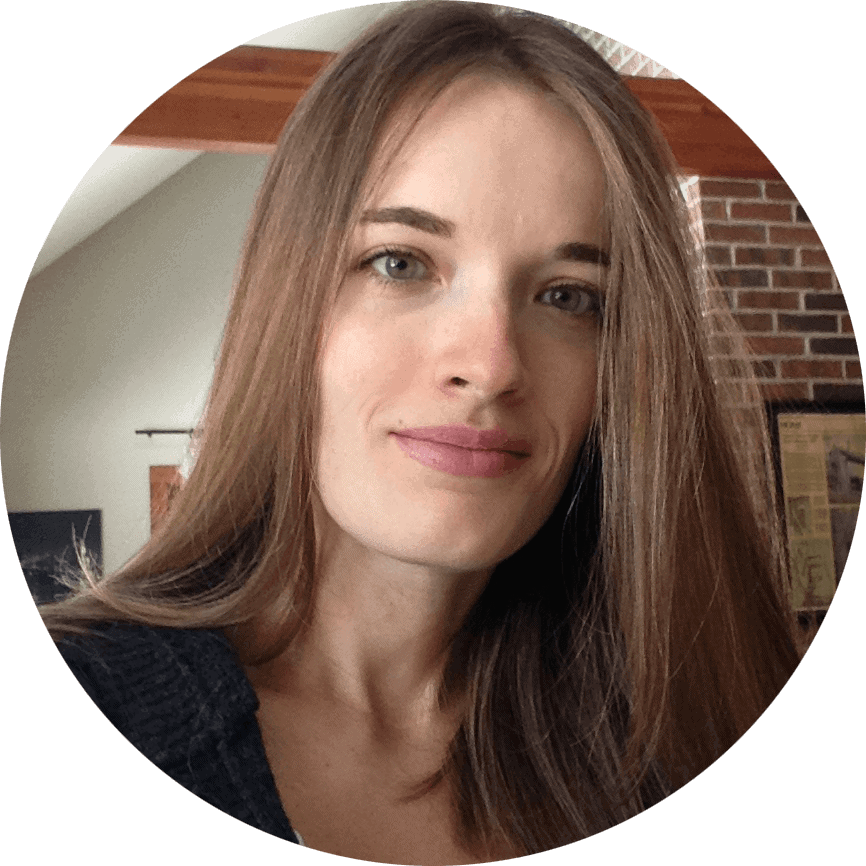 Hello! I'm Summer, a registered dietitian and home chef who loves to cook, eat, and create high quality content for you! Every recipe on this site has been tested by me to help ensure your success in the kitchen. All eaters are welcome here 🙂