With a meat grinder and a little patience, you can make yourself the BEST fennel sausage ever. This homemade sweet Italian sausage is half pork and half chicken. It's a leaner option but doesn't require extra oil to cook it! You won't regret taking the time to try this Italian sausage meat grinder recipe. If you have nothing to do this weekend, consider making this artisanal homemade sausage!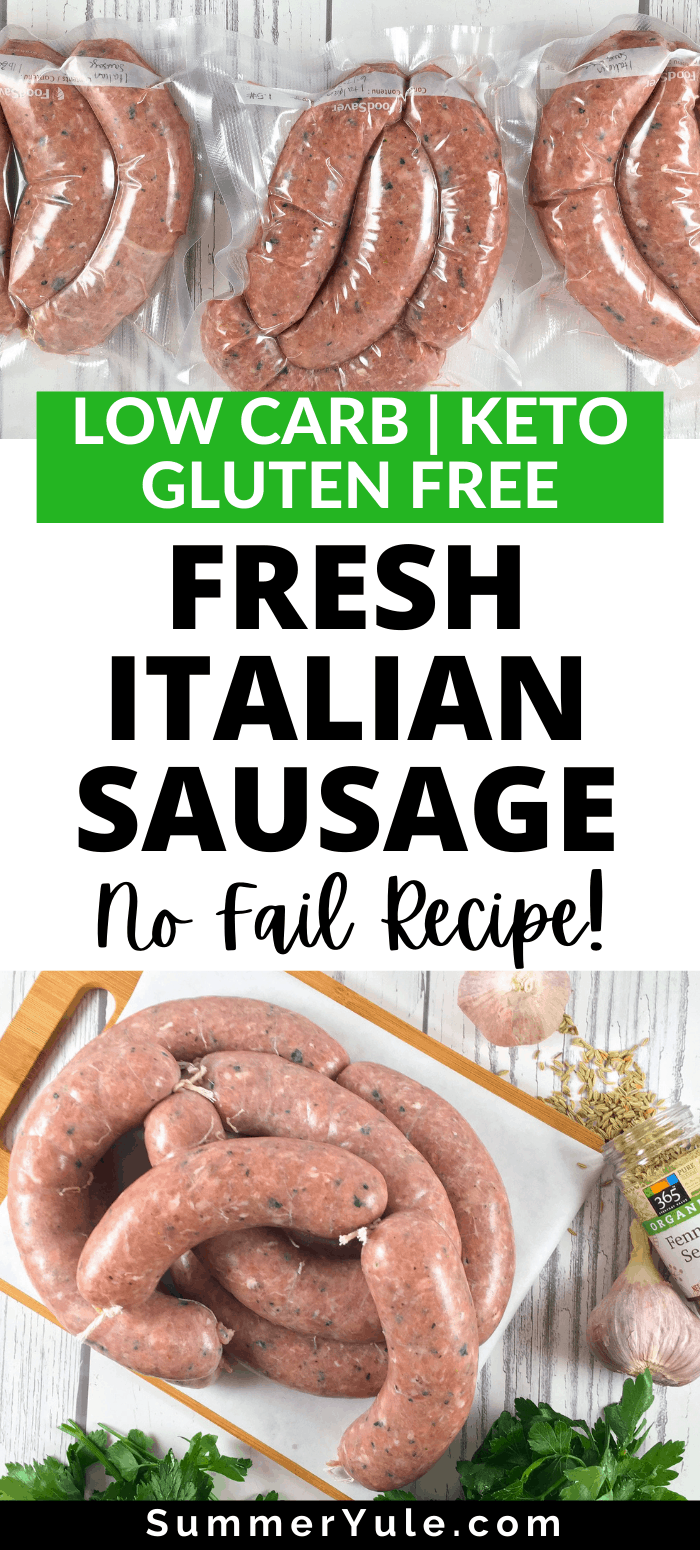 There are three types of sausage that I purchase most often in my household. I've now officially posted recipes for all three on my site. They are:
Do you own a meat grinder and want to learn to make your own sausages? Then I highly recommend checking out all three of the posts. I think you will find them very helpful!
Additionally, each of the above recipes is deliciously wonderful in its own unique way. I think I'd have trouble picking a favorite. I feel that they are all definitely worth the trouble and infinitely tastier than anything I've purchased in a store.
With a variety of different homemade sausages in your freezer, you are going to be able to put amazing meals together fast. You could use them in a breakfast frittata, a one-pot soup, or throw them on a pizza with the works.
Yes, there's pretty much no end to the dishes you could make with these! Spend a little time now and enjoy the homemade fennel sausage goodness when life gets busy.
👩🏻‍🍳 What's the cost of making your own sausage?
The main costs to discuss with this or any slow food recipe are money and time. Ultimately, you may end up saving on food when you make your own.
Pork prices seem to be up in my area right now. Using half pork and half chicken in this homemade sausage not only lightens things up, it also saves money!
The biggest upfront expense in making your own sausage is going to be the meat grinder, if you don't already have one. A major shortcut you can take is to season store-bought ground meat with sausage seasonings. This is what I used to do before I had the grinder, as I talked about in the post on cooking pork sausage.
The benefit of the grinder is that you can use cuts of meat and poultry that are not typically sold ground. Also, you can make sausage links with casings if your grinder has a sausage stuffer attachment.
There are only three main steps that will take you from whole cuts of meat to sausage links. If you watch the video below, I will take you through all three steps in approximately 30 seconds.
That's it, folks! Watch how you can fill your freezer with homemade Italian fennel sausage in only half a minute! I am the speediest sausage maker you will ever see. Haha
I'm joking, of course. There is definitely a time commitment involved if you want to take on this slow food project. I recommend setting aside a few hours on a weekend (or another non-work day) when you do not feel rushed.
Making slow food is always the most enjoyable when things feel relaxed. You don't want this to turn into one more thing on the to-do list. Have fun with it!
💭 Here's one mistake to avoid when you make fennel sausage links.
Before we get to the recipe, I wanted to share a mistake I made, so hopefully it won't be repeated. Unlike the other times I have made sausage links, I had some casings break on me this time.
Having your casings break while making sausage is an easy thing to fix, but it can be an inconvenience. First, cut open the broken casing, remove the filling, and discard the casing. Second, put the sausage filling back into the meat grinder to fill a new casing.
That's all you need to do to fix the problem. However, it's a waste of casings if the issue happens repeatedly, and it can be a bit of an annoyance.
Unfortunately, it was my fault that my casings broke. You really need both hands to make sausage links. One uses the tamper to push more ground meat into the machine. Meanwhile, the other hand helps guide the casing as it fills.
I briefly took one of my hands off of the machine in an attempt to capture the process on video. And I paid the price with a couple of broken casings.
(Strangely enough, my 17-year-old was not so interested in helping to film making this fennel sausage. I mean, what teenager would not want that job?!? So much fun family time right there. Haha)
So, if you want to capture yourself on film making sausage (future Christmas card photo?!?), get a helper to hold the camera! Or do what I ultimately ended up deciding to do and get a camera tripod. It will make life easier!
Alright, I think that's it for now. Who is ready to dig into this fennel sausage recipe?
The disclaimer…
All recipes on this website may or may not be appropriate for you, depending on your medical needs and personal preferences. Consult with a registered dietitian or your physician if you need help determining the dietary pattern that may be best for you.
The nutrition information is an estimate provided as a courtesy. It will differ depending on the specific brands and ingredients that you use. Calorie information on food labels may be wildly inaccurate, so please don't sweat the numbers too much.
For more information on how the three recipe levels may help with a weight management goal, refer to this post. Let's get cooking!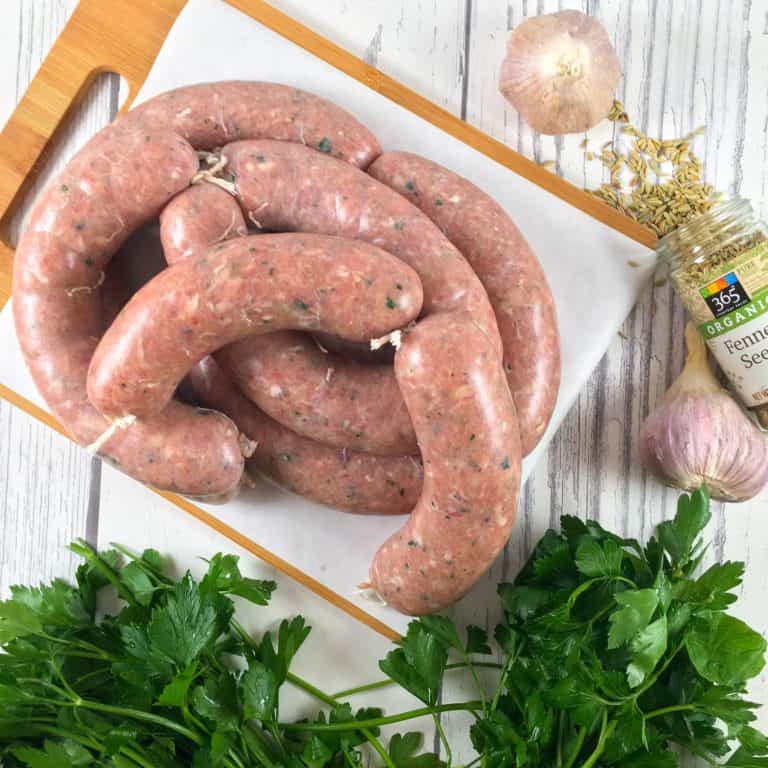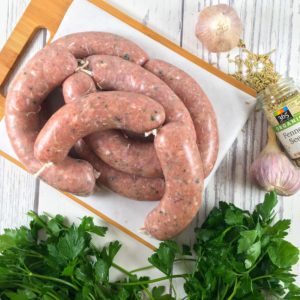 Fennel Sausage: Italian Sausage Meat Grinder Recipe
With a meat grinder and some patience, you can make yourself the BEST fennel sausage ever. This homemade sweet Italian sausage is ½ pork and ½ chicken.
Equipment
Ingredients
2

lbs

pork butt or pork shoulder

2

lbs

chicken thighs

(boneless and skinless)

1

tablespoon

salt

1

teaspoon

black pepper

3

tablespoons

red wine vinegar

¼

cup

fresh parsley, chopped

6

cloves

garlic, minced

2

teaspoons

onion powder

½

tablespoon

dried basil

½

tablespoon

dried oregano

1½

tablespoons

fennel seeds, ground

½

teaspoon

crushed red pepper flakes

½

teaspoon

dried sage

½

teaspoon

sweet paprika

1

package

hog casings
Instructions
Keep your ingredients at 38-40°F (almost frozen) for easier cutting and grinding. Cut the pork and chicken into 1" cubes (or smaller).

In a large bowl, place all ingredients except for the hog casings. Stir to combine. Refrigerate this mixture while you set up your meat grinder.

Using a meat grinder, coarsely grind the mixture. Send the mixture through the grinder slowly, so that you do not create a jam.

After sending all of the sausage mixture through the grinder once, grind it using the coarse grind plate a second time.

You can shape the mixture into sausage patties at this point if you would like. If you would rather have links in casings, refrigerate the sausage mixture while you do the next steps.

Clean your meat grinder thoroughly and set it up for stuffing sausage. I needed to use the largest stuffing funnel for the hog casings. Rubbing the outside of the stuffing funnel with a little oil can help the casing slide on easier.

Remove your hog casings from their packaging and rinse them in cool water. Prepare them for filling as directed on the packaging. For the ones I am using, I had to soak them in cool water for 15 minutes and then untangle a few and cut them into 2-foot lengths. Then I opened one end of each casing I was using and let cool water (from the faucet) run through the entire length. I let water run through each casing I was using three times, and I only rinsed the insides of the casings I was planning to use. After rinsing, I tied a knot in one end of each casing and set them near the grinder on a paper towel.

When you are ready to stuff sausages, slide a casing over the end of the stuffing funnel. I was able to get the casing to fit by gathering it like I would gather pantyhose I was about to stick my toes into, and then sliding it onto the funnel. My grinder recommends leaving 2" of casing overhanging the end of the stuffing funnel, but the directions for your grinder may vary.

Very slowly start sending your ground sausage mixture through your meat grinder. One hand can use the stomper to push the mixture into the grinder while your other hand can help guide the casing as it fills.

After filling a casing, you can make small links by tying off the casing frequently with kitchen twine. Start tying at the closed end of the casing, making sure there is room for the filling to extend to the open end so the casing does not break. Tie off the open end of the casing last.

After you finish filling one casing, tie a new casing onto the machine and continued the filling process. I did not clean out the machine each time I had finished filling a casing.

Once all of the sausage mixture is used, turn off and unplug your meat grinder. I recommend cleaning out your grinder immediately. I was able to salvage an additional 9 ounces of sausage mixture that was stuck to various parts inside the machine. You can press these leftovers into patties, pan fry them, and enjoy them right away. (Yay, snack time!)

Your homemade sausages will not stay fresh as long as the cured sausage you buy in the store. Any sausages that you are not planning to cook within 24 hours should be double-wrapped in plastic and frozen. If you have a vacuum sealer for food, you can use that for your sausages as an alternative to double-wrapping.

Follow the directions on your casing packaging to store the casings that you did not use. For the brand I purchased, I dried the unused casings (the ones where I did not rinse the interiors), repacked them in salt, and stored them in the fridge where they will wait until my next sausage-making adventure.
Video
Notes
This is a level 2 recipe (transition or weight maintenance). This recipe makes approximately 4 pounds, 4.5 ounces of Italian fennel sausage. That means you get about 17 4-ounce servings. Sausage generally isn't a lean protein option. However, using chicken in place of some of the fatty pork shoulder here makes this a lighter option than most.
Keeping some of the pork means that you should not need to add oil later when you cook the sausage. Additionally, your family may not even be able to tell that there is some chicken in there!
Nutrition information is for one serving of the recipe.
Nutrition
Calories:
185
kcal
Carbohydrates:
2.5
g
Protein:
18.6
g
Fat:
11.4
g
Saturated Fat:
4
g
Sodium:
331.2
mg
Potassium:
160.3
mg
Fiber:
0.4
g
Vitamin A:
2.3
% DV
Vitamin C:
2.4
% DV
Calcium:
11.1
% DV
Iron:
7.2
% DV
What is your favorite type of sausage? Do you prefer mild or hot? Chicken, pork, or another type?
Please don't forget to leave a rating if you try this Italian fennel sausage! I hope it knocks your socks off in the flavor department!