Can you cook frozen waffles in air fryer? Yes! You can make Eggo waffles in air fryer, Birch Benders protein waffles, Eggo mini waffles, Van's gluten-free waffles and more! Learn how to cook frozen waffles in the air fryer with cooking times and temperatures. This air fryer frozen waffle recipe works with any frozen waffle. Don't miss the tips on topping your toasted waffles!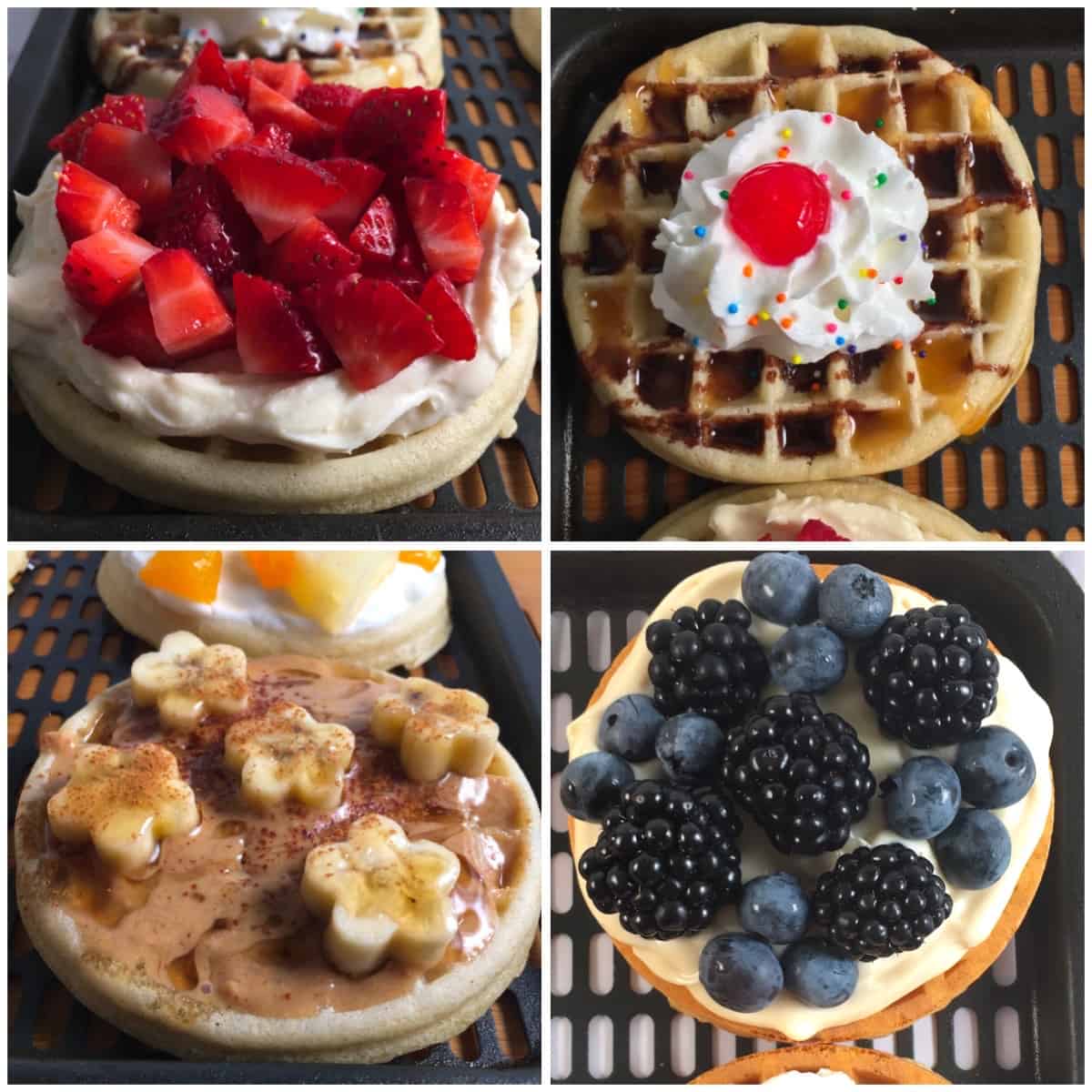 What is the best way to cook frozen waffles? The microwave is fast, but doesn't get waffles crisp. A toaster gets waffles crispy, but you can only cook a couple at a time.
With air fryer frozen waffles, you get the best of all the different cooking methods. Eggos in air fryer come out crisp along the edges, and you can make more than two waffles at once. Stranger Things fans rejoice!
In the week leading up to my son's college send off, I created a waffle bar for breakfast each morning. Though homemade waffles in air fryer would probably be the healthiest choice, that can be a bit much to manage on weekdays. So, we topped frozen waffles instead.
There are actually some fairly healthy frozen waffles out there, similar to what I'd make at home. There are also some less optimal choices, loaded with added sugar and white flour. We'll cover them all below!
Waffles can be a great canvas for serving a variety of healthy fruits, dairy products, and even savory foods like eggs and chicken. If you want to join me in becoming an air fryer waffle maker, let's get to it!
Jump to:
⭐ Frozen Waffles in Air Fryer Benefits
Why make frozen waffles in the air fryer? You can toast waffles faster than air frying. However, the air fryer may save you time because you can make a big batch of waffles at once. Here's the rundown of why I like this recipe:
No preheating: You don't need to preheat the air fryer to cook waffles. This is much quicker cooking method than using the oven.
Fast: Your waffles will be fully cooked in only 4-5 minutes! It's a realistic way to make a hot weekday breakfast.
Big batch: I can make twice as many waffles in an air fryer oven compared to a two-slot toaster. It's great when everyone is hungry NOW. Haha
Easy to customize: You can make healthy waffles, sweet waffles, savory waffles, or dessert waffles. Satisfy that craving with whatever flavors you want. I have lots of waffle topping ideas for you below!
Fits practically any diet: You can find frozen waffles to fit almost all dietary restrictions. There are low carb, keto, gluten free, dairy free, vegan, "clean eating" options, and more.
Fits most budgets: There are frozen waffles available at a variety of different price points. Health food stores typically have the most spendy options. Check out the mainstream supermarkets, Walmart, Target, and stores like Costco if you're on a tight budget.
Delicious: Self explanatory!
🥘 Frozen Waffles in Air Fryer Ingredients
The only food you need to make waffles in the air fryer are the frozen waffles themselves. I also recommend having some waffle toppers on hand, because plain waffles are pretty boring, no?
Here are the frozen waffles I tested for this air fryer recipe. Remember, you can apply these directions to just about any frozen waffle:
In terms of taste, the Birch Bender waffles and Evergreen waffles were my favorites. (Sorry, Eggos!)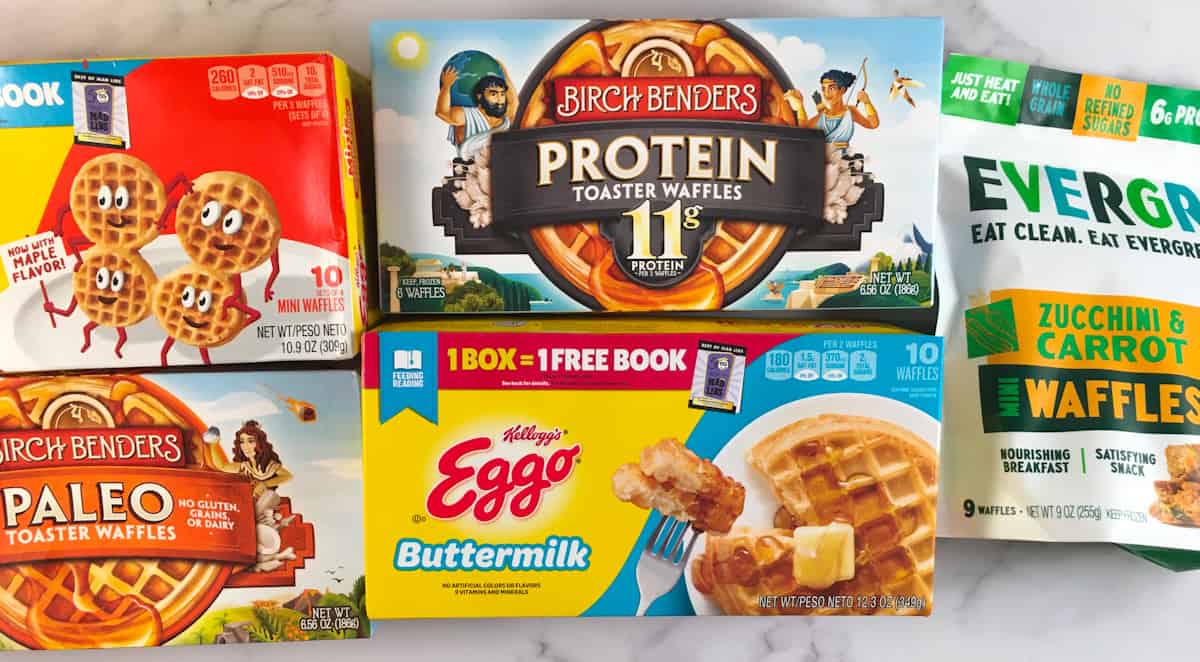 🍽 Equipment
To make air fried frozen waffles, you'll need an air fryer like the 10-Quart Kalorik Digital Air Fryer Oven. You can make frozen toaster waffles in the Ninja Foodi, Cosori, Pampered Chef Air Fryer, Actifry, Nuwave, Instant Vortex, Cuisinart, Philips, Power Air Fryer, and other air fryers. However, you may need to tweak the cooking times depending on the air fryer you use.
🔪 How to Make Frozen Waffles in Air Fryer
As I said at the top, these directions for air frying frozen waffles works for just about any waffle. I didn't test frozen stuffed waffles, but I'm thinking the air frying times will be the same for them too.
All you need to do is put your waffles in a single layer in your air fryer basket or air fryer tray. Don't stack them!
I could fit four waffles at a time on my air fryer tray. You may be able to fit more or fewer depending on your air fryer model. We're only going to be using the top rack position for air fryer ovens, so stick to using one tray.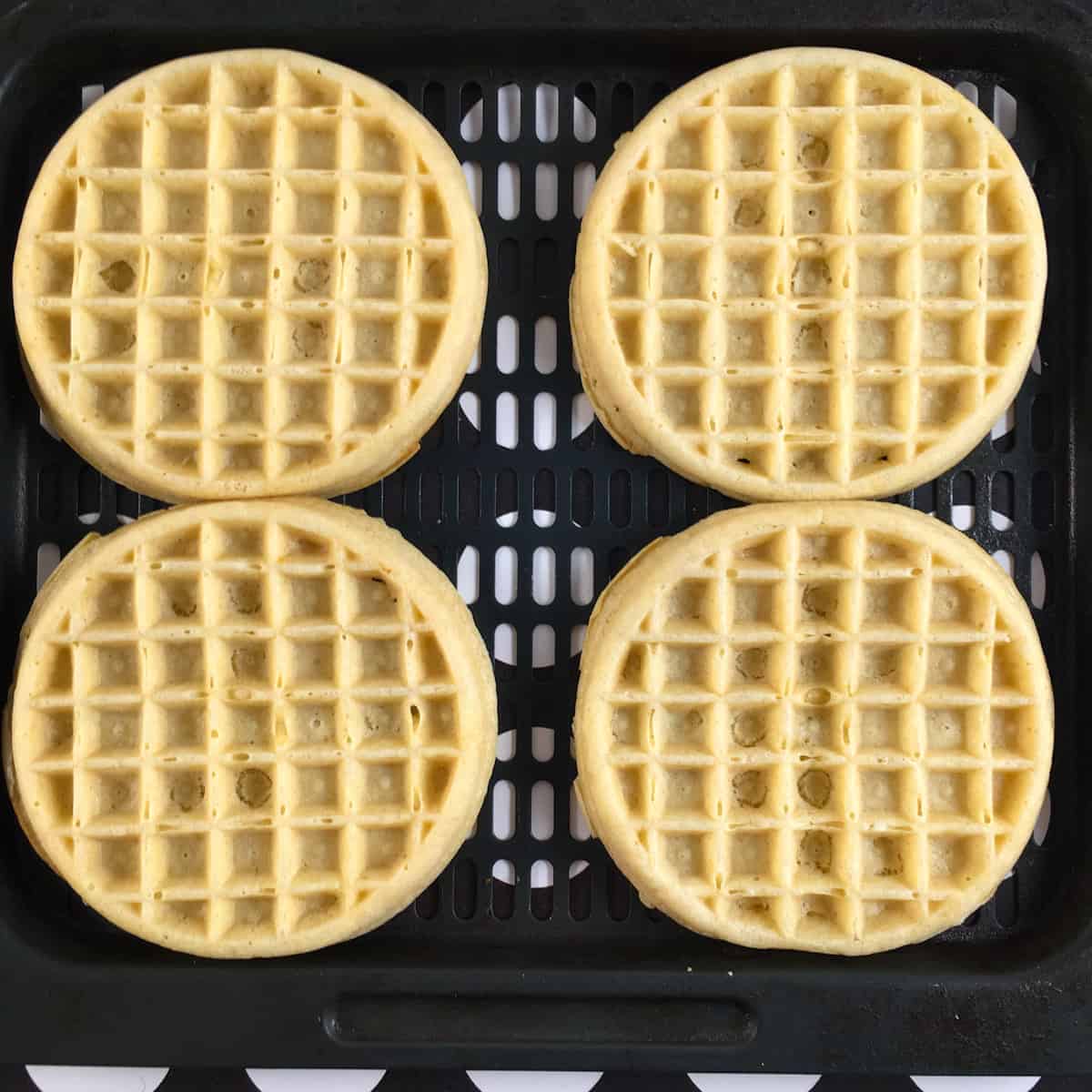 ️⏲ Waffles in Air Fryer Cooking Time and Temperature
What temperature for air fryer frozen waffles? How long to air fry frozen waffles? Air fry frozen waffles at 350 degrees Fahrenheit (177C) for 4-5 minutes. Flip them over after 3 minutes.
Check them before flipping the first time you try cooking waffles in the air fryer. If you air fry frozen waffles too long, they become rock hard. No bueno.
BTW, you might notice in the videos that I usually flip air fryer foods with my fingers. If you don't want to burn yourself, please use a spatula! I have burned my thumb before due to my cooking laziness. lol
How to Cook Eggos in Air Fryer
I can fit 4 Eggos at a time on an air fryer tray. Air fried Eggo waffles get cooked for 3 minutes at 350F (177C), then flipped and cooked for 2 more minutes. Serve them immediately- they cool quickly!
How to Cook Mini Waffles in Air Fryer
I can fit 16 Eggo mini waffles at once in my air fryer (that's 4 sheets of mini waffles). Cook mini waffles for 3 minutes at 350F (177C), then flip and cook for 1-2 more minutes. Mini waffles are thinner than regular waffles, so they may take a little less time.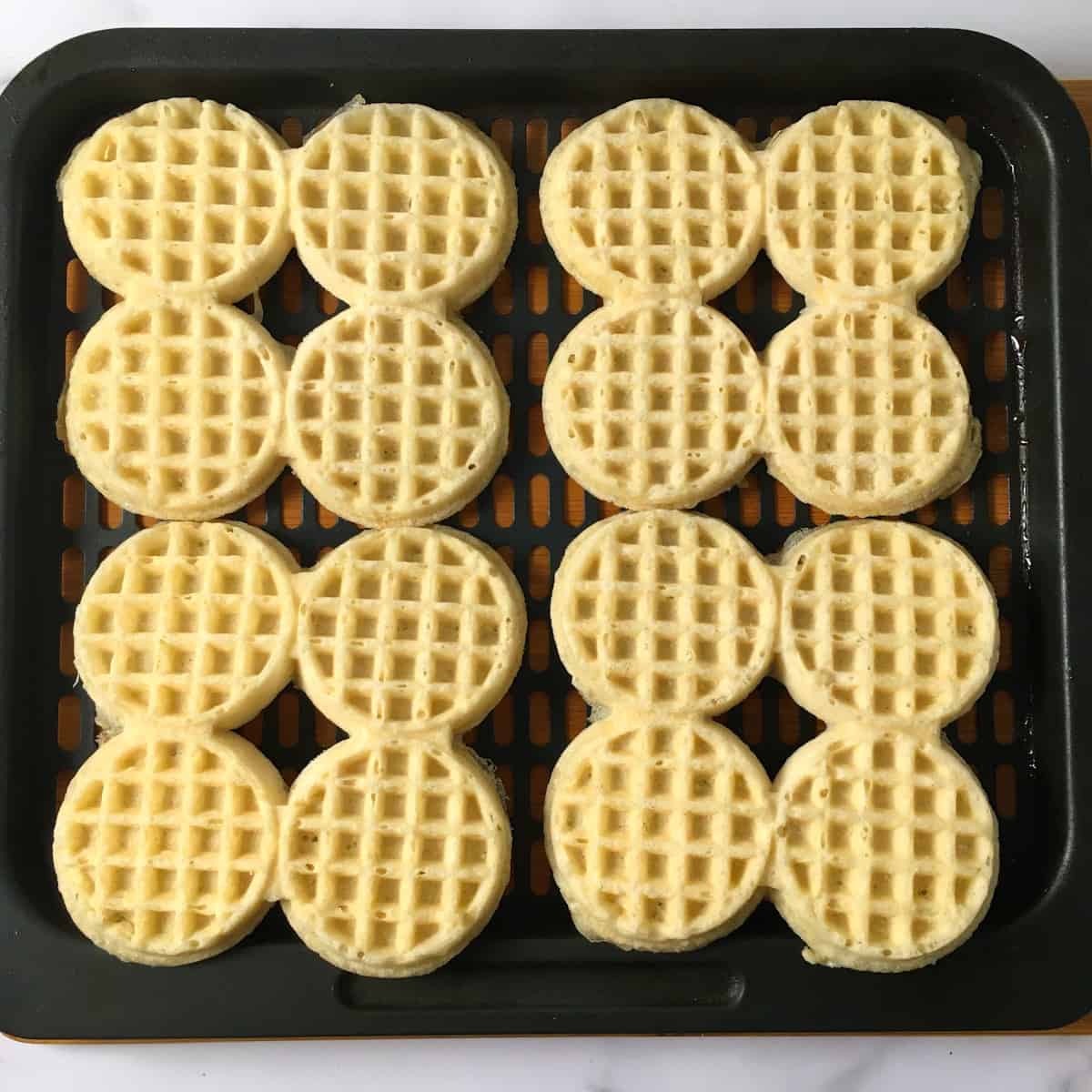 How to Cook Frozen Protein Waffles in Air Fryer
Protein waffles tend to be my favorite in terms of taste. They're usually the same size as Eggos, so I can fit 4 on a rack. Air fryer frozen protein waffles get cooked for 3 minutes at 350F (177C), then flipped and cooked for 2 more minutes.
How to Cook Frozen Gluten Free Waffles in Air Fryer
Treat your gluten free waffles just like regular waffles containing wheat. Cook air fryer gluten free waffles for 3 minutes at 350F (177C), then flip and cook 2 more minutes.
️🌡️ Leftovers
Wondering how to reheat frozen waffles that are refrigerated? Put them in your air fryer basket and air fry at 350F (177C) for 1-2 minutes. That said, it's best to only make what you need and keep the rest in the freezer.
📋 Calories, Net Carbs, Protein
The nutrition information for your frozen waffle breakfast depends on the type of waffle you use and the toppings. A serving of Kellogg's Eggo Buttermilk Waffles (2 waffles) has 180 calories, 28 grams net carbs, and 4 grams protein. This is for a serving of waffles without any toppings.
The recipes and flavors offered for the various frozen waffles change often, depending on consumer demand. There can also be some variation by country.
Here is the nutritional information (per serving) for some popular waffles in the United States. Information was correct at the time of writing, but is subject to change:
The macros of these toaster waffles don't tell you the whole story, such as which are highest in added sugar. However, some patterns do emerge. For example, the gluten free frozen waffles tend to be lowest in protein and highest in net carbs.
Protein waffles (including Kodiak Cakes frozen waffles) do deliver on protein. (The serving size of Eggo Frozen Mini Waffles, as listed on the box, is larger than regular waffles and this impacts the nutrition info.)
🧇 Frozen Waffle Toppings
What are some healthy toppings for waffles? How to serve frozen waffles? Let these recipes with frozen waffles guide your culinary creativity!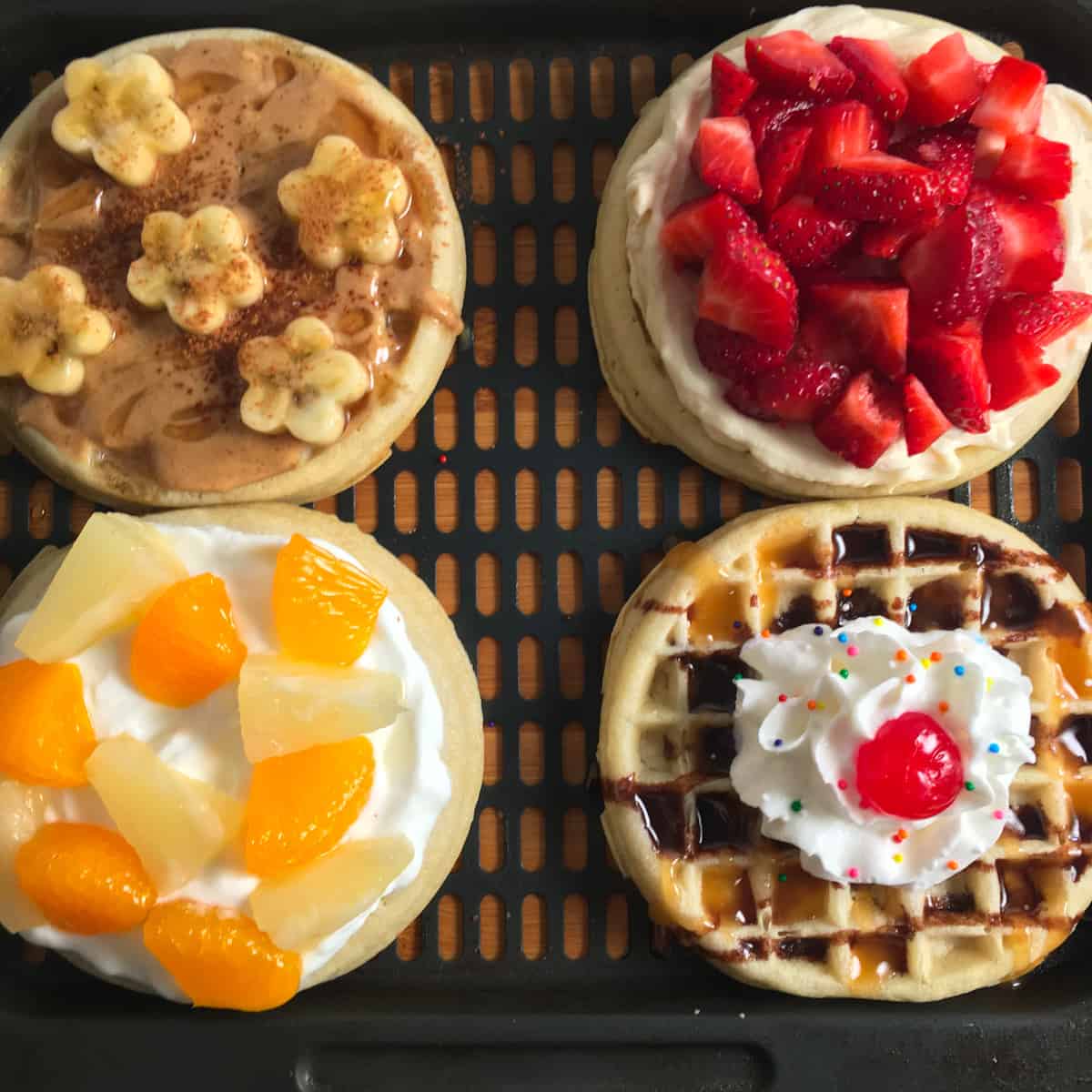 Waffles with Strawberries and Mascarpone Cream
Stir together the following:
2 ounces mascarpone cheese (57 grams)
½ tablespoon maple syrup or sugar-free syrup
½ teaspoon vanilla extract
Pinch of lemon zest
Top one waffle with this mixture, and sprinkle 2-3 chopped fresh strawberries on top. This is one of my favorite waffle toppings- it's similar to cannoli filling!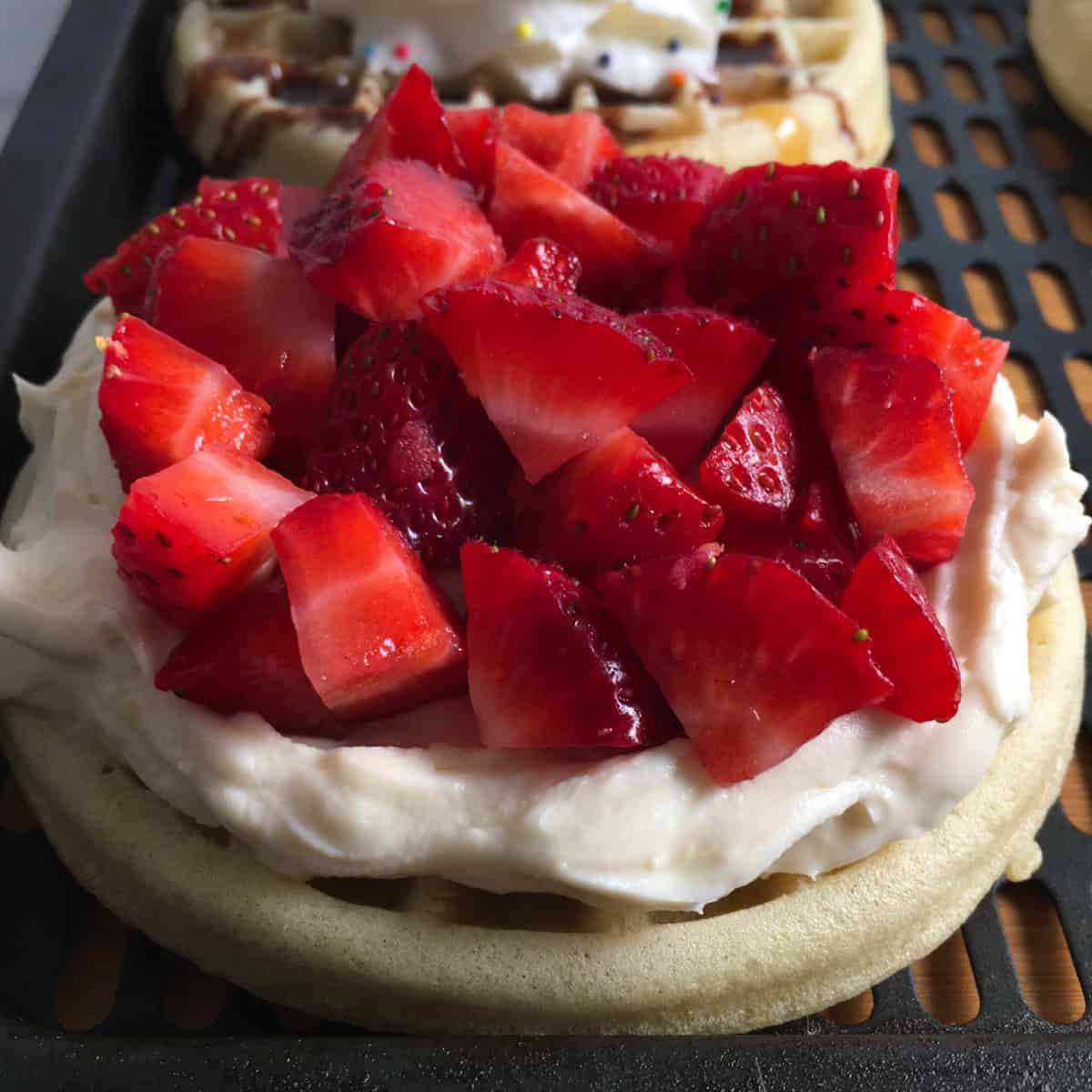 Tropical Waffle
Spread ¼ cup of non-fat Greek yogurt on your waffle. Top with 3 canned mandarin orange pieces and 2-3 halved pineapple tidbits. Stick with plain yogurt if you want the toppings to have no sugar added.
Peanut Butter Banana Waffle
Spread 2 tablespoons of creamy peanut butter on your waffle. Top with 5 slices of banana and ½ tablespoon of maple syrup (or sugar-free maple syrup). Sprinkle with cinnamon.
To give this waffle special appeal, cut the banana slices into fun shapes before using as a topping. I used a flower-shaped cutter similar to these.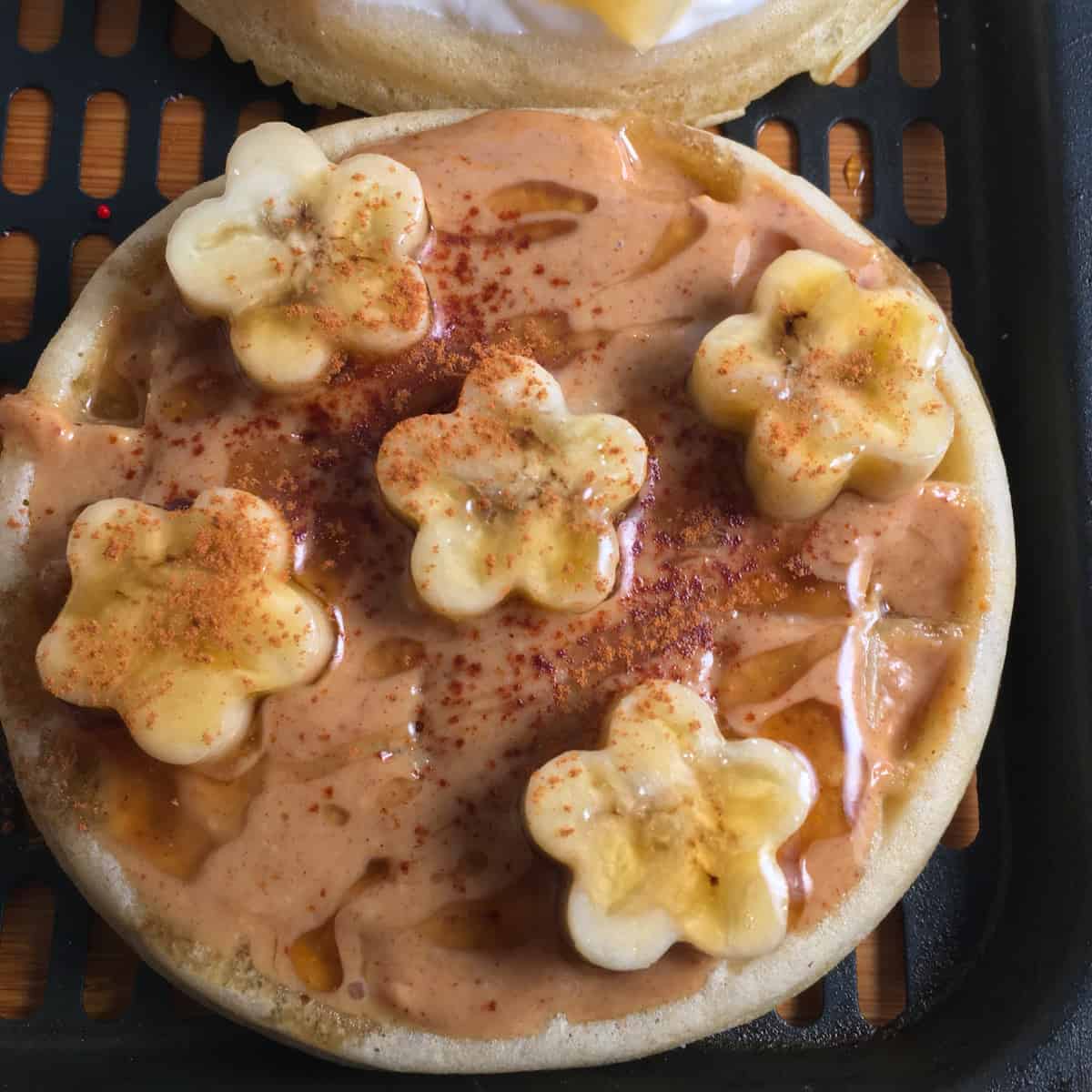 Almond butter or your favorite nut butter or seed butter can be used in place of the peanut butter.
Dessert Waffle
Drizzle 1 teaspoon each chocolate syrup and caramel syrup on the waffle. Top with 2 tablespoons whipped cream, sprinkles, and a maraschino cherry. You can use berry syrup or your favorite pancake syrup instead of the syrups I mentioned, if you prefer.
Blueberry Waffle
Spread 2 tablespoons of labne or skyr on your waffle. Add as many blackberries and blueberries as will fit! Sometimes I swap out the berries for chopped peaches and plums instead.
Savory Waffle
Spread a little hummus or guacamole on your waffle and top with sliced hardboiled egg. A sprinkle of Everything Bagel Seasoning really ties things together.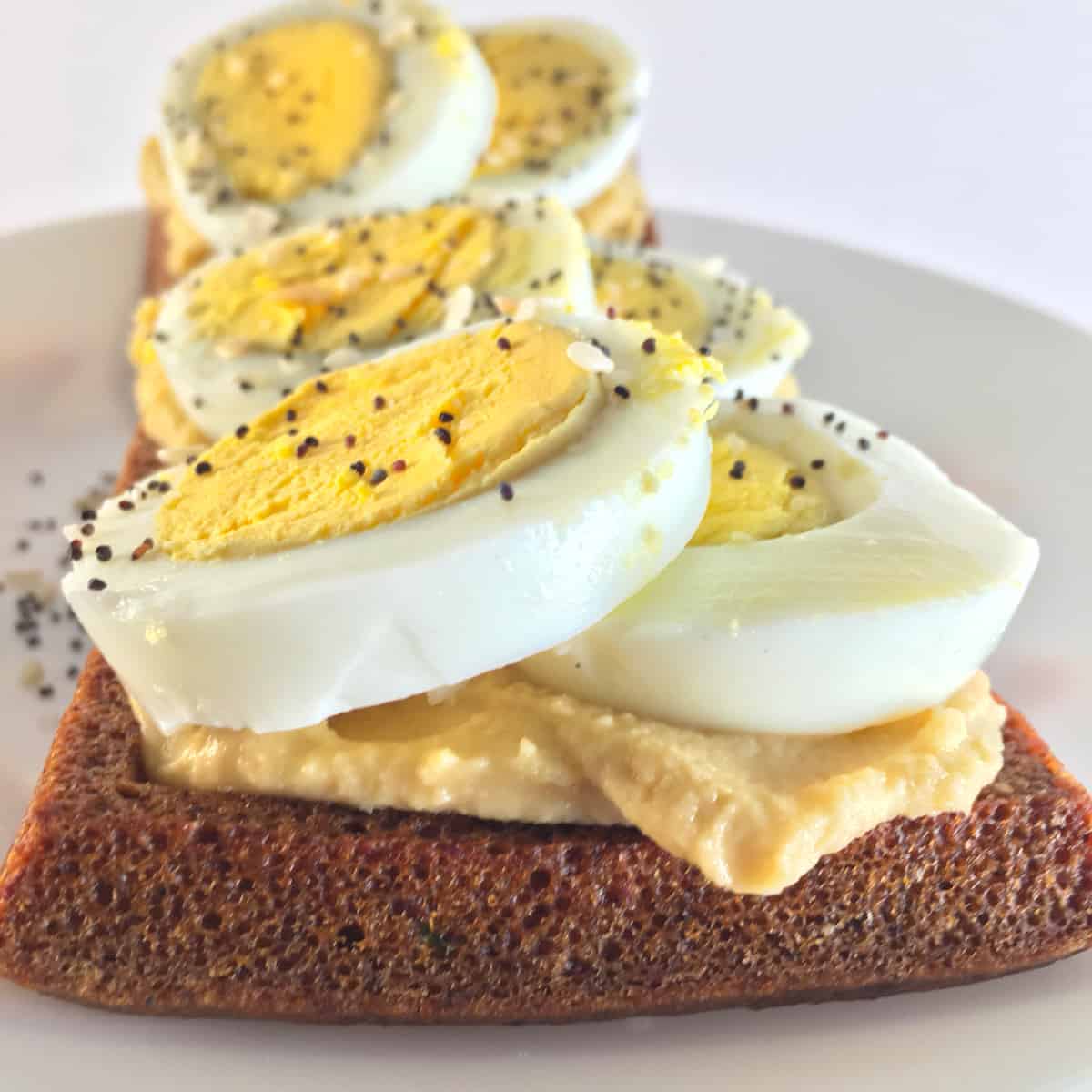 Need a few more ideas for waffle toppings? You could make air fryer chicken and waffles, or try one (or more!) of these:
Granola
Lemon curd
Peanut butter and jelly
Apple butter
Hazelnut spread
Ham and cheese
FAQs
Can you make frozen Belgian waffles in air fryer?
Absolutely! This air fryer frozen waffle recipe should work for your favorite frozen Belgian waffles, like the ones from Trader Joe's. If the waffles are really big and thick, you may need to add 1-2 minutes to the air fryer time.
Can you make frozen potato waffles in air fryer?
You sure can! Place the frozen potato waffles on the top rack of the air fryer oven. Air fry at 350F (177C) for 5-8 minutes, flipping halfway through cooking time. The exact cook time will depend on the size of the waffles you're using.
Can you microwave Eggo waffles?
Yes, you can microwave Eggos, but they don't get crispy edges like air fryer Eggos do. You can microwave an Eggo in about a minute on high, flipping halfway through cooking time.
Does an air fryer waffle mold exist?
Yes! Instead of a waffle iron for making waffles from scratch, you'll need a silicone waffle mould. Make sure to get one that's small enough to fit your air fryer. Here are some small waffle molds for air fryers.
👩🏻‍🍳 Other Air Fryer Breakfast Ideas
Want more recipe ideas for breakfast foods in the air fryer? Here you go:
📖 Recipe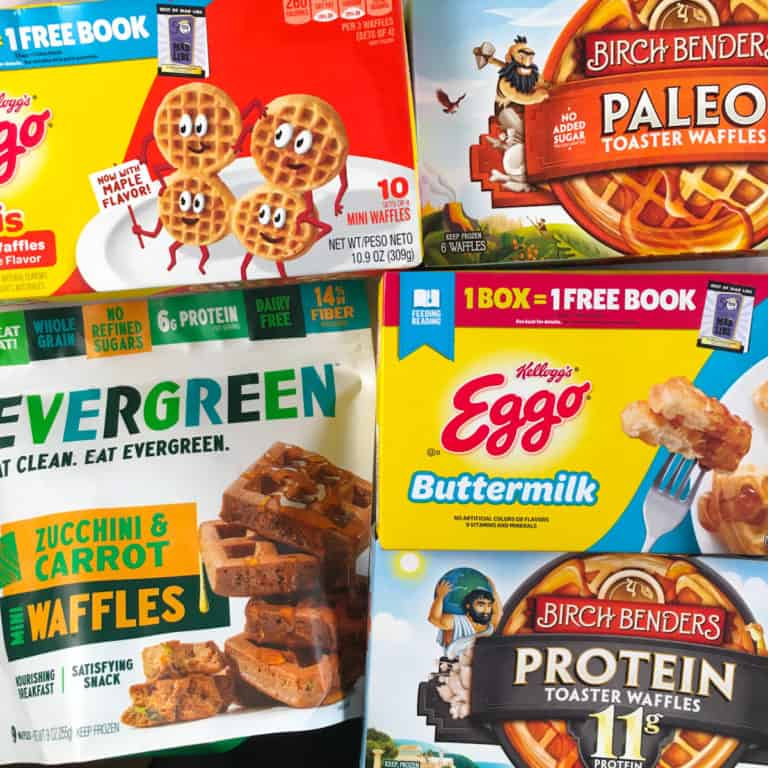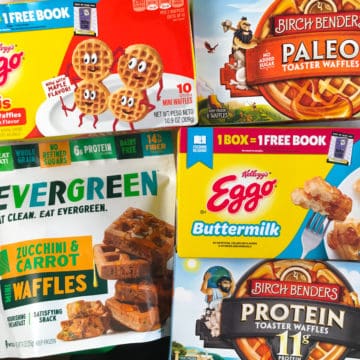 Frozen Waffles in Air Fryer
Frozen Waffles in Air Fryer (Eggo, Protein Waffles, Mini Waffles)
Ingredients
4

Eggo Frozen Waffles

OR

16

Eggo Mini Frozen Waffles

(4 sheets) OR

4

Protein Frozen Waffles

OR

4

Keto Frozen Waffles

OR

4

Gluten-Free Frozen Waffles
Don't be a stranger! 😊
If you love this recipe, please come back and leave a rating. This helps readers and I'd love to hear from you. Thank you ❤️
Instructions
Put waffles in a single layer on your air fryer tray. (You may have to cook them in multiple batches if your air fryer basket is small.) If you have an air fryer oven, put the waffles in the top rack position.

Air fry frozen waffles at 350°F (177°C) for 3 minutes. Flip the waffles and air fry 2 more minutes (1 minute for mini waffles). Be careful not to overcook- they'll become rock hard!

Top waffles with your favorite waffle toppings (see suggestions in article above). Enjoy!
Notes
💭 Expert Tips from a Dietitian
This is a level 3 recipe (weight maintenance and active lifestyles).
While most frozen waffles count as
ultra-processed food
, there are some better options out there. That said, most frozen waffles are packed with white flour and contain a significant amount of added sugar.
Look for a waffle made with whole grains or other whole food options, such as almond flour or tigernut flour. I also recommend choosing a frozen waffle with no (or minimal) added sugar.
Flavored waffles, such as blueberry waffles, often have more added sugar than plain waffles. To cut back on sugar, choose plain waffles, and then add healthy toppings like fruit and yogurt at home.
The protein waffles are great if you're looking to increase the protein in your breakfast. They may also be a little more filling than the waffles that are lower in protein.
For a filling meal that helps with healthy weight maintenance, I don't recommend making a big waffle stack with butter and maple syrup. Instead, eat fewer frozen waffles, but add MORE healthful toppings. Choose foods like berries, Greek yogurt, and cottage cheese to add great flavor plus additional fiber and/or protein.
You can find a frozen waffle that will meet your needs, pretty much no matter what you're looking for. There are gluten-free, low-carb, plant based, vegan, and Paleo waffles available, plus more.
I wouldn't consider frozen waffles the best choice if you have a weight loss goal. (This is true regardless of your dietary preferences.) However, there are ways to fit them in while maintaining the overall calorie deficit that's needed to lose weight. In the case of waffles, I'd make sure to add enough protein and fruit (or non-starchy veggies) to your meal help keep you full.
Nutrition information
is for 2
Kellogg's Eggo Buttermilk Waffles
with no toppings. The nutrition information for your air fried waffles depends on the type of waffle you use and the toppings.
nutrition info disclaimer

All recipes on this website may or may not be appropriate for you, depending on your medical needs and personal preferences. Consult with a registered dietitian or your physician if you need help determining the dietary pattern that may be best for you.

The nutrition information is an estimate provided as a courtesy. It will differ depending on the specific brands and ingredients that you use. Calorie information on food labels may be inaccurate, so please don't sweat the numbers too much.
Nutrition
Calories:
180
kcal
Carbohydrates:
28
g
Protein:
4
g
Fat:
6
g
Saturated Fat:
1.5
g
Sodium:
370
mg
Potassium:
60
mg
Vitamin A:
20
% DV
Calcium:
20
% DV
Iron:
20
% DV
Join our community! Subscribe for all of the latest and greatest recipes, and follow me on Facebook, Pinterest, Instagram, and YouTube!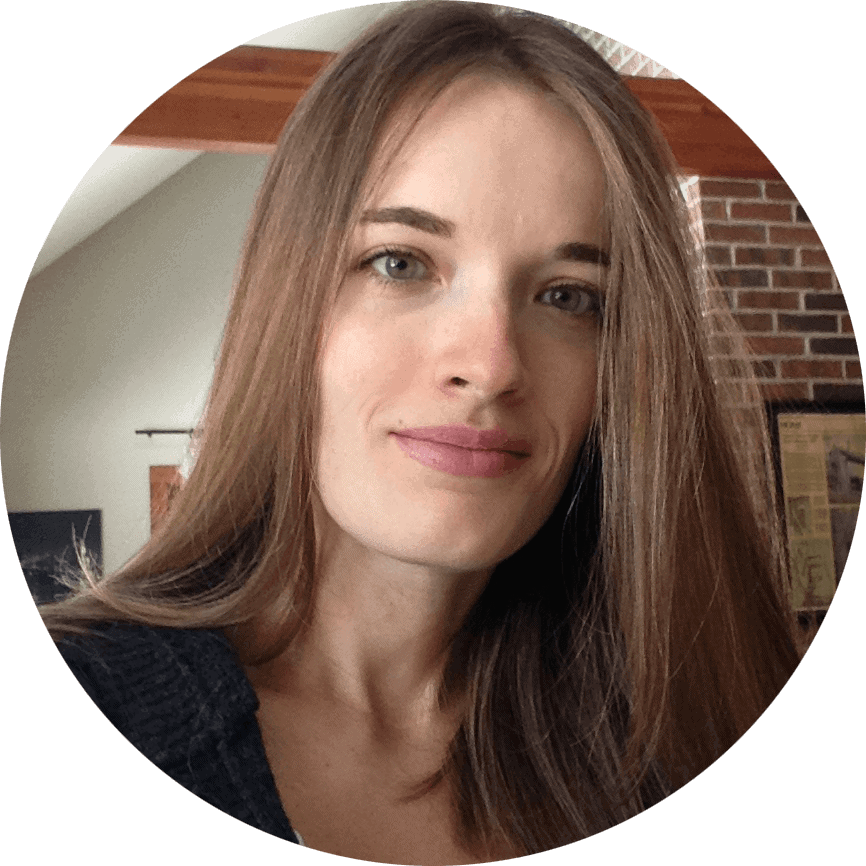 Hello! I'm Summer, a registered dietitian and home chef who loves to cook, eat, and create high quality content for you! Every recipe on this site has been tested by me to help ensure your success in the kitchen. All eaters are welcome here 🙂