I'm featuring a recipe revamp today! This healthy baked oatmeal recipe was modified from one of my family's favorite recipes. I lightened it up and ditched the added sugar. Baked oatmeal tends to get a health halo because it is made with whole-grain oatmeal. However, many recipes for this breakfast item are packed with added sugar and added oils, similar to other baked goods.
Happy Oatmeal Month! January seems like the perfect month to celebrate this classic breakfast food. I know I love waking up to a warm breakfast on cold mornings.
Many folks have New Year's resolutions to adopt a healthier diet and to lose weight. One change they might make is switching up sugary breakfast cereals, muffins, and breakfast pastries for oatmeal.
Unfortunately, it's all too easy to create an oatmeal bowl that is packed with added sugar and high in calories. The result is a bowl of oats that is not much better nutritionally than your typical cold breakfast cereal. That is where my healthy baked oatmeal recipe comes in.
I don't typically share recipes for baked goods on my site. For one, they tend to make healthy weight management more of a challenge. Second, there are plenty of chefs and bakers out there who are already doing a fabulous job showcasing delicious treat recipes.
What I can do though, is show you how I'd modify one of these fantastic chef-created dishes. The changes I'm going to suggest will make baked oatmeal a better choice for an everyday meal.
Here's how I make a healthy baked oatmeal recipe
I took one of my favorite oatmeal recipes, Amish-style baked oatmeal with apples, raisins, and walnuts from Once Upon a Chef, and put my dietitian's spin on it. Don't worry, though; it's still delicious!
The original recipe is truly amazing, but like most baked oatmeal recipes, I would not recommend it as a regular part of the diet. One of the biggest reasons for this is the added sugar content.
The recipe calls for ¾-cup of brown sugar or two tablespoons of sugar per serving. That's quite a lot!
The American Heart Association recommends that women and children limit their added sugar intake to two tablespoons (six teaspoons) daily. For men, the limit is three tablespoons (nine teaspoons). In other words, for some people, the original baked oatmeal recipe contains the recommended limit for added sugar for an entire day. Yikes!
Instead of brown sugar, I used mashed ripe bananas as a sweetener. This move cuts the added sugar down to zero, helps to increase your fruit intake, and provides more nutrients. I'll talk more about the nutrient differences between my recipe and the original in the next section.
This swap made the dish taste like a cross between the original apple baked oatmeal and banana bread. (Yum!) If you don't want the banana flavor, you could experiment with applesauce or pureed dates in place of the bananas.
Aside from the sugar swap, I also cut the amount of walnuts and butter used in half. This was an easy way to lighten up the dish. Since I did not completely cut out these ingredients, I did not sacrifice flavor.
So, let's see the calorie breakdown between my recipe and the original
The information in the table below was taken from the packaging of the foods I use. These are estimates that may differ a bit from the nutrient breakdowns in Cronometer. However, this will give you a general idea of how the swaps I made contributed to lightening this dish.
With just a few small tweaks, I was able to cut 137 calories (per serving) from the original recipe. I also cut 24 grams of added sugar (per serving) from the original recipe.
You may have noticed that most of the calorie reduction came from using less butter and walnuts. While carbs and protein contain four calories per gram, fat contains nine calories per gram. Reducing the sources of fat in a recipe is a simple way to cut calories while maintaining volume.
That said, I do not want people to be afraid of cooking with some fat. As I've said many times, some fat is essential in the diet.
However, the amount of added sugar and added fat in the original recipe makes it as hyper-palatable as other baked goods. Another issue affecting satiety is that many baked goods are lacking in protein.
Reducing the added sugars in recipes and getting most of your fats from whole food sources instead of baked goods is a smart move. By whole food sources, I mean items such as meats, dairy, eggs, fish, avocado, olives, nuts, and seeds. Foods that are more fat than protein (nuts, seeds, avocado, etc.) are high in calories and have small portion sizes.
Using full-fat dairy and other whole foods does feel more satisfying for some compared to low-fat versions. Even though it seems counterintuitive, choosing the full-fat version may help these people to eat less and maintain a healthy weight.
Bananas are nutritionally superior to brown sugar
You may have noticed that swapping the brown sugar for bananas only saves a measly 37 calories per serving. Why bother?
Eating at an appropriate calorie level to maintain a healthy weight is not the only important thing in nutrition! Far from it.
It is also critical to eat nutrient-dense foods so that we get adequate amounts of essential vitamins and minerals. We need these micronutrients not only for basic life functions but also to thrive.
Here is the micronutrient profile of three medium bananas, the amount used in this recipe. Bananas also provide other beneficial components not listed here, such as fiber.
And below, we have the far less impressive micronutrient profile of brown sugar. The brown sugar is also lacking fiber and phytonutrients present in the bananas.
Keep in mind that I am showing you the nutrient amounts present from these ingredients in the entire recipe. A person having one serving of this healthy baked oatmeal recipe is getting ⅙ of what is listed above.
You're getting a decent amount of vitamin B6, vitamin C, and manganese from the bananas with each serving of this recipe. The brown sugar is mostly empty calories.
In general, replacing white and brown sugar with pureed fruit is going to be a good move. It is my go-to swap when I want to cut the added sugar in a recipe. It is also a great way to use up bananas that became over-ripe before you got to use them.
IMVHO, slightly green bananas are the ones that taste the best. Fully ripe bananas are a bit too sweet and mushy for my taste. Since I don't like to waste food, I love having recipes such as this one to use them up.
Another tip to boost the nutritional profile of your baked oatmeal breakfast
The original Amish baked oatmeal recipe is listed as having 10 grams of protein per serving. I calculated my version to have 12.5 grams. This is not enough protein for an entrée!
I don't get too hung up on macros, but I do try to make sure each of my meals contains a significant amount of protein. The RDA for protein for adult males is 56 grams per day. For adult females who are not pregnant or lactating, it is 46 grams per day.
These numbers should be thought of as bare minimum intakes; many can potentially benefit from eating more protein. One of the reasons for this is protein's satiating effects, which may help to promote healthy weight management.
Aiming for at least 25-30 grams of protein per meal may help you to include sufficient protein in your diet more easily. Most of the meals I post on this site do meet this target, even recipes that appear to contain little protein.
My overnight oats recipes, for example, usually contain plain Greek yogurt to boost the protein content. For instance, here is the protein per serving for a few of my recent oatmeal recipes (all calculations are estimates):
When serving this healthy baked oatmeal recipe, I highly recommend boosting the protein. You can accomplish this by adding plain Greek yogurt or a few hard-boiled eggs on the side. This should help to provide a more satisfying meal that holds you over until lunch.
Bananas and oatmeal are not essential components of a healthy diet (no single food is!)
There's one more topic I wanted to cover before getting to the recipe. If you spend limited time on social media, you may not be aware of the diet wars that are going on.
Some folks having success with a low-carb diet pattern are outraged that they were not offered this strategy that ultimately helped them to improve their health. Instead of suggesting a low-carb pattern, health professionals often recommend that people start their day with whole grain cereals and fruit. In some cases, folks struggled for years to follow this advice, unable to manage their glycemia or reach a healthier weight.
After finding low-carb and doing well with it, these people are unhappy that their physician or dietitian never gave them the option. Specifically, high-carb cereals and fruit (typical major health organization breakfast recommendations) have come under fire.
So, here's the deal. Some people, like myself, do lose and maintain a large amount of weight without completely giving up high-carb foods. Others find they can manage their weight and blood sugar better when they eliminate these foods.
I am most concerned with improving the health of individuals, not loyalty to a particular diet tribe. If you are doing well with a low-carb diet, oatmeal dishes are probably not going to be your best option. (P.S. I have plenty of low-carb recipes on this site as well if that is what you are looking for.)
Bananas and oatmeal don't contain any essential nutrients that cannot be obtained from other foods. You don't have to eat bananas and oatmeal if you do not want to.
Some of us want to include these foods, and that is OK too. There is no one right way to eat, though some ways of eating may be more health-promoting than others.
And now for the disclaimer...
All recipes on this website may or may not be appropriate for you, depending on your medical needs and personal preferences. Consult with a registered dietitian or your physician if you need help determining the dietary pattern that may be best for you.
The calorie information is an estimate provided as a courtesy. It will differ depending on the specific brands and ingredients that you use. Calorie information on food labels may be wildly inaccurate, so please don't sweat the numbers too much.
For more information on how the three recipe levels may help with a weight management goal, refer to this post. Let's get cooking!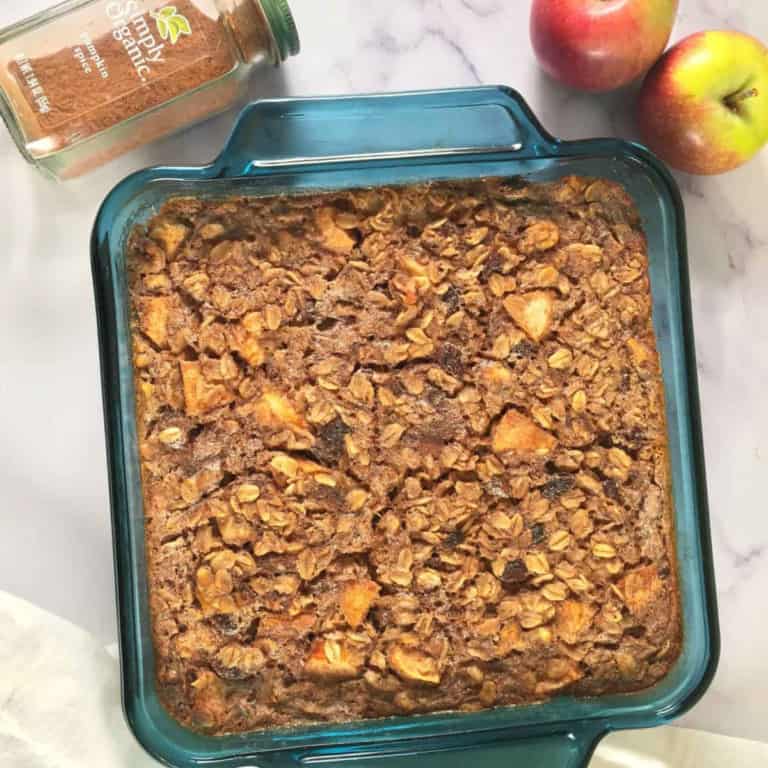 Healthy Baked Oatmeal Recipe – No Added Sugar!
I'm featuring a recipe revamp today! This healthy baked oatmeal recipe was modified from one of my family's favorite recipes. No added sugar here!



Ingredients
2

cups

rolled oatmeal, dry

3

medium

ripe bananas, mashed

(about 1½ cups)

½

cup

walnuts, chopped

½

cup

raisins

1

teaspoon

baking powder

1

tablespoon

pumpkin pie spice

2

eggs

2

cups

milk, 2%

1

teaspoon

vanilla

2

tablespoons

butter, melted

2

apples, peeled and chopped

(about 1 cup)

cooking oil spray of choice
Instructions
Preheat the oven to 325°F.

Mist an 8"x8" glass baking dish with cooking oil spray.

Mix all of the ingredients together until well incorporated. Pour into the baking dish.

Put the dish into the oven and bake for 45 minutes. Leftovers can be reheated or served at room temperature.
Notes
This is a level 3 recipe (weight maintenance and active lifestyles). This recipe gets a bump to level 3 because it contains dried fruit in the form of raisins.
Additionally, I would not consider this dish a complete meal. I highly recommend adding more protein in the form of Greek yogurt or hard-boiled eggs to create a more filling meal.
Are you wondering why I don't just add more nuts to this dish for protein? Nuts count more as a healthy fat than a protein. Trying to get enough protein from nuts bumps the calories through the roof and is not great for healthy weight management.
Need an example? For 15 grams of protein, you'd need to consume about 90 calories of non-fat Greek yogurt or about 600 calories of walnuts!
Nutrition
What are some of your favorite ways to use up ripe bananas? As always, I'd love it if you'd leave a rating for this healthy baked oatmeal recipe. Enjoy!