You might have wondered whether carrot is a fruit or vegetable. The answer is carrots are a vegetable by both culinary and botanical definitions. All types of carrots, including bright orange carrots, purple carrots, red carrots, yellow carrots, and baby carrots, are root vegetables. Unlike potatoes (another root vegetable), all parts of the carrot plant are edible. This includes the carrot roots, stems, and leaves.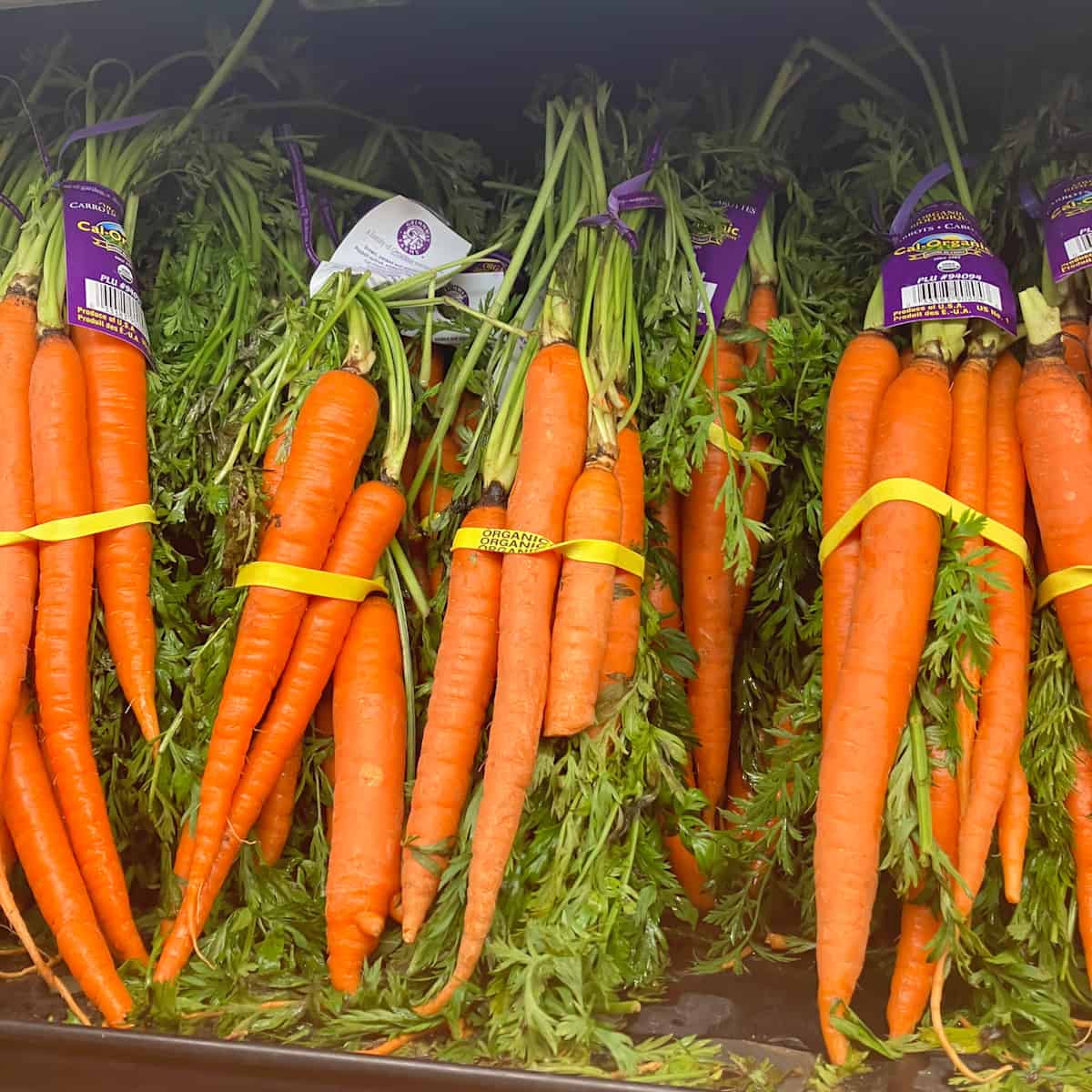 Is carrot a fruit- yes or no? Don't let the sweet flavor fool you- carrots are a vegetable. Today you'll learn the differences between fruit vs vegetable and so much more!
Jump to:
➕ Is Carrot a Fruit or a Vegetable?
Carrots are vegetables. According to the University of California Cooperative Extension, a vegetable is the edible part of an herbaceous plant, i.e., a plant with a soft stem. This is in contrast with fruits and nuts, which are produced on plants with woody stems (such as trees).
This definition ends up placing certain foods that are botanically classified as fruits (e.g., tomatoes) in the veggie category. Looking at raw carrots with the greens attached, you can see they have soft stems. Thus, the carrot root can be categorized as a vegetable.
If we're talking about the botanical definition of a vegetable, botanists often categorize veggies based on the part of the plant they come from. For example, lettuce, kale, and spinach are leaves. Potatoes are tubers, carrots are roots, and broccoli florets are flowers.
🤔 What's the Difference Between Fruit and Vegetable?
What's the difference between a fruit and a vegetable? There are a few different ways you can distinguish whether something is fruit or vegetable. The simplest way is to see whether the item is listed on the MyPlate cup of fruit table or cup of vegetable table.
This of course doesn't actually tell you whats the difference between fruits and vegetables. It just tells you where the plant fits in the culinary world.
In short, a vegetable is an edible food from a plant that's not a fruit, nut, or seed. According to the USDA, a nut is a dry, single-seeded fruit with high oil content. Many know that a seed is simply the embryonic stage of a plant life cycle.
What is a fruit?
A fruit is the mature ovary in the flowering plant. This definition sometimes extends to include all parts of the connected flower (source).
When I was little, I learned that the fruit of the plant is the part that contains the seeds. (Think melons, strawberries, apples, etc.) However, there's also a process called parthenocarpy where the fruit matures without fertilization. This results in seedless fruits, including some cultivated varieties of banana, cucumber, and oranges.
Seedless watermelons and seedless grapes are often the result of stenospermocarpy (source). These plants are pollinated and fertilized but produce immature seeds that are aborted. As you can see, classifying something as a fruit just because it contains seeds is an oversimplification.
🥕 Why is Carrot a Vegetable and Not a Fruit?
Our answer to whether carrot is a fruit or a vegetable isn't complete without talking about how carrots grow. This will give you a better understanding of why the classification of a carrot is a vegetable. Carrots take two years to finish their life cycle (i.e., they are biennials).
Germination: The seed of the carrot is planted in the ground. With the right temperature and moisture conditions, the seed coat swells with water and breaks open. A tiny root is released into the ground, and the plant also starts growing towards the light.
Cotyledons: The carrot plant develops cotyledons ("seed leaves") and then it's first true leaves, which are fern-like. Underground, the carrot taproot thickens in diameter and lengthens.
Photosynthesis: As the carrot plant leaves grow, the plant moves to relying on photosynthesis for energy instead of seed reserves. The carrot root now has the energy it needs to grow to full size. It is ready to pick (and eat!) by the end of this stage.
Dormancy: If not picked, the carrot leaves will die down in winter months. The plant is not dead, however.
Flowering: In the spring, the carrot plant will flower when the temperature and moisture conditions are right. ("Bolting" is when a plant flowers prematurely, often making the plant inedible.) The flowers are lacy, bearing a resemblance to Daucus carota (Queen Anne's lace). These flowers are where the carrot seeds form, so the life cycle can begin again.
Looking at the life cycle of the carrot, it's easy to see whether a carrot is fruit or vegetable. It's clearly an herbaceous plant (you can even use carrot leaves like herbs in cooking). The part of the carrot most eat is a root, not fruit, nut, or seed.
🍅 Vegetables that are Fruits
Many vegetables on the MyPlate are botanically the fruit of the plant. Here are some examples of veggies that are fruits:
Cucumber
Eggplant
Tomato
Pumpkin
Zucchini
Peppers
💪 Benefits of Carrots
Here is the nutrition information for 3oz (85g) of carrots (per Cronometer):
Calories: 35
Total Carbohydrates: 8g
Fiber: 2g
Net Carbs: 6g
Sugar: 0.47g
Total Fat: 0g
Saturated Fat: 0g
Protein: 1g
Sodium: 59mg
Cholesterol: 0mg
Vitamin A: 47% DV
Beta carotene: 7046µg
Lutein + Zeaxanthin: 218µg
Lycopene: 0.85µg
Vitamin C: 8% DV
Vitamin K: 9% DV
Calcium: 3% DV
Iron: 1% DV
Potassium: 272mg
Carrots are naturally vegan, vegetarian, low carb, low calorie, low sodium, and gluten free. Their health benefits extend beyond their essential vitamins and minerals. For example, carrots contain beta carotene, a non-essential precursor to vitamin A that supports eye health.
The amount of the different phytochemicals in carrots depends on the color of the carrot. For example, some purple carrot cultivars are especially rich in anthocyanins (source).
Unfortunately, carrots won't improve your night vision (unless perhaps they're being used as part of a regimen to correct vitamin A deficiency). That said, carrots still provide a lot nutritionally, including some vitamin C (though not as much as a lemon).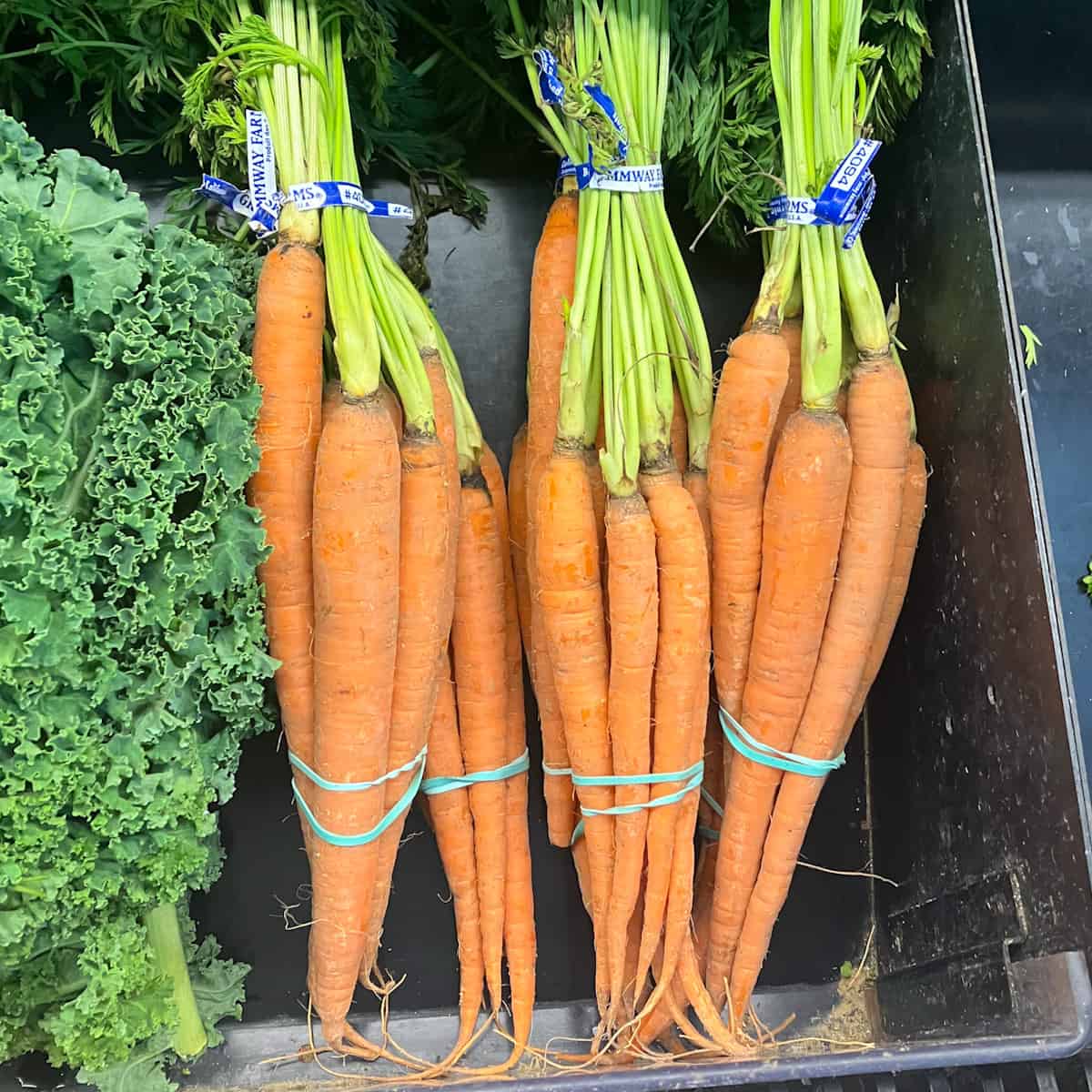 FAQs
Are carrots on the dirty dozen list?
Carrots are not on the EWG's dirty dozen list of produce with the highest pesticide residues (source). That said, dietitians generally advise to buy the produce you can afford, whether on this list or not. Both conventional and organic carrots are nutritious additions to the diet.
Is carrot good for diabetes?
Carrots contain 8 grams of total carbs and 6 grams of net carbs per 3 ounces of raw carrot. They are easy to fit into a diabetes diet, whether you're using carbohydrate exchanges or a low carb diet.
Are carrots just sugar?
No, carrots are not "just sugar." Though they taste sweet, carrots contain less than 1 gram of sugar per 3 ounce serving. Carrots are an excellent source of vitamin A from carotenoids, and the antioxidant vitamin C.
Is carrot good for you to lose weight?
Carrots are a non-starchy vegetable, in contrast to starchy vegetables like corn or peas. They are an easy fit in low calorie and low carb weight loss diets. They contain few calories for a large volume of food, and provide fluid and fiber to help you feel full.
👩🏻‍🍳 Carrot Recipes
Here are some of my favorite ways to use carrots:
You can cut carrots into noodles and fun shapes, as I've done in the carrot recipe below!
📖 Recipe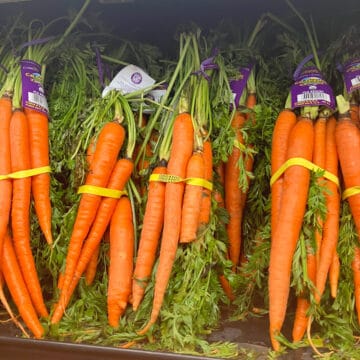 Are Carrots Fruits or Vegetables (Is Carrot a Fruit or Vegetable?)
You might have wondered is carrots a fruit or vegetable. Carrots are a vegetable by both culinary and botanical definitions. Learn what to do with carrots here!
Ingredients
5

ounces

carrots

(142 grams; 2-3 carrots)

1

vegetable lover 🙂
Don't be a stranger! 😊
If you love this recipe, please come back and leave a rating. This helps readers and I'd love to hear from you. Thank you ❤️
Instructions
Cut a total of 12-16 ¼-inch (0.6 cm) thick carrot coins off the thick ends of the carrots. Slice two small notches from each carrot coin to make the carrot "pumpkins."

Using a vegetable spiralizer, spiralize the long, unused pieces of carrot into carrot noodles. Thinly slice the pieces that don't fit in the spiralizer by hand.

Use your carrots to add more vegetables to recipes, such as the one in the notes!
Notes
Carrot Recipe
6 tablespoons

creamy peanut butter

2 tablespoons

poppy seed butter

3 tablespoons

reduced-sodium soy sauce

1 tablespoon

fish sauce

1 tablespoon

toasted sesame oil

1 tablespoon

maple syrup

2 cloves

garlic, minced

8 ounces

spaghetti

(227 grams dry weight; I use low carb

Explore Cuisine Black Bean Spaghetti

)

5 ounces

carrots

(142 grams; 2-3 carrots)

1 lb.

raw shrimp, peeled, tail-off

(454 grams)

1

scallion, sliced

¼ cup

raw pepitas (pumpkin seeds)
What to do with Carrots
Set a large pot of water to boil over medium-high heat on the stovetop.

Make the sauce by whisking together the peanut butter, poppy seed butter, soy sauce, fish sauce, sesame oil, maple syrup, and minced garlic. Set aside.

Make 12-16 carrot pumpkins and use the rest of the carrots for carrot noodles, as described above.

When the water in the pot starts to boil, add the spaghetti and turn the heat down to medium. Cook the pasta according to the directions on the box. Add the shrimp during the last 2-3 minutes of cooking time.

Drain the shrimp and spaghetti in a colander. Return it to the pot (off the heat), and stir in the carrot spirals and the sauce.

Divide between serving bowls. Garnish with the pumpkin-shaped carrots, sliced scallions, and pumpkin seeds. Enjoy!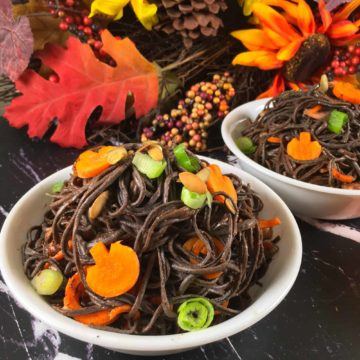 Nutrition information is for 3 ounces (85 grams) of raw carrot.
nutrition info disclaimer

All recipes on this website may or may not be appropriate for you, depending on your medical needs and personal preferences. Consult with a registered dietitian or your physician if you need help determining the dietary pattern that may be best for you.

The nutrition information is an estimate provided as a courtesy. It will differ depending on the specific brands and ingredients that you use. Calorie information on food labels may be inaccurate, so please don't sweat the numbers too much.
Nutrition
Calories:
35
kcal
Carbohydrates:
8
g
Protein:
1
g
Sodium:
59
mg
Potassium:
272
mg
Fiber:
2
g
Vitamin A:
47
% DV
Vitamin C:
8
% DV
Calcium:
3
% DV
Iron:
1
% DV
Other recipes you may enjoy:
Join our community! Subscribe for all of the latest and greatest recipes, and follow me on Facebook, Pinterest, Instagram, and YouTube!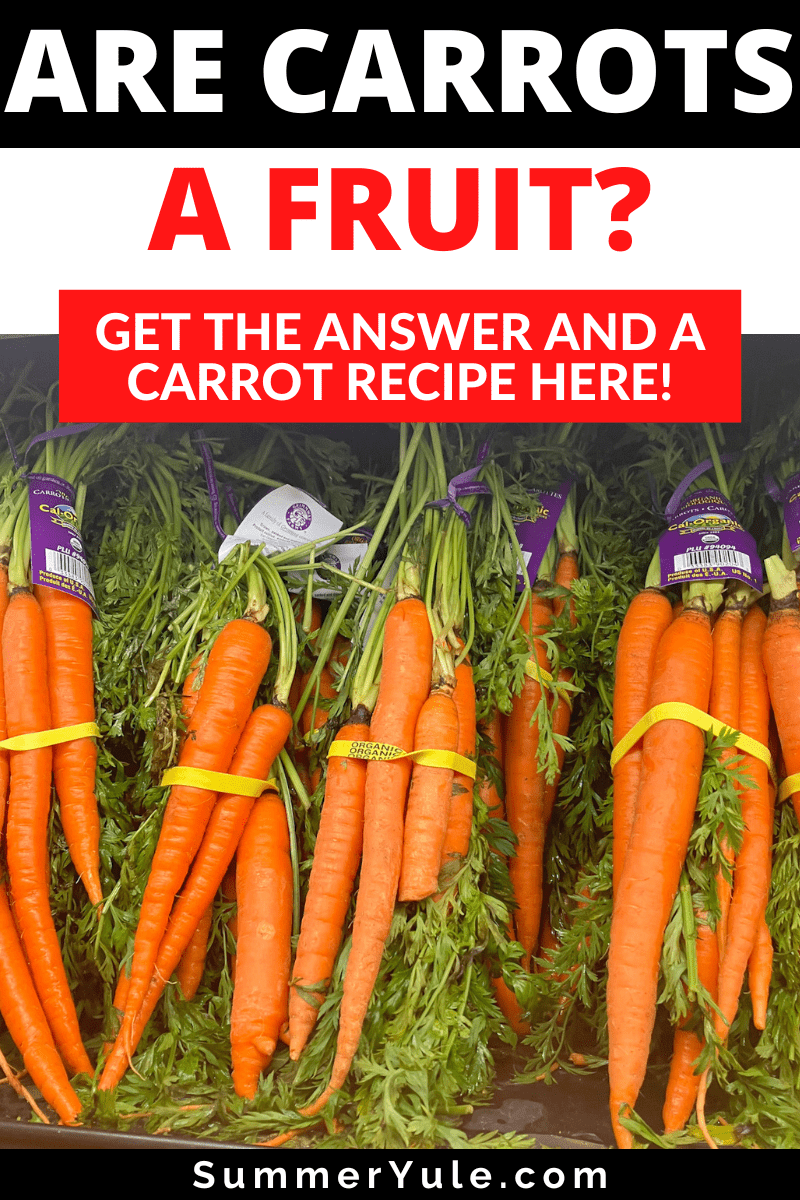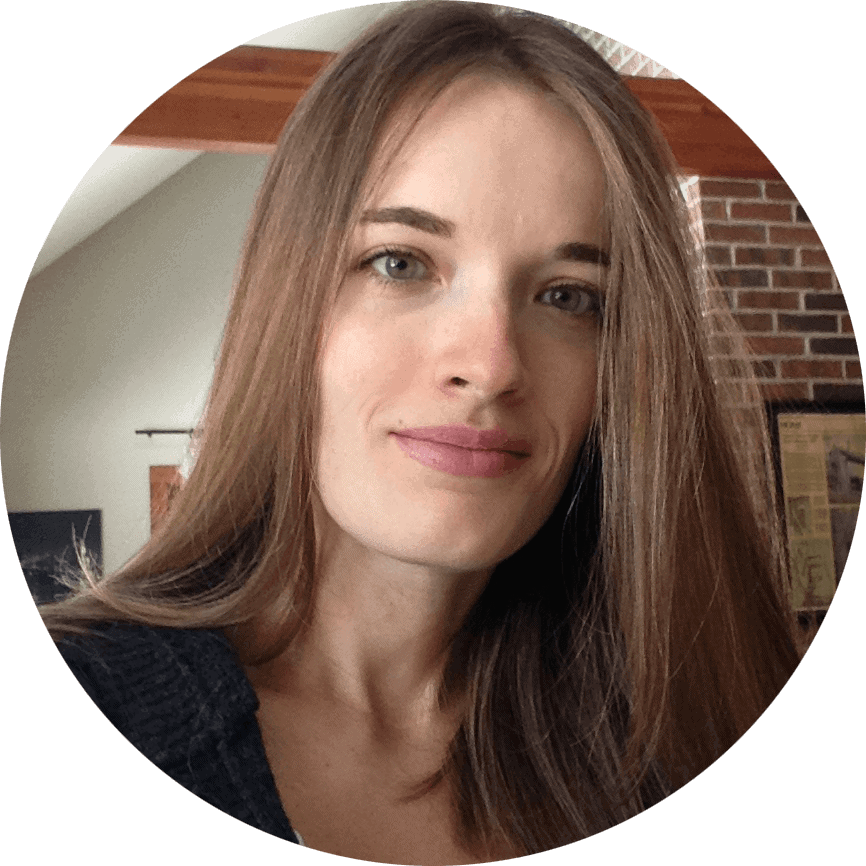 Hello! I'm Summer, a registered dietitian and home chef who loves to cook, eat, and create high quality content for you! Every recipe on this site has been tested by me to help ensure your success in the kitchen. All eaters are welcome here 🙂