EveryPlate vs Hello Fresh – are they the same? Learn the difference between Hello Fresh and Every Plate in this 2023 review and comparison. When comparing Every Plate vs Hello Fresh, these meal kit delivery services might appear similar on the surface. However, Everyplate offers one of the most affordable meal kits around (it's SO cheap!), while Hello Fresh offers more variety. Get the scoop on which meal kit delivery service is best for you, and get my discount codes!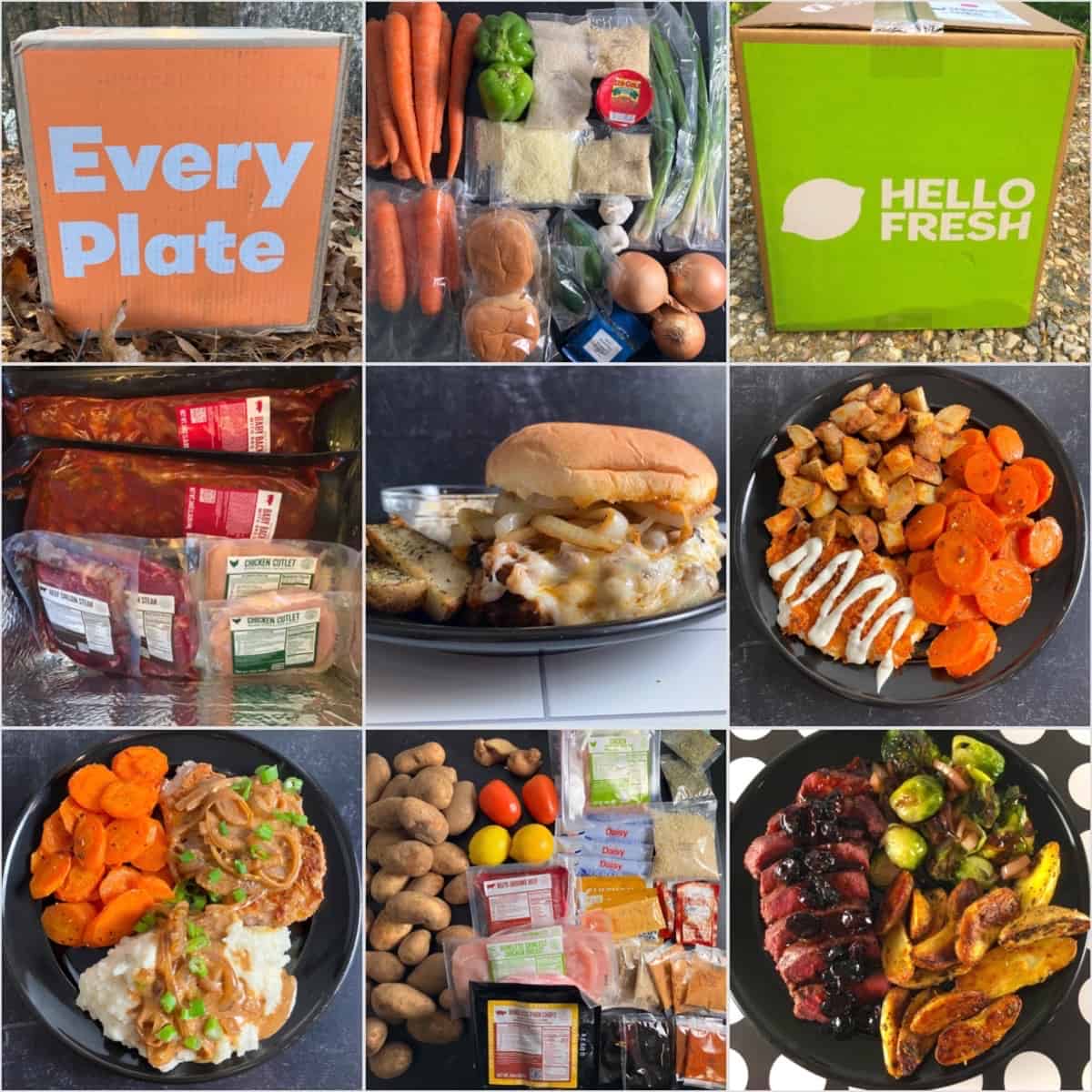 Jump to:
EveryPlate vs Hello Fresh
What's the difference between Every Plate and Hello Fresh? HelloFresh and Everyplate are meal kits boxes that are sent once per week (or less, if desired). Inside the box you'll find recipe cards, measured ingredients, and nutrition information.
Here is our quick winner in each category...
| Category | Best Meal Kit (Winner) |
| --- | --- |
| 💰 Price | EveryPlate |
| 🥘 Variety of Meals | Hello Fresh |
| 📦 Uses Least Packaging | EveryPlate |
| ⏳ Preparation Time | EveryPlate |
| 🚀 Easy to Place Order | Tie |
| ❌ Easy to Cancel | Tie |
| 💁 Customer Service | Tie |
HelloFresh was named America's #1 Meal Kit by USA Today. They are the world's largest meal kit company. EveryPlate is America's best value meal kit service. (They really do deliver on that!)
Join our community! Subscribe for all of the latest and greatest recipes, and follow me on Facebook, Pinterest, Instagram, and YouTube!
What are some pros and cons about EveryPlate?
+ Everyplate meals are cheaper per serving than Hello Fresh, but portion size is similar.
+ Everyplate uses less packaging than Hello Fresh. (Though Hello Fresh does value sustainability and the ability to recycle their packaging.)
+ Recipes from Every Plate are simple, and may take a little less time than Hello Fresh.
+ Saves time menu planning and going to the grocery store.
- Every Plate has fewer menu options and add ons than HelloFresh.
- Neither EveryPlate nor Hello Fresh offers prepared meals; you need to cook with these meal kits.
- EveryPlate expects you to have more ingredients on hand (mayo, ketchup, etc.) than Hello Fresh.
Differences between Hello Fresh and EveryPlate (2023)
HelloFresh
EveryPlate
Menu Options
Meat & Veggie,
Veggie,
Family Friendly,
Fit & Wholesome,
Quick & Easy,
Pescatarian
Meat & Veggie,
Veggie,
Family Faves,
Quick & Easy,
Nutrish & Delish
Servings per meal
2 or 4
2 or 4
Recipes per week
2,3,4,5,6
3,4,5,6
Price per serving
$8.99-12.49
$4.99-7.49
Flat shipping (per week)
$9.99
$9.99
USDA Certified Organic?
No
No
Meal choices per week
Over 50 weekly menus and market items
25 weekly meal options, plus up to 22 optional add ons
Trustpilot U.S. Reviews
3.8 / 5.0; 41,713 reviews
4.1 / 5.0; 19,931 reviews
Delivery availability
Lower 48 United States*,
United Kingdom, Germany,
Austria, Switzerland,
the Netherlands, Belgium,
Luxembourg, Sweden, France,
Australia, New Zealand, Canada, Denmark,
Norway, Japan, Ireland, Italy, Spain
Most of the continental United States, Australia
Cancel anytime?
Yes
Yes
*No delivery to Alaska or Hawaii
Both plans do expect you to have basic kitchen equipment like pots, pans, mixing bowls, and a baking sheet. A meat thermometer is also important (unless you're on the veggie plans).
Hello Fresh expects you to have butter (or margarine), cooking oil, sugar, salt, and pepper. You need all of these for Everyplate kits, plus possibly flour, milk, eggs, ketchup, mayo, and your favorite hot sauce.
Is there something better than HelloFresh?
What is the downside of HelloFresh? The main disadvantages of HelloFresh include the price, so EveryPlate wins out for bargain shoppers. Though HelloFresh can save you lots of time, it's less likely to save you money over shopping at the grocery store.
EveryPlate is unbelievably inexpensive, especially if you get a deal on the first few boxes. They are currently running a promo where you can get a box for $1.39 per meal! I don't think a promo like this is sustainable for long term business growth; grab this great deal while you can!
One more of the disadvantages of Hello Fresh is that they use a lot of packaging. Though listed as recyclable, ClimaCell packaging liners can't be recycled everywhere, so check with your local regulations.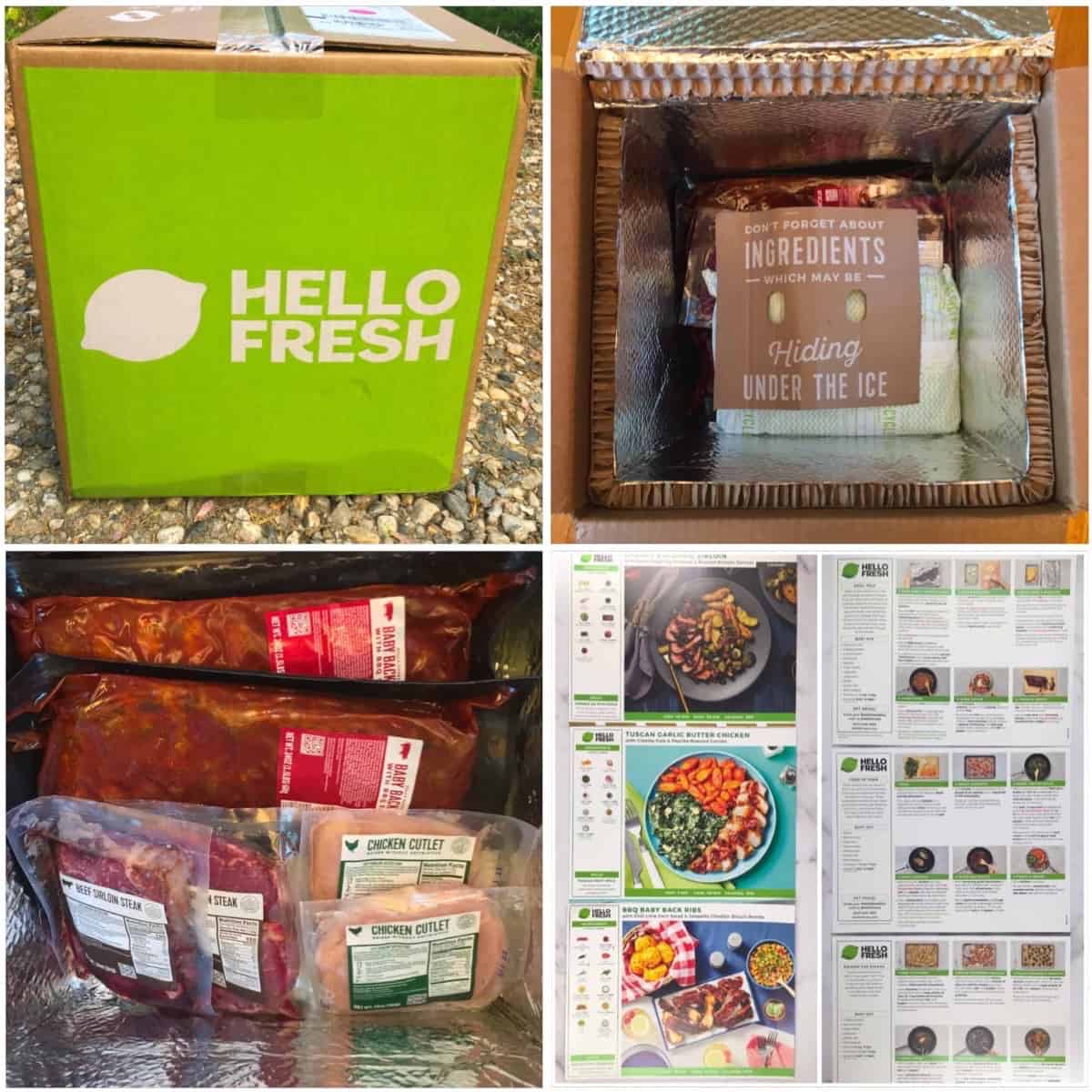 Is Everyplate and HelloFresh the same company?
Are Hello Fresh and Every Plate the same? You might be wondering does HelloFresh own Everyplate. Yes, Everyplate is owned by the Hello Fresh group of brands (source).
Every Plate vs Hello Fresh Prices
What's the cost of Hello Fresh vs Every Plate? Pricing for meal kit boxes depends on the number of meals and number of servings per week. Here's an Every Plate vs Hello Fresh price chart so you can compare:
2 People
Hello Fresh
2 People
EveryPlate
4 People
Hello Fresh
4 People
EveryPlate
2 meals per week

Total per week:
Total per month:
$12.49/serving
$9.99 shipping/wk
$59.95
$239.80
N/A
$9.79/serving
$9.99 shipping/wk
$88.31
$353.24
N/A
3 meals per week

Total per week:
Total per month:
$9.99/serving
$9.99 shipping/wk
$69.93
$279.72
$7.49/serving
$9.99 shipping/wk
$53.49
$219.72
$9.49/serving
$9.99 shipping/wk
$123.87
$495.48
$5.99/serving
$9.99 shipping/wk
$81.87
$327.48
4 meals per week

Total per week:
Total per month:
$9.79/serving
$9.99 shipping/wk
$88.31
$353.24
$6.99/serving
$9.99 shipping/wk
$65.91
$263.64
$9.29/serving
$9.99 shipping/wk
$158.63
$634.52
$5.49/serving
$9.99 shipping/wk
$97.83
$391.32
5 meals per week

Total per week:
Total per month:
$9.79/serving
$9.99 shipping/wk
$107.96
$431.84
$6.49/serving
$9.99 shipping/wk
$74.89
$299.56
$9.29/serving
$9.99 shipping/wk
$195.79
$783.16
$4.99/serving
$9.99 shipping/wk
$109.79
$439.16
6 meals per week

Total per week:
Total per month:
$9.79/serving
$9.99 shipping/wk
$137.46
$549.84
$5.99/serving
$9.99 shipping/wk
$81.87
$327.48
$8.99/serving
$9.99 shipping/wk
$225.75
$903.00
$4.99/serving
$9.99 shipping/wk
$129.75
$519.00
To sum it up, the cost per week for HelloFresh ranges from $59.95-225.75. The cost per month for HelloFresh ranges from $239.80-903.00.
However, you can grab my discount for HelloFresh if you want to try it out! Get it by clicking here:
Does HelloFresh offer military discount? Yes, Hellofresh has a Hero Discount Program for medical providers, hospital employees, military, and veterans. You need to verify with ID.me to activate it, and cannot combine this discount with other offers.
Both HelloFresh and EveryPlate offer a student discount if you can verify your student status with UNiDAYS.
How much does EveryPlate cost a month?
The cost per month for EveryPlate ranges from $219.72-519.00. The cost per week for EveryPlate ranges from $53.49-129.75. EveryPlate's cost is a lot cheaper than Hello Fresh.
Plus, you can save even more with my coupon code for EveryPlate if you want to try it out! Get it by clicking here:
It's an unbelievable deal!
Is HelloFresh cheaper than EveryPlate?
Everyplate brand is cheaper than HelloFresh by $2.50-4.30 per serving. Since you're buying 6-24 servings per box, the savings really add up!
Why is Everyplate so cheap?
Why is Everyplate cheaper than Hellofresh? EveryPlate costs less than other meal kits because they use minimal packaging and maximize the use of inexpensive foods. For example, many of my EveryPlate meals included carrots and potatoes, some of the cheapest veggies out there.
IMVHO, EveryPlate is a good value and the most cost effective meal box I've found. If you study how the least expensive meals are put together with EveryPlate, you may learn to be a better budget shopper. EveryPlate is the top answer to what meal boxes are cheaper than HelloFresh.
For instance, if you're using pricey meat, balance the budget with cheaper veggie sides. Alternatively, if you're making an inexpensive vegetarian bean dish, you can add more expensive veggies while keeping overall costs low. (And if you feel like expensive seafood, you can get it through EveryPlate for $4.99-6.99 more per serving for their premium or premium plus meals.)
EveryPlate vs Hellofresh Meal Plans
HelloFresh and EveryPlate offer very similar meal plans. Here are their offerings:
Meal Plan
EveryPlate
HelloFresh
Meat & Veggie
Choose from their full array of meat,
seafood, and veggie options.
The most popular HelloFresh plan.
Veggie
A variety of veg-forward meals for
everyone.
Vegetarian and plant-based meals.
Family Faves
Family-friendly, kid-approved dinners
crafted for spending more time
around the table.
Kid-tested recipes.
Quick & Easy
Their lineup of no-fuss meals— from
easy cleanup to ready in 30 minutes
or less— takes the stress out of
mealtime!
Perfect for busy weeknights.
Nutrish & Delish
Their newest nutritious recipes — at
650 calories or less — are delicious
and nourishing.
N/A
Pescatarian
N/A
Seafood and veggie meals.
Fit & Wholesome
N/A
Meals for a balanced lifestyle.
You can choose to pick from one or multiple plans when you place your order. Choosing either "meat & veggies" or more than one plan will give you the greatest number of menu options. There is no difference in pricing between the different diets.
You can also customize your EveryPlate and HelloFresh proteins and sides. This gives you more options if you're on a low carb or vegetarian meal plan. However, making substitutions may cost more.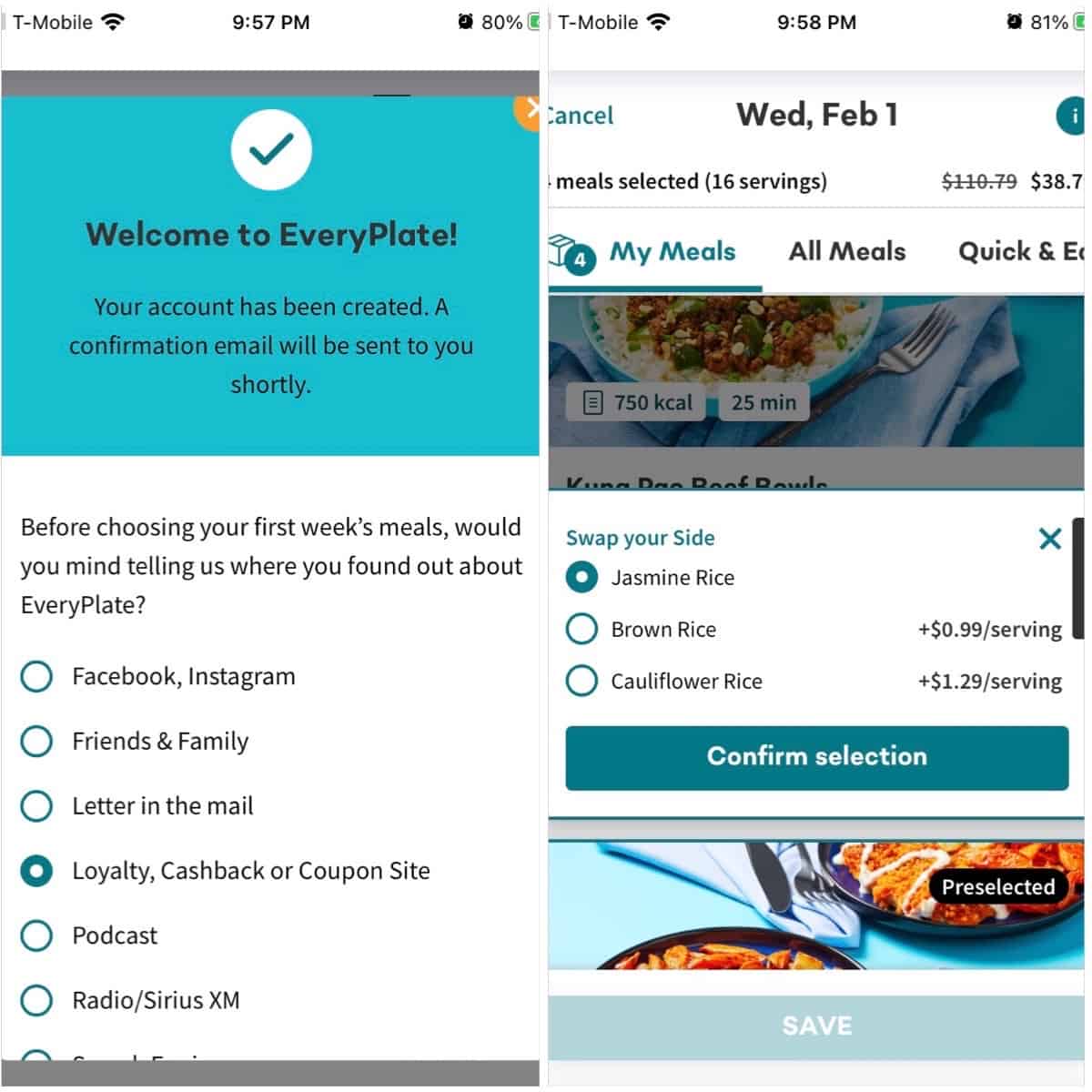 Hellofresh vs Everyplate Taste
We thought both the EveryPlate and Hello Fresh meals were filled with fresh, high-quality ingredients, and delicious. I tried 3 meals with 4 servings from Hello Fresh, and 5 meals with 4 servings from EveryPlate.
Here's what I tried from Hello Fresh:
BBQ Baby Back Ribs with Chili Lime Corn Salad & Jalapeno Cheddar Biscuit Bombs
Cherry Balsamic Sirloin with Herby Fingerling Potatoes & Roasted Brussels Sprouts
Tuscan Garlic Butter Chicken with Creamy Kale & Paprika-Roasted Carrots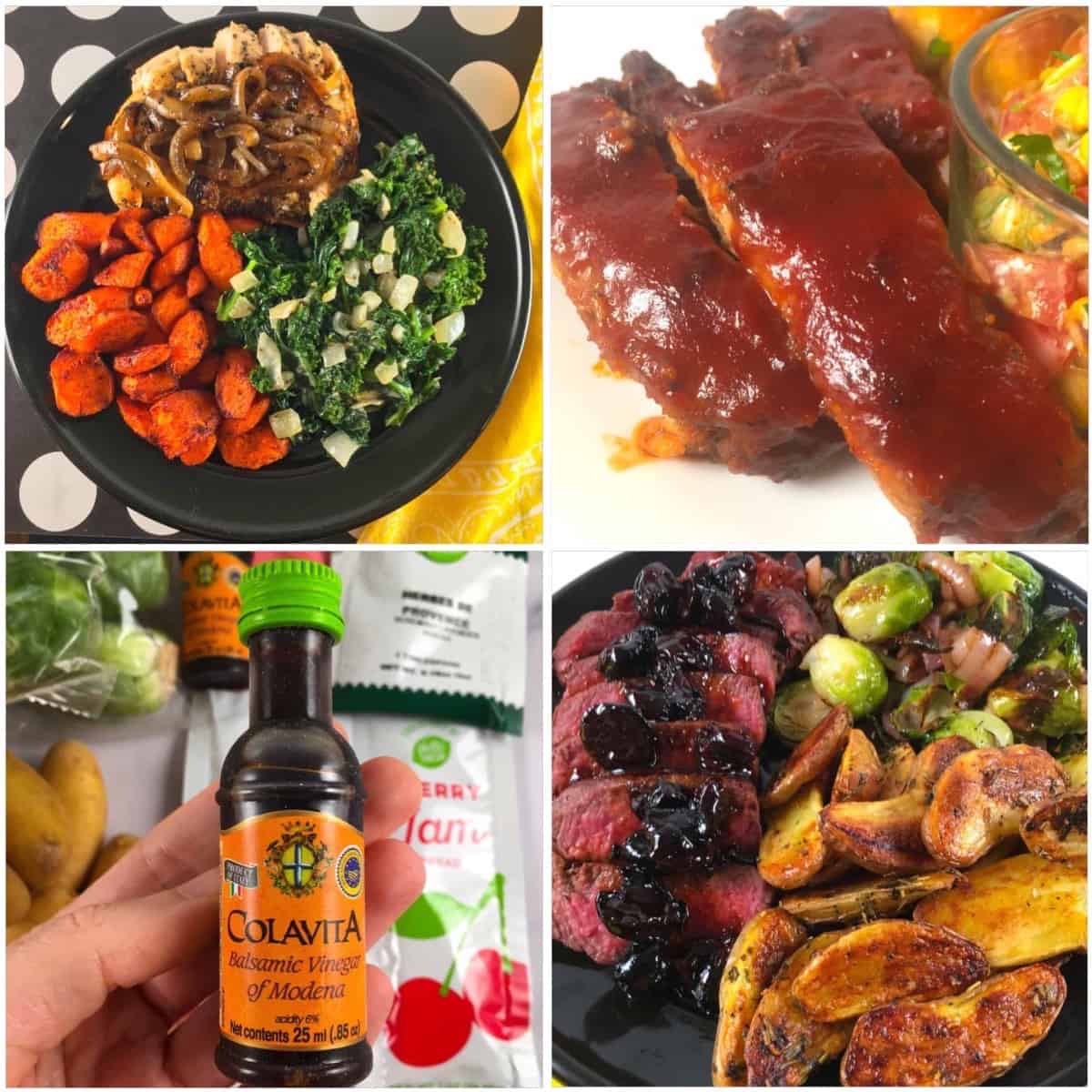 And here's what was on my EveryPlate menu:
Molto Mozzarella Sloppy Joes with Griddled Onion, Potato Wedges, & Garlic Aioli
Turkish Chicken & Rice Bowls with Tomato Cucumber Salad & Creamy Lemon Sauce
Kung Pao Beef Bowls with Green Bell Pepper & Peanuts
Creamy Smothered Pork Chops with Roasted Carrots & Mashed Potatoes
Crispy Buffalo Ranch Chicken with Honey Roasted Carrots & Roasted Potatoes
Getting hungry yet? All the food was shipped in a sturdy insulated box. I ordered EveryPlate in the winter, so there was limited need for ice to keep things cold. The meats were at the bottom of the box, kept cold with a gel ice pack.
I also had a free Everyplate gift box sent to a buddy in Florida (more on this later). He said the food was kept chilled with multiple ice packs, though the outside of the box was warm.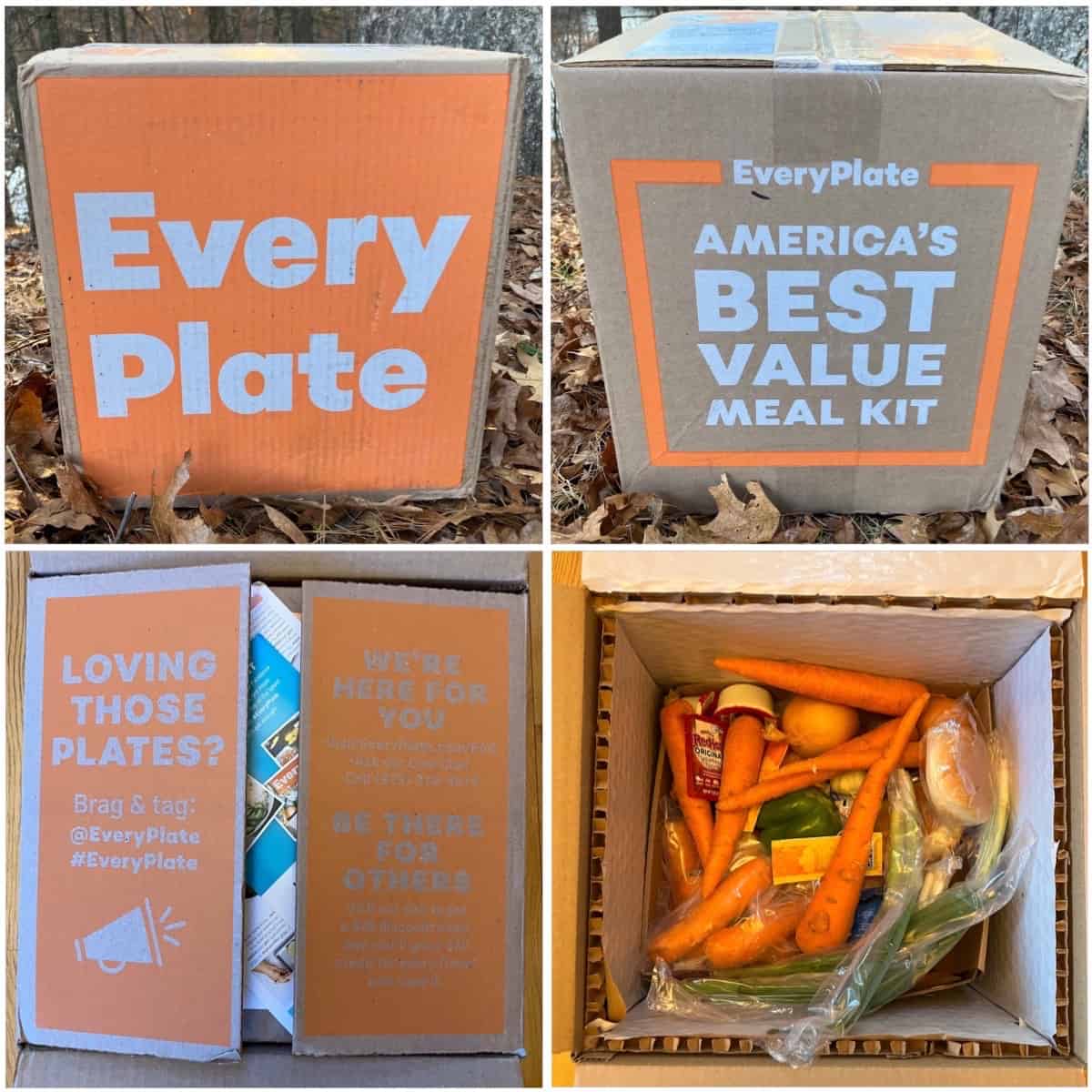 Cooking with EveryPlate vs Hello Fresh
Inside each box, you'll find recipe cards and the ingredients needed for each recipe. Hello Fresh individually wraps everything, and it's easy to see which ingredients are for which recipe. Everyplate boxes mix all the veggies, so if you have multiple recipes using potatoes, for instance, you'll need to divide them in some way.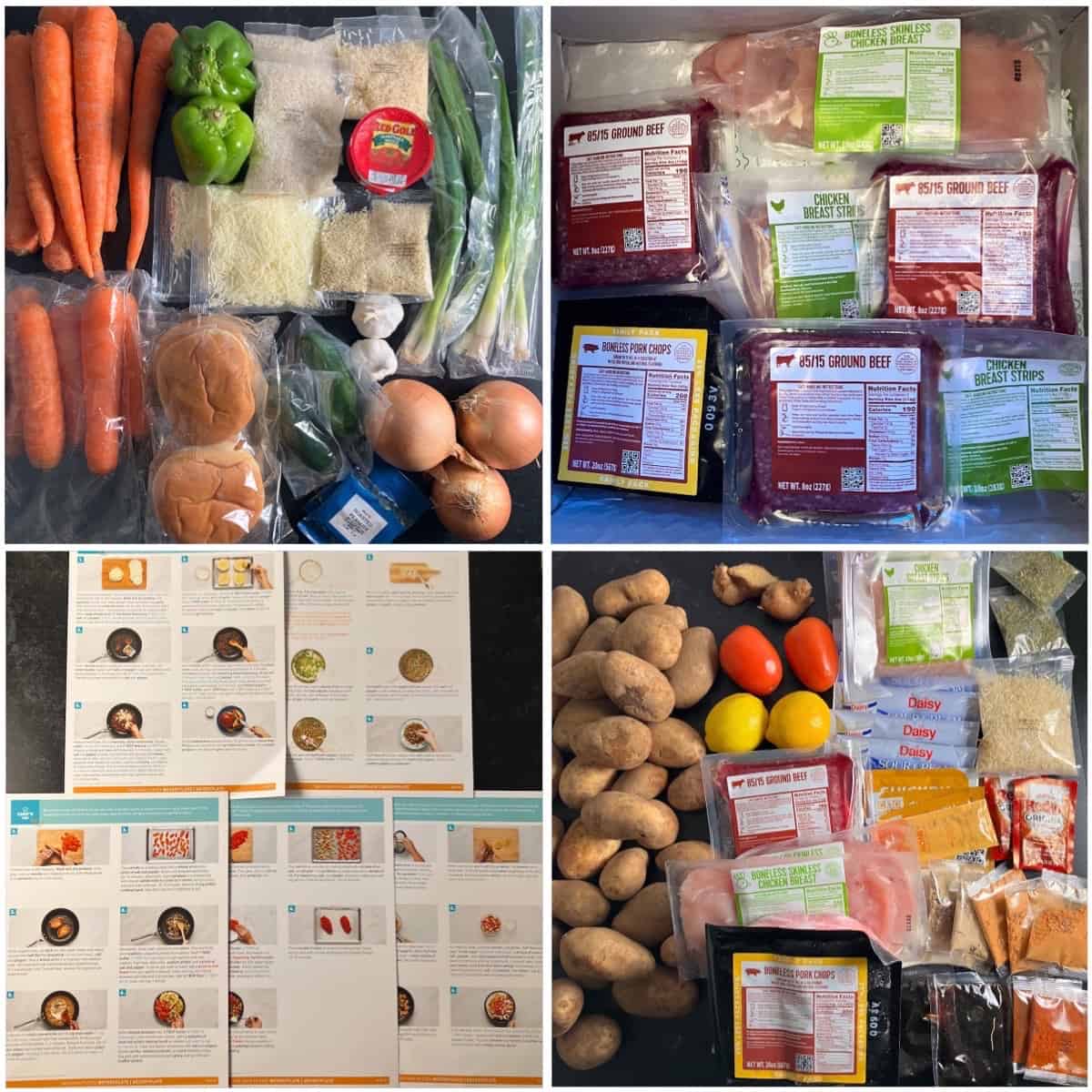 Both EveryPlate and Hello Fresh are careful to keep meat, poultry, and seafood separate from the other foods to prevent contamination.
Each recipe in both kits comes with a full-color recipe card that lists:
Ingredients (including any oil, etc you need to have on hand)
Calories
Prep time
Chef's tips to help make you a better cook
Step-by-step directions with photographs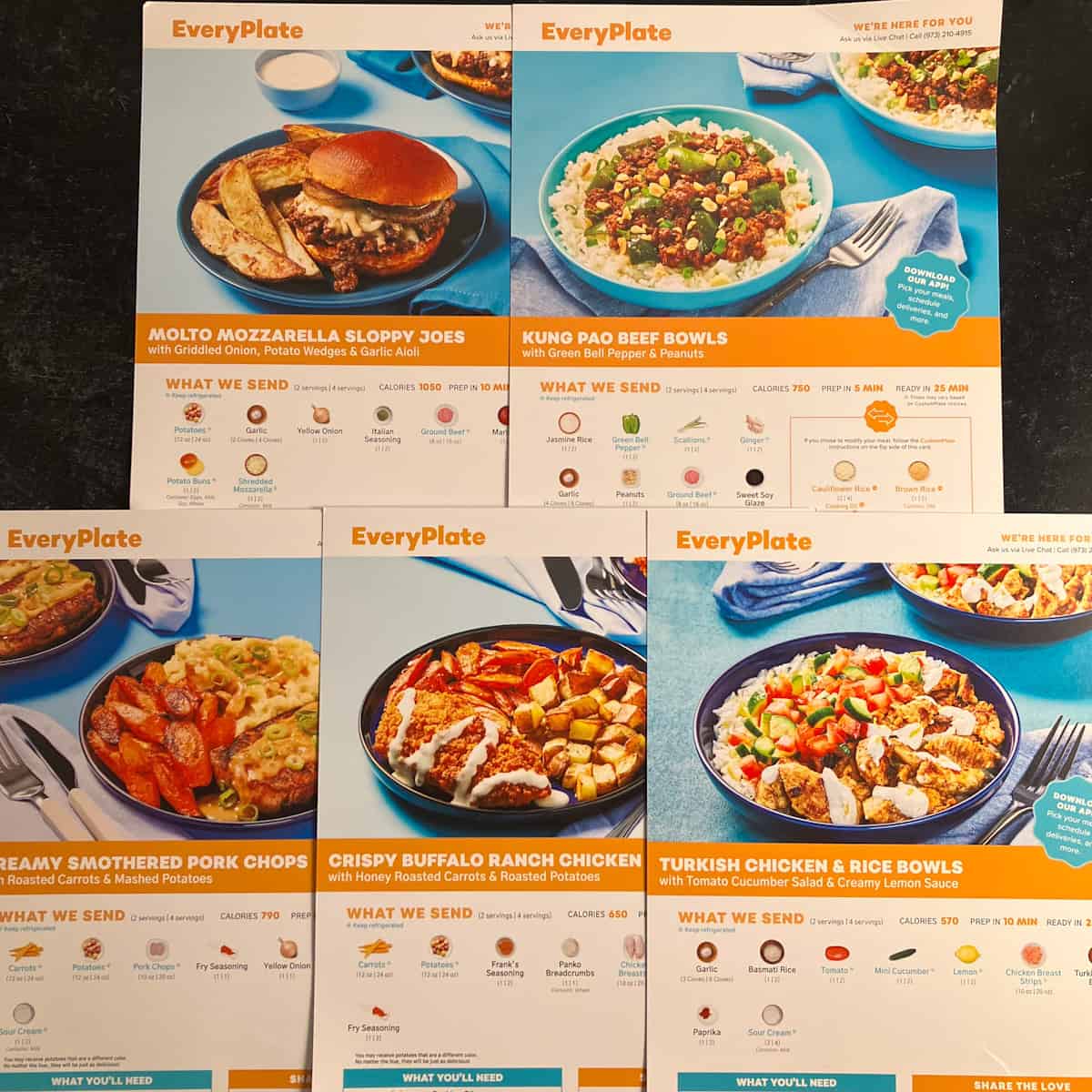 I found the estimated prep times for both plans to be right on target. In general, the EveryPlate meals were simpler and quicker to put together than Hello Fresh. For example, the chicken breast for my Everyplate Turkish chicken meal was already cut into strips and ready to use. So convenient!
Hello Fresh included more garnishes, while EveryPlate meals were less fancy (which is fine for most of us, I think). However, in both cases, I felt the meals were a much tastier alternative to take out. (The basmati rice in my Everyplate meal was much better than the brand I usually get!)
Hello Fresh and Every Plate are both generous with providing seasoning, so you can use a little or a lot based on your dietary preferences. Though EveryPlate is inexpensive, I felt they didn't cut corners when it mattered (e.g., using fresh lemon juice, not bottled).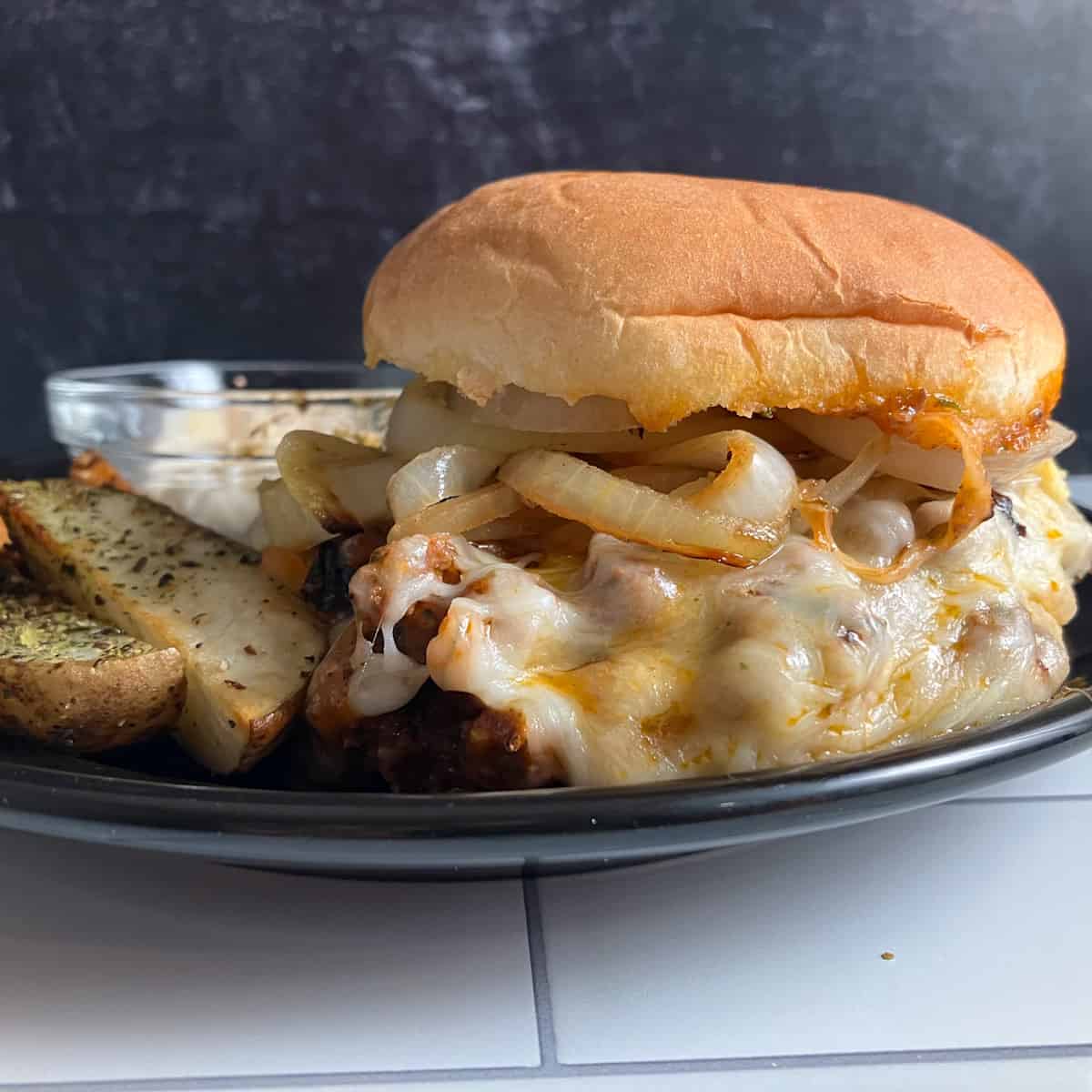 There were options on both plans that would work for weeknights or leisurely Sunday dinners. (The EveryPlate customer favorite creamy smothered pork chops were practically made for Sundays!)
EveryPlate vs Hello Fresh Diets
EveryPlate and HelloFresh do not use a dedicated allergen-free space in their facilities to limit cross-contact. Thus, these meal kit delivery boxes are not tailored to those with severe food allergies. They do list when a recipe contains one of the major food allergens, which may help those with mild food intolerances.
Both plans offer a mix of more healthful food options and comfort food indulgences. (I like to order a mix of both!)
If you're on a lower sodium diet, note that a lot of the EveryPlate recipes suggest a lot of salting. I was beginning to feel like they wanted me to add salt and pepper at practically every step of some recipes! You can skip the salt entirely, or just add a very small amount at one or two points in the recipe.
Does HelloFresh have low carb?
HelloFresh does not have a specific low carb plan, and almost all their meals contain grains or starchy veggies. There is old info on their site saying they have meals labeled "carb smart." I did not find any of these on their current menu (2023), but did find "protein smart" meals.
Everyplate Hellofresh Customer Service
You can reach EveryPlate customer service for a live chat through their contact page. Another option is to give them a call at 973-210-4915 (Monday-Friday 6AM-11PM EST).
You can also reach HelloFresh customer service for a live chat through their contact page. Alternatively, you can give them a call at 646-846-FOOD (3663).
Contact customer service if there's a recipe or ingredient error, or if you have questions about your account. Ordering meals, scheduling skipped deliveries, and managing your HelloFresh or EveryPlate account can be done independently online or with the HelloFresh or EveryPlate app.
To start ordering meals, sign up for the plan you want here. After you check out, you can start selecting recipes. (So easy!)
Hello Fresh vs Everyplate: How to Cancel
Is EveryPlate easy to cancel? Yes, and you don't even need to talk to a customer service person to do it! I'm going to talk about how to cancel EveryPlate here, but the directions for how to cancel HelloFresh are similar.
First, keep in mind that you cannot cancel on the Everyplate app, only on the web. Second, make sure you cancel before the weekly cutoff for your next order. To prevent issues, I ordered a box, set the next week's box to skip delivery, then cancelled on the day I received my order.
Third, make sure to take advantage of any discounts and special offers you want before cancelling. For example, Everyplate sent me a free trial box promo of three cards with one-time codes to give a friend a free box. If they choose under $70 worth of items, all they pay is the $9.99 shipping.
Everyplate also has a rewards challenge where you get three treats when you order eight boxes in 12 weeks. Additionally, their biggest discounts are often on the first few boxes.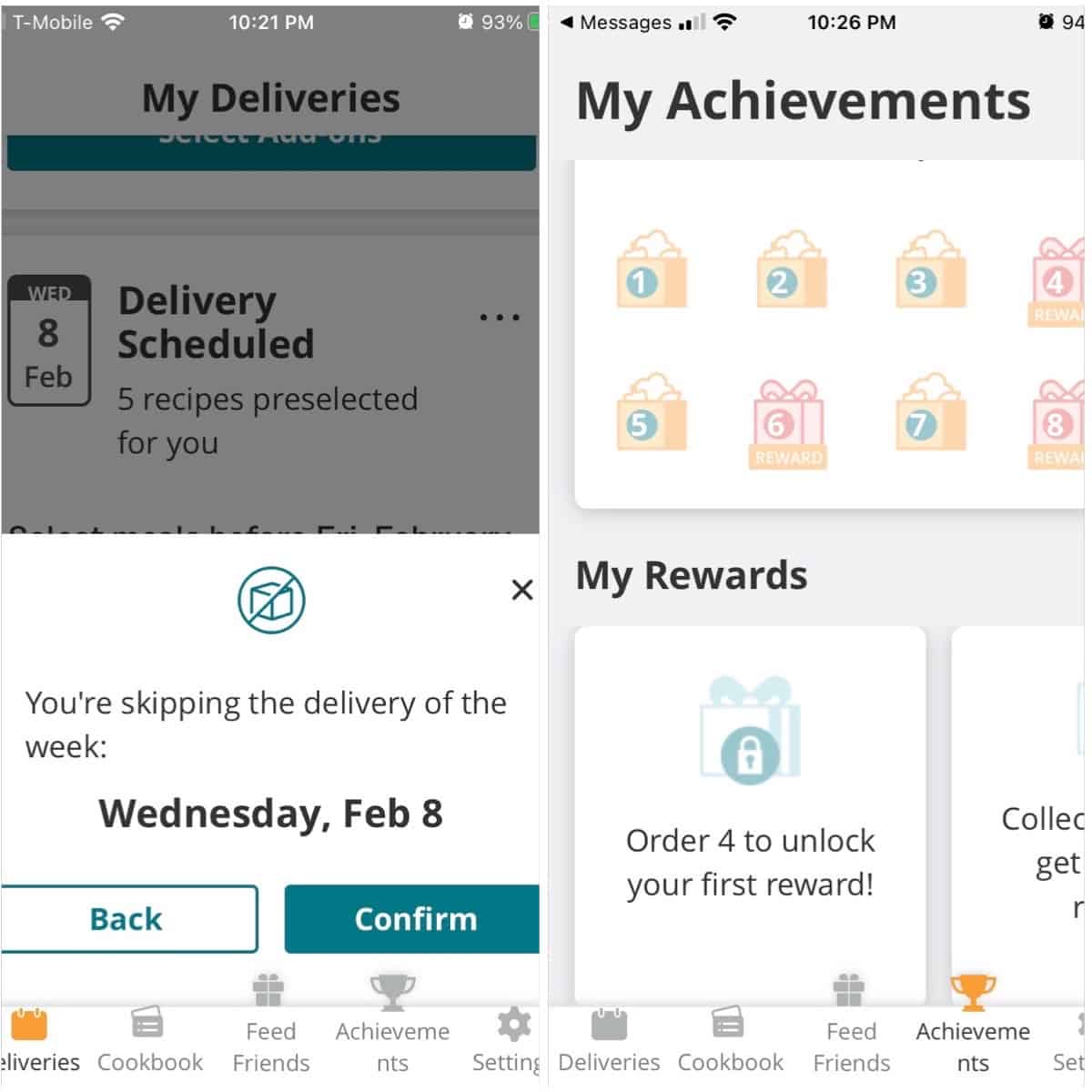 If you're ready to cancel anyway, here are the step-by-step instructions:
How to Cancel EveryPlate
Go to the EveryPlate website and click "Settings." You'll find it in the main menu at the top of the page.
Click "Deactivate my Plan." Pretty straightforward...
Click "Cancel Anyway." Keep going...
Select a reason for cancelling. (Almost done!)
Click "Deactivate Now." That's it! Remember to cancel before your delivery cutoff so you don't get charged for an extra box. You can reactivate at any time.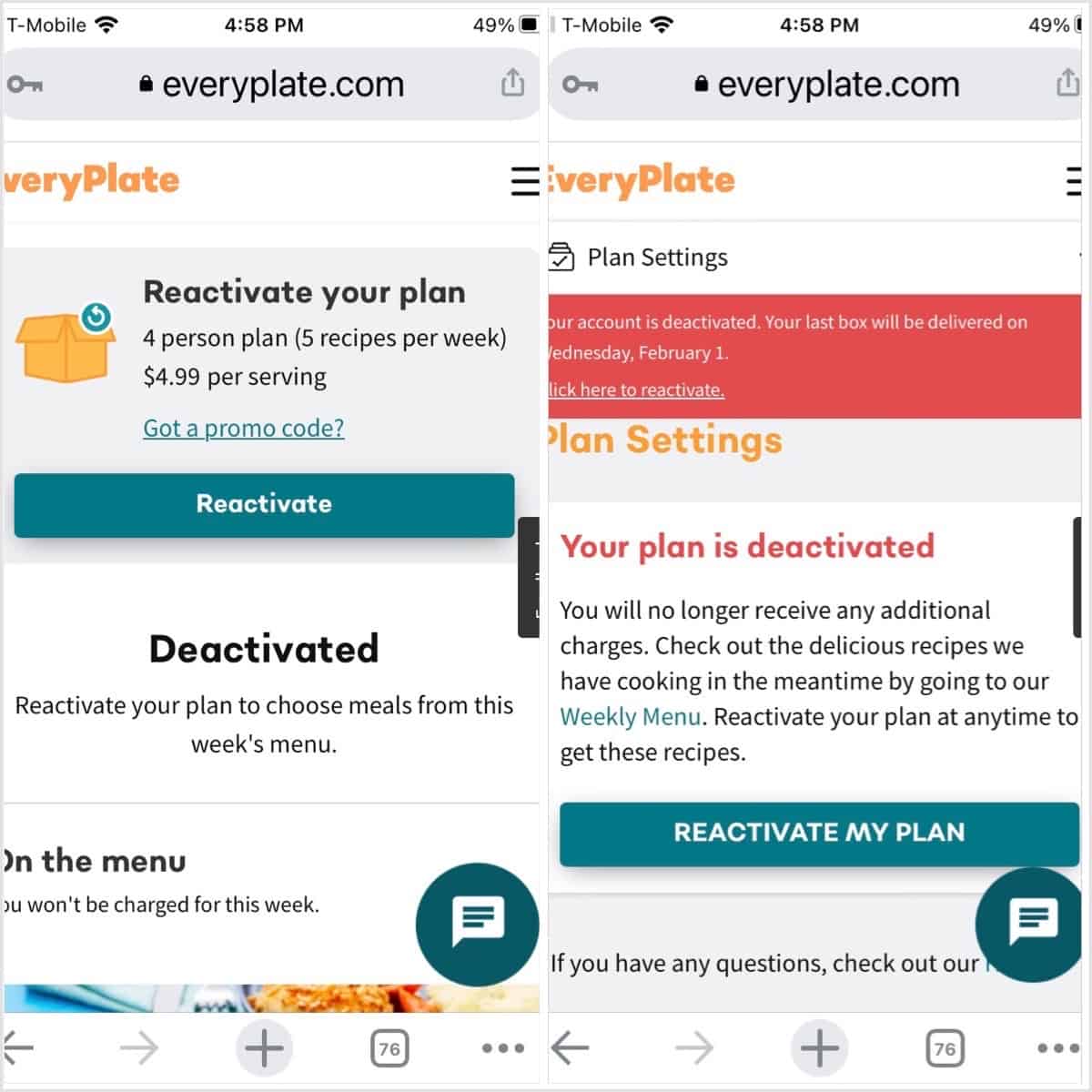 Everyplate vs Hello Fresh Competitors
There are other meal delivery services that offer boxes like Every Plate and Hello Fresh. Some of these offer frozen meal delivery, while others provide fresh ingredients to cook with. The main competitors of Hello Fresh and Everyplate are:
Dinnerly
Blue Apron
Home Chef
Chef's Plate (Canada only)
Gobble
Sun Basket
Freshly
Purple Carrot
Factor Meals
Marley Spoon
Green Chef
Goodfood (Canada only)
Plated (home subscription meal service ended in 2019; meal kits are available in some grocery stores)
Here's a summary of the meal services that are available in the United States:
Hello Fresh
Competitor
Menu Options
Servings per
meal
Recipes per
week
Price
Dinnerly
Meat and Vegetables,
Vegetarian,
Family Friendly
2 or 4
3,4,5,6
$4.99-6.99 /serving;
$11.99 shipping/wk
Blue Apron
Chef Favorites,
Family Friendly,
Fast & Easy, Veggies,
Wellness
2,4
2,3,4
$7.99-11.99/serving;
Free shipping
Home Chef
Calorie-Conscious, Carb
Conscious, Vegetarian,
Peanut and tree nut free,
Mushroom free
2,4,6
2,3,4,5,6
$9.95/serving;
$9.99-13.99 shipping/wk
Gobble
Classic Lean & Clean (3 vegetarian
options per week)
2,4
2,3,4,5
$11.99-16.99/serving;
$8.99 shipping/wk, free
shipping on first box
Sunbasket
Fresh & Ready,
Paleo, GF,
Lean & Clean,
Vegetarian,
Pescatarian,
Mediterranean, Diabetes-friendly,
Carb-Conscious
1,2,4
2,3,4 (or more)
$9.99-14.49/serving;
$8.99 shipping/wk
Freshly
GF, DF, peanut-free,
plant-based,
low-calorie,
carb-conscious
(all meals are heat-and-eat)
1
4-12
Starts at $8.99/serving;
Shipping varies by location
Purple Carrot
Plant-based meal kits
and prepared meals
2,4
2,3,4
$11-13.25/serving;
Free shipping
Factor Meals
Chef's Choice, Keto,
Calorie Smart,
Vegan & Veggie,
Protein Plus
1
6,8,10,12,14,18
$10.99-12.99/serving;
$9.99 shipping/wk
Marley Spoon
Vegetarian or with Meat
2,4
2,3,4,5,6
$8.69-12.99/serving;
$11.99 shipping/wk
Green Chef
Keto + Paleo,
Vegetarian, Mediterranean,
Fast & Fit,
Vegan,
Gluten-Free
2,4,6
2,3,4
$11.99-13.49/serving;
$9.99 shipping/wk
The information in this chart was correct at the time of writing and is subject to change.
Chefs Plate vs Hello Fresh- What's the Difference?
Chef's Plate is another meal kit box owned by the Hello Fresh group. Unlike Hello Fresh, Chef's Plate delivery is currently only available in Canada. They offer meat & vegetables, vegetarian, and family friendly plans for $8.79-12.99 per serving.
FAQs
Do meal kits actually save money?
Some meal kits, particularly EveryPlate, may save you money while others may not. It depends on how you normally shop, whether you live in a high cost of living area, etc. Singles and couples can get a better deal choosing 4 serving meals that work well as leftovers.
Is HelloFresh healthy?
"Healthy" can mean different things to different people. Hello Fresh does offer nutritious, plant forward, and protein packed options. They also offer more indulgent choices, so you can decide what's best for you.
Is HelloFresh really saving money?
Are Hellofresh meal kits worth the money? HelloFresh meals may not be cheaper than the grocery store prices. That said, they will likely save you time on meal planning, as well as time and gas for grocery shopping. The main benefit of Hello Fresh IMO is convenience.
Can you freeze Hello Fresh meals?
Some Hello Fresh meals are freezer friendly, while others are not. Use good judgement about what you order if you'll need to freeze items for meal prep. (For example, fresh lettuce and fresh potatoes don't freeze well, but many casseroles and soups do.)
Can you lose weight using EveryPlate?
You can technically lose weight with any eating pattern if you maintain a calorie deficit relative to your needs. If your goal is weight loss, I would check out EveryPlate's Nutrish and Delish meal plan. The meals all clock in at 650 calories or less and contain protein and veggies to help keep you full.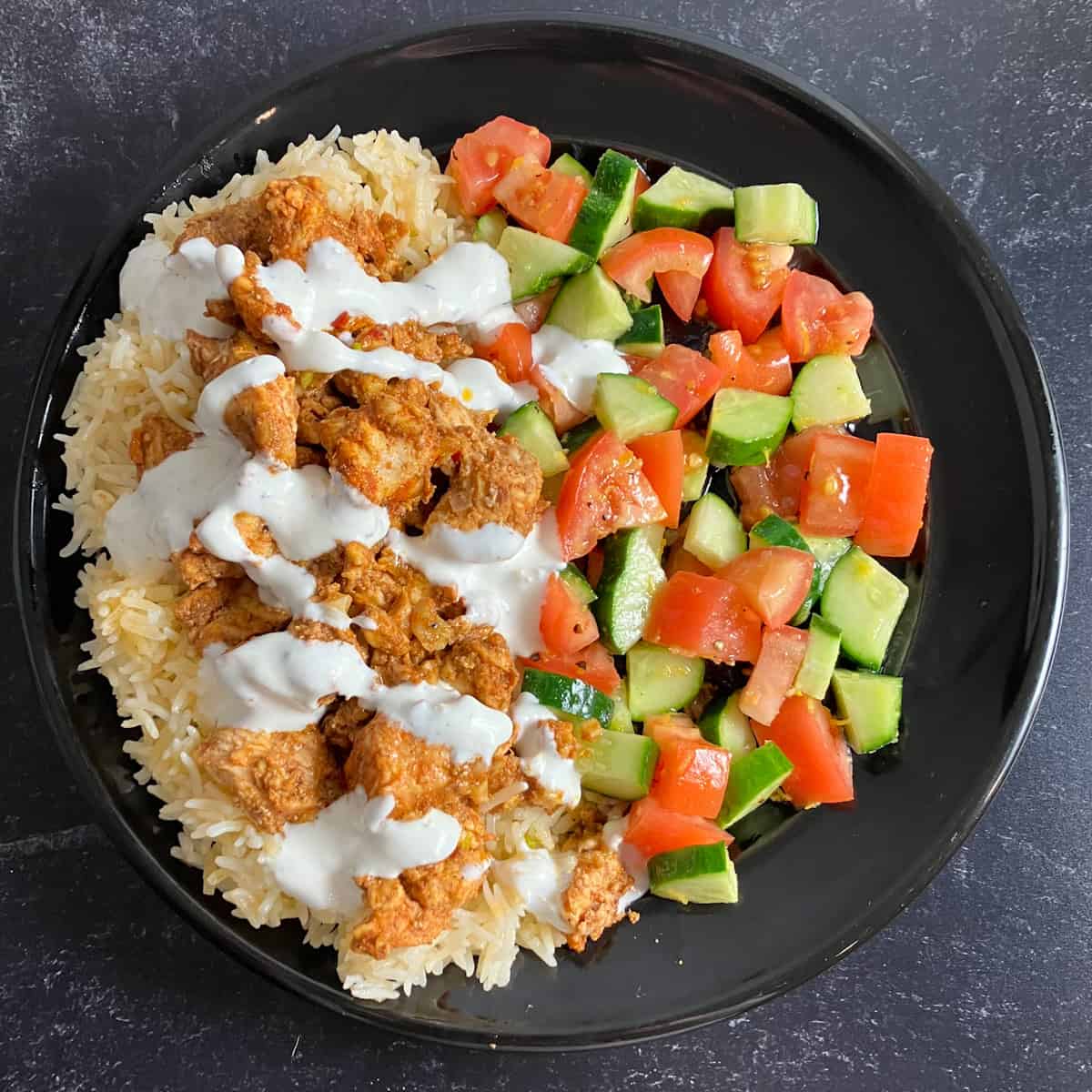 Which is better EveryPlate or Hello Fresh?
HelloFresh is wonderful if you want the widest range of menu choices. The ingredients for the recipes are well-packaged and organized. The dishes are fancy enough to be company-worthy, but they work for simple family dinners as well.
HelloFresh is also offered in a far greater range of locations than EveryPlate. If you live outside of the U.S. and Australia, EveryPlate is not currently available to you.
EveryPlate is perfect for the bargain shopper. If you've always wanted to try a meal delivery kit, but high prices have kept you away, EveryPlate is for you. Their introductory offer is currently so low, I'd hurry up and grab it because I can't imagine it will last forever.
We found both plans offer healthful, flavorful recipes that are packed with fresh produce and whole foods. However, there's still plenty of "fun food" options if indulgences are more your thing.
Honestly, the EveryPlate offer is currently so cheap, I'd give it a go just to save money on groceries! My first box of 20 meals on their current promo was only about $27 plus shipping. Even if you think you're more interested in Hello Fresh, I'd give EveryPlate a try too, since it's such a bargain and easy to cancel. Why not?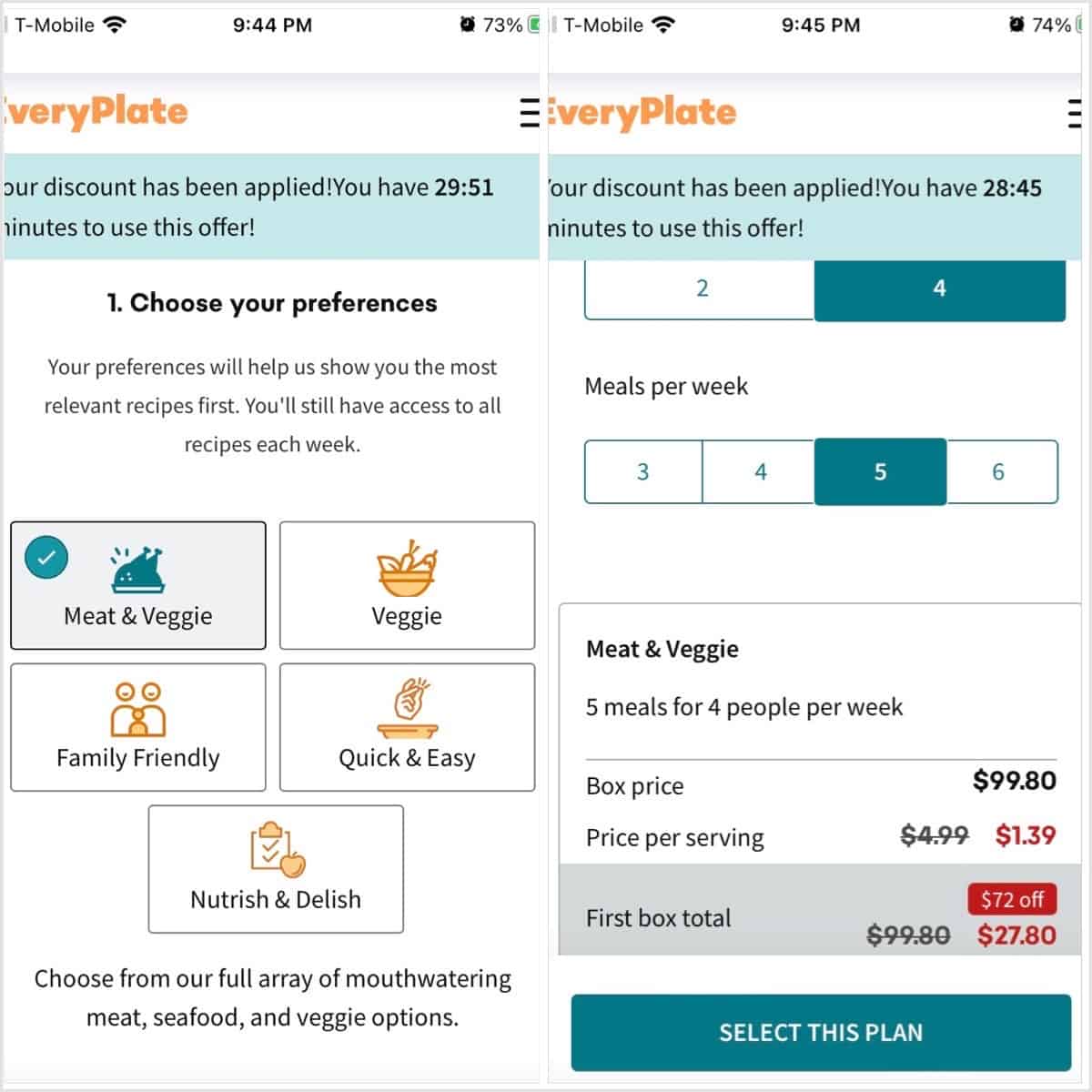 I tend to trial all of these programs for only a short period because there's always something new to try here. However, I think both Hello Fresh and EveryPlate are worthy of keeping longer term, especially if you don't like shopping and meal planning. You'll never get bored of your dinner menu!
Promo Codes
Promo codes valid in US only. Further details on the EveryPlate and HelloFresh discounts can be found by clicking the links. (The EveryPlate deals tend to be so low it's hard to believe they're real, but I can confirm they are!)
Other Food Box Reviews
Here are some other reviews of food boxes you don't want to miss:
🎥 Hello Fresh vs EveryPlate Video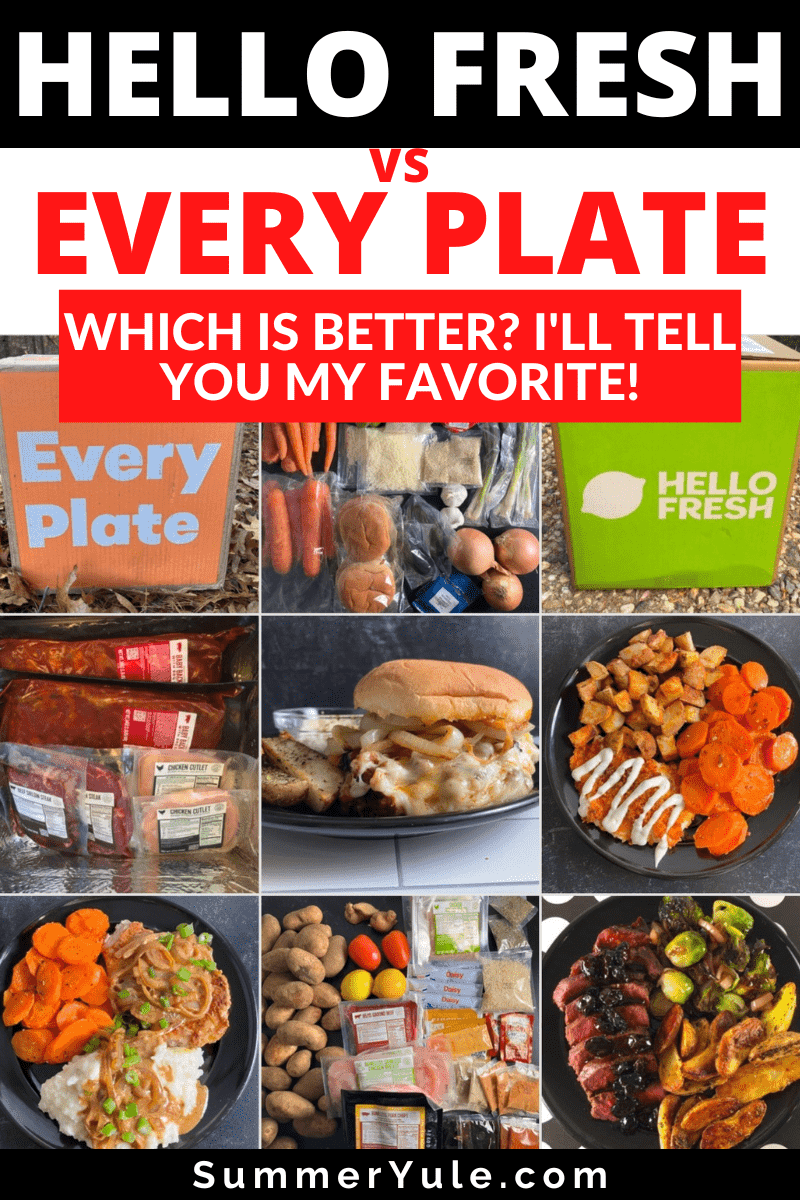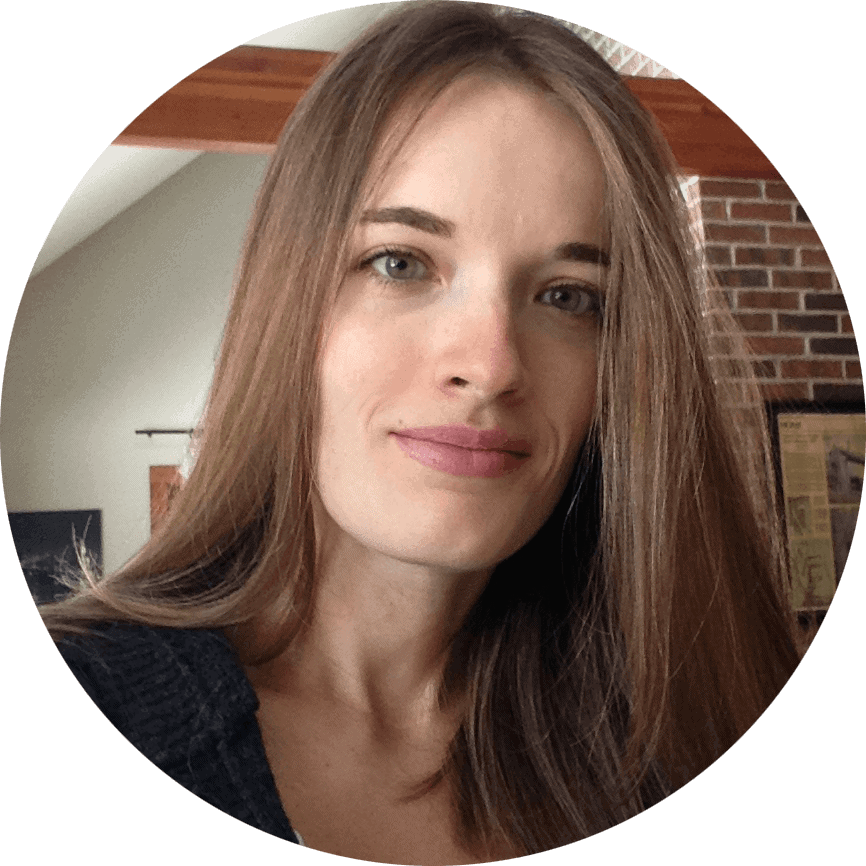 Hello! I'm Summer, a registered dietitian and home chef who loves to cook, eat, and create high quality content for you! Every recipe on this site has been tested by me to help ensure your success in the kitchen. All eaters are welcome here 🙂