There are 6 grams sugar in watermelon per 1 cup (100g) of fruit. So, is watermelon good for diabetes? While the answer to 'Can watermelon raise your blood sugar?' is yes, you can fit some watermelon into an exchange diet. Approximately 1.25 cups diced watermelon cubes equals one carb exchange. If you're using a very low carb diet (keto) to manage blood sugar in diabetes, low carb fruits like strawberries are a more popular choice.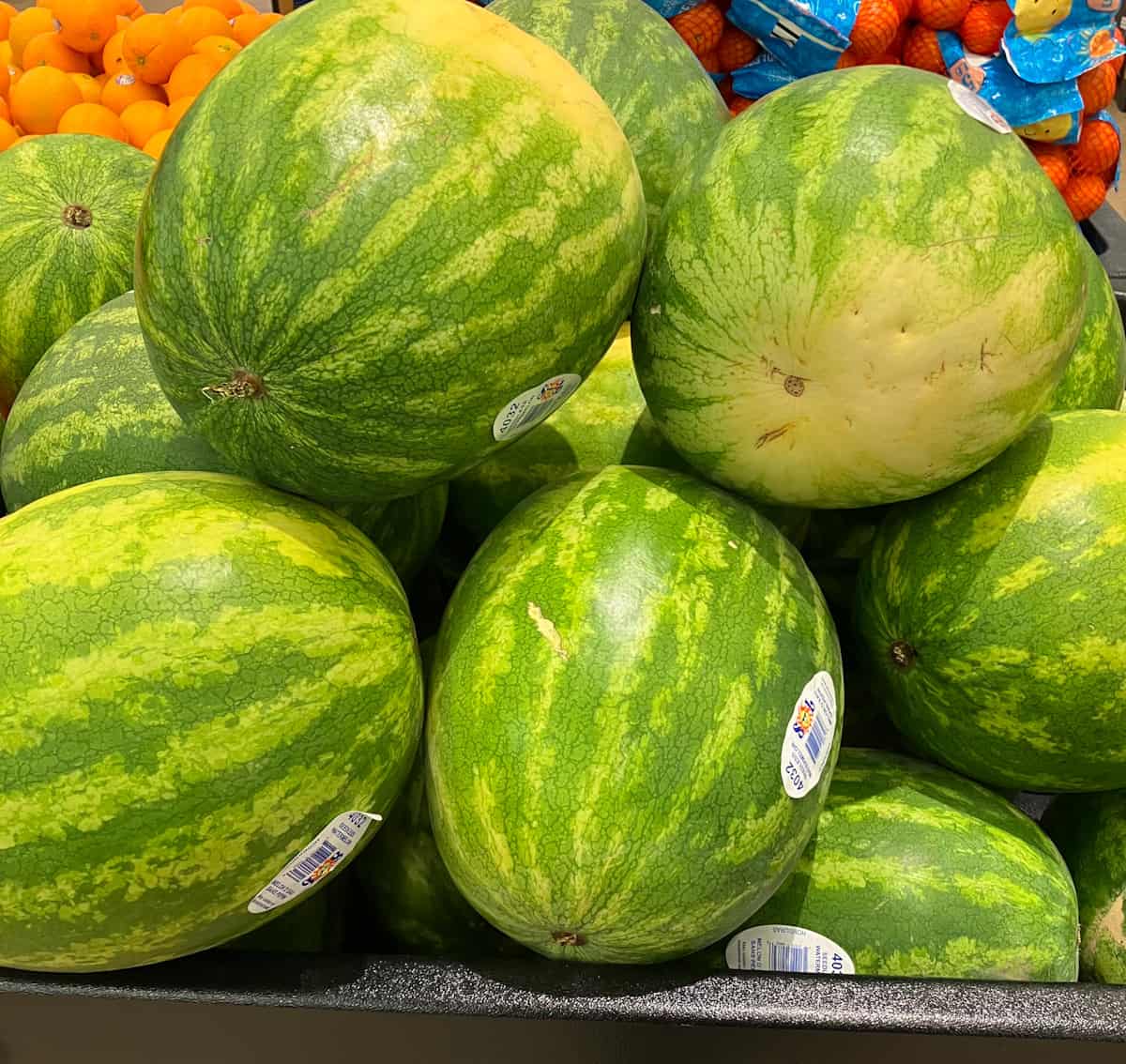 Jump to:
🍉 Sugar in Watermelon
How much sugar is in watermelon? Per Cronometer, there are 6 grams of sugar in 98 grams (one cup) of watermelon. Though watermelon is not sugar free, all of the sugar content in watermelon is natural sugar, not added sugar.
Watermelon is a delicious and refreshing fruit that is enjoyed by many people worldwide. It is known for its high water content, sweet taste, and juicy texture. In this section, we will further explore the sugar content of watermelon, how much sugar is in one cup of watermelon, and whether the sugar in watermelon is good you.
Are watermelons high in sugar?
Some people wonder if watermelon is high in sugar and if it is bad for their health. Surprisingly, the answer is no, watermelon is actually not a high sugar compared to other fruits.
The FDA definition for high sugar is a food with 20% Daily Value (DV) or more of the item. The daily value for added sugar is 50 grams per day (based on a 2000 calorie diet). This means a food high in added sugar must have 10 grams or more of this sugar per serving.
Watermelons do contain sugar, but it is a natural sugar called fructose, not added sugar. Natural sugars (such as in fruits, veggies, and dairy) are considered safe and healthy when consumed in moderation. Only added sugar has recommended limits in the Dietary Guidelines.
How much sugar is in 1 cup of watermelon?
One cup of diced watermelon weighing 98 grams contains 6 grams of natural sugar, according to Cronometer. This amount is considered relatively low and shouldn't cause a significant increase in blood sugar levels. However, the amount of sugar in watermelon will vary depending on the portion size.
One carb exchange equals 15 grams of carbohydrates, or about 1.25 cups of watermelon. This is for diced watermelon weighing 13.5 ounces, including the rind and watermelon seeds.
Is watermelon good for you?
The natural sugar in watermelon is not bad for you when consumed in moderation. In fact, watermelon contains many health benefits due to its nutrient content. Watermelon is rich in antioxidants, such as lycopene and vitamin C, which can help protect against free radicals and reduce the risk of cardiovascular disease.
Additionally, the vitamin C in watermelon supports wound healing, which may reduce the risk of complications in people with diabetes. That said, people with diabetes should monitor their blood sugar levels and consult with a healthcare provider before making major changes to their diet. A continuous blood glucose monitor (CGM) can help you see how fruits like watermelon impact your blood glucose levels.
Remember that you're not just getting sugar in watermelon. The natural sugars are packaged with many nutrients in the food matrix of the fruit.
➕ Is watermelon good for diabetes? (Health Benefits)
Watermelon is a tasty treat, especially during the hot summer months. However, for people with diabetes, it's important to know whether or not watermelon is safe to eat. Next, we'll explore the health benefits of watermelon for diabetics and answer some common questions about its impact on blood sugar levels.
Does watermelon affect a1c?
A1C is a test that measures the average blood sugar levels over the past 2-3 months. A small portion of watermelon can easily fit into a diabetes diet that involves counting carbohydrates. This is unlikely to have a significant impact on A1C levels if you maintain good blood sugar control over time.
That said, individuals may respond differently to the same foods. If you notice with a CGM that you have more difficulty maintaining healthy blood sugar with watermelon in your diet, you don't have to eat it. There is no one food that is mandatory in a healthy diabetes diet.
Can a diabetic eat watermelon at night?
There is no specific time of day when a diabetic should avoid eating watermelon. However, it's important to keep in mind that consuming too much sugar, including natural sugar found in watermelon, can cause blood sugar spikes. Therefore, you should eat watermelon in moderation, whether it's during the day or at night.
Is the sugar in watermelon bad for you?
In short, probably not. The sugar in watermelon is natural and contains fructose, which is a type of sugar in many fruits. While excessive consumption of fructose can lead to health complications, the amount of fructose in watermelon is unlikely to cause any harm. In fact, watermelon is a good source of vitamins, minerals, and antioxidants, which can provide various health benefits.
Watermelon Nutrition Information
Watermelon is a low-calorie fruit that is 92% water, making it an excellent choice for hydration. Also, watermelon contains citrulline, an amino acid that may improve cardiovascular health, wound healing, and exercise performance. According to MyPlate.gov, adults should eat 1.5-2.5 cups of fruit per day, which can include watermelon.
Here is the nutrition info for 1 cup of watermelon (98g):
Calories: 30
Total carbohydrates: 7 grams
Fiber: 0.4 grams
Sugar: 6 grams
Fat: 0 grams
Protein: 0.6 grams
Thiamin: 2% DV
Riboflavin: 1% DV
Niacin: 1% DV
Vitamin B5: 2% DV
Vitamin B6: 2% DV
Vitamin B12: 0% DV
Vitamin A: 2% DV
Vitamin C: 13% DV
Calcium: 1% DV
Iron: 1% DV
Magnesium: 3% DV
Manganese: 2% DV
Copper: 2% DV
Potassium: 3% DV (110mg)
Sodium: 1 mg
Zinc: 1% DV
Watermelon is a good source of vitamin C. According to the American Diabetes Association, watermelon can be a safe fruit for people with diabetes to eat but it contains carbohydrates that must be counted in the meal plan.
Excessive consumption of any food can lead to weight gain, which can increase the risk of various health complications, including diabetes. Therefore, it's recommended to eat watermelon as part of an overall balanced diet.
⭐ Watermelon Glycemic Index
The watermelon sugar content is relatively low. However, we should also look at glycemic index and glycemic load, which can play a role in the increase in blood sugar levels. Watermelon has a high glycemic index of 72-80 (depending on source), and a low glycemic load of 5.
The glycemic index (GI) is a measure of how quickly a food raises blood sugar levels. Foods with a high GI are quickly digested and absorbed, leading to a rapid rise in blood sugar levels. Foods with a low GI are digested and absorbed more slowly, leading to a slower and more gradual rise in blood sugar levels.
The high glycemic index of watermelon means that it can cause a rapid rise in blood sugar levels, especially when consumed in large amounts. However, don't give up watermelon yet, as this isn't the whole story.
The glycemic load (GL) takes into account both the GI and the amount of carbohydrates in a food. Foods with a high GL can have a greater impact on blood sugar levels than foods with a low GL. Since watermelon is mostly water, it has a low glycemic load, and may not impact the blood sugar like a high GI, high GL food would.
It's important to note that the GI and GL of a food can vary depending on a number of factors, including ripeness, preparation method, and serving size. For example, a ripe watermelon will have a higher GI than an unripe one. Similarly, blending or juicing watermelon may also have an impact on GI.
FAQs
How much watermelon should a diabetic eat in a day?
The amount of watermelon a diabetic can eat in a day depends on their individual needs and medical condition. A diabetic should keep in mind that the carbs in watermelon are mostly simple sugars, such as fructose and glucose. Therefore, it is recommended that diabetics consume watermelon in moderation and in consultation with their doctor or dietitian.
Does watermelon raise blood pressure?
Watermelon provides potassium, which can help lower blood pressure. One cup of watermelon contains about 110 mg of potassium. (Admittedly a small amount, and I would not stop any blood pressure lowering medications you're on.)
What is the best fruit for diabetics?
The best fruit for diabetics is fresh, frozen, or canned without added sugar (ADA). The portion size for fruit juices and dried fruits are very small, and may not feel filling.
Which melon is best for diabetics?
Diet is individual, so there really isn't a "best melon" for diabetes, and you can pick the ones you enjoy. One carb exchange of cantaloupe or honey dew equals one cup. One carb exchange of watermelon is 1.25 cups, making it the best choice for diabetes melon if your goal is volume eating.
Which fruit is lowest in sugar?
Berries are some of the lowest sugar fruits, which is why they are popular in low carb diets. Zucchini is botanically a fruit as well, and has only 2.5 grams sugar per 100g.
How much sugar in watermelon rind?
Though watermelon rind is naturally low in sugar, it is typically pickled with sugar added. 100 grams of pickled watermelon rind has 25 grams of sugar on average, which includes 21 grams of added sugars.
👩‍🍳 Watermelon Recipes
Here are some fun ways to eat watermelon:
Another idea is to make a fruit salad with watermelon, peaches, pears, plums, apricots, apples, orange, or your favorite fruits. Or, you can try the delicious recipe with watermelon below!
📖 Recipe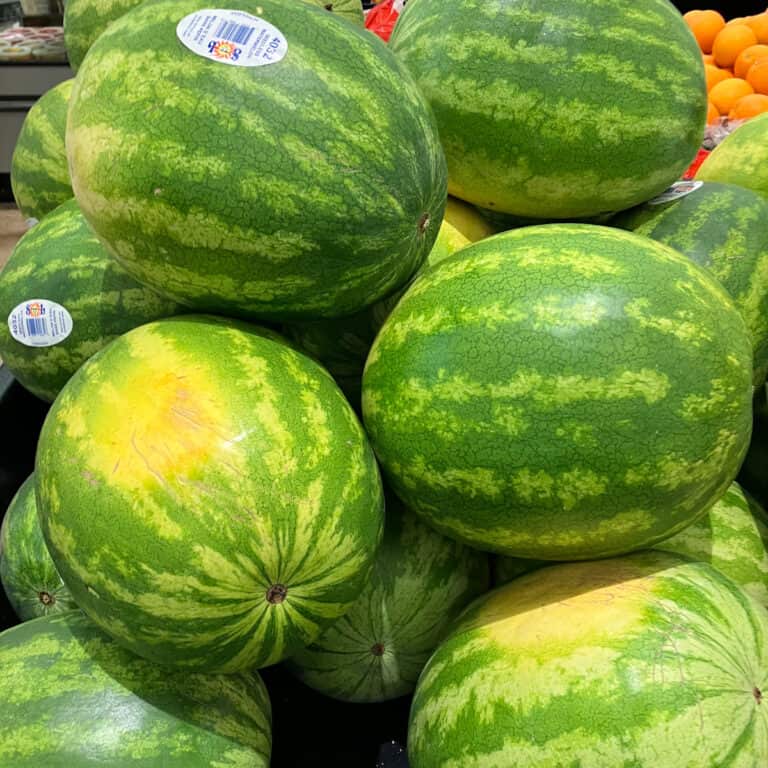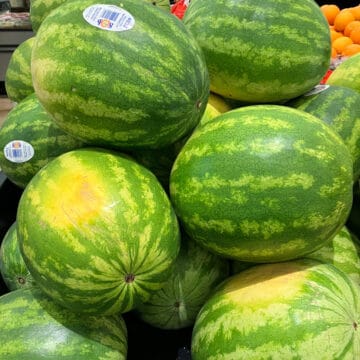 Sugar in Watermelon (Is Watermelon Good for Diabetes?)
There is only natural sugar in watermelon, and no added sugar in this recipe for watermelon lime pops!
Ingredients
1

mini

seedless watermelon, rind removed and chopped

(yields approximately 5 cups of fruit)

5

large

mint leaves, finely chopped

(or use 10 small mint leaves)

1

tablespoon

lime juice

1

teaspoon

lime zest
Don't be a stranger! 😊
If you love this recipe, please come back and leave a rating. This helps readers and I'd love to hear from you. Thank you ❤️
Instructions
Put the watermelon, mint, lime juice, and lime zest into a large food processor. Blend until a smooth puree is created. Stop the processor and scrape down the sides with a spatula if needed.

Pour the puree into a spouted container and distribute it evenly between your pop molds. I was able to fill 10 molds.

Put the tops/sticks on the molds and freeze for several hours (or overnight). Delicious and ready for you whenever you want a cold treat!
Notes
💭 Expert Tips from a Dietitian
This is a level 1 recipe (may help support fat loss).
This recipe is a great way to eat watermelon when you have diabetes. It has no added sugar, popsicles have some portion control worked in, and you generally have to eat them slowly.
Also, homemade pops can help with hydration and keep you cool. Blending whole fruit instead of juice retains the fiber in this fruity treat. Plus, they're under 25 calories each, and a good snack option when your goal is weight loss.
One thing I'd recommend is adding a source of protein and fat to your snack, such as nuts, cottage cheese, or Greek yogurt. Eating watermelon as part of a snack with balanced macros can
help to slow down the absorption of sugar and reduce its impact on blood sugar levels. It may also help you feel satisfied for longer, so you're less likely to reach for more snacks later.
Nutrition information is for one serving.
nutrition info disclaimer

All recipes on this website may or may not be appropriate for you, depending on your medical needs and personal preferences. Consult with a registered dietitian or your physician if you need help determining the dietary pattern that may be best for you.

The nutrition information is an estimate provided as a courtesy. It will differ depending on the specific brands and ingredients that you use. Calorie information on food labels may be inaccurate, so please don't sweat the numbers too much.
Nutrition
Calories:
23
kcal
Carbohydrates:
6
g
Protein:
0.5
g
Sodium:
0.8
mg
Potassium:
87
mg
Fiber:
0.3
g
Vitamin C:
11
% DV
Calcium:
0.6
% DV
Iron:
1
% DV
Join our community! Subscribe for all of the latest and greatest recipes, and follow me on Facebook, Pinterest, Instagram, and YouTube!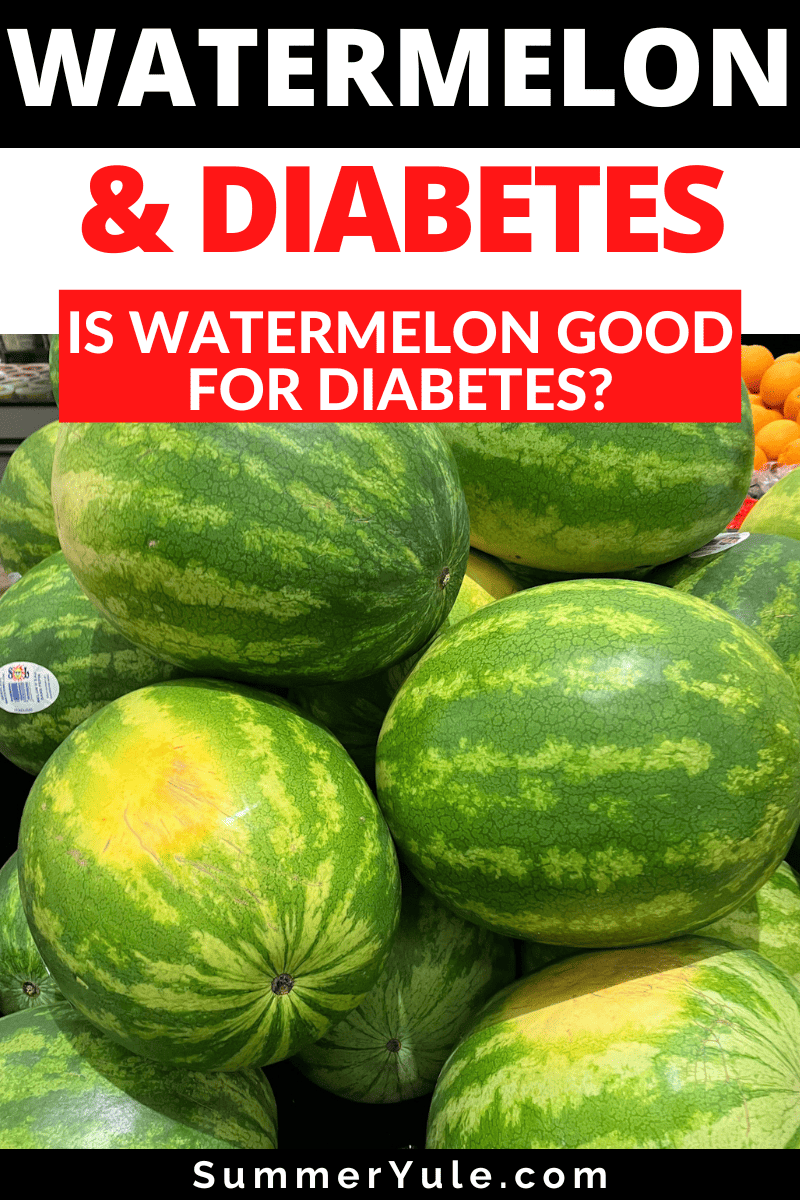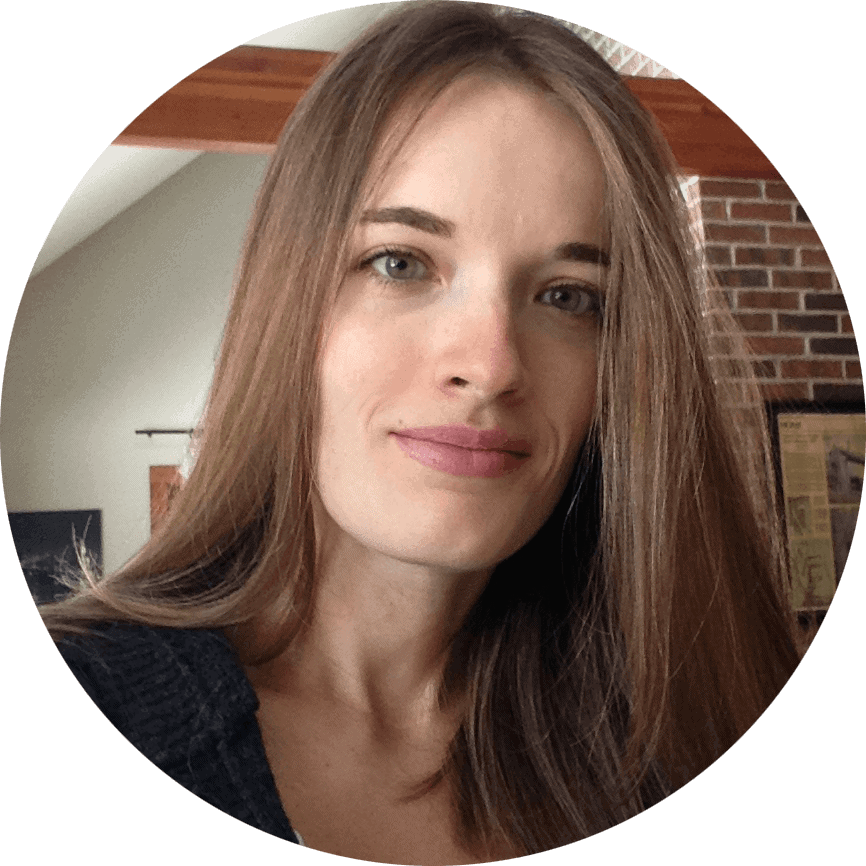 Hello! I'm Summer, a registered dietitian and home chef who loves to cook, eat, and create high quality content for you! Every recipe on this site has been tested by me to help ensure your success in the kitchen. All eaters are welcome here 🙂