What can I substitute for horseradish? Learn the best horseradish substitute for cocktail sauce, Bloody Mary, mayo, prime rib, and even for the Passover Seder plate! Wasabi and mustard powder are both great for horseradish replacement, but you have lots of other options. Get the scoop on making a horseradish cream substitute, prepared horseradish substitute, horseradish powder substitute, and much more.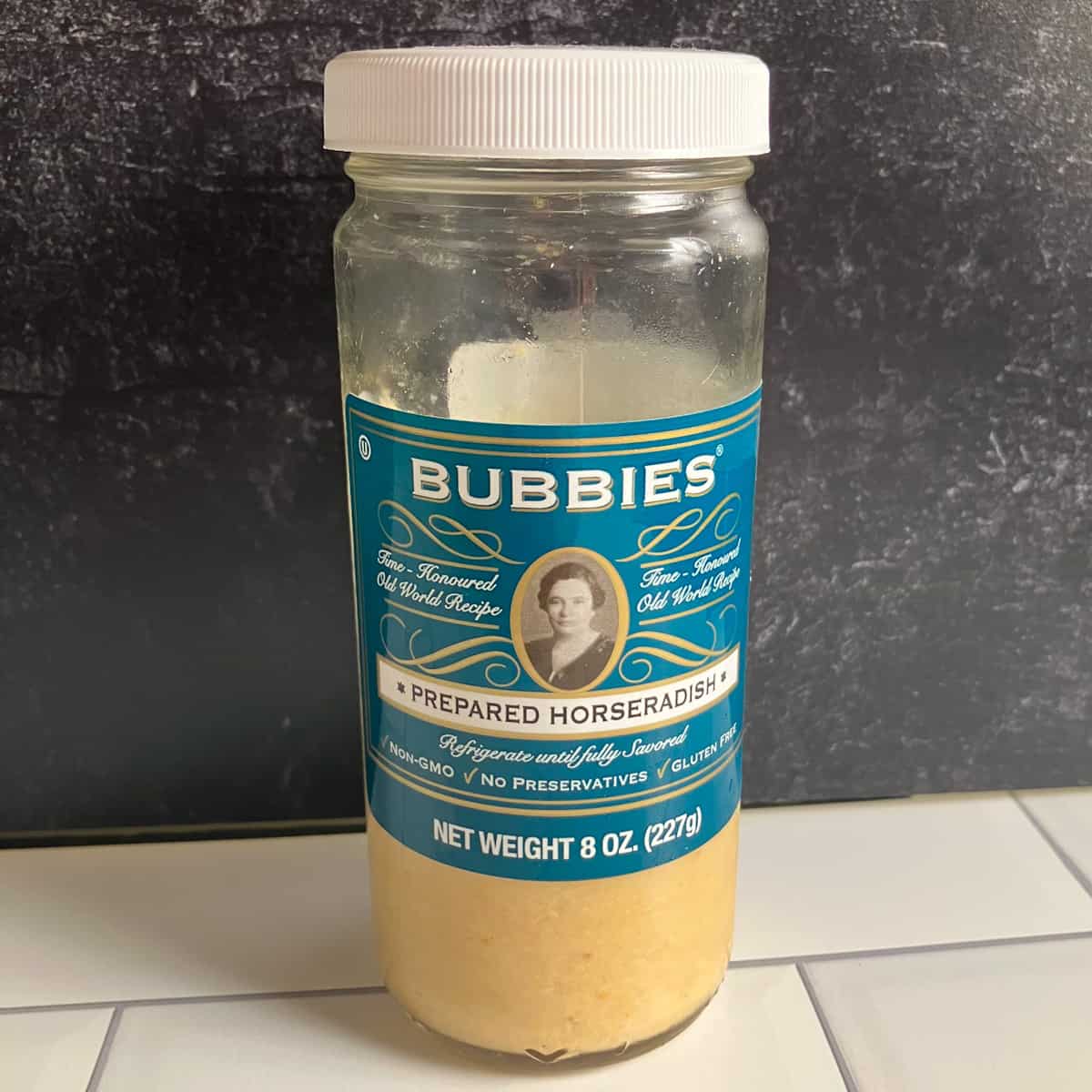 Are you wondering what to use if you don't have horseradish? Luckily, there are lots of horseradish alternatives out there that give a similar flavor and heat.
And what if you don't like horseradish? I've also got some idea for substitutes for horseradish that provide a similar texture but different taste. No matter your needs, this article will help you find the perfect substitution for horseradish.
So, let's get to it!
Jump to:
🤔 What's in Horseradish
Horseradish is a root vegetable with a white flesh that is used as a spice and a condiment. It has a distinct strong and spicy flavor that impacts the sinuses and may make your eyes tear up.
The horseradish plant is related to other cruciferous veggies, including wasabi, mustard, cabbage, and broccoli (source). The pungent characteristics of some of these related vegetables make them especially good for horseradish substitutes (source).
Horseradish may be used fresh, or you may see prepared horseradish or horseradish sauce in grocery stores.
Prepared horseradish (AKA pickled horseradish) has horseradish root, vinegar, salt, and sometimes sugar. You can find it in jars in the refrigerated section of grocery stores. Bubbies is a popular US brand.
Horseradish Sauce and prepared horseradish are not the same thing. Horseradish sauce (AKA creamed horseradish) is made with prepared horseradish plus a creamy ingredient. This is typically sour cream, cream, or mayonnaise (as in Arby's Horsey Sauce).
Can I substitute horseradish sauce for prepared horseradish?
Yes, you can use horseradish cream as an alternative to prepared horseradish. Start with a 1:1 substitution, and add more horseradish sauce as needed for stronger flavor. Horseradish sauce is milder and creamier than prepared horseradish, but both foods are milder than freshly grated horseradish root.
Creamy Horseradish Substitute
You can also go in the reverse, and use prepared horseradish as a substitute for creamed horseradish. In this case, you can add some mayo, sour cream or plain Greek yogurt to the prepared horseradish to make a milder sauce. Try using blended silken tofu instead to make a vegan horseradish sauce substitute.
🏆 Horseradish Substitutes
The best horseradish substitute for a similar flavor profile is wasabi or hot mustard. Substitute horseradish powder for mustard powder or prepared horseradish for wasabi paste to match texture. Mustard is a better match for horseradish in appearance than wasabi.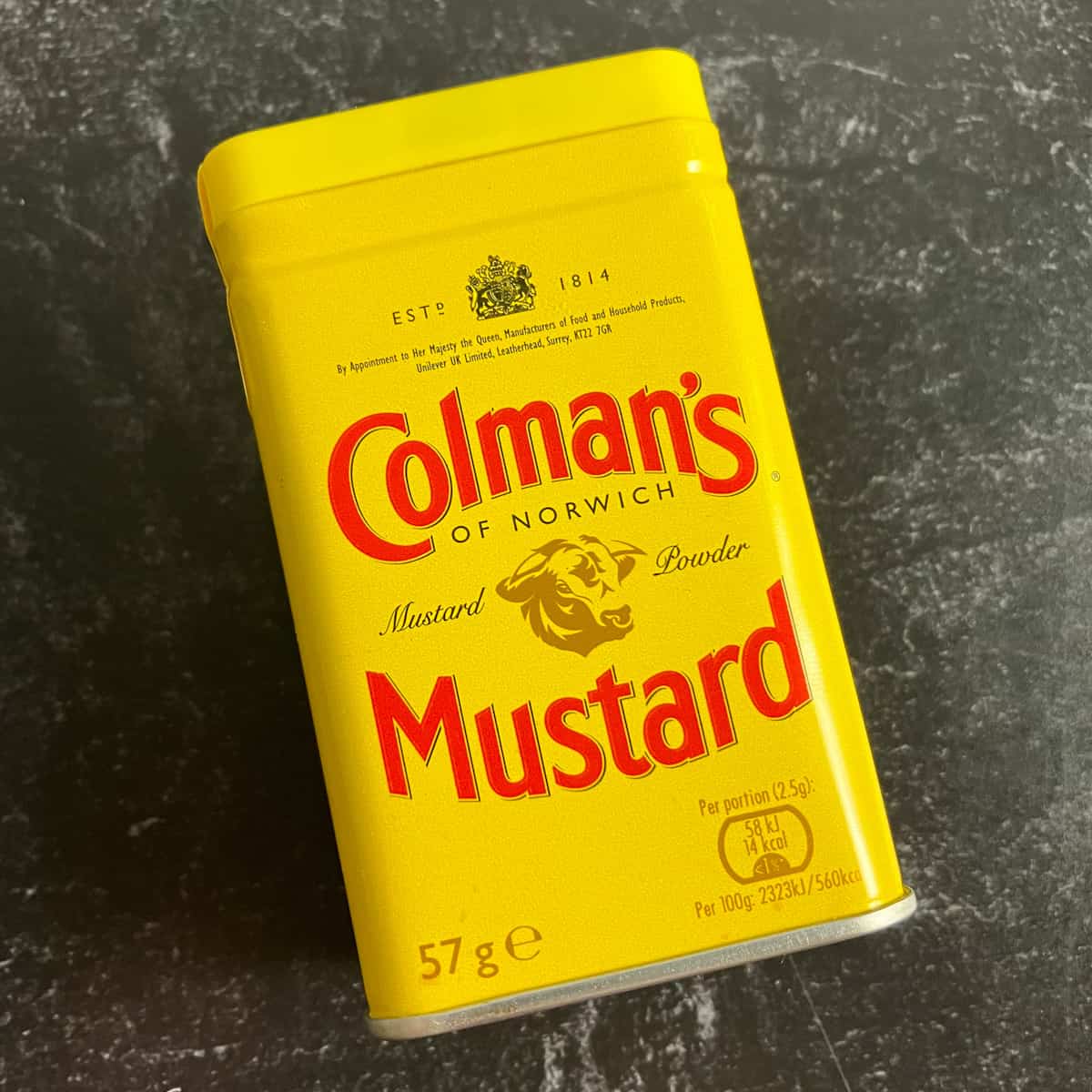 Here is a chart listing what to substitute for horseradish, and conversions:
Horseradish Substitute
Substitute for...
1 teaspoon horseradish equals this
much substitute
Grated fresh wasabi root
Grated fresh horseradish root
1 teaspoon (add more as desired)
Fresh grated ginger
Grated fresh horseradish
1 teaspoon
Grated black radish
Grated fresh horseradish
1 teaspoon
Prepared horseradish
Freshly grated horseradish
2 teaspoon
Grated daikon radish
Grated fresh horseradish
1 teaspoon (add more as desired)
Grated parsnip or grated rutabaga
Grated fresh horseradish
1 teaspoon (add more as desired)
Horseradish sauce
Prepared horseradish
1 teaspoon (add more as desired)
Wasabi paste
Prepared horseradish
½ teaspoon
Wasabi oil
Prepared horseradish
½ teaspoon
Wasabi powder
Prepared horseradish
¼ teaspoon (add water to make a paste)
Chinese hot mustard or spicy
brown mustard
Prepared horseradish
1 teaspoon
Mustard oil
Prepared horseradish
½ teaspoon
Mustard powder (such as
Colman's)
Prepared horseradish
¼ teaspoon (add water to make a paste)
Sauerkraut
Prepared horseradish
1 teaspoon (add more as desired)
Prepared horseradish
Dried horseradish (powder)
1½ teaspoon (add more as desired)
Mustard seeds (crush with mortar
and pestle)
Horseradish powder
1 teaspoon
Mustard powder
Horseradish powder
1 teaspoon
Is horseradish the same as wasabi?
No, horseradish and wasabi come from two different (but related) plants. Both horseradish and wasabi offer a hot, fiery kick that make them good substitutes for each other. Wasabi is even hotter than horseradish, so they shouldn't be substituted in a 1:1 ratio.
Wasabi paste, well known as a sushi condiment, is green in color, and isn't a great match for horseradish in appearance. However, wasabi offers a good texture match for horseradish if you pick the right alternatives. Swap fresh horseradish for fresh wasabi, and wasabi paste or oil for prepared horseradish.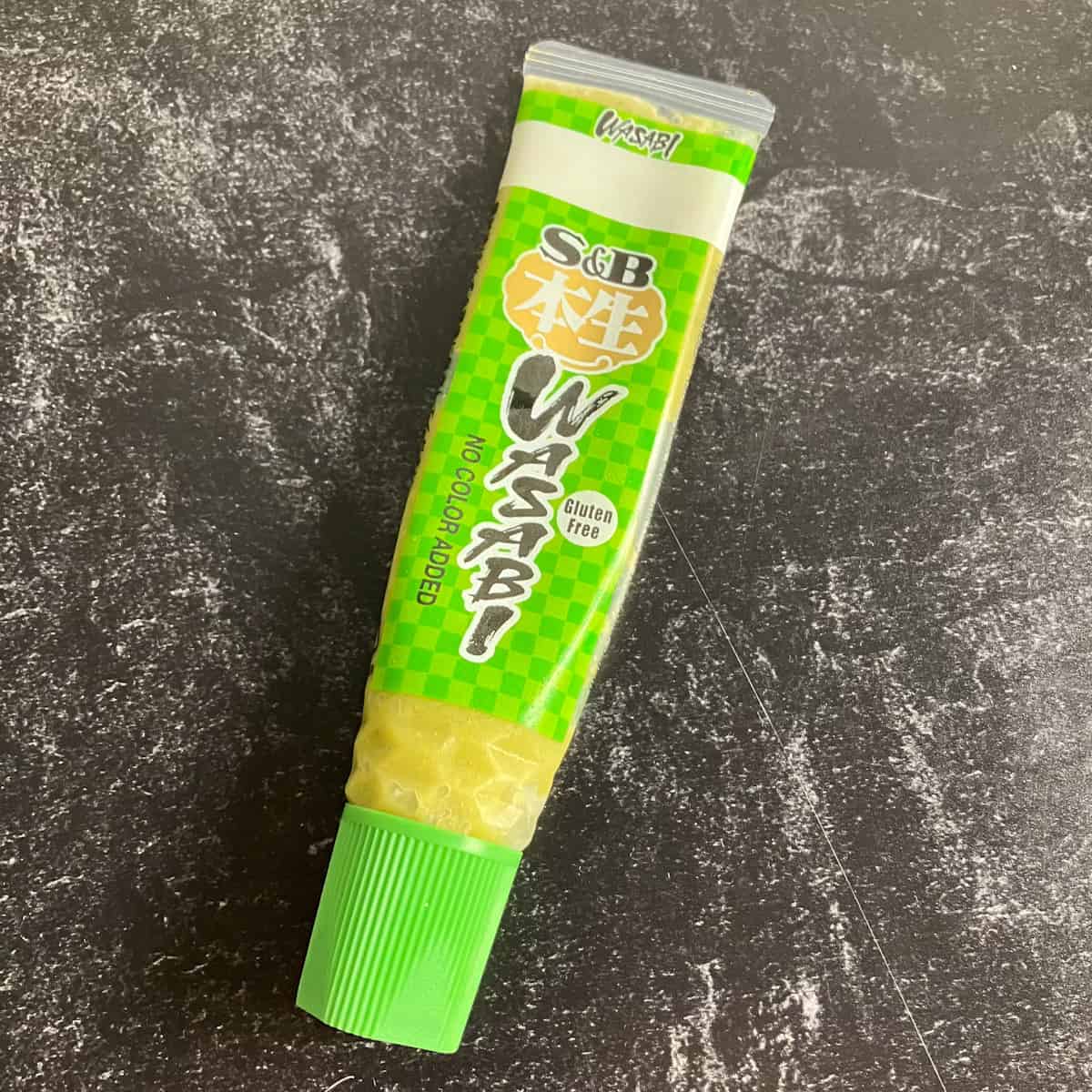 Mustard
The various types of mustard work well as a replacement for horseradish. Choose Chinese hot mustard, Colman's mustard powder, or mustard oil if you'd like to replicate horseradish's spicy hot flavor. Dijon mustard, spicy brown mustard, and mustard seeds are some milder alternatives.
Mustard oil is a popular ingredient in Indian cuisine. However, it has been banned in the US, UK, and Canada as a cooking oil (source). This is due to the oil's high erucic acid content, which is linked to nutrient deficiencies and cardiac issues in animals.
Ginger
Ginger is a good replacement for horseradish if you'd like something a little more sweet with less heat. Use fresh ginger root to replace fresh horseradish, and ginger powder for powdered horseradish. Pickled ginger may be used as a substitution for prepared horseradish.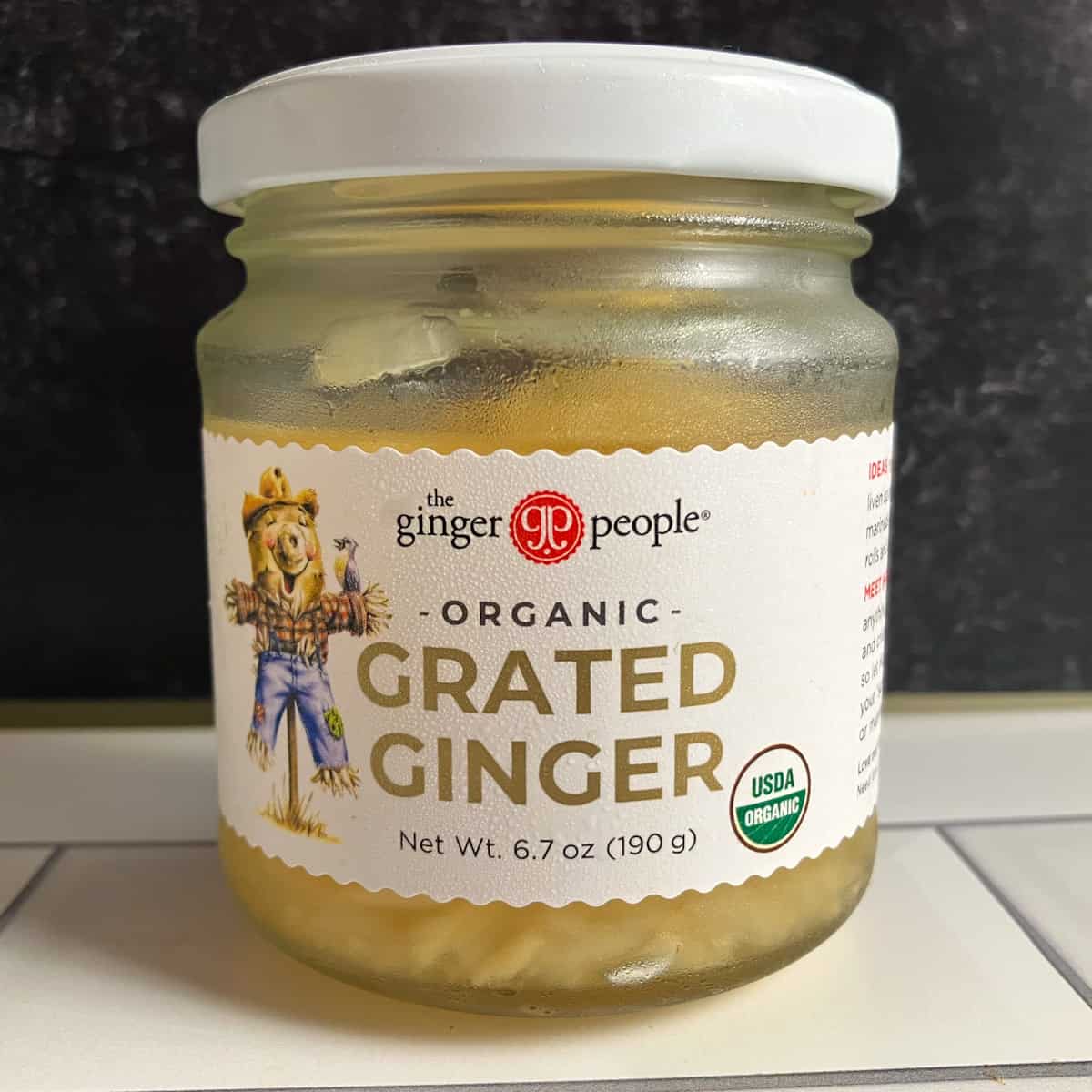 Daikon Radish
Use grated daikon radish or regular red radishes for a fresh horseradish substitute that's not as spicy or peppery. Among the radishes, black radish is the best substitute for horseradish in terms of matching flavor. However, black radish can be hard to find in regular US grocery stores.
What else tastes like horseradish?
Some other horseradish replacements to try include sauerkraut, grated parsnip, and grated rutabaga. All of these substitutes are earthy, but not super spicy like horseradish. Their natural sweetness and lack of heat may make them good horseradish substitutes for kids and picky eaters.
Use parsnips or rutabagas as an alternative to fresh horseradish. The vinegar or naturally fermented flavor of sauerkraut is perfect to replace prepared horseradish.
You can add a lot of parsnip, rutabaga, or sauerkraut to your recipe without making the dish too hot. You don't have to stick to swapping out horseradish in a 1:1 substitution when you use these ingredients.
Horseradish Substitute in Cocktail Sauce
Find a cocktail sauce recipe for cocktail sauce without horseradish here. The substitute for horseradish in cocktail sauce they use is chili powder. Tabasco hot sauce also brings on some heat that the horseradish usually provides.
Some other possible horseradish substitutes for cocktail sauce include hot mustard or wasabi paste. These are added to typical cocktail sauce ingredients (ketchup, Worcestershire sauce, lemon juice, etc.) to make a delicious dip for shrimp.
Substitute for Horseradish in Bloody Mary
Bloody Marys are a cocktail that is often made with horseradish. According to The Kitchn, you can skip the prepared horseradish in Bloody Mary cocktails and no one will miss it. If you want a similar kick of flavor, try stirring in a little mustard powder or wasabi paste.
Horseradish Substitute Seder Plate
Horseradish is used as a bitter herb (maror) on the Passover Seder plate. The best horseradish substitutes for Passover include Romaine lettuce, celery, and endive. Arugula, chicory, kale, and turnip greens may also be good choices.
Please note that the veggies listed in this section are not good substitutes for horseradish in most recipes. However, they all have certain characteristics that make them good choices for Passover. You can learn more about bitter herbs on the Seder plate here.
Can I use radish instead of horseradish?
What's the difference between horseradish and radish? Though they share "radish" in their name, these are two different plants with different culinary uses. Black radish is the best radish substitute for horseradish in terms of flavor.
Though you can use grated radish or daikon radish (AKA winter radish) instead of fresh horseradish, the flavor will be more mild. Some may enjoy this variation, while others may not.
💰 Where to buy horseradish near me?
You can find prepared horseradish and horseradish sauce in regular grocery stores in the US. Horseradish root is usually available seasonally at farmer's markets, international markets, and health food stores. If you can't find horseradish near you, you can buy online here:
What's a good horseradish substitute for prime rib?
Horseradish cream sauce is a classic spicy condiment for prime rib or roast beef. If you don't have horseradish for homemade horseradish sauce, stir in wasabi or spicy mustard instead. Keep in mind that wasabi paste will change your sauce to the color green.
What's a good horseradish substitute for mayo?
You can make a good horseradish mayo alternative by stirring a little wasabi paste, wasabi oil, or hot mustard into plain mayo. The nice thing about this substitution is that you can control the heat depending on how much wasabi or mustard you use.
Is Dijon mustard a good substitute for horseradish?
Dijon mustard can substitute for prepared horseradish, but may be milder in flavor. Some Dijon mustard brands are stronger and spicier than others. Choose a hotter variety to get a sub for horseradish that is a closer flavor match.
📋 Horseradish Nutrition
Here is the nutrition information for horseradish (per Cronometer):
| Nutrient | Fresh Horseradish per 1 tsp | Prepared Horseradish per 1 tsp |
| --- | --- | --- |
| Calories | 2 | 0 |
| Total Fat | 0g | 0g |
| Saturated Fat | 0g | 0g |
| Sodium | 21mg | 25mg |
| Total Carbohydrates | 1g | 1g |
| Fiber | 0g | 0g |
| Total Sugar | 0g | 0g |
| Net Carbs | 1g | 1g |
| Protein | 0g | 0g |
| Calcium | 0% DV | 0% DV |
| Iron | 0% DV | 0% DV |
The nutrition information for horseradish sauce will depend on the brand you use. Plain horseradish is a naturally low carb, keto, gluten free, dairy free, and vegan food.
Horseradish Benefits
Horseradish is a low calorie condiment that fits most special diets. It's true that horseradish technically contains antioxidants and some essential vitamins and minerals. However, it's enjoyed in such small quantities that you're unlikely to derive major health benefits from it.
FAQs
What's a good horseradish sauce recipe?
This Alton Brown horseradish sauce is a popular favorite. This horseradish cream sauce recipe uses fresh horseradish, sour cream, Dijon mustard, white wine vinegar, salt, and black pepper. He recommends trying it on oysters.
Where did the name horseradish come from?
The name "horseradish" has nothing to do with horses or radishes. It may be due to an English mispronunciation of the German name for this vegetable (source). "Horse" denotes the large size and coarseness, while "radish" comes from the Latin word for "root."
1 teaspoon dry mustard equals how much prepared mustard?
One teaspoon dry mustard equals 1 tablespoon prepared mustard in recipes.
Does horseradish sauce go bad?
Horseradish sauce contains highly perishable ingredients like sour cream or mayo, and can go bad. For the best freshness and quality, use horseradish sauce by the best-by date on the label. If your horseradish sauce develops an off odor, color, or mold, it has spoiled and should be thrown out.
👩🏻‍🍳 Recipes Using Horseradish
Here are some ways to use horseradish you might want to try:
🧑🏿‍🍳 Other Recipe Substitutions
Need more tips on making substitutions in recipes? Don't miss these!
Join our community! Subscribe and be kept up-to-date on the latest and greatest recipes. You can also follow me on Pinterest, Twitter, Instagram, and YouTube!
The Disclaimer…
All recipes on this website may or may not be appropriate for you, depending on your medical needs and personal preferences. Consult with a registered dietitian or your physician if you need help determining the dietary pattern that may be best for you.
The nutrition information is an estimate provided as a courtesy. It will differ depending on the specific brands and ingredients that you use. Calorie information on food labels may be wildly inaccurate, so please don't sweat the numbers too much.
For more information on how the three recipe levels may help with a weight management goal, refer to my overnight oats no sugar post. Let's get cooking!
📖 Recipe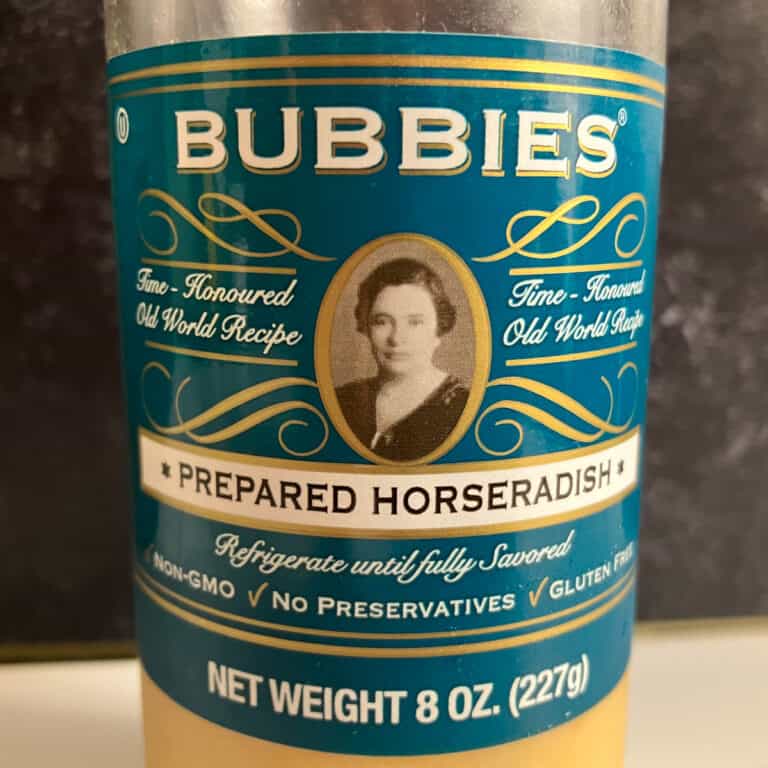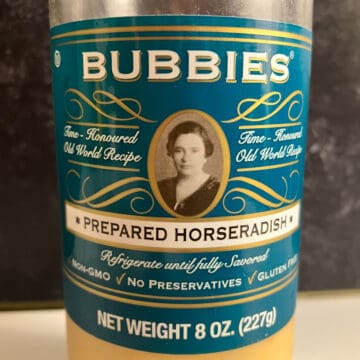 Best Horseradish Substitute (Alternative, Replacement)
What can I substitute for horseradish? Learn the best horseradish substitute for your needs!
Want to Help?
If you love this recipe, please come back and leave a rating. This helps readers and I'd love to hear from you. Thank you ❤️
Instructions
Pick a horseradish substitute with the flavor profile and texture you want. Wasabi and mustard are my two favorites.

Substitute 1 teaspoon of prepared horseradish in your recipe with the horseradish alternative of your choosing in the amount listed. Adjust as necessary.
Notes
Nutrition information is for 1 teaspoon of prepared horseradish. The nutrition information for your horseradish sub depends on which alternative you use.
Nutrition
Carbohydrates:
1
g
Sodium:
25
mg