Creamy, snowy white lard is a wonderful ingredient to add to your culinary toolbox. If the only solid fats in your kitchen are butter and coconut oil, you are missing out! Lard makes flakier and more delicious crackers, biscuits, and pie crusts than you will get with other fats. Unfortunately, lard can be difficult to find in stores. Make your own with my tutorial on how to make lard in your crockpot!
Several months ago, I placed an order for some delicious pastured pork from a local farm. They added a few slabs of fatback to my order so I could try my hand at making lard.
I had no idea how to make lard, and it took some trial-and-error to find a method I was happy with. For my first attempt at rendering lard from fatback, I cut the fat into cubes and used my oven.
Sadly, I ended up overcooking my lard because I could not tell when things were done. This resulted in golden-hued lard with a flavor that was off. It was far removed from the snowy white, near flavorless fat it was supposed to be. Disappointing!
Aside from overcooking the lard, the yield from the piece of fatback I used seemed to be very low.
I knew I needed to do two things to have more lard-making success next time:
Grind the fatback into smaller pieces to help ensure a higher yield.
Render the fat at a lower temperature to help prevent overcooking, removing the liquified lard as quickly as possible.
My crockpot seemed like it might be perfect for the lower-temperature cooking. And to help increase my yield, I decided to grind the fatback this time rather than cubing it.
This is a different way of doing things compared to most lard tutorials I've seen, but it worked out really well!
What you need to make lard using this technique
As with all recipes in my slow food DIY section, this recipe on how to make lard is not for everyone. However, if you've already tried making butter and want a more challenging project, this may be a good fit. Here's what you'll need:
This was my first time using a meat grinder. I was kind of surprised at how many pieces there were after opening the box.
Thankfully, the grinder came with good directions, and I was able to assemble it fairly quickly. I didn't need all of the pieces for this project, as some were for making sausage links. (Fresh sausage links will definitely be a future slow food DIY project here, stay tuned!)
The fat cuts and grinds easiest when it is almost frozen (38-40F). I made sure to keep the fatback I was not working with in the freezer while cutting other pieces. Before long, I had a few bowls of 1" cubes, ready for grinding.
I made the mistake of loading the tray with cubes and pushing too many in at once. This jammed the machine, so I had to unplug it, disassemble it, and clean it out.
It was much more effective to drop just a few cubes at a time into the chute and push them down with the tamper. No more jamming! Before long, I had a bowl of coarsely ground fat, ready for the crockpot. (Looks a bit unappetizing at this stage, doesn't it?)
The next step: rendering
Now that I had ground the fatback, it was time to start the rendering process. This is the easy part. I put all of the fat into my slow cooker and set it on low.
Then, every hour, I would siphon off all of the oil that I could into jars. A turkey baster made this simple to do.
The first hour yielded approximately 1.5 cups of clear, colorless oil. Lard perfection. When allowed to chill, it became a creamy solid white.
After two hours, I got about another 1.25 cups of oil. Hour three yielded about 1 cup of oil. This is where I would stop rendering in the future.
As you can see in the photo, by hour four, the oil I managed to obtain had turned from clear to golden. The mere 0.5 cup of oil I siphoned off had overcooked and smelled a bit burnt. I had gone too far.
If you were extremely particular about making the highest quality lard you could, try siphoning every half hour instead of every hour.
After the lard comes to room temperature, store it in the refrigerator or freezer. I only keep one small jar in my fridge at a time since this lard spoils more quickly than store-bought lard.
Cooking and baking with lard
So, you might be wondering at this point why anyone would go to all of this trouble. Good butter is relatively easy to find, so why bother?
As mentioned in the intro (and I realize this is subjective), lard makes better crackers, biscuits, and pie crusts than you will get with butter. We did a butter-versus-lard trial with the King Arthur sourdough cracker recipe, and lard was the clear winner. The crackers made with butter were lovely, but the ones made with lard were both flakier and more flavorful.
However, and this is important, I did my butter-versus-lard baking trial with leaf lard, the highest grade of lard. Here, I am making lard with fatback, which is from a different part of the pig than the fat used for leaf lard. Becoming familiar with the different types of lard will help you figure out how best to use them.
Leaf lard is best in baking, making pastry, and so on. Fatback has a light "porky" flavor that works better for roasting vegetables. Fatback lard is also a rockstar ingredient in homemade tamales.
All of that said, I've still been known to use fatback lard in baked goods and leaf lard in tamales. Sometimes you just have to use what you have on hand.
I tend to find that homemade lard is much softer at room temperature than store-bought lard. It's easily spreadable; I'm even aware of individuals who use it on bread in place of butter! Sometimes I can get away with using less in recipes that call for solid fats because it is less solid.
Speaking of butter, do you know about the nutritional differences between butter and lard? What I found might come as a surprise!
A nutritional comparison of some common fats used in baking
There's been a lot of nutritional fear-mongering around the use of lard, and I find it unfortunate. Lard is one of your best bets (nutritionally) for a solid cooking fat that has been minimally processed.
Compared to two other popular natural fats, butter, and coconut oil, lard is a winner on several fronts. I think it's fair to compare lard to other solid fats as they tend to be used for similar baking applications. Though I have seen liquid oils (like olive oil) used in cakes, butter and lard are more easily interchanged in recipes.
| | Lard (1 tablespoon) | Butter, unsalted (1 tablespoon) | Coconut oil (1 tablespoon) |
| --- | --- | --- | --- |
| Calories | 116 | 102 | 122 |
| Total Fat (g) | 12.8 | 11.5 | 13.5 |
| Monounsat Fat (g) | 5.8 | 3.3 | 0.9 |
| Polyunsat Fat (g) | 1.4 | 0.4 | 0.2 |
| Saturated Fat (g) | 5.0 | 7.2 | 11.2 |
| Trans Fat (g) | 0.1 | 0.5 | 0 |
| Vitamin A (%DV) | 0 | 15 | 0 |
| Vitamin D (%DV) | 2 | 0 | 0 |
| Vitamin E (%DV) | 0 | 2 | 0 |
Source: Cronometer
The first thing you may notice is that butter (by volume) is lower in calories than both lard and coconut oil. This is because it contains dairy solids in addition to butterfat. (Calorie information on U.S. food labels is rounded, so you'll usually see butter listed as 100, lard as 120, etc.)
The real thing I'm interested in here, though, is the fatty acid breakdown.
If you are following mainstream nutrition, you know total fat and dietary cholesterol are not the focus of recommendations anymore. Types of fatty acids are considered more important to look at.
If you are trying to lower your LDL ("bad") cholesterol, the recommendation is to try and lower saturated fat intake. On the other hand, heart-healthy monounsaturated fats (rich in olive oil) are thought to be beneficial in lowering "bad" cholesterol.
As you can see in the table, lard is the lowest in saturated fat and highest in monounsaturated fat of the three. Additionally, it provides a little vitamin D, a nutrient that many are low in. Though coconut oil is a plant-based food, lard appears to be the winner in terms of fatty acid profile.
What about vegetable shortening?
My family largely avoids the use of ultra-processed vegetable shortenings, another solid fat option. I find them inferior both in taste and as a baking ingredient.
Though vegetable shortenings were initially promoted as a "healthier" alternative to lard and butter, they turned out to be far from it. The original vegetable shortenings were packed with partially hydrogenated oils that the FDA determined are not Generally Recognized as Safe (GRAS). Though formulations of these products were changed in the 2000s, many are wisely choosing to stick with lard and butter.
In general, I try to get most of my fat from whole foods and limit added fat intake. I do love the fearless use of ingredients like lard and butter in my cooking to enhance flavors. However, they aren't the main ingredient.
When it comes to added fats, olive oil and avocado oil are the main players in my kitchen. I use lard and butter (moderately) when I need a solid cooking fat. And there are other oils that I use once in a while simply because I enjoy the flavor (e.g., coconut oil and sesame oil).
A little can go a long way when we are talking about energy-dense added fats like butter and lard. I aim to savor them in delicious recipes while not getting too much of a good thing. However, some may need to be more cautious with their use of these fats than I am.
Some individuals have medical issues where they can benefit from being very restrictive with their saturated fat intake. If this describes you, lard and other solid fats may not fit well into your eating plan. If you use added oils, olive and avocado oils are going to be better options. Know thyself!
And now for the disclaimer…
All recipes on this website may or may not be appropriate for you, depending on your medical needs and personal preferences. Consult with a registered dietitian or your physician if you need help determining the dietary pattern that may be best for you.
The calorie information is an estimate provided as a courtesy. It will differ depending on the specific brands and ingredients that you use. Calorie information on food labels may be wildly inaccurate, so please don't sweat the numbers too much.
For more information on how the three recipe levels may help with a weight management goal, refer to this post. Let's get cooking!
📖 Recipe
Like this recipe?
Leave a rating by clicking the ⭐ below!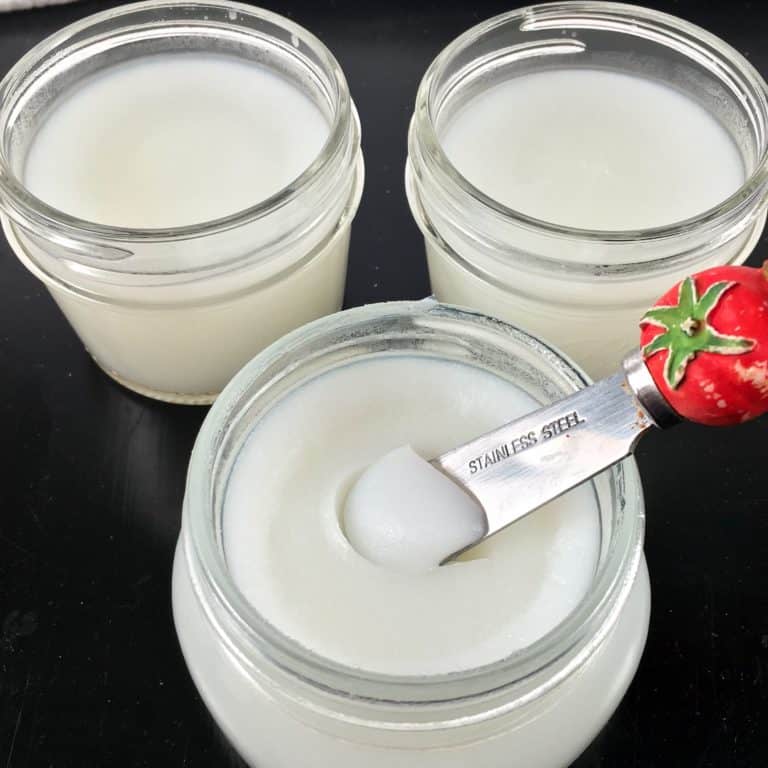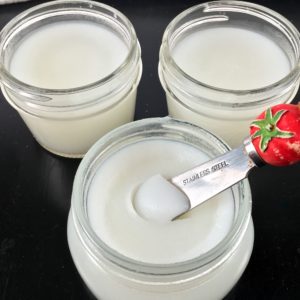 How to Make Lard in Your Crockpot
Lard is a fabulous ingredient to add to your culinary toolbox but it can be difficult to find in stores. Make your own with my tutorial on how to make lard in your crockpot!
Ingredients
2-4

lbs

pork fatback

(0.9-1.8 kg)

freezer space

🙂
Instructions
Be sure to read the post before you begin this recipe. It contains more details on the equipment that you need for this slow food project.

Keep the slabs of fatback at 38-40°F/3.3-4.4°C (almost frozen) for easier cutting and grinding. Cut the fatback into 1-inch (2.54 cm) cubes (or smaller). I chose to keep the skin on the fatback.

Using a meat grinder, coarsely grind the cold fatback cubes. Send them through the grinder slowly, being careful not to jam your grinder. (If your grinder cannot handle the fat cubes or you do not have a grinder, you may skip this step. However, it is likely that your lard yield will be lower.)

Put the ground fatback (or the fatback cubes) in a slow cooker and set it on low. Cover the slow cooker.

Every hour, siphon off all of the oil you can into food-safe jars. I used a turkey baster to make this easier. Leave the solids in the slow cooker.

Continue collecting the lard every hour (or every half hour, if desired) for a total of 2-3 hours. The lard you collect should be clear and nearly colorless. I found that the oil collected beyond three hours had turned golden and was overcooked.

Let your lard cool to room temperature. Put lids on the jars and store them in the fridge or freezer, depending on how quickly they will be used. Keep in mind that homemade lard does not last as long as store-bought lard in the refrigerator.
Notes
This is a level 3 recipe (weight maintenance and active lifestyles). At approximately 120 calories per tablespoon, lard is an extremely energy-dense food. It's a good idea to go light on the added fats if you have a weight loss goal. If you choose to make this, I recommend keeping it in small jars in the freezer, only defrosting what you need.
Nutrition
What is your favorite type of solid fat for cooking and baking? Do you ever bake with lard, and if so, what are your favorite ways to use it? Drop me a comment below and let me know!