Make your mornings a little sweeter with this hummingbird cake oatmeal recipe, no added sugars or refined grains needed! Classic hummingbird cake is a cinnamon-scented delight packed with pineapple, bananas, and pecans. Using ripe mashed bananas eliminates the need for sugar, while whole grain oats serve as the grain base. The dish is finished with a drizzle of silky cream cheese icing that is sweetened with dates.
I enjoy having oatmeal for breakfast, but plain oatmeal and fruit can get boring after a while. One of my strategies to keep things varied is to flavor my oats like some of my favorite dessert recipes. Here are a few of my previous oatmeal recipes that were modeled on desserts:
The challenge in creating these was to find a way to make them adequately sweet without added sugar. (Remember that added sugars include items such as maple syrup and honey.) Hummingbird cake was a perfect contender to modify since it contains bananas that naturally provide sweetness.
Baked oatmeal seemed the way to go here since we are mimicking a cake recipe. Indeed, this breakfast felt a bit decadent and is making me consider developing a carrot cake baked oatmeal in the future.
Nutritionally, however, this breakfast is far from dessert. You've got the whole grains, fruit, nuts, and zucchini (which many consider a vegetable, but is another fruit botanically).
The shredded zucchini, though not a traditional ingredient in hummingbird cake, provides a little extra moisture in this recipe. If you don't want to see flecks of green in your cake, be sure to peel it before shredding. If you are like me and the green makes no difference, save yourself some work and leave the skin on.
A little planning can go a long way to make your mornings easier!
Intermittent fasting seems to be very popular right now, with many adherents choosing to fast in the mornings. For those of us that enjoy breakfast before heading to work, it can be tough to get a meal together. I know that I often don't have time to cook on weekday mornings before my workday begins.
Planning a meal that takes a lot of preparation on weekdays would be setting myself up for failure. So, I tend to stick to breakfast items that were prepared ahead of time when I am busy. Overnight oats are one option; they can typically be made several days in advance.
Hard-boiled eggs, plain yogurt, and grab-and-go fruits are some other foods that make my mornings easier. If I make this hummingbird cake oatmeal on a Sunday, I can enjoy a slice for breakfast before heading out the door. Cover the baking pan with plastic wrap, and this dish should be good in the fridge for 3-4 days.
Remember that it is ok to have the occasional morning where things don't go according to plan. It's what you do consistently with your diet that counts!
If you know that you typically have trouble getting a healthy breakfast in, why not meal prep some hummingbird cake oatmeal this week? Starting your mornings off right (whatever that means in your situation) can set the tone for the rest of the day. Enjoying a satisfying breakfast may help keep you from grazing on snacks before lunch. Catch that early morning win!
P.S. Have you ever wondered how the hummingbird cake obtained its unusual name? You can learn more about the history of this delicious dessert, originally called the "Doctor bird cake," over at Jamie Oliver.
And now for the disclaimer…
All recipes on this website may or may not be appropriate for you, depending on your medical needs and personal preferences. Consult with a registered dietitian or your physician if you need help determining the dietary pattern that may be best for you.
The calorie information is an estimate provided as a courtesy. It will differ depending on the specific brands and ingredients that you use. Calorie information on food labels may be wildly inaccurate, so please don't sweat the numbers too much.
For more information on how the three recipe levels may help with a weight management goal, refer to this post. Let's get cooking!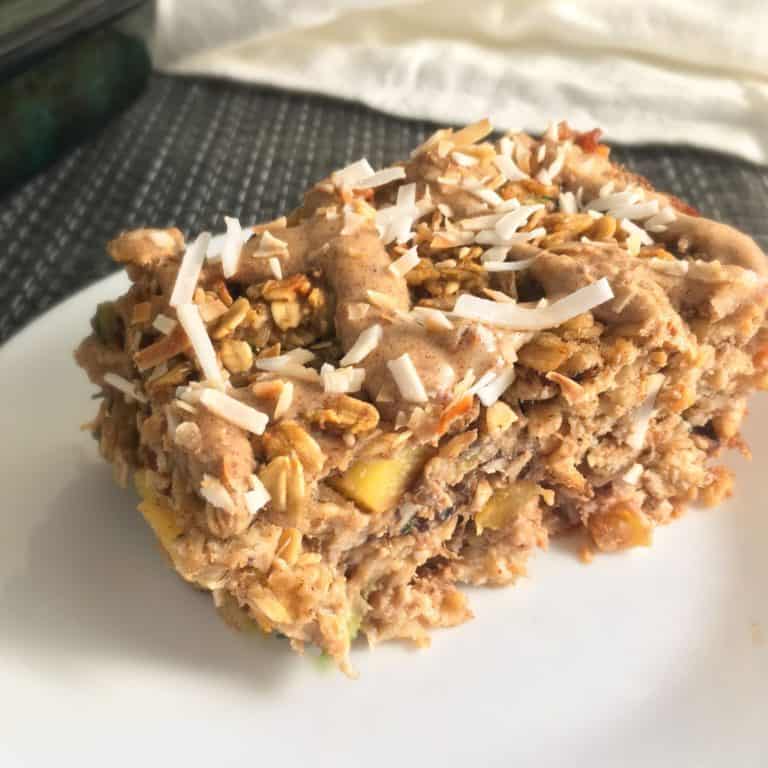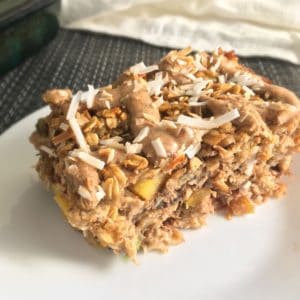 Hummingbird Cake Oatmeal (No Added Sugar)
Make your mornings a little sweeter with this hummingbird cake oatmeal recipe, no added sugars or refined grains needed! Delicious and under 400 calories!
Ingredients
For the hummingbird cake oatmeal:
½

cup

grated zucchini

(peel it if you don't want to see green flecks)

1

cup

finely chopped fresh pineapple

2¼

cups

rolled oatmeal, dry

1

teaspoon

baking soda

1

teaspoon

cinnamon

¼

teaspoon

nutmeg

1½

cups

milk, 2%

1½

cups

mashed banana, very ripe

(about 3 bananas)

2

large

eggs

1

teaspoon

vanilla

½

cup

pecans, chopped

2

tablespoons

butter, melted

cooking oil spray of choice
For the topping:
2

tablespoons

whipped cream cheese

1-2

tablespoons

milk, 2%

½

teaspoon

vanilla

1

tablespoon

pureed fresh dates

(blend dates with a little water or get date puree in the international section of your supermarket)

2

tablespoons

unsweetened coconut flakes, toasted
Instructions
Preheat the oven to 350°F (175°C). Mist a 8-inch x 8-inch (20x20 cm) glass pan with cooking oil spray.

In a large mixing bowl, stir all of the "for the hummingbird cake oatmeal ingredients" together until thoroughly combined. This includes the zucchini, pineapple, oatmeal, baking soda, cinnamon, nutmeg, 1½ cups milk, banana, eggs, vanilla, pecans, and melted butter.

Pour the mixture into the 8-inch x 8-inch (20x20 cm) pan and spread it out with the back of a spoon so it is even. Bake in the oven for 40 minutes.

While the oatmeal bakes, prepare the cream cheese icing. Whisk the cream cheese, vanilla, pureed dates, and 1 tablespoon of milk together in a small bowl. Whisk well; it may take a while for the dates to break down if they were packed tightly. Add an additional tablespoon of milk if the icing is too thick.

When the hummingbird cake oatmeal is done baking, let it cool. Either drizzle the cream cheese icing on (as I did) or spread it on. Sprinkle the toasted coconut flakes on top.

This makes six delicious servings. Don't miss my recipe note below for a suggestion on how to round out your meal!
Notes
This is a level 1 recipe (may help support fat loss). Get some filling fluid and fiber into your diet with the whole grains and fruits in this recipe. Since this dish is a bit low in protein, I highly recommend adding a 5.3-ounce cup of low-fat plain Greek yogurt on the side. The yogurt will help round out the meal with more protein while keeping the overall meal low-calorie.
Nutrition
Do you ever make oatmeal recipes that capture the flavors of your favorite desserts? What are some of the best dessert-to-oatmeal transformations that you've created? I'd love it if you'd scroll down and tell me about it below!