Is Tupperware microwave safe? According to Tupperware, plastic Tupperware can go in the microwave as long as it has the microwave safe Tupperware symbol. The Tupperware microwave safe symbol looks like 3-5 wavy lines, and you'll find it on the bottom of your food storage containers. If you can't find the answer to can you microwave Tupperware for your specific food storage container, do not microwave.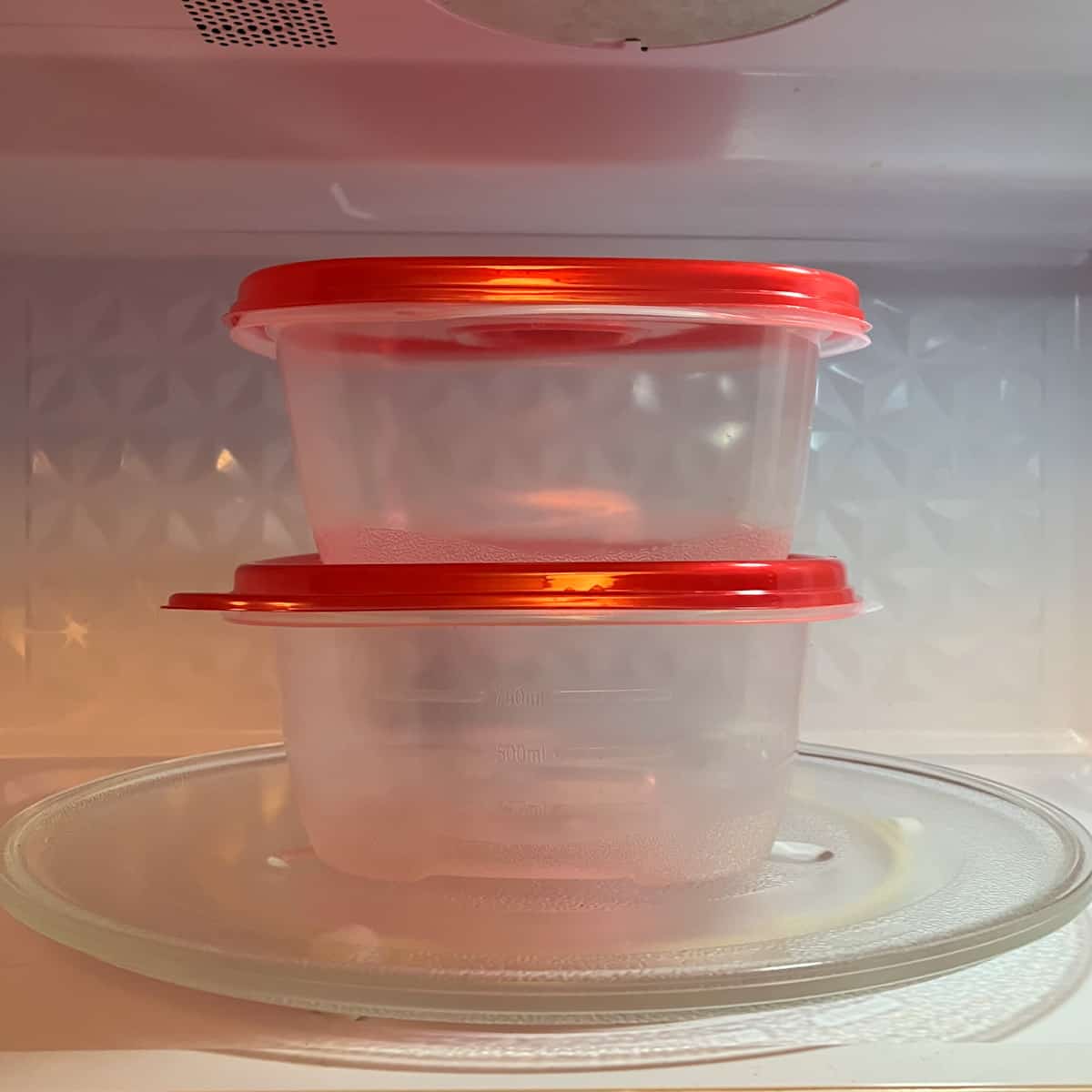 Can you microwave Tupperware plastic? Here's a summary of Tupperware's answer to can you put Tupperware in the microwave:
It is safe to microwave Tupperware that has been "positioned as microwavable." Not all Tupperware should go in the microwave.
When reheating food in microwave-safe plastic, use medium heat in the microwave.
If you need to microwave Tupperware for longer than 3 minutes, stop and stir the food for even reheating.
When using Tupperware products with a microwave safe lid, leave the vent cap on the lid open during and after reheating.
The max recommended microwave temperature when microwaving Tupperware is 248F (120C). The max microwave power when you use Tupperware in the microwave oven in 600W.
Microwaving foods high in sugar and fat can damage your plastic microwavable Tupperware containers because they get very hot. This type of damage is not covered by the Tupperware warranty. Don't microwave Tupperware that is cracked, warped, or otherwise damaged.
Jump to:
Is Tupperware Microwave Safe?
Can Tupperware be used in microwave? It depends! The Tupperware brand sells a variety of storage containers, items for the kitchen, as well as cups, plates, and utensils. These products come in a variety of materials, including plastic, glass, and metal, that may or may not be microwave safe.
In addition, when some ask "is plastic Tupperware microwave safe?" they may mean any plastic food storage container. This is because many refer to "Tupperware" as any plastic container we put food in.
Today you'll learn the information you need to safely use Tupperware in microwave. We'll also cover other popular plastic food storage containers, including Ziploc, Rubbermaid, and IKEA brands.
Is it safe to microwave food in Tupperware?
You can microwave Tupperware that is specifically for microwave oven usage. The easiest way to answer can I microwave Tupperware is to look at the "microwave reheatable" section on the Tupperware website to see if your product is there. Here are the microwave safe Tupperware products currently available:
Microwave Reheatable Lunch Plates, Cereal Bowls, and Divided Dish
"Microwave safe" means that the product shouldn't warp or melt in the microwave (assuming manufacturer's instructions are followed). Tupperware states that the resins used in their microwave-safe products "have been tested to ensure no transfer of chemicals to your food takes place." As of March 2010, all Tupperware products sold in the United States and Canada are BPA-free.
That said, as someone in this "is Tupperware microwave safe" Reddit conversation pointed out, microwaving in plastic is still fairly controversial. There's concern that even microwave-safe plastic may release harmful chemicals over time when microwaved. Because of this, we'll cover some alternatives to microwave plastic Tupperware below.
Can you microwave plastic Tupperware?
Some plastic Tupperware is microwave safe, while others are not. For example, the Tupperware Crystal Wave Plus line of food storage containers is microwave safe. The Tupperware Big Wonders plastic bowl set is not safe for use in the microwave.
How to tell if Tupperware is microwave safe?
How to know if Tupperware is microwave safe? Tupperware recommends looking for a symbol with three squiggly lines on your Tupperware product. This symbol means that the Tupperware is microwavable.
Is all Tupperware microwave safe?
No, some Tupperware is not microwave safe. Some Tupperware storage containers are for room temperature or cold storage only.
Why are some Tupperware not microwave safe?
Some Tupperware plastic containers are not microwave safe because they are made with plastics that have a higher risk of leaching harmful chemicals into your food and/or they have a low melting point. Though Tupperware stopped producing containers with BPA, there are other chemicals, such as phthalates and styrene, that can transfer from microwaved containers to your food.
It's best to follow the rules here about which containers are microwave safe and which are not. The harmful chemicals you're exposed to by microwaving in unsafe containers can build up in your body over time. This can lead to poor health outcomes down the road.
Is Ziploc tupperware microwave safe?
According to Staples, all Ziploc food storage containers are microwave safe. I highly recommend checking the product packaging of your Ziploc containers to confirm this. You may have old containers or a new product that isn't microwave safe.
Is IKEA tupperware microwave safe?
According to IKEA, their Pruta food storage containers are microwave safe. The IKEA 365+ food containers are also microwave safe (source). In addition, both of these products are dishwasher safe.
Is Rubbermaid tupperware microwave safe?
According to Rubbermaid, food storage containers in the Takealongs, Brilliance, and EasyFindLids lines have a microwave-safe base. The Rubbermaid FreshWorks containers are meant for fridge storage and are not microwave-safe.
Do you microwave Tupperware with lid on or off?
Should you microwave Tupperware with lid? In general, you should microwave microwave-safe Tupperware containers with the lid off. However, Tupperware also sells containers with microwave-safe vented lids. You must leave this vent open when microwaving sealed containers to allow the release of steam.
How long can you microwave plastic Tupperware?
Tupperware recommends not microwaving their microwave-safe containers for more than 3 minutes (source). If you need to reheat leftovers for longer, stop the microwave and stir the food after 3 minutes, then continue heating. After stirring, you can continue to reheat the food for less than 3 minutes more.
If you're using vented Tupperware lids, don't just shake the container to stir. Completely remove the lid and give the food a good stir to release steam and help with even cooking. In general, I consider microwave-safe glass and ceramic better for the microwave, because you can use a longer cook time.
How do you reheat food in Tupperware?
Here are some simple directions for reheating food in Tupperware:
Microwave Food in Tupperware
Make sure you use a microwave safe plastic container. Either look up the product on the Tupperware website, or look for the microwave-safe symbol on the product.
Add the food to be heated to the microwave-safe container. If you'll be using water or another liquid to help keep the food moist, add that now as well.
Cover the container and vent (if desired). If you're using a microwave-safe lid to seal the container, make sure to leave the vent open. If using microwave-safe plastic wrap, leave a corner of the wrap open to allow steam to escape.
Microwave, check, stir. If I'm unsure how long to microwave the food, I like to start with a 30-60 second interval on medium power. Add time if necessary. Remember that you must stir the food after 2-3 minutes if using a microwave-safe Tupperware container.
Is Tupperware dishwasher safe?
Tupperware states that all of their current products are dishwasher safe unless otherwise noted (source). It's a good idea to be extra cautious and look for the dishwasher safe symbol on the product. The symbol is often plate(s) or a wine glass with a water droplet, or being rinsed with water.
Tupperware products produced prior to 1980 are not dishwasher safe. (Makes sense, since many of us didn't use dishwashers back then.)
Should I throw away my old Tupperware?
I'd consider discarding Tupperware plastic purchased before 2010 if you want a Bisphenol A (BPA) free kitchen. BPA is no longer in baby bottles, sippy cups, and formula packaging (Food and Drug Administration). I don't think it's a terrible idea for adults to reduce exposure from their food packaging as well.
FAQs
What is the safest container to microwave food in?
To avoid any potential risks associated with microwaving in plastic, use microwave-safe glass and ceramic containers. When using a plastic container in the microwave, only use it to reheat foods for short periods. Do not cook food in the microwave in plastic containers.
What 3 kinds of containers are safe to put in the microwave?
Three types of containers that are microwave oven safe are microwave-safe glass, microwave-safe ceramic, and microwave-safe plastic containers. According to the USDA, wax paper, parchment paper, and paper towels are also microwave safe.
What containers are not microwave safe?
Don't use metal types of containers in the microwave; these can cause microwave damage, sparks, or fire. "Metal" includes stainless steel, copper, iron, and large pieces of aluminum foil. It's also important to not use plastic or glass in the microwave that is not listed as microwave-safe.
Is it ok to put hot food in Tupperware?
In general, microwave-safe Tupperware can handle higher temperatures than their plastic containers not safe for microwave. Tupperware recommends allowing hot foods and hot liquids containing fat to cool before putting them in the container. This includes items with cooking grease and hot oil.
Are Tupperware plastic plates and porcelain all safe for use in microwaves?
Tupperware doesn't currently sell porcelain plates on their website. Plastic plates in Tupperware's Microwave Reheatable line are microwave safe. Items in Tupperware's Big Wonder line should not be used in the microwave.
Is Tupperware freezer safe?
Some Tupperware is freezer safe, and other items (such as the TupperKids feeding set) should not be put in the freezer. Check the manufacturer instructions for your specific product for the most accurate information.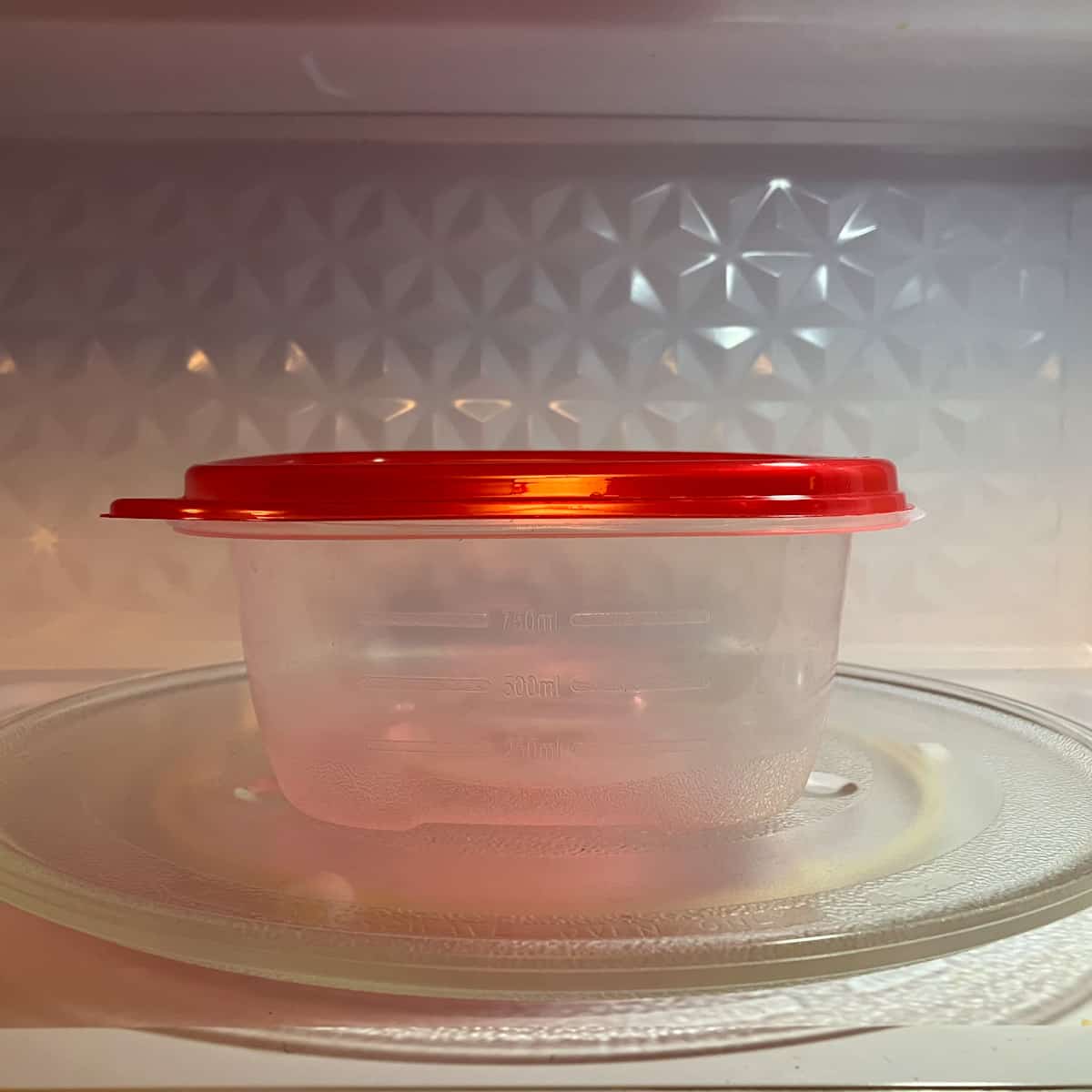 Is it safe to microwave plastic?
What are the dangers of using plastic containers like Tupperware to heat up food? Honestly, microwaving food in plastic is not ideal, but some plastics are worse than others.
In general, plastics with the recycling symbols 3 (phthalates), 6 (styrene), and 7 (may contain BPA) should be avoided for food storage entirely (source). (There are exceptions if the plastic is greenware or biobased.) These types of plastic may leach endocrine disruptors and/or potential carcinogens into the food.
A lot of the food sold in plastic containers in grocery stores comes in containers with the recycling code 1 (PET or polyethylene terephthalate) or 2 (HDPE or high-density polyethylene). In many cases, these are single-use containers that you shouldn't microwaved. Additionally, #1 plastic has a low melting point.
Tupperware CrystalWave Plus containers are made with #5 plastic, AKA PP or polypropylene. This type of plastic is often microwave safe.
Low-Density Polyethylene (LDPE), or #4 plastic, is often in the lids of containers. It may or may not be safe for the microwave.
The FDA says it's ok to use plastic containers labeled for microwave oven use in the microwave. This is mostly because these containers won't melt in the microwave. If you have any concerns about the safety of microwaving in plastic, Tupperware carries microwave safe glass containers you can use instead.
👩🏻‍🍳 Microwave Recipes
Here are some ideas for cooking in the microwave. Don't microwave in plastic if the recipe has a longer cooking time:
Join our community! Subscribe for all of the latest and greatest recipes, and follow me on Facebook, Pinterest, Instagram, and YouTube!
Can You Microwave Tupperware Video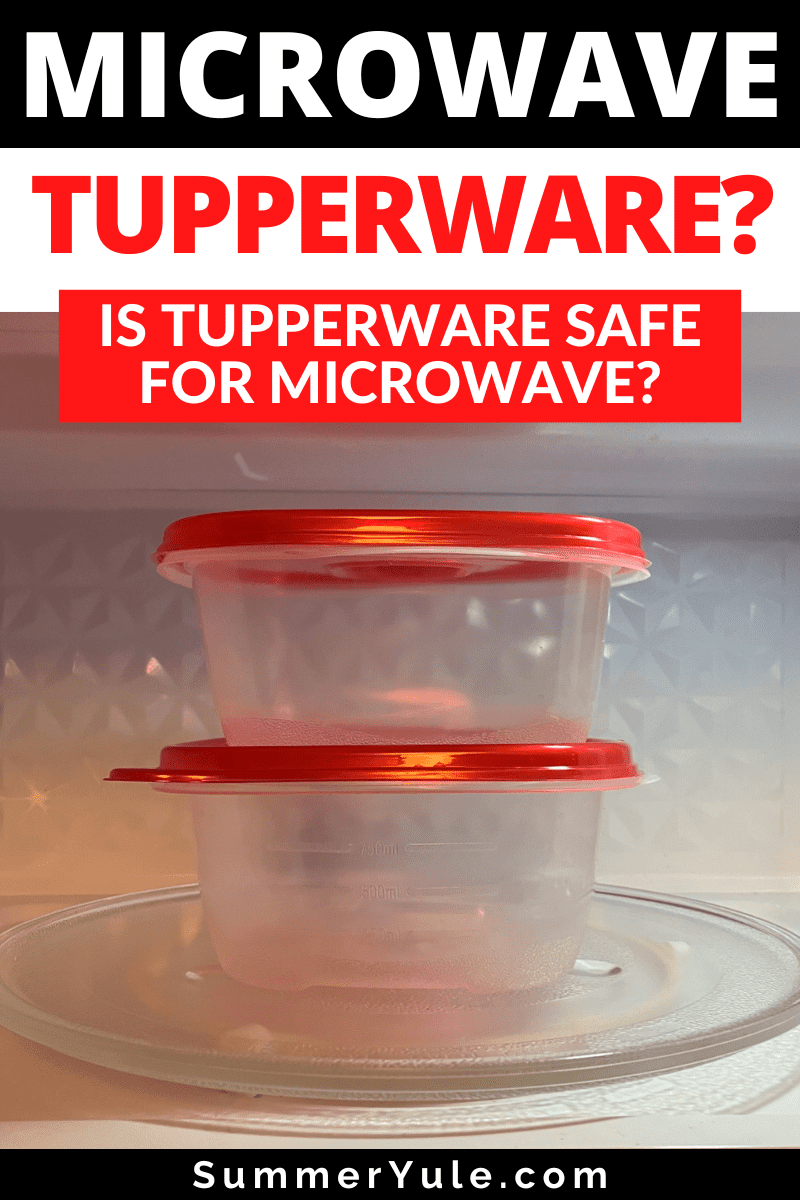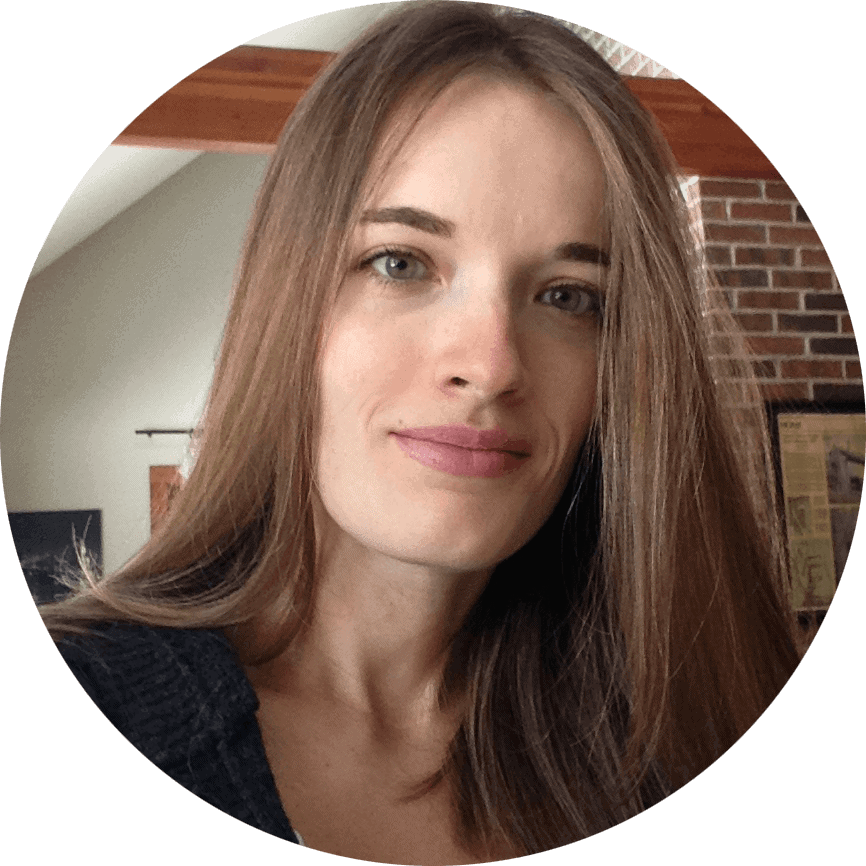 Hello! I'm Summer, a registered dietitian and home chef who loves to cook, eat, and create high quality content for you! Every recipe on this site has been tested by me to help ensure your success in the kitchen. All eaters are welcome here 🙂