Yes, low-carb and keto smoothies do exist! Many berries, including blueberries, are low-carb fruits that may fit into your keto diet plan. This keto blueberry smoothie has only 9.3 grams of net carbs per serving. Learn the secret ingredients to make the creamiest and most DELICIOUS keto smoothie ever! If you are looking for a keto drink that is packed with vitamin C and phytonutrients, you've come to the right place.
You didn't think I'd forget my low-carb and keto friends during Smoothie Madness Week, did you? Lots of no added sugar smoothie recipes use bananas for sweetness and creaminess. However, it's easy to make a creamy smoothie for low-carb diets.
I've used a combination of nut butter and cottage cheese to make this summer drink nice and creamy. I know that seems weird, but please don't judge until you try it.
Seriously, this might be my very favorite smoothie recipe out of those I am offering this week. (Do me a favor and don't tell the other smoothies, ok? My family members each have one that they think is best as well.)
Blueberries are actually a little higher in net carbs than some other berry options. To bring the carb count down, I'm using a combination of strawberries and blueberries. No worries, this does not dilute the rich blueberry flavor and color at all.
Unlike many smoothies, this keto blueberry smoothie provides enough protein and fat that a double serving could serve as a small meal. If you have a fat loss goal, I would not typically recommend drinking your calories. However, this particular low-carb smoothie has a lot of staying power from the protein and fiber-rich whole fruits.
I felt soooo satiated by two servings of this smoothie. I can't normally say that about beverages, keto or not!
And now for the disclaimer…
All recipes on this website may or may not be appropriate for you, depending on your medical needs and personal preferences. Consult with a registered dietitian or your physician if you need help determining the dietary pattern that may be best for you.
"Keto" recipes on the web may not be appropriate for those using ketogenic diets as part of their medical nutrition therapy. That includes this recipe.
The nutrition information is an estimate provided as a courtesy. It will differ depending on the specific brands and ingredients that you use. Calorie information on food labels may be wildly inaccurate, so please don't sweat the numbers too much.
For more information on how the three recipe levels may help with a weight management goal, refer to this post. Let's get cooking!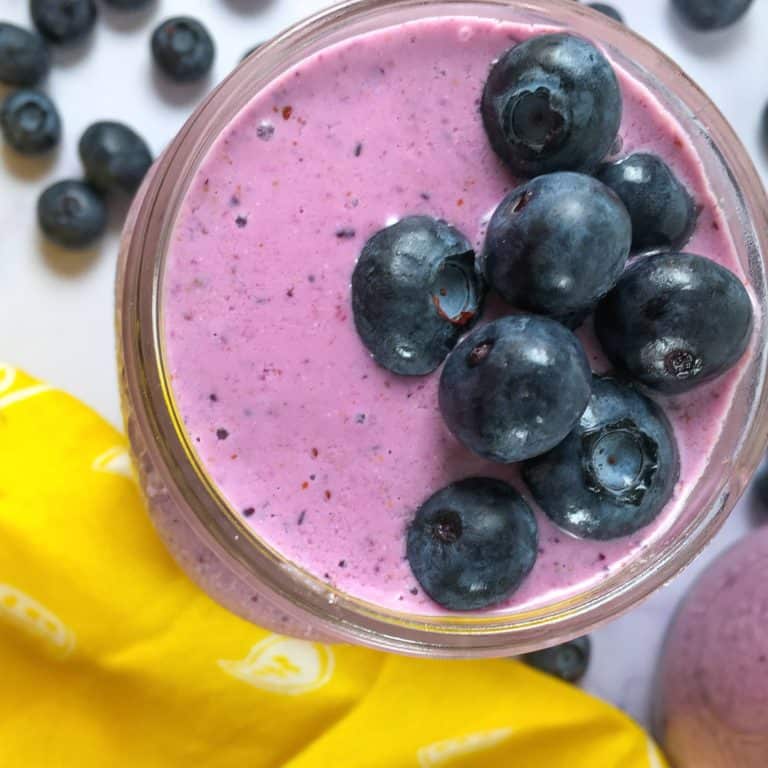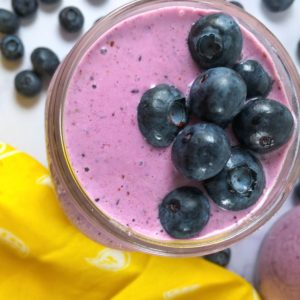 Keto Blueberry Smoothie Recipe
Yes, low-carb and keto smoothies do exist! This keto blueberry smoothie has only 9.3 grams of net carbs per serving.
Equipment
Ingredients
1

cup

cottage cheese, 6%

1

cup

frozen blueberries

1

cup

frozen strawberries

6

ice cubes

1

cup

cold water

¼

cup

creamy almond butter

¼

teaspoon

nutmeg

(skip if you dislike nutmeg, otherwise OMG this is so good!)

2

pinches

stevia extract
Instructions
Place all ingredients into a blender or food processor and blend until completely smooth. That's it, folks!
Save this Recipe
Saved!
Video
Notes
This is a level 2 recipe (transition and weight maintenance). This is a high-energy snack, and I've found that two servings work well as a light meal. Swap the 6% cottage cheese for low-fat cottage cheese if you are looking for a lower-calorie smoothie.
Watch the video and see how quickly you can whip this one up! Woo hoo, (almost) instant gratification!
Nutrition information is for one serving of the recipe.
Nutrition
Calories:
193
kcal
Carbohydrates:
13.1
g
Protein:
10.5
g
Fat:
12.1
g
Saturated Fat:
3
g
Sodium:
215
mg
Potassium:
216.3
mg
Fiber:
3.8
g
Vitamin C:
23
% DV
Calcium:
7
% DV
Iron:
5
% DV
If you are visiting for keto recipes, you might want to check out my (super easy, 2-ingredient) keto cheese chips. And definitely do not miss out on the cauliflower hash brown egg cups with cheese. They make a tasty keto breakfast option!
Do you ever make keto-friendly smoothies? Drop me a comment below and let me know what ingredients you use to make them sweet and creamy!
P.S. I've got another delicious keto smoothie recipe coming at you later this week. It has even more ideas for making the creamiest, best keto smoothie ever! Subscribe to my weekly email list to get the recipe sent straight to your inbox!