Make these keto zucchini boats when you are looking for an easy meal that packs in the veggies. At only 11 net carbs per serving, this recipe will fit into most low-carb dietary patterns. I stuffed hollowed out zucchini squash halves with a mixture of fresh chorizo and tomato sauce. A blanket of pepper jack cheese finishes this delectable dish that will quickly become a family favorite.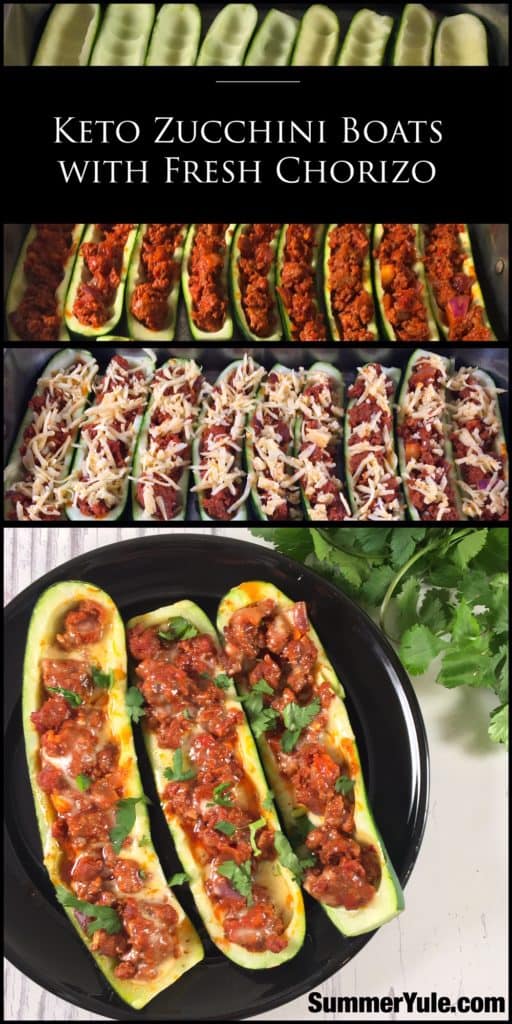 Chorizo is an amazingly delicious spiced pork sausage that can be purchased fresh or more highly processed (dried and cured). These keto zucchini boats use a fresh (raw) chorizo that I bought from Cloonybreen Farm. (Not sponsored, nor an affiliate link.)
Not only are Cloonybreen's pork products darn tasty, they are also from pastured pigs. One benefit of choosing pastured is that sunlight exposure may increase the vitamin D content of the pork. There are few natural food sources of vitamin D, so I try to get some in when I can.
Salmon is another great way to get some vitamin D. (Exposing yourself to sunlight is another option, but those of us in the north often need to supplement D in the winter.)
If you are aiming for a lower-fat diet, chorizo is not your best option, as it is high in fat. I have some substitution ideas in the notes below the recipe if you need them.
My personal approach, instead of eliminating chorizo, is to keep the rest of the meal light when I have it. This dish packs in a lot of low-carb, low-calorie zucchini which provides a lot of volume you don't get with energy-dense chorizo.
Using fresh produce gives you fiber and fluid with the protein-packed chorizo. This combination may feel more satisfying than enjoying chorizo alone.
It's all about finding the balance that is right for you.
I recently did a little n=1 study over the past few months. The main lifestyle change I made was switching up my usual oats/fruit/nuts/yogurt breakfast to eggs/cheese/veg. (And sometimes I'd get creative with delicious savory oats and egg combos. Yum!)
My bloodwork results are in!
Both my 2019 and 2020 lipid panels are completely normal. I know that most folks would not pay much attention to the differences here. However, I noticed a significant rise in total cholesterol, mostly due to the "bad" LDL cholesterol.
If I had switched from mostly oats to mostly eggs and it helped me to manage my weight or blood sugar, I'd be less concerned with this LDL change. However, I didn't derive any additional benefits from this breakfast change. I've never had diabetes or pre-diabetes, and my weight over the past year has been stable.
So, even though low-carb diets are very popular, I think going back to mostly oats for breakfast is best for me. Shifting saturated fat intake a little lower and fiber a little higher are the dietary strategies that can help here.
That doesn't mean I'm giving up eggs (or, obviously, chorizo). I'll continue to use real butter and real cheese; no ultra-processed margarine, etc. I'll continue to base my diet primarily on whole foods.
All I'm going to do is revert to my old breakfast pattern, which included more oats and fruits. (Plus some protein from yogurt.)
These foods helped add more cholesterol-lowering soluble fiber to my diet. It's just a small (but consistent) shift back to the pattern that was giving me better results. Simple.
I doubt you'll notice any significant changes to the recipes on this site.
I have no plans to get extreme. The only thing I wish to do is nip this trend in the bud, long before I see abnormal lab results.
As a dietitian, I prefer the "foods first" approach. When I see things taking a downward turn, I choose to take action right away with tweaks to my diet.
I consider this much better than ignoring the trend because it is still "normal." Waiting until lab work becomes abnormal means it's more likely medication will be recommended. I would strongly prefer to improve my labs with lifestyle modifications instead of medications, whenever possible.
(Yes, sometimes it is not possible. That is ok too.)
It would have been better if I chose to start my weight loss journey when I was overweight before I crossed into "obese" territory. I would have had less weight to lose. Perhaps I would have found it easier to incorporate fitness sooner with less excess body fat.
If you are currently in the overweight category or have pre-diabetes, a great time to start taking action is now. Why wait until things get worse? Looking back, I wish I had started my weight loss journey sooner.
Starting earlier may have ultimately made things easier. Even though I met my goals through small and consistent changes, it was a lot to take on. In all honesty, those small changes eventually added up to a complete lifestyle overhaul.
Thankfully, it is never too late to start making small shifts towards a healthier lifestyle. Cooking more at home can be very helpful in shifting your dietary pattern to help support your goals.
Not only that, home cooking can save you money too. Speaking of which…
Don't throw out those zucchini middles!
To create these keto zucchini boats, you will be scooping out the middles of the zucchini with a melon baller. I really like my OXO melon baller because it has two different-sized scoops, but any brand will do.
You are not going to use the zucchini middles in this recipe, but please do not discard them! Chop them up and save them to add to soups, casseroles, scrambled eggs or an omelet.
If you are here because this is a low-carb (in some cases "keto") recipe, zucchini should be a great fit. I see a lot of folks post low-carb meals on social media that are entirely animal-based foods. However, there are a lot of low-carb plant foods that can help make meals more colorful and varied.
Depending on how low your daily carb limit is, zucchini, yellow summer squash, cruciferous veggies, and berries are great low-carb options. These should fit into most low-carb ways of eating, even very low-carb or keto plans. They are the easiest way to add fiber and phytonutrients to a low-carb diet without supplementation.
I prefer to focus on cooking at home and whole food eating, versus encouraging super specific macros or getting into the animal v plant food debate. Humans can be healthy with diets that vary significantly in macros. Likewise, we can do well with diets coming from varying amounts of animal and plant foods.
Both animal-based and plant-based foods can have a place in healthy diets.
Those who feel strongly about all-animal or all-plant food diets may adopt a belief system that the foods they do not eat are "bad." Unfortunately, I've seen some of these individuals cherry-pick data and spread untruths to try and support their position. In most cases, however, the optimal diet for an individual will include foods from both plants and animals.
As I've covered in the previous section, the best balance of different foods and food types will vary by individual. It will hinge on a variety of factors, such as the conditions they are trying to manage with diet.
Taste preferences are also important, and IMVHO, these keto zucchini boats with chorizo are delicious. So, let's get cooking, shall we?
And now for the disclaimer…
All recipes on this website may or may not be appropriate for you, depending on your medical needs and personal preferences. Consult with a registered dietitian or your physician if you need help determining the dietary pattern that may be best for you.
The calorie information is an estimate provided as a courtesy. It will differ depending on the specific brands and ingredients that you use. Calorie information on food labels may be wildly inaccurate, so please don't sweat the numbers too much.
For more information on how the three recipe levels may help with a weight management goal, refer to this post. Let's get cooking!
Like this recipe?
Leave a rating by clicking the ⭐ below!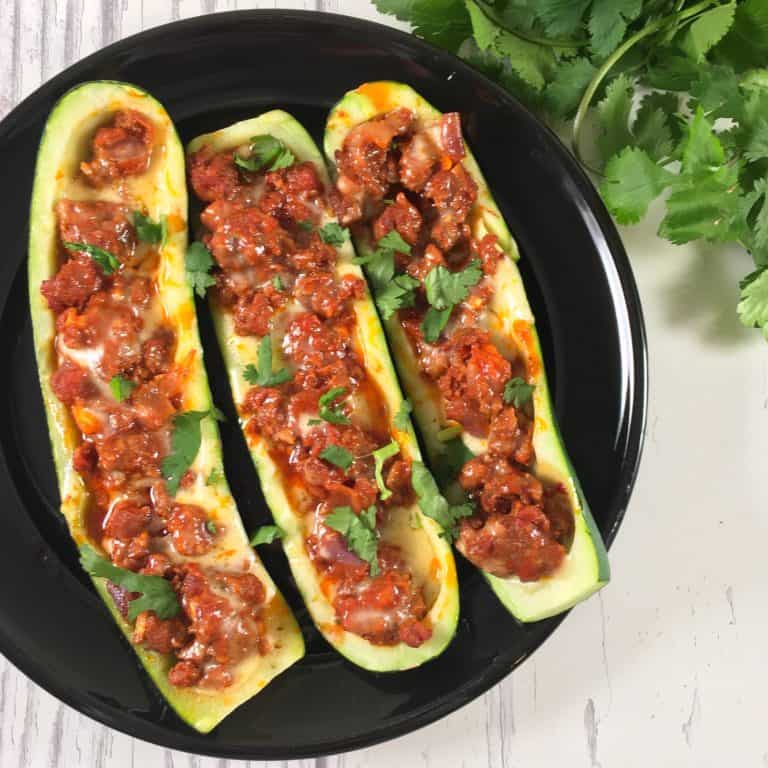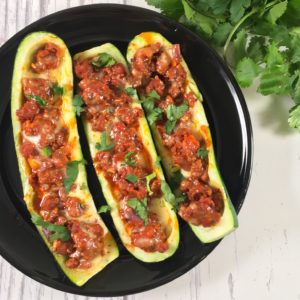 Keto Zucchini Boats with Chorizo
Make these keto zucchini boats when you are looking for an easy meal that packs in the veggies. At only 11 net carbs per serving, this recipe will fit into most low-carb dietary patterns.
Ingredients
1.5

lbs.

zucchini

(680 grams; about 6 zucchini)

1

lb.

fresh chorizo, casings removed

(454 grams)

2

cloves

garlic, finely chopped

1

cup

strained tomatoes

½

medium

red onion, chopped

4

ounces

pepper jack cheese, shredded

(113 grams; about 1 cup)

2

tablespoons

fresh cilantro, finely chopped
Instructions
Preheat the oven to 400°F (200°C).

Crumble the fresh chorizo into a skillet. Add the onion and garlic. Cook over medium heat until the chorizo is browned, about 10-15 minutes, stirring occasionally.

While the chorizo cooks, wash your zucchini and chop off the stem end. Cut them in half lengthwise. Use a melon baller to scoop out the middles, forming the boats, as shown. Arrange the boats in a single layer in a large tray pan. Save the zucchini middles to use in other recipes.

Add the strained tomatoes to the chorizo mixture. Allow it to simmer down for 10 minutes, stirring occasionally. The results should not be very liquidy.

Evenly fill your zucchini boats with the chorizo mixture using a spoon.

Top the filled boats with the pepper jack cheese shreds.

Cover the pan with foil and bake in the heated oven for 35 minutes.

After baking, garnish with the cilantro. This makes 4 servings of 3 zucchini boats (i.e., 3 zucchini halves) each. You may end up with more or fewer boats per person depending on the size of the squash you start with!
Notes
This is a level 2 recipe (transition or weight maintenance). My strategy for a higher energy meal here would be to add a big side salad with dressing. Another (not low-carb/keto) option would be to add a grain-based side.
On the other hand, if I were looking to cut calories, I would substitute a leaner meat option for the chorizo. You could add chorizo spices to lean ground turkey or lean ground beef to get somewhat similar flavors. It won't be quite the same, but it should still be delicious and capture the spirit of the dish.
Nutrition
What are some of your favorite ways to prepare zucchini? If you have an excellent idea for using the middles that get scooped from these keto zucchini boats, drop me a comment!