Are lion's mane mushroom kits worth it? Read my honest review of the North Spore Lion's Mane Mushroom Kit. IMVHO this is the best lion's mane mushroom grow kit around because the mushrooms are so fast and easy to grow. Get instructions to grow your own lion's mane mushrooms, learn where to buy lion's mane mushrooms, and much more. You don't have to be a mycologist to enjoy this lion's mane mushroom grow kit!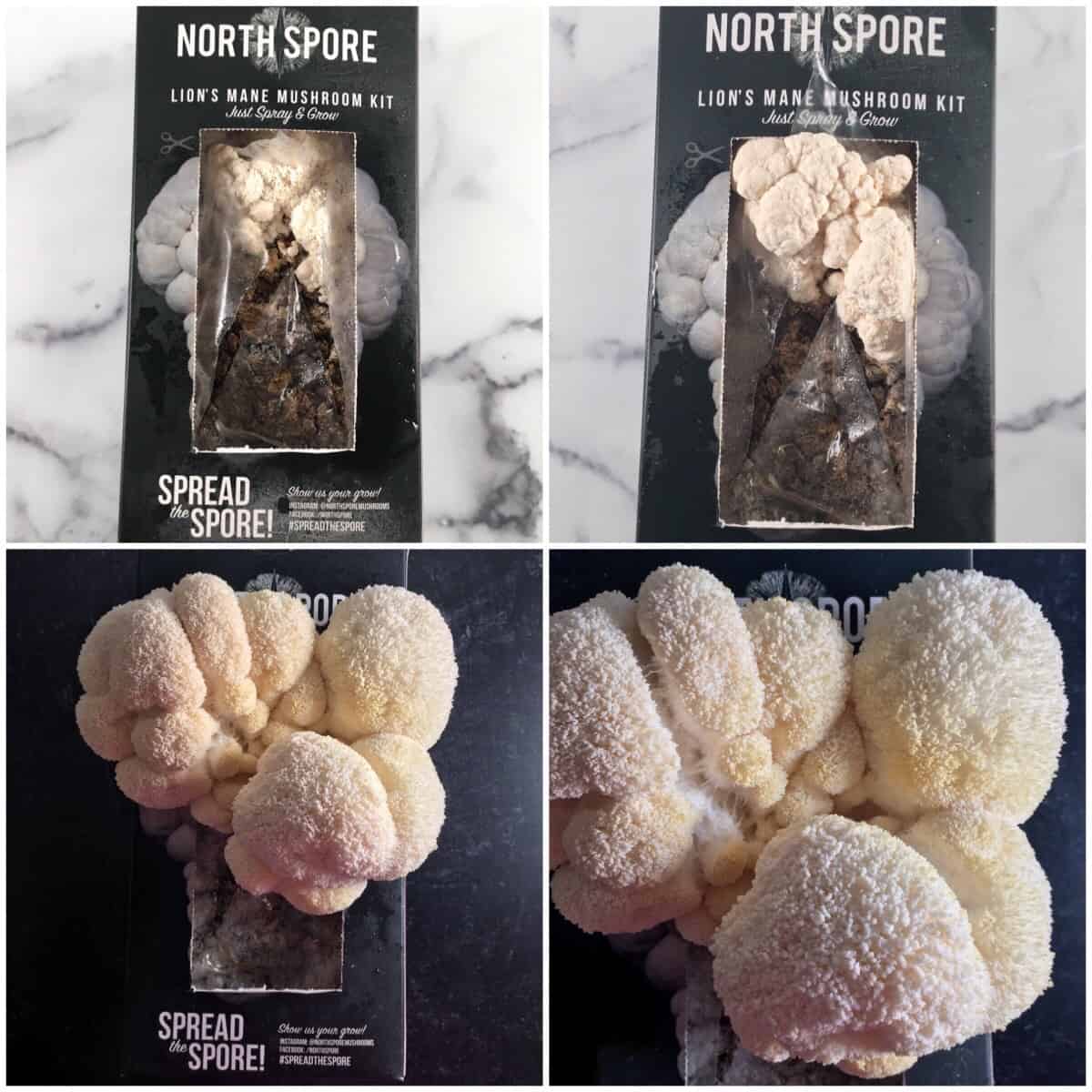 Hey, mycophiles! Think you'd enjoy a mini mushroom farm in your kitchen? If so, you need to try the North Spore Lion's Mane Spray & Grow Mushroom Kit.
This North Spore mushroom kit was so much fun to grow. I think it would be the perfect gift for foodies, gardeners, or mushroom lovers.
As you can see from my lion's mane mushroom pictures, this is one unusual looking fungus. Its dense and shaggy appearance has earned it a variety of interesting nicknames:
Monkey Head Mushroom
Bear's Head
Satyr's Beard
Bearded Hedgehog Mushroom
Pom Pom Mushroom
Bearded Tooth Mushroom
Bearded Tooth Fungus
I've got some tips on buying fresh lion's mane mushrooms below, but honestly they can be difficult to find in stores. One of the best ways to try this mushroom variety is to use a lion's mane grow kit.
I think you're going to be surprised at how simple lion's mane cultivation is. My first mushroom harvest was ready for picking in about 19 days. These didn't grow quite as fast as the Oyster Mushroom Grow Kit, but the results were even more spectacular.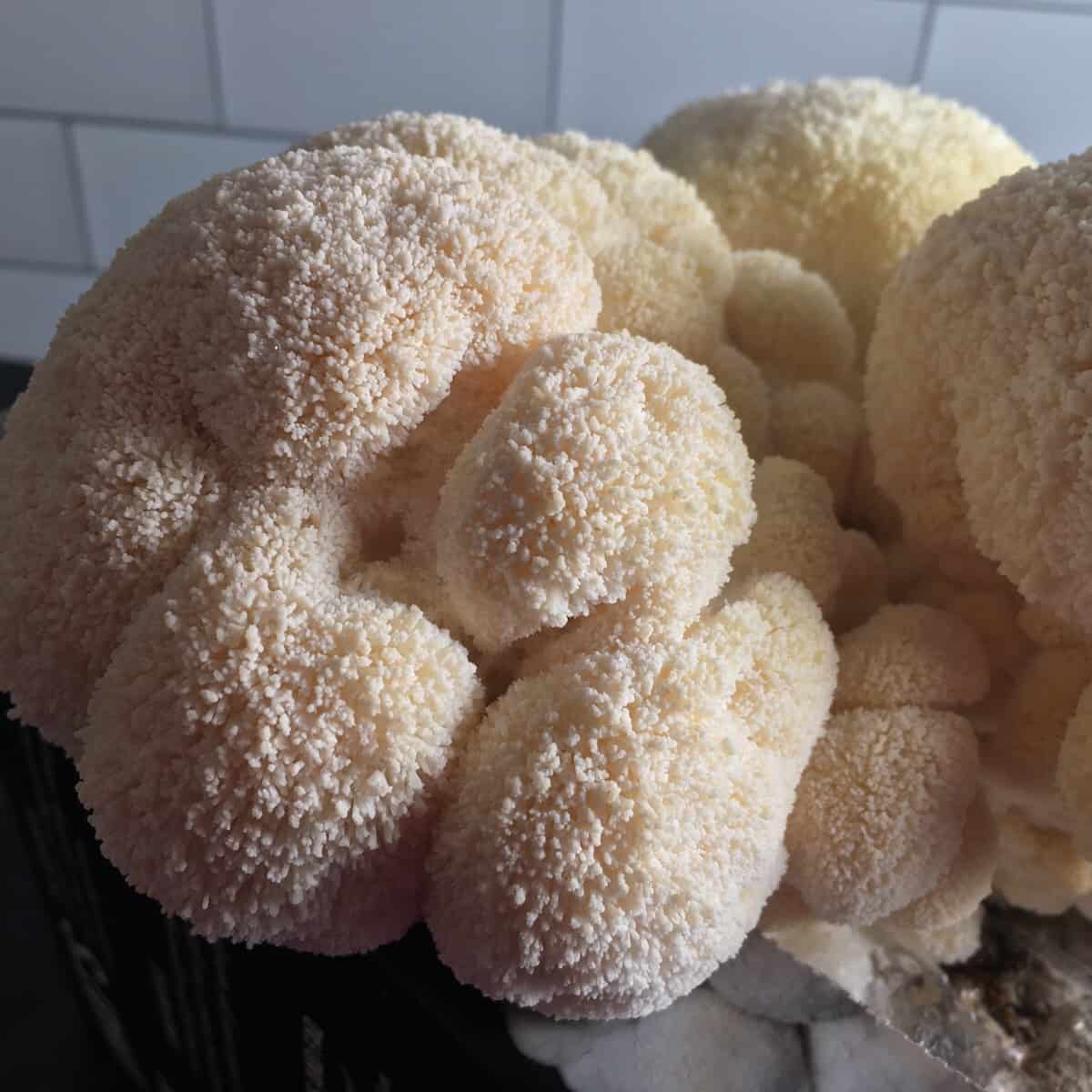 Jump to:
Lion's Mane Grow Kit Instructions
The lion's mane grow kit box contains everything you need to grow mushrooms except water. You get a fully colonized sawdust block containing the mushroom mycelium, a spray bottle, and instructions.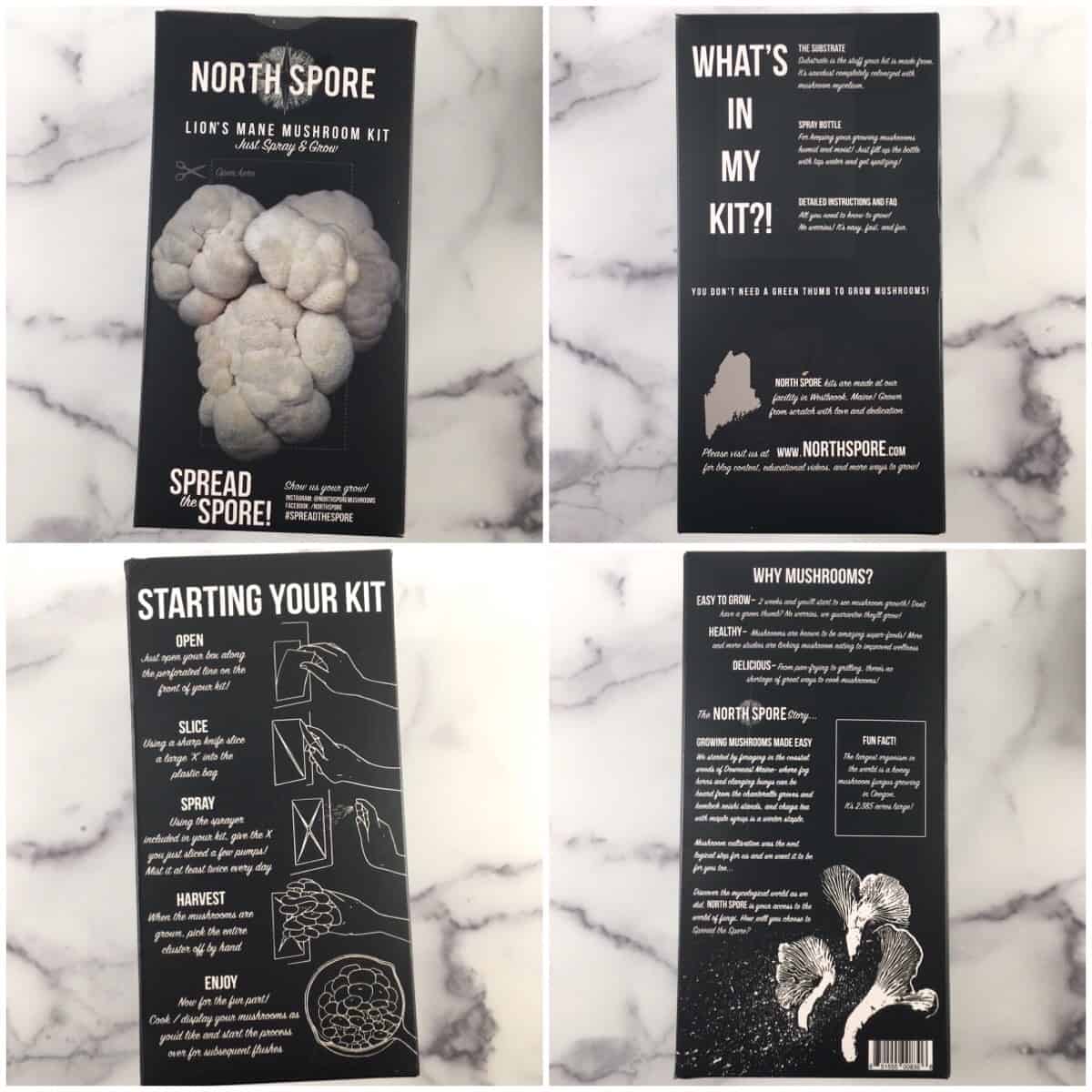 The outside of the box tells you everything you need to know to grow lions mane as well, so you don't even need the instruction guide.
To get growing, remove the guide and spray bottle from the box. Cut the perforated rectangle from the side of the box. Use a box cutter or knife to cut a large "X" in the plastic underneath.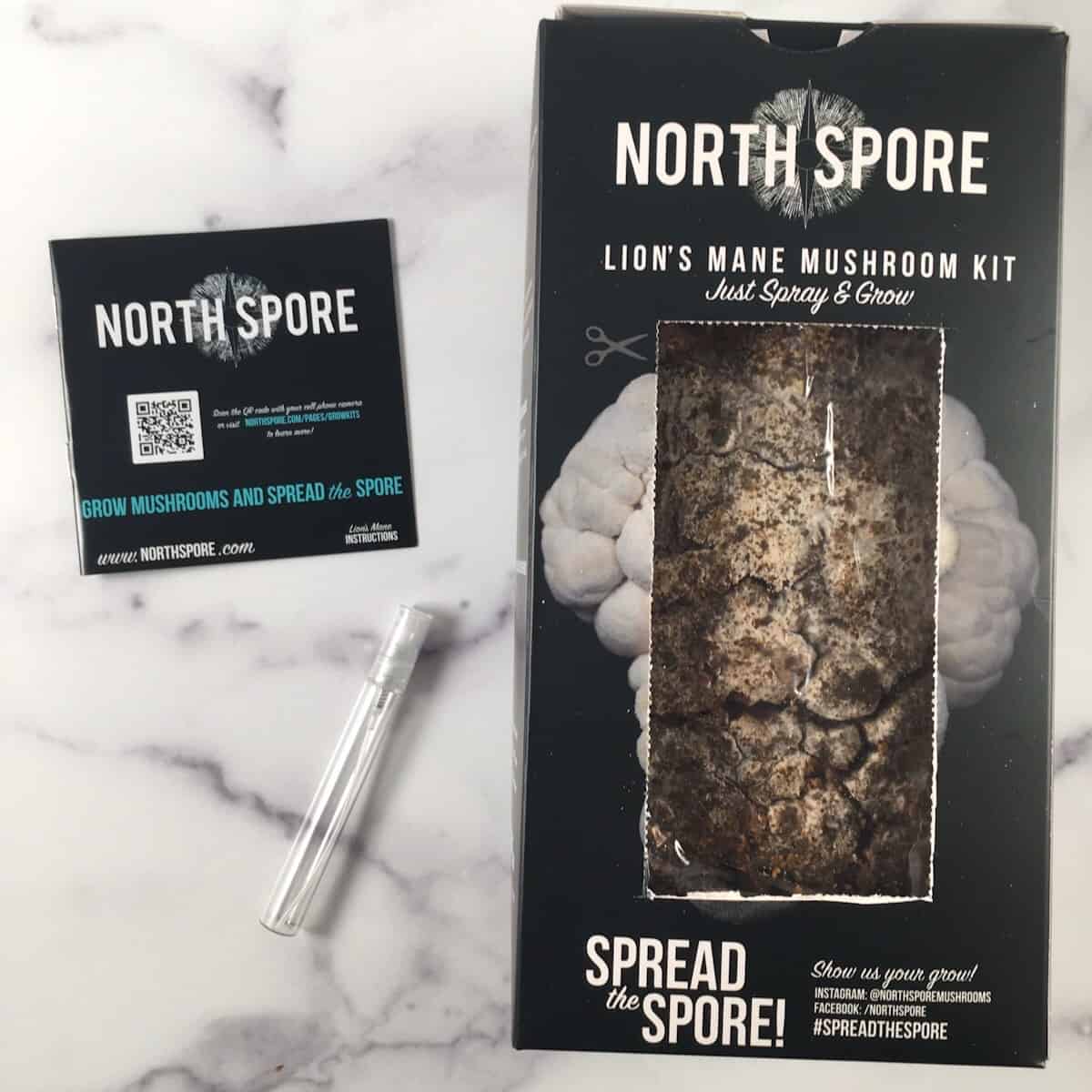 Put water in the small spray bottle provided with the kit and mist the X in the plastic with water. Just keep misting with water two times per day or more until it's time to harvest. That's all you need to do!
This mushroom really loves high humidity. North Spore recommends watering lion's mane mushrooms generously to keep them from drying out. Set them up in a moist part of the house, such as a basement or cellar.
I misted the lion's mane mushroom substrate every morning and night. Those living in drier climates may need to spritz them more often or set up a humidity tent. There are instructions on creating a humidity tent for mushrooms below.
How long does it take for lions mane mushroom to grow?
All of the North Spore kits I've tried have been high yield, and this kit was no exception. I started seeing lion's mane mushroom development in four days. In 19 days I had my first harvest.
Your first flush of lion's mane mushrooms could take more or less time. It depends on the growing environment (temperature and humidity) in your house, as well as your particular kit.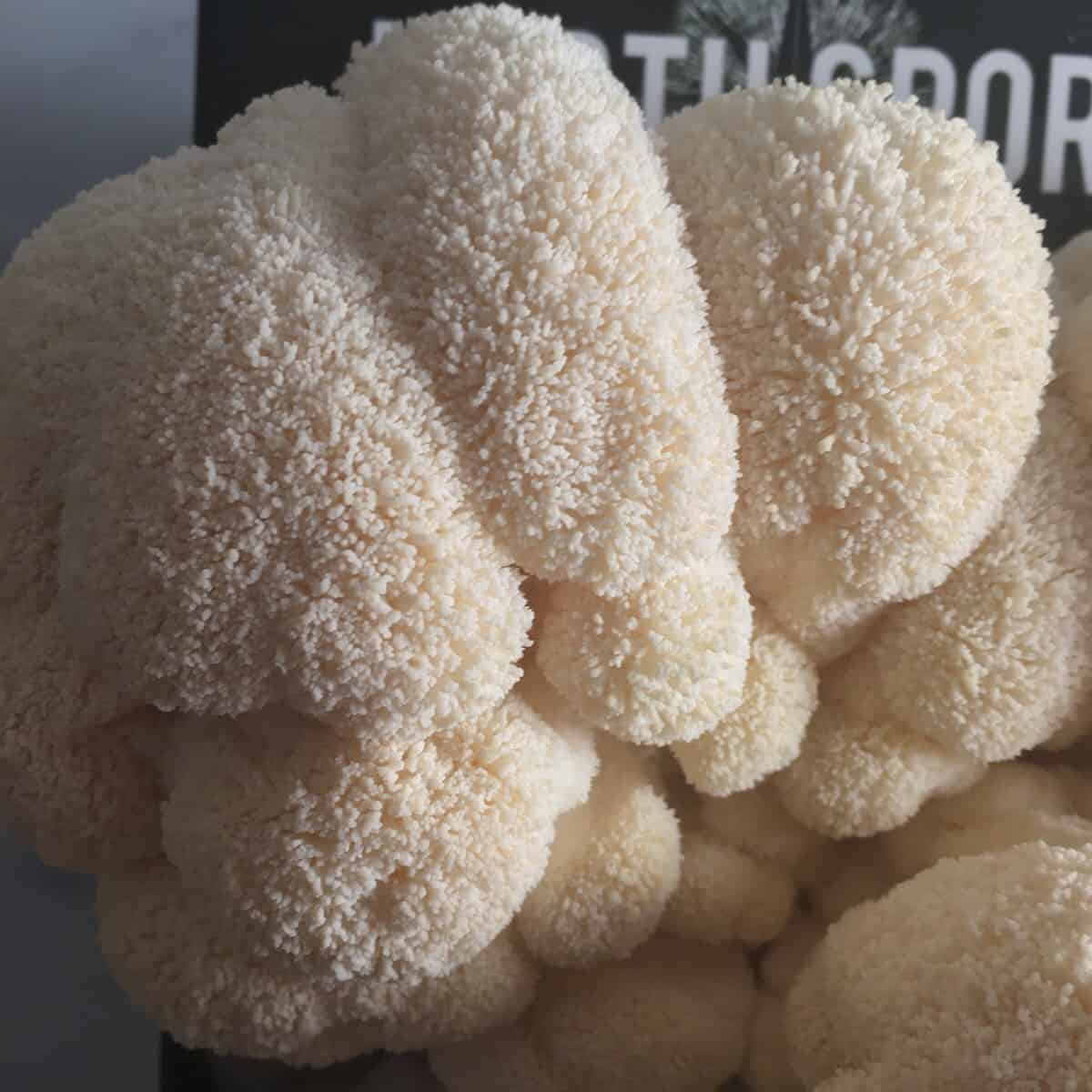 North Spore has a 30-day return policy, so you can contact them if you're having problems with your mushroom kit. They offer help, refunds, or replacements if needed so that everyone has a positive mushroom growing experience.
When to Use a Mushroom Grow Tent
As mentioned above, lion's mane mushrooms LOVE moisture! If your lion's mane mushrooms growing conditions are too dry, your mushrooms can die.
Luckily, it's very easy to use a plastic bag to create a humidity tent. Take the bag and cut ½-inch (2.54 cm) holes all over. Then simply drape the bag over the mushroom kit.
Mist the inside of the bag with water frequently. Your lion's mane mushrooms need fresh air, indirect light, and moisture to grow their best. You may be able to remove the humidity tent (but keep watering the mushrooms) after baby mushrooms form.
Harvesting Lion's Mane Mushrooms
At first, lion's mane mushrooms look a bit like cauliflower. Before long, they will develop their characteristic fuzzy or hairy appearance. This is how you know it's time to harvest them.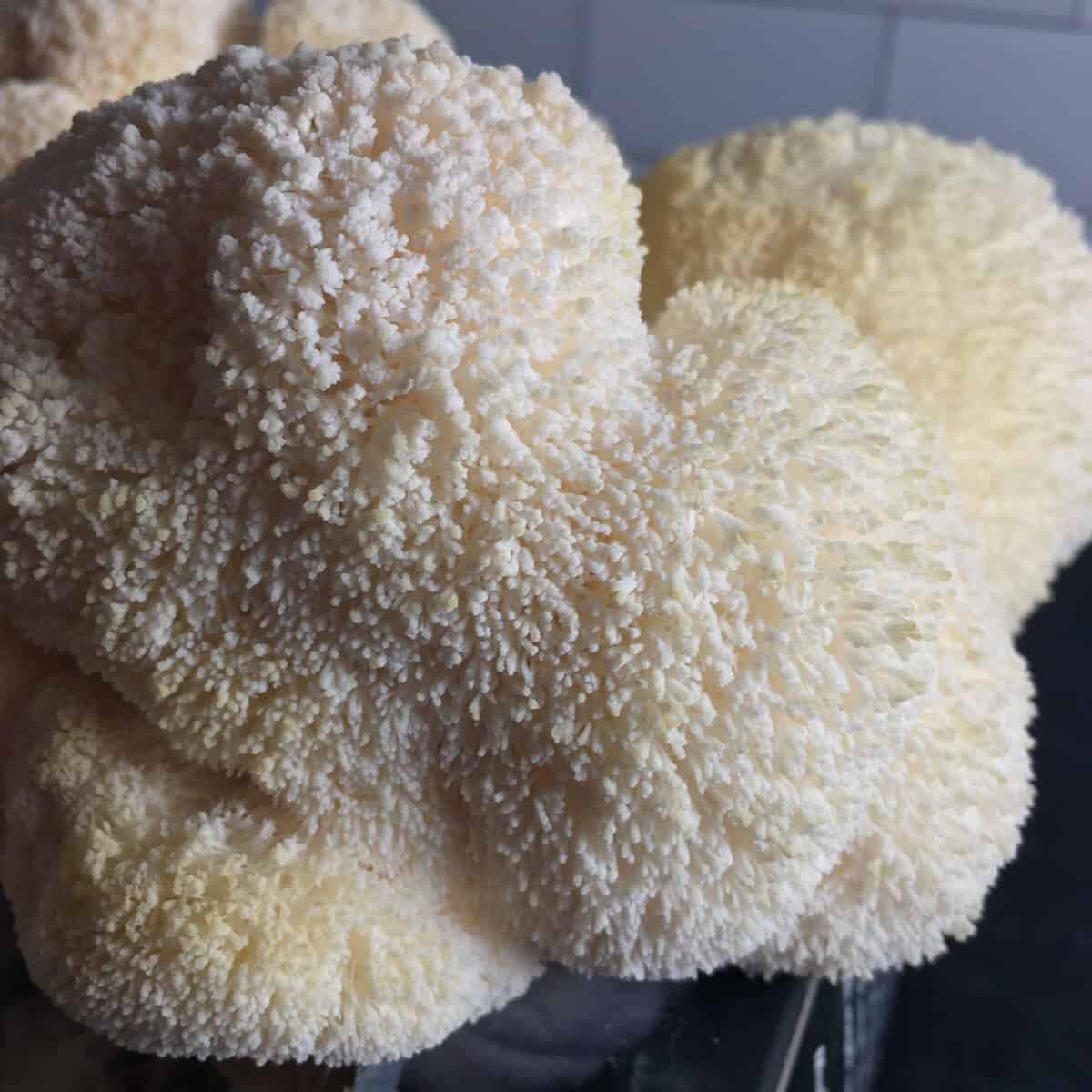 To harvest lions mane mushrooms, take a knife and cut them free from the substrate. If you pick all the mushrooms off and keep spraying a couple of times per day you may get a second flush of mushrooms.
I got my second crop of lion's mane mushrooms about 18 days after the first round. Admittedly, the second flush was smaller. However, I'm impressed that my North Spore kits have consistently produced multiple mushrooms crops; many mushroom kits don't.
Lions Mane Mushroom Storage
It's best to pick your lion's mane mushrooms when you are ready to cook and eat them. Lion's mane mushrooms picked ahead of time should be kept in a small paper bag in the fridge. They'll stay fresh for at least 2-3 days (and maybe longer) in the main part of the fridge.
Where to Buy Lion's Mane Mushroom
You may (or may not) find lion's mane mushrooms locally at farmer's markets or health food stores. If you want to support a USA-based mushroom kit company, I recommend ordering from North Spore. They are located in Maine.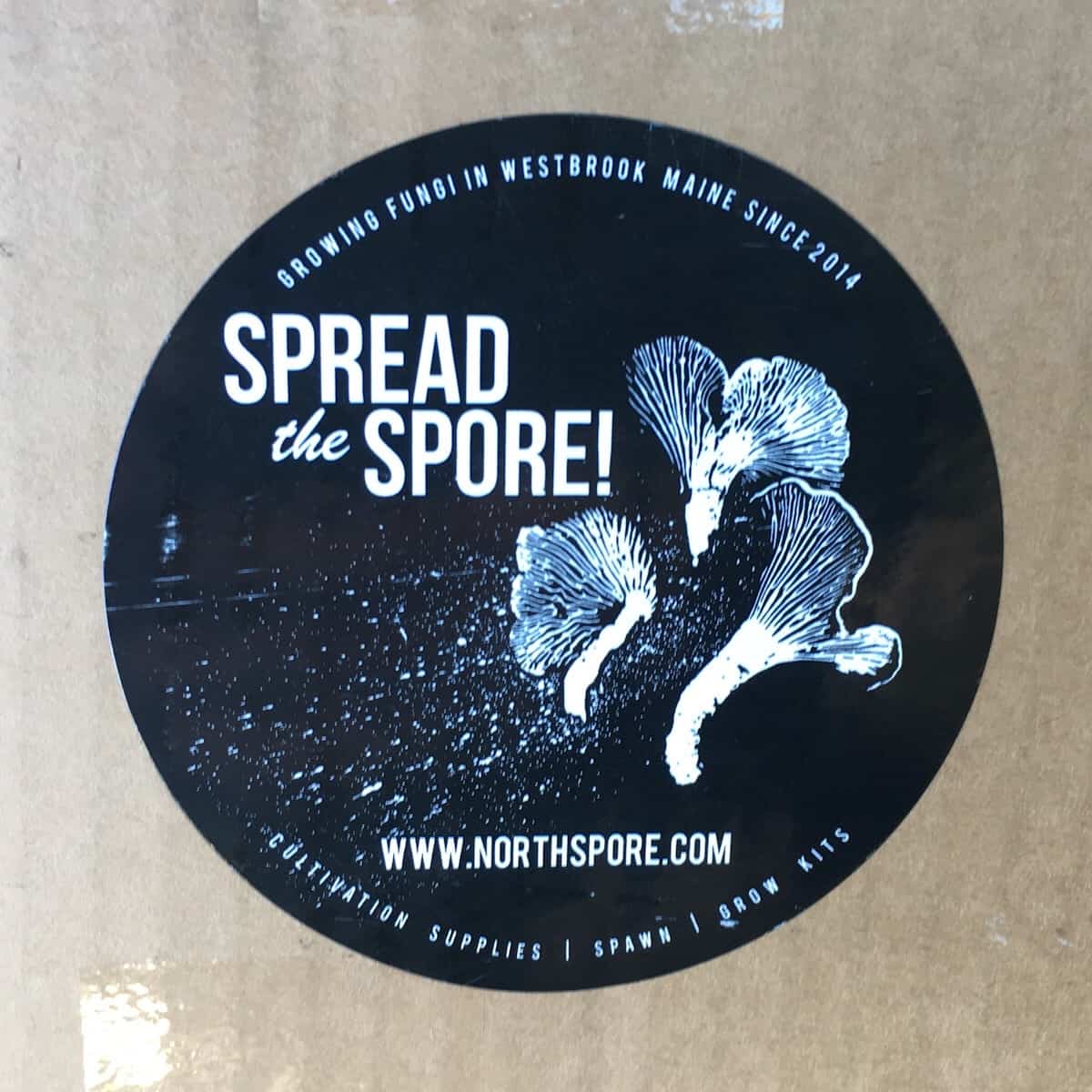 At the time of writing, Lion's Mane Mushroom Spray & Grow Kit costs $30 on the North Spore website. The kit yielded me a total of 14.4 ounces of mushrooms (10.1 ounces first crop + 4.3 ounces second crop). Thus, the mushrooms cost $2.08 per ounce, and I got to do a fun indoor gardening project.
Fresh lion's mane mushrooms are not currently available on Amazon. I've purchased lion's mane in the past for $5.99 for 6 ounces. It's true that the $1 per ounce is less, but you miss out on the gardening activity, and they're tough to find fresh anyway.
Your lions mane kit may yield more or fewer mushrooms, so the above calculations may look different for you.
Sustainability
North Spore claims that their Lions Mane Kit is organic and non-GMO. When the kit stops producing, you can compost the substrate left in the bag. Why not keep them out of the landfill and let the mushrooms do their job as natural decomposers?
Lions Mane Recipe Ideas
Many say that the lion's mane mushroom tastes like crab. I've seen it used as a seafood substitute in vegan crab cakes. (Though keep in mind it doesn't provide the protein real seafood does.)
If you need ideas for cooking lions mane mushrooms, North Spore's instruction manual comes with "North Spore's famous mushroom recipe." It's a recipe for mushrooms cooked in olive oil or butter with herbs and garlic.
Another way to use lion's mane mushrooms is to sauté them in butter with some Old Bay seasoning. This preparation really allows its crab cake flavor to shine.
Here are a few more recipes for lion's mane mushrooms (substitute some or all of the mushrooms in these recipes for lions mane):
You should start with a small amount if it's the first time you're having lion's mane mushrooms. That way you can see how your body reacts to this new food. North Spore recommends cooking the lion's mane mushrooms thoroughly before eating.
Join our community! Subscribe to be kept up-to-date on all of the latest and greatest recipes and reviews!
Lions Mane Mushroom Nutrition
Lion's mane supplements have been studied for their therapeutic potential to improve a variety of serious conditions, including depression and Alzheimer's. Unfortunately, this mushroom cannot cure dementia or Alzheimer's, and there are limited studies on safety with long-term use. That said, there are plenty of general nutritional benefits associated with eating lion's mane mushrooms.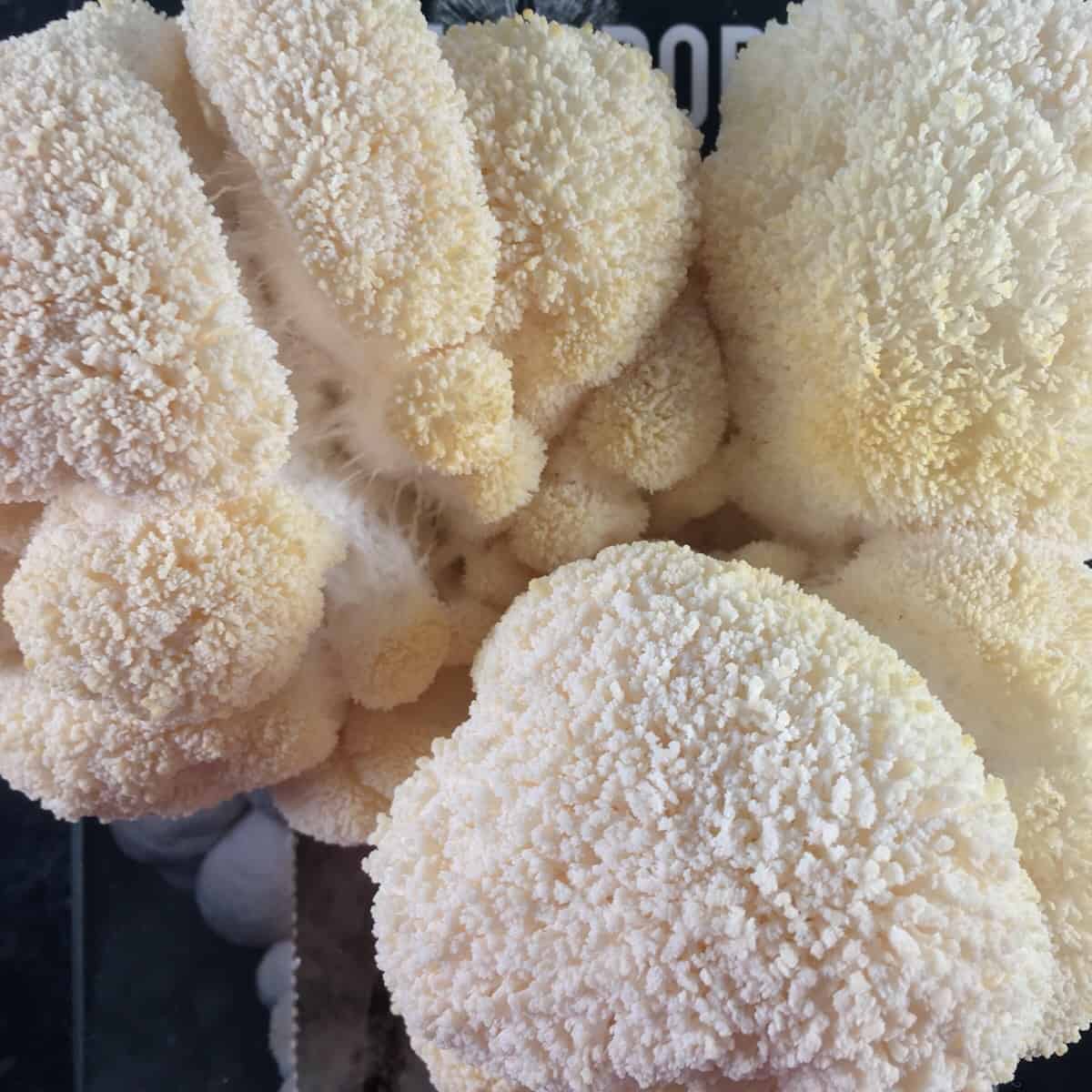 What are the health benefits of lion's mane (hericium erinaceus) mushrooms? First off, mushrooms fit most of the special diets: keto, vegan, low carb, gluten free, Paleo, dairy free, etc. Here are some additional nutritional benefits of lion's mane mushrooms:
Increases vegetable intake: Mushrooms are fungi that are part of the vegetable group on the MyPlate. Yes, it's true, mushrooms count towards your veggie intake in terms of nutrition.
B vitamins: Like meat and grains, mushrooms provide a variety of B-complex vitamins. They also provide certain minerals, such as potassium, for a healthy heart.
Very low calorie: Weight watchers and others looking to lose weight should consider adding mushrooms to the diet. Mushrooms, including lion's mane mushrooms, provide a lot of volume for very few calories. They can help bulk up a low calorie meal to help it feel more satisfying.
Delicious: Mushrooms magically remain a delicious comfort food that are also a healthy and nutritious option. They're tasty sauteed and used as a steak topping, or chopped and put into a mushroom soup. Mushrooms are so versatile; it's easy to incorporate them into many different meals.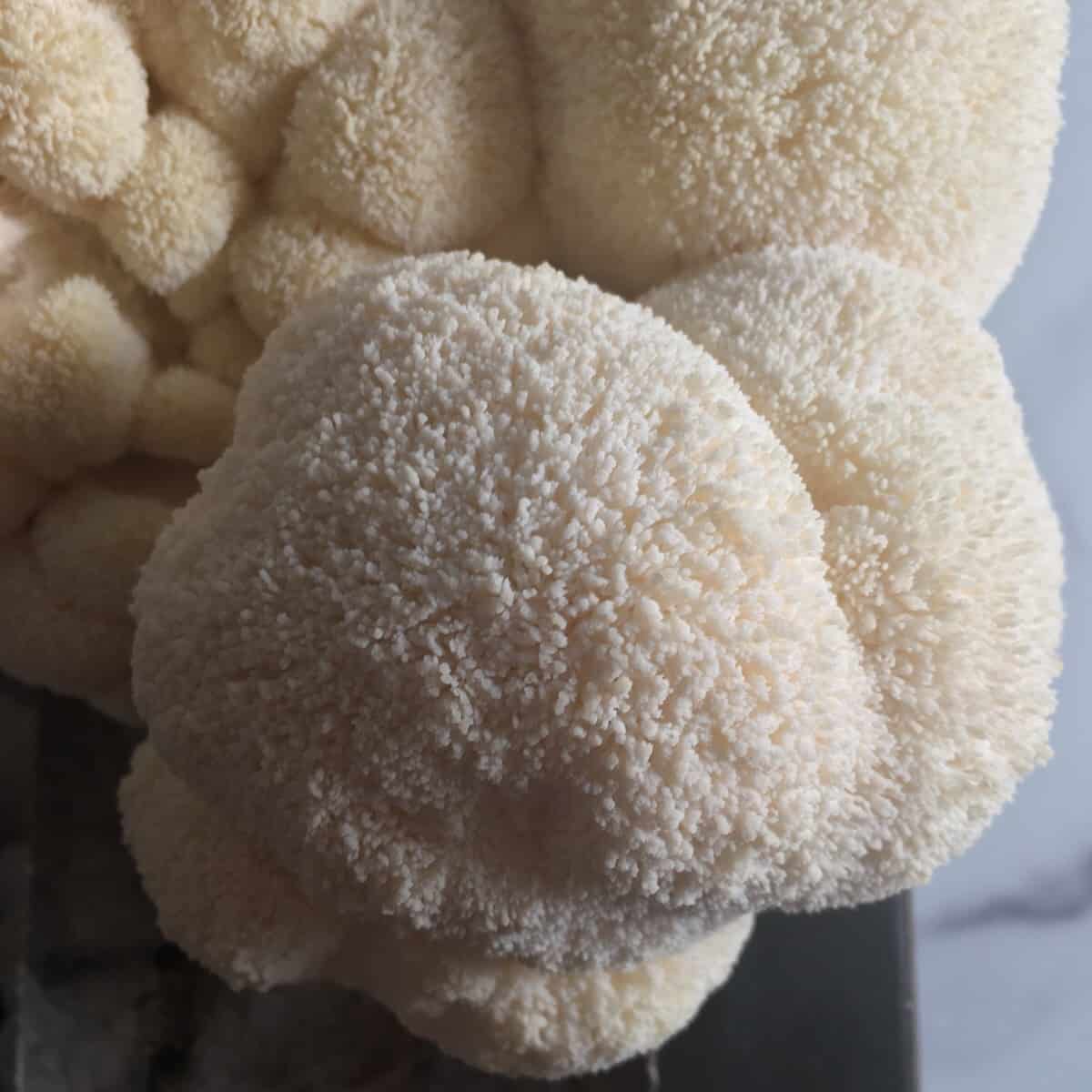 FAQs
Are lion's mane mushrooms legal?
At the time of writing, lion's mane mushrooms are legal to grow and purchase in the United States. Lion's mane powder is considered a novel food in Australia and may be difficult to obtain.
What is the best wood for growing lion's mane mushrooms?
You don't need wood for the North Spore Spray and Grow mushroom kits. If you're inoculating logs with plug spawn or sawdust spawn, North Spore recommends using hard maple, beech, or hornbeam wood for lion's mane mushrooms. Other types of wood can also be used, but those are considered the best choices. Don't use conifers for growing lion's mane.
Is lion's mane hard to grow?
No, as outlined above, lion's mane mushrooms are quite easy to grow. The North Spore Spray & Grow mushroom kit would be a great project for beginners. Both children and adults can find success growing lion's mane mushrooms.
Is lion's mane psychedelic?
Lion's mane is a culinary mushroom with no hallucinogenic properties. While I consider the lion's mane "magic mushrooms" in terms of good taste and versatility, they will not make you high.
Where to Buy Lion's Mane Mushroom Kits?
You can purchase an at home lion's mane mushroom growing kit from Amazon or directly from a mushroom kit company. Here's a price comparison of some popular lion's mane mushroom kit options on Amazon:
Please note that these are U.S. prices. Mushroom kit costs may vary in the UK, Canada, and Australia.
Watch them grow!