What's the best low carb canned soup? Learn about the best canned soup for diabetics in this review of keto-friendly soups to buy! You can get Progresso low carb soup and Campbell's low carb canned soups at Walmart, but you have other options too. You'll love this guide to keto canned soup, including carbs and calorie info, and more!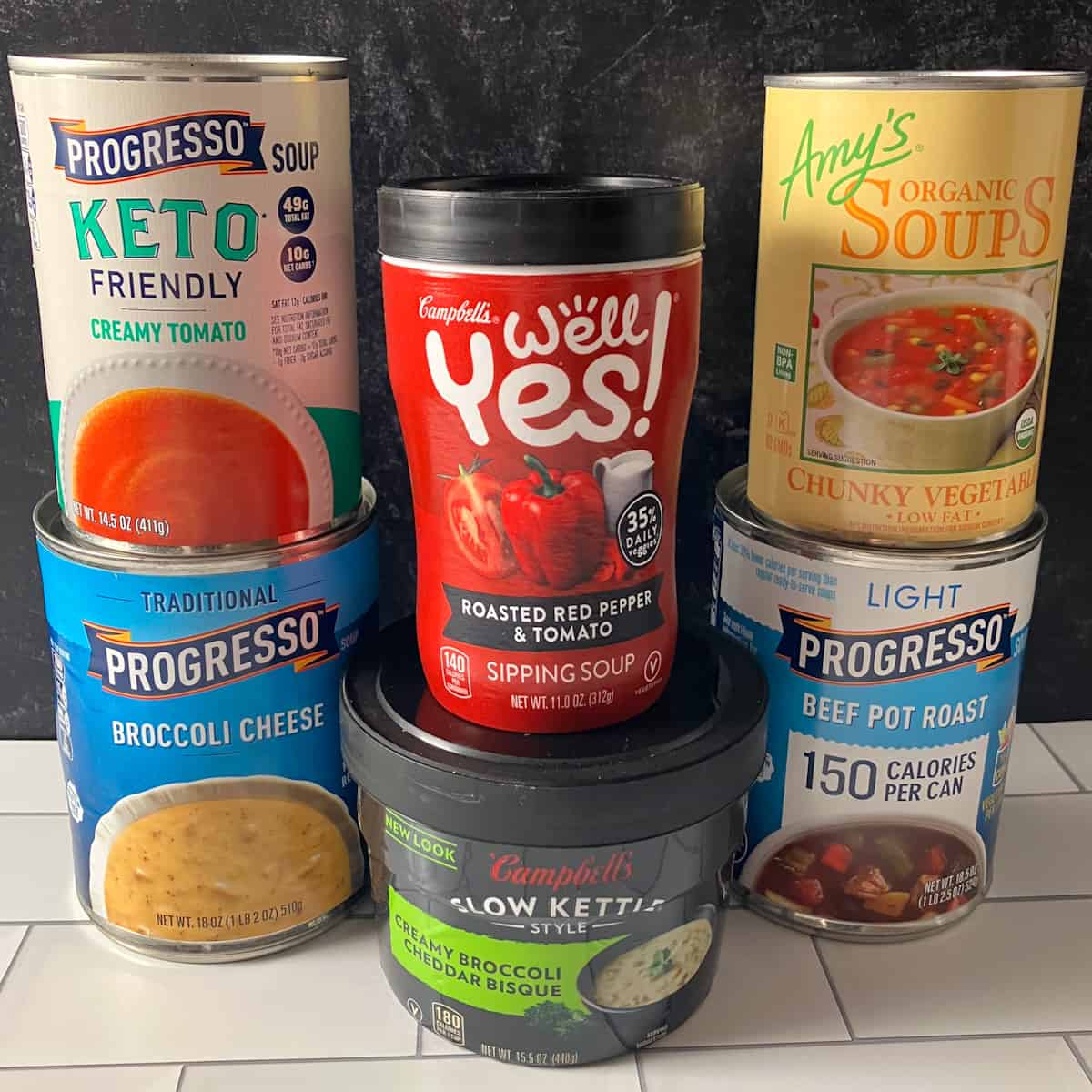 Jump to:
📋 Low Carb Canned Soup
Low carb can soup and other canned foods can make a quick meal for an easy keto meal plan. Some find low carb soups (canned or homemade) helpful to their weight loss or diabetes management. Here's how to prioritize what makes good canned diabetic soups:
Realistic Serving Size
The amount of soup you eat dictates how many carbs you get from it. Most canned soups list half the can (or less) as the serving size, but most of us eat the whole can in a sitting. This is important because soups like New England clam chowder and Progresso traditional chicken noodle soup are not keto diet friendly when we take realistic portions into account.
Carbs (or net carbs)
Now that we've come to terms with looking at the nutrition info for the whole can of soup, we can check out the carbs. If you're following a low carb diet for weight loss, look at net carbs (total carbohydrates minus the fiber). In contrast, the best canned soup for diabetics will have low total carbs. In both cases, we want carbs under 15-25 grams per realistic portion.
Sodium
In general, canned soups are not a good option for low sodium diets, though there are some low sodium canned soups available. The American Heart Association (AHA) recommends that adults limit sodium intake to 2300 mg per day. Many canned soups contain over 1000 mg per realistic portion.
Saturated Fat
Some keto soups are not heart-healthy, because they are quite high in saturated fat. The AHA recommends that no more than 5-6% of your total calorie intake should come from saturated fat. Broth-based soups are usually lower in sat fat than soups with a base of heavy cream or cheese.
Next, let's look at specific options for the best canned soup for diabetics!
🏆 Best Canned Soups for Diabetics
Which soups are keto friendly? The carbs in canned soup depend on the brand and flavor you buy. Here is a list of the best canned soups for low carb diets (per can):
Nutrition information was correct at the time of writing and is subject to change.
Miso soup without noodles, such as this Kikkoman Instant Shiro Miso Soup, often count as low carb soups as well. However, these products are typically sold in packets or cups rather than cans.
You might notice certain types of soup are usually low carb. Look for:
Low carb canned tomato soup
Broccoli and cheese soup
Low carb canned mushroom soup
Low carb cream of celery soup (and some other cream of soups)
Is Campbell's chunky soup low carb?
I often see Campbell's chunky vegetable soup on low carb lists. However, it provides 42 grams of total carbohydrate per can, so I don't recommend it as a low carb canned vegetable soup option. (As always, check the label for the most current nutrition facts info.)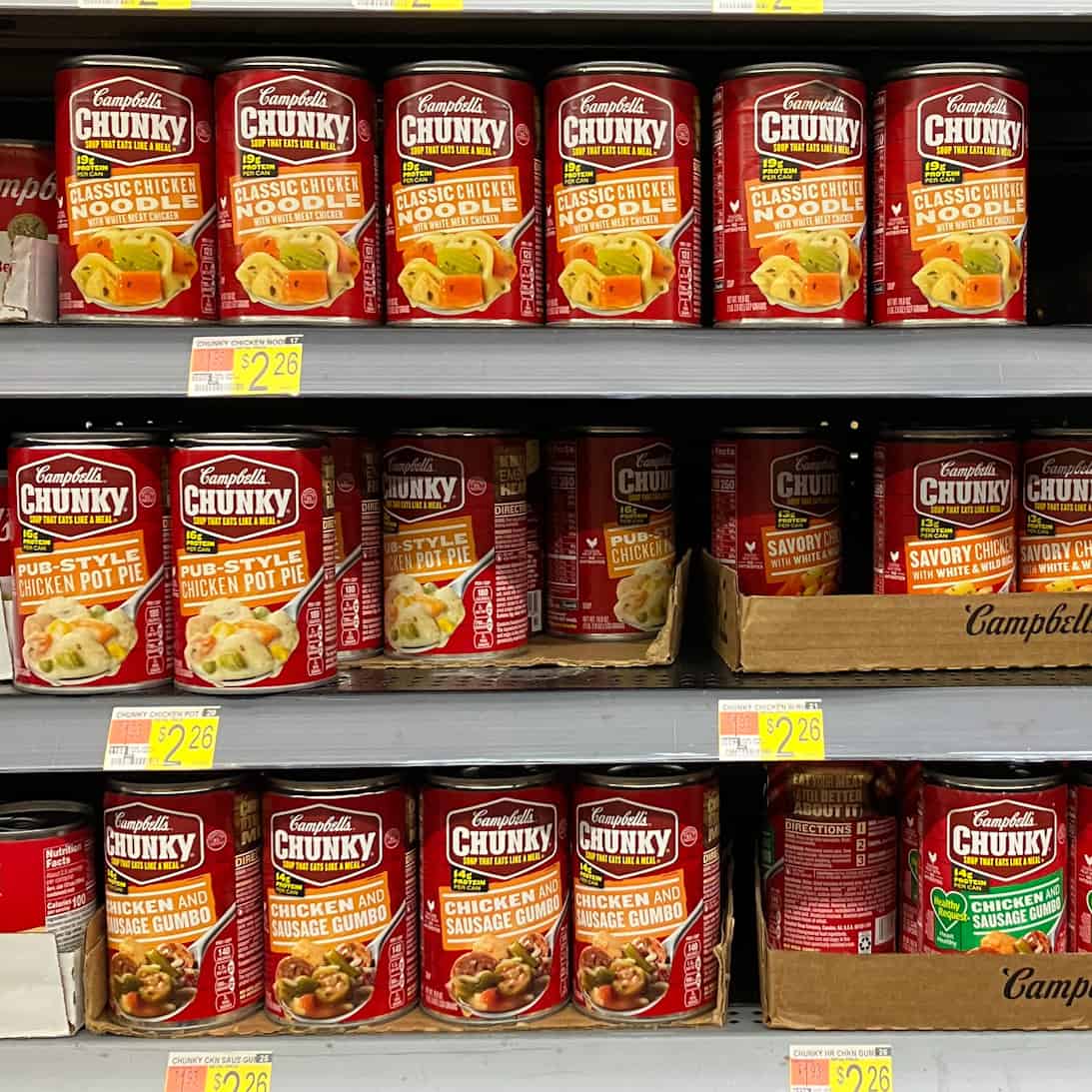 ❓ What is the lowest carb tinned soup?
What canned soup has the lowest carbs? Certain brands of cream of mushroom soup are often the lowest carb canned soup. For example, a can of ready-to-eat Campbells Low Sodium Cream of Mushroom Soup has only 8 grams of total carbohydrates and net carbohydrates per serving.
Though not technically a canned soup, bone broth is often the lowest carb soup overall. For example, Kettle and Fire Chicken Broth has only 2 grams total carbs and 2 grams net carbs per 2-cup serving. It's also packed with 20 grams of protein.
⭐ Can I have Progresso soup on keto?
Yes! Low carb Progresso soup is easy to find in many major US grocery stores. Here are the best Progresso low carb soup canned options:
Progresso carries a line of keto soup canned options, including a creamy cauliflower soup. This soup has 600 calories, 18g total carbs, and only 10g net carbs per can.
Unfortunately, the Progresso keto cauliflower soup is quite high in saturated fat and sodium. With 14g saturated fat and 1200mg sodium per can, this one's not a good option for low sodium and heart-healthy diets.
The other keto Progresso soup I found in stores was creamy tomato soup. This soup offers 500 calories, 17g total carbs, and only 10g net carbs per can.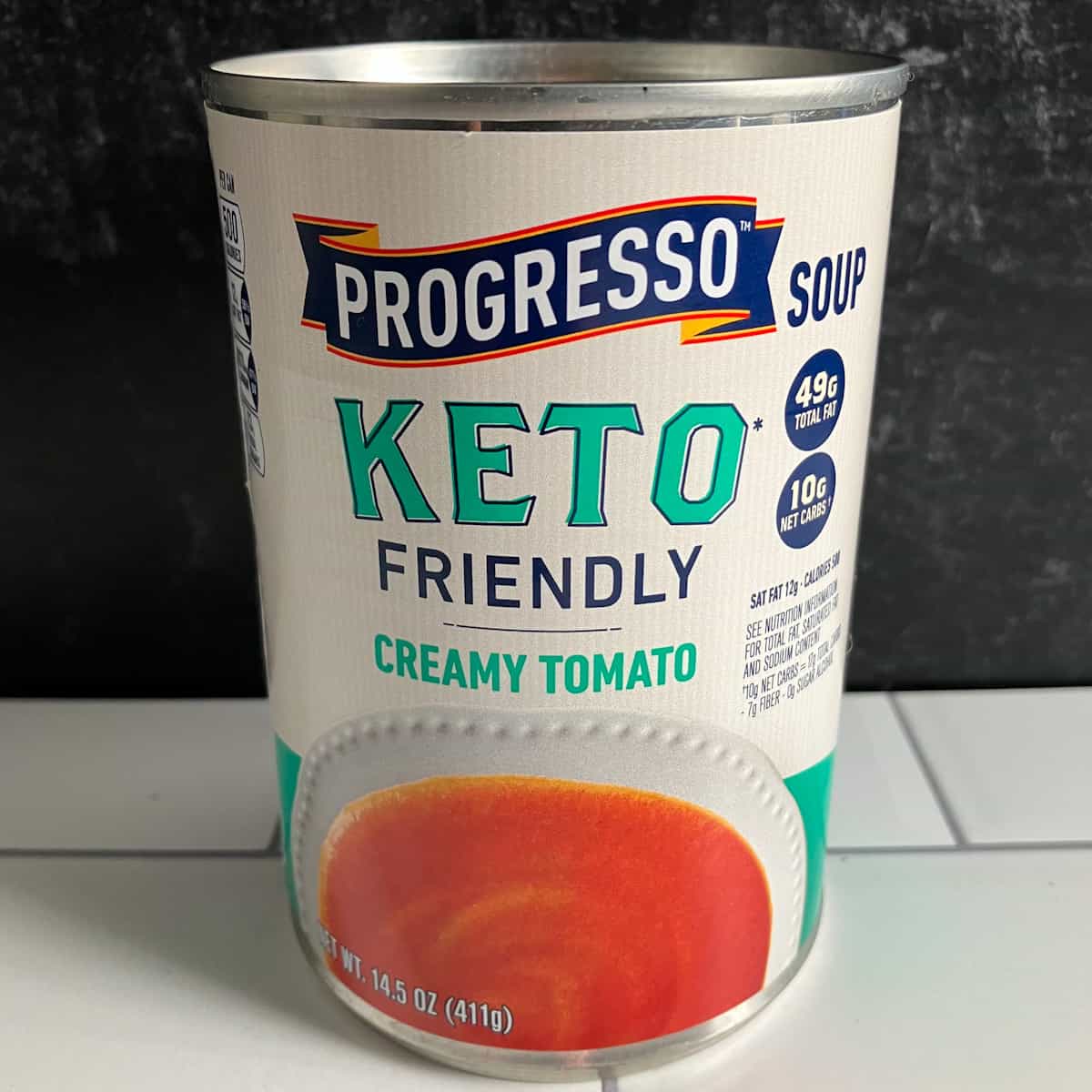 Like the cauliflower keto soup, the tomato soup is very high in saturated fat and sodium. The Progresso keto tomato soup has 12 grams saturated fat and 1070mg sodium per can.
Progresso's light beef pot roast is my favorite low calorie keto soup option. It has 150 calories, 20 grams total carbs, and 17 grams net carbs per can. It's a bit more heart health-minded than the other soups above, with only 1g saturated fat.
Some disadvantages of this option include the high sodium content (1040mg), and its high broth to veggies and meat ratio. This option is so low calorie that you should add other foods for a more satisfying meal.
Progresso's broccoli and cheese soup is not technically part of their keto line, but will fit very low carb diets. It offers 350 calories, 21 grams total carbs, and 19 grams net carbs per can. Unfortunately, it also has a whopping 1700mg sodium per can and 9 grams saturated fat.
Unfortunately, most of the canned soups that are truly low carb are high in sodium and saturated fat for a reasonably-sized serving. You may be able to find better options online compared to in-store, but they'll often cost more.
Progresso also has a gluten-free and light version of their popular broccoli cheese soup. The downside is that it can be more difficult to find in brick-and-mortar stores. This soup has 230 calories, 21 grams total carbs, and 19 grams of net carbs per can.
The main reason that this soup is lighter than the original is that it's lower in fat. You're getting 5 grams of saturated fat per can of this soup, compared to 9 grams in the classic version. It's also slightly lower in sodium, with 1530mg per can (compared to 1700mg in the original).
🥣 Campbell's Low Carb Canned Soups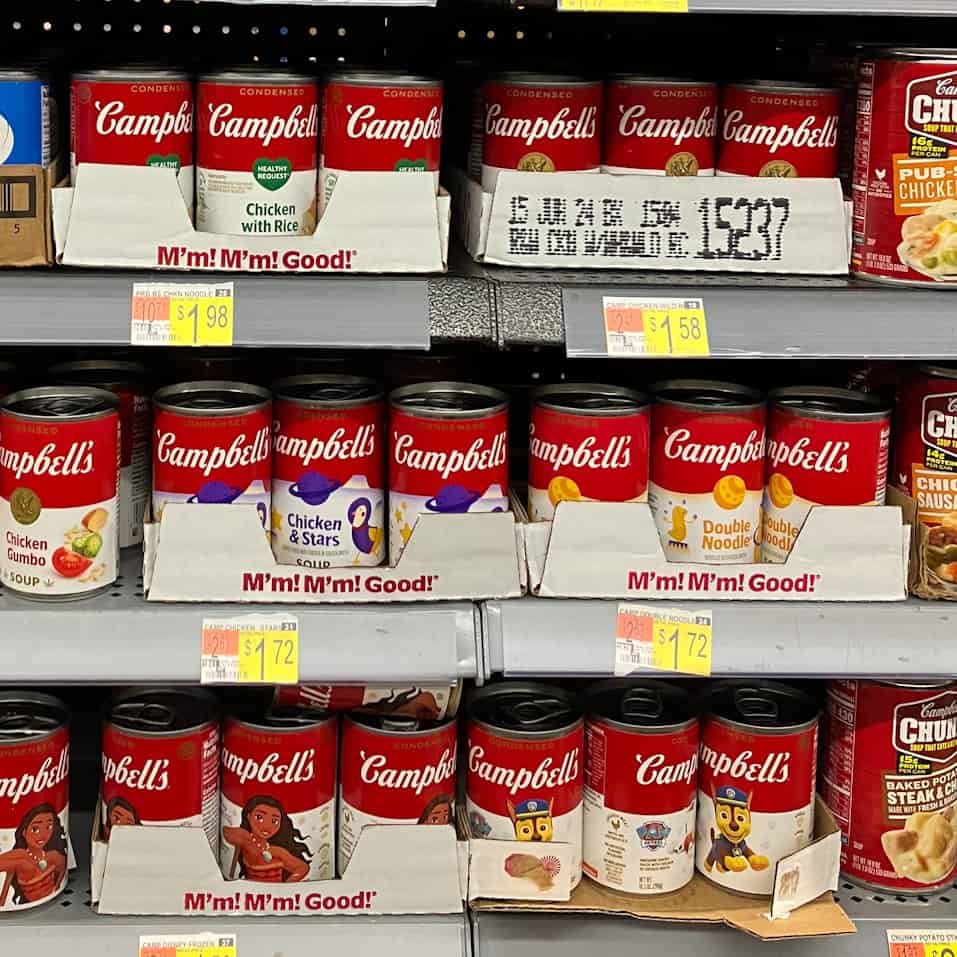 Campbell's chunky soup isn't low carb, but there are some legit Campbell's low carb soups out there. Most of Campbell's classic condensed soups are not low carb options, but here are some keto-friendly Campbell soups to look for:
Broccoli cheddar soup tends to be low carb-friendly, and Campbell's version is as well. You're getting 320 calories, 21g total carbs, and 19g net carbs per container of soup. (Technically, this one's in a microwave-safe bowl, not a can.)
This broccoli cheddar cheese soup has 7 grams of saturated fat and 1420mg sodium per container. If you're looking to cut back on salt, this is not the soup for you.
Campbell's Well Yes line of soups offers two low carb friendly options: roasted red pepper & tomato or tomato & sweet basil. Of these, the red pepper and tomato soup is a little lower in carbs, with 140 calories, 22 grams total carbs, and 19 grams net carbs per serving.
A benefit of the Well Yes soups is that they're lower in sodium and saturated fat than many of the other options on this list. For example, the red pepper tomato soup has 640 mg sodium and 2.5g saturated fat per serving. (Note that these soups come in a microwaveable cup, not technically a can.)
Since these soups are so low in calories, I'd enjoy them as a snack rather than a full meal. These soups are vegetarian but not vegan, and they show that keto diets can include much more than bacon and butter.
Many "cream of" soups are lower carb options. You can eat them as a stand-alone soup, but they're more commonly used as ingredients for casseroles and other dishes. Campbell's low sodium cream of mushroom soup has 100 calories, 8g total and net carbs, and only 20mg sodium per serving.
One downside of cream soups is that they may have cornstarch or another thickener that is not keto friendly. Check the nutrition label to make sure you're choosing a product that's a healthy choice for your diet.
🔎 Keto-Friendly Soups to Buy
You can find lots of low carb canned soup at Walmart, Costco, and other major supermarkets in the US. This is where you'll usually find the best deals, but you'll likely find a greater variety of low carb soups to buy online. For example, check out keto soups to buy on Amazon here.
FAQs
👩‍🍳‍ Other Soups Low in Carbs
Want more soups with low carbs? Homemade keto soup recipes are great because you can skip the preservative and flavor them up however you wish with spices and herbs. Here are some low carb soup recipes you may enjoy:
Don't miss our entire collection of Low Carb Recipes while you're here!
Join our community! Subscribe to be kept up-to-date on all of the latest and greatest recipes! You can also follow me on Pinterest, Twitter, Instagram, and YouTube!
📖 Recipe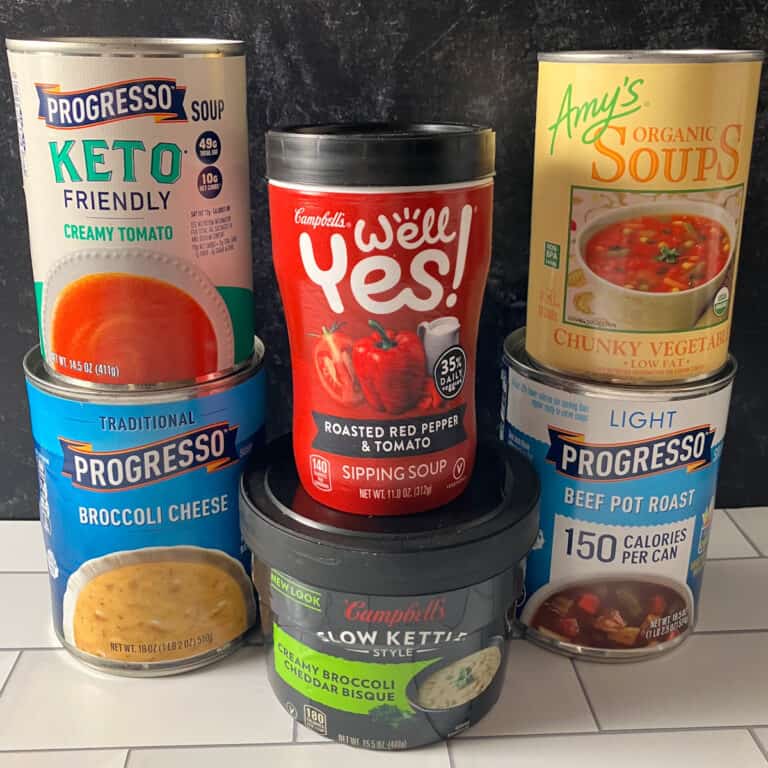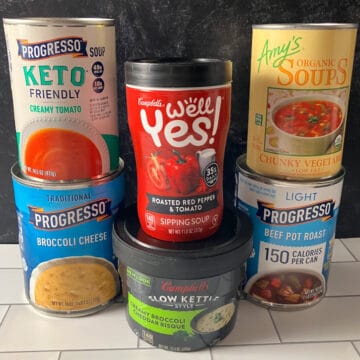 Low Carb Canned Soup (13 Best Canned Soups for Diabetics)
What's the best low carb canned soup? Learn about the best canned soup for diabetics in this review of keto-friendly soups to buy!
Equipment
Want to Help?
If you love this recipe, please come back and leave a rating. This helps readers and I'd love to hear from you. Thank you ❤️
Instructions
Choose your favorite low carb canned soup on the list.
Notes
The Disclaimer... The nutrition information on this website may or may not be
appropriate for
you, depending on your medical needs and personal preferences. Consult with a registered dietitian or your physician if you need help with your weight or diet.
"Keto" recipes and information on the web may not be appropriate for those using ketogenic diets as part of their medical nutrition therapy.
Nutrition information listed is for one can of Progresso Keto Friendly Creamy Tomato Soup. Nutrition info for your meal will vary depending on the low carb canned soup you choose.
Nutrition
Calories:
500
kcal
Carbohydrates:
17
g
Protein:
3
g
Fat:
49
g
Saturated Fat:
12
g
Sodium:
1070
mg
Potassium:
380
mg
Fiber:
7
g
Calcium:
6
% DV
Iron:
8
% DV
Did I forget your favorite low carb canned soup on this list? Drop me a comment below and let me know!