These nacho chickpeas are chili-spiced and get their cheesy flavor from nutritional yeast. Get this easy snack into the oven in minutes using ingredients you likely already have at home. If you are looking for some healthy afterschool snack options, try these protein-packed, fiber-filled crunchy chickpeas. Kids like them, and you'll love that they are a good choice in terms of nutrition.
I'm in an interesting place at the time of this writing. My whole family is spending lots of time in the house as a result of closures related to the coronavirus. I'm hoping that by the time this recipe goes live, things will be mostly back to normal.
If things are not back to normal, this recipe is very pantry-friendly. You may be able to make this one right now without having to make a trip to the store.
On the other hand, if things have returned to how they once were, you'll still enjoy this recipe. It's a great option if your kids tend to come home ravenous after school. The protein and fiber here will help hold them over until dinner.
Having my son home during the school closures meant that I needed to keep lots of nourishing snacks on hand. In case you did not know, teen boys tend to eat a lot!
This nacho chickpeas snack was actually my son's idea. Since he loves my chickpea snack recipe made with Parmesan, he asked if I would create a nacho cheese chickpea snack.
There was just one problem, however.
Nacho cheese is not a real kind of cheese.
Unlike gouda, cheddar, mozzarella, and other many cheeses, the FDA does not have a standard for what nacho cheese is. You can find the list of cheeses the FDA *does* have specific definitions for at this link. Food science nerds rejoice!
But back to nacho cheese. According to an article in Food & Wine, what we call "nacho cheese" is based on consumer perceptions more than anything else. Basically, we call it nacho cheese if it tastes like what we think nacho cheese should taste like.
So, I am calling these nacho chickpeas because I believe they are. You cannot prove that I am wrong about this. Haha
I went with nutritional yeast for cheesy flavor for two reasons:
This recipe was created during the middle of the coronavirus outbreak, and this ingredient happened to be in my pantry.
I've had failures creating crispy chickpeas with cheeses other than Parmesan in the past. I figured it was worth experimenting with nutritional yeast.
The process of making the chickpeas is very similar to the Parmesan chickpea recipe. I've just changed up the seasonings and swapped the Parmesan for nutritional yeast (plus a little more oil to help the coating stick).
Using canned beans simplifies things and takes the work out of this recipe. All you need to do is stir the ingredients together and plop everything onto a baking tray. It's easy, peasy, nacho cheesy!
And now for the disclaimer…
All recipes on this website may or may not be appropriate for you, depending on your medical needs and personal preferences. Consult with a registered dietitian or your physician if you need help determining the dietary pattern that may be best for you.
The calorie information is an estimate provided as a courtesy. It will differ depending on the specific brands and ingredients that you use. Calorie information on food labels may be wildly inaccurate, so please don't sweat the numbers too much.
For more information on how the three recipe levels may help with a weight management goal, refer to this post. Let's get cooking!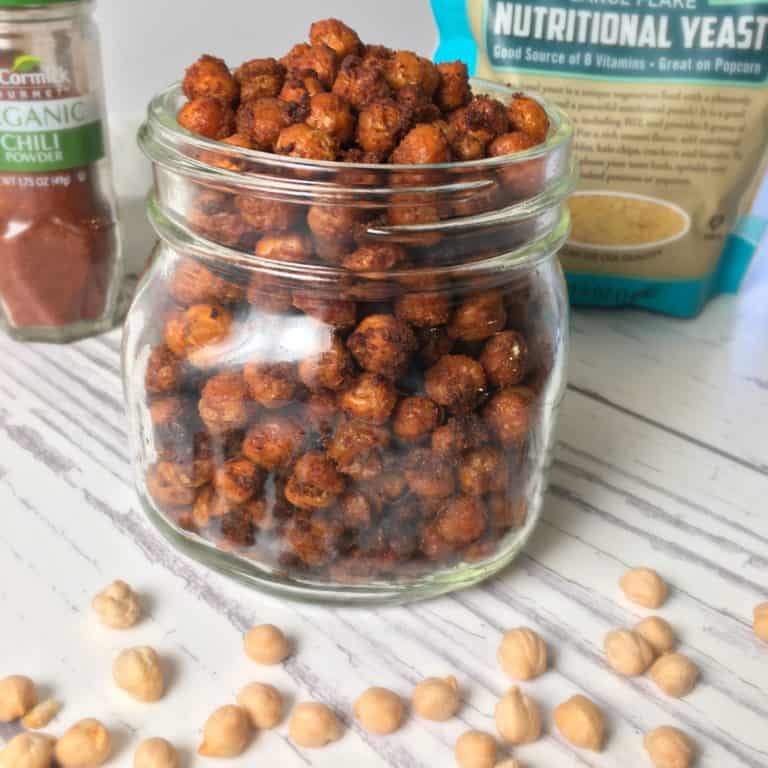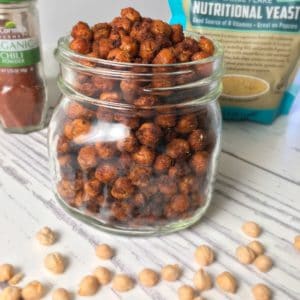 Air Fryer Chickpeas (Crispy Roasted Garbanzo Beans Snack Recipe!)
Can you air fry chickpeas? Yes! Garbanzo beans, nutritional yeast, and spices come together deliciously in my air fryer chickpeas recipe.
Ingredients
2½

cans

chickpeas, drained and rinsed

(15½ ounces per can; I used low-sodium chickpeas)

⅓

cup

nutritional yeast

3

tablespoons

avocado oil

(or oil of choice)

2

teaspoons

chili powder

½

teaspoon

garlic powder

½

teaspoon

cumin
Instructions
Stir the drained nutritional yeast and spices together. Add the oil and stir until you get an evenly crumbly mixture.

Drain the chickpeas and put them in a large bowl. Stir in the nutritional yeast mixture. Keep stirring until the garbanzo beans are evenly coated.
To Make Air Fryer Chickpeas:
Preheat the air fryer to 375°F for 5 minutes. Leave the air fryer trays in the air fryer oven to let them get hot.

After heating, carefully spread the chickpeas out on two air fryer trays. Try to get them into a single layer. It's fine that they are touching.

Put the trays in the air fryer and roast for 10 minutes at 375°F. Then stir or flip the chickpeas and switch the position of the trays in the air fryer oven. Bake for another 10 minutes at 375°F.

Stir or flip the chickpeas and switch the position of the trays in the air fryer again. Air fry for 5 minutes at 375°F. Then flip the chickpeas one last time, switch the position of the air fryer trays, and air fry 5 final minutes at 375°F. That's a total of 30 minutes of air frying, and it will get you chickpeas that are somewhat soft. We love them for snacking or for a vegan taco filling.

For super crispy chickpeas, cook them in the top rack position for 10 more minutes at 375°F.

Let them cool for 5-10 minutes before eating. They firm up a bit more when you allow them cool.
To Make Oven Chickpeas:
Preheat the oven to 400°F. Line a baking sheet with parchment paper.

Spread the chickpeas out on your lined baking sheet in a single layer (touching is fine). Bake for a total of 45 minutes in the top third of the oven, giving them a stir about every 20 minutes. Try to move the ones on the edges of the baking sheet to the middle when you stir. This will help them cook more evenly.

Let them cool before eating. Enjoy this tasty and easy snack option!
Save this Recipe
Saved!
Video
Notes
This is a level 3 recipe (weight maintenance and active lifestyles).
I created this chickpeas recipe as a snack for kids, teens, and adults with high energy needs. IMVHO, this high-calorie snack is not the best choice to support weight loss goals.
Personally, I know I generally find lean animal-based proteins far more filling than most legumes. You are getting less protein per calorie with chickpeas than you would with white fish or chicken breast, for example.
That said, legumes have fiber and phytonutrients not included in animal-based proteins. I try to get a mix of protein foods in my diet to maximize nutritional benefits. I do tend to lean heavier on the more protein-dense protein options because I find them more filling.
If you're having trouble eating enough, this recipe may help. Sometimes individuals load up on nutrient-poor foods when they want to gain weight (chips, cookies, candy, etc.).
If possible, a much better weight gain strategy is to fill the diet with energy-rich whole foods instead. Nuts, seeds, avocado, olives, whole milk dairy products, and these chickpeas are some great options if you need to eat more.
(P.S. I used regular chili powder here, but feel free to substitute with an equal amount of chipotle chili powder. This move will really kick up the heat for those that are craving hot and spicy foods!)
Nutrition information is for one serving of the recipe.
Nutrition
Calories:
254
kcal
Carbohydrates:
31
g
Protein:
10.7
g
Fat:
10.2
g
Saturated Fat:
0.8
g
Sodium:
204.9
mg
Potassium:
416.3
mg
Fiber:
6.8
g
Vitamin A:
5
% DV
Calcium:
6.5
% DV
Iron:
13.8
% DV
Do these nacho chickpeas taste nacho-flavored to you? Let me know what you think "nacho" should taste like in the comments below! Is it supposed to be cheesy, spicy, or a little of both?