Old fashioned cucumbers and onions in vinegar are a tasty topping for burgers, or for snacking on alone! Try my recipe for no cook refrigerator pickles if you want a quick pickling recipe with no heating up the house. Just put your onions and cucumbers in a jar with spices, add the brine, and pop it in the fridge. Easy!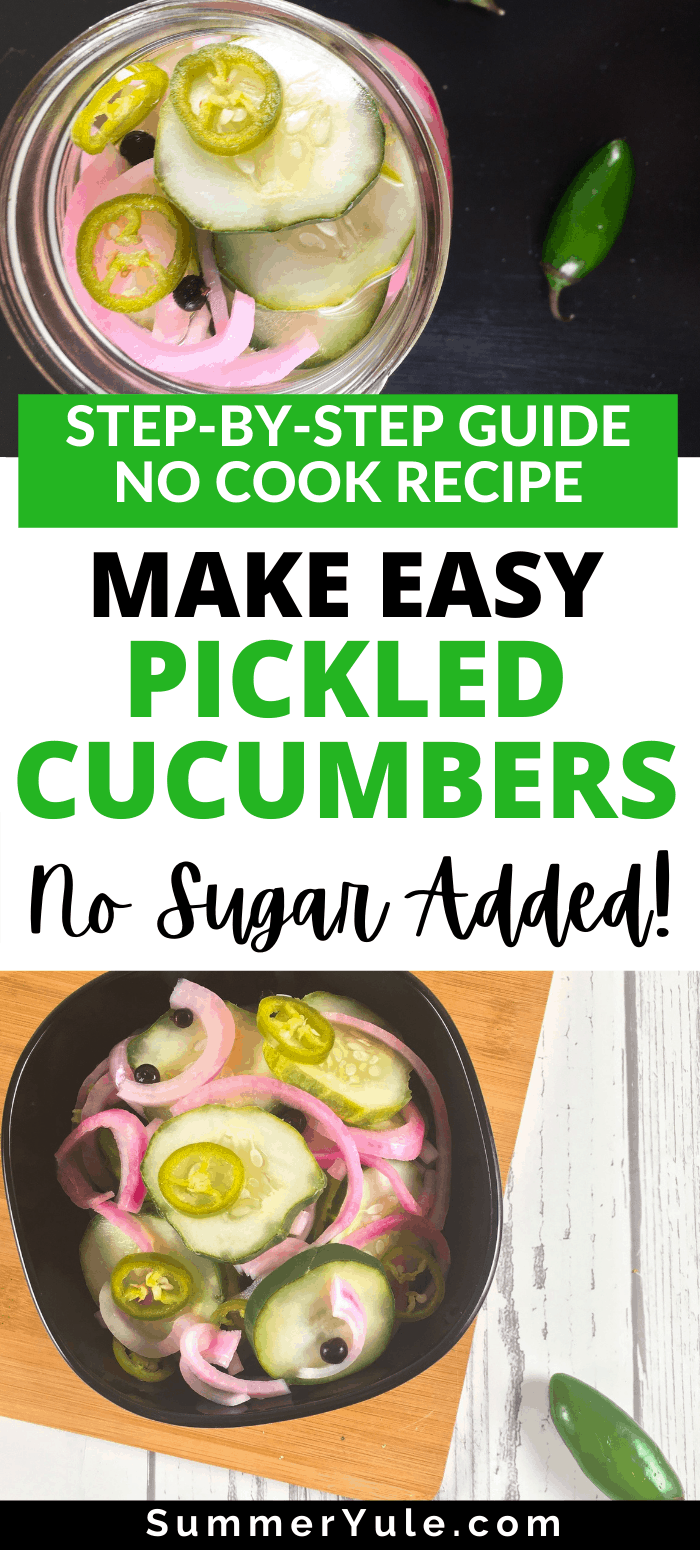 I couldn't let July end without mentioning that it's National Pickle Month! These easy refrigerator pickles are my humble contribution to all things pickle.
If you've never tried a pickled cucumber recipe before, now might be a great time. If you grow cucumbers, depending on where you live, it may be time to harvest them very soon. Use this quick recipe for pickling if you are blessed with more cucumbers than you know what to do with.
Here's what you need (aside from vinegar and water):
I made a short video below which shows you the pickle making process from start to finish. You can quite literally have these done in under 10 minutes.
After that, you're going to want to let them sit in the fridge for a bit. My jar of pickled cucumbers went missing somewhere in the back of my refrigerator for a good week. It ended up being a happy accident since their flavor improved after that week compared to the first few days.
So, I guess you should think of these quick pickles as more of a slow food.
Oh! One more thing before we start pickling cucumbers and onions. When picking onions to pickle, I say go for the red ones.
Pickled red onions have been featured here before, like in my air fryer chicken shawarma bowls. I *love* pickling red onions because they turn bright pink in the brine. Beautiful!
And now for the disclaimer…
All recipes on this website may or may not be appropriate for you, depending on your medical needs and personal preferences. Consult with a registered dietitian or your physician if you need help determining the dietary pattern that may be best for you.
The nutrition information is an estimate provided as a courtesy. It will differ depending on the specific brands and ingredients that you use. Calorie information on food labels may be wildly inaccurate, so please don't sweat the numbers too much.
For more information on how the three recipe levels may help with a weight management goal, refer to this post. Let's get cooking!
No Cook Refrigerator Pickles (No Added Sugar!)
Try my no-cook refrigerator pickles if you want a quick pickle recipe! Just put your spices, onions, and cucumbers in a jar, add the brine, and refrigerate. Easy!
Equipment
Ingredients
10

ounces

pickling cucumbers, thinly sliced

(284 grams; 1-2 cucumbers)

2-3

cloves

garlic, smashed

½

medium

red onion, thinly sliced

½

jalapeno, sliced

1

teaspoon

brown mustard seeds

1

teaspoon

juniper berries

½

teaspoon

black pepper

1

bay leaf

1

cup

white vinegar

3

cups

water

(very hot from tap)

1½

tablespoons

finely ground sea salt
Instructions
Stir the vinegar, hot water, and salt together until the salt has completely dissolved. Set this brine aside.

Layer all of the other ingredients in a wide-mouth quart jar as follows: spices and herbs, garlic, jalapeno, onions, and cucumbers.

Pour the brine over the top, filling the jar to the bottom of its neck and completely covering the cucumbers. You will not use all of the brine. (Watch the video below if you need a visual!)

Put the lid on the jar, give it a gentle shake, and refrigerate. These pickles are best after sitting in the fridge for around a week, but you can start enjoying them in 3-5 days if you're feeling impatient. 🙂
Notes
This is a level 1 recipe (may help support fat loss). The nutrition information for this recipe includes the cucumbers, onions, jalapeno, and garlic only. (Note: Though you are likely not consuming the brine, the sodium content of this recipe will be higher than listed below since the veggies do absorb some of the salt.)
Cucumber pickles with no added sugar, as we have here, are an extremely low-calorie food. They fit most special diets (aside from low-sodium diets), and they add a great flavor to meals. I enjoy them as a snack as well. They're an enjoyable way to give a little boost to your non-starchy veggie intake!
Nutrition information is for one serving of the recipe.
Nutrition
Calories:
5
kcal
Carbohydrates:
1.1
g
Protein:
0.2
g
Sodium:
0.4
mg
Potassium:
26
mg
Fiber:
0.2
g
Vitamin A:
0.4
% DV
Vitamin C:
1.9
% DV
Calcium:
0.2
% DV
Iron:
0.2
% DV
What are some of your favorite ways to use old fashioned cucumbers and onions in vinegar? Do you use them more as a condiment or as a side dish?
P.S. I'd love to hear about it if you try this easy recipe for no cook refrigerator pickles! You can drop me a comment and leave a rating for the recipe below!