Get all of the flavors of your favorite Chinese takeout egg rolls without the fried outer wrapper! This recipe for homemade egg rolls ticks all the boxes. You get protein-packed pork, an assortment of phytochemical-rich vegetables, and a savory sesame sauce that you are going to love. Additionally, these egg rolls are unrolled, so there is no fussy wrapping when you are short on time!
I have the Terrified Amateur to thank for inspiring my creation of this recipe for homemade egg rolls. After my unrolled cabbage rolls recipe came out, they made the smart suggestion of unrolled egg rolls. Doesn't that sound so very delicious?
Spoiler alert: it was AMAZINGLY delicious. Really folks, this is a good one. I enjoyed it far more than takeout.
This isn't a low-calorie dish, but I'll provide some modifications to lighten things up, as I often do. I know that my maintenance level is in the 2000-2500 calorie range; some higher energy dishes work well for me. Luckily, it's easy to change things up in recipes to fit a variety of needs.
If you made my chipotle lime mayo recipe, this is a great dish to use it in. The mayo gets a little runny after hanging out in the fridge for a few days. That thinner consistency makes it *perfect* for drizzling over these unrolled egg roll bowls.
Just thinking about this one makes me want to make it again. I have a feeling this is going to make a regular appearance on our dinner menu. So much yum.
Is this recipe for homemade egg rolls plant-based?
You'd think I could answer this question simply with a yes or no, but the answer depends on who you ask. Many dietitians refer to plant-based as meaning a diet or meal that is mostly plants. Under that definition, anything that contains greater than 50% plants could be called plant-based.
"Mostly plants" means that anyone following the mainstream dietary guidelines is following a plant-based diet. If someone is following the MyPlate, 60% of food groups come from plants (vegetables, fruits, whole grains). The other 40% (dairy, protein) may come entirely from animals or could come all or partially from fortified soymilk and plant proteins.
However, some in the vegan community are using plant-based as an alternative term for vegan. Unfortunately, I'm also seeing the term "vegan" being used in different ways as of late, which I'll talk about below. Obviously, with the pork, this dish is not "plant-based" if we are using the term as a synonym for vegan.
I have chosen to sidestep this dispute by using "plant-based" and "animal-based" mostly in reference to specific foods rather than diets. For example, the cabbage here is plant-based while the pork is animal-based.
If I slip and use this term in a different way and you are not sure what I mean, please drop me a comment and ask! I'm happy to clarify what I meant.
How is the term "vegan" being used now?
To my best knowledge, most dietitians use "vegan" to refer to someone who does not eat animal-based foods. However, lately, I'm seeing some animal rights folks insist that "vegan" should mean those who eat only plant foods due to ethical beliefs. Usually, they want the other vegans to be referred to as plant-based.
Feeling confused? This is why it is so important to ask someone for clarification if they start throwing around words like "vegan" or "plant-based."
Back in the old days (a couple of decades ago), we used "vegan" for anyone who did not eat animal-based foods. "Ethical vegans" referred to the animal rights crew. We were definitely using vegan as a word to describe someone on the diet, no matter the reason.
I recently dug up some old newsletters for an animal rights group my husband and I used to belong to. These paper newsletters are circa 2001-2002…
The photo comes with a bonus recipe! As a dietitian, I now recognize that there is quite a lot of fat and not much protein in that dish. I'd suggest serving it as a side.
I've changed my position on nutrition over the years to make human health the top priority. I am grateful that I'm old enough where there is not a huge record online of my vegan years. I'm also happy that I was not a dietitian yet.
I'm not in favor of dietitians firmly attaching themselves to a single diet tribe or ideology. Opinions often change in the decades that follow.
Different individuals prefer and thrive better on different dietary patterns. Flexibility is key to helping the greatest number of people.
Is this recipe for unrolled egg rolls a Mediterranean diet dish?
"Mediterranean diet" is another term with different meanings. To begin with, the Mediterranean encompasses a broad region of the world. People in the Mediterranean are not eating a single, uniform diet.
I tend to define the Mediterranean diet as it is laid out in the Dietary Guidelines. It's quite similar to the Guideline's U.S. Healthy Pattern. I do recognize that this may not be an accurate reflection of how those in Mediterranean countries are eating.
As mentioned, the differences between the Mediterranean and the U.S. Healthy Pattern are small. The Mediterranean pattern includes less dairy and a little more fruit, seafood, and overall protein. Recommendations for vegetables, grains, meat, poultry, and eggs are about the same.
The Mediterranean diet doesn't restrict food types, so I would consider this veggie-filled dish a good fit. However, some are using the term "Mediterranean" to push people towards veganism. The Dietary Guidelines offer a separate Vegetarian Pattern, so I don't agree with using "Mediterranean diet" to promote the restriction of whole foods.
To give an example, this article states that "eating animal products isn't a daily occurrence on the Mediterranean diet." That is false by most definitions. Don't forget that dairy, seafood, eggs, and poultry are also animal products, not just red meat.
The Mediterranean diet actually has the highest protein requirements of the patterns in the Dietary Guidelines because of the additional seafood. Plus, it recommends two servings of dairy daily (or yes, fortified soymilk).
I was quoted in that article but did not make the statement about the Mediterranean diet including vegan days. Unfortunately, I suspect that some might be using "Mediterranean" to push certain agendas.
I could continue with how people also use "keto" in varied ways, but I'd rather have some (unrolled) homemade egg rolls. How about you?
And now for the disclaimer…
All recipes on this website may or may not be appropriate for you, depending on your medical needs and personal preferences. Consult with a registered dietitian or your physician if you need help determining the dietary pattern that may be best for you.
The calorie information is an estimate provided as a courtesy. It will differ depending on the specific brands and ingredients that you use. Calorie information on food labels may be wildly inaccurate, so please don't sweat the numbers too much.
For more information on how the three recipe levels may help with a weight management goal, refer to this post. Let's get cooking!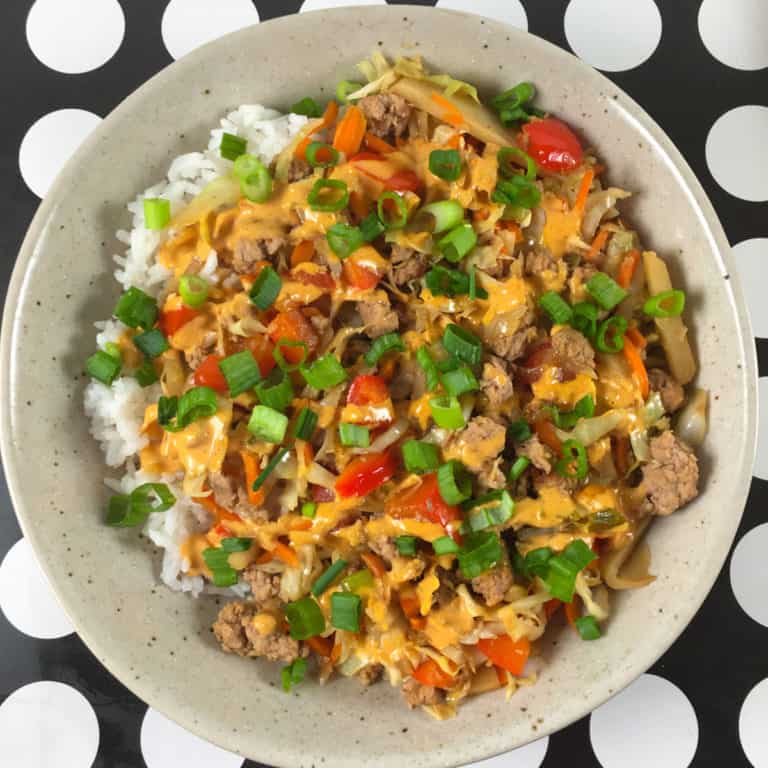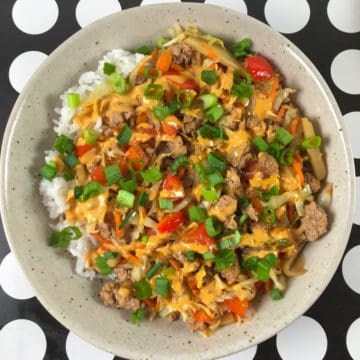 Inside Out Egg Rolls Recipe
Learn how to make inside out egg rolls! This egg roll stir fry gives you all of the flavors of your favorite Chinese takeout egg rolls without the fried outer wrapper!
Ingredients
1

cup

rice, dry

(brown rice or white rice)

1

lb

ground pork

(454 grams)

4

cloves

garlic, finely chopped

1

medium

red pepper, chopped small

8 ounces (227 grams); chopped into ½-inch (1.27 cm) dice

10

ounces

shredded green cabbage

(283 grams)

2

medium

carrots, shredded

4½ ounces (128 grams)

1

tablespoon

fresh ginger, grated

5

scallions, sliced

(green and white parts divided)

8

ounces

canned sliced water chestnuts, drained

227 grams; I typically slice them even smaller

8

ounces

canned bamboo shoots, drained

(227 grams)

2

tablespoons

rice vinegar

4

tablespoons

reduced-sodium soy sauce

2

tablespoons

toasted sesame oil

¼

cup

chipotle lime mayo (store-bought or use this chipotle lime mayo recipe)
Instructions
Clean and shred or chop all your veggies before you begin as directed in the ingredients list. Once you start cooking, everything comes together quickly! A food processor with a shredding disc is helpful for the cabbage and carrots.

Cook the rice in water in a small pot according to its package directions. Brown rice takes about 45 minutes, and white rice 15 minutes, so prepare the rest of the meal while it cooks.

Brown the pork and garlic over medium heat in a Dutch oven. Break the pork up with a metal spatula while it cooks. It will take about 10 minutes.

Add the red pepper, cabbage, carrots, ginger, white parts of the scallions, water chestnuts, bamboo shoots, rice vinegar, and soy sauce to the pork. Cook until the cabbage softens without browning, stirring frequently. It will take about 10 minutes. (Turn the heat to medium-low if the veggies are browning too quickly.)

Note: toasted sesame oil is intended for finishing with flavor, not cooking. Stir it in after the veggies are done cooking if you're concerned about its oxidative stability. I tend to be lazy about this, but it's a good thing to do.

To serve, plate your cooked rice and your pork and vegetable mixture. Drizzle with chipotle mayo (thinned with water if needed) and sprinkle on the sliced scallion greens. I like to stir it all together before digging in!
Notes
This is a level 2 recipe (transition or weight maintenance). This dish is a nutritious alternative to your typical fried egg roll... but that doesn't mean it's lower in calories.
There are around 200 calories in an egg roll (depending on the type and size). However, a classic egg roll is not intended to be a meal by itself.
If you want to make this egg roll bowl friendly for weight watchers, it's easy to do. Consider swapping the pork for a lean protein, such as ground chicken or ground turkey. You could also try either skipping the rice or swapping it for cauliflower rice.
You can find frozen cauliflower rice in bags that are ready for the microwave. This will be a huge time saver compared to cooking brown rice. Ditching the rice also makes this dish a low carb meal that's under 500 calories.
If you lean towards a low-fat diet, aside from choosing a lean protein, you may want to skip the mayo drizzle. Mayo is usually made from oils high in unsaturated or monounsaturated fats, not saturated fats. That said, it's a very high calorie condiment, adding 90-100 calories per tablespoon.
IMVHO, the dish doesn't work as well if you try to skip the mayo but keep the rice. I felt the dish needed a little something extra to heighten the flavor of the plain rice.
If your goal is weight loss, remember that you must create a calorie deficit to lose weight. It doesn't matter whether you're using a low carb or low-fat method, or whether you're actually counting calories or not. Eating lots of non-starchy veggies and high-quality protein may help you to feel full on fewer calories.
Nutrition information is for one serving.
Nutrition
Calories:
638
kcal
Carbohydrates:
55.9
g
Protein:
24.9
g
Fat:
34.6
g
Saturated Fat:
7
g
Fiber:
7.9
g
Vitamin A:
143.2
% DV
Vitamin C:
173.2
% DV
Calcium:
24.3
% DV
Iron:
21
% DV
Would you consider this dish to be plant-based and/or compatible with the Mediterranean diet? By the way, I am serious when I say I love this recipe for homemade egg rolls (unrolled). If you end up loving it too, I'd appreciate it if you'd spread the word!