This simple stuffed pepper recipe has a secret ingredient, and you'll never guess what it is! Your whole family is going to love these cheesy peppers, stuffed with beef, rice, and… chicken liver! Liver is a powerhouse source of highly bioavailable nutrients, including vitamin A, zinc, and iron. Use the tips with this simple recipe to turn liver haters into fans of nutrient-dense organ meats.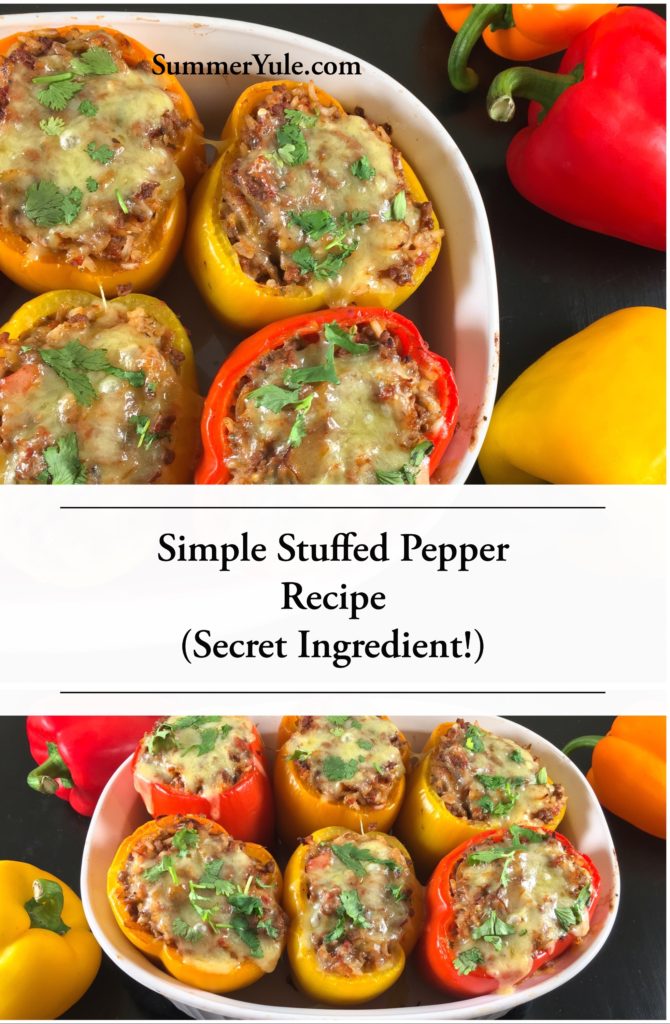 A simple stuffed pepper recipe was a favorite go-to back when I was on my 70-pound weight loss journey. The dish is low-calorie, filling, balanced, and portion-controlled. Additionally, if you've tried Monday's recipe, I think you'll find that stuffing large sweet peppers is much easier than stuffing minis.
The stuffed pepper recipe that I used when I was losing weight contained a can of cream of whatever soup. This made for a short prep time but wasn't aligned with my goal to minimize the use of ultra-processed foods.
How this recipe is better
Using fresh salsa in these peppers instead of a "cream of" soup offers several advantages. It brings the calories down while adding some more veggies to the dish. No additional prep time is needed with this switch, which is great if you are short on time.
For the best results and biggest bang for your health buck, choose a smooth-textured salsa with no added sugar or oil. You could also make fresh tomato salsa from scratch if you want to spend a little more time in the kitchen. Making your own is a good way to lower the sodium in this dish.
Just please don't skip giving the peppers a quick dip in boiling water before stuffing. It may be slightly more time-consuming, but it is the best way to ensure you get perfectly cooked peppers.
Did you say that this recipe contains chicken liver?!?
Yes, I snuck some chicken liver into this recipe, but you won't taste it at all. I'm excited to share some tricks I've learned to help you get some liver into your diet. My family has had some bad experiences with liver, but I've finally figured out some things that work.
I've found cod livers to be the mildest-tasting liver, followed by chicken, and then beef. I've shared a great recipe that uses cod liver a few weeks ago. Now I am taking the next step with a recipe that includes chicken liver.
Perhaps one of these days, I will have an awesome recipe with beef liver to share. I first became interested in organ meats when I was looking to increase the nutrient-density of my diet after I completed breast cancer treatments.
My freezer was stocked with assorted goodies such as beef liver and kidneys. Knowing that these are strong-tasting foods, I'd include a single pureed tablespoon or two per pound of ground beef.
Even with such small amounts, we could always tell that I had snuck that beef liver in there. And no one liked it.
For a few years, I pretty much gave up on including organ meats in my diet. Until now.
Here's how to sneak chicken liver into your diet when you hate liver
A lot of folks seem to be eating (and enjoying!) liver on Twitter, so I asked for tips to help me out. One person suggested soaking the liver in buttermilk for at least an hour before draining and cooking. This is supposed to help mellow out the flavor.
Another Twitter friend recommended making bacon and liver pate. After soaking my chicken livers in buttermilk, I used The Best Liver Pate Ever recipe on the Weston A. Price website.*
It made the house smell amazing while it cooked. My family started asking about it, wanting to know when we were going to eat what I was making. I credit the bacon for the incredible aroma, not so much the chicken liver.
There is a lot of bacon and bacon fat in the liver pate recipe. I can't say it is American Heart Association approved, but my main goal here is to make liver edible. Luckily, I don't have any hang-ups about including a little bacon in my diet.
Dietitians may recommend putting a little sweetener like maple syrup on veggies if it helps your kids to eat them. Liver is far more nutrient-dense than most vegetables. I'd argue that (at least in some cases) it may be more important to find ways to get a little liver into the diet.
I did not end up serving my family the pate as-is. There is one more step, which you can read about after the note below.
* Important!
While I appreciate the tasty recipes on the Weston A. Price website, I strongly disagree with some nutrition information provided. For example, I do not recommend making your baby homemade infant formula.
There are many published cases of infants who were harmed as a result of improper feeding. Please do not risk your child's health in an effort to eliminate ultra-processed foods.
The final step is hiding the liver in ground meat dishes
I knew my family might be resistant to eating straight-up liver pate, even though it smelled great. So I used an excellent tip from dietitian Lily Nichols and added the pate to a recipe with ground meat. Brilliant!
As mentioned earlier, adding plain pureed liver to ground meat never worked out well in my household. However, adding a perfectly seasoned pate was well-accepted.
No one in my house could guess the secret ingredient in these peppers. My son was able to taste the bacon only. He has an amazingly perceptive sense of taste, so I know I found a winning strategy here.
The Weston A. Price recipe made 2 cups of pate, but I only used ½-cup in this simple stuffed pepper recipe. The rest of the pate went into whiskey ice cube trays and then into the freezer. I'll defrost a cube and add it in whenever I make a recipe with ground beef (about once per week).
The whiskey ice cube trays hold ½-cup in each compartment, far more than a standard ice cube tray. (The tray was an additional tip provided by Ms. Nichols.)
These trays are not only great for freezing pate. You can also use them for freezing baby food or leftovers.
You can purchase the trays on Amazon by clicking here. I wish I had these when my son was little; they are so useful!
Why am I going to all of this trouble to eat liver, anyway?
Liver is an amazingly nutrient-dense food. Not only is it rich in nutrients, it is rich in the most bioavailable forms of these nutrients. This means your body is more easily able to utilize them.
Each ½-cup portion of the pate discussed above contains 2-ounces of raw chicken liver (which becomes a smaller weight once cooked). Here is the micronutrient breakdown of what this tiny (68-calorie) amount of liver adds to the recipe:
This recipe makes six servings, so you are getting ⅙ of what is listed above from the liver alone. As you can see, chicken liver provides all of the major B vitamins. It is also one of the richest sources of meat-based vitamin C that you can find (though you lose some with cooking).
In addition, liver contains several essential minerals, such as iron, selenium, and zinc. Try to stick to the portion of liver pate that I am suggesting here. It will keep you under the tolerable upper intake level (UL) for vitamin A.
Make sure that you do not get too much of a good thing
Even though I often sing the praises of liver, it is a powerful food, and you only need a little of it. This is also how things would be likely to work in nature. Do you think you'd have access to a big pile of livers if you were hunting your food?
Most likely not. You'd probably get a small piece of liver to share with your family, along with muscle meat and plant foods.
Think of liver (and other organ meats) as a natural food vitamin. A little goes a long way, so be cautious about taking in too much. Enjoying one or two of these stuffed peppers should be just fine.
And now for the disclaimer…
All recipes on this website may or may not be appropriate for you, depending on your medical needs and personal preferences. Consult with a registered dietitian or your physician if you need help determining the dietary pattern that may be best for you.
The calorie information is an estimate provided as a courtesy. It will differ depending on the specific brands and ingredients that you use. Calorie information on food labels may be wildly inaccurate, so please don't sweat the numbers too much.
For more information on how the three recipe levels may help with a weight management goal, refer to this post. Let's get cooking!
Like this recipe?
Leave a rating by clicking the ⭐ below!
Simple Stuffed Pepper Recipe with a Secret Ingredient!
This cheesy, beefy stuffed pepper recipe has a secret ingredient. Your family will never guess what it is!




Ingredients
¾

cup

dry brown rice

6

large

bell peppers, tops and seeds removed

1

tablespoon

olive oil

1

medium

onion, chopped

2

cloves

garlic, finely chopped

1

teaspoon

chili powder

1

lb.

ground beef, extra lean

(454 grams; 96/4 beef)

½

cup

bacon and chicken liver pate

(I used this recipe)

1½

cups

smooth-textured salsa with no added sugar or oil

1

cup

cheddar, shredded

(divided)

¼

cup

cilantro, finely chopped
Instructions
Cook the brown rice in water according to the package directions. It will take approximately 45 minutes. While the rice cooks, prepare the rest of the dish.

Preheat the oven to 350°F (175°C). Set a large pot of water to boil.

Heat the olive oil in a skillet over medium heat. Add the onions and garlic. Cook, stirring occasionally, for 10 minutes.

Add the ground beef, liver pate, and chili powder to the onion mixture. Heat until the beef is cooked through, approximately 8 minutes. Break up the ground beef with a spatula as it cooks.

When the large pot of water begins boiling, submerge the peppers in the water for three minutes. You may only be able to fit three peppers at a time in the pot, in which case you'll have to do this step in two batches. Remove the peppers from the water with tongs, and set them upright in a baking dish.

Stir the cooked rice, salsa, and half of the cheese into the beef mixture.

Pack the beef mixture tightly into the peppers with the back of a spoon. I was able to make all of the filling fit!

Bake the peppers in the heated oven for 25 minutes. Remove from oven, top each with the remaining cheese, and bake an additional 5 minutes.

Garnish the peppers with the cilantro.

Happy dining! They'll never know there is liver in these unless you reveal your secret recipe!
Notes
This is a level 1 recipe (may help support fat loss). IMHO, stuffed peppers are a great meal for weight loss and healthy weight maintenance. They are automatically portion-controlled, and generally high in the protein and non-starchy veggies that promote satiety.
Counting tomatoes and peppers as fruits, you've got a well-balanced entrée here that covers all of the food groups. If you want a higher energy meal, my advice is to eat another pepper! (We all did!)
Try to find peppers that have flatter bottoms and that can stand on their own for this recipe. An alternative is to use a casserole dish that you can pack the peppers tightly into, as shown.
Nutrition
If this simple stuffed pepper recipe converts you (or your family) into liver eaters, I would love to hear about it! What are some of your favorite ways to incorporate liver or other organ meats into your meals?