Hey readers! Get ready to break out your crockpot for this delicious slow cooker applesauce recipe. You only need two ingredients to make the most *perfect* applesauce around! This sweet, cinnamon-scented apple sauce is excellent as a side dish or a snack. You won't believe there are no added sugars here. Slow cooking the apples all day really lets their natural sweetness shine through.
As promised in last week's post on fermented sauerkraut, I have a terrific slow cooker applesauce recipe for you today. All you need are some apples and a cinnamon stick to make some of the best applesauce that you can imagine. As an added benefit, the cinnamon will make your home smell absolutely heavenly as it cooks down.
This recipe involves no mashing, blending, food milling, etc. Slow cooking the apples naturally breaks them down without you having to dirty another kitchen appliance. Stirring the apples every few hours is all that is needed to encourage them to fall apart.
Another reason I like to give the apples an occasional stir is that it prevents them from sticking to the crockpot. This may be more of an issue with some slow cookers than others.
Which slow cooker should I use?
I have a Crock-Pot SVC700-B, an oval slow cooker with a generous 7-quart capacity. I love how much this cooker can hold. It is much better at cooking large roasts (such as for carnitas) compared to smaller, round-based cookers I've previously owned.
The downside is that foods don't seem to heat as evenly in my oval cooker. If I don't give dishes like this applesauce a stir every few hours, they burn along the steepest sides of the oval.
Those with round-base cookers such as the Ninja Foodi Pressure Cooker may not need to stir as often. Multi-purpose cookers like this one are not only great for slow cooking. You can pressure cook, air fry, steam, and take advantage of their other features as well.
Which apples should I use?
As mentioned in the pumpkin spice baked apple chips recipe, I love Cortland apples. LOVE THEM. However, I can't usually get them at this time of the year.
At the end of January, any apples I purchase here in the northeast United States have not been picked fresh from a tree. I am pretty much at the mercy of what the supermarkets happen to have on hand.
There are certain apples that are better choices for applesauce than others. This information is pretty easy to find online.
Of course, some of this information is subjective, particularly in regards to which apples are best for eating. Most charts will list Red Delicious as a good eating apple, but I am inclined to disagree on that one. Haha
I found a great table online from one of my local orchards that should help you pick a good apple for this recipe. Avoid the apples that get an "F" in the sauce category, and you should be all set.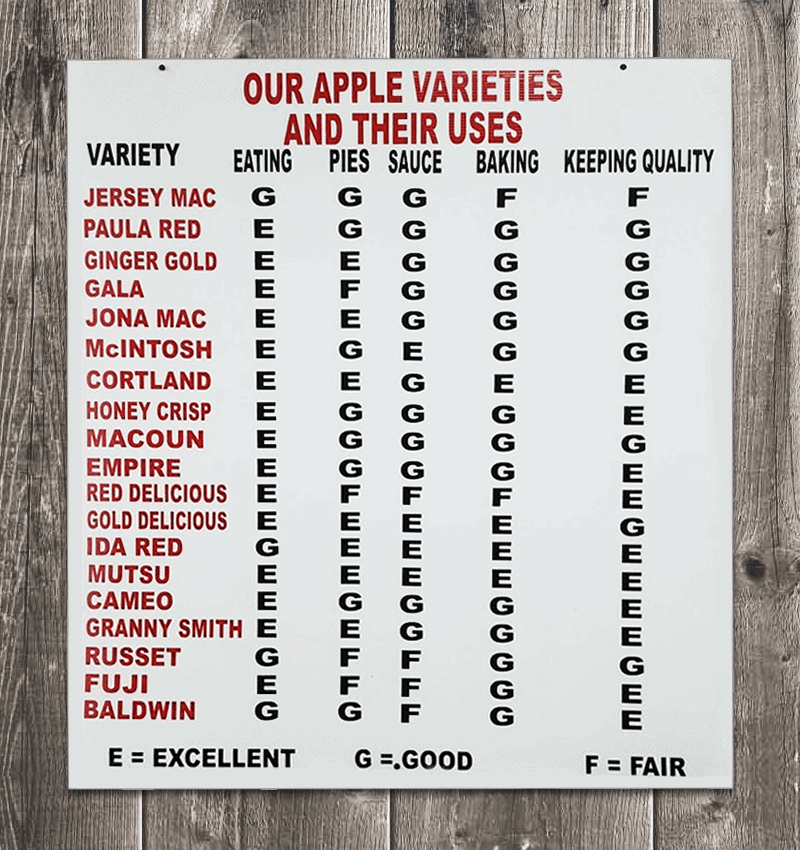 I have been using Empire apples for this recipe. Even though Empires only get the "good" rating for sauce, they worked out wonderfully.
If you bought a bag of apples and some are bruised, use them in this recipe. I promise, no one will know unless you tell them. This is a great way to use up those apples your pickier household members won't eat.
This applesauce is so versatile. You can serve it warm from the slow cooker or chilled. Try it; I think it is going to become a regular addition to your menu!
Other Healthy Recipes
And now for the disclaimer…
All recipes on this website may or may not be appropriate for you, depending on your medical needs and personal preferences. Consult with a registered dietitian or your physician if you need help determining the dietary pattern that may be best for you.
The calorie information is an estimate provided as a courtesy. It will differ depending on the specific brands and ingredients that you use. Calorie information on food labels may be wildly inaccurate, so please don't sweat the numbers too much.
For more information on how the three recipe levels may help with a weight management goal, refer to this post. Let's get cooking!
Like this recipe?
Leave a rating by clicking the ⭐ below!
Slow Cooker Applesauce Recipe – No Sugar Added!
You only need two ingredients to make the most *perfect* applesauce around! No added sugar and no mashing is required. Best of all, it is SO GOOD!




Equipment
Ingredients
8

cups

apples, peeled, cored, and chopped into large pieces

1

cinnamon stick

3

tablespoons

water

(can add more, if needed)
Instructions
Peel, core, and chop your apples into large pieces. I cut my medium-sized apples into eighths. It is fine to throw in some extra apples if you wish, this is an extremely flexible recipe.

Put the prepared apples in your slow cooker. Tuck in the cinnamon stick. Pour the water over the top.

Cover the slow cooker and set it on low. Let the apples cook for 6-8 hours, giving it a good stir every 2-3 hours to prevent the apples from sticking to the pot. The apples will fall apart on their own, no mashing necessary! If your particular variety of apples does not seem to be breaking down, don't be afraid to crank your slow cooker up to the high setting for a couple of hours to get the process going.

Longer cooking times result in a thicker, sweeter, and darker-colored applesauce, similar to apple butter (as shown in photos). When you feel the applesauce is ready, remove the cinnamon stick. The applesauce can be served warm or chilled.

This recipe makes 2½-3 cups of applesauce, depending on how large you chop the apples and how long you cook them.
Notes
This is a level 1 recipe (may help support fat loss). Unsweetened applesauce contains only 50 calories per ½-cup and makes a delicious side dish for a variety of meals. I enjoy it with pork entrees, but it is great as a standalone snack as well.
One thing to keep in mind is that cooking the applesauce longer will concentrate the sugars. The more concentrated your applesauce is, the higher the energy density will be. The difference isn't too significant, but cooking your applesauce down to the consistency of apple butter will mean more calories by volume.
Nutrition
Do you prefer your applesauce lightly cooked and juicy, or thicker, similar to apple butter? (My preference is somewhere in between!)
Don't forget to tag @SummerYuleRDN on your social media if you make this slow cooker applesauce recipe. I'd love to hear about it!