What's the best small air fryer of 2023? Get the scoop on choosing the best mini air fryer in this Okaysou air fryer review and comparison! Mini air fryers are a fraction of the cost and size of large capacity air fryers, while still supporting healthy eating. Learn all about the smallest air fryers, how to use a mini air fryer, get a price comparison, and more!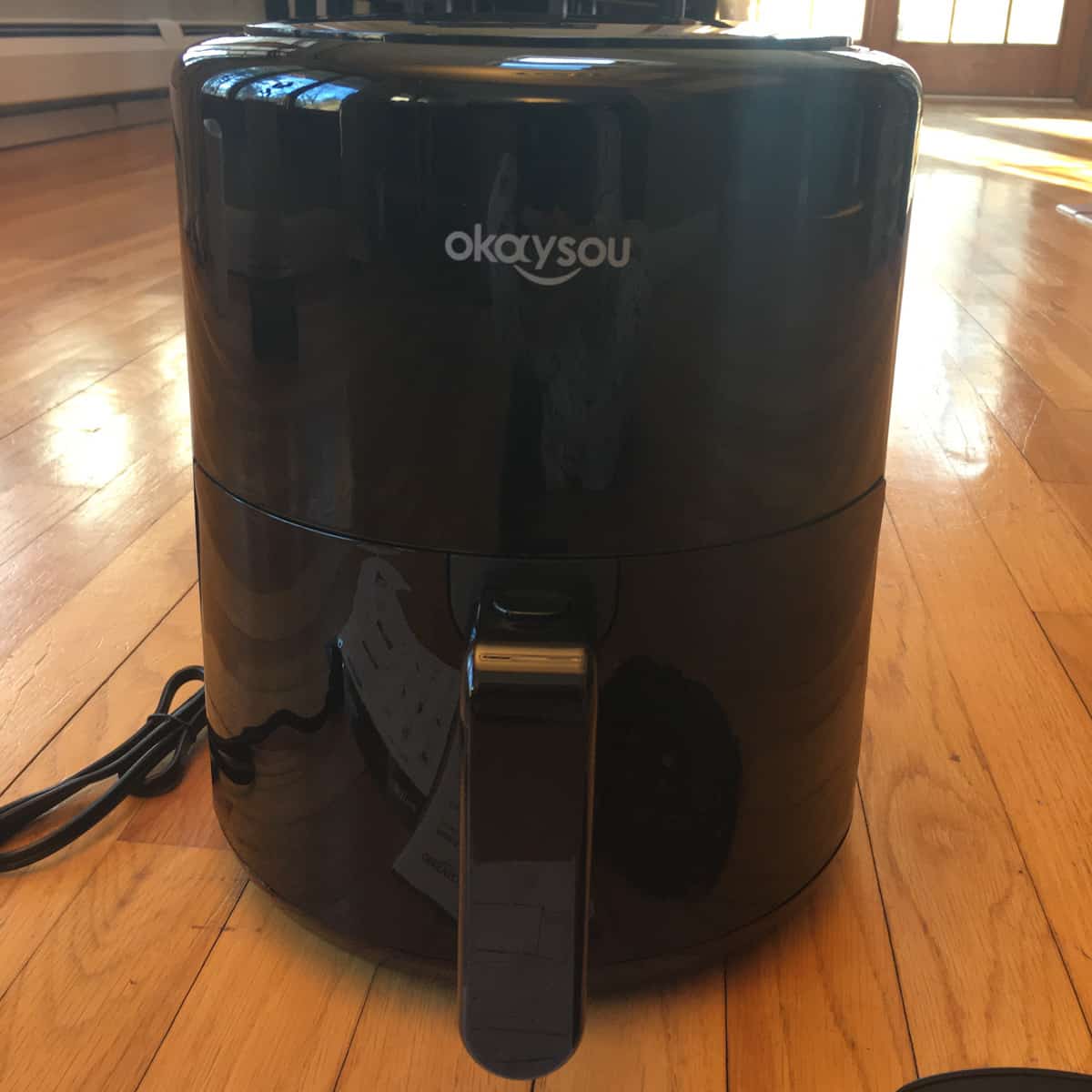 If you live alone or in a family of two, a compact air fryer might be a great option for you. So today, you're getting all the info you need to find the best air fryer for one person.
I typically cook in a big air fryer oven. However, I can see as a dietitian how a small fryless fryer might help with portion control. Having to cook in small batches means you won't have tempting leftovers laying around.
So, when Okaysou reached out an asked if I'd like to try their small air fryer, I said yes! The Okaysou Dance430 4.3-quart air fryer is much smaller than my 8-qt Ninja Foodi and 10-qt Kalorik air fryer oven.
How do small air fryers compare to large air fryers? I was about to find out, and I'm excited to share my findings with you.
Of course, I'm not just going to say I tried the best personal size air fryer ever. We're going to take a look at all the smallest air fryer brands and compare reviews, pricing, and so on.
I hope that this information helps you find the perfect air fryer for your needs. Be sure to check out my air fryer recipes when you make your decision. You'll be joining over half a million others in cooking some of the most popular snacks and other dishes on the site!
Jump to:
What's the smallest size air fryer available?
The smallest air fryer is very small! The 1-Quart Nostalgia Air Fryer and 1.1-Quart Elite Gourmet Air Fryer are the smallest air fryers around.
What's the smallest Ninja air fryer?
The smallest Ninja air fryer is the Ninja AF080. It is a 2-quart capacity air fryer, so not the smallest air fryer option out there.
What's the smallest Philips air fryer?
The older Philips Turbostar Air Fryer has a 2.75-quart capacity and appears to be their smallest air fryer. It receives excellent reviews on Amazon, but you may need to purchase it refurbished.
Best Small Air Fryers
What are the best air fryers under $100? If you are buying a small air fryer, you should not have to spend over $100. Compare prices of air fryers from multiple sources; discounts and coupon codes are often available.
The information below was correct at the time of writing. Prices are subject to change.
Which air fryer is the cheapest?
The Nostalgia Air Fryer and Maxi-Matic Air Fryer are often the cheapest air fryers, though the Chefman Compact Air Fryer may be less on sale.
If there's a certain air fryer you want, sometimes certain colors are cheaper than others. You may also save money on a refurbished or used air fryer.
Which air fryer takes up the least counter space?
The Elite Gourmet is the air fryer with the smallest footprint that I've found. Its length by width measurement is 6.5 x 6.5 inches (16.5 x 16.5 cm). It would be great for small apartments or dorms with limited space.
Okaysou Air Fryer
I tested the Okaysou Air Fryer Dance430, a small air fryer with a 4.3-quart capacity. If you're in the United States, you may have heard of Okaysou air purifiers. The company has branched out to making air fryers too!
Inside the box (which wishes you well on your cooking adventure) you get:
Digital air fryer (not analog!)
Air fryer basket insert
Instruction booklet
The air fryer basket insert has plastic-looking things on it that look like they could melt. However, they are food-grade silicone and should be left on there. They help to keep the tray from scratching the basket.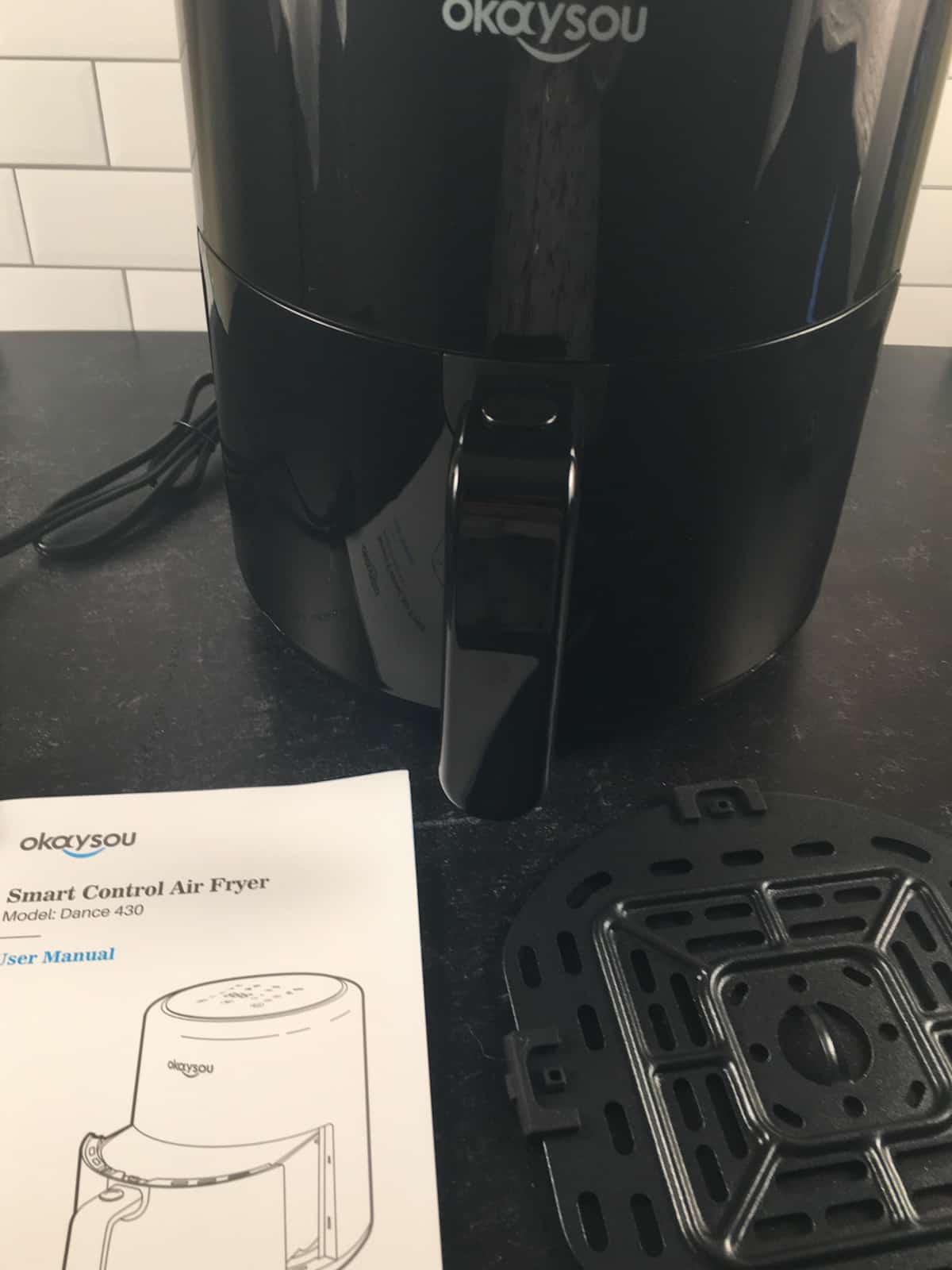 Speaking of, this is a dishwasher-safe basket and insert. Many air fryers have parts that cannot go in the dishwasher. This attribute makes clean up much easier than with other air fryers. (LOVE that!)
The Okaysou air fryer has an easy touch screen that is simple to set. (Don't miss the online video demonstration below!) IMVHO, an advantage of this air fryer over many other smaller air fryers is that it is digital. This makes it a bit easier to get the cooking time and temp set just right compared to analog screens.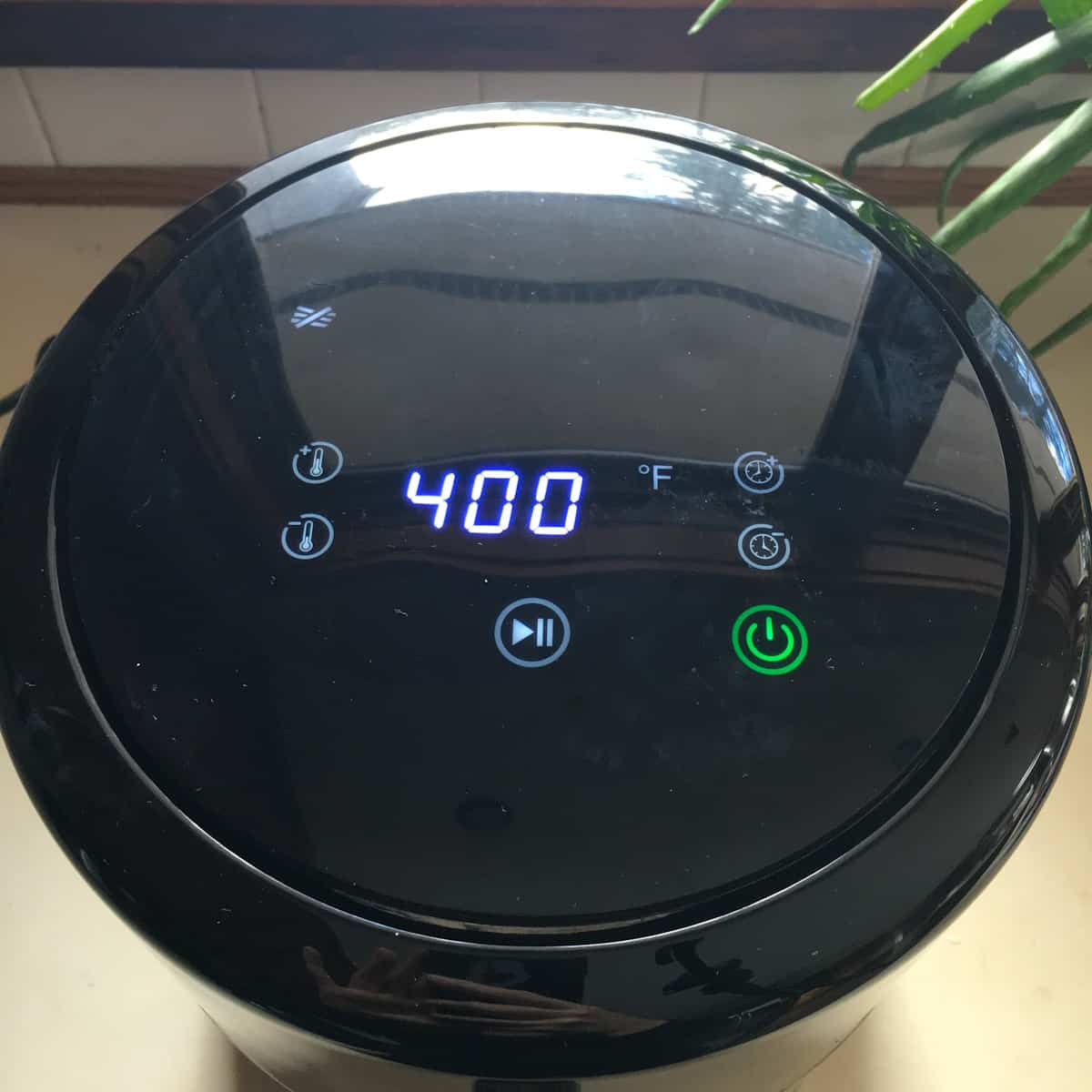 This mini air fryer has an auto shut-off function and a cool touch hand grip. It is truly easy enough for kids to use.
The temperature range for this healthy cooker is 180 to 400 degrees Fahrenheit (80-200C). This is a very common air fryer temp range. The Okaysou air fryer also has 8 cooking functions for cooking specific foods.
How big is a 4 quart air fryer?
The 4-quart Okaysou air fryer has a basket that is about 7½ inches (19cm) in diameter. This was large enough to make a single air fryer fried egg or three air fryer frozen spring rolls. (And yes, the air frying times were shorter than my larger air fryers, as expected.)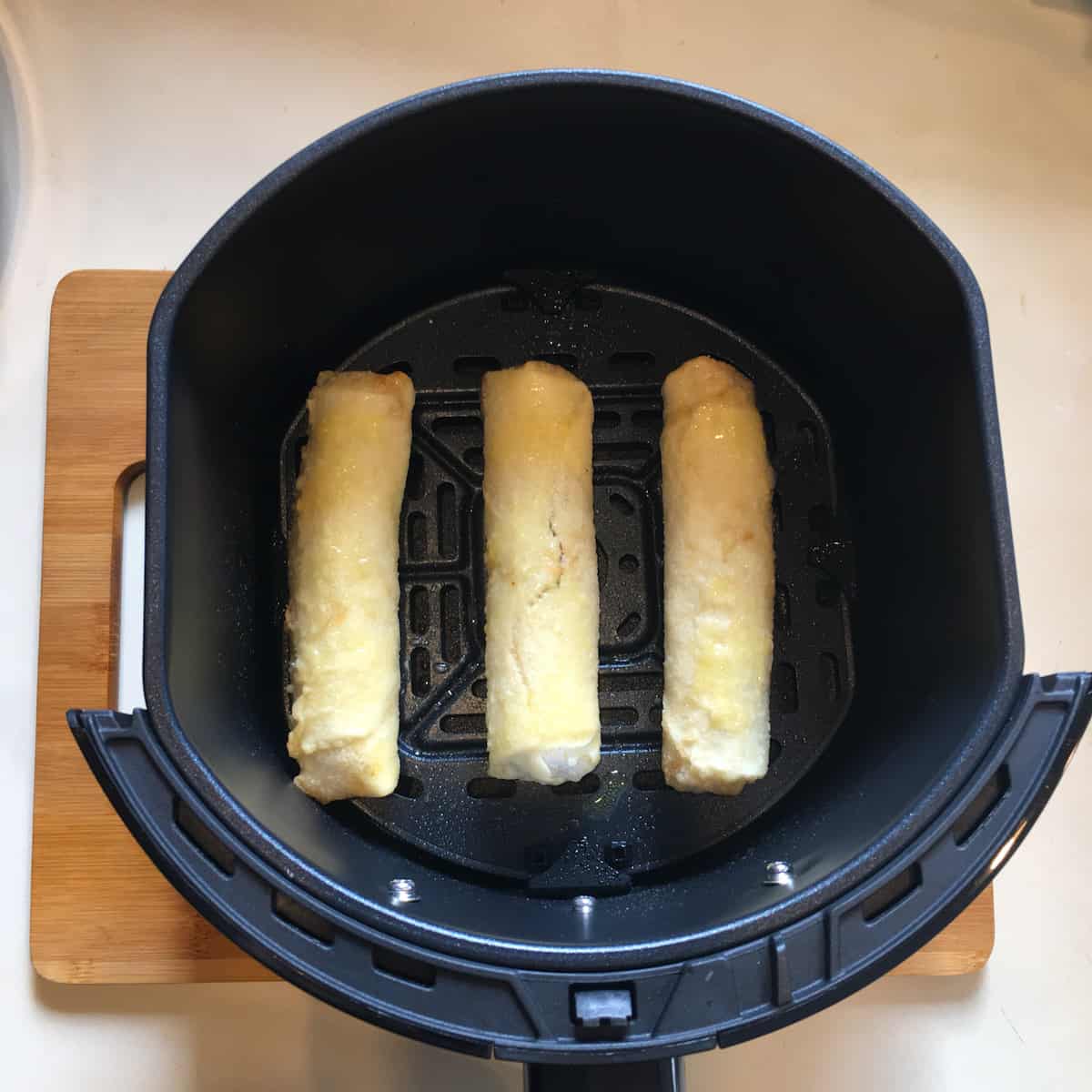 Air circulation is super important when air frying for the best results. Thus, you should get a big enough air fryer where you don't have to stack the food. This 4-quart air fryer could serve 1-2 people IMVHO.
I don't see the utility of getting an air fryer much smaller than 4 quarts. Though it sounds fun to have the smallest air fryer EVER (lol), most people will actually want to cook in it.
In practice, the air fryer basket or tray typically offers less space than the listed capacity of the air fryer. You can spend less on a 1- or 2-quart air fryer, but will it be big enough to fit your needs? Remember that the hot air needs room to circulate around the food as it cooks.
Is Okaysou a good brand?
Okaysou is a highly rated brand for air fryers, currently achieving 5.0/ 5.0 stars on their website and a similarly high rating on Amazon. Sounds promising to me!
Small Air Fryer Benefits
Somehow, we've made it this far without covering why you should get a small air fryer. First of all, if you are in a small kitchen and have limited counter space, a small size air fryer may be right for you.
When I remove the basket from my Okaysou air fryer, I could actually fit it inside my Ninja Foodi. Haha How's that for a small footprint?
Second, since the air fryer is so small, it is lightweight and can be used as a portable air fryer. You may be able to take this air fryer while traveling. It could help you eat healthier with no oil, or perhaps just reheat your leftovers.
Third, small capacity air fryers tend to be inexpensive. Some of us don't want to drop $150-300 on a big air fryer. Luckily, we don't have to!
Fourth, air frying can help us conserve energy compared to using the oven. They also don't heat up the house like ovens do.
Finally, air fryers (particularly the Okaysou air fryer) are easy to clean. There's no scrubbing roasting pans and skillets with stuck-on food when you air fry.
How to Use Mini Fryer
Cooking with small air fryer is easier than you might think! Most air fryers have presets, but you really only need the time and temperature buttons for most recipes. The air fryer I'm using has 8 cooking functions (presets) but I'll show you how to get started quickly.
I love that you don't have to deal with multiple lids and inserts with this air fryer. Here are the steps to cook with a mini air fryer:
Put the insert in the air fryer basket
Put the food in the basket
Next, put the basket in the air fryer
Turn the air fryer on
Set the time and temperature
Press play (if it doesn't start on its own)
That's truly it! If you're more of a visual person, see the process in action with this video recipe:
Of course, don't limit yourself to making egg rolls! Here are some other favorite foods to try:
One word of caution here is that there isn't a lot of space between the air fryer tray and drip pan. High fat meats and other foods that shed a lot of oil during cooking may end up soaking in fat. (I'm looking at you, air fryer pork belly!)
Okaysou Air Fryer Return Policy
I've found the Okaysou customer service very easy to work with. They currently offer a 90-day money-back guarantee if you order through their website.
FAQs
Why does our air fryer smell?
Every air fryer I've owned emits a plastic or chemical smell with the first use. Simply heat the new air fryer with no food in it, and the smell should go away with future uses.
What is the best size of air fryer?
You are in the best position to answer which kitchen appliance is best for you! Some things to consider are your family size, space, budget, and which features you want. For example, you can't make air fryer whole chicken on a spit in a small air fryer. Small air fryers have fewer accessories available.
Where can I buy a small air fryer?
Small air fryers are available at Amazon, Walmart, Target, Costco, Wayfair, Best Buy, and many other retailers. Sometimes the air fryer manufacturer will offer special discounts if you order directly from their website.
Does Kmart sell air fryers?
Yes, there are currently over 100 air fryers for sale on the Kmart website.
Can a toaster oven be used as an air fryer?
A toaster oven isn't exactly like an air fryer because toaster ovens don't generally have the convection oven component. That said, there are combination air fryer toaster ovens available that do both forms of cooking.
Are small air fryers worth it?
If you live alone and want a low-cost way to try air frying, I think a small air fryer is definitely worth it. Air fryers make it possible to make oil-less "fried" foods, and to bake with less fat in general. You can always upgrade to a bigger air fryer later if you enjoy this form of cooking!
Join our community! Subscribe to be kept up-to-date on all of the latest and greatest recipes and reviews!