Hey, liver haters! One bite of this smoked oyster and cod liver pate recipe may have you singing a different tune. Cod livers have a much milder flavor than chicken or beef liver. A veritable nutrient powerhouse, cod liver is packed with omega-3s and vitamin A. Meanwhile, the oysters are an excellent source of protein and iron. Perhaps just as important, this liver spread is delicious!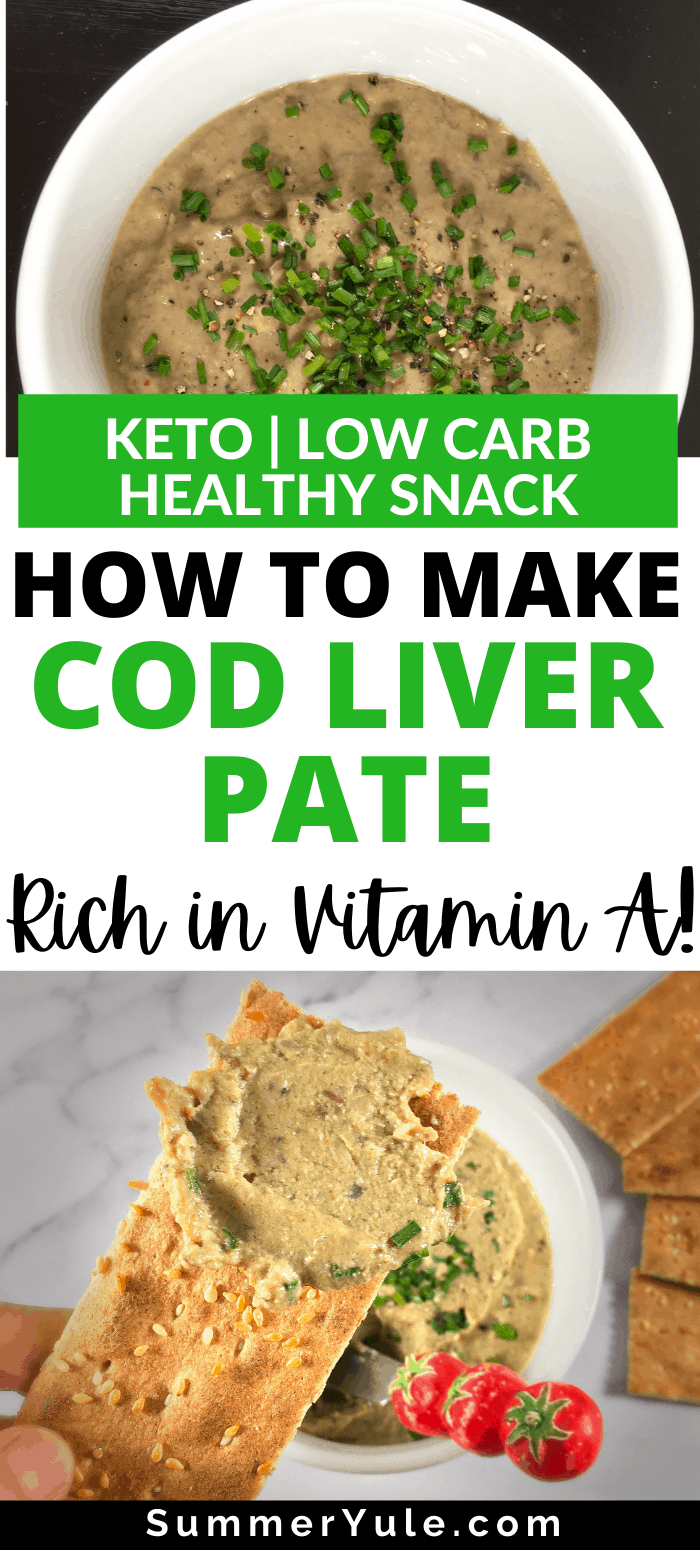 This recipe for smoked oyster and cod liver pate came about as part of my personal goal to learn to love liver.
Yes, it is fine to skip a few healthy foods (such as liver) if you dislike them. Nevertheless, I thought I'd work on my dietary quality a little more. It's one of my current self-improvement goals.
Repeated exposure to a non-preferred food is one of the techniques that is supposed to expand the palate. I can tell you that I don't think I'll ever love beef liver with onions, regardless of how many times I try them.
This cod liver has a much milder (read: more tolerable) flavor than beef liver. When you add in the smoky oysters, shallots, and garlic, the dreaded liver flavor is nearly absent.
As an added benefit over beef liver, the canned seafood here is ready to eat, cutting down on prep time. If you are on a tight budget, canned seafood tends to be less expensive than fresh. Why not give this recipe a go?
Where do you buy tinned cod livers?
Cod liver oil is extremely easy to find in my area. Unfortunately, I have not been able to find tinned cod livers at any of the stores that I typically shop at. If you live in a major metropolitan area, you may have better luck than I am having.
Since my preference is for whole and minimally processed foods, I wanted to find the cod livers instead of using the oil. Happily, Amazon carries canned cod livers (packed in their own oil) in a variety of brands. I went with the King Oscar brand since I have enjoyed their other seafood products in the past.
I was happy with my purchase and would recommend it to others who can't find cod liver locally. The other seafood ingredient, tinned smoked oysters, tend to be very easy to find.
Using a blend of oysters and cod liver in this pate helps to hide the liver flavor. Also, using multiple tins of liver would have made a serving of this pate extraordinarily high in vitamin A.
The oysters are higher in protein and iron than the cod liver. Using different types of seafood here gets you a wider range of nutrient benefits.
When it comes to cod liver, you can get too much of a good thing
As I mentioned above, liver is a nutrient powerhouse. It is important to respect such a nutrient-dense food by being mindful of your portion size.
In general, I recommend that a healthy adult consumes no more than one serving of this recipe per day. A little goes a long way with this smoked oyster and cod liver pate! I could easily eat half or (maybe) the whole recipe below, but that may not be the best idea.
My main concern is that it is very easy to go over the tolerable upper intake level (UL) for vitamin A with cod liver. The UL for vitamin A for most adults is 10,000 IU per day. This UL applies to animal-sourced vitamin A foods only (and certain supplements), not to plant-based provitamin A carotenoids.
Cronometer did not have the vitamin A content of the King Oscar cod liver. A similar cod liver product (TouSain brand) contains 31,293 IU vitamin A for 121 grams, the amount used in this recipe.
That means that the cod liver in ¼ of this recipe (one serving) would provide approximately 7,823 IU of vitamin A. That leaves some room for other foods with animal-sourced vitamin A (not more liver) while keeping you under the UL.
Please be extra careful with children
Children have a much lower UL for vitamin A than adults do. The current tolerable upper intake levels for animal-sourced vitamin A for children is as follows:
Age 3 and under: 2,000 IU
For ages 4-8: 3,000 IU
Ages 9-13: 5,667 IU
Ages 14-18: 9,337 IU
The serving size of this smoked oyster and cod liver pate is too large for most children. For little ones, a small taste is enough (think of it as a whole food vitamin). Teens should be fine with a portion size similar to mom and dad.
Most of the risk of vitamin overdose comes from supplement use. However, there are a few published cases implicating liver in vitamin A toxicity.
For example, here is a case involving a young child who had regularly consumed excessive amounts of chicken liver spread. His death was related to hypervitaminosis A, mostly due to the vitamin A contribution from the liver.
His two siblings consumed a similar diet. One suffered from long-term consequences, while the other remained healthy.
Most of us do not know whether we have a lower or higher vitamin A tolerance. The UL represents an upper safety level for most individuals in the population. It is probably wise to heed this guideline.
A few more things to know about cod liver
Cod liver is rich in healthy omega-3s and monounsaturated fats. Unlike cod, which is a low-fat protein, cod liver is rich in DHA and EPA. (P.S. There is no UL for omega-3s, though consuming excessive doses may result in reduced immune function.)
This leads to a topic I've mused about a bit on social media concerning conditional versus essential fatty acids (EFAs). Why aren't DHA and ARA considered EFAs, rather than ALA and LA? Doesn't that make sense, since the primary importance of LA and ALA are as precursors to ARA and DHA (respectively)?
Animal-based foods are the main sources of DHA and ARA in the diet. The conversion of the precursors to DHA and ARA are known to be quite low. Animal-based foods (e.g., cod liver) might be thought of as far more critical nutritionally if mainstream perspectives were changed regarding EFAs.
Similarly, the preformed vitamin A in animal-sourced foods is highly bioavailable, while the body must convert provitamin A carotenoids (in plants) to vitamin A. The conversion of beta-carotene to vitamin A is not as efficient as once thought. It depends on factors such as which food matrix contains the provitamin A (i.e., the type of food) and individual variation.
Some of us may convert provitamin A carotenoids to vitamin A more easily due to genetic variations. "Provitamin A carotenoids might not be a good vitamin A source for those subjects of the poor converter phenotype." Mild vitamin A deficiency may affect the person in subtle ways, such as difficulty seeing at night.
We generally do not know who is a poor converter and who isn't. Why not protect yourself by including some vitamin A in your diet from animal-based sources?
May I suggest this smoked oyster and cod liver pate to get you started? It is delicious!
What is cod liver oil good for?
Like cod liver, cod liver oil is a rich source of long chain omega-3 fatty acids, preformed vitamin A, and vitamin D. If you don't end up enjoying cod liver, a cod liver oil supplement may be something else to try.
And now for the disclaimer…
All recipes on this website may or may not be appropriate for you, depending on your medical needs and personal preferences. Consult with a registered dietitian or your physician if you need help determining the dietary pattern that may be best for you.
The calorie information is an estimate provided as a courtesy. It will differ depending on the specific brands and ingredients that you use. Calorie information on food labels may be wildly inaccurate, so please don't sweat the numbers too much.
For more information on how the three recipe levels may help with a weight management goal, refer to this post. Let's get cooking!
📖 Recipe
Like this recipe?
Leave a rating by clicking the ⭐ below!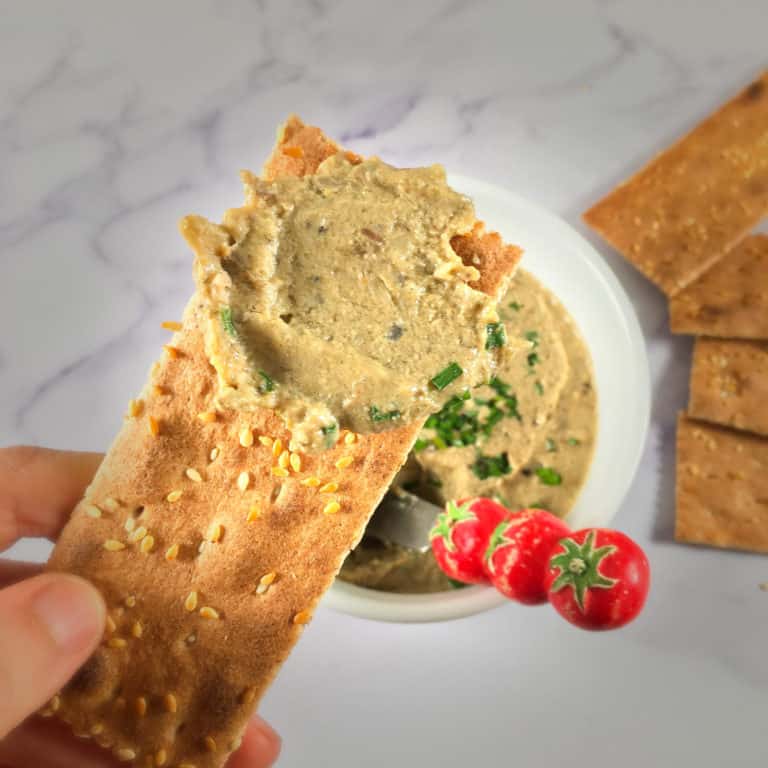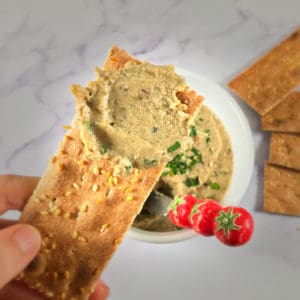 Smoked Oyster and Cod Liver Pate Recipe
Think you are a liver hater? This delicious cod liver pate with smoky oysters, shallots, garlic, and a touch of white wine may have you singing a different tune!
Instructions
In a small pan, saute the shallot and garlic in 1 tablespoon of the olive oil from the oyster container. You want them to be translucent but not browned. (This will take less than 10 minutes.)

Put the drained oysters, cod livers with their oil, shallot mixture, wine, lemon zest, oregano, and capers in a food processor. Blend into a puree.

Pack the pate into a 1½ or 2-cup ramekin. Seal cling film over the surface of the pate. Refrigerate overnight to allow it to firm up.

When ready to serve, remove the cling film and garnish with the chives and black pepper. Serve with your choice of fresh sliced vegetables, whole grain crackers, cheese, or pork rinds (see note below).

Pro tip: Seal the pate with a thin layer of melted ghee, if you'd like to skip the cling film. You will need to reseal the pate with more ghee each time you cut into it. When preserved in this way, the pate should keep for up to a week in the fridge. (If you are here for recipes that support fat loss, keep in mind that this method will add additional fat and calories.)
Notes
This is a level 3 recipe (weight maintenance and active lifestyles). Smoked oyster and cod liver pate is a high-energy snack that is full of healthy fat. The calorie count on this recipe does not include the optional foods you serve with the pate (e.g. veggies, crackers, cheese, etc.).
If you have lower energy needs, consider some add-ons from different food groups to extend this snack into a meal. I would add a serving of whole grain crackers, some fresh vegetable sticks, a serving of cheese, and a piece of fruit. You can modify these suggestions as necessary to fit your dietary needs and preferences.
Nutrition
Are you a liver lover or liver hater? If you've got some secret family recipes for preparing liver in delicious ways, don't be shy, share them with me! As always, I'd love to hear if you try this (tasty!) recipe for smoked oyster and cod liver pate.