Looking for a light lunch option that celebrates the season's bounty? You need to try this salad with strawberries, citrusy chicken, fresh greens, and crisp cucumber. Everything is drizzled with a sweet strawberry rhubarb dressing that has no added sugar. So delicious, packed with phytonutrients and protein, and under 400 calories. Veggies are great for topping salads, but don't forget about fruit!
I was recently looking over my editorial calendar for June and noticing just how many berry recipes I have this month. (Spoiler alert: quite a lot!)
If you don't like berries, no worries, I will continue to offer a berry-free recipe or two each week. For those like me who cannot get enough of the berry goodness, you are going to be in heaven!
Strawberries align well with most dietary patterns (low-carb, gluten-free, vegetarian, etc.). In addition, two cups of strawberry halves are under 100 calories. Compare the amount of food you get to one of those 100-calorie snack packs; strawberries are the clear winner for fat loss!
I went with a strawberry rhubarb dressing for this dish. Rhubarb pairs wonderfully with strawberries, and there are so many great ways to serve them together beyond pie.
Nothing against strawberry rhubarb pie, by the way. I make one every year, using an old family recipe that I have on a bunch of tattered index cards. It has an obnoxiously large amount of added sugar though, so it's not an everyday food for me.
Rhubarb is extremely tart and does benefit from the addition of some sort of sweetener. I went with a touch of Swerve leftover from the no added sugar dalgona coffee recipe. Try using pureed dates if you'd prefer a less refined sweetening option.
Making your strawberry rhubarb salad with orange chicken
Chicken breast is lean meat and can end up a little dry. I resolved this issue by marinating the chicken in a simple orange-ginger marinade. A quick run through the oven in the marinade results in chicken that is incredibly moist and tender.
After spending time in the oven, I put the chicken pieces on my stovetop grill. This was mainly for aesthetic purposes to get the nice grill lines. Feel free to skip this step if you are not planning on photographing your dish.
I added some fresh mint to the dressing for this salad because I have so much of it growing outside. It seems to grows well in poor soil and overall suboptimal conditions. Thus, it is fully thriving in my yard and tries to take over land I'd like to use for other things. Haha
I've seen some gardeners confine their mint to small spaces with the use of planting boxes. As an unintentional amateur mint farmer, I can now see the wisdom in not giving mint the run of the land. At least I have plenty of this ingredient to add to my dishes!
If you don't have an abundance of fresh mint, I think it would be fine to skip this ingredient in the dressing. I added so little, it did not make a huge difference in the dish.
The strawberries are another story entirely. This salad is all about the fresh strawberries, so I recommend saving this dish for when they are in-season where you are.
In non-pandemic years, we go strawberry picking and get berries that are red throughout the berry. The ones I got from the store are a little more white in the middle than I'd prefer. Get the best berries you can; they are such a treat!
And now for the disclaimer…
All recipes on this website may or may not be appropriate for you, depending on your medical needs and personal preferences. Consult with a registered dietitian or your physician if you need help determining the dietary pattern that may be best for you.
The calorie information is an estimate provided as a courtesy. It will differ depending on the specific brands and ingredients that you use. Calorie information on food labels may be wildly inaccurate, so please don't sweat the numbers too much.
For more information on how the three recipe levels may help with a weight management goal, refer to this post. Let's get cooking!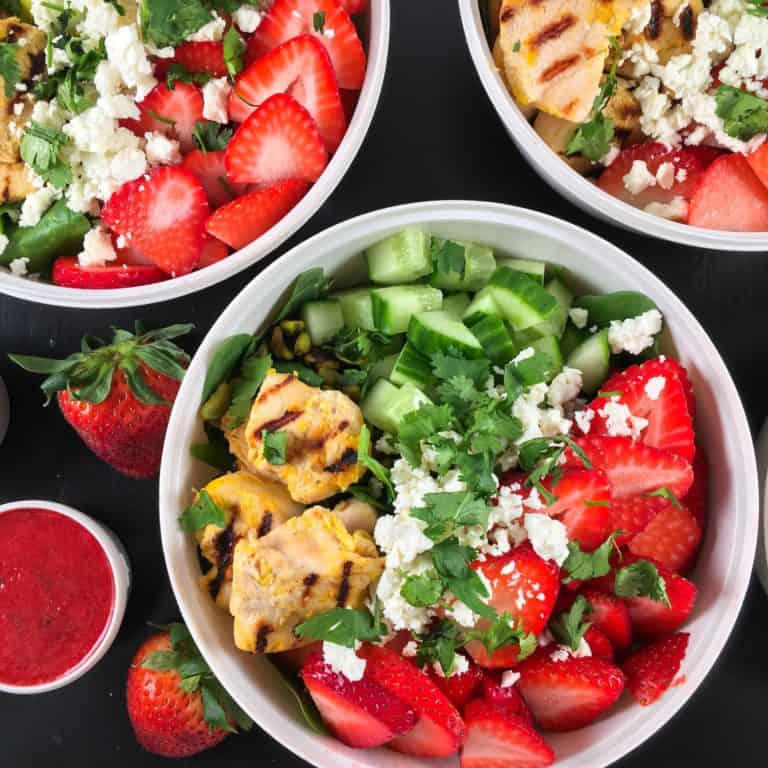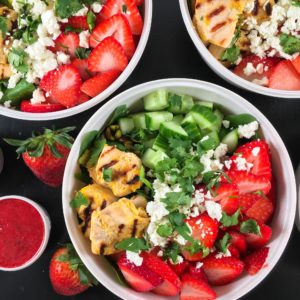 Strawberry Rhubarb Salad with Orange Chicken
You need to try this strawberry rhubarb salad that has citrusy chicken, tangy feta, fresh greens, and crisp cucumber. Delicious, under 400 calories, and no added sugar!
Ingredients
For the strawberry rhubarb dressing:
1

cup

chopped rhubarb

1

cup

chopped strawberries

2

tablespoons

orange juice, freshly squeezed

1

tablespoon

Swerve, granular

1

tablespoon

chopped fresh mint

⅓

cup

water
For the orange chicken:
1

lb

chicken breast tenders, cut into large chunks

½

tablespoon

orange zest

½

cup

orange juice

½

tablespoon

reduced-sodium soy sauce

1

teaspoon

fresh ginger, grated
For assembly of the salads:
8

cups

baby spinach

(approximately 10 ounces)

4

ounces

feta, crumbled

4

cups

strawberries, sliced

½

cup

pistachios

1

English cucumber, diced

¼

cup

cilantro, chopped

(for garnish)
Instructions
To make the strawberry rhubarb dressing:
Put all of the "for the strawberry rhubarb dressing" ingredients in a small saucepan. Cook over medium heat for 5-10 minutes, stirring occasionally.

When the rhubarb has softened and Swerve has dissolved, put the cooked mixture in a food processor, and blend until smooth. Refrigerate the strawberry rhubarb dressing until serving time.
To make the orange chicken:
Combine all of the "for the orange chicken" ingredients except the chicken to make your marinade. Marinate your chicken pieces in this mixture in the refrigerator for anywhere from two hours to overnight.

Preheat your oven to 400°F. Put your chicken with the marinade in an oven-safe baking dish. Once your oven is heated, bake the chicken for 20 minutes.

Lift your chicken out of the marinade once it has finished cooking. I chose to grill the chicken for a few minutes on each side to get some nice grill lines, but this is optional.
To assemble the salads:
Divide the baby spinach between four meal prep containers or serving bowls.

Top each bowl of spinach with an even amount of sliced strawberries, orange chicken, cucumbers, feta, and pistachios. Garnish with the cilantro.

Drizzle the salad with the strawberry rhubarb dressing right before serving. Yum!
Notes
This is a level 1 recipe (may help support fat loss). The marinade was not included in the calorie count on this dish since it is not consumed. As a high-volume eater, this is precisely the sort of lunch option that I favored during my weight loss journey. All of the strawberries and non-starchy veggies I've tucked in here provide a lot of volume for very few calories. The protein from lean chicken breast rounds out the meal and will help to keep you full until dinner.
If you need a higher energy meal, try serving this salad in a wrap instead. I think the marinated chicken, berries, spinach, and feta would be excellent drizzled with some of the dressing and tucked in a wrap (or two).
Nutrition
Do you ever add fruit to your salads? What are some of your favorite fruits to use?
Please leave a rating if you try this strawberry rhubarb salad with orange chicken. Five stars means you love it (and definitely makes my day)!