Taco-stuffed mini bell peppers are a low-calorie and lower-carb alternative to loaded nachos. With refried beans, ground chicken, and chili spices, you'll get all of the flavors in your favorite snack while increasing your vegetable intake. Did I mention there is a melty, gooey cheese blanket involved? You won't be able to resist this decadent-looking entrée that makes a delicious and healthy meal.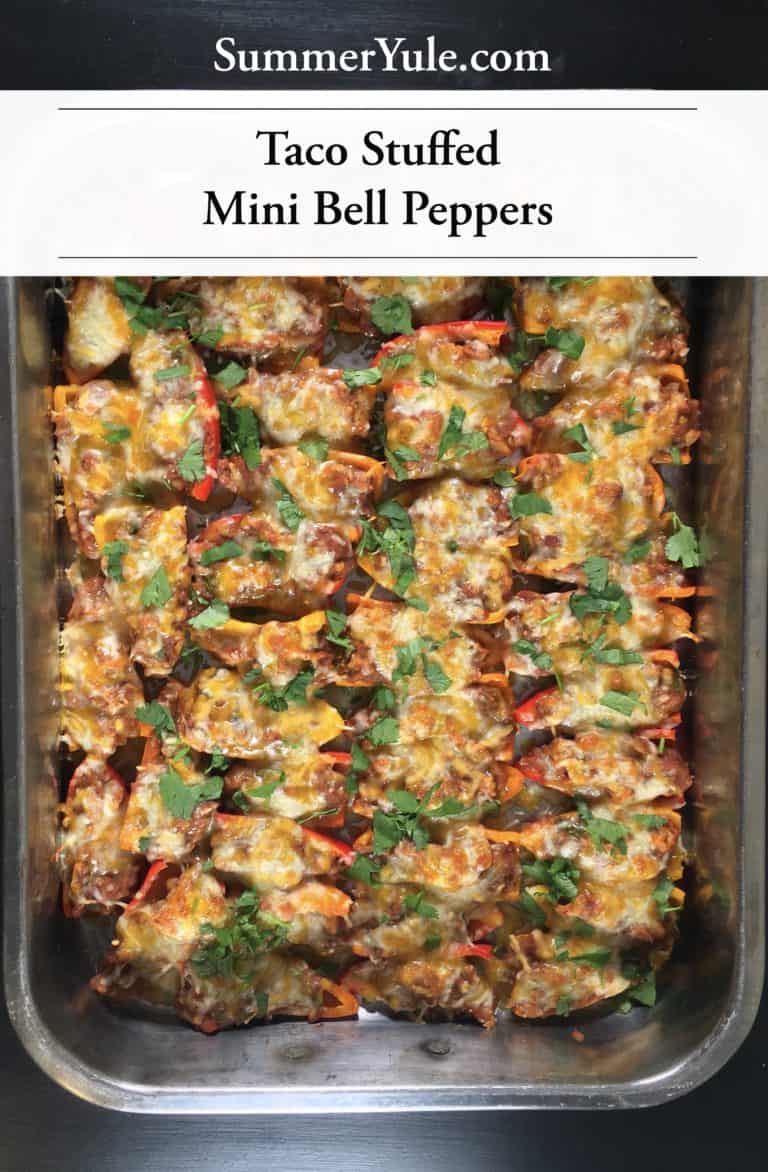 You may have noticed that I've been posting recipes three days per week as of late, instead of the usual twice-weekly offering. I plan on continuing this practice throughout November, and we'll see where things go from there. I spend the most time in the kitchen in autumn and winter and have lots of recipes to share.
Speaking of recipes, I am digging this recipe for taco-stuffed mini bell peppers. If you are looking for a fun way to cram more veggies into your family's diet, this one is a winner.
This protein- and fiber-packed dish is also great if you have a weight loss goal. Using peppers trims a ton of calories and less healthy carbs compared to using corn chips. I think you'll find these more filling than chips as well. Try them and see!
(And yes, I know that peppers are botanically fruits. However, they are placed in the vegetable group with other "salad veggies" in the MyPlate model.)
Keep watch for new produce to try when you shop; you never know what you may find!
If you don't love cooking, there are other options to help you to increase your intake of fruits and vegetables. One fun way to add more produce into the diet is to try new and interesting offerings as they show up locally.
Check these out...
A few weeks ago, I found kiwi berries for the first time at one of the major chain supermarkets. (Apologies to my followers on Twitter, who I have already shared this information with.)
These fruits are about the size of grapes, but they look like a kiwi on the inside. They are not fuzzy and require no peeling. They are related to the larger kiwis (same genus) and taste very similar!
According to an article in the Boston Globe, these plants may be considered invasive in my region. If that is the case, I am wondering whether I can forage them in the wild.
I did see a mention of kiwi berries (also known as hardy kiwi) in my favorite foraging book, "Foraging & Feasting," by Dina Falconi. Perhaps I should keep an eye out for them when I go on hikes.
You never know what sort of new produce you'll discover on a simple trip to the store. Keep trying new types of whole foods and new recipes; it's a simple way to increase dietary quality. How about starting with some taco stuffed mini bell peppers?
And now for the disclaimer…
All recipes on this website may or may not be appropriate for you, depending on your medical needs and personal preferences. Consult with a registered dietitian or your physician if you need help determining the dietary pattern that may be best for you.
The calorie information is an estimate provided as a courtesy. It will differ depending on the specific brands and ingredients that you use. Calorie information on food labels may be wildly inaccurate, so please don't sweat the numbers too much.
For more information on how the three recipe levels may help with a weight management goal, refer to this post. Let's get cooking!
Taco-Stuffed Mini Bell Peppers
Taco-stuffed mini bell peppers are a low-calorie and lower-carb alternative to loaded nachos. Did I mention that there is a melty, gooey cheese blanket involved?




Ingredients
1

T

olive oil

1

small

onion, finely chopped

1

jalapeno, seeded, finely chopped

½

lb.

ground chicken

22

mini bell peppers, cut in half lengthwise, seeded

(you may need more or fewer depending on size)

15

ounces

fat-free refried beans

(choose one with no added sugar or oil)

½

c

smooth-textured salsa with no added sugar or oil

(I used salsa especial from Trader Joe's)

2

t

chili powder

½

t

salt (optional)

8

ounces

light Mexican cheese blend, shredded

¼

c

cilantro, finely chopped
Instructions
Heat the olive oil over medium heat in a cast-iron skillet.

Add the onion, jalapeno, and chicken to the skillet. Occasionally stir and break up the chicken as it cooks. It will take 10-15 minutes to thoroughly cook the chicken.

As the chicken mixture cooks, prepare the mini bell peppers and lay them out in a single layer in a large baking pan.

After the chicken is cooked, stir in the beans, salsa, chili powder, and salt. Make sure the mixture is thoroughly combined.

Stuff the mini bell pepper halves with the chicken and bean mixture.

Cover the stuffed pepper halves with the cheese. The peppers should be tightly packed on the pan, so no need to get fussy about carefully covering each pepper. You are making a cheese blanket here!

Broil the peppers on high for about 3 minutes. The cheese will melt and brown a bit.

Garnish the finished taco-stuffed mini bell peppers with cilantro. Admire the cheese pull as you remove them from the tray.
Notes
This is a level 1 recipe (may help support fat loss). Using light shredded cheese helps to keep this dish at level 1. The oil in full-fat cheese ends up pooling a bit (messy!), so you might want to stick with light cheese in this one.
Confession: I split this into four servings, but my family of three typically polishes off the whole tray. It is fine to adjust portions of recipes as needed to fit your individual energy needs. (Teens, young adults, and athletes are some groups that will likely need to beef up all of the level 1 recipes!)
Nutrition
What are some creative ways that you are incorporating fruits and vegetables into your diet? I'd love to hear your ideas, and let me know if you try these taco-stuffed mini bell peppers!