Chimichurri is a rich condiment made of fresh parsley, garlic, red wine vinegar, and a generous helping of olive oil. It is common to the cuisines of Argentina and Uruguay, where it is typically served over grilled meat. If you are looking for a way to give a plain steak and salad meal a little more oomph, try chimichurri. I promise you'll be glad that you did!
A few weeks ago (in the carrot greens pesto post), I talked about how I joined Misfits Market. We've been eating really well! Receiving a box full of fresh produce surprises every week has been extremely beneficial in increasing my culinary skills.
Misfits sends a wide variety of produce, including items that rarely make it into my grocery cart. One week, for instance, I received this wonderfully verdant bunch of curly parsley. I usually only purchase flat-leaf parsley and wanted to find something delicious to make with this ingredient.
Since I also had an abundance of grass-finished beef in the freezer, I decided a chimichurri sauce was in order. Some prefer to make chimichurri with flat-leaf parsley, so feel free to use whichever you have on hand.
There is also some disagreement about whether chimichurri is best made in the food processor or by chopping everything by hand. I went the food processor route since I do not have the best knife skills. It was also a time-saver.
However, if you'd rather hand-chop everything, I'd say go for it! Use this recipe as a starting point for your own culinary masterpiece.
(P.S. If you want to try Misfits, use my code COOKWME-BS6FSP, and we'll each get 25% off a box. It's so much fun to see what is in the box each week and figure out what to make with it!)
How to serve chimichurri sauce
You can serve this chimichurri over your favorite cut of steak, though flank steak and skirt steak are classic options. I went with grilled skirt steak seasoned with Montreal steak seasoning. Flank and skirt steak are both lean cuts of beef, perfect for balancing this olive oil-rich sauce.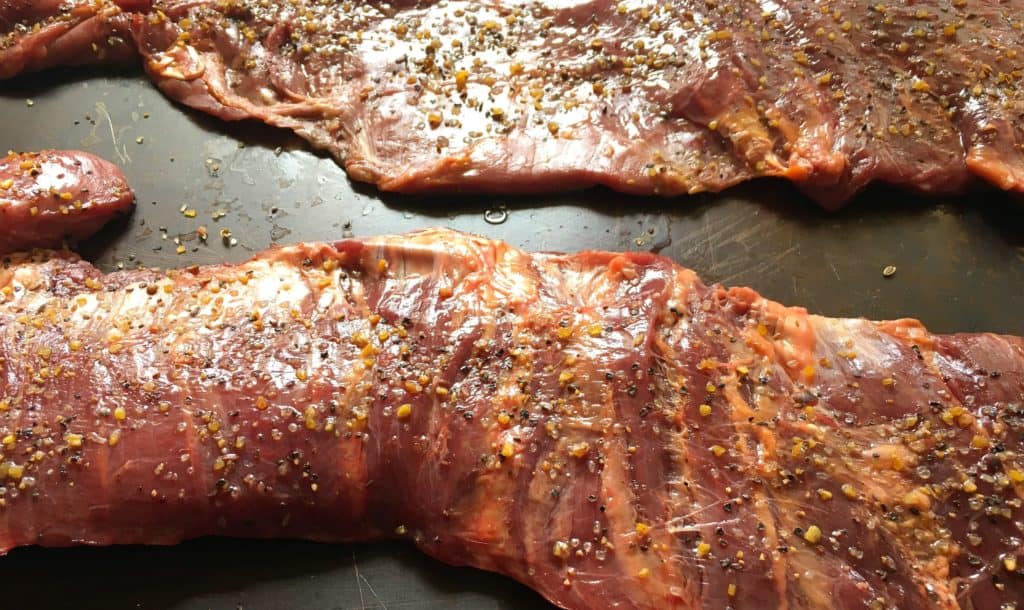 It's going to seem counterintuitive since chimichurri has so much added oil, but it's really easy to piece together a light meal with this sauce. If you're serving it with a lean cut of beef, just add a side salad for a satiating but low-calorie meal. (It ends up being low-carb, lchf, and keto-friendly too.)
You can see in the photos how I used the chimichurri sauce in my meal. I outlined how it can fit as part of a low-calorie dish in the recipe notes.
Chimichurri reminds me a bit of pesto (both have lots of herbs and olive oil). However, pesto tends to be served with a giant serving of pasta (and possibly minimal protein). The dish with the pesto will likely be higher in energy and less satiating than the chimichurri over lean beef.
That's why I put the carrot greens pesto at level 3, but this chimichurri at level 1. The entire composition of the meal has been figured in.
(And of course, the levels are a bit arbitrary and should only be used as a loose guide if you have a weight management goal. They're not firm rules about what to eat or not.)
Unless you are serving a crowd, you will probably end up with extra chimichurri sauce. I froze the extra in regular ice cube trays and stored them in a freezer bag. Ice cube trays typically have 2T compartments, perfect portions for single servings of this sauce!
And now for the disclaimer…
All recipes on this website may or may not be appropriate for you, depending on your medical needs and personal preferences. Consult with a registered dietitian or your physician if you need help determining the dietary pattern that may be best for you.
The calorie information is an estimate provided as a courtesy. It will differ depending on the specific brands and ingredients that you use. Calorie information on food labels may be wildly inaccurate, so please don't sweat the numbers too much.
For more information on how the three recipe levels may help with a weight management goal, refer to this post. Let's get cooking!
Like this recipe?
Leave a rating by clicking the ⭐ below!
The Chimichurri Sauce You Need in Your Life
If you are looking for a way to give a plain steak and salad meal a little more oomph, try chimichurri. I promise you'll be glad that you did!
Ingredients
1

small

shallot, chopped

1

cherry bomb pepper or jalapeno pepper, chopped

3

cloves

garlic

3

tablespoons

red wine vinegar

½

cup

olive oil

2

tablespoons

fresh oregano, chopped

¼

cup

fresh parsley, chopped
salt, to taste
Instructions
Put all ingredients in a food processor and pulse until all components are finely chopped and evenly combined.

Let your chimichurri sauce rest for 15 minutes while you prepare the rest of your meal. I recommend grilled steak and a side salad. Enjoy!
Notes
This is a level 1 recipe (may help support fat loss). Chimichurri sauce is loaded with olive oil and thus extremely energy-dense, providing 168 calories per 2T portion. And yet, I am putting this one at level 1. Wondering why?
It's important to look at the entire meal, and chimichurri is most often served with a lean cut of beef (skirt or flank steak). Throw some high-volume greens on the side with a little dressing, and you've got a filling low-calorie meal. Here's the breakdown of my meal:
4 ounces lean steak: 185 calories
2T chimichurri sauce: 168 calories
2 cups salad greens: 15 calories
2T low-oil salad dressing: 60 calories
Yes, for under 500 calories you get a protein-packed, high-volume meal that provides healthy fats from the chimichurri sauce. It's delicious, satisfying, and may help you with your weight management goals!
This recipe was inspired by and adapted from a number of delicious chimichurri sauces I've enjoyed over the years, including the one from Food & Wine.
Nutrition
Have you ever tried the Argentinian wonder that is chimichurri sauce? Do you usually make it with flat-leaf or curly parsley? What's your favorite cut of steak to serve with it?