Is Thrive Market worth it? Yes! Thrive Market will save you money if you regularly buy products from the health food store. In this honest 2023 Thrive Market review, learn how much Thrive Market membership costs, discover Thrive Market products and prices, and more. With the Thrive Market free trial, you have nothing to lose by trying it out! You can cancel a Thrive membership in under 5 minutes.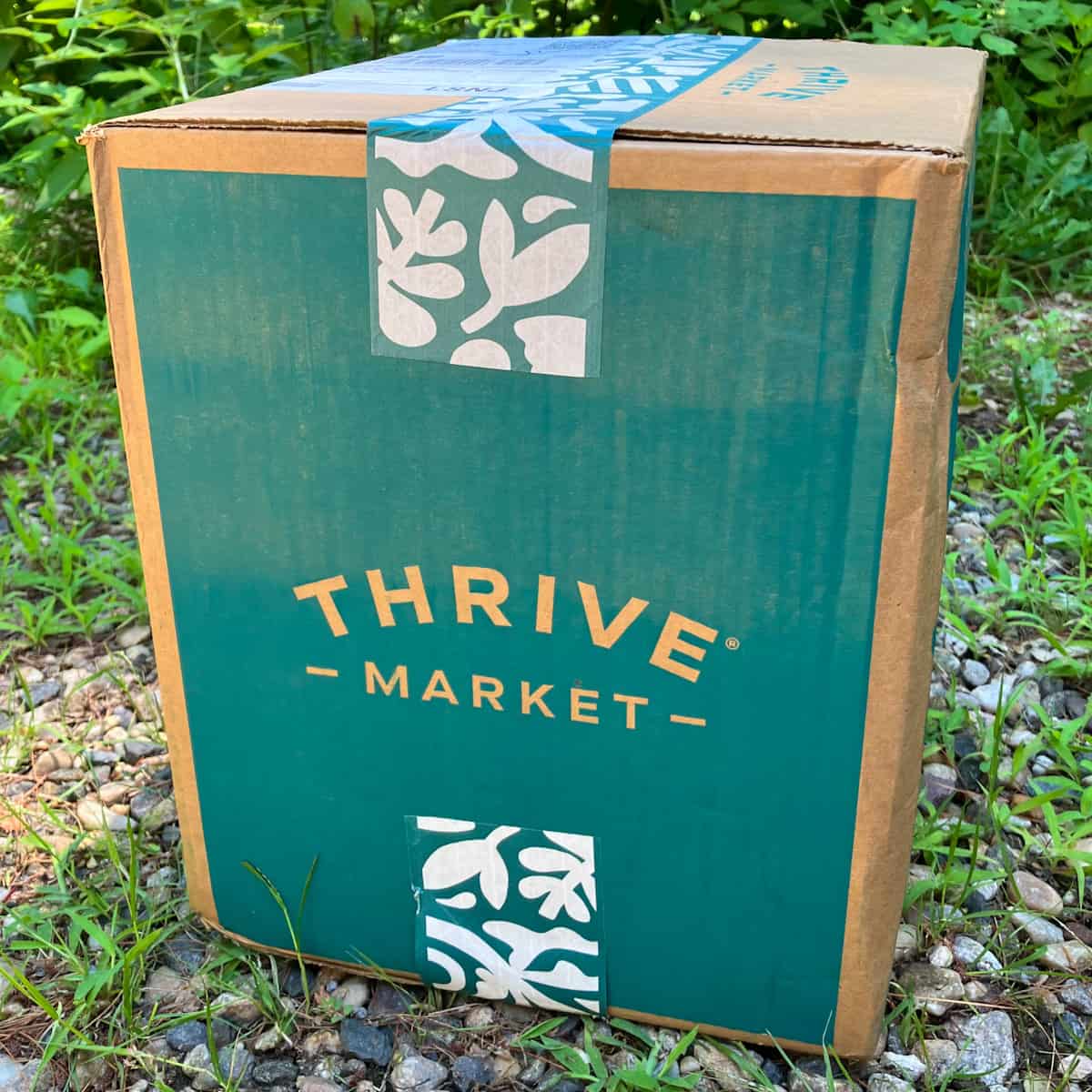 Jump to:
What is Thrive Market?
Thrive Market is an online grocery store that carries a wide selection of organic and natural foods. They offer a lot of convenience products for health food store shoppers as well as those following a special diet.
If you want healthy low sugar, keto, vegan, Paleo, non-GMO, or Whole30 options (and more!), Thrive Market likely has what you're looking for. Thrive Market offers 90+ diet and lifestyle shopping filters, so you can quickly find the best products for you. I think of them like Whole Foods, but with big box store prices.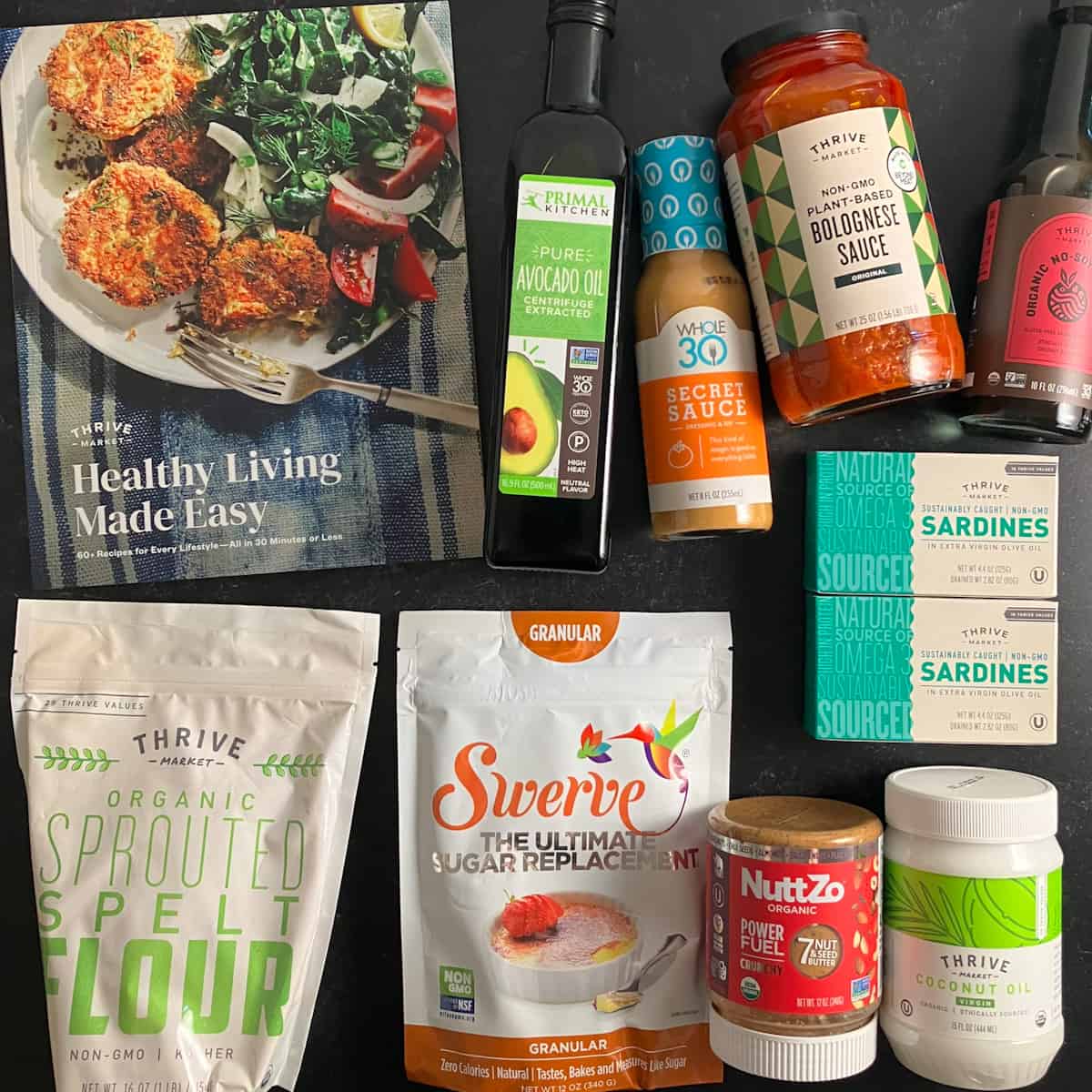 You can choose from over 650 best-selling pantry staples, frozen protein foods, cleaning and bath products, and more to fill your Thrive Market box.
Thrive Market currently ships to all addresses in the contiguous United States. There is no Thrive Market Canada, and they don't ship to Alaska, Hawaii, or Puerto Rico either.
Is Thrive Market a reputable company?
Is thrive market legit? Yes! Thrive Market gets 4.0/ 5.0 stars on Trustpilot (3300 reviews), indicating that most consider them a good and trustworthy company.
Thrive Market gets a Better Business Bureau rating of A+. Looking at the Thrive Market reviews on BBB, it appears that they handle complaints in a timely manner.
Is Thrive Market owned by Amazon?
No, Thrive Market is not owned by Amazon. They are competitors, with Thrive Market positioning "itself as a more affordable and accessible alternative to Whole Foods" (which is under Amazon ownership).
If you're considering a membership for Thrive Market vs Amazon Prime, you may want both! Amazon sells a wider variety of items, including many you can't find in typical grocery stores. Thrive Market specializes in low cost health food store items.
What are the benefits of Thrive Market?
I decided to try Thrive Market because I heard they were inexpensive. I wanted to save money, and had nothing to lose with their free trial. (This post is not sponsored by Thrive Market, I just personally wanted to try them.)
It's tricky to see Thrive Market prices without signing up for membership. Fortunately, I discovered they offer lots of deals and ways to save. Here are some of the benefits you get from the cost of Thrive:
Cheap prices: The Seventh Generation dish soap I just bought at Walmart was $1 less on Thrive. Other items I regularly buy, like Swerve low carb sweetener, were also lower priced at Thrive Market compared to other stores.
Extra discounts: In addition to low prices, Thrive Market offers other discounts. You can get Thrive Cash for reviewing products, free shipping on qualified orders, and they also send coupon codes. (I received a discount code for signing up for their mobile alerts and another on my birthday.)
Saves time: Once you get the hang of online shopping, it's much faster than driving to the store. Thrive Market also sends helpful articles and recipes related to your purchases. This makes meal planning a breeze.
Saves gas: With a Thrive Market membership, you'll likely need to make fewer supermarket trips. In addition to saving time, this will also save gas.
Makes shopping for diets easy: If you are following a special diet (e.g., vegan or keto), Thrive Market helps make grocery shopping easy. You can filter by diet to limit your searches only to products that fit the way you eat. So convenient!
Free Thrive Market personal shopping guides: The Thrive Market guides help you shop, offer diet-friendly recipes, and more. Just email Hello @ ThriveMarket.com to take advantage of this service.
How does Thrive Market work?
To use Thrive Market, first you must sign up for a Thrive Market membership. Thrive Market members can place online grocery orders as often as they wish. You can place Thrive Market orders online or through the Thrive Market app.
Thrive Market also offers an autoship option. With autoship, you can have your favorite products shipped at regular intervals without placing an order each time.
While you wait on your order, you can explore the Thrive Market blog. It's filled with Thrive Market recipe ideas so you'll never be bored with meals. Or you can just explore this site while you're here 😉
You can organize your favorite products into curated lists (Thrive Market "shopping lists"). This saves time on future orders.
In addition, some celebrity diet gurus offer public shopping lists on the site. For example, you can find the Dr. Gundry lectin free shopping list. (I have some mixed feelings on this as a dietitian, but it's there if you're into it.)
How much does Thrive Market cost a month?
How much does Thrive Market membership cost? Thrive monthly membership costs $12 per month, or $5 per month if billed per year ($59.95 annual membership fee). You get free gifts and 30% off your first order with the annual paid membership.
How much is Thrive for low-income families? Thrive Market offers free membership for the low income family, students, teachers, veterans, and first responders. This is called the Thrive Gives program, and you can apply here.
(Unfortunately, though, Thrive Market does not accept EBT or food stamps at this time.)
The cost of Thrive Market is less than the cost of gas to make regular trips to the grocery store. They have great prices on items, and they price match if you find a cheaper item elsewhere.
Thrive Market offers free shipping on qualifying orders. Here's how to get free shipping at Thrive Market:
| Type of Order | Shipping Cost | Free Shipping on Orders Over... |
| --- | --- | --- |
| Grocery (non-perishable pantry items) | $5.95 | $49* |
| Frozen** | $19.95 | $120 |
| Wine / Alcoholic beverages | $13.95 | $79 |
*Your first grocery order over $25 ships free
**Minimum frozen order of $65, frozen items ship Mon-Wed.
How to Join Thrive Market
Here is a step-by-step guide to joining Thrive Market:
Pick a free gift: There will be varied options for free gifts depending on when you sign up. I received a beautiful cookbook with full-color photos, avocado oil, vegan Bolognese sauce with beyond meat, no-soy teriyaki, Whole30 secret sauce, and Nuttzo crunchy power fuel. Thrive Market often offers gifts with a $50-$80 value.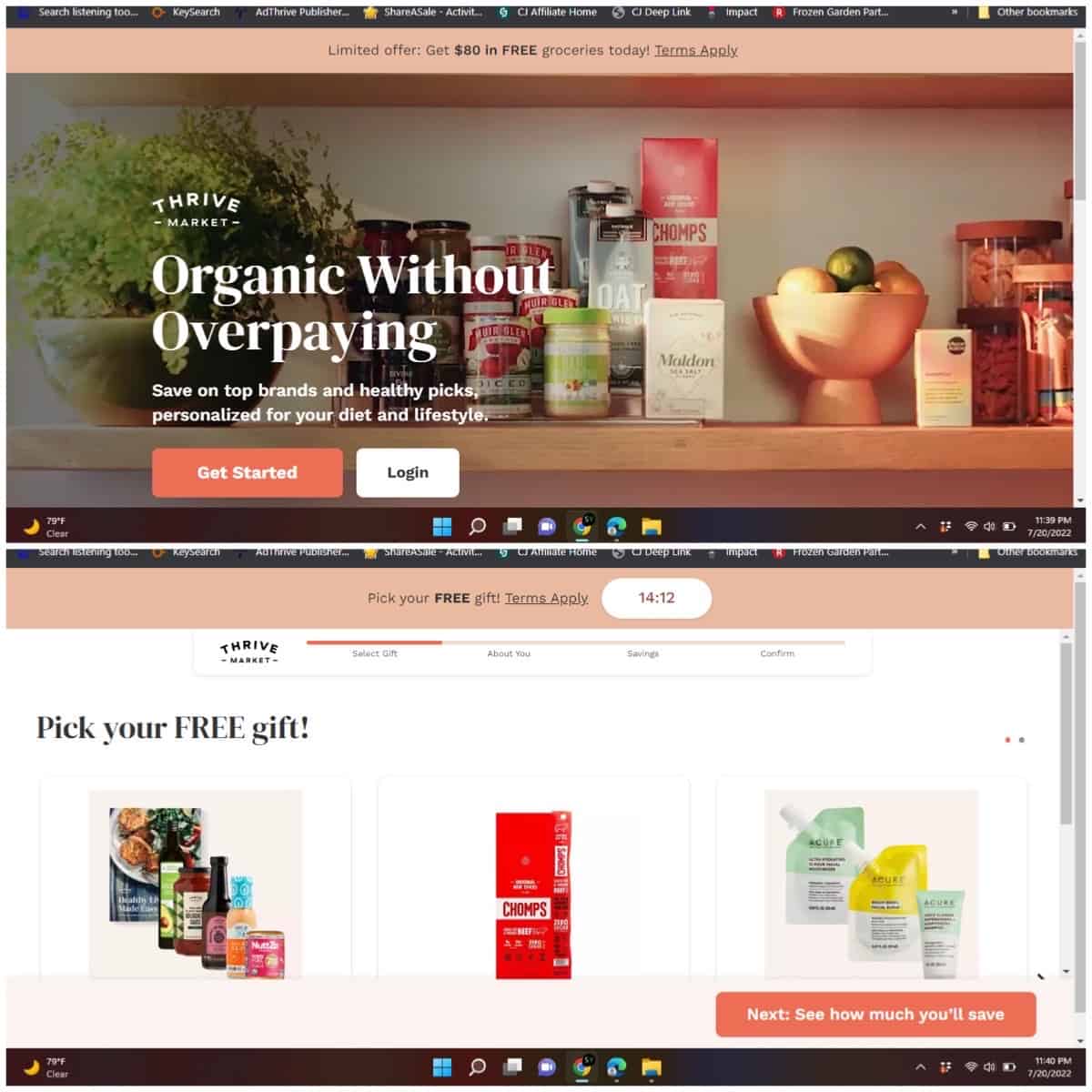 2. Give shopping habits details: Thrive Market will ask for info like how many you shop for and how often you shop. They also ask what's on your typical shopping list and the diets you're interested in. This will help them make shopping recommendations later.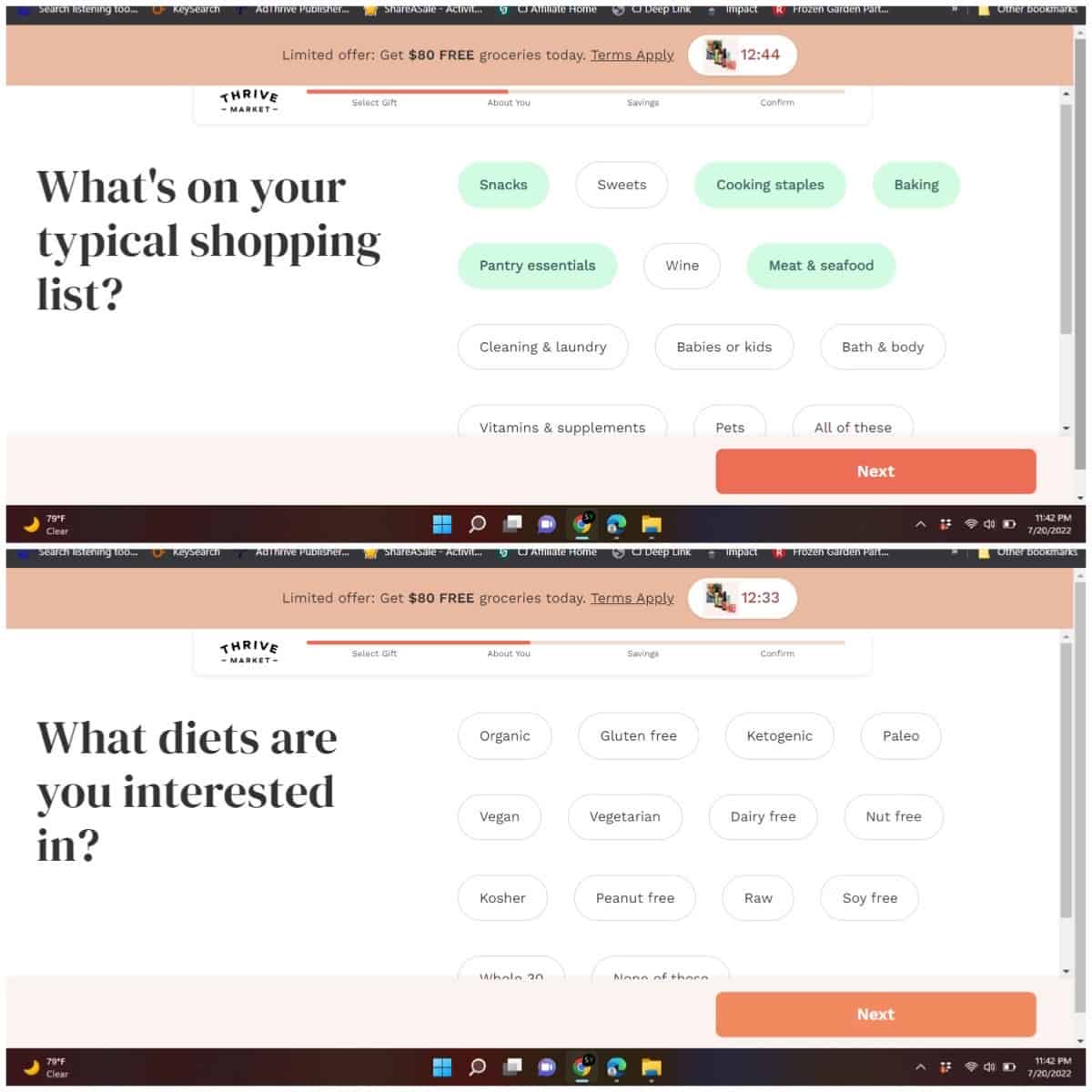 3. Enter your email: Thrive Market will send you projected saving using their program, and save your shopping preferences.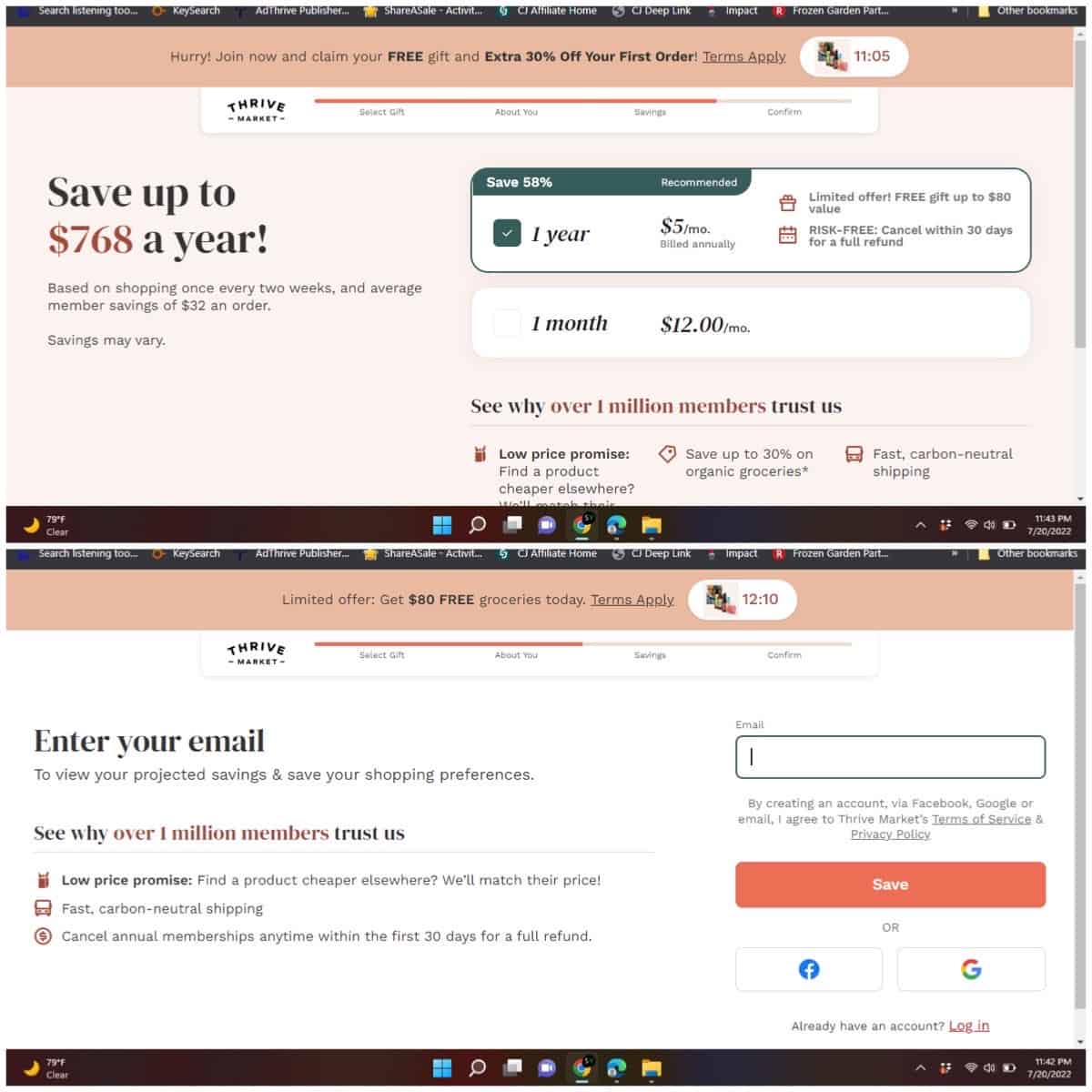 4. Enter payment information: Next, use a credit card, debit card, or PayPal to pay for Thrive Market membership. Annual membership is risk free, since you can cancel anytime within the first 30 days and get a full refund.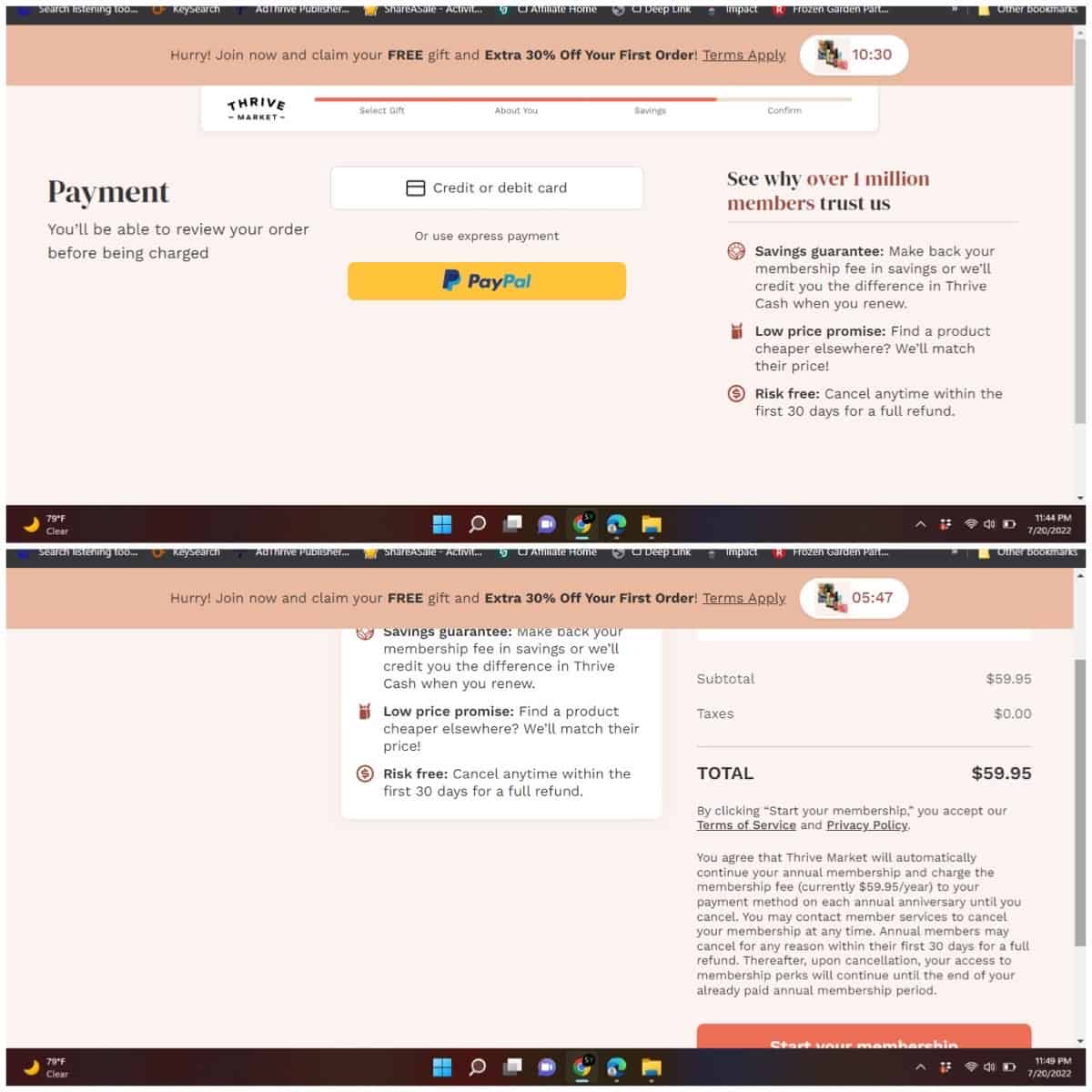 5. Build your Thrive Market order: After signing up to be a Thrive Market member, you are ready to shop. Thrive will ask your specific preferences for snacks, foods you keep on hand, etc. This makes building your first order easy.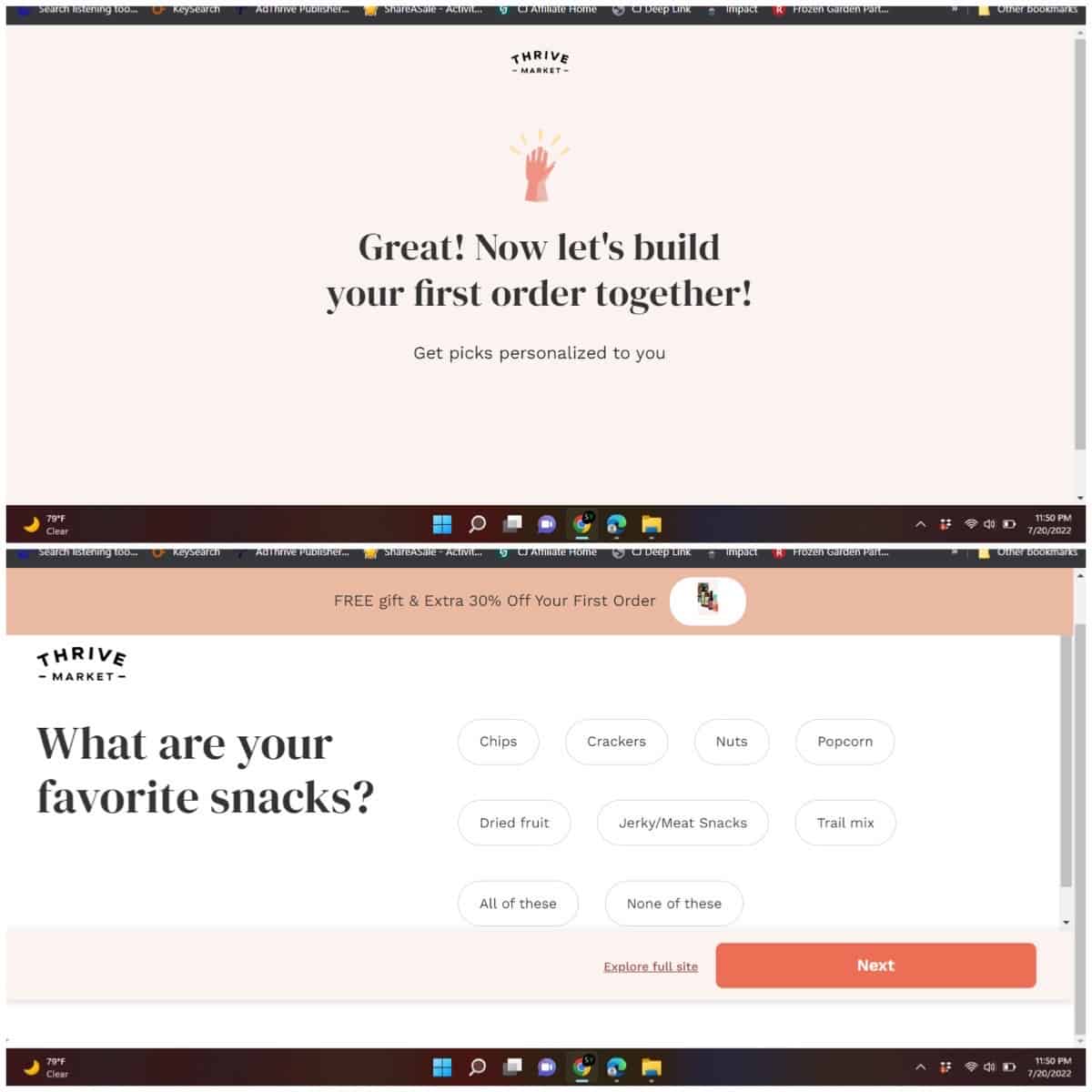 6. Sign up for autoship to save money: Selecting certain items to autoship will save money on your order. You can remove or opt to skip auto shipments at any time. (I typically cancel autoship after placing my order and receiving the discounted rates.)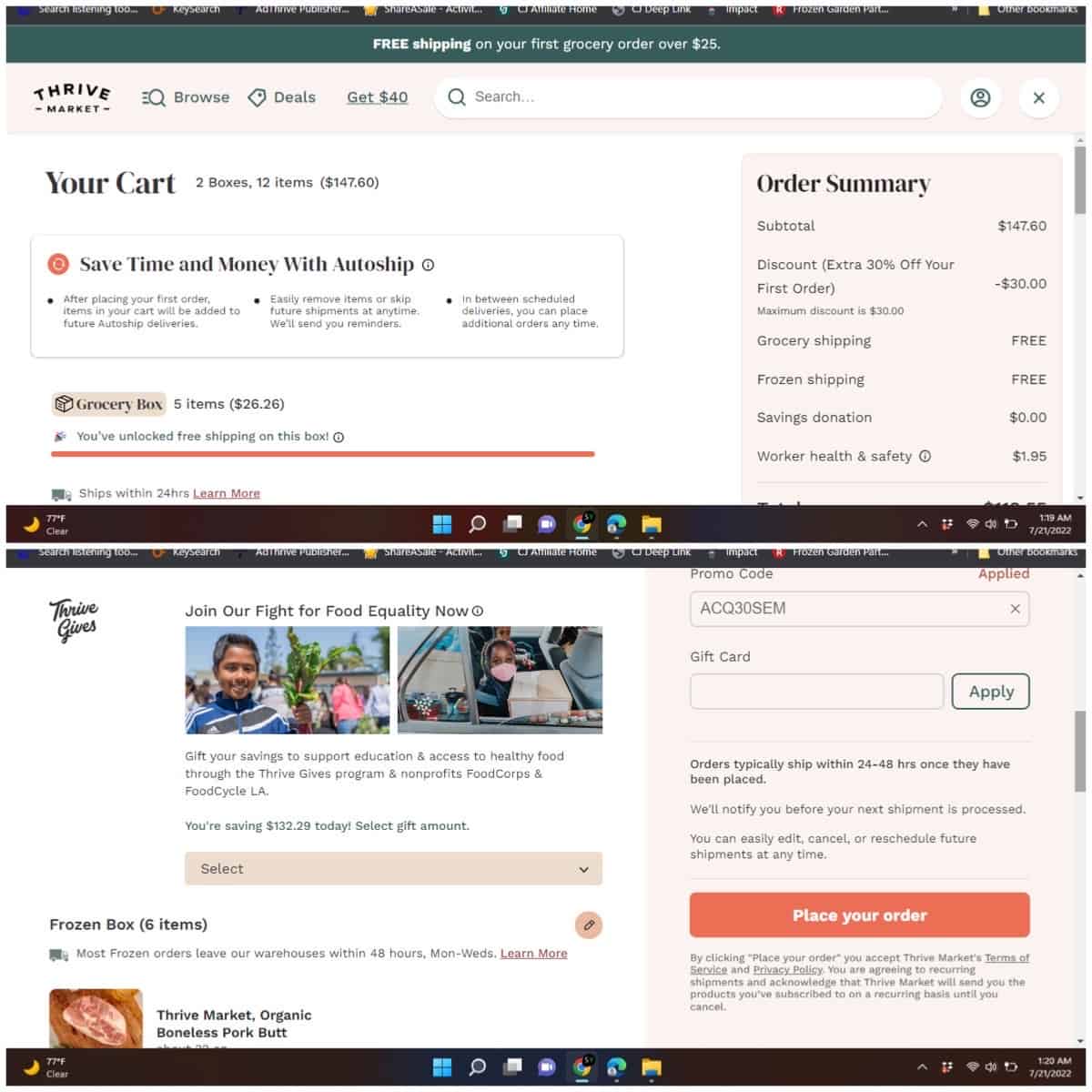 7. Get your box from Thrive Marketplace: Your Thrive Market order will arrive in 1-5 days. That's all there is to it!
Thrive Market Promo Code
At the time of writing, Thrive Market is offering a 30% discount on your first order. They provide the promo code when you sign up. You can stack the following items in a single Thrive Market order to save lots of money:
Promo code (one per order)
Thrive cash
Thrive Market gift certificates
Thrive Market offers promo codes for signing up for mobile alerts, making your first in app purchase, and for your birthday. You can get Thrive Cash for reviewing certain products on the Thrive Market app.
How long does it take for your Thrive Market order to arrive?
All of my Thrive Market orders came in less than 24-48 hours from the time I placed the order. They use LaserShip for ground shipping.
I was impressed with how fast this was, considering it's free shipping. The shipping time was comparable to Amazon Prime or Instacart. Your shipping time may be up to 3-5 days depending on your location.
What are the best Thrive Market products?
IMO, the best Thrive Market products are the Thrive Market brand products (their store brand). They are lower priced than many national brands, but just as high-quality. Here are some Thrive Market products where you may see the biggest savings:
Thrive Market Prices
Want to know the Thrive Market prices? It's hard to browse Thrive Market without signing up for a membership, so consider this a sneak peek.
Keep in mind that retail prices change often, and many of their items are even cheaper with the autoship option. (Autoship can be cancelled after you place your order and receive the discount.)
Thrive Market Meat Reviews
I ordered a Thrive Market frozen box because they carry meat, cuts of chicken, and seafood that are difficult to find in regular stores. They have great prices on lamb racks, lamb leg, and much more. My frozen box with meats took less than 48 hours to arrive after placing my order.
The box was packed with 15 lbs. of dry ice and well-insulated. The dry ice was on top of the food. Everything arrived frozen even though we were in the middle of a heat wave.
Thrive Market includes a warning in the package about the risk of burns from dry ice. I recommend wearing disposable gloves while removing the foods from the box, and keeping dry ice from children and pets. The box can then be placed in a well-ventilated area where the dry ice can safely evaporate.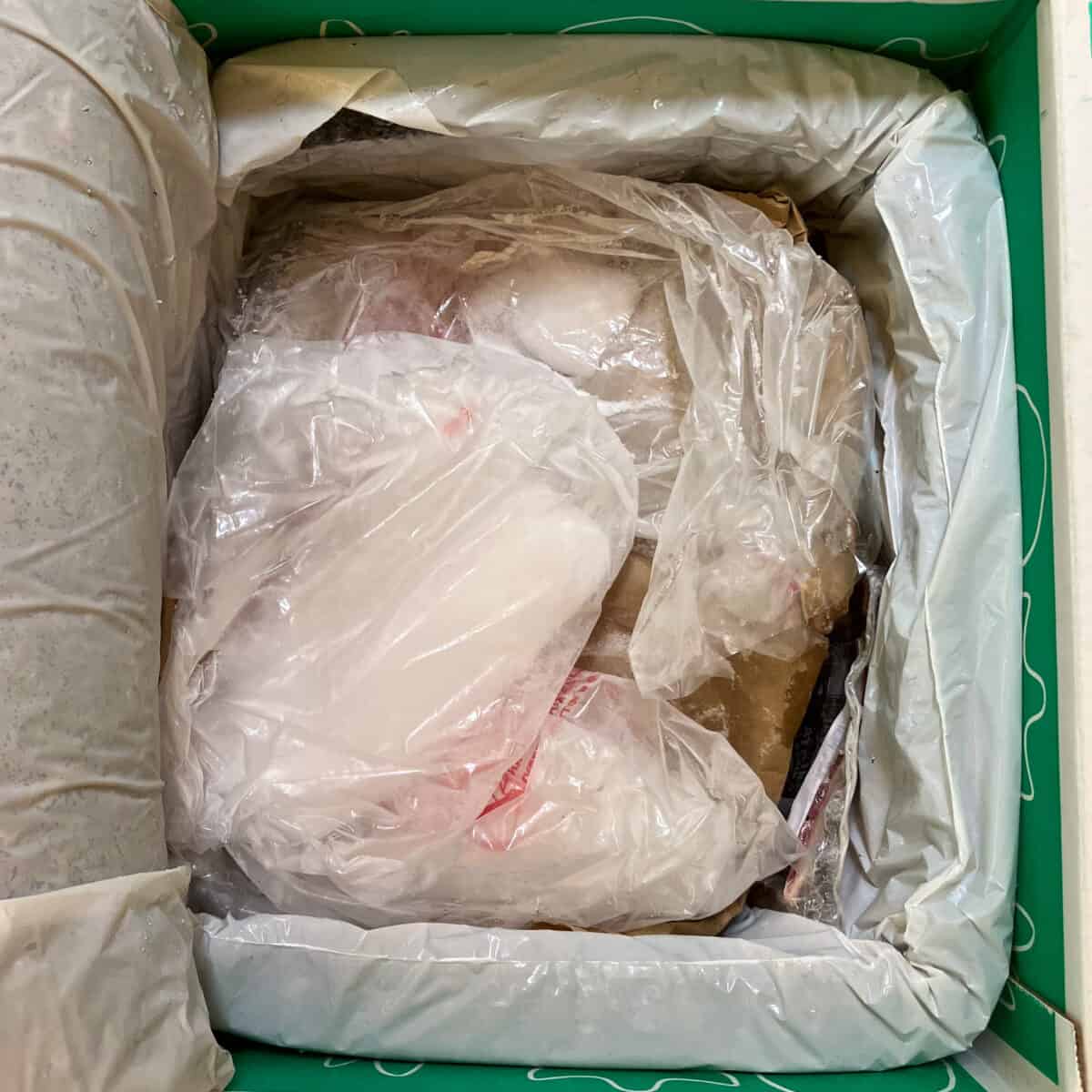 After removing from the box, the foods can be stored in a freezer until ready to thaw and use. I was pleased with the freshness and quality of the meat order.
The major disadvantage is that you need to make a rather large frozen order to avoid shipping fees. It may be cheaper to order from Butcher Box for grass-fed meats if you'd like an alternative to Thrive Market.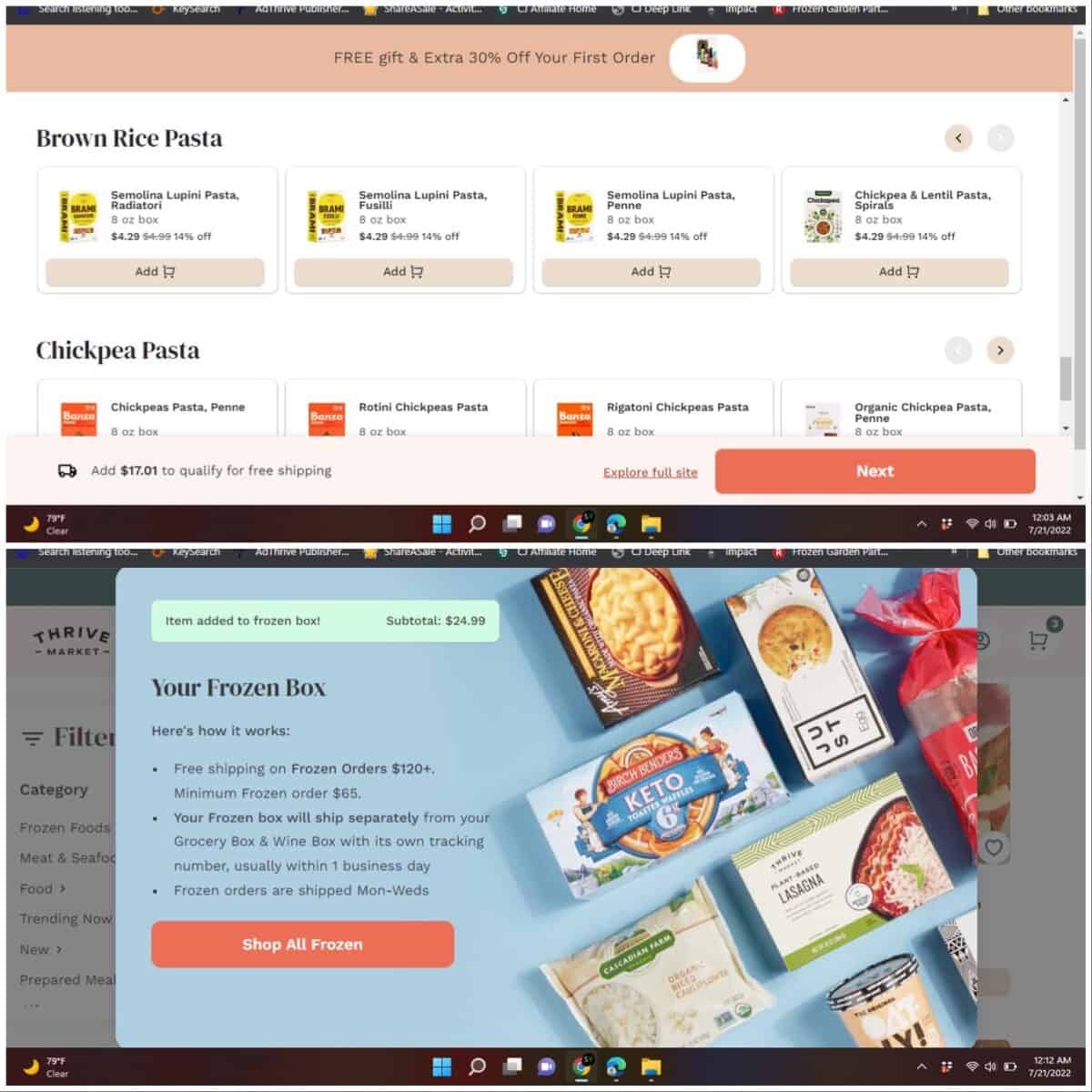 Thrive Market App Reviews
Thrive Market offers an app that you're definitely going to want to check out if you join. They offered me a special discount code for placing my first mobile order.
Additionally, I found deals on the app that I had trouble finding on the website. IMHO, it's easier to place app orders than website orders as well.
What to do if there is a mistake with Thrive Market order?
Thrive Market accidentally sent me only one pork butt even though I ordered two. To report a missing item from your Thrive Market order, head to the Thrive Market website and click the chat button on the bottom right corner of the page. In the chat box, click "Help with a Thrive Market order" then "Problem with my delivered order."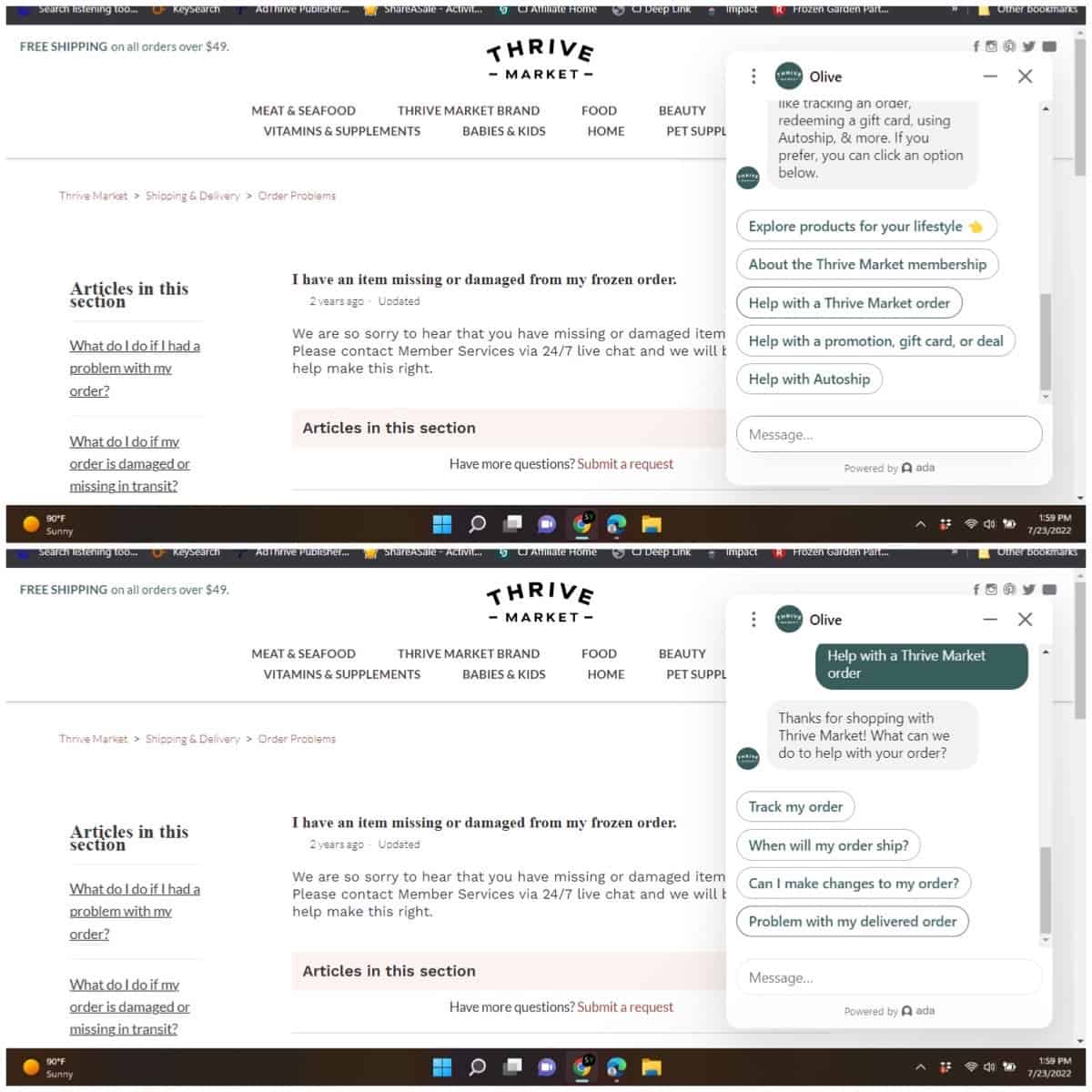 Next, they will ask for your zip code, and which item you are unhappy with. They will promptly give you a gift code in the amount of the order. The gift card code will appear in the chat box and be sent to your email.
In addition (and I'm not sure if they always do this) they sent me $5 Thrive Cash for my trouble. I appreciate how quickly and easily Thrive Market order mistakes are resolved using this system.
Disadvantages of Thrive Market
IMVHO, the benefits of ThriveMarket outweigh the disadvantages. However, there are several downsides to consider:
Membership fee: Just like the warehouse stores (Sam's Club, BJ's, Costco), Thrive Market does charge a membership fee.
Separate shipping fee for frozen box: There is a high shipping fee for frozen items. You need a fairly large order for your frozen box to ship free.
No fresh fruits and veggies: Thrive Market does offer dried and frozen fruits and veggies. If you want fresh produce, you will still occasionally need to shop at a local store.
Takes at least 24-48 hours for box to arrive: And it could take up to 3-5 days depending on your location.
Have to remember to cancel autoship option: You could end up with unwanted orders if you don't delay or cancel shipments in time.
How to cancel Thrive Market membership?
Cancelling a Thrive Market membership is easy and takes less than five minutes. To cancel Thrive membership, click the chat button in the bottom right corner of their website. They will ask you to select a reason why you'd like to end your membership.
I selected "I prefer shopping locally." (This isn't true, but I wanted to show how easy it is to cancel.) Next, they asked me to make a selection explaining why I prefer local stores over Thrive Market. After that, they asked me my name and connected me with a member of their customer service team.
The team member said they'd love to keep me on as a member, and offered a discount on my membership, as well as 30% off my next order. (Quite tempting!) However, I simply replied "no thank you" and they cancelled my Thrive Market membership without pressure.
Since I cancelled my membership to Thrive Market within the first 30 days, they refunded my membership fee. The funds were refunded to my credit card within 3-5 business days, as they promised.
The process of cancelling Thrive is so easy, I would not hesitate giving them a try. You have nothing to lose, and you may find they save you money on your favorite products!
Is Thrive Market vegan friendly?
Yes, Thrive Market has many options for vegan diets and other plant based eaters. You can filter your searches on the site so you only see items that are meat, egg, and dairy free.
Is Thrive Market gluten free friendly?
Yes, Thrive Market has plenty of gluten-free ingredients available. Many of the gluten free brands are cheaper at Thrive Market than Whole Foods.
Is Thrive Market keto friendly?
Thrive Market has an assortment of very low carb and keto-friendly products, including store brand wonder noodles! Whether you're into lazy keto or more clean eating, I think you'll be happy with Thrive.
Thrive Market Sustainability
Thrive Market sells many environmentally friendly products and is focused on sustainability. The packaging they use (box, materials, and tape) is 100% recyclable.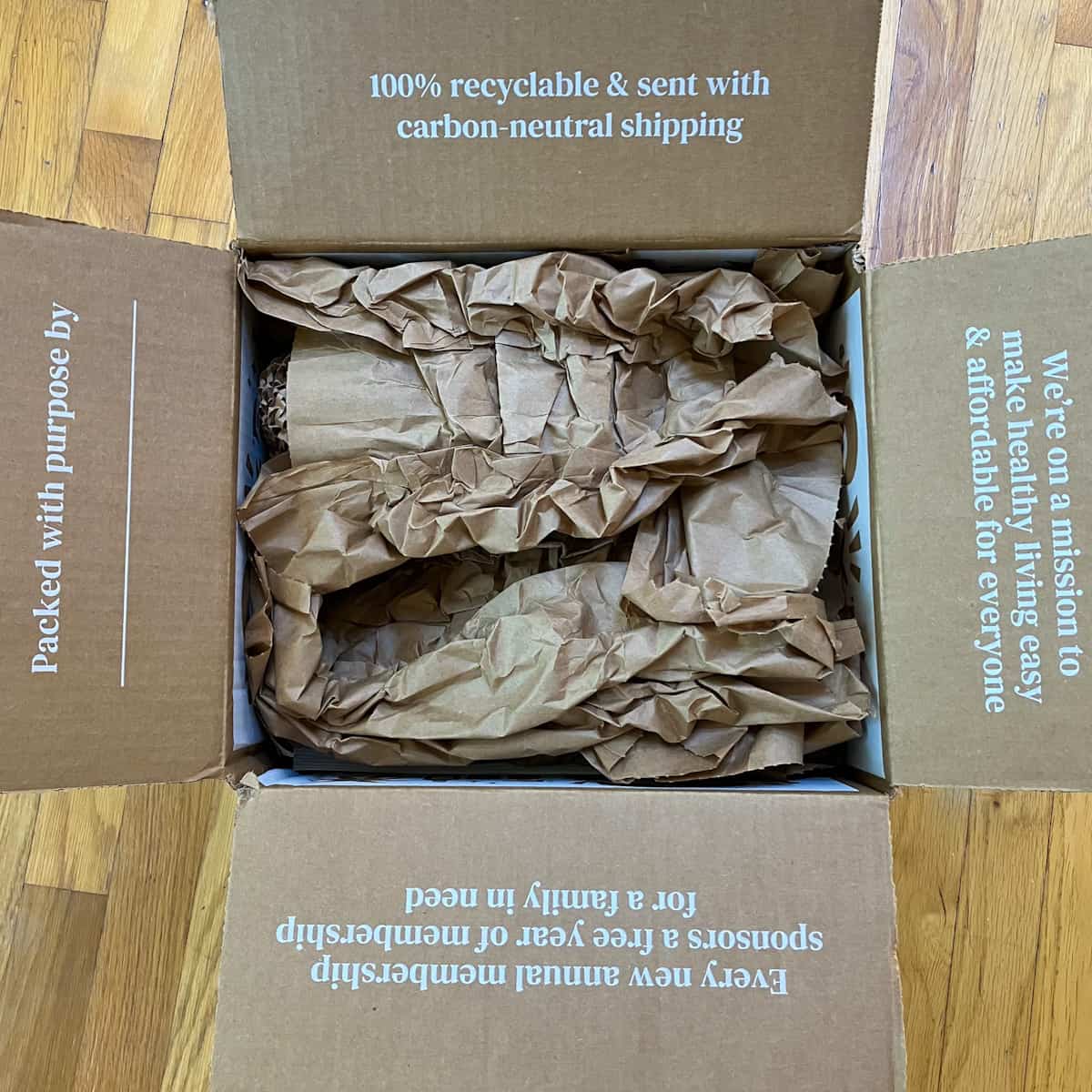 However, they don't skimp on packaging. I found everything is packed well with individually wrapped items to help prevent breakage during shipping.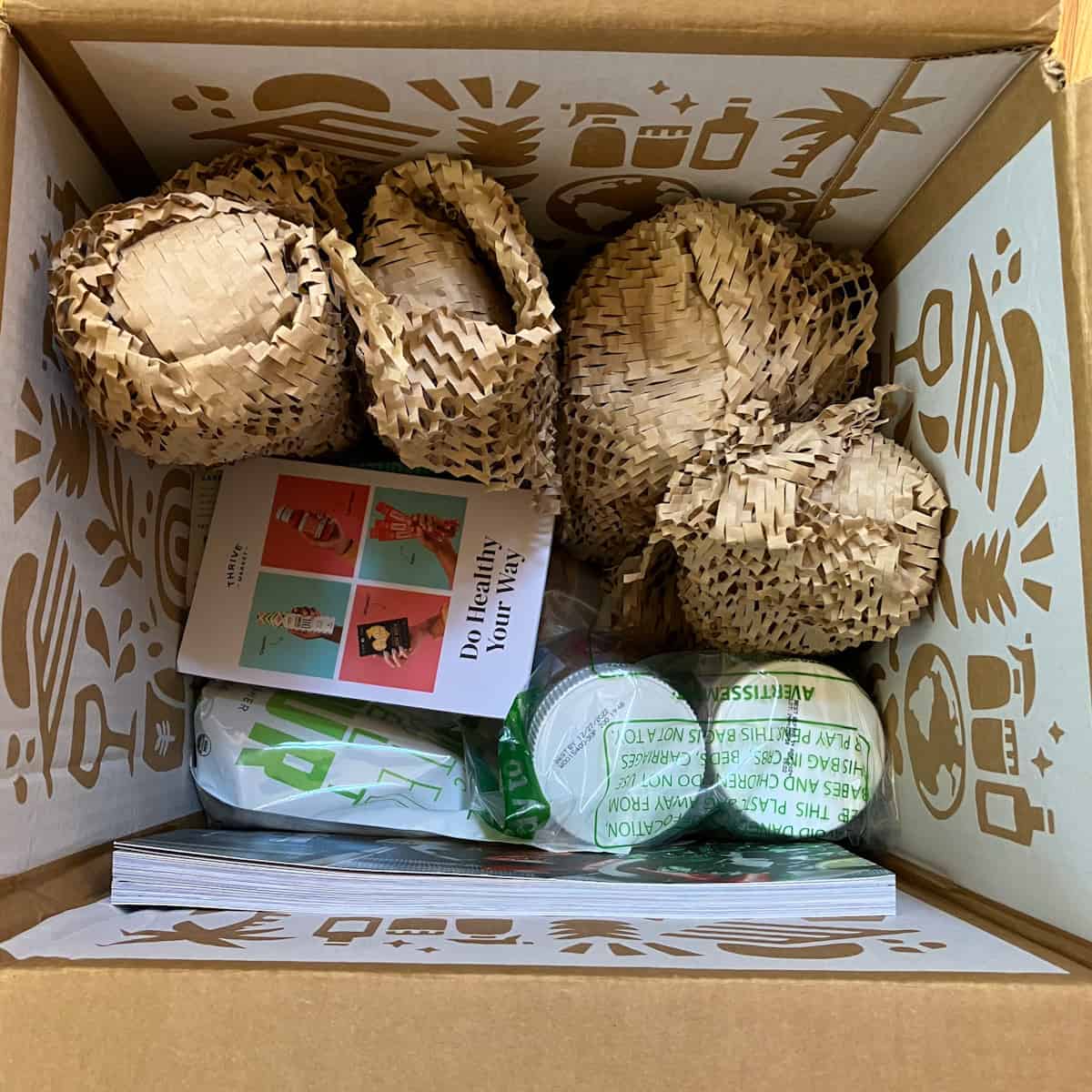 Thrive Market also provides fast carbon-neutral shipping. They use ground shipping, which they claim emits 84% less CO2 than shipping by air.
FAQs
Can you shop on Thrive without a membership?
No, you cannot shop on Thrive Market without a membership, nor can you see their prices. If you sign up for the annual membership, you can cancel anytime within the 30-day Thrive Market free trial. It's easy, and they'll fully refund the membership price to your credit card.
Where to find Thrive Market reviews on Reddit?
There are Thrive Market reviews scattered across the different diet communities on Reddit. To find them, type "Thrive Market" in the search bar on the top of any Reddit page.
Where to find Thrive Market reviews on Yelp?
Find comments about Thrive Market on Yelp here.
Thrive Market vs Costco- what's the difference?
Thrive Market is often compared to Costco, but the truth is they're quite different. While both offer low prices, Costco provides bulk packages of items. Thrive Market is better for small families, and focuses more on healthy foods and environmentally friendly products.
Thrive Market vs Vitacost- what's the difference?
Vitacost focuses mainly on providing vitamins and supplements, with a smaller selection of food items. For example, you cannot get frozen meats and wine at Vitacost like you can on Thrive Market.
Where does Thrive Market ship from?
Thrive Market ships from several fulfillment centers across the U.S. They use different centers depending on where you're located (East Coast, Midwest, or West Coast) and what you ordered (non-perishable items, frozen foods, or wines).
Does Thrive Market really save money?
Thrive Market advertises that you can "save up to 30% on all your healthy essentials" with them. I find this to be true, depending on the products you buy. With their Deal of the Day, you can save even more. In short, I feel Thrive Market is worth it!
Other Reviews
Here are some other honest reviews of food products, meal kit subscription programs, and services you may enjoy:
Join our community! Subscribe for all of the latest and greatest recipes, and follow me on Facebook, Pinterest, Instagram, and YouTube!
Thrive Market Video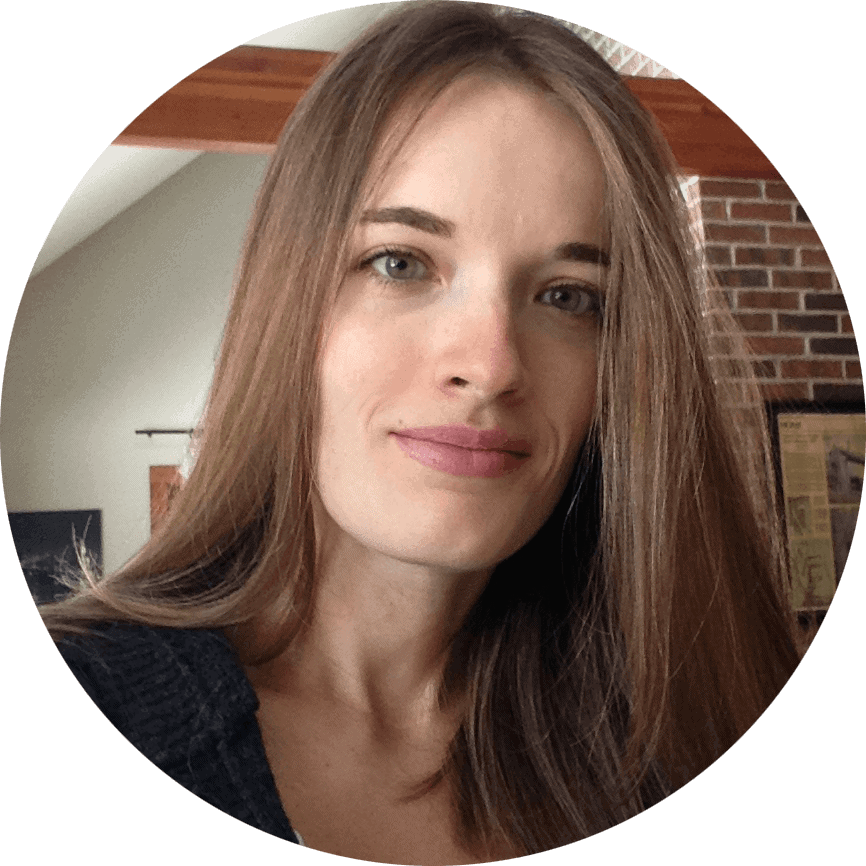 Hello! I'm Summer, a registered dietitian and home chef who loves to cook, eat, and create high quality content for you! Every recipe on this site has been tested by me to help ensure your success in the kitchen. All eaters are welcome here 🙂