Get the scoop on lean protein powder in this honest Tropeaka protein review for 2023! Learn where to buy Tropeaka in the USA, get Tropeaka protein ingredients, a special Tropeaka promo code, and more. Tropeaka offers vegan protein powder for women and men, using organic ingredients whenever possible and no refined sugar. I'll also share my favorite Tropeaka protein recipes, including a salted caramel protein shake!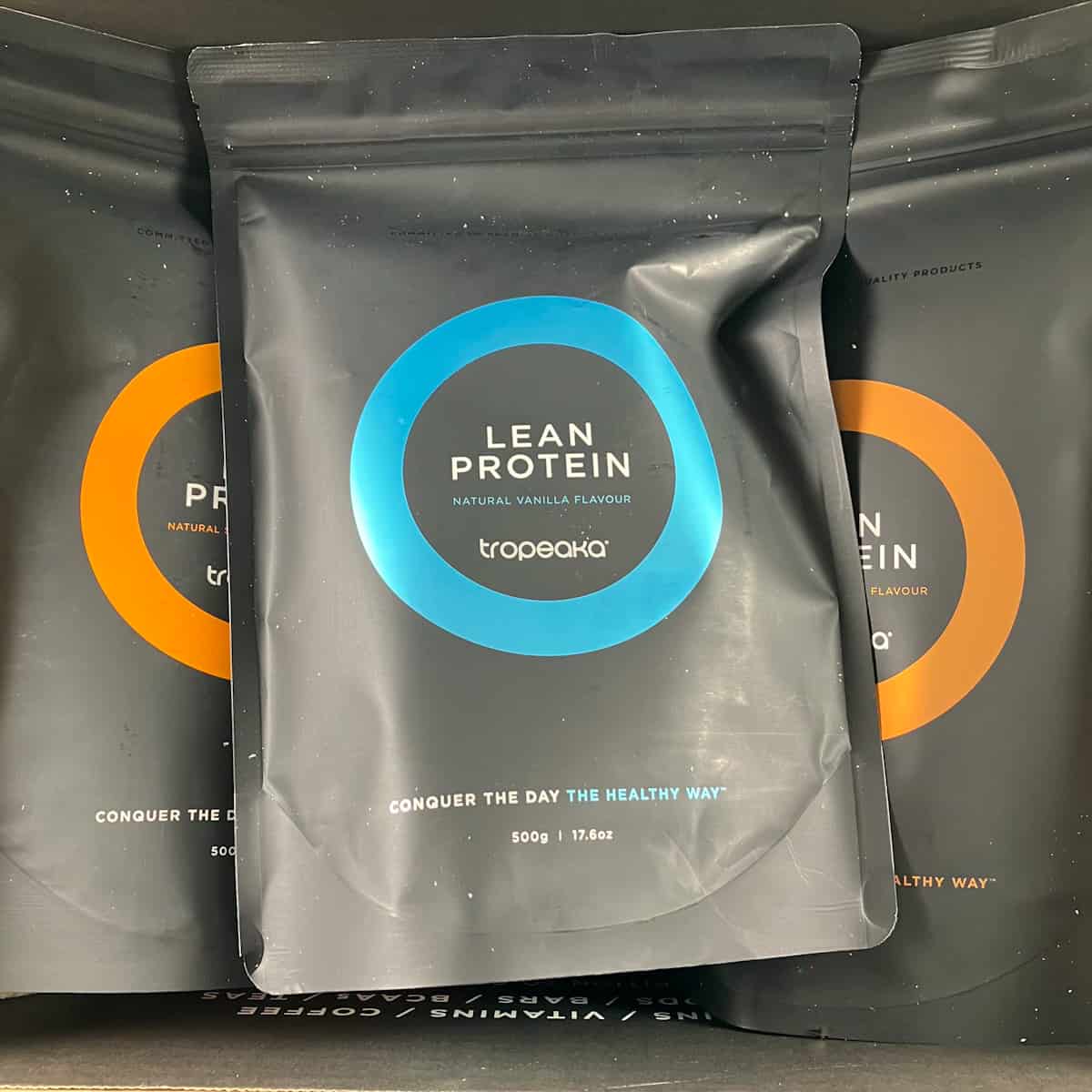 Is Tropeaka protein powder good? I generally dislike the taste of protein powders, but when I saw all the 5-star reviews for Tropeaka salted caramel lean protein, I knew I had to try it. I have to admit, I was very impressed with this delicious tasting protein.
The first ingredient in this product is pea protein, an ingredient definitely not known for tasting good (haha). However, the mixture of plant-based proteins used in this refined-sugar free protein powder really works taste-wise. The other advantage of using a mix of plant proteins is that you get a more complete amino acid profile.
Most of us won't regularly include something in our diet that isn't tasty. Whether you're looking at Tropeaka for a pre-workout snack, weight loss, or help with muscle building, it MUST pass the taste test first. I strongly dislike most protein powders (they can be so chalky!) but did honestly find Tropeaka good.
That said, Tropeaka protein isn't a good choice for everyone. Keep reading to learn if it's a healthy choice for you in this dietitian's review!
Jump to:
Tropeaka Protein Review
Tropeaka was created in 2014 by two Australian-based entrepreneurs who wanted to create nutrition products for those interested in "real food" brands (source). Their vision of the best protein powder contained organically grown ingredients and no artificial sweeteners or flavors. Also, it needed to taste good, an attribute vegan protein powder is typically not known for.
Tropeaka plant based protein is popular with health-minded millennials, Gen X, and Gen Z. Recommendations from a dietitian, naturopath, and functional medicine nutritionist feature prominently on their site. The company currently gets 4.9/ 5.0 stars on Trustpilot (171 reviews).
Here are the Tropeaka Protein products currently available:
In addition, they carry the best-selling Sarah Day's Tropeaka Body Bloom, a prebiotic and probiotic supplement powder. You can also find hair vitamins, several Tropeaka protein bars, gut health bars, and whole food supplement powders. And you can purchase a blender, to whip the protein powders up into yummy smoothies. 🙂
Tropeaka Benefits
You don't need to include protein powders to have a healthy diet. However, Tropeaka protein powder can be a convenient way to include more protein in the diet. Since protein is generally considered the most filling macronutrient, including more protein may help you eat fewer calories comfortably (and in turn lose weight).
Here are some benefits of Tropeaka lean protein (beneficial depending on what you're looking for, of course):
Organically grown
Vegan-friendly and perfect for vegetarians
Naturally gluten free
Naturally dairy-free
Non GMO
Naturally soy free
Packed with heart healthy plant protein
Refined sugar free
Convenient source of protein for toning, building lean muscle, and muscle recovery (includes the BCAAs isoleucine, leucine, and valine, as well as other essential, conditional, and non-essential amino acids)
Tastes good (according to this former protein powder-hater!)
In addition, Tropeaka lean protein receives a 5 Star Health Rating with the Australian Government Initiative. This is a front-of-pack food labeling system that helps consumers determine the healthiest food choices (source).
I found Tropeaka lean protein to be comfortable to digest. I experienced no weird bloating with it, as I have with some other protein powder brands. Taste-wise, it was pleasantly sweet with natural sweeteners, without being overly sweet.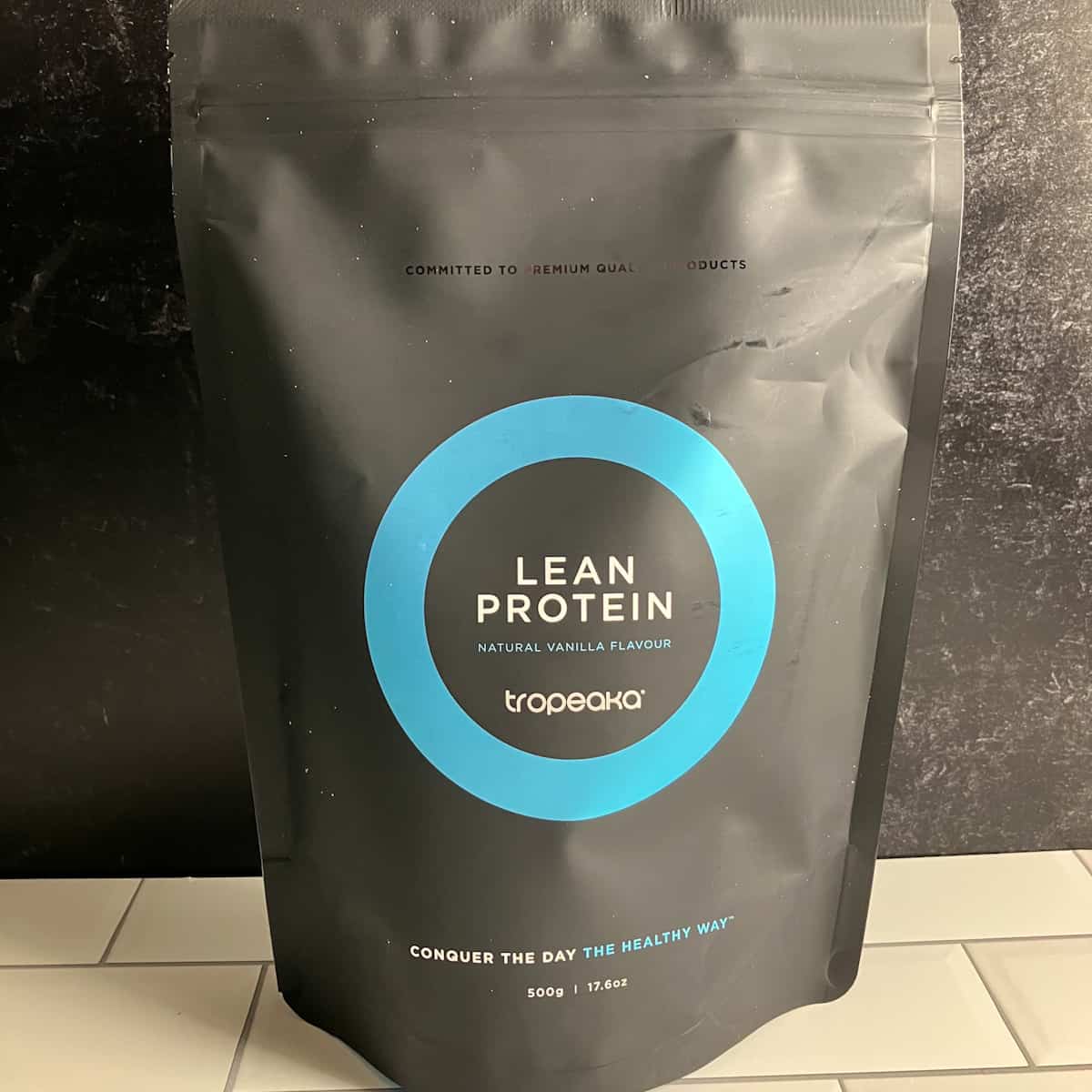 Is Tropeaka third-party tested?
The biggest downside with Tropeaka protein, IMHO, is that it doesn't appear to be third-party tested. With their focus on quality nutrient-dense ingredients, I do find this disappointing. However, keep in mind this is an Australian product, and sports supplements may be regulated as either a food or medicine in that country (source).
A lot of popular protein powders are not third-party tested, including some found at Whole Foods. However, since protein powders are not FDA regulated in the US the same as foods are (more on this below), I do consider third party testing important.
Sustainability
My Tropeaka order came in a recyclable cardboard box filled with biodegradable packing peanuts made from corn and wheat. Though it looked like a lot of packaging, the peanuts dissolve in water and can be washed down the sink.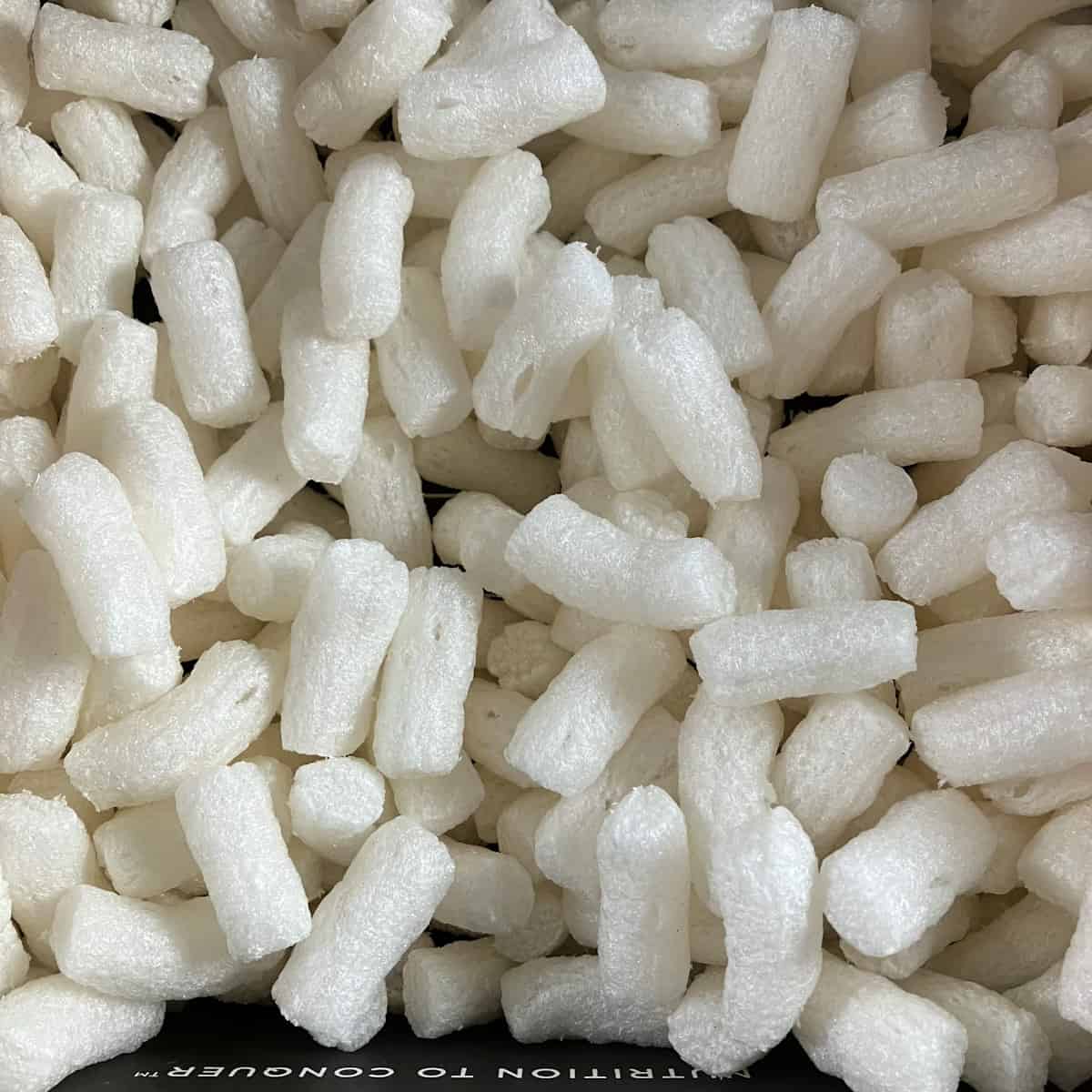 If you're in Australia, you can drop your empty Tropeaka pouches in the REDcycle bins at Woolworths or Coles (source). This leaves you with zero waste from your protein powder mail order!
Where to Buy Tropeaka in USA
You cannot get Tropeaka protein in stores in the US, you can only purchase it online. Here is the current Tropeaka protein price list (USD). Prices are subject to change, so check their website for the most current pricing info:
*Free shipping internationally on orders over $245 USD
Luckily, there are several ways you can save even more on the Tropeaka prices listed above. Summer Yule Nutrition has teamed up with Tropeaka to offer readers a free gift with qualifying orders. Get it while it lasts!
Students can get 10% off their Tropeaka order. Grab the Tropeaka student discount offer here.
If there are certain Tropeaka products you can't get enough of, you can sign up for a Tropeaka subscription. Simply choose "Subscribe & Save" on a product page, and opt-in to have the product shipped to you every 2,4,6,8, or 12 weeks. Tropeaka is currently offering subscriptions at a 15% discount, and you can skip deliveries or cancel at any time.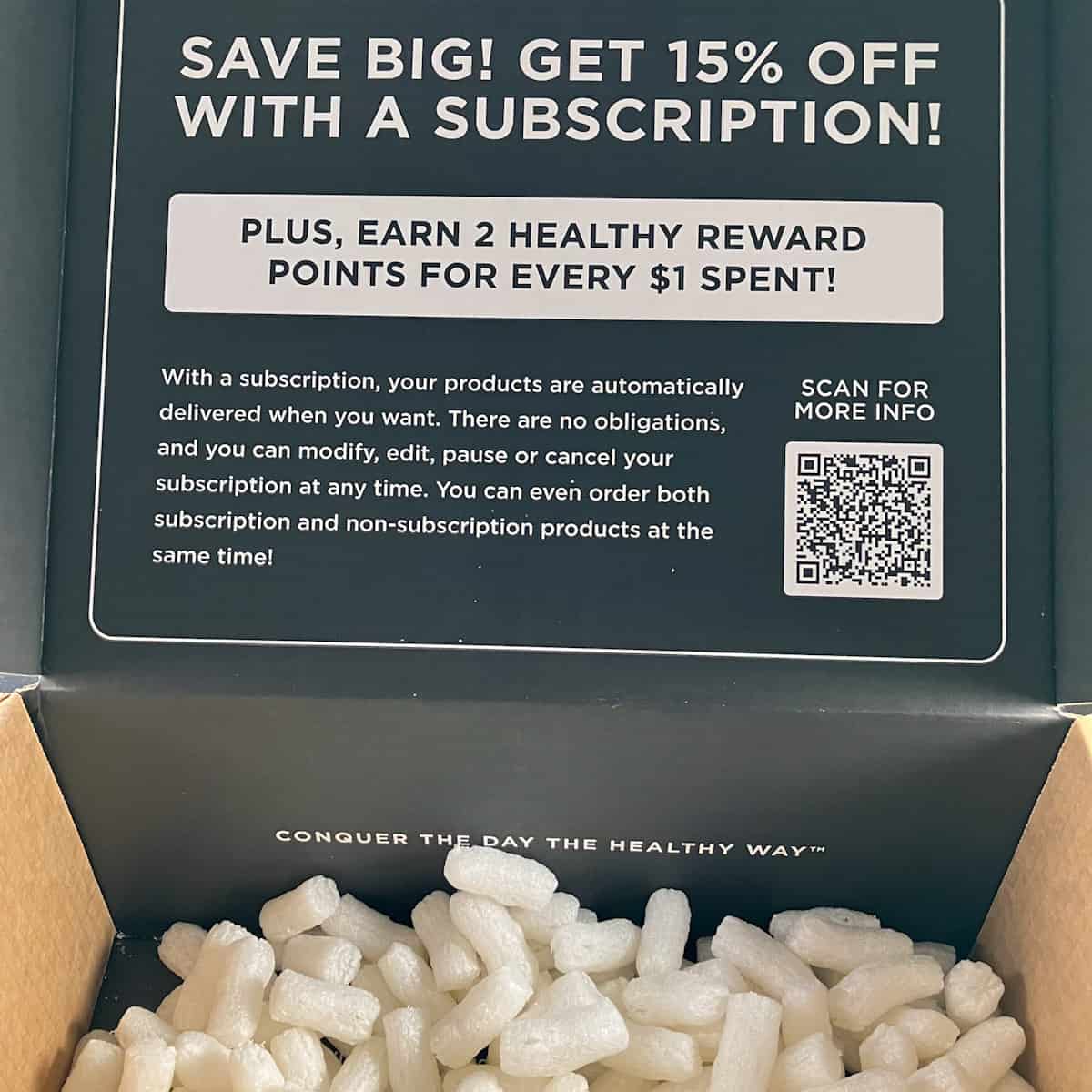 Additionally, Tropeaka has a rewards program where you get 1-3 points per $1 spent at their store. You get $5 USD towards a future purchase for every 100 points you earn. You are automatically enrolled in their rewards program when you create an account on their site.
Tropeaka Protein Amazon
Unfortunately, Tropeaka protein is not on Amazon currently. You must purchase Tropeaka direct from their website.
Tropeaka Protein UK
Looking for Tropeaka stockists in the UK? Tropeaka has a website especially for their visitors from the United Kingdom. Simply select your region when you visit their website. It's that easy!
Tropeaka Protein Canada
Like in the US and UK, you need to order Tropeaka protein directly from their website if you live in Canada. Here is where to find them.
Tropeaka Protein Ingredients
Here are the ingredients in Tropeaka Lean Protein (vanilla):
Tri-Blend Protein (Pea Protein Isolate*, Sprouted Brown Rice Protein*, Pumpkin Seed Protein*)
Maca Powder*
Natural Vanilla Flavour
Acacia Gum*
Vanilla Powder*
Guar Gum*
Stevia Leaf Extract
Digestive Enzymes (Bromelain, Papain)
Ceylon 'True' Cinnamon*
Monk Fruit
Ginkgo Biloba*
Siberian Ginseng*
Ginger*
Freeze Dried Aloe Vera Extract
Dandelion*
Cardamom*
Turmeric*
Liquorice*
*certified organic
Here are the ingredients in salted caramel Tropeaka Lean Protein:
Tri-Blend Protein (Pea Protein Isolate*, Sprouted Brown Rice Protein*, Pumpkin Seed Protein*)
Natural Caramel Flavour
Mesquite*
Maca Powder*
Himalayan Pink Salt
Lucuma*
Acacia Gum*
Guar Gum*
Stevia Leaf Extract
Digestive Enzymes (Bromelain, Papain)
Monk Fruit
Ginkgo Biloba*
Siberian Ginseng*
Ginger*
Freeze Dried Aloe Vera Extract
Ceylon 'True' Cinnamon*
Dandelion*
Cardamom*
Turmeric*
Liquorice*
*certified organic
Tropeaka Lean Protein contains some ingredients, such as ginkgo, that may interact with certain medications. Consult with your doctor before trying this product, particularly if you have medical issues.
The ingredients for Tropeaka Pump Protein are far simpler and may be a better fit for some individuals. Here are the ingredients in Tropeaka Pump Protein (vanilla):
Pea Protein Isolate*
Coconut Palm Sugar*
Natural Vanilla Bean Powder
Natural Vanilla Flavor
Ceylon True Cinnamon*
Stevia Leaf Extract
*certified organic
And here are the ingredients in chocolate Tropeaka Pump Protein:
Pea Protein Isolate*
Raw Cacao Powder*
Coconut Palm Sugar*
Dutch Cocoa*
Natural Chocolate Flavour
Stevia Leaf Extract
*certified organic
What type of protein is tropeaka?
Tropeaka Lean Protein and Fit Protein are tri-blend proteins that mix pea protein isolate, sprouted brown rice protein, and pumpkin seed protein. Tropeaka Pump Protein is just pea protein isolate.
Is Tropeaka whey protein?
No, Tropeaka is not whey protein powder. Tropeaka protein powders are vegan, and thus contain no dairy, including no whey protein.
Is Tropeaka FDA Approved
Protein powders, including Tropeaka protein, are considered supplements in the US and are not regulated by the FDA the way foods are (source). Since the FDA doesn't test protein powders for purity and safety, it's good to find a brand that has undergone third-party testing. NSF and USP are two sources of third-party certification in the USA, and HASTA certification is one in Australia.
Is Tropeaka protein safe for pregnancy?
Can you have Tropeaka protein when pregnant? Protein powders are supplements; consult with your physician if considering any new supplement regimen when pregnant. Tropeaka has a warning on their website against using Tone BCAA+ while pregnant.
Lean protein should also not be used while pregnant, since the goal is to gain healthy pregnancy weight. Whole foods (such as eggs, meat, dairy, beans, etc.) are generally your best bet for protein in pregnancy.
Can you use Tropeaka protein when breastfeeding?
Don't use Tropeaka protein (or other protein powders) while breastfeeding without first consulting with your physician. Protein powders are classified as dietary supplements in the US. It's smart to be extra cautious about adding any new supplement to your diet when pregnant or breastfeeding.
How many calories in Tropeaka Protein?
Here is a chart with calories and nutrition information for some popular Tropeaka products (per 2 tablespoon serving):
*Serving is one tablespoon
Tropeaka protein powders are low carb, low calorie, low fat, low saturated fat, vegan, vegetarian, and keto friendly.
Tropeaka Protein Discount Code
You can get a free gift valued between $34-50 at Tropeaka when you make an order over $100USD- no promo code needed! Click here to get the deal.
Tropeaka Shipping and Returns
Under their standard return policy, you can exchange damaged or incorrect orders for a replacement product of the same value. Simply take a photo and contact Tropeaka within 30 days of your product shipment.
Tropeaka Contact Info
Tropeaka customer service can be reached using the contact page here. You can send them a message, which they'll respond to in 24 hours. Alternatively, use their live chat widget from 9am to 1:30am Monday to Friday or 12pm to 1am Saturday and Sunday (Sydney, Australia time).
How to Order Tropeaka
Don't forget! Summer Yule Nutrition has teamed up with Tropeaka to offer readers a free gift with qualifying orders. Get it while it lasts!
Note: Promo codes valid in US only. Find further details on the offer by clicking the link. Tropeaka sent me a pack of Lean Protein to try for this review. (Love that salted caramel flavor!)
FAQs
Is Tropeaka protein powder good for you?
Is Tropeaka lean protein healthy? "Healthy" and "good" always depend on what you're looking for. If you're looking for a convenient way to get more protein in your diet, protein powder can be a nutritious choice.
Is Tropeaka Australian made?
Yes, Tropeaka is an Australian company. According to this article, their organic ingredients are sourced from suppliers located around the world.
When should I take Tropeaka?
Should I take protein powder in the morning or at night? Should I take protein on weekends? I recommend using protein powders at the times of day when your meals and snacks tend to fall short on protein. For many Americans, this is at breakfast.
Do I need to take protein powder to lose weight?
I often get asked how to use protein powder to lose weight in a healthy way. However, the secret is that you don't need protein powder for weight loss. It is the maintenance of a calorie deficit relative to your needs that promotes weight loss, not a specific food.
Is Tropeaka protein low fodmap?
No. According to Monash University, plant derived proteins, including pea protein, often contain FODMAPs. Thus, it's unlikely that the Tropeaka proteins are low fodmap products.
Tropeaka Protein Recipes
Here are some Tropeaka recipes for Tropeaka vanilla protein powder (or another flavor, your choice):
Also, don't miss my delish Tropeaka salted caramel smoothie recipe below! It's a fast snack option to feed your hunger when you have a busy, active lifestyle.
📖 Recipe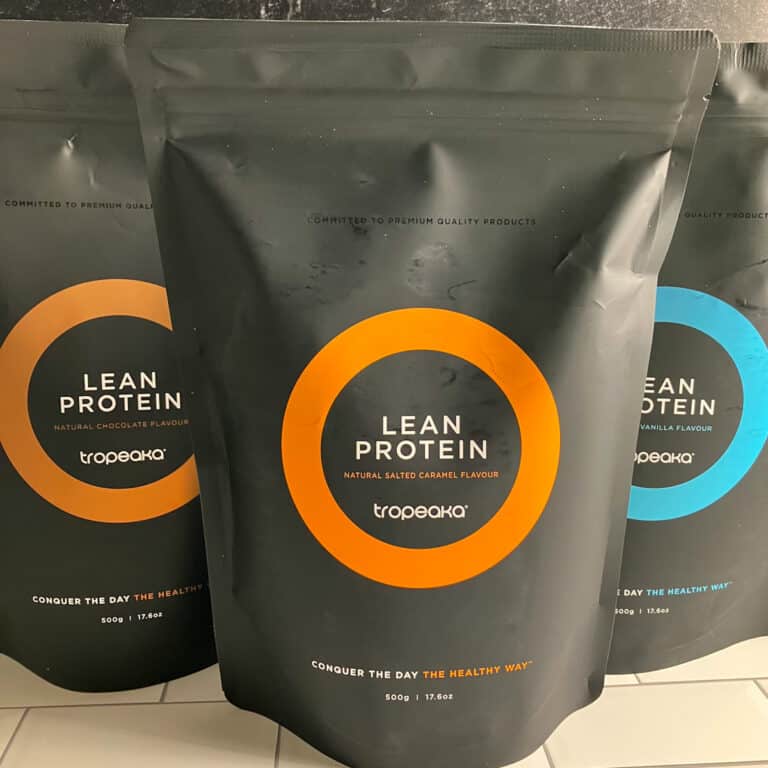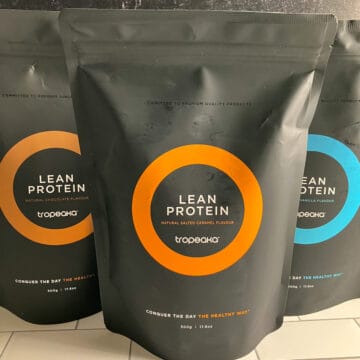 Tropeaka Protein (Lean Protein Powder)
Here's one of my favorite Tropeaka protein recipes, a salted caramel protein shake!
Ingredients
2

tablespoons

Tropeaka Protein Powder

Tropeaka Lean Protein, Tropeaka Pump Protein, or Tropeaka Fit Protein

1¼

cups

non-dairy milk, yoghurt, or juice

(almond milk, oat milk, coconut milk, soy milk, rice milk, etc.)
Don't be a stranger! 😊
If you love this recipe, please come back and leave a rating. This helps readers and I'd love to hear from you. Thank you ❤️
Instructions
Blend Tropeaka protein powder and liquid until smooth in a food processor or blender. (I highly recommend trying the lean protein salted caramel protein powder in this recipe.)

Serve immediately, and enjoy!
Notes
Nutrition information is for 2 tablespoons of Tropeaka Lean Protein salted caramel flavor protein only. Nutrition info will vary based on the protein powder and liquid you use.
nutrition info disclaimer

All recipes on this website may or may not be appropriate for you, depending on your medical needs and personal preferences. Consult with a registered dietitian or your physician if you need help determining the dietary pattern that may be best for you.

The nutrition information is an estimate provided as a courtesy. It will differ depending on the specific brands and ingredients that you use. Calorie information on food labels may be inaccurate, so please don't sweat the numbers too much.
Nutrition
Calories:
98
kcal
Carbohydrates:
3.9
g
Protein:
17.1
g
Fat:
1.8
g
Saturated Fat:
0.5
g
Sodium:
439
mg
Potassium:
72
mg
Fiber:
1.6
g
Calcium:
2.3
% DV
Iron:
27.8
% DV
I hope the information here will help you make an educated decision about whether Tropeaka protein is a healthy option for you. If you try Tropeaka, drop me a comment below- I'd love to hear about your experience!
Join our community! Subscribe for all of the latest and greatest recipes, and follow me on Facebook, Pinterest, Instagram, and YouTube!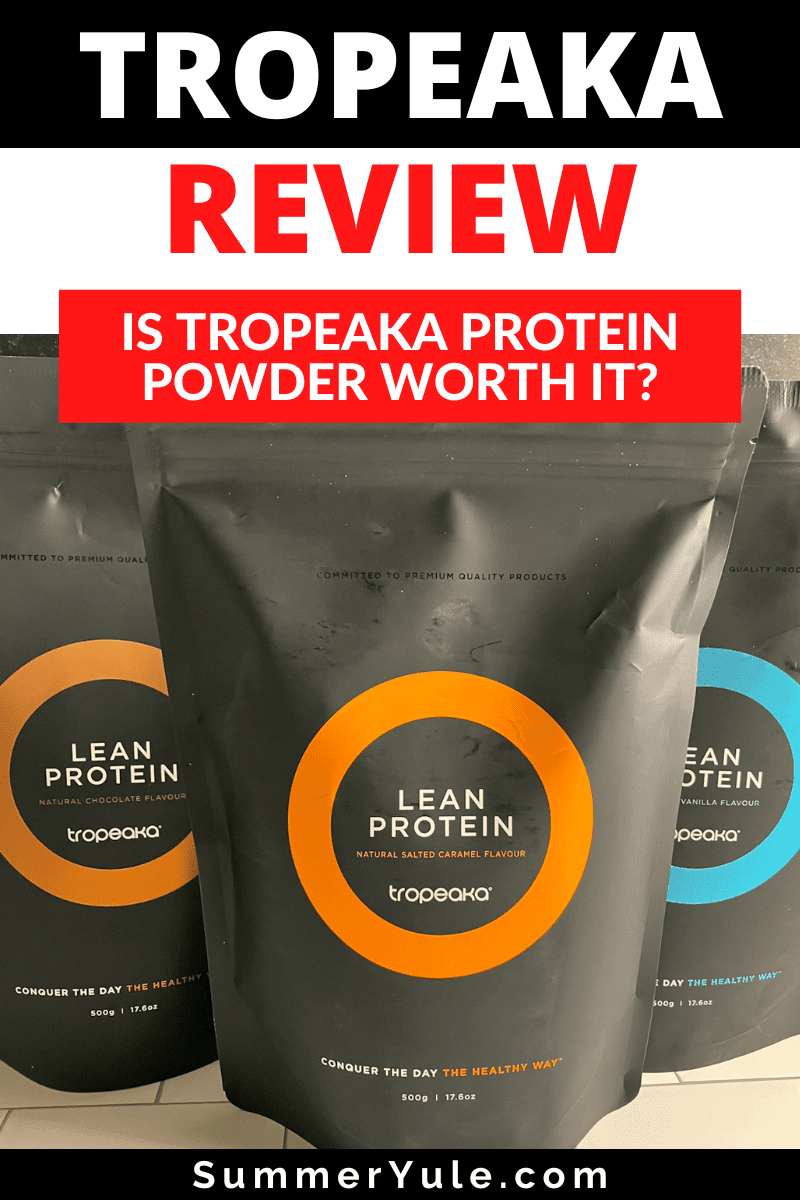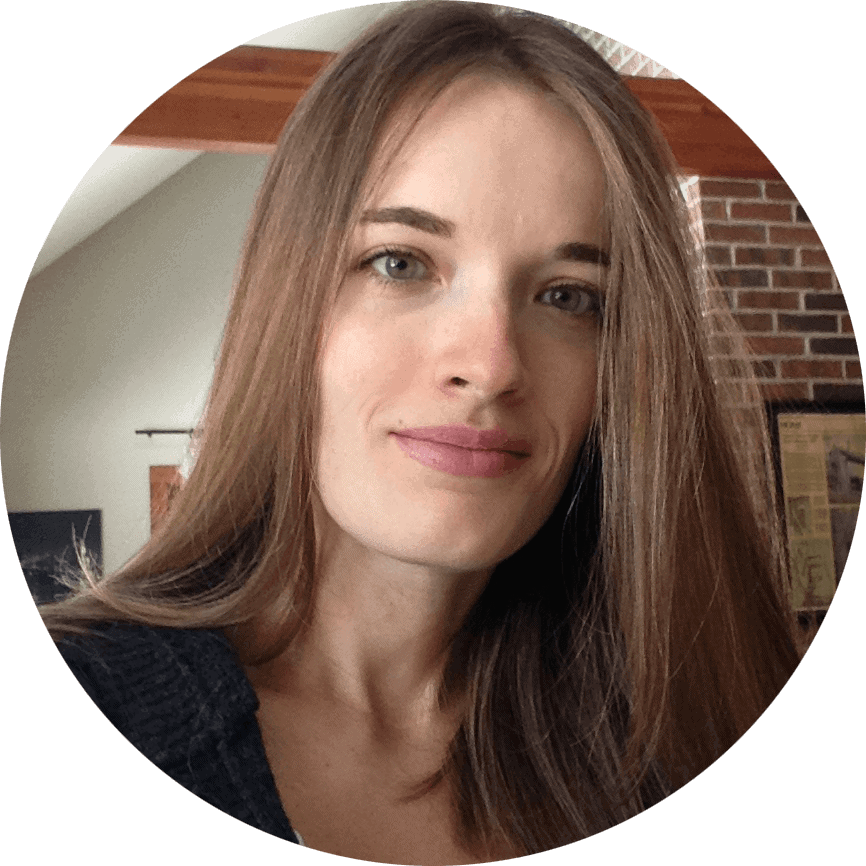 Hello! I'm Summer, a registered dietitian and home chef who loves to cook, eat, and create high quality content for you! Every recipe on this site has been tested by me to help ensure your success in the kitchen. All eaters are welcome here 🙂