Try these unrolled cabbage rolls for an easy weeknight meal. This is the perfect recipe for when you want all of the flavors in a cabbage roll without all of the work! Shreds of cabbage and a blend of pork and beef have cooked to delicious perfection in a rich tomato sauce. You may find that these deconstructed cabbage rolls start making a regular appearance on your dinner menu!
I am a big proponent of having fun with food, but sometimes I need to take the easy route. A few weekends ago, I spent several hours making a massive batch of cabbage rolls. YUM.
(Actually, it was this sarmale recipe on the Peace Corps website. This was a departure from my usual cabbage roll recipe because it uses no tomato sauce and far less meat. But I digress.)
Cabbage rolls are delicious, but few of us have several hours to make dinner every single night. (Lucky you if you do!) That is where this recipe for unrolled cabbage rolls comes in.
Additionally, I had several cabbage middles that I needed to figure out a use for. The leaves in the middle of the cabbage head are too small for rolls but will work perfectly here. Since the cabbage gets sliced into thin shreds, it doesn't matter what size the leaves are initially.
Time-saving, food waste-reducing, and delicious: this sounds like a winning recipe to me! I hope you feel the same way about it.
And if you do have a little extra time on your hands, did you notice the new Slow Food DIY category? I currently have a low-tech recipe to make yogurt available. There are many more fun weekend food projects in the works, so stay tuned!
What are you doing to simplify your life?
Even though we're all supposed to be having fun, the holiday season can feel like a stressful time for people. There tends to be a lot more to-dos to complete and events to attend at this time of year. Figuring out easy ways to simplify things can go a long way in reducing stress.
Sticking to uncomplicated recipes, such as these unrolled cabbage rolls, is one way to save time. Many of us are getting ready to prepare a huge holiday meal in a couple of days. As such, spending less time in the kitchen right now may be welcome.
What are you doing to make life a little easier on yourself this holiday? Reducing your level of stress is at least as important as nutrition when it comes to leading an overall healthy lifestyle.
Here's a recent (non-nutrition) way I reduced my stress
If you'd like a personal example, one way that I recently made life easier was to do a massive personal email clean-out. Though I do well in keeping up with my business-related email, my personal email account had racked up over 30,000 unread messages. (I know, I know.)
I had neglected to unsubscribe from unwanted email lists over the past several years, and my inbox was out of control. I had begun missing important messages from my healthcare providers and my son's school because I could not keep up.
So, one Saturday I sat down for a few hours and started unsubscribing from the unwanted lists. After unsubscribing, I'd search my email for unwanted emails from these lists and bulk delete them.
Though the task seemed never-ending, I did get my personal email back under control. Now when I get an unwanted email, I unsubscribe from the list and delete the message right away.
The time it took to clear my inbox was well worth it. I am no longer missing critical messages, nor do I have to worry that I will miss them. Not having the 30,000+ unread messages notification on my phone definitely cleared a bit of headspace for me.
This issue was never a frontrunner on my to-do list, which is how I fell so far behind. Spending a little extra time taking care of it earlier would have been worth it. A stitch in time saves nine, eh?
Put taking care of your health, both mentally and physically, on your to-do list this holiday season. Why not start establishing healthier habits before we reach the new year? You've got this!
And now for the disclaimer…
All recipes on this website may or may not be appropriate for you, depending on your medical needs and personal preferences. Consult with a registered dietitian or your physician if you need help determining the dietary pattern that may be best for you.
The calorie information is an estimate provided as a courtesy. It will differ depending on the specific brands and ingredients that you use. Calorie information on food labels may be wildly inaccurate, so please don't sweat the numbers too much.
For more information on how the three recipe levels may help with a weight management goal, refer to this post. Let's get cooking!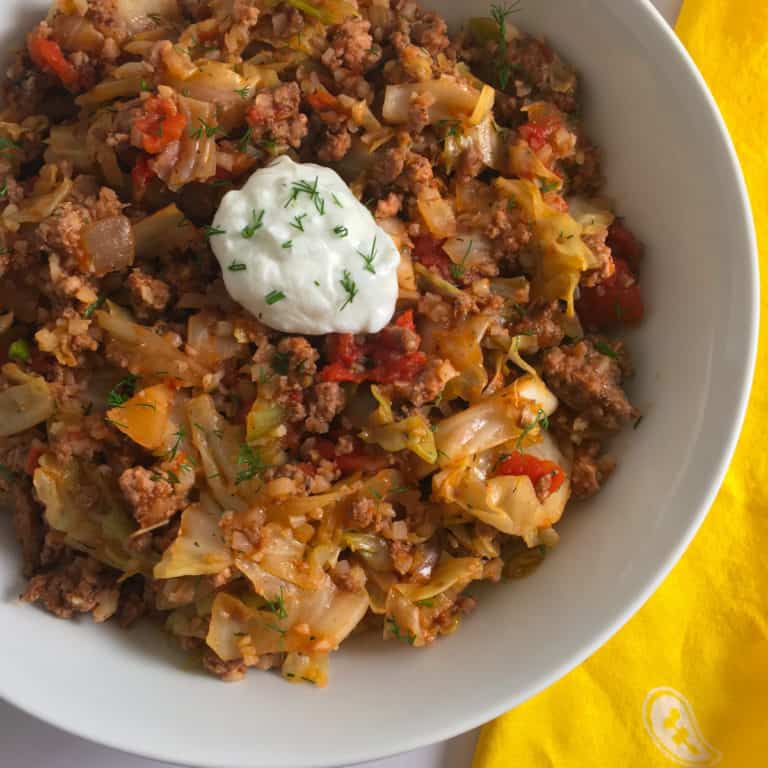 Unrolled Cabbage Rolls Recipe
Try these easy unrolled cabbage rolls when you want all of the flavors in a cabbage roll without all of the work! You'll want to make them again and again.
Ingredients
1

c

brown rice, dry

1

lb.

ground beef, extra lean

(96/4)

½

lb.

ground pork

1

T

olive oil

1

clove

garlic, finely chopped

1

large

onion, chopped

10

c

cabbage, thinly sliced

8

ounces

tomato sauce

(pick one with no added sugar, no added oil)

14.5

ounces

diced tomatoes (canned)

¼

c

fresh parsley, finely chopped

½

t

black pepper

1

t

dill weed, dried

¼

c

sour cream

additional dill or parsley, to garnish

(optional)
Instructions
Start cooking the brown rice in water according to package directions. It may take up to 45 minutes, so prepare the rest of the meal while it cooks.

Brown the beef and pork together in a Dutch oven on the stovetop (medium heat). Use a spatula to break the meat into crumbles as it cooks. After it browns (about 10 minutes), remove it from the pan and set it aside.

Heat the olive oil in the Dutch oven. Add the garlic, onion, and cabbage shreds. Cook until the cabbage softens, stirring occasionally. This will take about 10 minutes.

Add the cooked meat, tomato sauce, canned tomatoes (undrained), parsley, black pepper, and dill weed to your cabbage mixture. Heat everything through to a simmer.

Divide the cooked brown rice between four bowls or serving containers. Top with the cabbage mixture. Add a 1 T dollop of sour cream on top of your unrolled cabbage rolls and garnish with additional parsley or dill, if desired.
Notes
This is a level 2 recipe (transition or weight maintenance). The easiest way to knock this dish down to level 1 is to skip the brown rice. This will subtract around 150-180 calories per serving, leaving you with a meal that is under 500 calories. (However, I think that it might not be so accurate to call this an unrolled cabbage roll without the rice.)
You might notice that skipping the rice also makes this a low-carb meal. It's not a coincidence!
Many of the strategies that make a meal lower in carbs also reduce the calories. Meanwhile, the meal components that best promote satiety (meat, non-starchy veggies) are kept with low-carb. This is part of the reason that low-carb diets are a successful fat loss approach for many folks.
Nutrition
Have you done anything to help reduce your stress level this holiday season? Let me know (I love the tips!), and please leave a rating if you try my unrolled cabbage rolls!