This watermelon lime smoothie with mint is a bonus recipe just for you! There might be disagreement on whether this frozen watermelon drink is best referred to as a smoothie, slushie, slurpee, or icee. However, there's one thing we can all agree on here: this sweet and healthy drink is DELICIOUS! All you need is a food processor and four simple ingredients to get refreshed.
Did you think we've grown tired of smoothie recipes after Smoothie Madness Week? (Check out the smoothie recipe roundup here!) If so, you're definitely mistaken.
My kiddo is still making healthy smoothie requests weeks later. If he had his way, this would be Summer's Smoothie Site. (Hmmm… it kind of has a nice alliterative ring to it, doesn't it? Lol)
Anyhow, he wanted me to make a smoothie with watermelon, lime, and mint. Basically, it would be my homemade watermelon and lime popsicle recipe, except in beverage form.
I was happy to oblige, and the result was this refreshing dairy-free smoothie. The thing is, though, I'm not quite sure it's entirely correct to refer to it as a smoothie. This icy frozen dessert may be more like a watermelon slushie or a watermelon granita.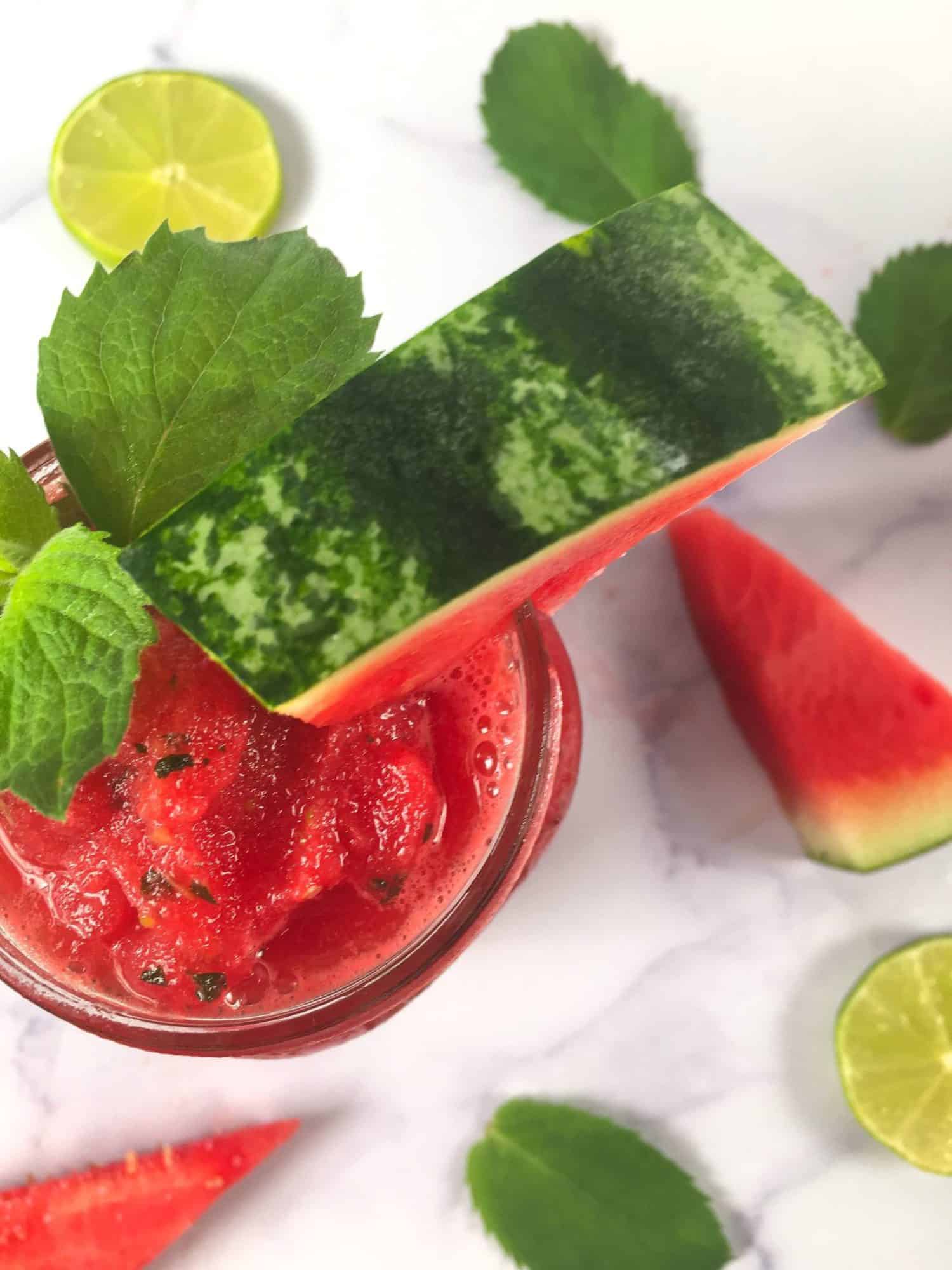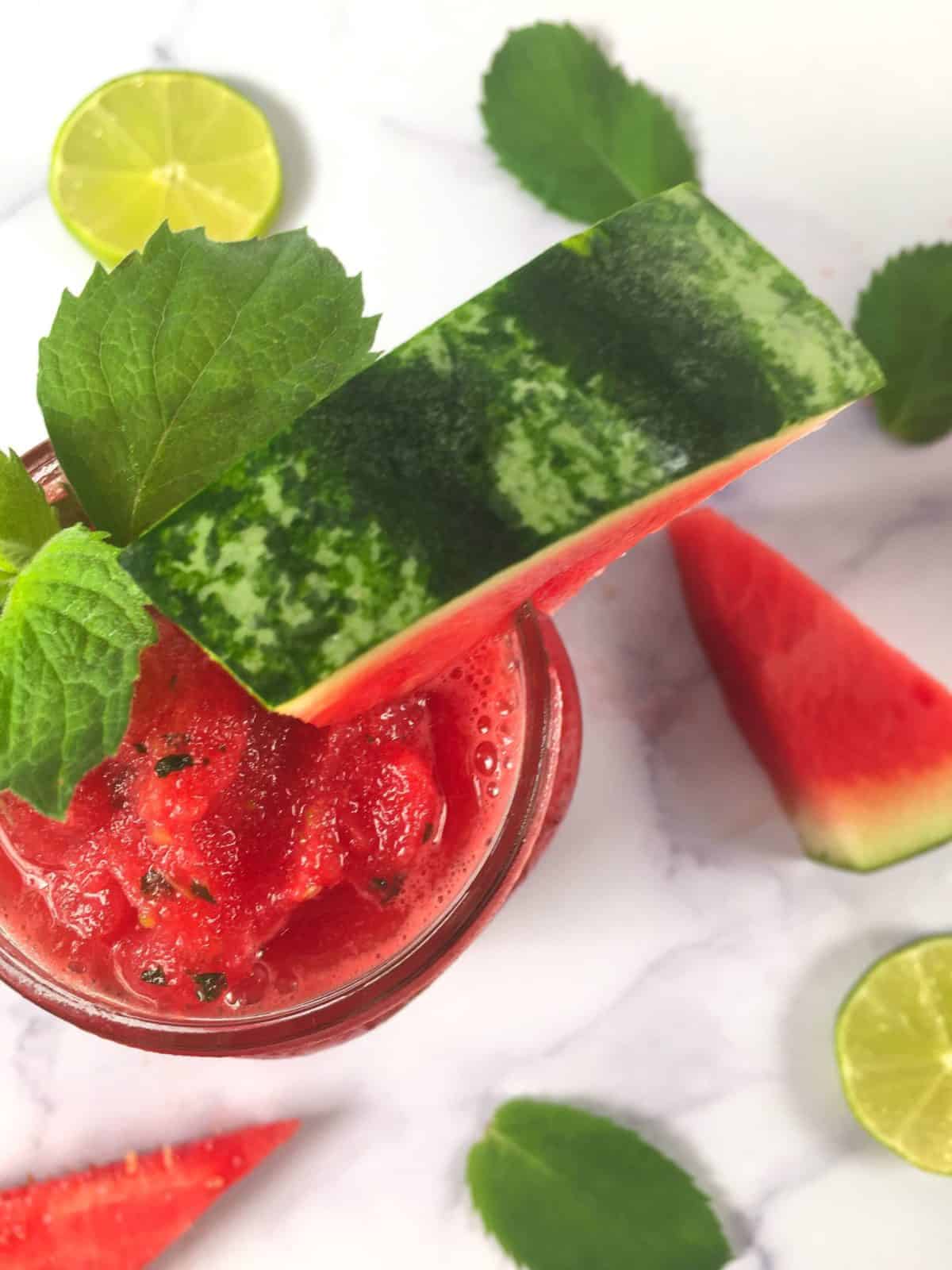 In the end, I refrained from referring to this as a watermelon slurpee, slushie, or icee. I feel like those words set up the expectation for a syrupy, sugary drink. And as with all of my smoothie recipes, this watermelon lime smoothie has no added sugar.
Watermelon is so incredibly sweet on its own, there's really no need for honey, maple syrup, corn syrup, or white sugar. You're getting a healthier drink here than you would with a syrup-flavored drink from a convenience store. I ultimately went with "smoothie" since I feel like the word connotes nutritional benefits.
Watermelon Lime Smoothie Recipe
I am using a combination of both frozen and fresh watermelon to make this smoothie. Using just frozen watermelon would result in a frozen dessert more like a sorbet. Meanwhile, using solely fresh watermelon would get you a very liquidy drink.
The result of using frozen and fresh fruit together gets you a semi-solid concoction. It's softer than Italian ice but icier than most smoothies.
I recommend using a food processor instead of a regular blender to make this drink. First of all, you are going to need the larger capacity to thoroughly blend all of the fruit involved. Second, you'll have to scrape the sides far less using a food processor versus a blender.
On the other hand, if you have one of those fancy high-powered blenders, it will probably handle this recipe just fine.
Freeze your watermelon pieces in a single layer on a baking tray, preferably without the pieces touching. The idea is to prevent the pieces from freezing together in large chunks.
Most food processors won't break down large frozen blocks of watermelon easily. Smaller, individual pieces of watermelon should not pose a problem.
I'd say that's about all you need to know to make this watermelon and lime smoothie. The recipe is pretty straightforward. Just gather up these things…
Fresh and frozen watermelon
Fresh mint leaves
Lime juice
Lime zest
… and you're good to go! This easy snack idea works with several special diets, including vegan diets and dairy-free diets.
Plus, if my son is any indication, it's definitely a hit with kids! I hope you enjoy it.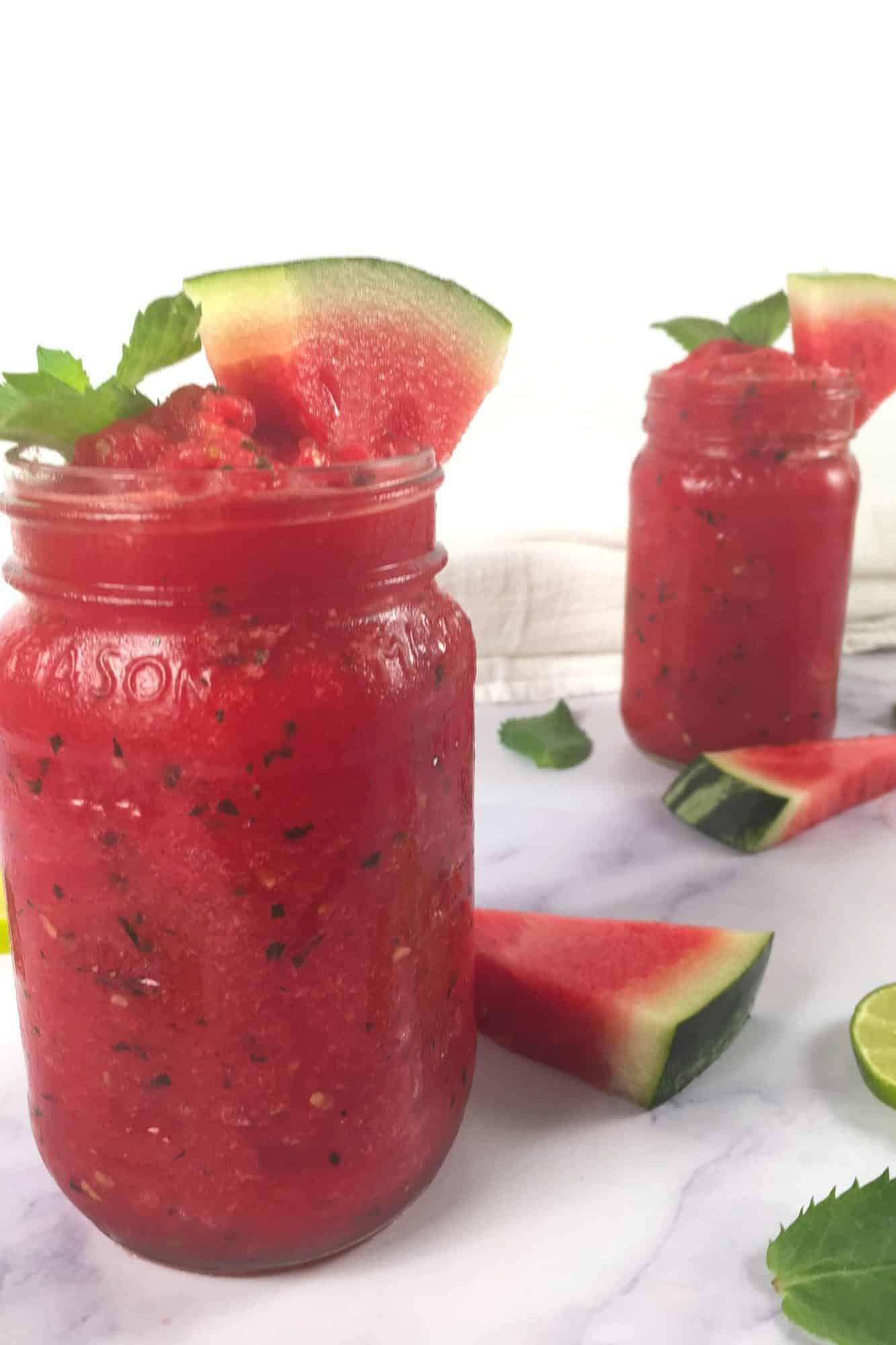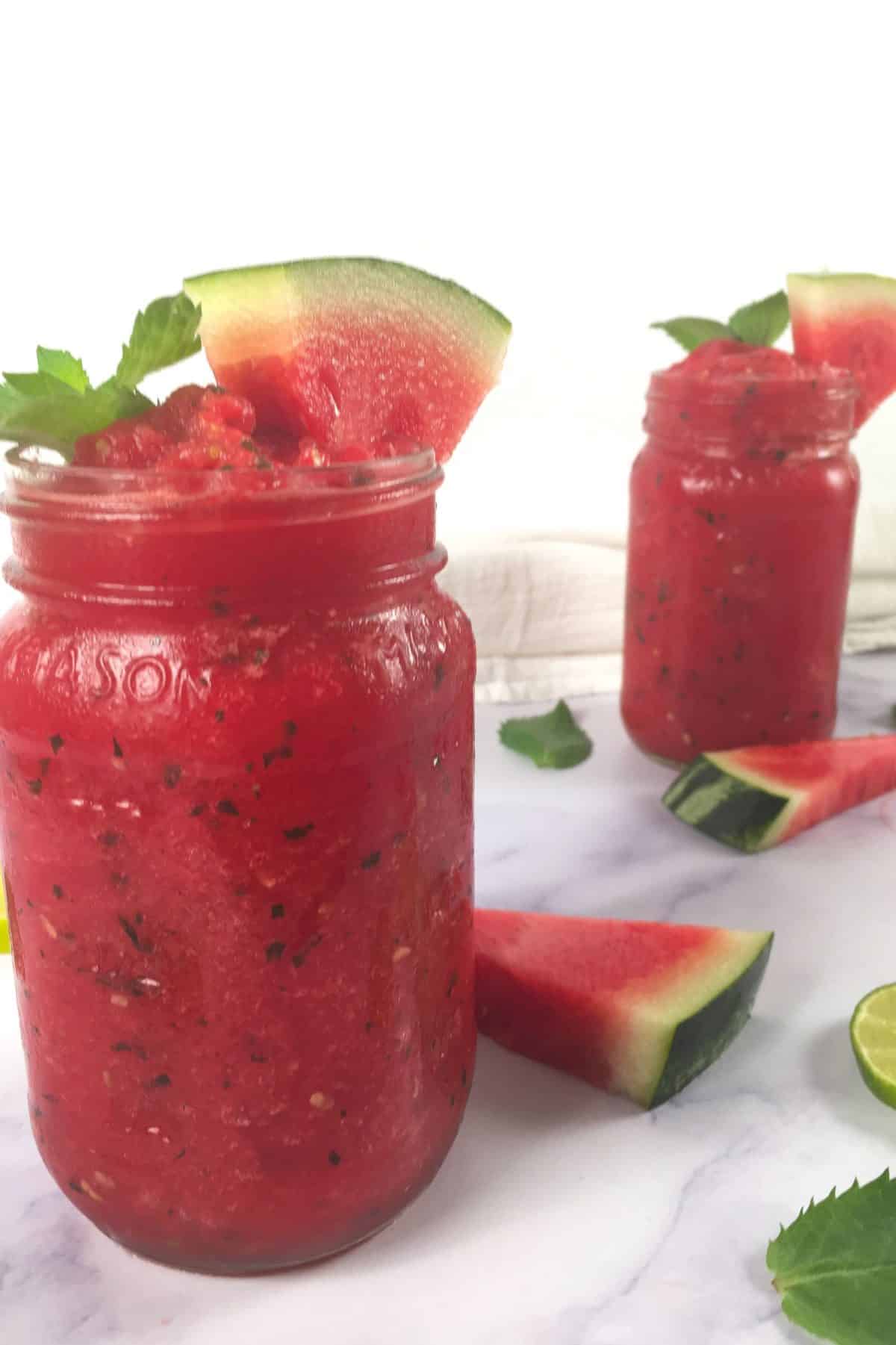 The disclaimer…
All recipes on this website may or may not be appropriate for you, depending on your medical needs and personal preferences. Consult with a registered dietitian or your physician if you need help determining the dietary pattern that may be best for you.
The nutrition information is an estimate provided as a courtesy. It will differ depending on the specific brands and ingredients that you use. Calorie information on food labels may be wildly inaccurate, so please don't sweat the numbers too much.
For more information on how the three recipe levels may help with a weight management goal, refer to this post. Let's get cooking!
📖 Recipe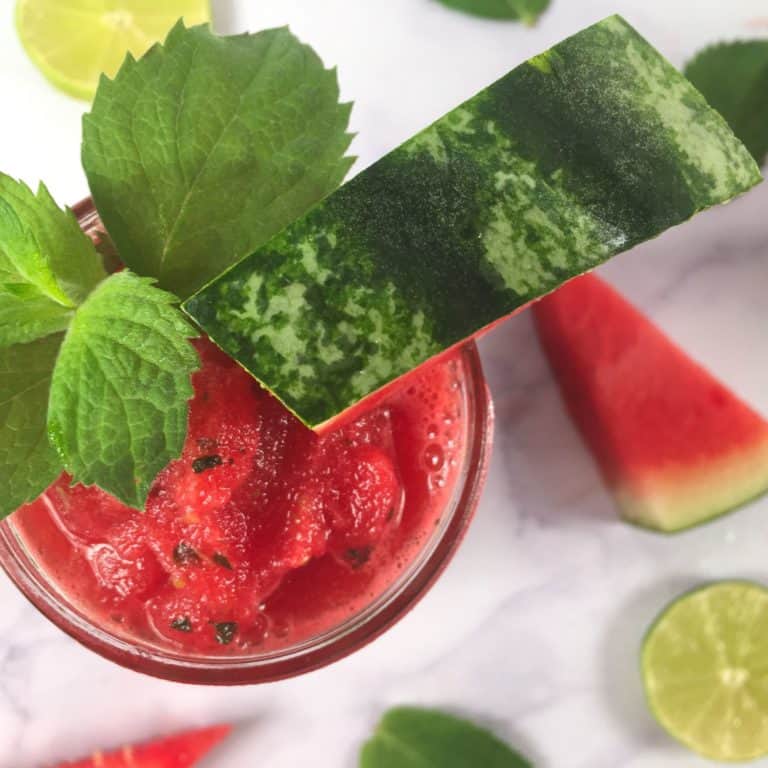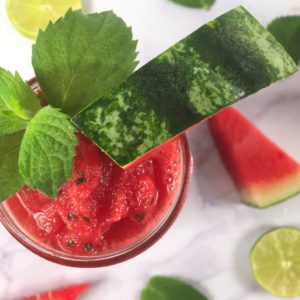 Watermelon Lime Smoothie (Watermelon Mint Smoothie Recipe)
There might be disagreement on whether this watermelon lime smoothie is best called a slushie, slurpee, or icee. Who cares? It's DELICIOUS
Equipment
Ingredients
2½

cups

chopped fresh seedless watermelon

2½

cups

chopped frozen seedless watermelon

5

large

mint leaves, finely chopped

(or use 10 small mint leaves)

1

tablespoon

lime juice

1

teaspoon

lime zest
Want to Help?
If you love this recipe, please come back and leave a rating. This helps readers and I'd love to hear from you. Thank you ❤️
Instructions
Put the watermelon, mint, lime juice, and lime zest into a large food processor. Blend until the desired consistency is created. Stop the processor and scrape down the sides with a spatula if needed.

This recipe makes two 2-cup servings. Check out the recipe video below to see how quickly this delicious snack comes together!
Notes
This is a level 2 recipe (transition or weight maintenance). Half of this recipe is just a smidge over 100 calories, placing it on the border with level 1. My favorite strategy for making the portions of smoothies smaller without making them less satisfying is to freeze them into popsicles.
In general, you must eat popsicles more slowly (mindfully). As mentioned above, my watermelon and lime popsicles are essentially this same recipe, except in ice pop form. Check it out!
Nutrition information is for one serving of the recipe.
Nutrition
Calories:
118
kcal
Carbohydrates:
30
g
Protein:
2.4
g
Fat:
0.6
g
Saturated Fat:
0.1
g
Sodium:
4
mg
Potassium:
440.2
mg
Fiber:
1.6
g
Vitamin A:
43.9
% DV
Vitamin C:
55.8
% DV
Calcium:
2.8
% DV
Iron:
5.2
% DV
What's better than some refreshing watermelon when the weather is hot? If you also love snacks with watermelon, don't miss my banana watermelon smoothie recipe. You might also dig these layered watermelon pineapple mango pops.
What would you call this watermelon lime smoothie? Do you think "smoothie" is a good fit, or do you think it's more like watermelon Italian ice, a watermelon slushee, or something else? Feel free to drop me a comment below with your thoughts on the matter!