This is a level 3 recipe (weight maintenance and active lifestyles).
I actively limited foods made with flour, including pizza, during my weight loss. If you're like me and find foods with flour very easy to overeat, you don't have to eat them. I was able to reincorporate some of these foods after my maintenance weight had stabilized.
For some, restricting foods made with flour may lead to feelings of deprivation and extreme overeating. In that case, the strategy that I used may not be what's best for you. If you have a weight loss goal, it is important to be honest with yourself about how these food choices may impact you.
So that brings me to a common question...
Are whole grains good for weight loss?
In short, I don't consider most grains (including whole grains) the best option for losing weight. (Sorry old- and no longer used- food pyramid!) Lean proteins and non-starchy veggies tend to be more filling relative to the calories they provide.
Most flours (including whole spelt flour) have 100-110 calories per ¼ cup. That adds up very quickly when you are eating bread or pizza. It can be challenging to maintain a calorie deficit for weight loss when including lots of foods made with flour.
With the toppings below and a side salad, you will have a meal that's about 750 calories.
The easiest way to lighten this dish is to enjoy two slices of pizza instead of four, and to add more greens to your side salad. As long as you don't pile on a high calorie dressing, you'll increase the volume of the meal and lower the calories.
🧀
Spelt Pizza Dough Toppings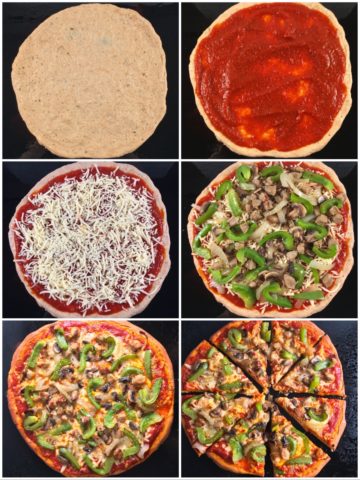 Here's how to top spelt pizza crust. These ingredients are enough to top the entire pizza crust recipe above (i.e., toppings for 2 pizzas):
8 ounces part skim shredded

mozzarella cheese

(227 grams)

1.5 cups

marinara sauce

(or your favorite tomato-based pizza sauce)

4

basil leaves

, finely chopped

1 tablespoon

avocado oil

(or extra virgin olive oil or canola oil)

2 fully cooked

Italian chicken sausages

8 ounces

green pepper

(227 grams)

4.5 ounces

onion

(128 grams, about 0.5 of an onion)

4 ounces sliced

mushrooms

(113 grams)
Halve and seed the pepper and cut into ⅜-inch-thick slices (1 cm). Slice the onion into ⅜-inch (1 cm) slices as well. Quarter and slice the sausages.
Put a cast iron skillet on the stovetop over medium heat. Add the oil, sausages, pepper, onion, and mushrooms. 
Sweat the toppings in the pan for 5-10 minutes. You're looking to get the moisture off, not brown them. You'll get more browning after they go in the oven.
Top your two unbaked spelt pizza crusts with the tomato sauce, shredded cheese, and cooked toppings. Bake one crust at a time in an oven preheated to 500F (260C) for 9-10 minutes. The baking tray should be on a rack about ⅓ down from the top of the oven.
After baking, let the pizza cool for several minutes before topping with fresh basil. I cut each pizza into 8 small slices. Enjoy!
P.S. Feel free to play around with the toppings on this pizza to include your favorites. Some other great options are roasted red peppers, olives, wilted spinach, and lean ground beef.
Nutrition information is for one serving
of spelt pizza crust without toppings. One serving is ¼ of the recipe, or half of one of the spelt pizzas. The spelt pizza toppings listed add 330 calories, 15.1 grams net carbs, and 22 grams protein per serving.