This Wildgrain box review holds the answer to how to buy the freshest bread that's delivered right to your door. Wildgrain is a bread, pasta, and pastries delivery club that provides artisanal sourdough bread and other goodies made by small bakers and pasta makers. The bread delivery timing can be tailored to fit your schedule. Read on to learn how to get free croissants in your Wildgrain bakery box, and more!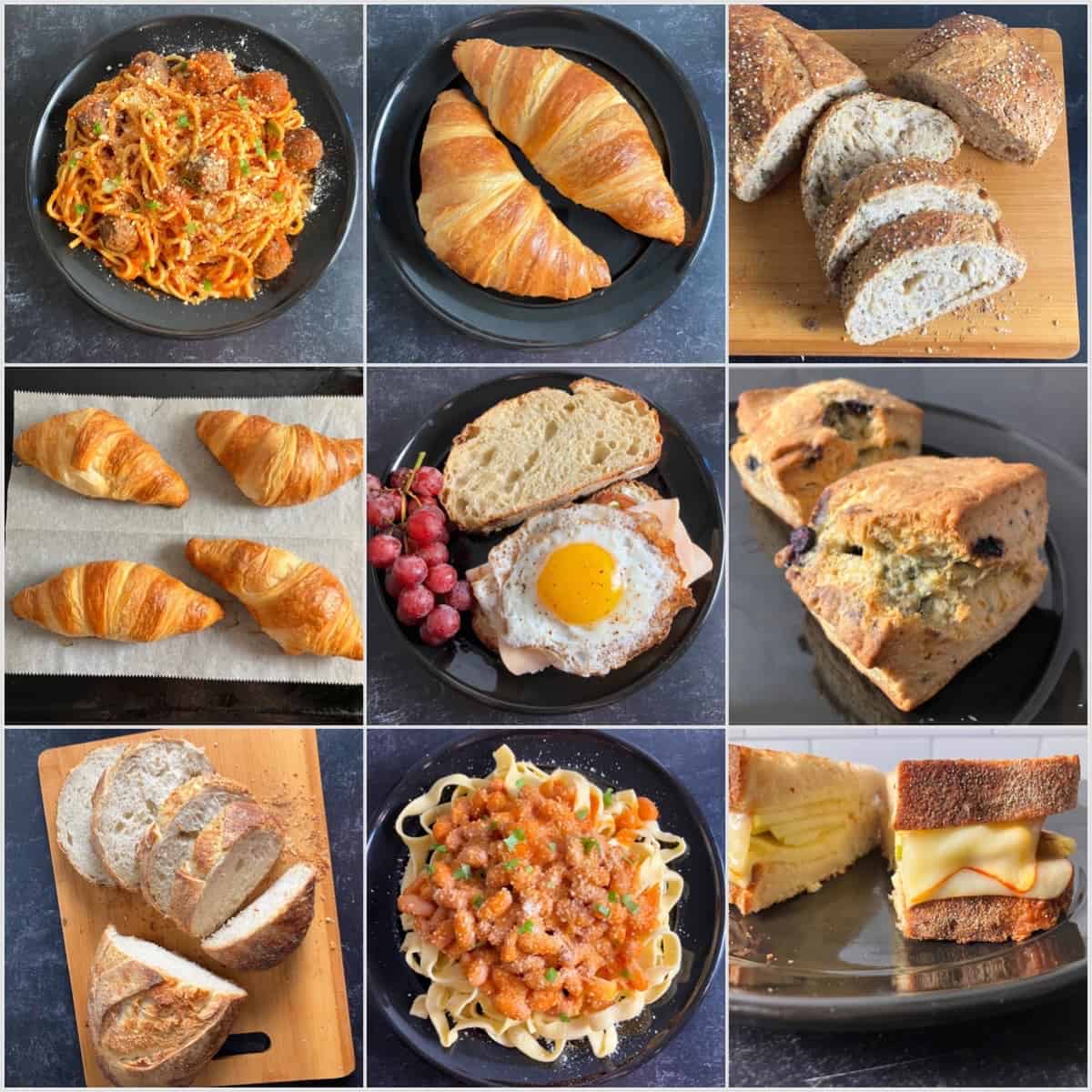 Jump to:
🥐 What is Wildgrain?
Wildgrain is the first bake from frozen bread, pasta, and pastry delivery box. They offer real sourdough bread from small bakeries, artisanal pastries, and hand-cut pasta.
All items bake in 25 minutes or less. This is a huge time saver, since you don't even have to thaw anything.
When I first learned about the Wildgrain bread subscription through an ad on Instagram, I knew I had to try them. While I do make my own sourdough starter, making homemade sourdough bread from scratch isn't practical most nights. The fermentation process takes so long!
After reaching out, Wildgrain graciously offered to send us a sample box in exchange for this review. I've got to say, getting that Wildgrain bakery box in the mail felt a bit like a birthday or holiday gift. If you're a carb lover, I know you're going to love this too.
Wildgrain currently offers four box options:
Wildgrain Bread, Pasta & Pastries Box: This is the most popular Wildgrain Box. With this option, you build your own box and can include add-ons like pizza or brownies.
Wildgrain Pastries & Desserts Box: Build your own box with options like brownies and bagels. Yum!
Bread & Rolls Box: The bread and rolls box is a less expensive option for those who don't want the desserts. You can add items like bagels and buns.
Vegan Bread & Rolls Box: There's also a vegan Wildgrain box if you'd prefer. Make sure to use the filter to exclude items with honey from your box if you're vegan.
The box options change from time to time. For instance, Wildgrain used to offer the "Wildgrain Mixed Box" with bread, pasta, and pastries, and the "Wildgrain Bakery Box" that skipped the pasta. For this review, I tried the artisan bread, pasta, and pastries box.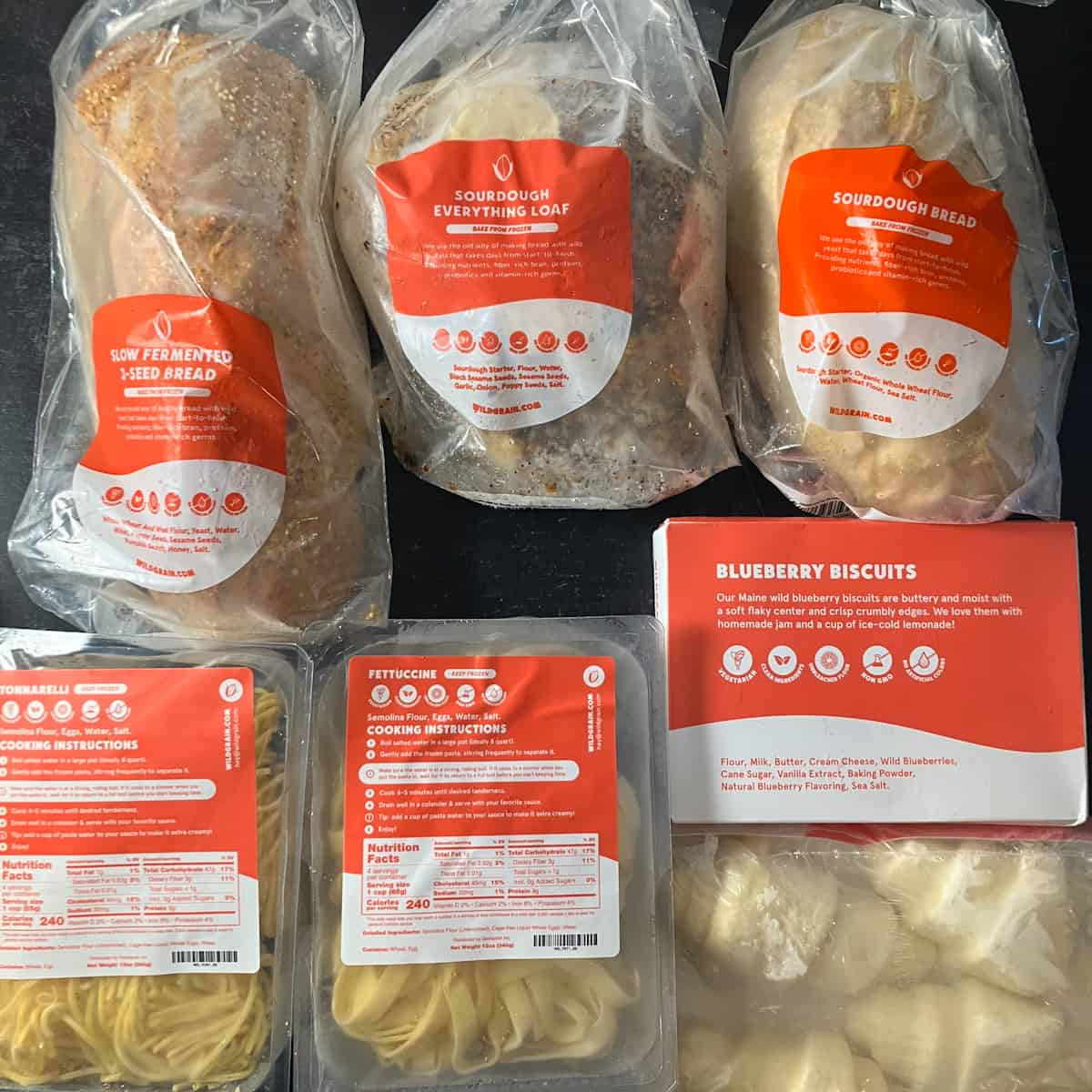 💰 Wildgrain Box Cost
How much does Wildgrain box cost? Here is a table showing the cost of the Wildgrain boxes. This price information is current as of 2023 and is subject to change:
| Wildgrain Box Type | Cost |
| --- | --- |
| Bread Pasta & Pastries | $99 |
| Pastries & Desserts | $109 |
| Bread & Rolls | $69 |
| Vegan Bread & Rolls | $69 |
All Wildgrain boxes have free shipping. Wildgrain currently has an offer for free croissants for life when you order the bread, pasta, & pastries box or the pastries & desserts box. You don't even need a Wildgrain discount code to take advantage of this special offer!
You can cancel or skip your monthly frozen bread delivery at any time, so there's little risk in trying Wildgrain out. Wildgrain members rate them 4.8 / 5.0 stars, with almost 15,000 five-star reviews, and after you try them, I think you'll see why.
🥖 Bread Delivery
Now let's cover my personal experiences with the Wildgrain bread club! Here's what came in my Wildgrain sourdough bread delivery:
Everything Sourdough Bread
Plain Sourdough Loaf
Slow-Fermented 3-Seed Bread
They also offer many other sourdough options including slow-fermented olive oil ciabatta, sourdough 7-grain loaf, sourdough asiago cheddar loaf, sourdough demi baguettes, sourdough harvest bread, sourdough olive bread, sourdough rolls, sourdough rosemary garlic loaf, sourdough rye loaf, sourdough sesame seed loaf, sourdough spelt loaf, sourdough walnut bread, and sourdough whole wheat loaf. (Whew!)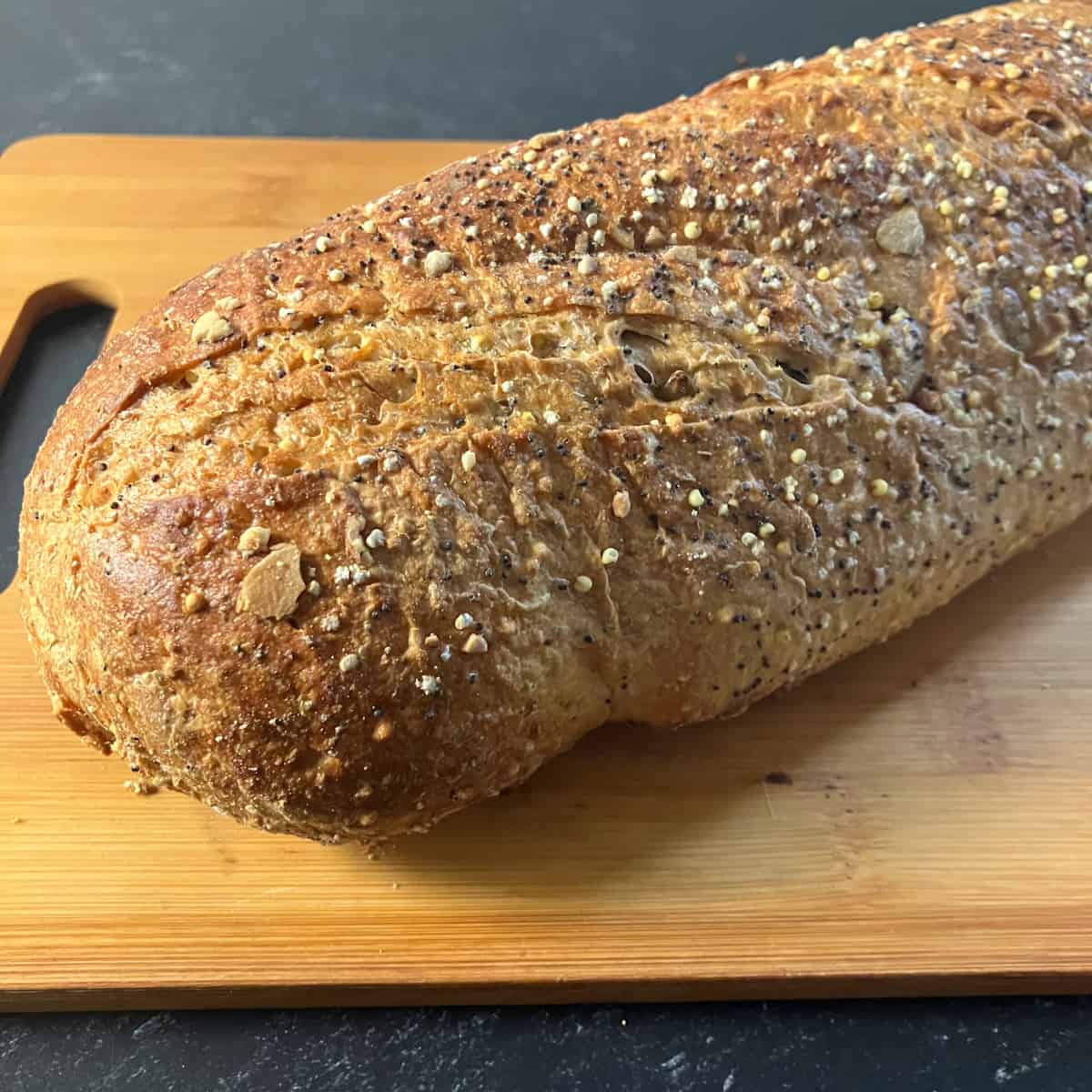 Wildgrain Review
My box came well-packed with plenty of bagged dry ice and a gel pack. I recommend using gloves to unpack the box to avoid burning yourself on the dry ice.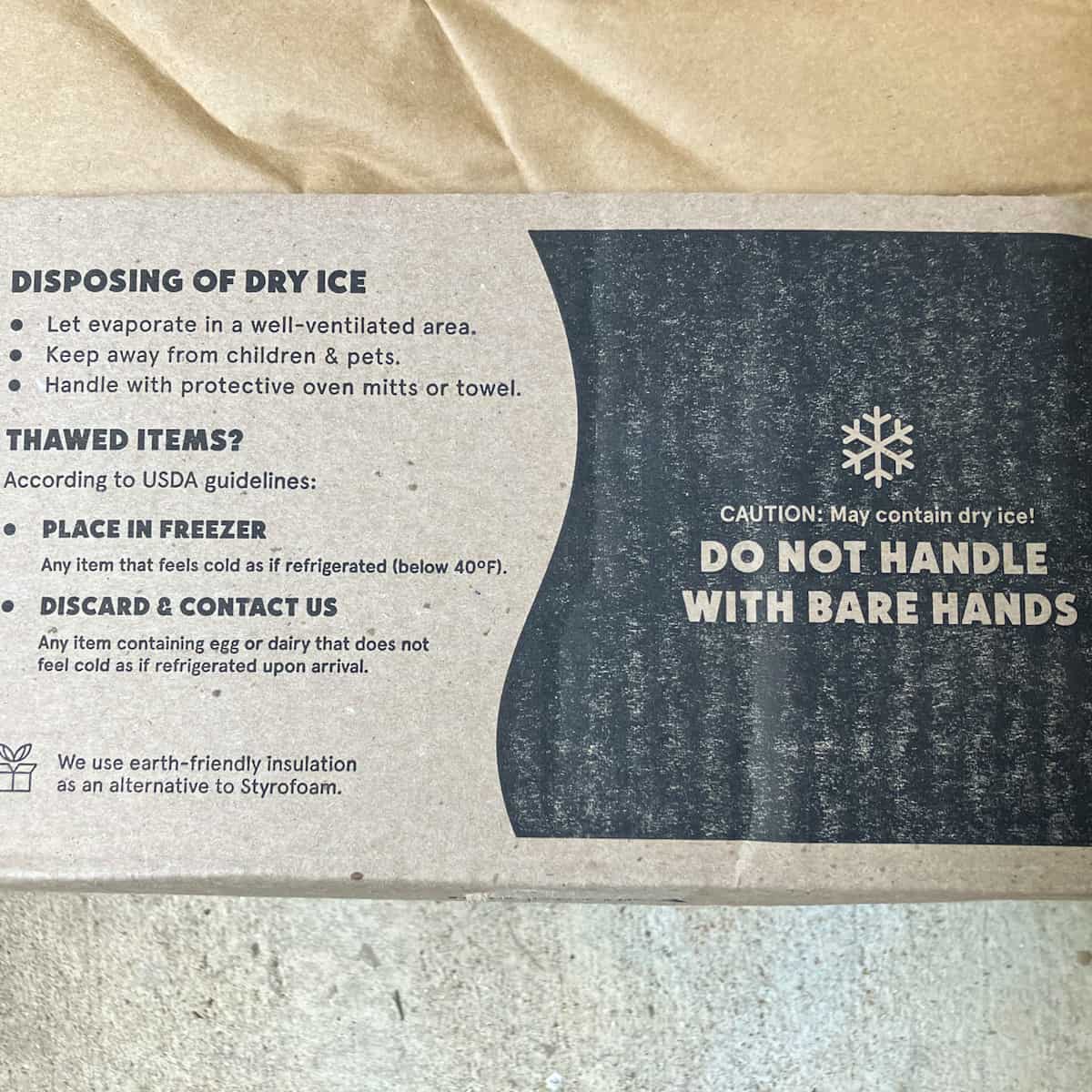 Though it was a hot day in the summer, all the items were frozen solid and went straight from box to freezer. The 7 items in my box didn't take up much freezer space. These foods created a yummy and simple base for meals, so two of us were able to easily finish the box within a month.
Wildgrain baking instructions are located right on the packaging for each item. For the sourdough breads, you can follow directions to make the bread with a soft crust or crusty bread – your choice!
My one comment about the baking instructions is they give a time range of 18-24 minutes, but the bread was getting very dark after about 20 minutes. I would definitely check on the bread loaves after 18 minutes, just in case.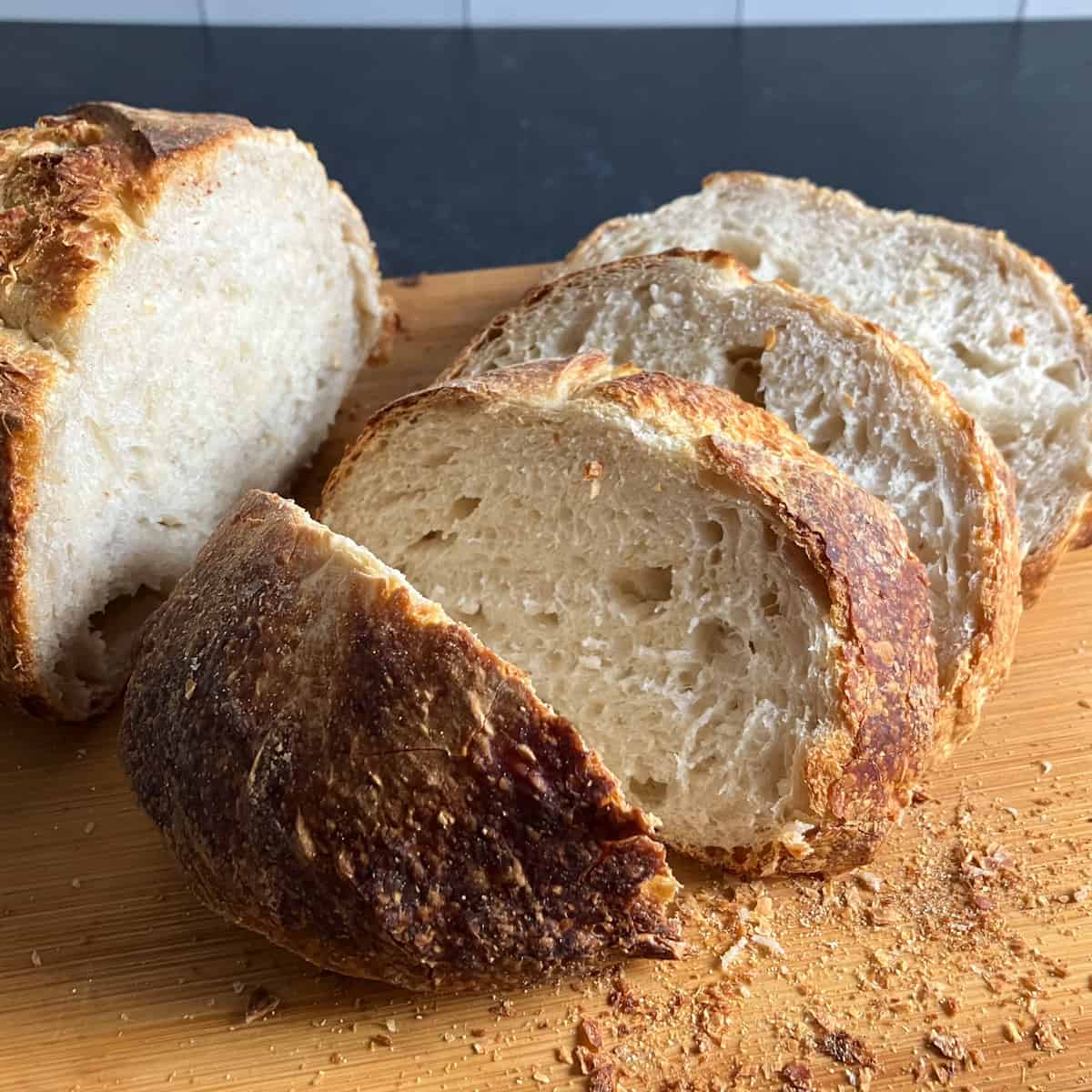 Each of these breads turned out awesome, just like fresh bread from the local bakery, or made from scratch at home. Wildgrain aims to use "clean ingredients" (i.e., simple, high-quality ingredients) when possible, and we could definitely taste the difference in these delicious breads.
Get tips on Wildgrain recipes at the end of the article!
🍝 Wildgrain Box Fresh Pasta
Wildgrain pasta is our next stop in this carb lover's paradise. I tried the Wildgrain tonnarelli and their fettuccine. Wildgrain also offers cheese tortellini and fresh rigatoni.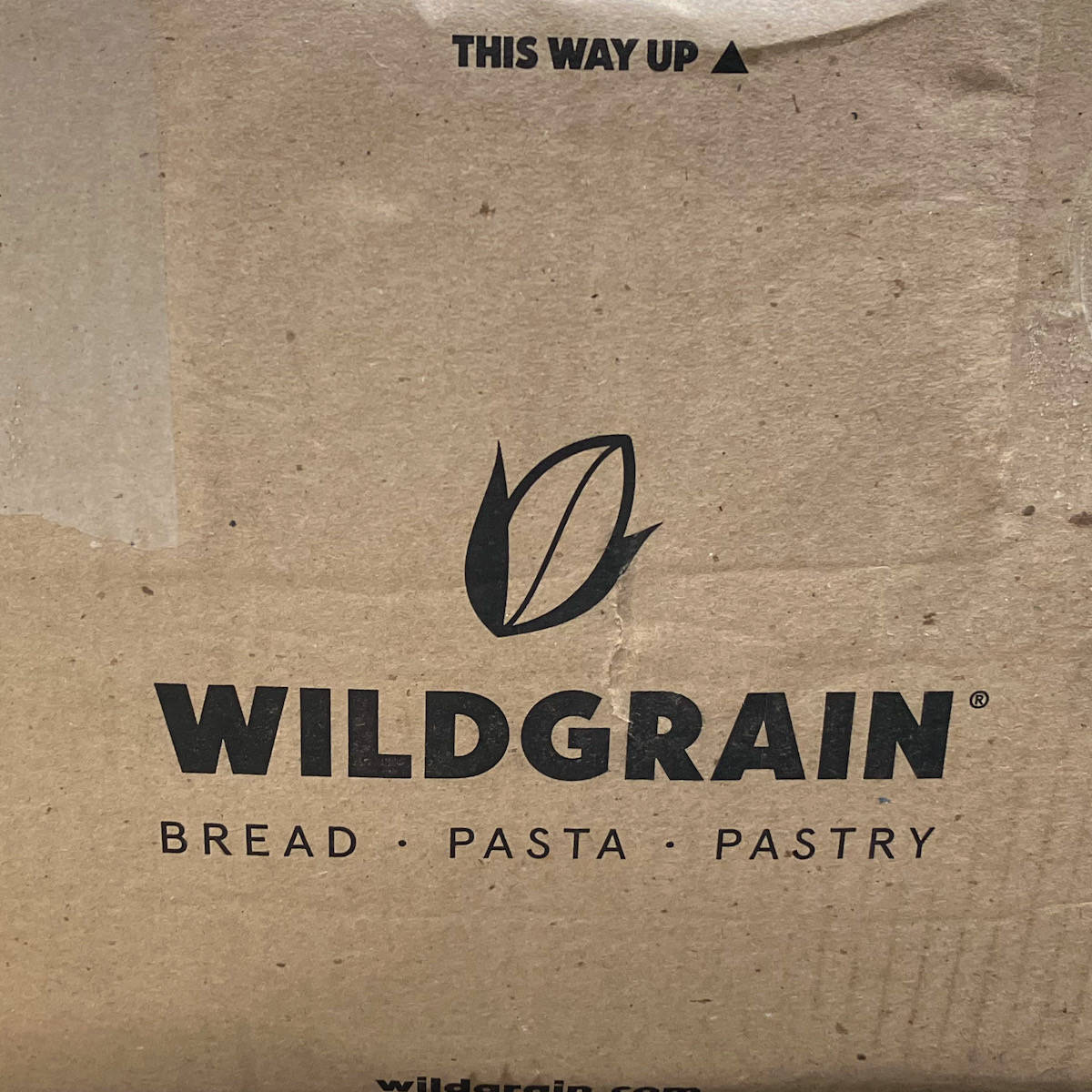 This is definitely not your everyday dry pasta from a box. Our tastebuds could tell this is a fresh pasta. Just boil the water, drop the frozen pasta in, and it cooks to a perfect al dente in 4-5 minutes.
If you've read my post on how to cook spaghetti, you know that dried pasta can take 2-3 times that amount of time to cook. So, you're saving time here, and getting something even more tasty.
The main disadvantage of fresh pasta is it costs more than dried. However, I do think it's worth the splurge if you'd like to make a meal extra special.
🧁 Wildgrain Pastries Delivery
The Wildgrain pastry options are some of the best things WIldgrain offers, IMVHO. I got the (free!) croissants and the blueberry biscuits in my box.
Wildgrain also offers apple pie bites, blueberry pie bites, cherry pie bites, chocolate croissants, fudge brownies, giant chocolate chunk cookies, macarons, strawberry rhubarb turnovers, orange cranberry biscuits, Parmesan herb biscuits, peach pie bites, pecan sticky buns, pumpkin cinnamon rolls, raspberry lemon biscuits, and more. Some of these items are seasonal, so keep a watch for them if you become a Wildgrain member.
Wildgrain also offers goodies like wood-fired plain bagels, cinnamon raisin bagels, Bavarian pretzels, Bavarian pretzel buns, English muffins, maple Belgian waffles, slow-fermented Margherita pizza, and some non-baked goods like churned French butter and marinara sauce. I want to try them all!
But back to the croissants and biscuits. These croissants are AMAZING- packed with buttery, flaky layers. I baked them on a dark baking sheet using the lower end of their recommended bake time (18 minutes) and they puffed up HUGE and crispy on the outside!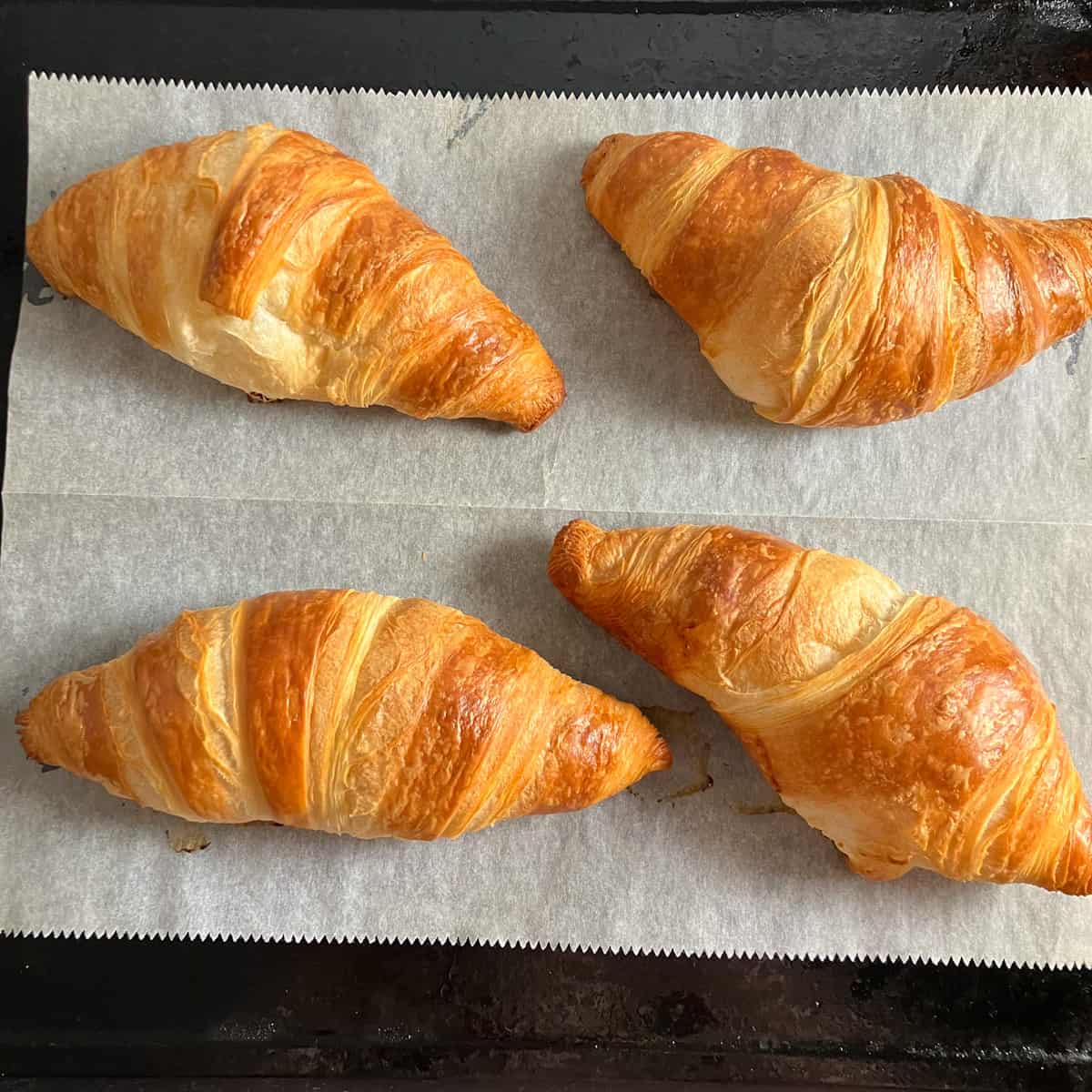 As a side note, one of the frozen croissants looked a little squished going into the oven, but it still baked perfectly. These were my favorite items in my box, and I look forward to trying the chocolate croissants next. If you order Wildgrain, I would definitely snag that free croissants for life offer while you can.
The biscuits were also dreamy, with a delicious aroma, and they puffed beautifully in the oven. They're almost like a muffin inside versus a flaky dinner biscuit. They make a super accompaniment to breakfast.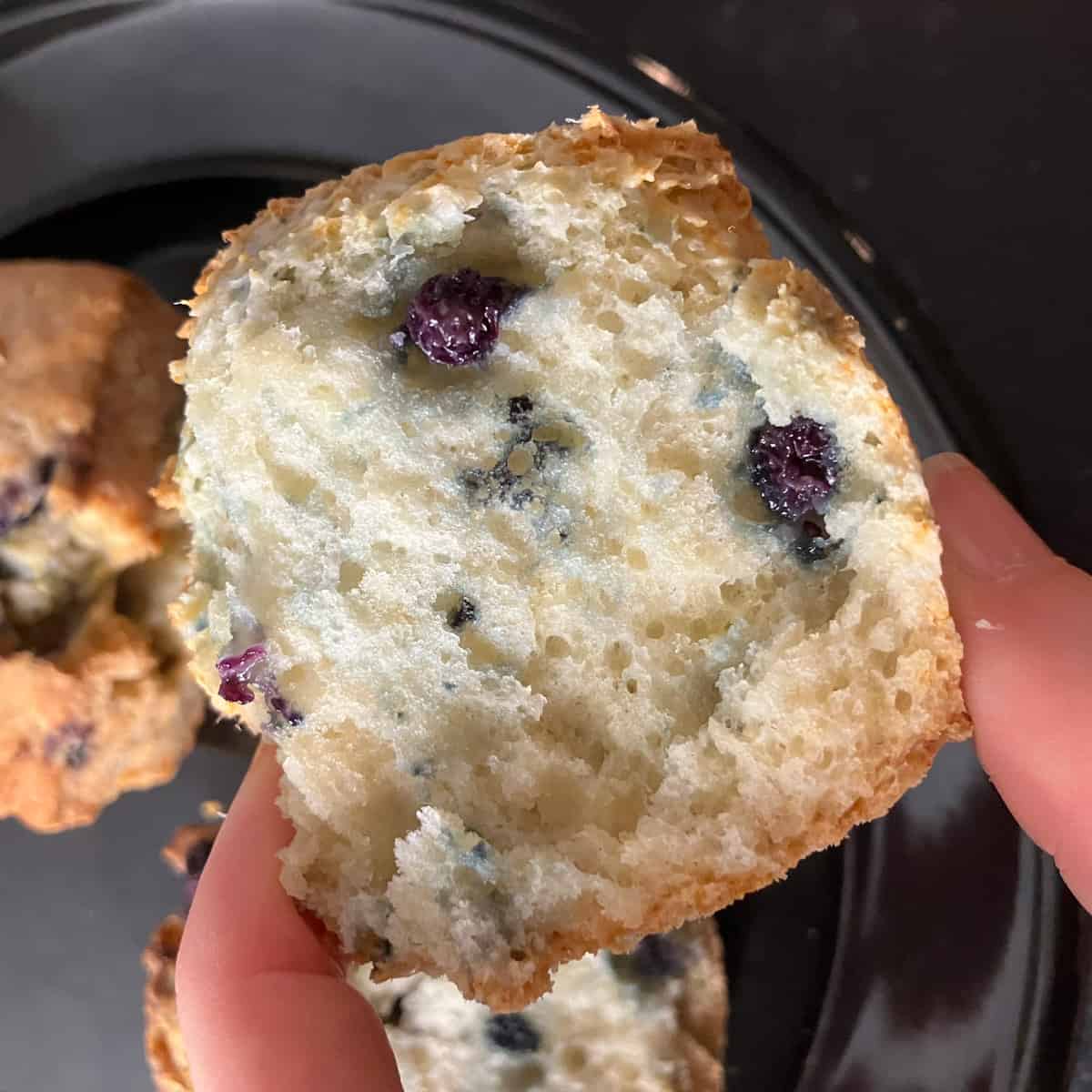 In short, I would definitely choose a box that includes pastries with my Wildgrain order. This category has some of their most tasty offerings, and you don't want to miss out!
➕ How to Buy Bread Online
Here are step-by-step directions for how to order Wildgrain:
Head over to the Wildgrain website. Click "Get Started."
Enter your email to get free croissants for life (or their current offer). Alternatively, you can start choosing items right away and skip the promotion.
Select your plan. You can choose from Bread, Pasta & Pastries; Pastries & Desserts; Bread & Rolls; or Vegan Bread & Rolls. If you have a big family, you can choose to add additional items to your box for a discount.
On the next page, Wildgrain automatically selects the items that will go into your box. You can swap out any of these Wildgrain products for other items, if you wish. When you're done, click "add to cart" at the bottom of the page.
Choose any add-ons from the pop up, or skip and checkout.
Enter your shipping information, payment information, confirm your shipment schedule and submit your order. (Tip: if it's your first box, a discount code you can enter may pop up on the screen if you use my link to make your purchase.)
Wait eagerly for the deliciousness to show up on your doorstep. (Boxes typically ship in 1-7 business days.) Remember this is a subscription service, but you may cancel or pause deliveries at any time. So easy!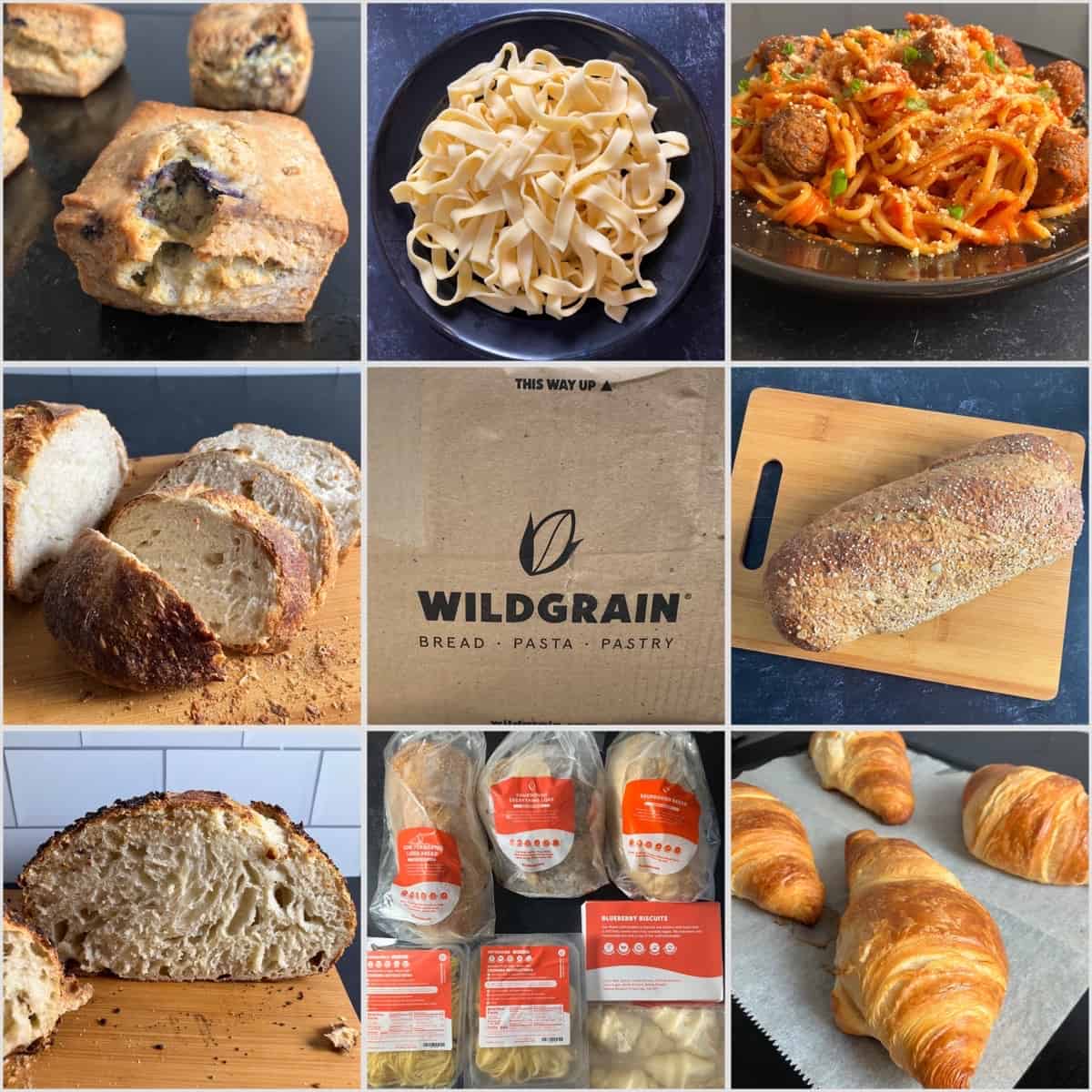 Wildgrain ships to the 48 continental United States, but not Alaska, Hawaii or Puerto Rico at this time.
FAQs
How to cancel Wildgrain subscription?
You can easily cancel your Wildgrain deliveries through your Wildgrain account on the Wildgrain website. Alternatively, manage your Wildgrain membership (including cancellations) by sending an email to [email protected]
Does Wildgrain have gluten free?
No, Wildgrain does not offer gluten free products. Though the slow fermentation product may digest some gluten in bread, it is still not safe for those with celiac disease or wheat allergy.
What is the difference between Wildgrain mixed and bakery box?
The "Wildgrain bakery box" is used to describe boxes with loaves of bread and pastries but no pasta. The "Wildgrain mixed box" includes breads, pastries, and pasta.
Who are the owners of Wildgrain?
Wildgrain was founded by Johanna Hartzheim and Ismail Salhi. They are a Boston-based company that started in 2020, and aims to provide high-quality carbs to replace supermarket items. They donate meals to the Greater Boston Food Bank with each new membership.
Where can I find Wildgrain nutrition information?
Wildgrain nutrition info can be found on the product packaging and on their website here.
👩‍🍳 Wildgrain Recipes
Wildgrain sourdough breads work well as a dinner bread served with flavored olive oil, or slice and use it to make sandwiches. Some sourdough breads are so holey that the sandwich fillings fall through, but we didn't have that issue with Wildgrain sourdoughs.
A huge benefit of Wildgrain is that it gives you a meal base to simplify your shopping list. We used the plain sourdough for microwave grilled cheese with tomato soup. The everything sourdough was used for air fryer breakfast sandwiches with some fruit on the side.
The three-seed bread made some lovely peanut butter and jelly sandwiches for lunches. You could also make BLTs, or whatever you're craving at the moment, of course.
The fresh pastas also work perfectly as a base for simple meals. The tonnarelli is shaped like spaghetti, so I served it as spaghetti and air fryer frozen meatballs with marinara sauce. The fettuccine got a vegetarian treatment; I added a canned alla vodka sauce with beans.
Croissants are (of course) perfect as they are, and we enjoyed them with sugar free dalgona coffee for a quick breakfast. The blueberry biscuits, on the other hand, were very good split and slathered with raspberry jam. Wildgrain does the work so you can keep the rest of the meal easy.
Join our community! Subscribe to be kept up-to-date on all of the latest and greatest recipes! You can also follow me on Pinterest, Twitter, Instagram, and YouTube!
🎥 Wildgrain Review Video
To summarize, I loved my Wildgrain subscription box (I had so much fun with this review!), and wouldn't hesitate to order more. If you enjoy eating sourdough more than baking sourdough (or you simply don't have time to bake), Wildgrain is for you. It would make a thoughtful gift for the carb lover in your life as well!