These camping food list ideas will make planning your next camping trip so easy! Get a camping grocery list packed with essentials for breakfast, lunch, and dinner. Whether you need a camping food list for 3 days, camping food list for 5 days, or camping food list for 7 days, I've got you covered. Snag my helpful printable camping food checklist pdf here!
Jump to:
🏕️ Camping Food List
The best food list for camping, in my experience, includes a mix of fresh produce, proteins, and carbohydrates to keep me energized throughout the trip. Some of my go-to items include hearty grains like rice or quinoa, versatile proteins such as canned tuna or chicken, and easy-to-pack vegetables and fruits. Moreover, planning meals ahead and incorporating a few quick yet delicious recipes will ensure that my time at the campsite is enjoyable and hassle-free.
Here is a camp food list of items to consider taking on your next car camping trip:
Eggs
Pack eggs in a cooler with ice for camping. If you're worried they'll break, crack raw eggs into a clean empty water bottle to scramble.
How to use: Eggs can be scrambled or fried in a cast iron skillet. Alternatively, serve eggs boiled over a campfire or portable stove. They provide a protein-rich and versatile ingredient for various camping meals, from breakfast omelets to dinner frittatas.
Bacon
Bacon and eggs are a classic camping breakfast. If you cook the bacon first, you can use the fat in the skillet to fry your eggs.
How to use: Cook bacon in a pan over a campfire or portable stove. Its delicious flavor enhances breakfast sandwiches or adds a savory touch to other dishes like baked potatoes or salads.
Bread
If you're hiking or spending time away from the campsite, you may need lightweight foods to pack for camping that don't require cooking. Bread is a staple carbohydrate that provides lots of energy when you're on the go.
How to use: Bread is a convenient camping staple for making sandwiches, french toast, or serving as a side with meals. Its simplicity and portability make it an easy choice for any outdoor adventure. It's one of my favorite camping food ideas in terms of versatility!
Wraps
How to use: Wraps are ideal for creating mess-free and portable meals during camping. Fill them with ingredients like deli meat, cheese, and veggies for a quick and satisfying lunch.
English Muffins
How to use: Toast English muffins over a campfire or portable stove, then top with jam or peanut butter for a delightful breakfast. They are also great for making mini pizzas.
Oatmeal
Oatmeal and cold breakfast cereal are another common camping breakfast idea. They're inexpensive, lightweight, and are high in carbohydrates to energize your morning.
How to use: Prepare oatmeal by adding hot water and your favorite toppings like nuts, dried fruits, or honey. It's a nutritious and hearty breakfast to fuel your camping adventures. Don't forget to add some milk to the cooler if you're packing cold cereal.
How to use: Prepare pancake mix with water or milk and cook fluffy pancakes on a griddle over a campfire. Top with syrup or fresh fruits for a tasty camping breakfast.
Rice and Pasta
How to use: Rice and pasta are easy-to-cook, filling, and versatile camping staples that can be paired with canned goods or fresh ingredients to create delicious meals. You can cook grains for camping ahead of time, or bring a pot for cooking at the campsite.
Granola Bars
How to use: Granola bars are perfect on-the-go snacks for hiking and outdoor adventures. Packed with nuts, seeds, and dried fruits, they provide a quick energy boost when needed.
How to use: Trail mix is a ready-to-eat snack that provides a boost of energy during hikes and outdoor activities. Its mix of nuts, dried fruits, and chocolate keeps campers fueled and satisfied. It's perfect for an easy camping food list.
Potatoes
How to use: Potatoes are versatile camping staples that can be roasted in foil over a campfire for baked potatoes or cooked in a pot. They make a delicious side dish or can be added to soups, stews, or clam chowder.
Vegetables
How to use: Potatoes aren't the only veggie in town! Fresh or canned vegetables can be incorporated into various camping meals, from simple salads to stir-fries or grilled veggie skewers.
Fruit
How to use: Fresh fruit is a refreshing and nutritious food to pack for camping. It requires no preparation and can be easily packed for on-the-go consumption. Canned fruit, dried fruit, and freeze-dried fruit are other great options, and they don't even require a cooler.
Canned Beans
How to use: Canned beans are a versatile protein source for camping meals. Heat them up and add to tacos, soups, or serve as a side dish for a satisfying and easy dinner option.
Meat
For protein, bring fresh meat in a cooler, or pack canned or vacuum-sealed meats like canned chicken or canned tuna. For vegan and vegetarian campers, don't forget the canned beans, and you can also bring options like tofu and veggie burgers.
How to use: Meats like hamburgers, hot dogs, and chicken are perfect for grilling over a campfire or portable stove, providing a hearty and satisfying meal. Canned meats are a convenient and protein-rich option for making sandwiches, salads, or pasta dishes during camping trips.
Deli meat is a convenient option for quick and easy sandwiches during camping. It requires no cooking, making it a time-saving choice.
Peanut Butter
How to use: Peanut butter is a high calorie camping food, perfect for when you need extra energy. Spread it on bread, crackers, or use it as a dip for fruits and veggies for a quick and satisfying snack.
Yogurt
How to use: Enjoy yogurt as a refreshing snack or breakfast option during camping trips. Its cooling effect and nutritional benefits make it an excellent choice for warm days. Only bring yogurt if you have a cooler with ice available, as it's very perishable.
Cheese
Block, shredded, or sliced cheese is a super food to bring camping. Freeze the cheese before packing in the cooler, so it will last longer.
How to use: Cheese is a versatile camping food that adds flavor and protein to various dishes. It can be sliced for sandwiches, grated on pasta, or melted into gooey goodness for nachos. (I'm sure you don't need directions on how to use cheese.)
Soup
Canned soup is a comforting meal option when camping, and perfect for those who don't like to cook. You can also meal prep your favorite soup and pack it in a thermos to take along.
How to use: Simply heat soup over a campfire or portable stove for a warm and hearty dish. IMVHO this is the best camping meal during cold weather.
How to use: Like soup, canned or pre-made chili is a filling and flavorful camping meal option. Simply heat it up over a campfire or portable stove for a satisfying dinner.
Snacks
How to use: Snacks like chips, crackers, pretzels, popcorn, and cookies provide quick energy during outdoor activities and can be easily carried in backpacks. They're truly grab and go, and don't require a cooler. If you're camping in hot weather, avoid sticky or chocolate candy that melts easily.
S'mores Ingredients
S'mores are a classic camping dessert made by sandwiching roasted marshmallows and chocolate between graham crackers for a sweet and gooey treat. No food for camping list is complete without this one!
How to use: Toast marshmallows on sticks over an open fire. Break a graham cracker sheet in half, and use it as the "bread" with chocolate and toasted marshmallow as the filling. After eating it, I bet you'll want s'more (some more)!
Spices and Condiments
IMVHO, the best camping food list must have a selection of spices, herbs, and sauces to add flavor to your camping dishes. Some common ones to bring along are salt, pepper, garlic powder, chili flakes, maple syrup, ketchup, and mustard.
How to use: These add-ons enhance the flavor of camping meals. From adding sweetness to pancakes with maple syrup to giving burgers a kick with ketchup and mustard, they elevate the dining experience.
Cooking Oil
How to use: Cooking oil is essential for sautéing, frying, or greasing cookware during camping. It ensures food doesn't stick and adds flavor to various dishes. You can use olive oil, cooking spray, or try fats like butter or ghee.
Drinks
Don't forget to bring drinks for camping, in addition to the food. Milk (including almond milk) in aseptic packaging can be transported without needing to take up cooler space.
How to use: Staying hydrated is crucial during camping, and bottled water, milk, and beverages like tea, coffee, and juice quench thirst. Beer and hot chocolate offer comfort and relaxation around the campfire. Make sure hot water is available to make beverages like coffee, tea, and hot cocoa.
➕ Camping Grocery List
Get my pdf printable camping food list here! You'll find a camping food list for a week (or less, if needed):
When I prepare for a camping trip, I always start by creating a camping food shopping list to ensure I have all the essentials for my outdoor adventure. My camping grocery list usually consists of items from multiple food groups so that I can maintain a balanced diet.
I begin by listing fruits and vegetables that are easy to pack and have a longer shelf life, such as apples, bananas, oranges, carrots, cucumbers, and bell peppers. These are not only great for snacking, but they also provide essential vitamins and minerals. Bagged salad mix, lettuce, spinach, and potatoes are additional must-haves for quick, healthy meals.
Moving on to dairy products, I make sure to pack butter, milk, yogurt, and cheddar cheese. It's important to store these items in a cooler to keep them fresh during the camping trip. For protein sources, I include bacon, burger patties (homemade or store-bought), and deli meat on my list.
Camping trips are also a great opportunity to indulge in some crowd-pleasing treats. That's why I always include marshmallows, hot cocoa, and pancake mix in my grocery list. Other items that provide multiple meal options include bread, eggs, pasta, noodles, rice, and couscous. Don't forget to pack essentials like sugar, flour, and powdered milk if desired.
For extra flavor and variety, I add items such as crackers, biscuits, nuts, instant potato mix, instant pudding mix, and powdered soup mix to my camping food list. I also throw in some graham crackers for making s'mores around the campfire.
Camping Food List for 3 Days
Camping Food List Day 1:
Breakfast: Scrambled Eggs with Bacon and English Muffins
Lunch: Deli Meat Sandwiches with Chips
Dinner: Campfire Grilled Hamburgers with Veggie Skewers
Food List for Camping Day 2:
Breakfast: Pancakes with Maple Syrup and Fresh Fruit
Lunch: Tuna Salad Wraps with Trail Mix
Dinner: Campfire Chili with Cornbread
Camping Food List Day 3:
Breakfast: Oatmeal with Peanut Butter and Banana Slices
Lunch: Chicken Caesar Salad with Granola Bars
Dinner: Campfire Foil Packets (Potatoes, Sausages, and Veggies)
Camping Shopping List (3 Days):
Eggs
Bacon
English muffins
Deli meat (e.g., turkey, ham, roast beef)
Bread
Cheese slices
Chips
Ground beef and burger buns
Veggie burger patties (if preferred)
Veggie skewers
Pancake mix
Maple syrup
Fresh fruits (e.g., bananas, berries)
Canned tuna
Mayonnaise
Wraps/tortillas
Trail mix (store-bought or mix your own with nuts, dried fruits, and chocolate chips)
Canned chili
Cornbread mix
Oatmeal
Peanut butter
Lettuce
Caesar dressing
Croutons
Chicken breast or precooked chicken strips
Foil for foil packets
Potatoes
Sausages (e.g., hot dogs or sausages of your choice)
Veggies (e.g., bell peppers, zucchini, onions)
Additional Items:
Cooking oil or spray
Salt, pepper, and other favorite spices
Condiments (ketchup, mustard, etc.)
Aluminum foil for campfire cooking
Snacks of your choice
Granola bars
Drinking water (if not available at the campsite)
Paper towels
Trash bags
Remember to consider any dietary restrictions or preferences within your family when planning the menu and shopping list. Happy camping and enjoy your delicious meals in the great outdoors!
Camping Food List for 5 Days
Day 4 Camping Food List:
Breakfast: Breakfast Burritos with Sausage, Eggs, Cheese, and Salsa
Lunch: Peanut Butter and Jelly Sandwiches with Carrot Sticks
Dinner: Campfire BBQ Chicken with Baked Beans and Corn on the Cob
Camping Food List Day 5:
Breakfast: Yogurt Parfaits with Granola and Mixed Berries
Lunch: Turkey and Cheese Wraps with Veggie Sticks
Dinner: Foil Packet Fish (e.g., Salmon or Trout) with Lemon and Herbs, served with Rice
Day 4 Camping Shopping List Day 4:
Sausages (precooked or uncooked, depending on preference)
Eggs
Shredded cheese
Tortillas or wraps
Salsa (store-bought or homemade)
Peanut butter
Jelly or jam
Bread
Carrot sticks (or other favorite veggies for dipping)
Chicken pieces (legs, thighs, or drumsticks)
BBQ sauce
Canned baked beans
Corn on the cob (fresh or pre-shucked)
Foil (if more needed)
Additional items listed for days 1-3
Camping Shopping List Day 5:
Yogurt (individual cups or a large container)
Granola
Mixed berries (fresh or frozen)
Turkey slices
Cheese slices
Wraps/tortillas
Lettuce or spinach (for wraps)
Additional veggies for wraps (e.g., tomatoes, cucumbers)
Fish fillets (e.g., salmon or trout)
Foil for foil packet cooking
Lemons
Fresh or dried herbs (e.g., dill, parsley, thyme)
Rice (instant or precooked for convenience)
Additional items listed for days 1-3
Camping Food List for 7 Days
Day 6 Camping Food List:
Breakfast: Breakfast Burritos with Scrambled Eggs, Potatoes, and Cheese
Lunch: Ham and Cheese Sandwiches with Veggie Sticks
Dinner: Campfire Vegetarian Fajitas with Grilled Peppers, Onions, and Black Beans
Camping Food List Day 7:
Breakfast: Dutch Oven Campfire Cinnamon Rolls
Lunch: Caprese Salad with Fresh Tomatoes, Mozzarella, and Basil
Dinner: Foil Packet Shrimp with Garlic Butter, served with Quinoa
Day 6 Camping Shopping List:
Eggs
Potatoes
Shredded cheese
Tortillas or wraps
Ham slices
Cheese slices
Bread
Veggie sticks (e.g., carrot, cucumber, bell pepper)
Bell peppers (assorted colors)
Onions
Canned black beans
Fajita seasoning mix
Olive oil or cooking spray
Additional items listed for days 1-3
Camping Shopping List Day 7:
Canned cinnamon rolls (for Dutch oven cooking)
Dutch oven (for cinnamon rolls)
Tomatoes
Fresh mozzarella cheese
Fresh basil leaves
Shrimp (peeled and deveined)
Foil for foil packet cooking
Butter
Garlic (fresh or minced)
Quinoa (instant or regular)
Additional items listed for days 1-3
⛺ Camping Pantry
Aside from food, there are several other essential items you need to bring and make camping meals:
Camping Stove or Campfire: Unless you plan to cook all your meals over a campfire, a portable camping stove is essential for cooking food efficiently and safely.
Cookware: Bring a set of camping cookware, including pots, pans, a griddle, and a kettle for boiling water. Lightweight and compact options are ideal for camping.
Cooking, Eating, and Drinking Utensils: Pack essential cooking utensils like spatulas, tongs, a ladle, and a can opener to prepare and serve meals. Bring plates, bowls, cups, and cutlery for eating and drinking during your camping meals.
Cutting Board and Knife: A portable cutting board and a sharp knife are necessary for chopping and preparing ingredients.
Cooler and Ice: If you're bringing perishable food items like meat, cheese, or milk, a cooler with ice packs or ice is crucial to keep them fresh.
Fire Starters and Matches/Lighter: For campfire cooking, bring fire starters or matches/lighters to easily ignite the fire.
Food Storage Containers and Ziploc Bags: Keep leftovers and ingredients organized in food storage containers and Ziploc bags to avoid mess and spoilage.
Biodegradable Soap and Sponge: Bring biodegradable soap and a sponge to clean cookware and utensils after use.
Paper Towels and Trash Bags: Pack paper towels for quick clean-ups and trash bags to keep your campsite tidy and dispose of waste responsibly.
Camping Fuel: If you're using a camping stove, make sure to pack enough camping fuel for your entire trip.
Aluminum Foil: Aluminum foil is handy for cooking food over a campfire or wrapping ingredients for easy cooking and cleanup.
By ensuring you have these essential camping kitchen items, you'll be well-prepared to cook delicious and enjoyable meals during your camping adventure.
How can I keep food fresh while camping?
Keeping food fresh during a camping trip can be a challenge, but with strategic planning and some handy equipment, it's quite manageable. Here are a few ideas:
Utilize a high-quality cooler: Invest in a reliable cooler with solid insulation to keep perishable items fresh for longer. Ice packs or frozen water bottles work well for maintaining a cold temperature.
Store food in air-tight containers: Using air-tight containers can help protect food from moisture, bugs, and odors. Utilizing these for perishable items can also help prevent cross-contamination.
Separate raw and cooked food: Keep raw meats, seafood, and poultry separate from cooked or ready-to-eat food items to avoid foodborne illnesses.
Keep perishables in the shade: When setting up your campsite, keep your cooler and perishable items in a shady spot to help maintain their freshness.
By having a well-stocked camping pantry and employing smart food storage techniques, I can enjoy a variety of tasty and satisfying meals throughout my camping adventure.
FAQs
How do I make a food list for camping?
To make a food list for camping, start by considering the number of people, the length of the trip, and any dietary restrictions. Plan meals around non-perishable items and easy-to-cook ingredients. This printable camping food checklist is helpful in making sure I've covered all the essentials.
What kind of food should I bring camping?
Bring non-perishable, easy-to-cook, and nutritious foods. Some staples in my camping food list include canned goods, trail mix, dried fruits, granola bars, and instant meals. Whenever possible, I also pack some fresh fruits and vegetables that can stay fresh without refrigeration for a few days.
What do you cook your food on while camping?
While camping, you can cook food on a portable camp stove or a campfire. The camp stove offers convenience and efficiency, while the campfire provides a more authentic camping experience. It's important to be prepared with the right camp kitchen equipment, such as pots and pans, utensils, and fuel.
What food to take camping without cooking?
Sometimes it's easier to pack food that doesn't require cooking, especially for shorter trips. Opt for items like wraps or sandwiches, fresh fruits, trail mix, energy bars, and pre-made salads. Bring a cooler with ice packs if you plan to keep perishable foods fresh.
What are camping foods for meals without heating or refrigeration?
When camping without a cooler or fire, try shelf-stable, ready-to-eat options. Canned foods, such as tuna and beans, as well as peanut butter, crackers, and trail mix, are excellent choices. Also include some dehydrated or freeze-dried meals, which can be rehydrated with cold water if needed.
How much food should I pack for a 3-day camping trip?
For a 3-day camping trip, pack enough food for three daily meals, plus snacks and beverages. This varies depending on individual appetites and dietary preferences. It's always a good idea to pack a little extra in case of unexpected delays or increased hunger from outdoor activities. Keep in mind the food weight, volume, and storage requirements when planning your meals.
🧐 More Camping Food Essentials
Here is some more info on equipment and food essentials for camping:
Join our community! Subscribe for all of the latest and greatest recipes, and follow me on Pinterest, Twitter, Instagram, and YouTube!
📖 Recipe
Like this recipe?
Leave a rating by clicking the ⭐ below!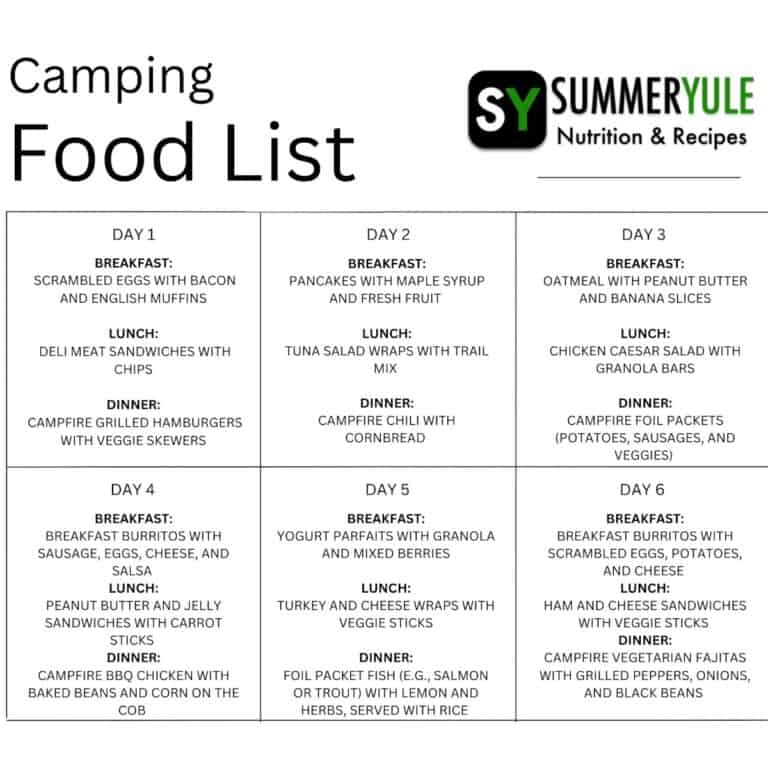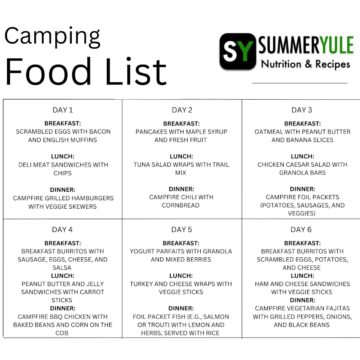 Camping Food List (Camping Grocery List for 3,5, or 7 Days)
These camping food list ideas will make planning your next camping trip so easy!
Ingredients
eggs
bacon
bread
wraps
English muffins
oatmeal
pancake mix
rice and pasta
granola bars
trail mix
potatoes
vegetables
fruit
canned beans
meat
peanut butter
yogurt
cheese
soup
chili
s'mores ingredients

(graham crackers, marshmallows, chocolate)

snacks
spices and condiments
cooking oil
drinks
Want to Help?
If you love this recipe, please come back and leave a rating. This helps readers and I'd love to hear from you. Thank you ❤️
Instructions
Choose the foods from the list you'd like to take on your camping trip. Try to get all the food groups for a more balanced diet.
Notes
Nutrition information depends on the foods you choose and your portion size.
Nutrition