Don't have a green thumb? Follow this tutorial for sprouting broccoli seeds, and you'll have a verdant mini garden in no time. It only takes a few days for broccoli seeds to grow into edible broccoli sprouts. All you need is the seeds, a canning jar, cheesecloth, and water. This is a great project to do with kids and an easy way to get more veggies into your diet in the winter!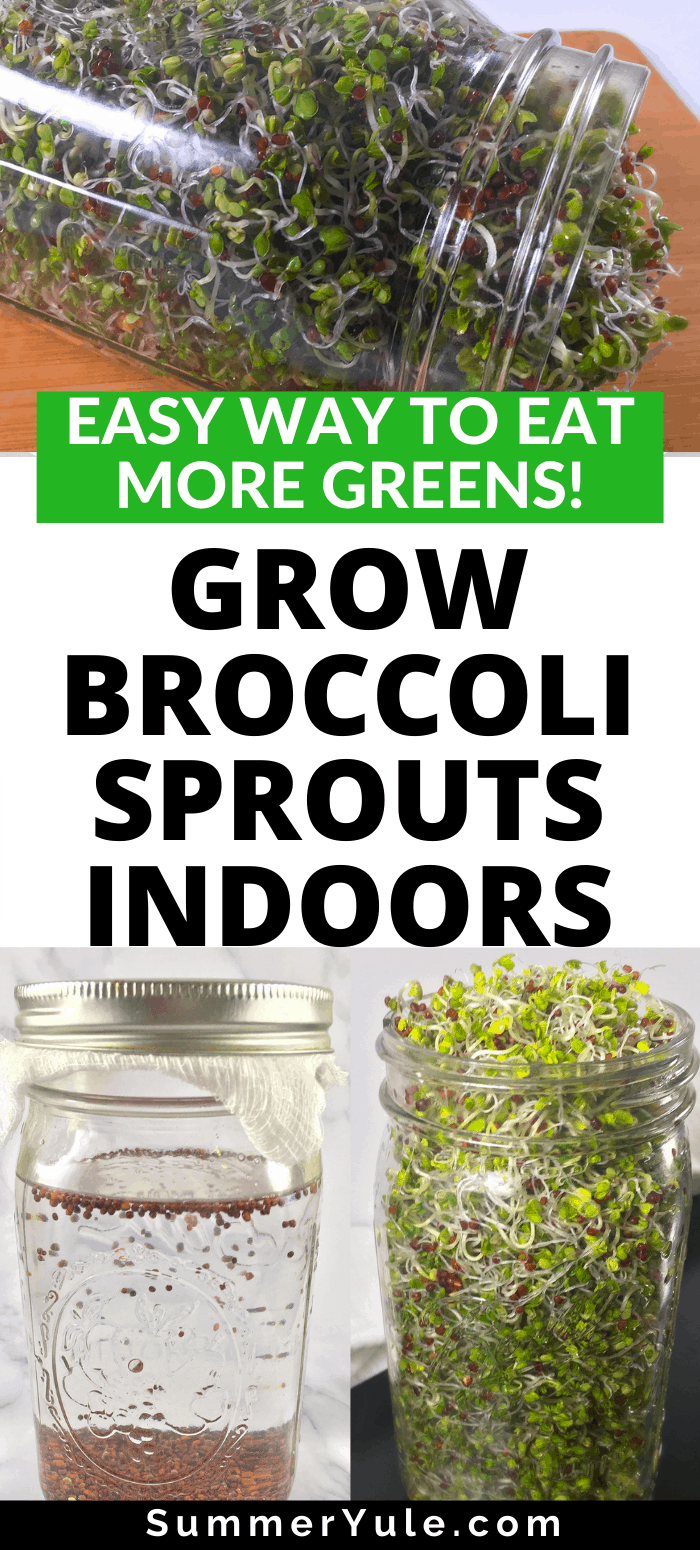 The sprouts you see in these pictures had some pretty serious disadvantages in their growing environment. For one, though it is winter and the house I live in is passive solar, large trees block much of the sun. Even in our sunniest kitchen window, these sprouts had to grow primarily in the shade.
Second, it is currently the middle of winter where I live in the northeast region of the United States. It is cold, and the old windows are a bit drafty. Additionally, we turn the heat down in the rooms that are not bedrooms overnight to conserve energy (and save money).
I realized as an afterthought that I could have moved the sprouts to a bedroom each night to keep them warmer. They might have sprouted a wee bit faster if I had chosen to do so. Luckily, keeping them in the kitchen ended up working out just fine.
Anyway, my point is that you don't need to have perfect growing conditions when sprouting broccoli seeds. I'm pretty sure that broccoli sprouts are one of the most forgiving plants you can grow. Just pick up a packet of the super tiny seeds, get a canning jar and some cheesecloth, and you're ready.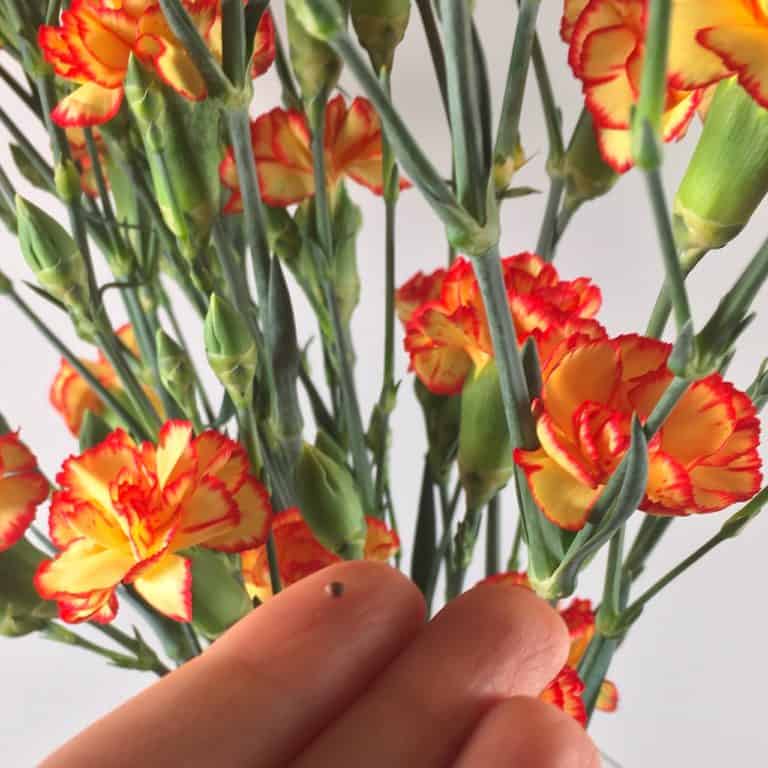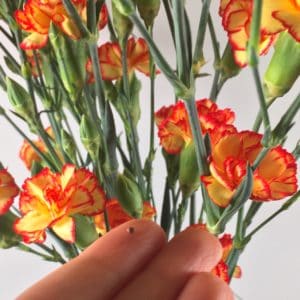 What are some health benefits of broccoli sprouts?
Sometimes I hesitate to go into depth on the benefits of foods. Some seem to tend to grab onto the "magical" properties of certain foods. They start eating the "good" foods in large amounts, at the expense of including other beneficial foods.
I'd definitely classify broccoli sprouts as a health-promoting food. However, that doesn't mean that I'd reduce the variety of other veggies in my diet to include primarily sprouts.
Nutrition is still a fairly young science, and there is a lot we don't know. In my opinion, it is better to hedge your bets by eating a large variety of whole foods. That way, if a food is not as great as hypothesized, it was only a small piece of the overall dietary pattern.
That said, broccoli sprouts offer an advantage over mature broccoli plants in that they may contain 10-100 times more glucoraphanin. Glucoraphanin is a precursor of sulforaphane, an isothiocyanate in cruciferous vegetables that is linked to a reduced risk of certain types of cancer. That's a pretty good reason to get some cruciferous veggies into the diet, if you ask me.
If you think you can just take a broccoli supplement and get the same benefits as consuming broccoli sprouts, think again. The bioavailability of sulforaphane was found to be "dramatically lower" in individuals supplementing instead of eating fresh sprouts. As is often the story in nutrition, whole foods have won out over supplements.
The study I linked to above comparing the glucoraphanin content of sprouts versus mature broccoli looked at 3-day old sprouts. I like these sprouts best when they grow green leaves, which took 6-7 days. If you are growing sprouts purely for the potential health benefits, it may be better to stop the sprouting process sooner.
The disclaimer…
All recipes on this website may or may not be appropriate for you, depending on your medical needs and personal preferences. Consult with a registered dietitian or your physician if you need help determining the dietary pattern that may be best for you.
The calorie information is an estimate provided as a courtesy. It will differ depending on the specific brands and ingredients that you use. Calorie information on food labels may be wildly inaccurate, so please don't sweat the numbers too much.
For more information on how the three recipe levels may help with a weight management goal, refer to this post. Let's get cooking!
📖 Recipe
Like this recipe?
Leave a rating by clicking the ⭐ below!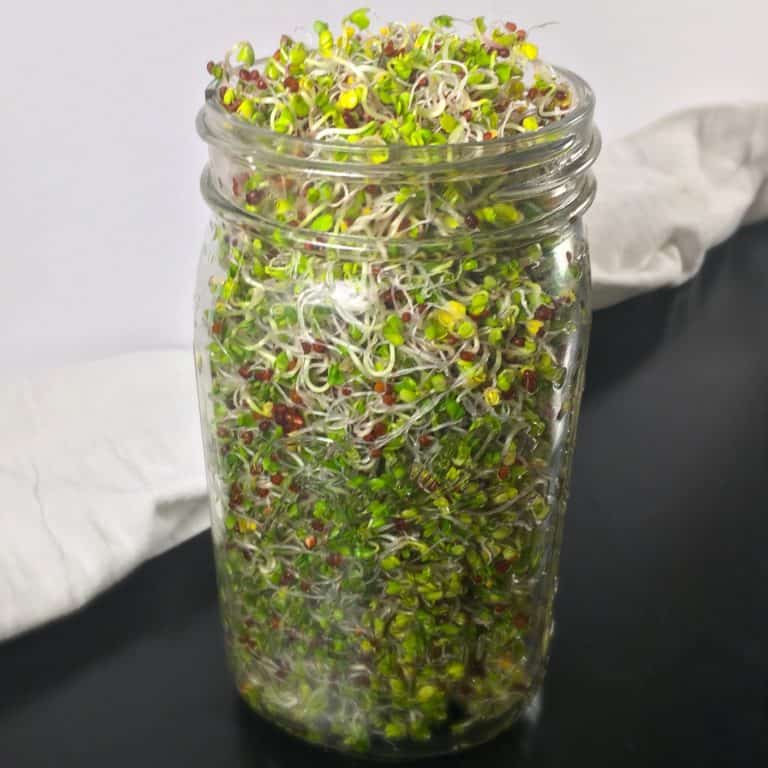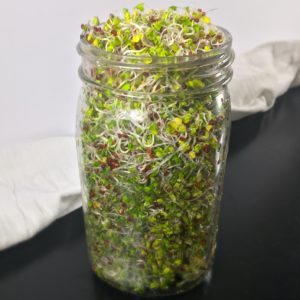 Sprouting Broccoli Seeds: Broccoli Sprouts "Recipe"
Don't have a green thumb? Follow this easy tutorial for how to grow broccoli sprouts, and you'll have a verdant mini garden in under a week!
Equipment
Instructions
Day 1: Put the seeds in a quart-size wide-mouth canning jar. Fill the jar up to the neck with lukewarm water. Cover the top of the jar with a double layer of cheesecloth that has been secured by the jar rim. Let the seeds soak overnight.

Day 2: In the morning, drain all of the water out of the jar through the cheesecloth (so that you do not lose the seeds). Put more water into the jar (through the cheesecloth is fine) and drain it well again. Let the drained and covered jar rest on its side in a sunny windowsill. (If it's not very sunny, that's OK too.)

In the evening, add water to the jar again and drain it well again. There is no need to remove the jar rim and cheesecloth until the sprouts are fully grown. Lay the well-drained jar back on its side on the windowsill.

Days 3-6: Each morning and evening, repeat the rinsing and draining procedure from day 2. After rinsing and thoroughly draining, the seeds should be placed back on the windowsill on their side. (Day 1 is the only day the seeds are soaked.)

The seeds will sprout little tails and then (after a few more days) a pair of green leaves. I let them grow until they completely fill the jar, as shown. You could stop the sprouting process earlier than this if desired.

Day 7: On the morning of day 7, the jar was well-packed with sprouts, as shown. I removed the jar rim and cheesecloth and popped the jar in the fridge. Ideally, they should be used within a day or two.

I yielded 4 cups of sprouts but your yield will vary depending on the growing conditions and how long you let them grow.
Notes
This is a level 1 recipe (may help support fat loss). Broccoli sprouts are essentially a leafy green, so of course, they are a low-calorie food. They add a peppery flavor to salads, sandwiches, tacos, or whatever else you'd like to throw them on. I've even seen folks blend them into smoothies!
Important: There is an elevated risk of foodborne illness with raw and lightly cooked sprouts. It is recommended that certain groups avoid raw sprouts:
Pregnant women
Children
Older adults
Immunocompromised persons
You can cook broccoli sprouts by adding them to an Instant Pot Stir Fry or maybe this Instant Pot Italian Sausage Soup.
Broccoli sprouts can be difficult to find in stores as they don't stay fresh for long. I'd say that growing them yourself is the way to go.
How much broccoli sprouts should you eat per day?
In most studies I've seen linking health benefits to broccoli sprout consumption, participants ate 2-4 ounces per day (57-113 grams). In general, you don't want to eat so many broccoli sprouts they crowd out other healthy foods from your diet.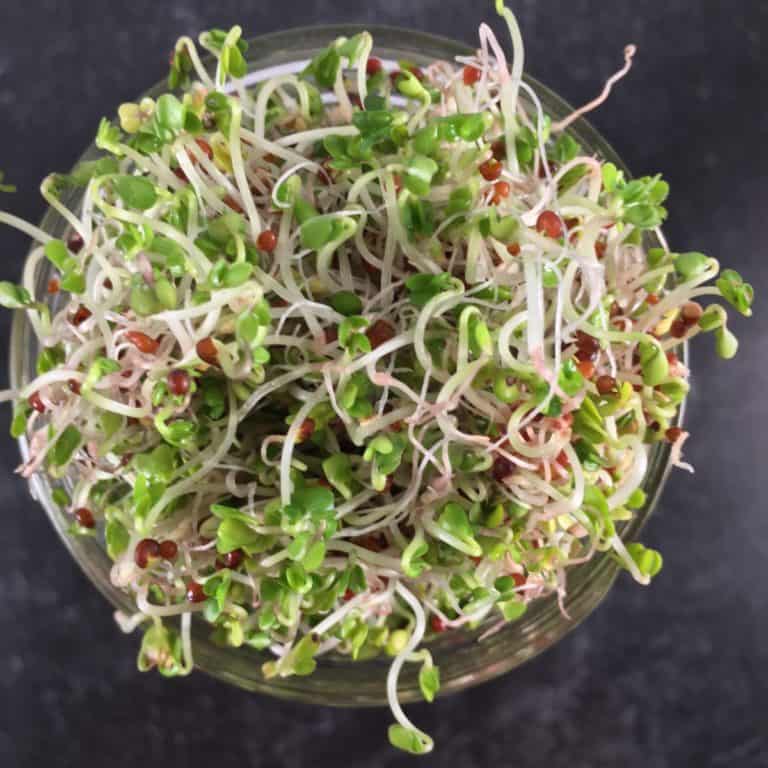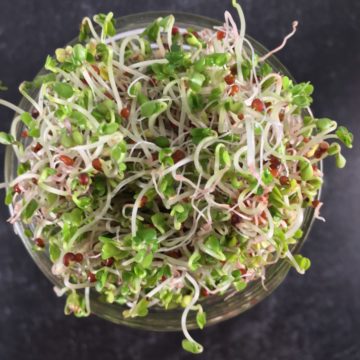 Nutrition
Calories:
10
kcal
Carbohydrates:
1
g
Protein:
1
g
Fiber:
1
g
Vitamin A:
7
% DV
Vitamin C:
21
% DV
Calcium:
2
% DV
Iron:
1
% DV
What are some of your favorite ways to incorporate sprouts into your meals? Feel free to send me your favorite broccoli sprouts recipe; I have an overabundance of sprouting broccoli seeds at the moment. Thank you!
This how-to recipe has been updated from 2020 with a recipe video and new photos. Happy indoor gardening!