Have you tried making jicama fries in an air fryer? Air frying jicama is the perfect way to coax some natural sweetness out of this non-starchy vegetable. Even if you don't like raw jicama, these air fryer jicama fries might win you over! Try this low-carb alternative to fries made with potatoes, and don't forget the tajin and creamy cilantro-lime dipping sauce!
We're on to day two of my week of air fryer recipe awesomeness. Today we're snacking on air fried jicama fries. Oh boy, let me tell you, I am loving these so much!
Misfits Market (use code COOKWME-BS6FSP for 25% off!) regularly blesses us with refreshing fresh jicama. I think raw jicama sticks are amazing served simply, with a sprinkling of tajin or another chili-lime seasoning. Unfortunately, my family members aren't quite as fond of fresh jicama as I am.
I wanted to find a way to increase the jicama love in my household. This air fry recipe does the job!
When you air fry jicama, it sweetens up a bit more and still retains some of its crispness. There will be no limp fries when you use jicama. Jicama fries are a bit sweeter than potato fries as well!
This snack truly ticks all the boxes. We've got:
Sweet and crispy jicama
A bit of heat from chile-lime seasoning
Cooling and creamy yogurt
A touch of acidity from the lime juice
Floral, herby fresh cilantro goodness
... and it fits many special diets (low-carb, keto, vegetarian, gluten-free)
Have I made you want to go out and get your hands on some jicama yet? Seriously, this might be one of my favorite air fry recipes of all time. SO GOOD!
I really hope that you get a chance to try it! Bring on the low carb french fry options!
And now for the disclaimer…
All recipes on this website may or may not be appropriate for you, depending on your medical needs and personal preferences. Consult with a registered dietitian or your physician if you need help determining the dietary pattern that may be best for you.
The nutrition information is an estimate provided as a courtesy. It will differ depending on the specific brands and ingredients that you use. Calorie information on food labels may be wildly inaccurate, so please don't sweat the numbers too much.
For more information on how the three recipe levels may help with a weight management goal, refer to this post. Let's get cooking!
Like this recipe?
Leave a rating by clicking the ⭐ below!
Air Fryer Jicama Fries with Cilantro-Lime Dipping Sauce
Try my air fryer jicama fries, a low-carb alternative to fries made with potatoes. Don't forget the tajin and creamy cilantro-lime dipping sauce!
Equipment
Ingredients
1

lb

jicama

(454 grams; about 1 small jicama)

1

tablespoon

olive oil
tajin

(to taste; can use another chili-lime seasoning blend)

1½

tablespoons

cilantro, finely chopped

¼

cup

yogurt, plain, low-fat

(regular yogurt, not Greek varieties)

¼

teaspoon

lime zest

1

teaspoon

lime juice
cooking oil spray of choice
Instructions
Peel and cut your jicama into ½" (1.27 cm) fries. Drizzle them with the olive oil.

Mist an air fryer baking tray with the cooking oil spray. Spread the raw jicama fries in a single layer on the tray.

Put the tray in the top rack of the air fryer oven and bake for 10 minutes at 400°F (200°C). Then flip the fries over, mist them with the cooking spray oil, and bake at 400°F (200°C) on the top rack for an additional 10 minutes,

While the fries cook, whisk the yogurt, cilantro, lime juice, and lime zest together. Refrigerate this cilantro-lime dipping sauce while you finish the fries.

Pull the fries that have finished cooking off the tray. Since jicamas are not shaped like a rectangular block, some fries will naturally be smaller (and cook faster) than others.

Flip the fries left on the tray that are not done. Mist them with the cooking oil spray , and bake at 400°F (200°C) on the top rack for 5 more minutes.

When done, sprinkle your fries liberally with the tajin.

Drizzle the fries with the cilantro-lime dipping sauce (or use it as a dip).

Sprinkling on even more tajin might not be a bad idea! You could also add a squeeze of lime juice, if desired. YUM!
Notes
This is a level 2 recipe (transition or weight maintenance). These air fried jicama fries would be lovely as a snack or a side dish. You could use a full-fat yogurt for a slightly higher energy dish...
Seriously though, if I wanted a higher-calorie snack, my first inclination would be to hog all the fries to myself. Forget the whole thing about this serving two. Hahaha
Nutrition information is for one serving of the recipe.
Nutrition
Calories:
162
kcal
Carbohydrates:
22.1
g
Protein:
2.9
g
Fat:
7.2
g
Saturated Fat:
1.2
g
Sodium:
28.4
mg
Potassium:
410.9
mg
Fiber:
11.1
g
Vitamin A:
3.8
% DV
Vitamin C:
77.8
% DV
Calcium:
8.3
% DV
Iron:
7.6
% DV
If you've found your way here because you enjoy air frying foods, you might love my air fryer carrots.
Also, don't miss my post on air fryer frozen vegetables! Learn how to use your air fryer to turn your frozen veggies into crispy yumminess. With this recipe, you'll make frozen broccoli taste just like it was roasted fresh!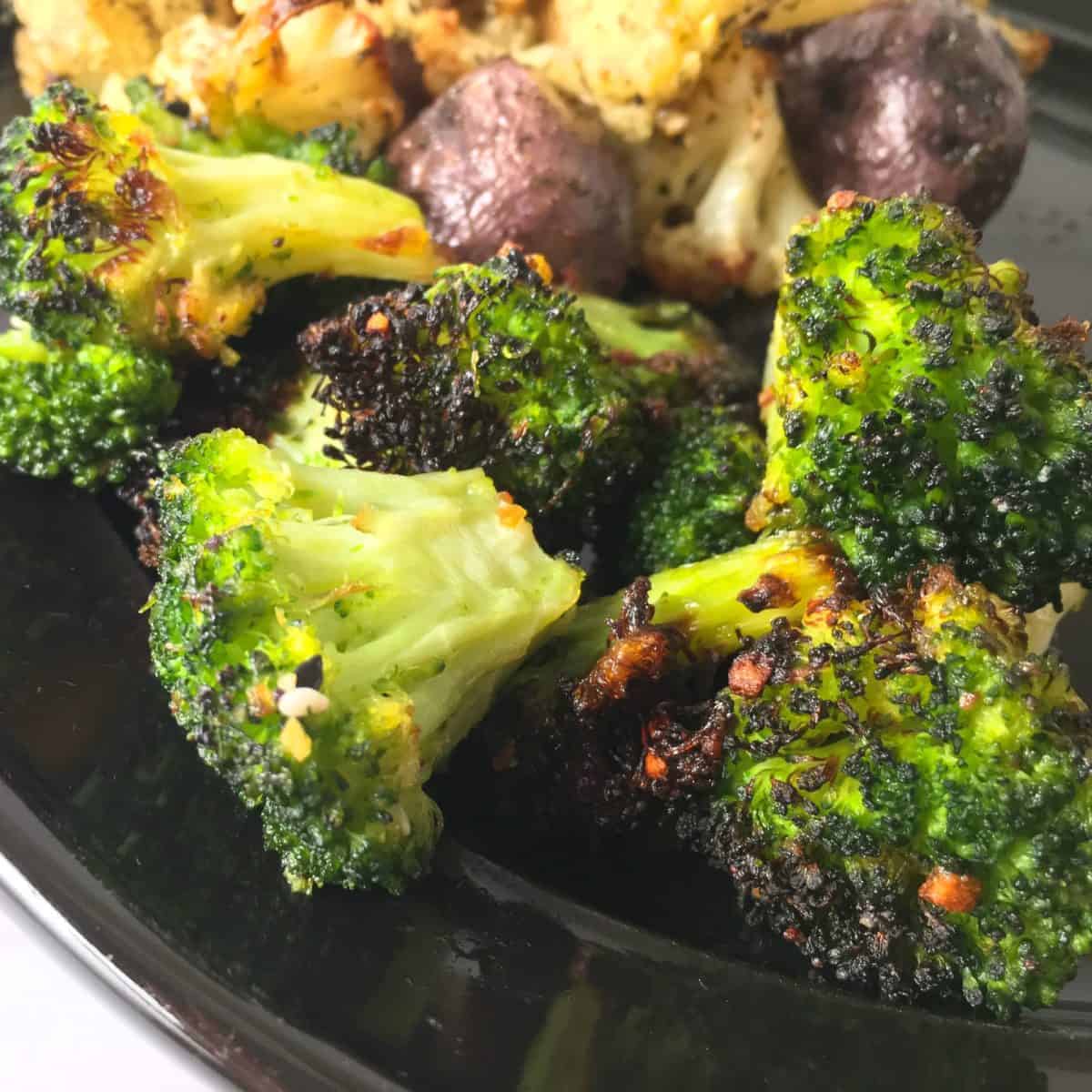 Have you ever experienced the magic that happens when you air fry jicama? If you try this recipe for air fryer jicama fries, I'd love to hear how it turned out! You can leave a rating and/or comment below!