Guess what?!? You can get air fryer frozen vegetables to turn out like fresh roasted veggies, complete with the crispy edges. Make this air fryer broccoli recipe and say goodbye to soggy, mushy cooked-from-frozen vegetables forever. This is going to be your new favorite way to cook frozen broccoli. If you haven't popped your frozen veggies in an air fryer yet, you are missing out!
This recipe is so simple, but it's also been a bit of a game-changer for me. As such, I'm excited to get the chance to share it.
All the veggies pictured at the top of the article look like they've been roasted in the oven. However, only the cauliflower and potato mix have been oven-roasted. I put the broccoli into an air fryer while frozen, and cooked it to crispy, charred-edge perfection.
I've been mistreating my frozen vegetables for far too long. Microwaving, steaming, and baking frozen vegetables generally results in a pile of veggie mush.
The air fryer, on the other hand, is the perfect appliance for cooking frozen veggies. Think of an air fryer like a countertop convection oven. That rapid airflow will help dry out the moisture in your frozen vegetables, while simultaneously helping them to crisp.
I'm telling you, it's incredible. If your love of fresh roasted veggies sends you running to the supermarket more often than you'd like, you need to try air fryer frozen vegetables. You may find that you can extend the time between shopping trips by using more frozen veggies.
Have I told you about my Air Fryer yet? (Yes, I know I have. Haha)
Lucky lady that I am, I received a 10-Quart Kalorik Digital Air Fryer Oven for Christmas. I can't seem to stop talking about it!
I don't seem to be alone in my air fryer obsession. The air fryer recipes are among the most popular on this website! Here are a few readers' favorites:
Oh, and there was also the time that I made rotisserie chicken in the air fryer. The air fryer I have comes with a spit for cooking a whole chicken. It makes a really moist and flavorful chicken… I think I need to do that again very soon!
As you can see, I've mostly been focusing on making main dishes in the air fryer up until this point. I'm glad that I am starting to branch out.
My air fryer has a reasonably large capacity with two racks, and it can fit 1-1.5 pounds of frozen veggies easily. Aside from the broccoli, I've also "roasted" frozen Brussels sprouts in the air fryer with excellent results. (Psst… The Brussels sprouts were perfect in the "Sheet pan tacos with crispy Brussels sprouts" recipe from the book Mostly Plants.)
It's funny when I look back and remember my uncertainty on whether having an air fryer would be worth it. Would I use it enough, I wondered, or would it mostly be taking up limited counter space? I am so happy that I ended up with one!
During the current coronavirus-related stay-at-home order, anything that helps make frozen veggies tastier is a blessing. The air fryer is a fantastic way to improve the texture of cooked frozen vegetables. I cannot recommend it enough!
Stay home and stay healthy! 😀
And now for the disclaimer…
All recipes on this website may or may not be appropriate for you, depending on your medical needs and personal preferences. Consult with a registered dietitian or your physician if you need help determining the dietary pattern that may be best for you.
The calorie information is an estimate provided as a courtesy. It will differ depending on the specific brands and ingredients that you use. Calorie information on food labels may be wildly inaccurate, so please don't sweat the numbers too much.
For more information on how the three recipe levels may help with a weight management goal, refer to this post. Let's get cooking!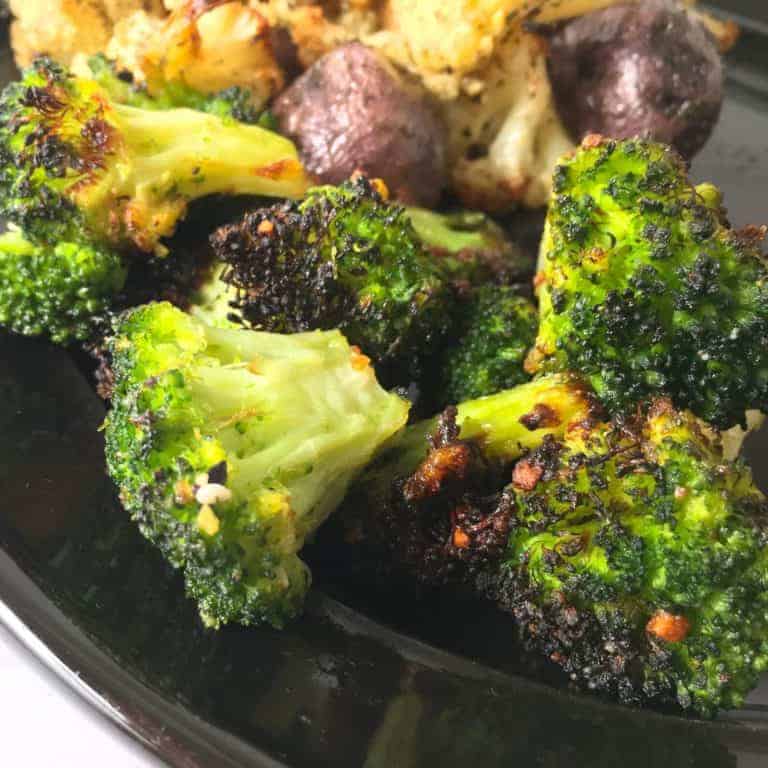 Air Fryer Frozen Vegetables (No more mushy frozen broccoli!)
Guess what?!? You can get air fryer frozen vegetables to turn out like fresh roasted veggies, complete with the crispy edges. Make this air fryer broccoli recipe and say goodbye to soggy, mushy cooked-from-frozen vegetables forever.
Equipment
Instructions
Cut the frozen broccoli into smaller pieces if some of the pieces are large. (I did not need to do this.)

Drizzle the frozen broccoli with the oil and sprinkle with the seasoning. Stir to distribute it well.

Lightly mist your air fryer baking racks with the cooking spray. Spread the broccoli in a single layer on the racks. I used both racks that came with the oven, though only one is shown in the photo.

Make sure the drip tray is in place in your air fryer oven. Put the racks in the oven and bake at 400°F for 12 minutes.

Switch the position of the trays in the oven. Bake an additional 8 minutes. That's it!
Notes
This is a level 1 recipe (may help support fat loss). I'm filing this recipe in the "dinner" section since frozen veggies are typically a dinner add-on. Non-starchy veggies tend to be a low-calorie addition to meals, as long as you limit high-calorie sauces and oils. Consider adding a protein and 1-2 more veggies to this dish to make it a full meal.
The last time I served this broccoli, I accompanied it with oven-roasted potatoes and cauliflower, plus a really delicious pork chop! I went with larger portions of the pork chop and potatoes here for a higher energy meal.
Another time, I enjoyed the broccoli with a smaller portion of air-fried teriyaki tofu, served over quinoa. This ended up being a lighter option, better for those who have a weight loss goal. No matter your dietary preferences and energy needs, this tasty air fryer broccoli is likely to be a good fit!
Nutrition
Have you ever tried air fryer frozen vegetables? If not, why not start with this recipe for air fryer broccoli? Give it a whirl, and don't forget to drop me a comment to let me know how it turns out!