This air fryer radish recipe is the perfect keto alternative to loaded potatoes! Air fried radishes are far more mellow than raw radishes. This side dish is a winner with those who don't like raw radishes as well as those on a low-carb diet. When topped with sour cream, cheddar, chives, and a crumble of bacon, you won't miss the potatoes at all!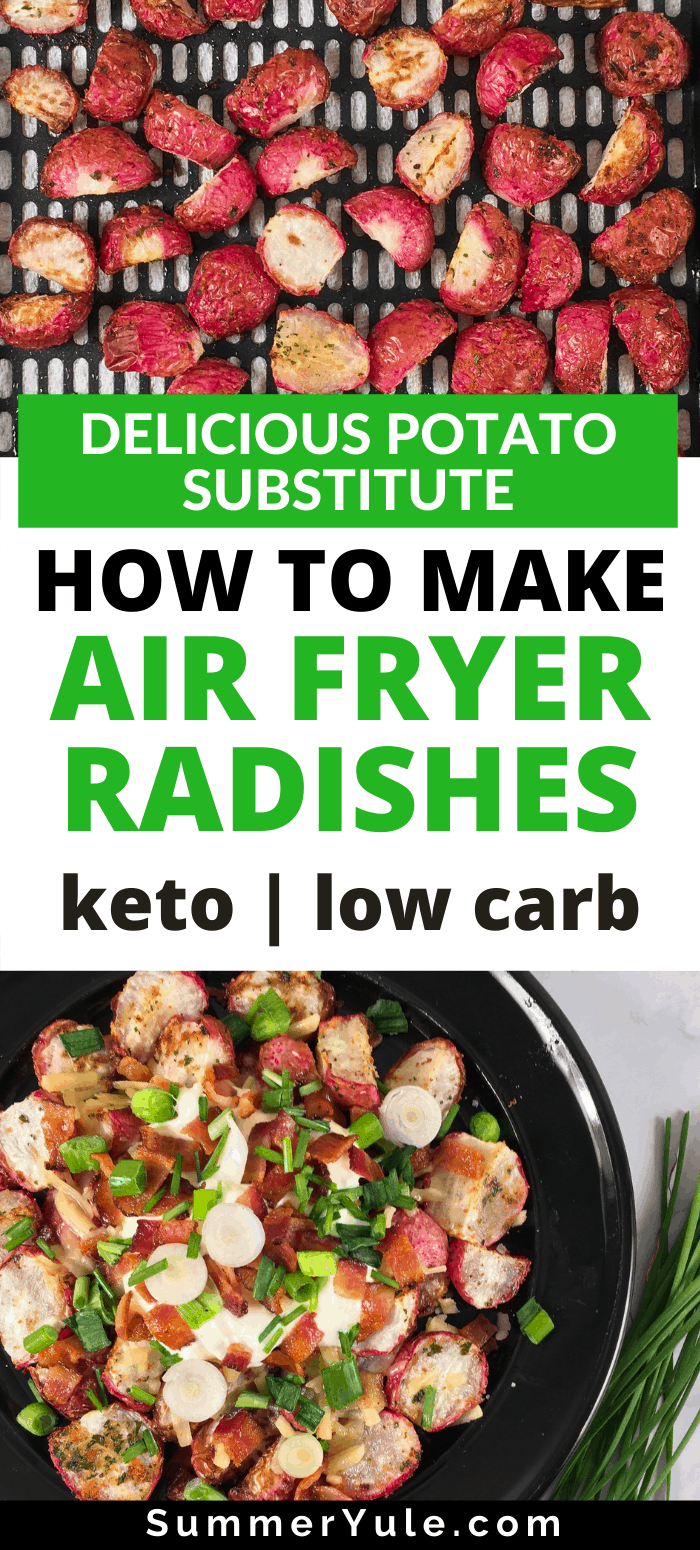 For the past week, I've been posting recipes daily in addition to my regular Monday, Wednesday, and Friday recipes. During week one, I shared smoothie recipes, while week two was devoted to air fryer recipes. I filled week three with an assortment of recipes I couldn't fit into the first two weeks.
In addition to more recipes using the air fryer and more smoothies, I also shared other frozen desserts during week three. Here's a roundup of the recipes, in case you missed it:
I may have saved the best until last with this air fryer radish recipe. If you think you are a radish hater because you've only had this veggie raw, be sure to try them cooked! Radishes become mild and sweet when cooked, losing their sharp, peppery flavor.
I roasted some potatoes and cauliflower the same day I made these radishes so I could compare them. We thought the radishes would work just as well as the cauliflower for a low-carb potato substitute. Try them and see for yourself!
👩🏻‍🍳 What you need to know about this air fryer radish recipe
My family members, and my son in particular, are not the biggest fans of raw radishes. When Misfits Market (use code: COOKWME-BS6FSP) sends me a bunch of radishes, I typically add them to my lunch salads. The other people in my household usually avoid them.
One week, however, they sent me two bunches of radishes. I really needed to find a way to incorporate them into a family meal. Two bunches of radishes are a bit much for me to enjoy alone.
Since I've been throwing everything in the air fryer lately, I decided to pop the radishes in there as well. I mean, why not? And while I was at it, I chose to load them up with goodies like cheddar cheese and bacon.
I wanted to give these air fryer radishes a chance to win the love of my family. Let's face it, veggies topped with bacon and cheese can be pretty hard to resist.
Spoiler alert: my plan worked and this radish side dish was well accepted! I bet you'll love it too.
🥓 Speaking of bacon…
If you're making this air fryer radish dish keto-friendly, you're going to want a bacon with no added sugar. Lately I've been using Nature's Rancher No Sugar Added Bacon, and I LOVE it.
Plus, it's only 30 calories per cooked slice. A little crumble shouldn't impede fat loss goals.
The main reason I'm loving this bacon, however, is that it browns and crisps perfectly each time. Without the sugars, it doesn't burn as quickly as other bacon options.
The 2020 Dietary Guidelines recommend limiting added sugars to less than 10% of your daily calories. One simple way to start moving towards these guidelines is to switch to no added sugar versions of condiments such as ketchup and bacon.
(Yes, I consider bacon a condiment. It has minimal protein and is mostly there for flavor.)
If you've been making your veggies more palatable with added sugars like honey and maple syrup, now's a great time to try something new. May I recommend this no added sugar air fry radish recipe? This recipe is going to change your perception of the radish as a boring salad vegetable!
The disclaimer…
All recipes on this website may or may not be appropriate for you, depending on your medical needs and personal preferences. Consult with a registered dietitian or your physician if you need help determining the dietary pattern that may be best for you.
"Keto" recipes on the web may not be appropriate for those using ketogenic diets as part of their medical nutrition therapy. That includes this recipe.
The nutrition information is an estimate provided as a courtesy. It will differ depending on the specific brands and ingredients that you use. Calorie information on food labels may be wildly inaccurate, so please don't sweat the numbers too much.
For more information on how the three recipe levels may help with a weight management goal, refer to this post. Let's get cooking!
Like this recipe?
Leave a rating by clicking the ⭐ below!
Air Fryer Radish – Loaded! (Low-Carb, Keto)
This air fryer radish recipe is like having keto loaded potatoes! Try this if you don't like raw radishes or if you're on a low-carb diet.
Ingredients
13

ounces

radishes, trimmed

366 grams (approximately 2 bunches of radishes)

1

tablespoon

olive oil

¼

teaspoon

garlic powder

¼

teaspoon

onion powder

¼

teaspoon

dried parsley
salt and pepper, to taste
cooking oil spray of choice
For the loaded toppings:
2

slices

bacon

(choose one with no added sugar)

1

ounce

shredded cheddar

28 grams (about ¼ cup)

3

tablespoons

sour cream

2

scallions, sliced

1

tablespoon

chopped garlic chives

(or regular chives from the grocery store)
Instructions
Wash your radishes and cut them into halves (or into quarters, if they are large). Pour the olive oil on them and stir.

Mix the garlic powder, onion powder, parsley, salt, and pepper together. Sprinkle this mixture over the radishes and stir well.

Mist your air fryer tray with the cooking oil spray. Spread your radishes out in a single layer on the tray.

Put the tray in the top rack position in your air fryer oven. Bake for 10 minutes at 400°F (200°C). Then flip your radishes and cook them for an additional 10 minutes at 400°F (200°C).

While your radishes cook, prepare your loaded toppings. Cook the bacon in the cast iron skillet, and crumble or chop it.

Once your air fried radishes are finished cooking, you can assemble your meal. Sprinkle the cheddar over the radishes while they are still hot. Dollop on the sour cream, and sprinkle the bacon crumbles on top. Finish the dish with the chives and scallions. Bon appetit!
Notes
This is a level 3 recipe (weight maintenance and active lifestyles). This tasty side dish provides over 200 calories for half the recipe. You can probably guess what I will say here but skip the loaded toppings for level 1. These air fried radishes are lightly seasoned and make a perfectly respectable side without the bacon, cheese, and so on. Nutrition information is for one serving of the recipe.
Nutrition
Calories:
223
kcal
Carbohydrates:
9.5
g
Protein:
7.8
g
Fat:
17.4
g
Saturated Fat:
8.7
g
Sodium:
263.3
mg
Fiber:
3.4
g
Vitamin A:
8.6
% DV
Vitamin C:
49.1
% DV
Calcium:
18.4
% DV
Iron:
3.9
% DV
Did you try air frying radishes with this recipe? You can tell me about it in the comments below!
Also, I'd love to hear about why you decided to try air frying a radish. Do you dislike raw radishes, are you on a keto diet, or some other reason? Aside from potatoes and radishes, are there any other vegetables that you've loaded with sour cream, bacon, cheddar, and chives?